I am a big fan of Salmon and this is a super easy dish you can get on the table midweek in under 15 minutes. Yep, Salmon with Leeks and Lentils is quick, packed with flavour, good fats, fibre and lots of protein. You won't be hungry after eat this, it is healthy and filling and guaranteed you won't have room for dessert!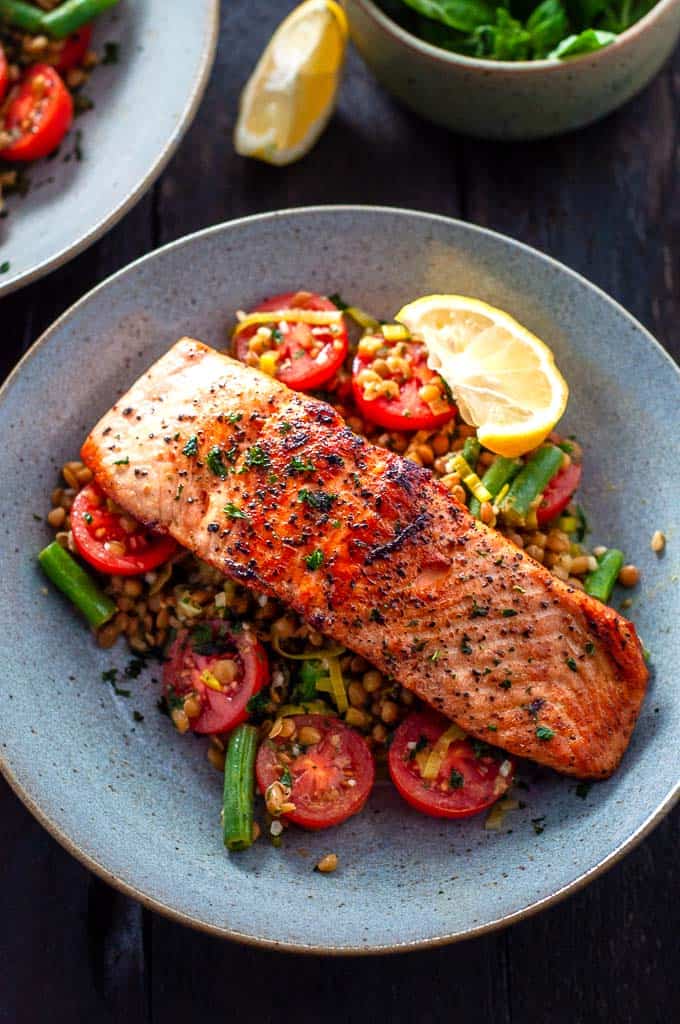 This is a dish I often make on busy weeknight when I come home from the gym, exhausted and in the dark. All I want to do is freshen up and get some food in my belly because its usually been a good 5 or 6 hours since eating and this dinner is the perfect package.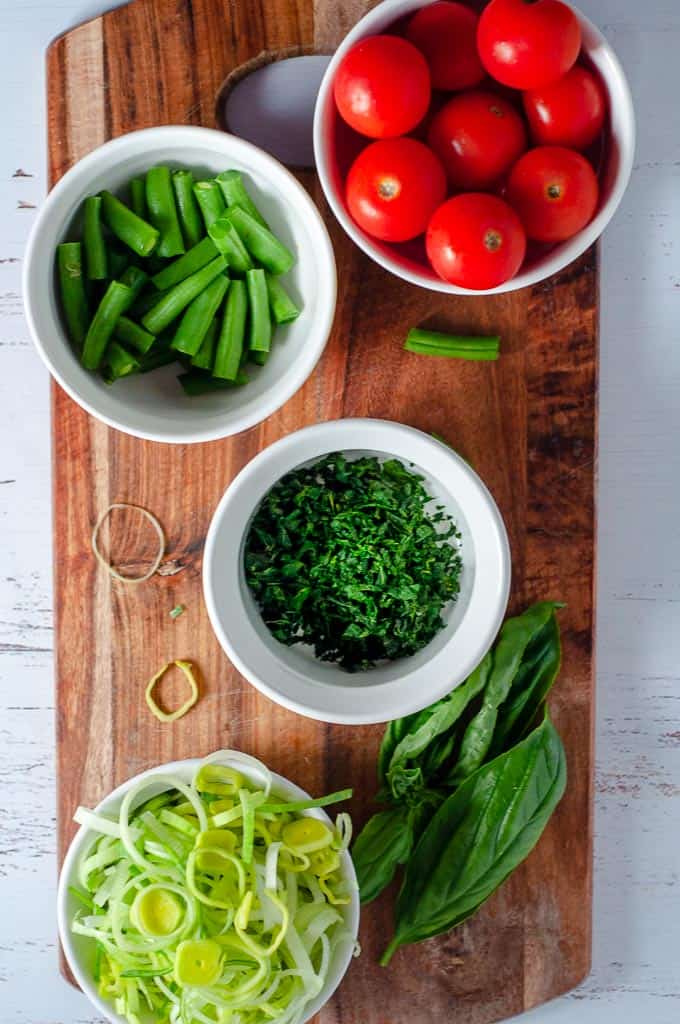 How To Cook Frozen Salmon
After a quick defrost in the microwave, I heat up a frypan/skillet as high as it can go, and THEN I put the salmon in, flat side down, cover with a lid and leave it for 4 minutes. Then I flip it, put the lid back on for another 4 minutes). No need to have fresh salmon on hand for this one. I almost always use frozen salmon and always skin off.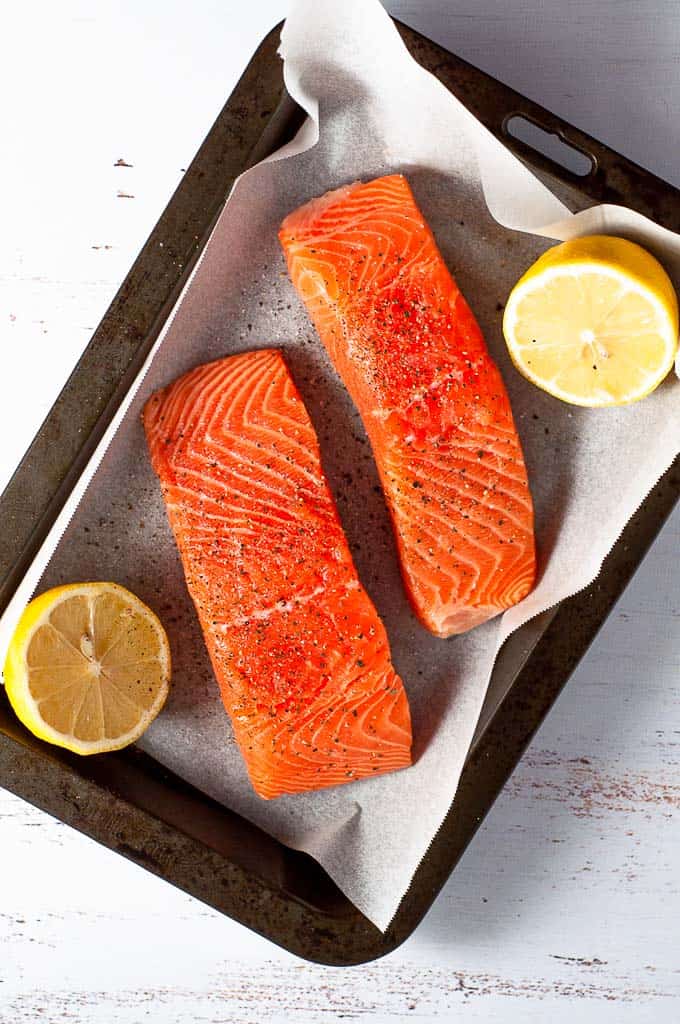 I don't turn it, poke it or prod it. I just leave it and put a lid on it for around four minutes and let it do its magic to crisp up.
TIP:  It's best to use a non stick pan/skillet when cooking salmon.  This means no oil is required which is great since the oil from the fish is more than enough to keep the fish from sticking to the pan.  It also helps to create that crispy brown golden crust on the salmon, even when you're working with skinless salmon.
How To Make This Recipe
Prep the leeks (cut into rounds), chop beans, quarter tomatoes (3 mins)
Chop basil, grab a lemon ready for juicing and zesting (1 min)
Grab Salmon from freezer and put into microwave (2 mins)
Heat pan/skillet (2 mins)
Cook Salmon flat side down/heat leeks, garlic, butter and beans (4 mins)
Flip salmon and cook other side/to the leek mix add chicken stock, lemon juice, Dijon mustard, salt and pepper, and cherry tomatoes and stir in (4 mins)
Remove everything from heat. Put on a plate and eat!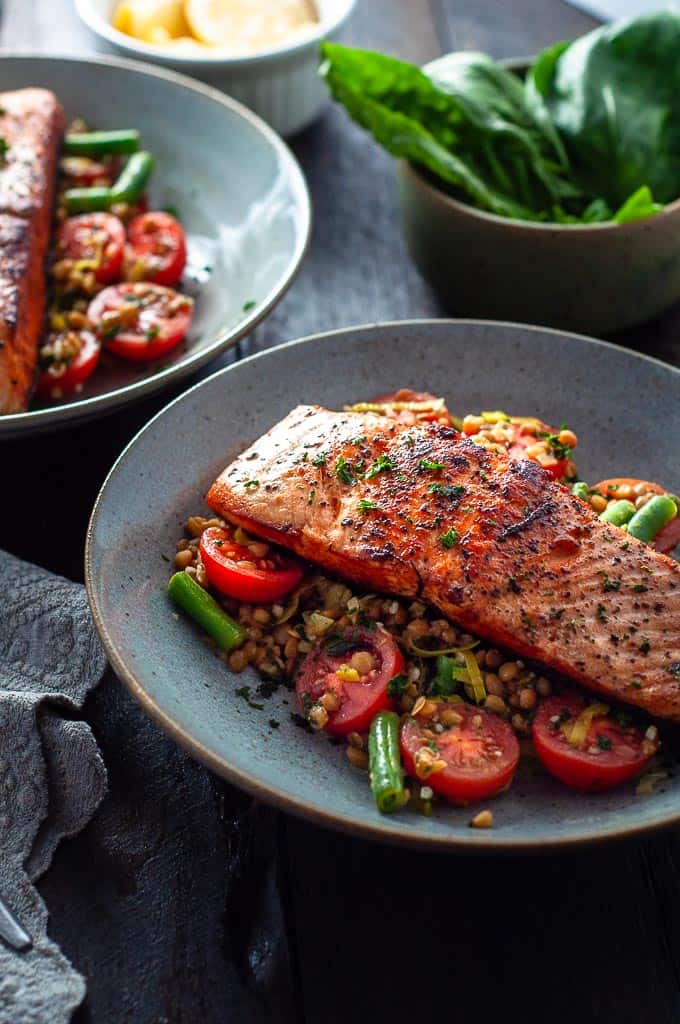 More 15 minute Dinners: Spicy Tender Chilli Beef and Broccoli, Spicy Tender Chilli Beef and Broccoli
Trimming Leeks
Trim the leek so that the darker green parts of the leek are removed, along with the roots and you are left with the white round stalk of the vegetable which is where all the flavour is. The dark green parts are the tough bits of the leek, contain little flavour and not suitable for eating.
Do You Have To Rinse Canned Lentils?
Yes, you should drain the liquid from the lentils as it is a salty liquid that has helped to preserve the lentils and is not meant to be eaten. Open the can and tip the lentils into a strainer and rinse under tap water. Bubbles will start to form as the liquid rinses off. Once the water becomes clear, shake the strainer to remove excess water.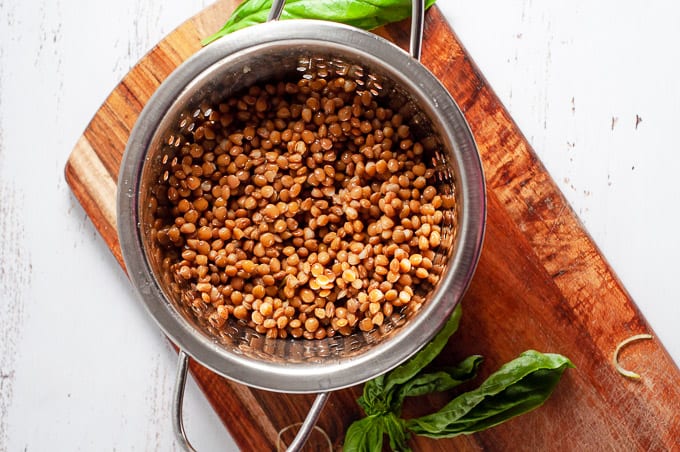 More Salmon Dinners: Chilli Soy Salmon with Sesame Noodles, Salmon Burrito Bowl, Salmon Fritters and this Spicy Salmon Stirfry.
Its hard to say no to this quick and easy dinner. There's a nice brown crust on the salmon, sweetness from the leeks, basil and tomatoes, salt and tang from the lemon and mustard and softness from the lentils and juicy salmon.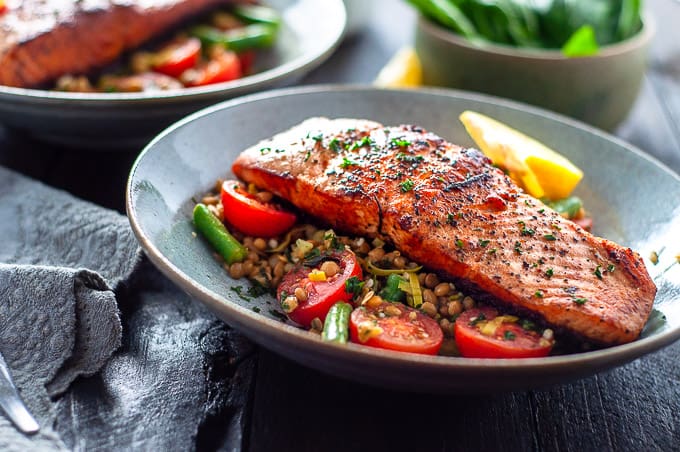 If you're a salmon fan, put this on your mid week menu. I'd love to know if you enjoy eating this dish as much as I do.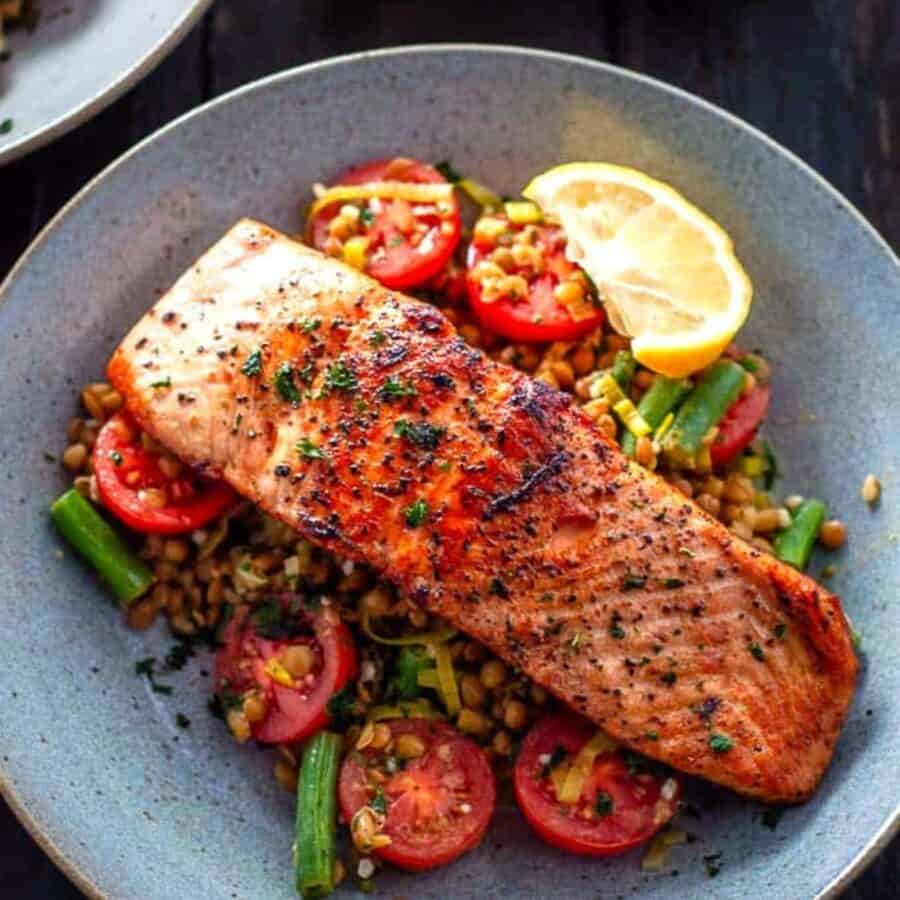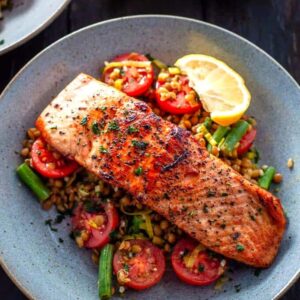 Salmon With Leeks and Lentils
Easy 15 minute Crispy Salmon with Leeks and Lentils, Tomatoes and Green Beans. Packed with flavour, good fats, fibre and lots of protein
Ingredients
2

pieces

Salmon fillets

-

skin off

1

medium Leek

-

sliced into thin rounds

1

tablespoon

Garlic

-

crushed

1

teaspoon

butter

1

tablespoon

Basil

-

fresh and finely chopped

1

cup

Green

-

canned lentils (drained of moisture)

2

tablespoons

chicken stock/broth

-

See note 1

1

teaspoon

Dijon mustard

2

tablespoons

Lemon juice

Pinch

of salt and pepper

10

Cherry tomatoes

-

halved

6

green beans

-

chopped into 3cm/1inch pieces
Instructions
Pat salmon dry of moisture with paper towel and season with salt and pepper to your liking

Salmon: Heat a non stick frypan/skillet on medium to high heat. Place salmon into pan, flat side down and cook for 4 minutes. Place a lid over to keep the steam in to help fish to cook through. Turn and cook other side for 4 minutes. Lid on.

Leeks and Lentils: Whilst salmon is cooking on the second side, heat a medium saucepan to high, add the butter, leeks, green beans and garlic. Stir with a spoon until the leeks become soft (around 3 to 4 minutes)

Once leeks are softened, stir through the chicken stock, lemon juice, Dijon mustard, salt and pepper, and cherry tomatoes.

Add the lemon zest, lentils and basil and stir through again. (See note 2)

To Serve: Place the lentil and leek mixture on the plate and place the salmon on top. Serve with additional wedges of lemon and diced basil.
Notes
Vegetable stock/broth can be substituted for the chicken stock/broth.
If you would like the leek and lentil mixture a little "looser" add a bit more water or stock and stir through until it reaches the consistency you are looking for.
Nutrition
Calories:
464
kcal
Carbohydrates:
30
g
Protein:
51
g
Fat:
21
g
Saturated Fat:
3
g
Fiber:
11
g
Sugar:
12
g
Note: Sugars contained in this recipe are from naturally occurring sugars in fruits, vegetables or other natural sweeteners.
Looking To Cut Out Sugar? Get the FREE Quick and Easy Food Swaps Checklist Pack!
Get your FREE Quick and Easy Food Swaps Checklists with over 65 Simple Real Food Alternatives to Help you Ditch The Sugar Without Feeling Deprived.