Healthy lightly fried Salmon Fritters with Crunchy Garden Salad can be on the table in less than 30 minutes. This is an easy to make low carb, low calorie dish packed with red salmon, grated potato, carrot and zucchini, and seasoned with fresh dill and lemon juice. These Salmon Fritters taste like summer, are crispy on the outside, soft on the inside, and will leave you feeling thoroughly satisfied.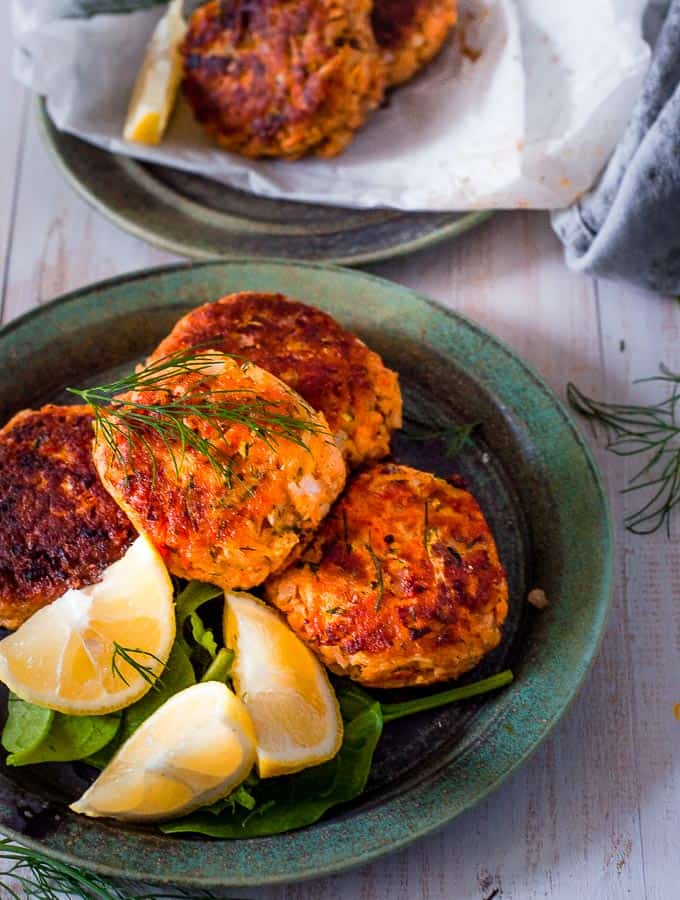 I hope you don't freak out when I tell you for this recipe I used tinned Red Salmon, which I had at the ready in my pantry. I know many people are a little bit anti canned salmon or tuna, but I honestly find it really convenient, especially for things like pasta bakes, and fish cakes.
Related: Tuna Mornay Pasta Bake (Made with Canned Tuna)
Since I almost always have canned salmon and tuna in my pantry, it means I don't need to make a special trip to the grocery store. How about you? Do you keep tins of salmon or tuna in the cupboard either for "dinner emergencies" along with a bag of pasta, or maybe just because you like it?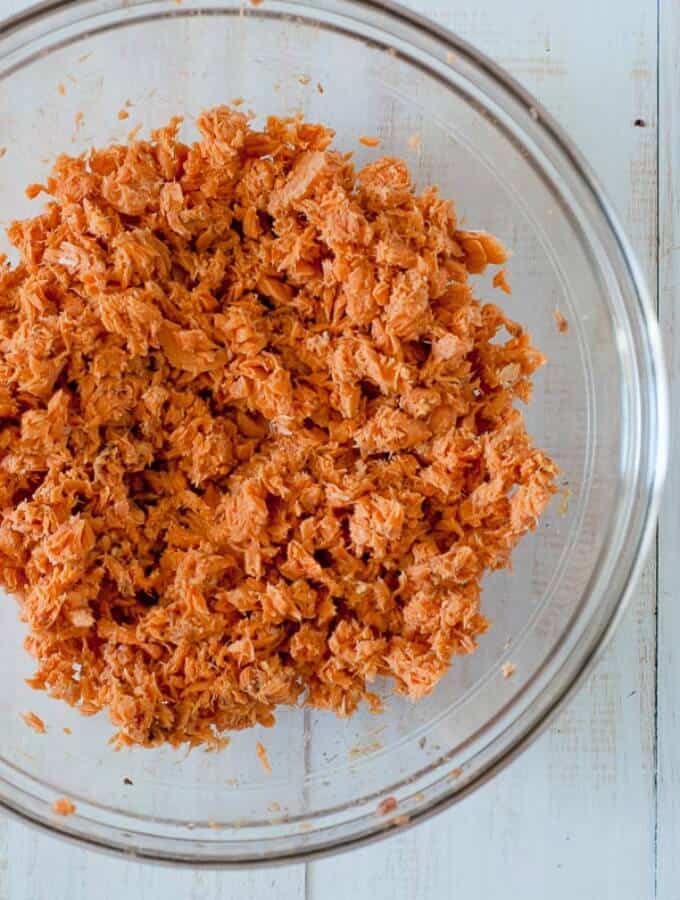 The trick to working with canned salmon, after getting it out of the tin, is removing the bones and excess skin. This can be a bit of a delicate operation as the bones are quite fine and the skin is slippery.
My top three tricks for getting the salmon ready are:
Get the salmon out of the tin and hold in one hand. Start removing the bones and skin and putting them back into the tin, and placing the good salmon flesh into a clean bowl.
It will be difficult to remove every single tiny bone. This is OK. The whole point of de-boning the salmon is to remove the majority. The remaining ones will be so tiny and unnoticeable when the fritters are cooked it will not be an issue.
Once you have the salmon in the bowl (bones and skins removed), clean your hands, and use your fingers to further break up the salmon, ready for the other ingredients.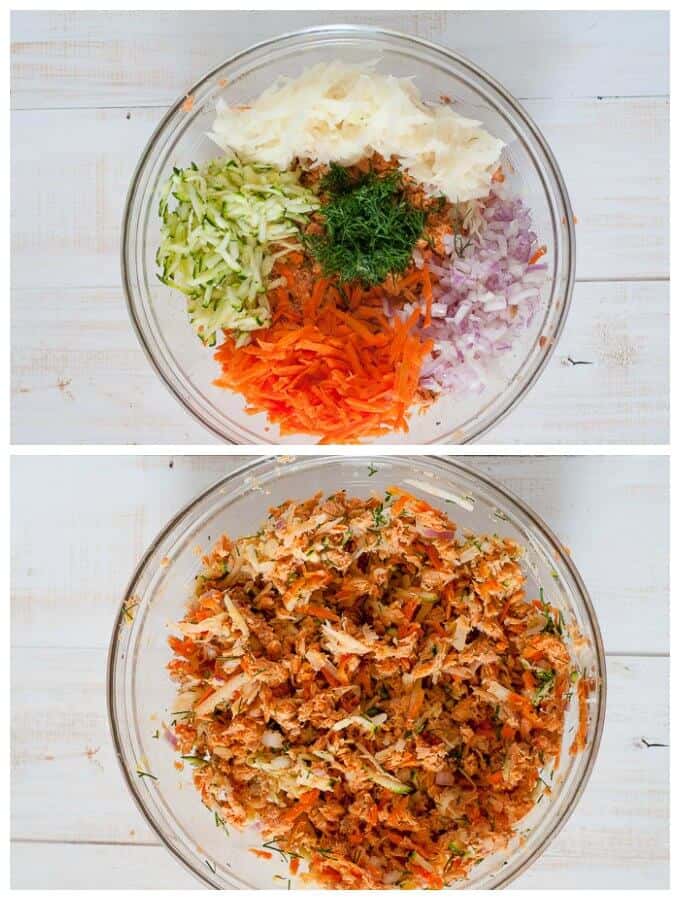 (note: if you must wash the salmon before adding the rest of the ingredients, please do so, but I never do and I don't think it's necessary as I want to keep as much of the salmon flavour as possible)
Red Salmon versus Pink Salmon
Both red and pink salmon are pacific salmon caught in the wild. Red salmon is more expensive than pink salmon, and the red salmon has a more robust flavour, whereas the pink salmon has a more delicate flavour.
If you're used to eating salmon on a regular basis, you might find the pink salmon a little lacking in flavour. (I use John West Red Salmon). The other thing about salmon of course, is that it is high in omega 3 fats which is great to incorporate into your diet.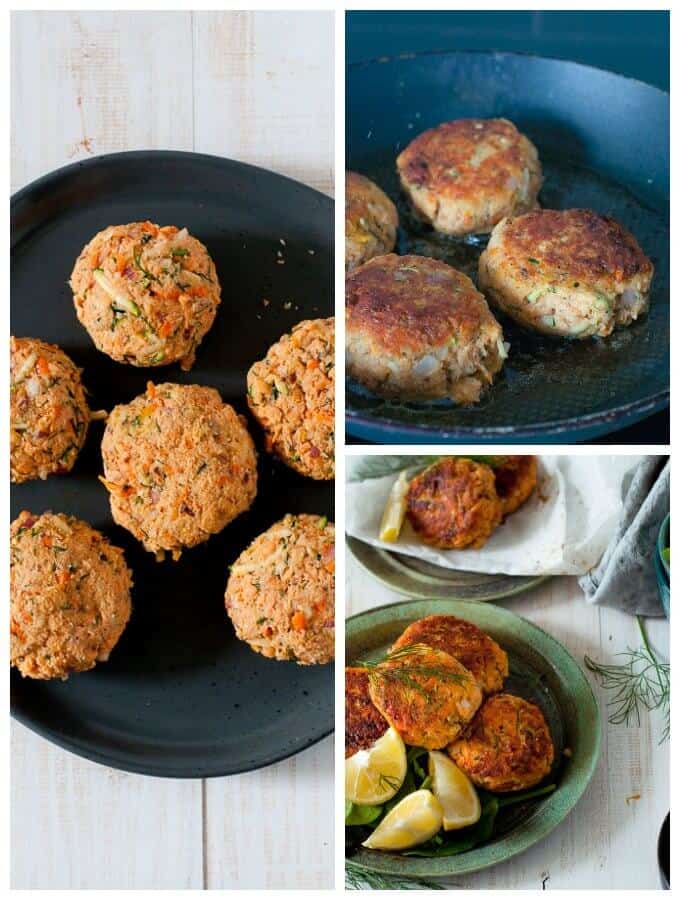 Making up a batch of these is also great for taking to work for lunch – along with some brown rice, wholemeal spaghetti, or quinoa with a garden salad. Packing a few of these salmon fritters into your work lunch each week would definitely help with keeping the 3pm munchies at bay.
Are you mad keen about Salmon like me? Then check out my other Salmon recipe creations that are just as quick and tasty as this one: Super Quick Salmon Curry In A Hurry, Easy Weeknight Salmon Stirfry, Chilli Soy Salmon with Sesame Noodles, and this mexican masterpiece - Salmon Burrito Bowls!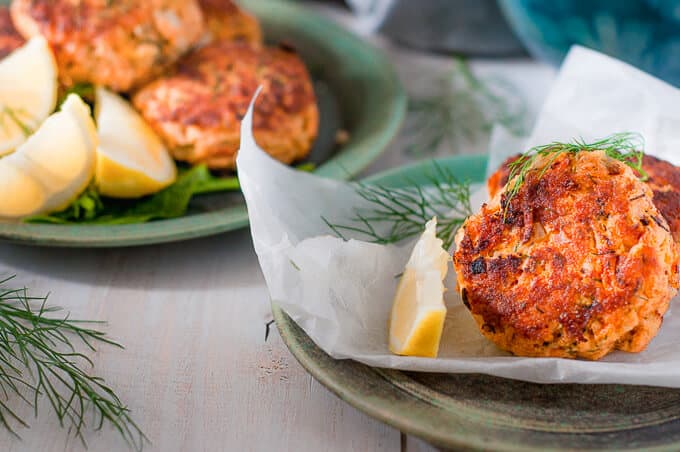 Recipe Tips
Grate the veges you are using, as opposed to chopping them. This makes for a better consistency and helps them to hold together better.
Instead of white potato, use sweet potato grated instead for a bit of variety.
Don't have the pan/oil on the absolute highest setting – Medium to high is best and I like to use Rice Bran Oil which has a high smoke point but doesn't burn. Avoid using olive oil as the flavour from the oil will be too overpowering for the fish
Don't skip the seasoning – Salt and pepper definitely go a long way to bringing out the flavours of the salmon.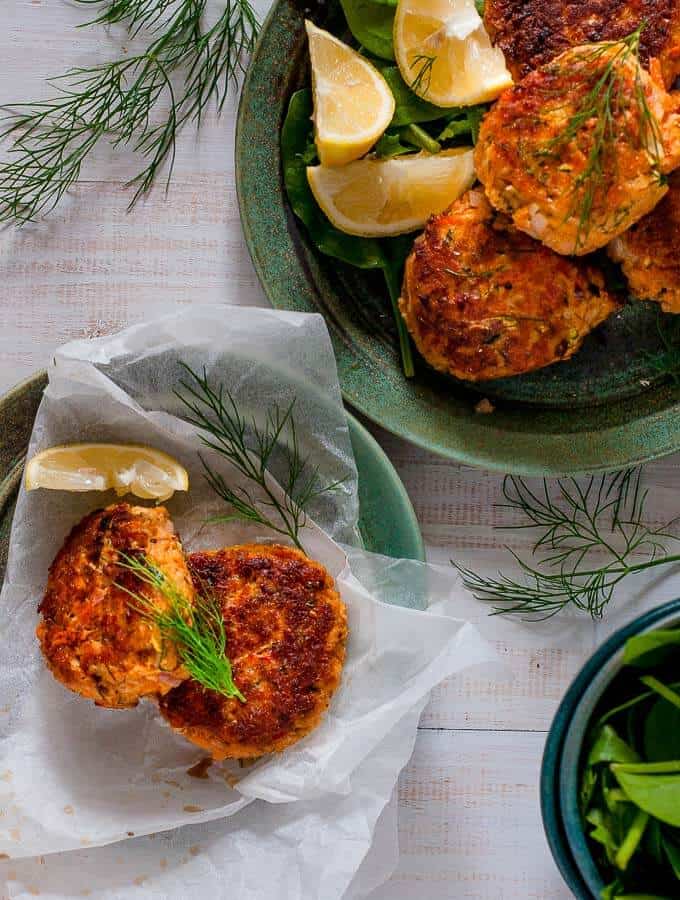 I thoroughly enjoyed making and eating these salmon fritters. I had them for lunch and dinner and am seriously looking forward to the next time I make them.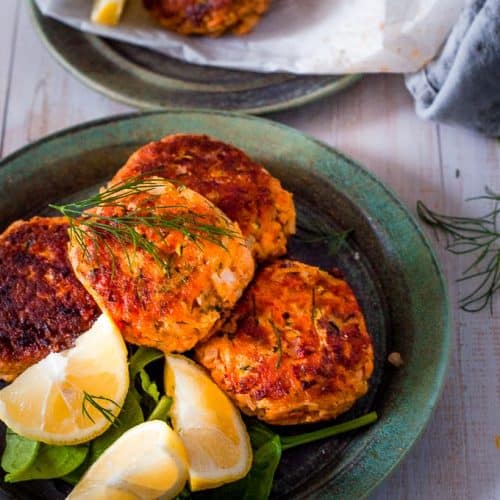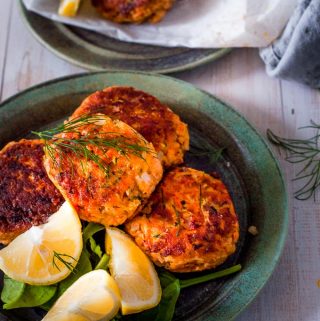 Light and Healthy Salmon Fritters
Healthy lightly fried Salmon Fritters with Crunchy Garden Salad can be on the table in less than 30 minutes. This is an easy to make low carb, low calorie dish packed with red salmon, grated potato, carrot and zucchini, and seasoned with fresh dill and lemon juice.
Ingredients
1

medium

-

415 grams/15 ounce tin Red Salmon

¼

cup

grated White potato

-

raw

¼

cup

grated Carrot

¼

cup

grated Zucchini

2

tablespoons

Red onion

-

finely chopped

2

tablespoons

Dill

-

finely chopped

1

tablespoon

Lemon juice -

freshly squeezed

Rind of 1 lemon

1

Egg

¼

cup

Wholemeal breadcrumbs

Salt and pepper to taste

4

tablespoons

Rice bran oil
Instructions
In a medium sized mixing bowl, prepare the salmon by removing bones and skin (I use a fork to scrape the salmon to remove bones and skin and place them back into the tin, and put the fish into the bowl.

Once bones/skin are removed form salmon, use a fork to flake it into pieces so there are no clumps.

Add the grated potato, carrot, and zucchini, followed by the red onion, dill, lemon juice and lemon zest. Mix together with a spoon, and season with salt and pepper.

Add the egg and mix in with a spoon.

Add the breadcrumbs and mix in with a spoon.

Using your hands, shape the mixture into 6 patties and place on a plate.

Heat a pan on medium heat and add half the oil, and 3 of the patties. Cook each fritter for 3 to 5 minutes, using an egg flip to turn. Keep an eye on them to make sure they don't burn.

Repeat process for remaining three fritters.

Serve with a squeeze of lemon, garden salad and mayonnaise/yoghurt dressing.
Notes
This recipe makes 6 good size salmon fritters, which i find is suitable for 3 people as a light meal or lunch along with a serve of brown rice and garden salad.   Alternatively, if you are eating them on their own, the dish would make two serves - that is, 3 fritters each.
Nutrition
Calories:
323
kcal
Carbohydrates:
10
g
Protein:
20
g
Fat:
24
g
Saturated Fat:
5
g
Fiber:
1
g
Sugar:
3
g
Note: Sugars contained in this recipe are from naturally occurring sugars in fruits, vegetables or other natural sweeteners.
Looking To Cut Out Sugar? Get the FREE Healthy Food Swaps Checklist Pack!
Get your FREE Healthy Food Swaps Checklists with over 65 Healthy Food Alternatives to Help you Ditch The Sugar Without Feeling Deprived.