Pressure Cooker Beef Rendang is a super simple 30 minute recipe that tastes like its been slow cooking for 8 hours, with perfectly tender, juicy, fall apart beef in rich aromatic curry sauce. This is a mild, light, and creamy curry to curl up on the couch with whilst watching you favourite movie, or, bust it out on your Date night for a hit of homemade healthy Indian.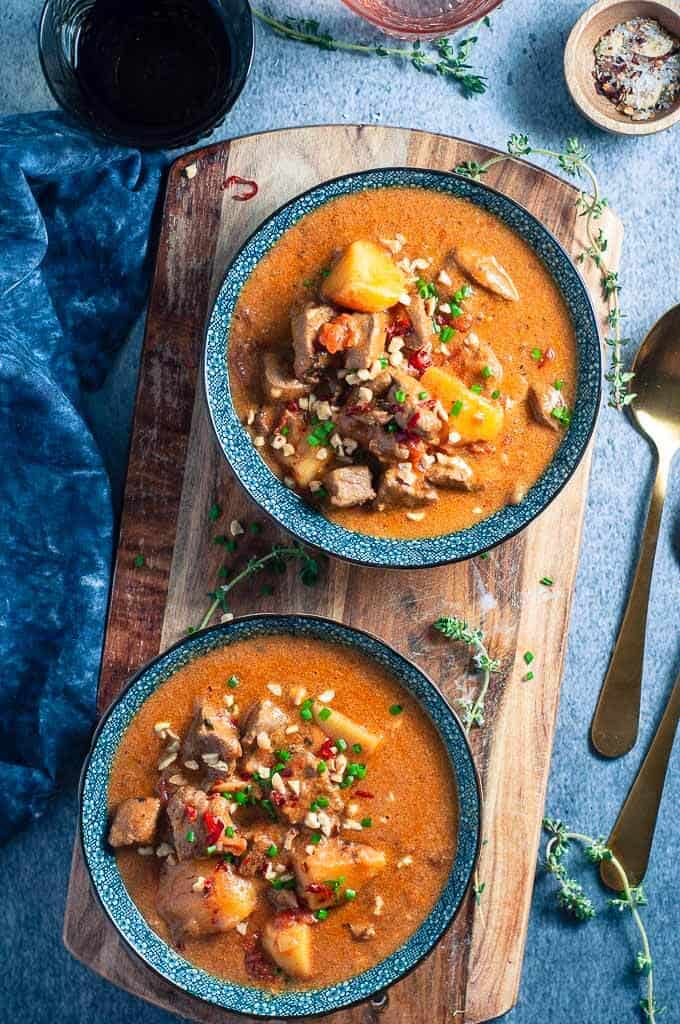 The Best Cut Of Meat To Use
I tend to use a cut of meat that has little fat on it, like a sirloin steak that I can cut into chunky bite sized pieces. I generally don't buy the pre cut/diced beef as this is more expensive, and when you buy it in whole steaks or slabs it can be easier to see the quality of what you're buying.
I wouldn't recommend buying a cheap cut of meat, like gravy beef for example. These cuts work well for the pressure cooker, but I've found less so with pressure cooking. The fat on the meat doesn't tend to break down and it just ends up being unpleasant when you eat it. So, aim for a lean meat, and even then I usually still trim off excess fat so that I'm just left with as much meat as possible.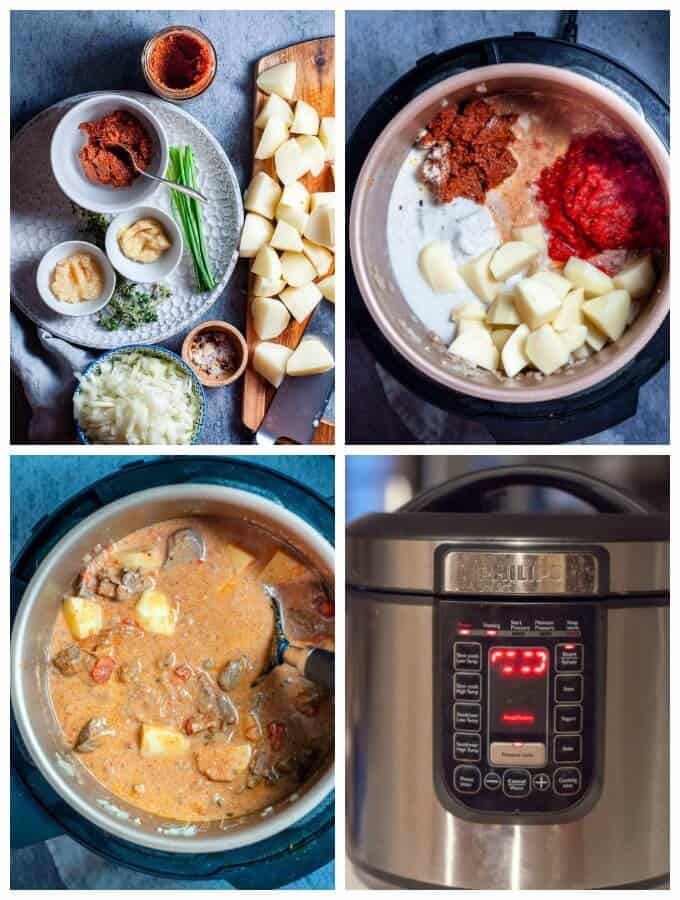 Pressure cookers cook curries and stews is a mere fraction of the time which is one of the reasons I have fallen in love with my electric pressure cooker. I use a Phillips Multi Cooker which is a 3 in 1 (Pressure Cooker, Slow Cooker and Rice Cooker), but I only use it for Pressure Cooking which is what it excels at.
How To Cook Beef Rendang In The Pressure Cooker
Browning the meat in the inner pot is essential as it locks in the flavours from the get go and it only takes a few minutes. This is separate from the pressure cooking proper, and you need to brown the meat with the lid off.
Once you've browned the meat, it's as easy as putting all the ingredients in, giving it a stir, locking the lid in place, and closing the steam valve.
Set the pressure cooker timer to 30 minutes and put your feet up.
Once it beeps, release the steam value (the steam will spurt up for 30 or so seconds) and when that has settled, remove lid and its done.
If you prefer a thicker sauce it's easy to create a mix of 2 tablespoons of cornflour and ¼ cup of water to stir through to thicken.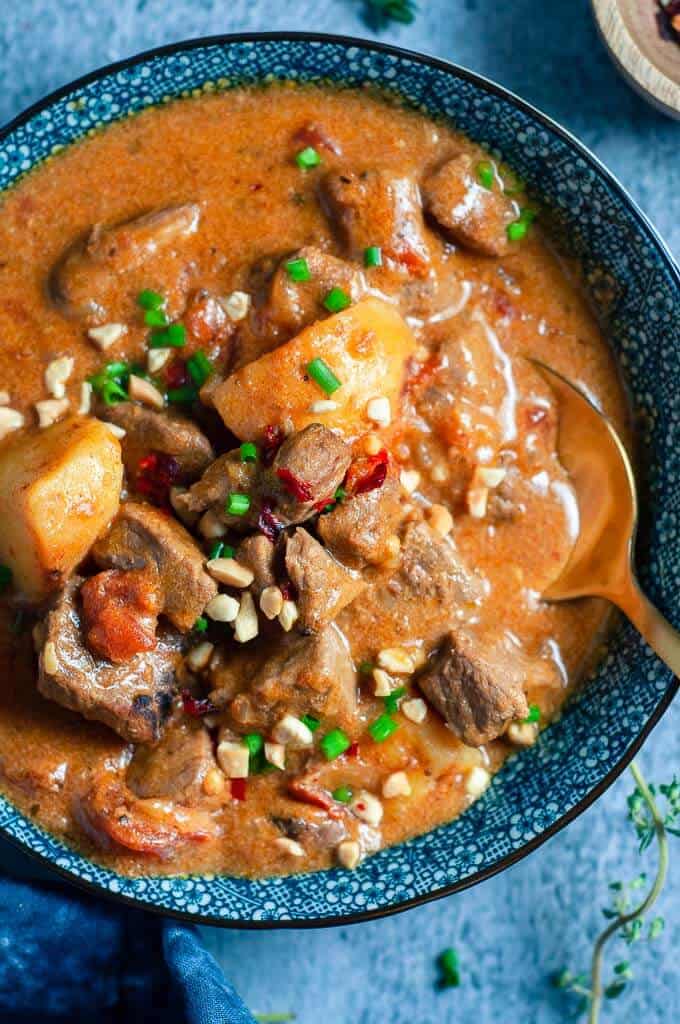 The easy thing about this recipe is that it uses bottled curry sauce with tinned tomatoes, coconut milk, onion, ginger, garlic and sea salt to create a balanced Indian curry that's fresh, hearty and just what you need as the weather starts to cool down.
TIP: This is also a great freezer recipe as the recipe makes 6 portions. So whatever you don't eat on the night, portion it out into freezer containers, label and date them and you've got dinner sorted for when you don't feel like cooking, or have activities that keep you out late during the week.
Cooking dinners in the pressure cooker is quick, efficient and you're only using 1 pot so there is limited cleaning. My Pressure Cooker really is a lifesaver when it comes to cooking tasty dinners quick, especially since I'm very fond of comfort food and love my stews and curries, even in Summer.
More Pressure Cooker Recipes --->>> Pressure Cooker Coriander Beef Curry, Pressure Cooker Apricot Chicken, Pressure Cooker Chicken Stew, Pressure Cooker Chicken Korma Curry, Pressure Cooker Lamb Shanks.
How To Serve Beef Rendang
Simple: Since I use potatoes in my version, I generally like to add some greenery. Heating some frozen peas in a bowl of water in the microwave is one of my favourites. Steaming green beans on the stove is also a winner.
Traditional: Brown Rice, Jasmine Rice, Basmati Rice are some other good options, especially if you want to make it go a bit further. With Nan bread of course.
Not Traditional: Pearl Cous, macaroni pasta, or even penne pasta for an Indian meets Italian twist.
Unconventional: Zucchini noodles, quinoa, garlic bread, chickpeas, butter beans or lentils if you like thinking outside the square.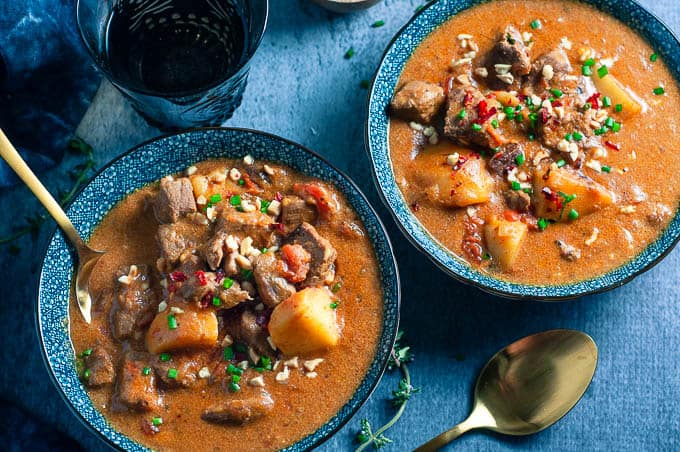 This is a great recipe to get started with if you're new to Pressure Cooking as it's simple ingredients and with practically no prep. It takes just 30 minutes and you'll be rewarded with a delicious and tasty beef rendang that tastes like its been slow cooked. Its ideal for work lunches the day after as the flavour is intensified, as well as mid week freezer friendly dinners. An All rounder as they say and a firm family favourite in our household.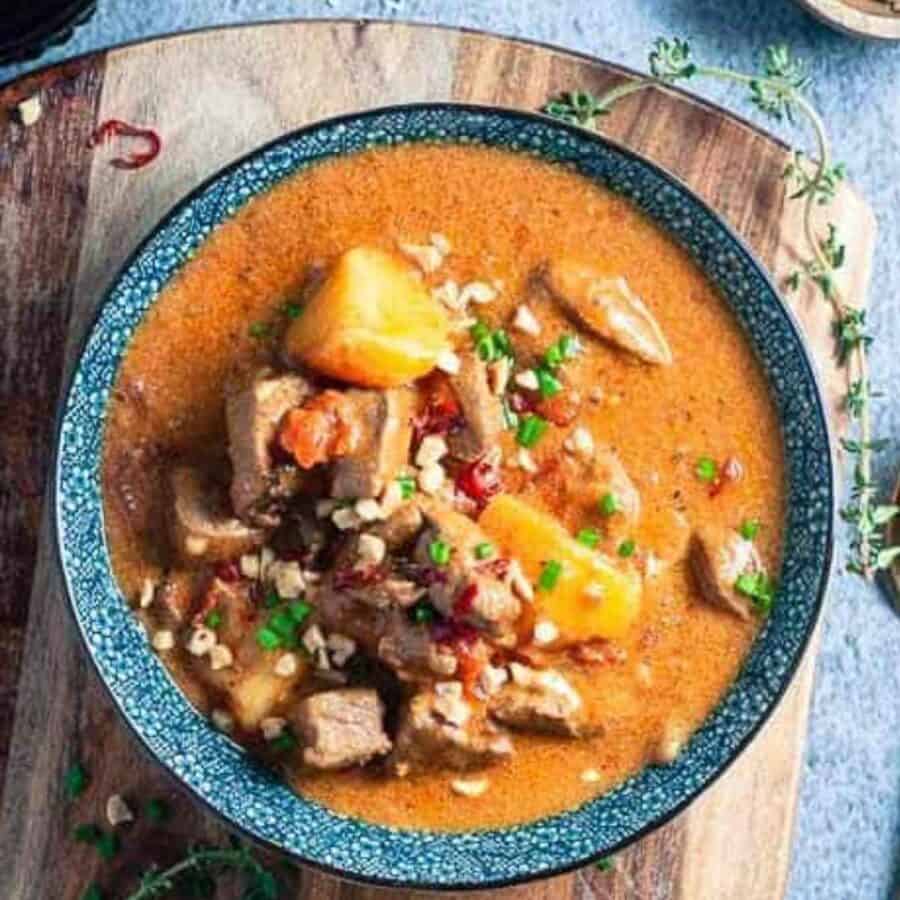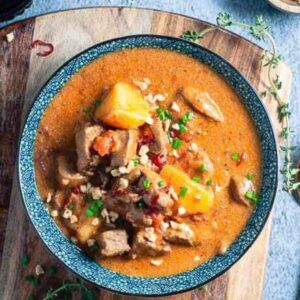 Beef Rendang Pressure Cooker
Pressure Cooker Beef Rendang is a super simple 30 minute recipe that tastes like its been slow cooking for 8 hours, with perfectly tender, juicy, fall apart beef in rich aromatic curry sauce.
Ingredients
1

kg

/2 pounds of Lean Diced Beef

-

in chunks [I use Sirloin, fat trimmed]

185

grams/1 cup Beef Rendang Paste

-

[see note 1]

1

medium white onion

-

diced

1

teaspoon

Ginger

-

freshly ground

1

tablespoon

Garlic

-

crushed

400

ml

can Coconut Milk

-

1 x can full cream, not light

410

gram

Can Diced Tomatoes

4

medium white potatoes

-

peeled (chopped into 2cmx 2cm pieces)

1

teaspoon

Sea Salt

2

tablespoons

finely hopped Chives
Optional
1

Lime

Chopped peanuts

½

cups

Cooked Jasmine Rice
Instructions
Set pressure cooker to the "Saute/Sear" HIGH TEMP. Wait a minute or 2 for it to heat up.

Add the onion to the inner pot and cook for 1 minute. Add the garlic and ginger and stir in for another minute.

Add the beef to the inner pot and brown the beef for 3 to 4 minutes.

Add the tomatoes, rendang paste, coconut milk, potatoes and salt. Stir to mix in.

Secure and lock in lid in clockwise direction. Set the valve to seal.

Select the menu by pressing the PRESSURE COOK button

Select the "MEAT/POULRTY" setting and adjust the cooking time to 30 minutes.

Press start to commence the cooking process.

Once timer has gone off, release pressure valve so steam can escape.

Remove the lid and stir. Divide curry equally among 4 dishes.

Garnish with finely chopped chives, chopped peanuts, and dried chilli flakes. Squeeze a little lime juice over for an extra burst of flavour.

Serve with cooked jasmine rice if desired.
Notes
1. I used the brand AYAM Malaysian Rendang Curry Paste.
2. To freeze: store portion sizes in freezer containers for upto 6 weeks
3. To Defrost: microwave on high for 2 to 3 minutes.
4. Other serving suggestions: nan bread, garlic bread, brown rice, quinoa, cauliflower rice.
Nutrition
Calories:
483
kcal
Carbohydrates:
32
g
Protein:
44
g
Fat:
21
g
Saturated Fat:
14
g
Fiber:
6
g
Sugar:
7
g
Note: Sugars contained in this recipe are from naturally occurring sugars in fruits, vegetables or other natural sweeteners.
Looking To Cut Out Sugar? Get the FREE Healthy Food Swaps Checklist Pack!
Get your FREE Healthy Food Swaps Checklists with over 65 Healthy Food Alternatives to Help you Ditch The Sugar Without Feeling Deprived.