Pressure Cooker Lamb Shanks that are fall off the bone tender in under 90 minutes. Who would of thought? Just as good, if not better than slow cooked lamb shanks, this is perfect cool weather comfort food to tuck into with lashings of creamy rich mash potato, green beans and that delicious lamb shank gravy sauce.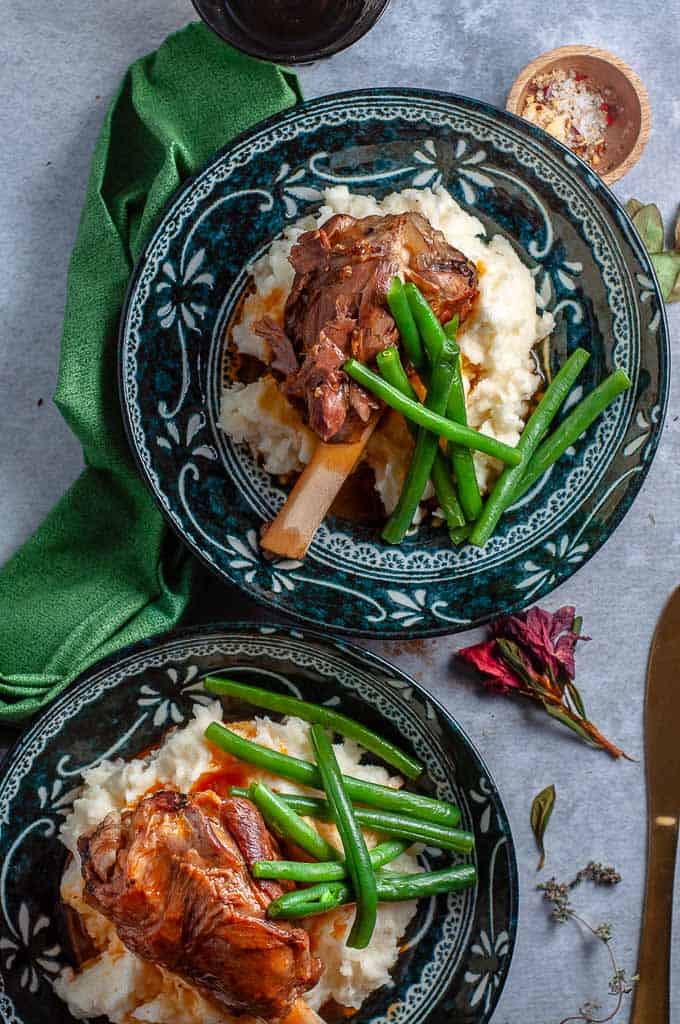 How To Prepare Pressure Cooker Lamb Shanks Before Cooking
When cooking Lamb Shanks it's essential that you brown them off before starting the official pressure cooking process. Actually this is true, regardless of whether you are making pressure cooker lamb shanks, lamb shanks in a slow cooker or slow cooking them on the stove top or oven.
The more you can brown them off to create golden brown with a few crispy bits here and there, the more flavour your lamb shanks will have. It's this pre cooking and browning that locks in and seals in the flavour of the meat which makes the difference between average lamb shanks and off the charts lamb shanks.
[irp posts="2341" name="Pressure Cooker Massaman Curry"]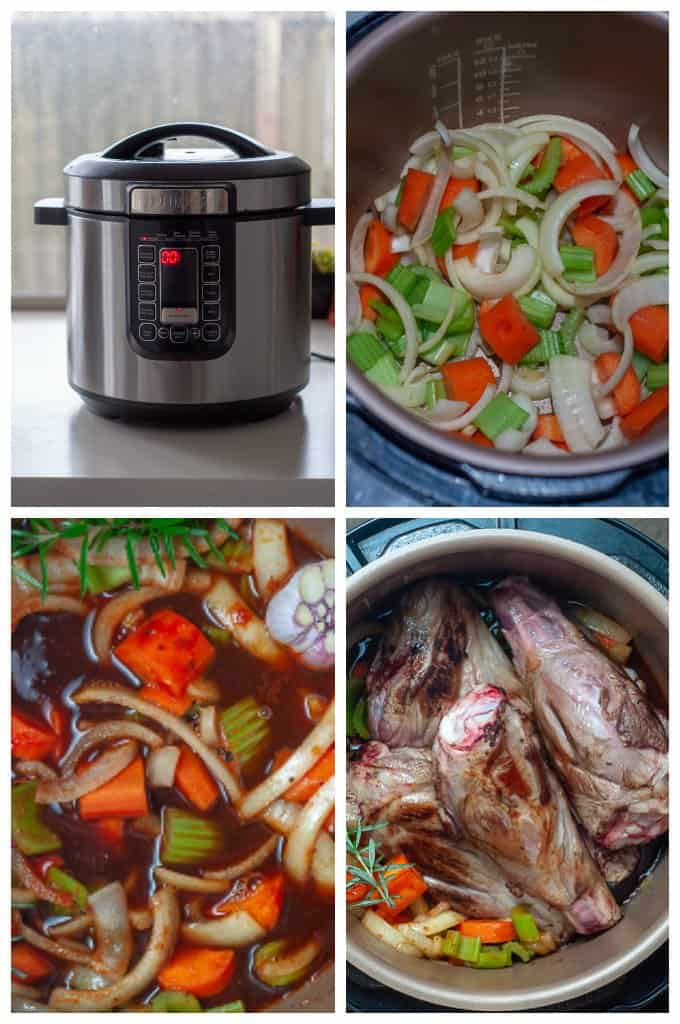 I use a Phillips Multi Cooker which is a Pressure Cooker, Slow Cooker and Rice Cooker all in one.
How Long Do You Cook Lamb Shanks in the Pressure Cooker?
If you've precooked your lamb shanks beforehand either in the inner pot of the pressure cooker or in a separate pan, 60 minutes in the pressure cooker is all they will need to be meltingly tender where the meat falls off the bone.
[irp posts="3037" name="Pressure Cooker Apricot Chicken"]
TIP: To get the ultimate creamy and silky mash to go with your pressure cooker lamb shanks, I like to use Desiree or Dutch Cream potatoes for mash as they are a goo all rounder and waxy potato that requires little effort to create a smooth lump free mash without any floury aftertaste.
You might also like: Slow Cooker Lamb Ragu with Papperdelle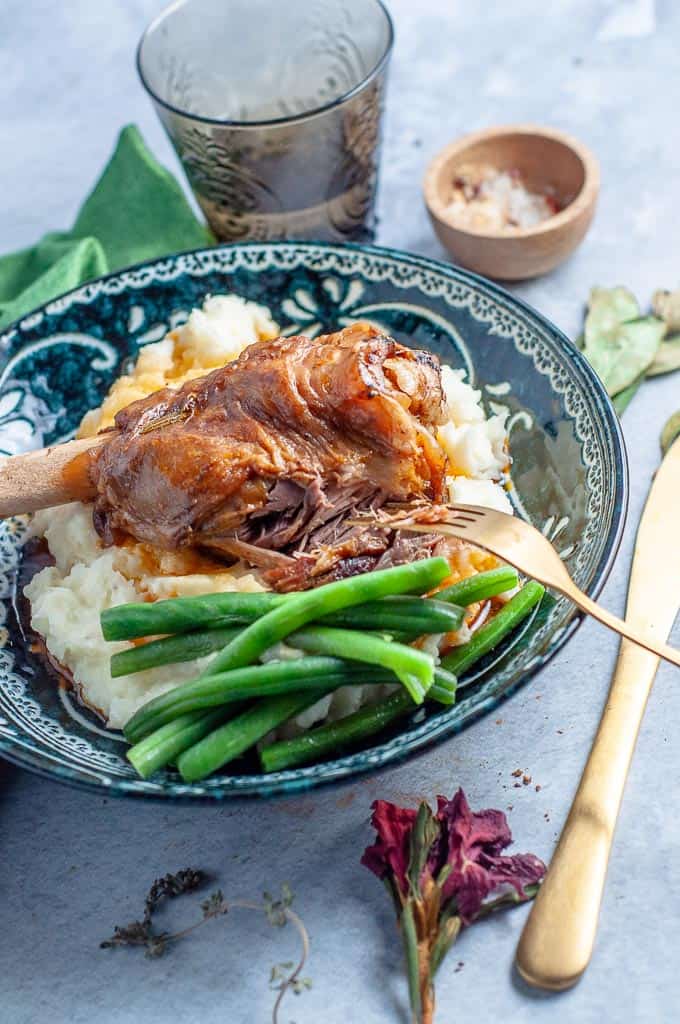 Lower Carb Sides To Have With Your Pressure Cooker Lamb Shanks
If you're hankering for Lamb Shanks but are watching your carbs, check out some of these sides:
Turnip and carrot Mash with a little butter and garlic
Lightly spiced Carrot Mash
Garlic Parsnip Mash
Finely sliced cabbage steamed with butter and lemon pepper stirred through
Garlic butter mushrooms and spinach
Low Carb Pasta
Low Carb Potatoes
[irp posts="2524" name="Pressure Cooker Beef Curry"]
Lamb shanks cooked in the pressure cooker are a great time saver and it means you can even have them mid week when you don't have 8 or 9 hours to wait around for a slow cooker. Pressure cooking creates tender succulent fall of the bone lamb and is a total winner when you want slow cooked comfort food in a fraction of the time.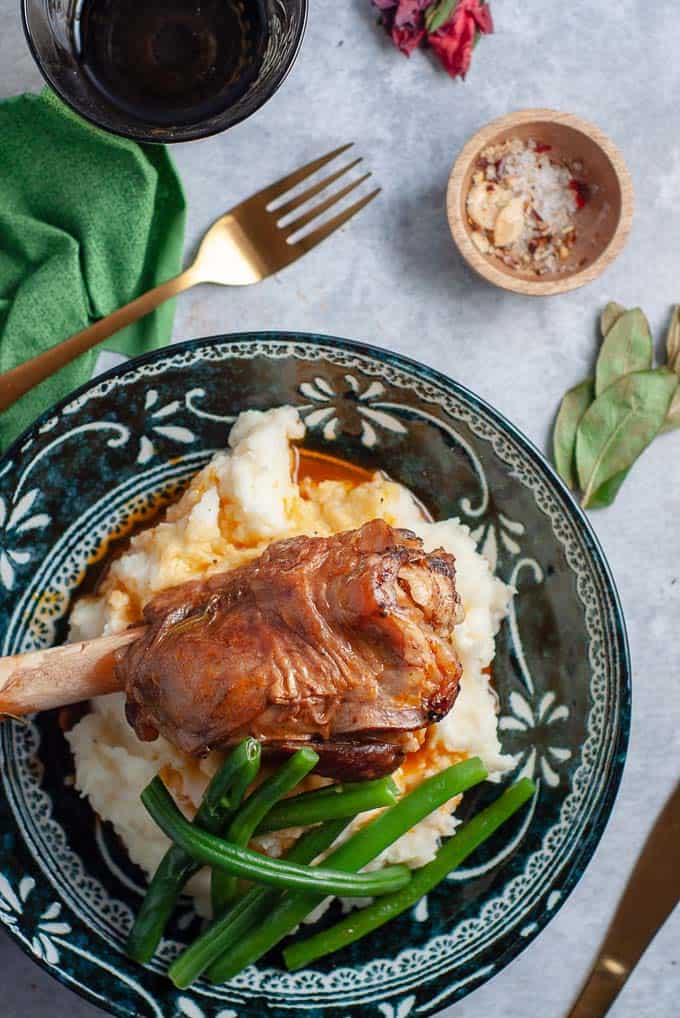 And the sauce. Lamb shanks need a sauce, or jus as my Husband likes to call it. The jus that's created as a result of these lamb shanks cooking is simple, full of flavour and perfect to drizzle all over that mashed potato.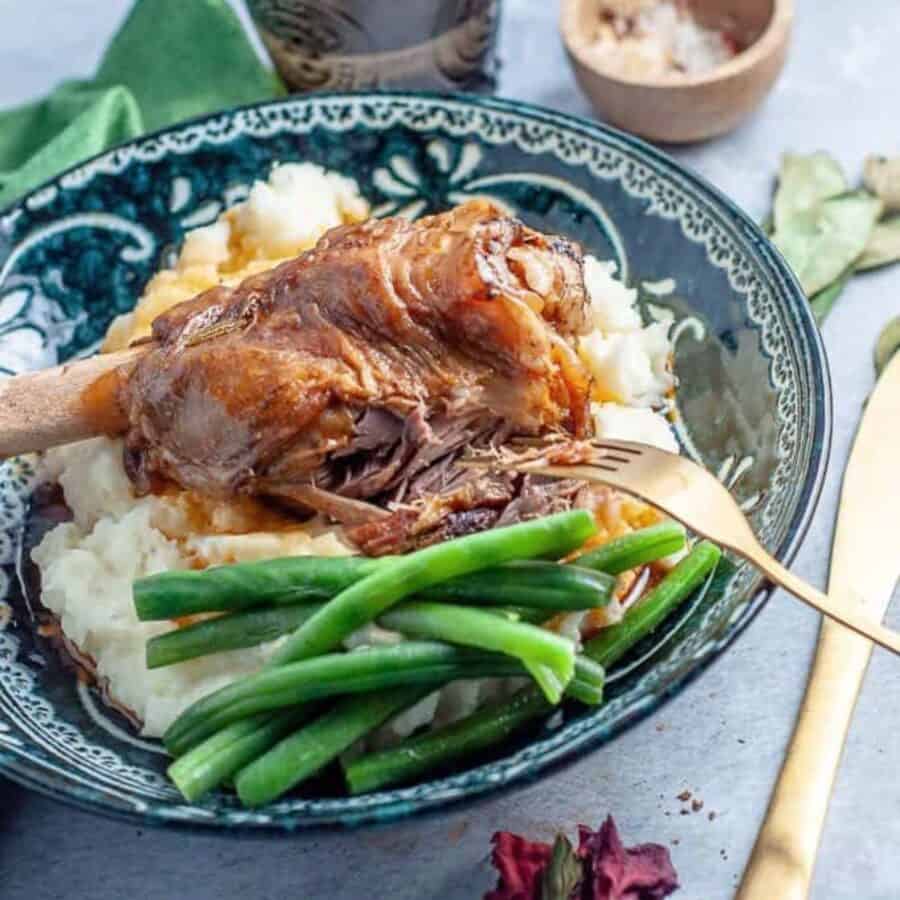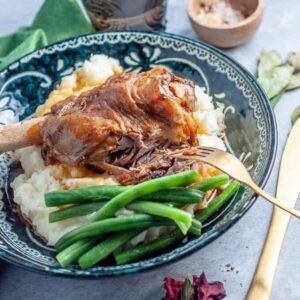 Press Cooker Lamb Shanks
Tender succulent fall of the bone lamb with lashings of creamy rich mash potato, green beans and that delicious lamb shank gravy sauce, all in under 90 minutes.
Ingredients
4

Regular Lamb Shanks

1

medium Brown onion

2

cups

chopped celery

2

medium carrots

-

chopped into chunks

6

cloves

Garlic

2

stalks Rosemary

3

tablespoons

Tomato paste

1 ¼

cup

Beef stock/broth

¼

cup

Red wine

1

teaspoon

Sea salt

4

large White potatoes

¼

cup

milk

2

tablespoons

butter

2

tablespoon

Mayonaise

Handful of Green beans

-

around 20 or so
Instructions
Set pressure cooker to the "Saute/Sear" HIGH TEMP. Wait a minute or 2 for it to heat up.

Add two of the shanks and brown them off. When the shanks have developed a nice brown caramel colour, remove them and put the other two shanks in and repeat. Brown off as much as you can before starting the pressure cooking proper. (Keep the lid off during this process) [See note 1]

Place all 4 shanks aside on a plate covered. Add the onion, celery and carrots to the inner pot and cook for 3 minutes.

Add the tomato paste, stir through and cook for a further 3 minutes.

Add the red wine and beef stock/broth and stir through, followed by the whole garlic cloves and rosemary sprigs placed on top.

Add the lamb shanks back into the pot, nestling them into the mixture.

Secure and lock in lid in clockwise direction. Set the valve to seal.

Select the menu by pressing the PRESSURE COOK button

Select the "MEAT/POULTRY" setting and adjust timer to cook for 60 minutes.

Press start to commence the cooking process.

Once timer has gone off, release pressure valve so steam can escape.

Remove lid and take out the lamb shanks. Place aside into a baking tray.

Remove inner pot and use a sieve to strain the liquid from the vegetables into a saucepan. Disgard the vegetables. Heat the liquid on low heat for 5 minutes until it thickens just slightly and then remove from heat.

Potatoes: Add the peeled potatoes to a pot of hot water and bring to the boil. Cook for 10 to 12 minutes then test with a fork to see if soft. Once they are soft, drain the water and mash with a potato masher. Add the milk, butter and mayonnaise until smooth and creamy.

Beans: Steam the bean in a steamer over a pot of water for about 5 minutes, or cook in a bowl of water in the microwave for 3 minutes until just cooked.

Plating up: Evenly spread the mashed potato across 4 large plate, add a lamb shank to each and drizzle on a little of the sauce, and add the green beans.
Notes
You could also try pre cooking the shanks in a separate pan to brown them off. The browner the better before you start the pressure cooking process. (Browning helps to create and lock in the flavour)
Nutrition
Calories:
504
kcal
Carbohydrates:
42
g
Protein:
36
g
Fat:
20
g
Saturated Fat:
7
g
Fiber:
5
g
Sugar:
7
g
Note: Sugars contained in this recipe are from naturally occurring sugars in fruits, vegetables or other natural sweeteners.
Looking To Cut Out Sugar? Get the FREE Healthy Food Swaps Checklist Pack!
Get your FREE Healthy Food Swaps Checklists with over 65 Healthy Food Alternatives to Help you Ditch The Sugar Without Feeling Deprived.