This electric Pressure Cooker Chicken Korma Curry is simple to make and uses everyday ingredients. It's an indian inspired curry recipe with a healthy twist that is packed with flavour, soft tender chicken pieces and rich aromatic curry sauce.
All you need is your trusty pressure cooker or instant pot and it is on the table in under 30 minutes.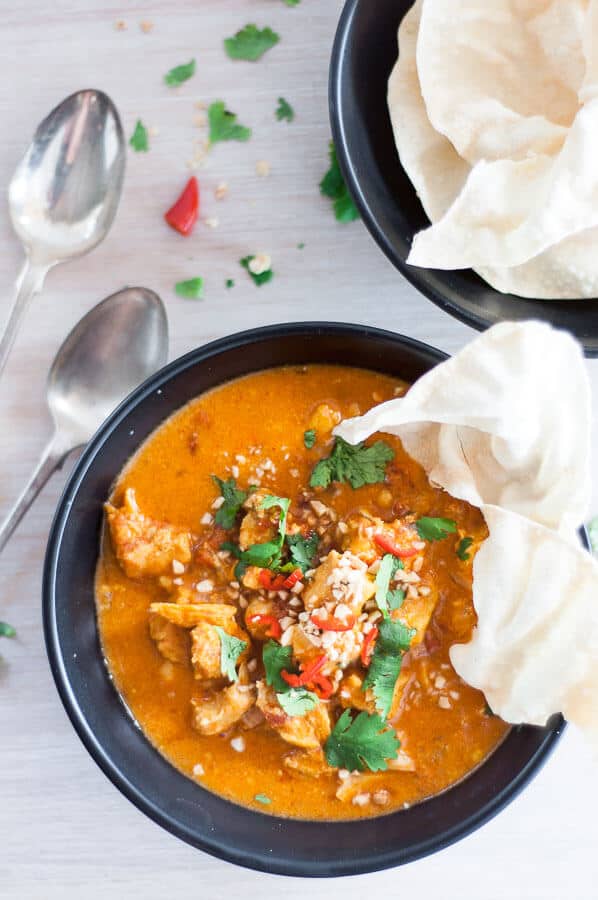 Chicken, onion, ginger, garlic, chopped tomatoes, korma paste, chicken stock/broth and cream all come together for a quick, simple and delicious chicken curry that tastes like its been simmering all day in a slow cooker.
TIP: When using your electric pressure cooker, make sure to put the lid on correctly and that it "clicks" in place. Also remember to set the vent to "seal" before setting the timer. Several times I have not had the lid on properly and I have ended up with a disaster on my hands. The pressure didn't build, and the meat didn't cook properly. Into the bin it went.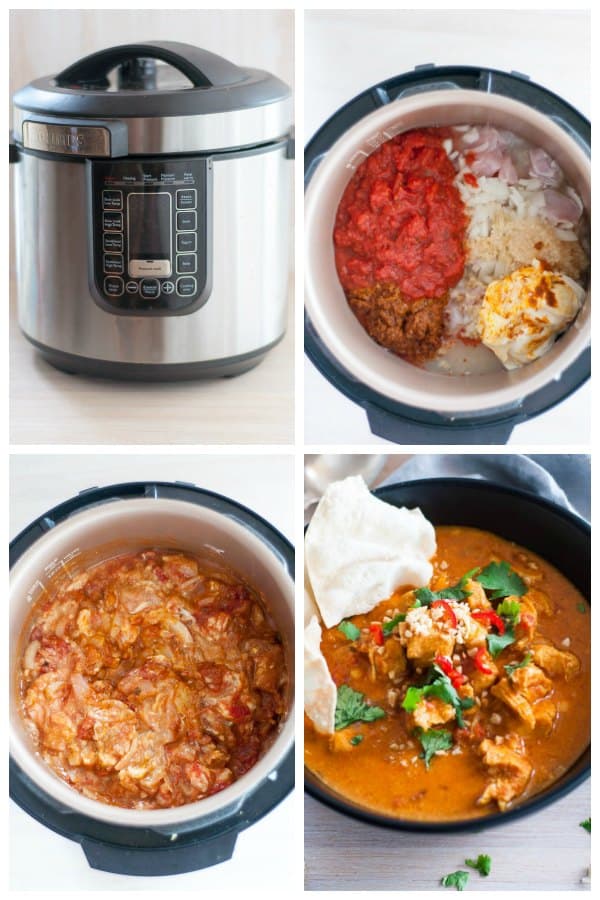 Having an easy and tasty chicken curry recipe on hand can be a real lifesaver, especially in the cooler months when you're craving comfort food. Or when you'd love a good takeaway curry on a Friday night after a long week at work but you want it to be healthy so it doesn't undo all your good work you've done during the week.
So few ingredients, and practically no preparation required. Just chop the chicken and pop everything into the Pressure Cooker.
TIP: The brand of Korma paste I use is "Sherwoods" which I find has a lot of flavour and taste. The overall flavour of the curry will vary widely depending on the type and brand of paste you use.
Love your Curries? So do I. Here are some of my favourites that I make regularly: Beef Satay Curry Noodles, Salmon Curry In A Hurry, Apricot Chicken Curry Casserole, and Fish Penang Curry.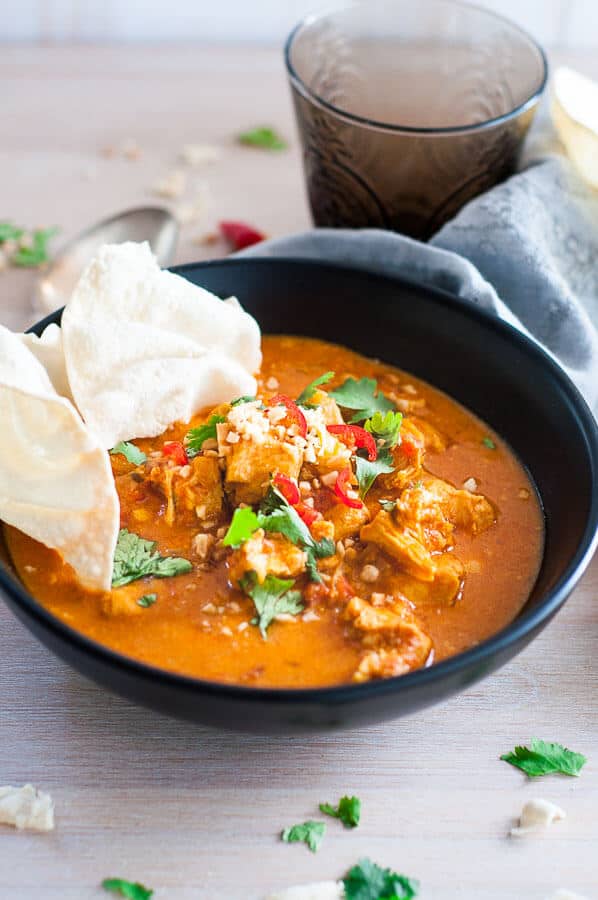 One of the beauties of this recipe is it's versatility. You could pretty much turn it into a few different types of curries if you were up for some experimentation. Why not try different curry pastes, like Red Thai Curry paste, or Penang curry paste for a totally different taste.
Remember even when your curry is cooked and you've released the pressure valve, you can still stir in things like salt, lime juice, peanuts, and other spices/aromatics if it needs a bit more waking up. Always add one at a time and taste as you go to get the perfect tailored curry that will excite your palate.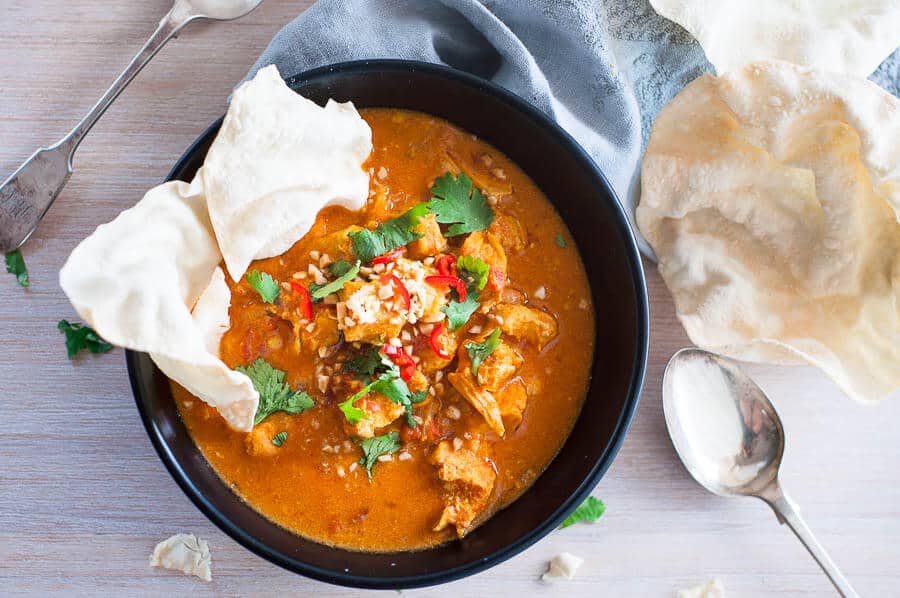 If you don't have a pressure cooker or an instant pot and you're don't mind admitting you're a bit of lazy cook, they you need one of these in your life. Not only is it a time saving gadget, it's a money saving gadget also as I often buy cheap cuts of meat and the pressure cooking method turns them it to total showstopper succulent dishes that I otherwise probably might not eat.
Other pressure cooker recipes: Pressure Cooker Massaman Beef Curry, Pressure Cooker Chicken Stew, Pressure Cooker Mexican Beef Taco Bowls, Pressure Cooker Massman Beef Curry,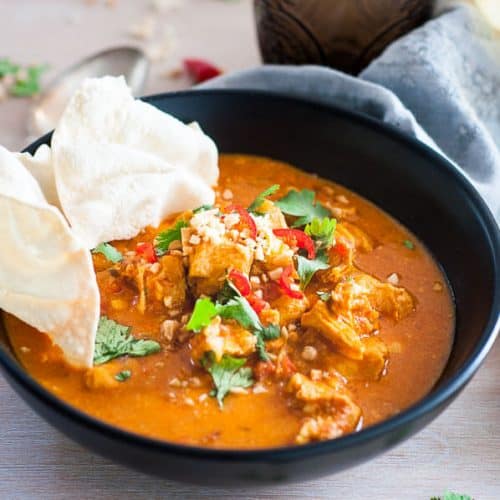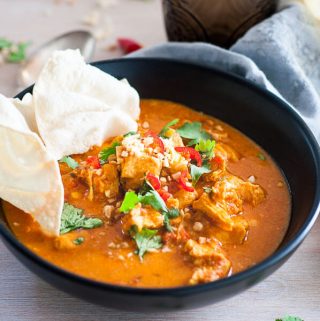 Pressure Cooker Chicken Korma Curry
This electric Pressure Cooker Chicken Curry is simple to make and uses everyday ingredients. It's an indian inspired curry recipe with a healthy twist that is packed with flavour, soft tender chicken pieces and rich aromatic curry sauce.
Ingredients
1

kg/2 pounds Chicken breast

-

chopped roughly into chunks

1

medium Brown onion

-

diced

1

teaspoon

freshly grated Ginger

1

tablespoon

Crushed garlic

⅓

cup

Korma paste

-

(see note 1)

440

ml

/14.8 oz. tin Chopped tomatoes in a tin

½

cup

Chicken stock/broth

⅓

cup

Pouring cream

2

tablespoons

water

1

tablespoon

Cornstarch

2

cups

Rice

-

Jasmine, Basmati, Brown
Optional
¼

cup

Corriander/Cilantro

-

roughly chopped

1

medium Red chilli

-

finely diced

1

tablespoon

Slivered almonds

-

lightly roasted

2

cups

Grean beans

-

chopped

Pappadams
Instructions
Combine, chicken, onion, garlic, korma paste, tomatoes, stock/broth and cream into pressure cooker.

Firmly seal lid on pressure cooker, and pressure cook for 15 minutes.

Open seal to vent, remove lid and season with salt and pepper to taste.

If you want to thicken the curry sauce, make a cornstarch slurry, but adding the 1 tablespoon of cornstarch to 2 tablespoons of water. Stir thoroughly to combine and add gradually whilst stirring and watch it thicken.

Serve with rice, chopped coriander/cilantro, diced red chilli, and toasted slivered almonds. Pappadums if you're game.
Notes
The brand of Korma paste I used was "Sherwoods" and I picked it up from the regular supermarket.
Nutrition information includes 2 cups of brown rice.
Nutrition
Calories:
484
kcal
Carbohydrates:
33
g
Protein:
49
g
Fat:
16
g
Saturated Fat:
6
g
Fiber:
2
g
Sugar:
8
g
Note: Sugars contained in this recipe are from naturally occurring sugars in fruits, vegetables or other natural sweeteners.
Looking To Cut Out Sugar? Get the FREE Healthy Food Swaps Checklist Pack!
Get your FREE Healthy Food Swaps Checklists with over 65 Healthy Food Alternatives to Help you Ditch The Sugar Without Feeling Deprived.