Pressure Cooker Apricot Chicken takes just 20 minutes to make and is deliciously rich, warm and simple comfort food. With juicy pieces of chicken breast, and the sweet and savoury of apricots, garlic and good old French onion soup, this is a dish that requires almost no effort yet rewards you with a wholesome bowl of goodness.
Just five minutes of prep, and then 15 minutes in the pressure cooker, it really doesn't get any easier. Oh and only one pot to wash up, plus the bowls you're eating from of course.
What is Apricot Chicken
Apricot Chicken is a dish that has been around for a long time and there are many different versions of it. My favourite version is the one made with tinned and halved apricots (juiced drained), apricot puree and the powdered French onion soup. I love it because it is super simple, not a lot of ingredients and the taste is always spot on.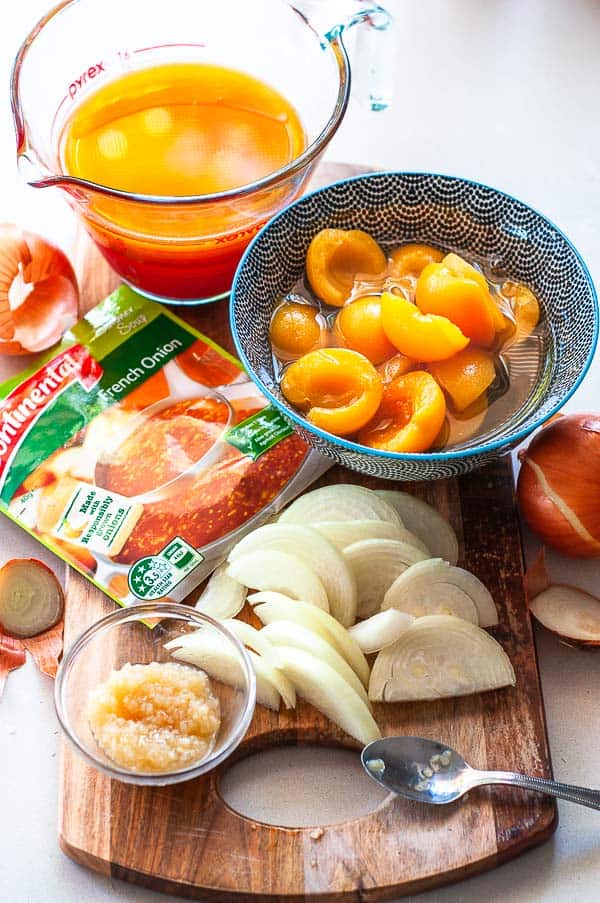 This dish serves four and makes for great leftovers the next day as well. Perfect for taking to work for a handy office lunch, or for freezing so you have healthy meals when you don't have time to cook.
How To Make Apricot Chicken In The Oven
Switch the chicken breast pieces for chicken thighs as they cook better in the oven and won't dry out as much. (No need to chop them, unless you want to)
Preheat oven to 180 degrees c or 320 f
In a pan (with sides), brown the chicken pieces, then add the garlic and onion, ad stir for another minute or two until onion starts to turn translucent.
Add the chicken, garlic and onion mix to a large oven proof casserole dish that has a lid.
Add the powdered soup to a jug of hot tap water and stir to combine and pour over the chicken
Pour over the apricot puree, add the herbs and add the drained apricots, moving them so they sit in some of the liquid (to avoid drying out)
Bake for 60 minutes if thighs are still whole. Reduce cooking time by 10 minutes if you chopped the thighs in pieces.
Serve with steamed white rice.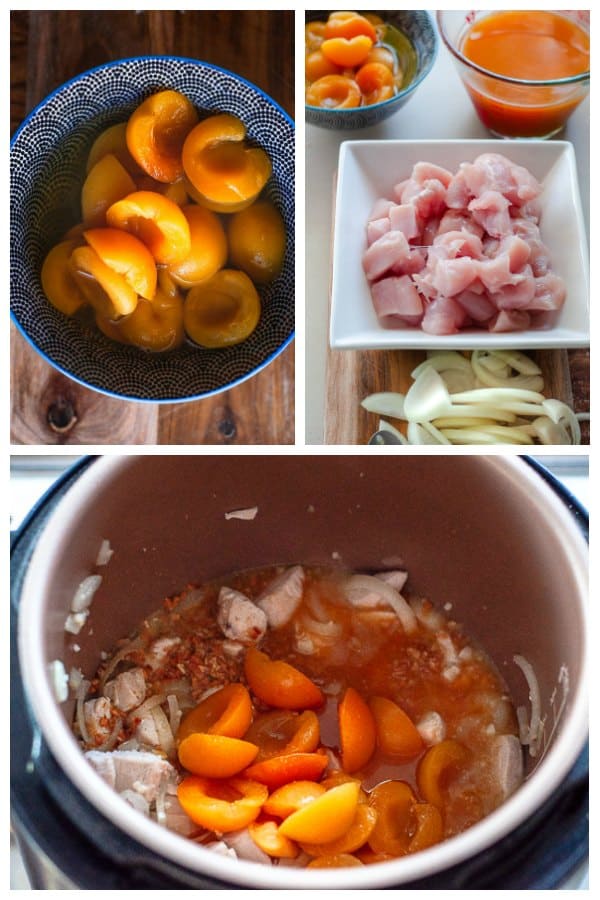 Having a pressure cooker to make Apricot Chicken as a midweek meal is a real lifesaver for me because it drastically cuts the time to make. Occasionally I do make this recipe in the oven and it generally takes 10 minutes of prep, and 60 minutes in the oven, so not really practical to make on a weeknight, although nice to make on a Sunday and have aroma wafting through the house as you read your favourite book or catch up on a movie.
5 Different Alternatives To Serve With Apricot Chicken
Mashed potato (my fave is a combination of white and sweet potato)
Pearl Cous Cous or (the one this is the little balls) Israeli Cous Cous (the small fine one)
Brown Rice
Quinoa
Greens (Wilted spinach, broccoli, beans, peas)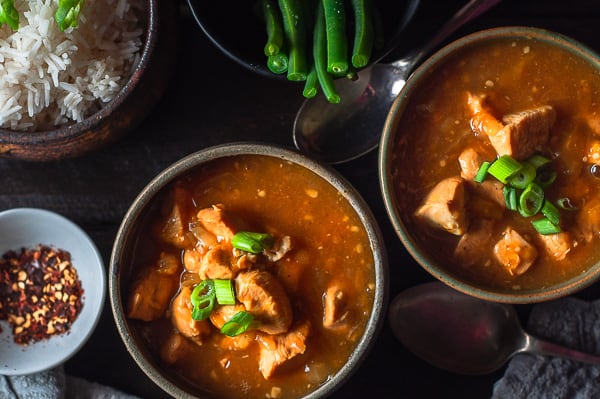 I sometimes use to be a bit suspicious of eating other peoples versions of Apricot Chicken because I like my dinners to be very savoury and I was concerned that the Apricots and the apricot puree might make the dish too sweet, but it really doesn't.
This is absolutely a savoury dish that is delicately balanced by the addition of garlic, onion, salt, oregano, thyme and the French onion soup. 
It's a dish I often find myself craving both in winter and summer because if its simplicity and ability to provide comfort in a bowl.  Whatever the season it just makes me feel better.  Like I've just had a big, good ole hug from family.  It's the best kind of comfort food.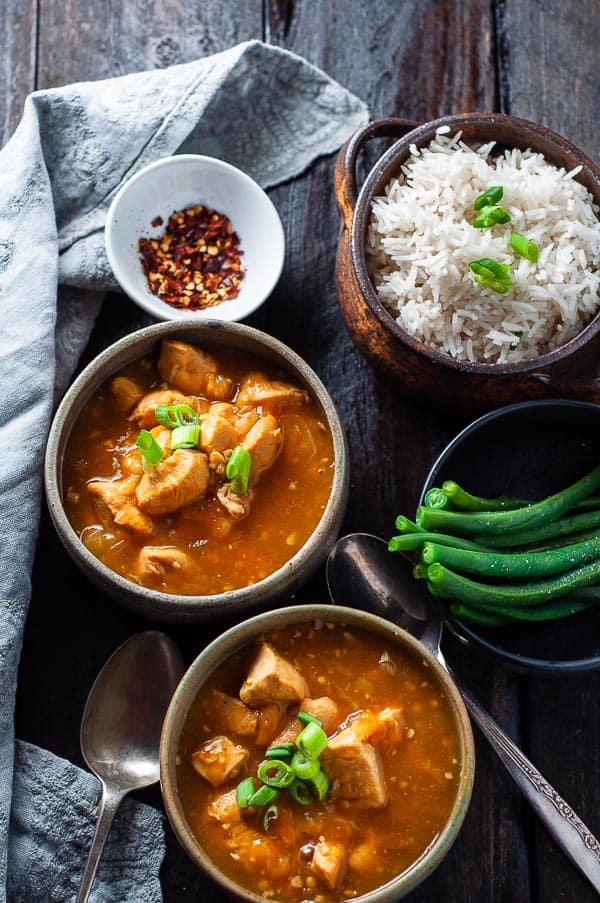 More Pressure Cooker Recipes: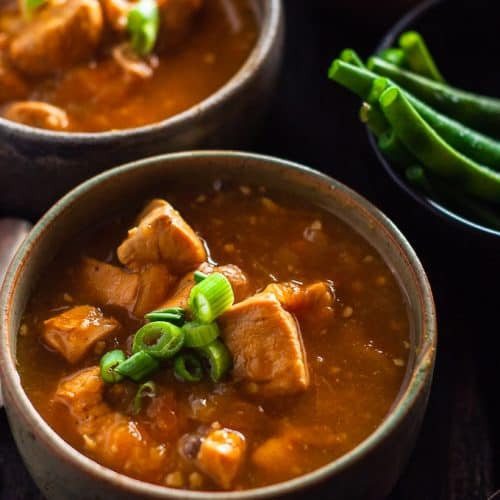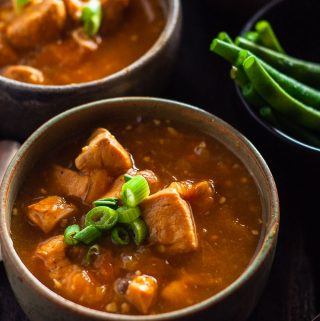 Pressure Cooker Apricot Chicken
Pressure Cooker Apricot Chicken takes just 20 minutes to make and is deliciously rich, warm and simple comfort food. With juicy pieces of chicken breast, and the sweet and savoury of apricots, garlic and good old French onion soup.
Ingredients
775

g

skinless chicken breast chopped roughly into chunks

1

medium brown onion

-

thinly sliced

2

tablespoons

garlic

-

crushed

1

teaspoon

Dried oregano

1

teaspoon

Dried thyme

½

teaspoon

Garlic salt

⅓

cup

hot

-

tap water

1

cup

Apricot nectar

1

x 440 gram can Apricots in natural juice

-

drained

2

cups

White boiled rice

-

to serve

1

tablespoon

Coconut oil
Optional (for thickening)
Instructions
Set pressure cooker to the "Saute/Sear" HIGH TEMP. Wait a minute or 2 for it to heat up.

Add one tablespoon of the oil to the inner pot and half of the chicken and brown it off. (about 3 or 4 minutes) (Keep the lid off during this process)

Remove the chicken onto a plate and add the second half and repeat.

Remove the chicken from the pot and place to the side. Add the onion to the inner pot and cook until it becomes translucent.

Add all the chicken back into the inner pot with the onion/ Add the garlic, oregano, thyme, garlic salt, and apricot nectar. Stir to combine.

In a small mixing jug, add the powdered soup mix to ⅓ cup hot (not boiling) water. Stir to combine and add to the inner pot. Stir again to mix everything together.

Add the apricots as the past step. Use a spoon to gently position them around the chicken.

Secure and lock in lid in clockwise direction. Set the valve to seal.

Select the menu by pressing the PRESSURE COOK button

Select the "MEAT/POULTRY" setting and cook for 15 minutes.

Press start to commence the cooking process.

Once timer has gone off, release pressure valve so steam can escape.

If thickening is required: make a cornflour slurry by adding the cornflour and water in a small cup, stirring to combine. Stir the cornflour slurry into the curry and stir to thicken.
Nutrition
Calories:
433
kcal
Carbohydrates:
47
g
Protein:
43
g
Fat:
8
g
Saturated Fat:
3
g
Fiber:
1
g
Sugar:
21
g
Note: Sugars contained in this recipe are from naturally occurring sugars in fruits, vegetables or other natural sweeteners.
Looking To Cut Out Sugar? Get the FREE Healthy Food Swaps Checklist Pack!
Get your FREE Healthy Food Swaps Checklists with over 65 Healthy Food Alternatives to Help you Ditch The Sugar Without Feeling Deprived.