Beef Rogan Josh is one of the easiest Indian dishes to make in the slow cooker. Not a lot of ingredients, barely any preparation and you'll have rich, thick Indian saucy meat curry that is a little bit spicy with a lot of flavour and thick chunks of beef so tender they will melt in your mouth.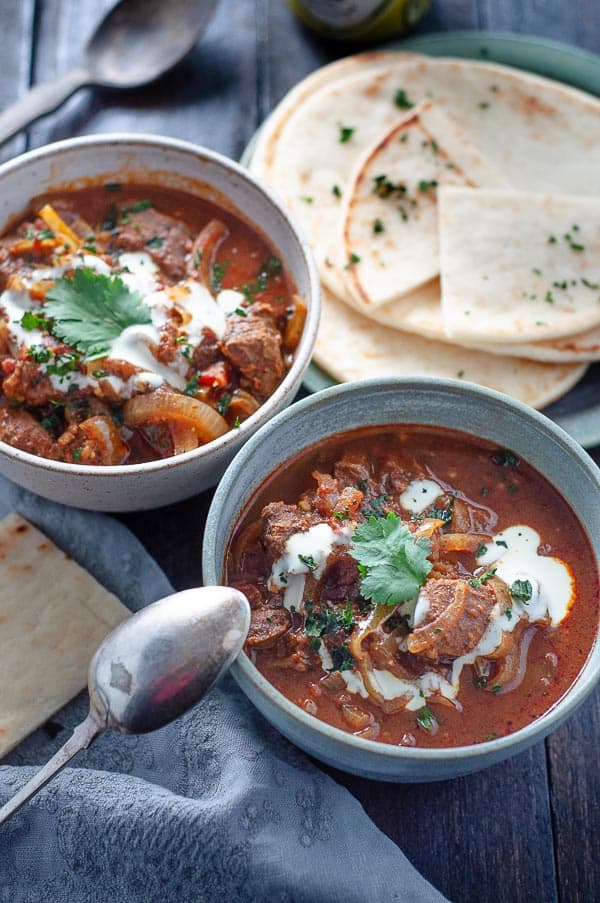 The curry paste I always use is "Pataks" Rogan Josh paste. I buy it from Woolworths in Australia, along with all the other ingredients. No special trips to Indian grocers required for this recipe.
Best Beef Cut for Beef Rogan Josh
I highly recommend a cut of beef called "Gravy Beef" which is a cheaper cut of meat that tends to have a little bit of fat on it. This type of cut works well and when you combine it with the stock and aromatics, imparts even more flavour into the meat.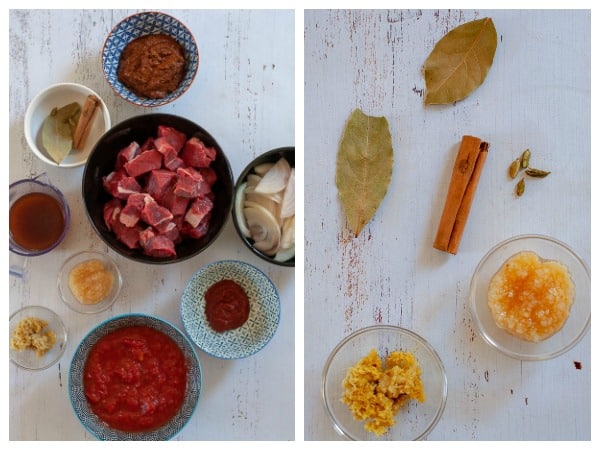 Gravy beef is perfectly suited to a long slow cooking process and is generally available at supermarkets in the meat section. I buy my from Woolworths and but it myself in the to the sizes I want - generally about 2cm by 2 cm. Gravy beef is also used a lot in stews and casseroles.
Ingredients
Gravy Beef, onions, garlic and ginger
Storebought Rogan Josh Indian Curry paste, Tomato Paste, and Canned diced tomatoes
Beef Stock or broth, a little orange juice, a cinnamon stick, cardamon pods and bay leaves
Greek yoghurt and corriander/cilantro
Do Indian Curries Freeze Well?
Since there is only two of us in my household (my husband and I), I'm always freezing leftovers. This curry is a perfect candidate for freezing and retains all the delicious flavours. When I'm freezing a recipe I've made on the weekend for "midweek convenience", the three main things I do are:
Portion it out properly to avoid wastage.
Use appropriately sized containers so that I use my limited freezer space in the best possible way. I prefer to use clear plastic or glass containers also so I can see what it is.
I label every container with the name of what it is, and the date I made it. You can use actual labels for this, but I just use a piece of masking tape that sticks to the top of the container and it works a treat. (make sure to remove before microwaving)
What To Serve With
Rice: Steamed Jasmine or brown rice
Nan Bread: I love the garlic variety
Regular garlic bread: Homemade or store-bought
Mash: Sweet potato mash or traditional potato mash
I used to make this Rogan Josh Beef dish in my traditional slow cooker – you now the ones that have the glass lid that you can see through. But since I got my Multi Cooker which is a pressure cooker, slow cooker and rice cooker all in one, I use it exclusively and I love it more than my traditional slow cooker. Which I still have by the way, but it just sits at the back of my cupboard unused and unloved.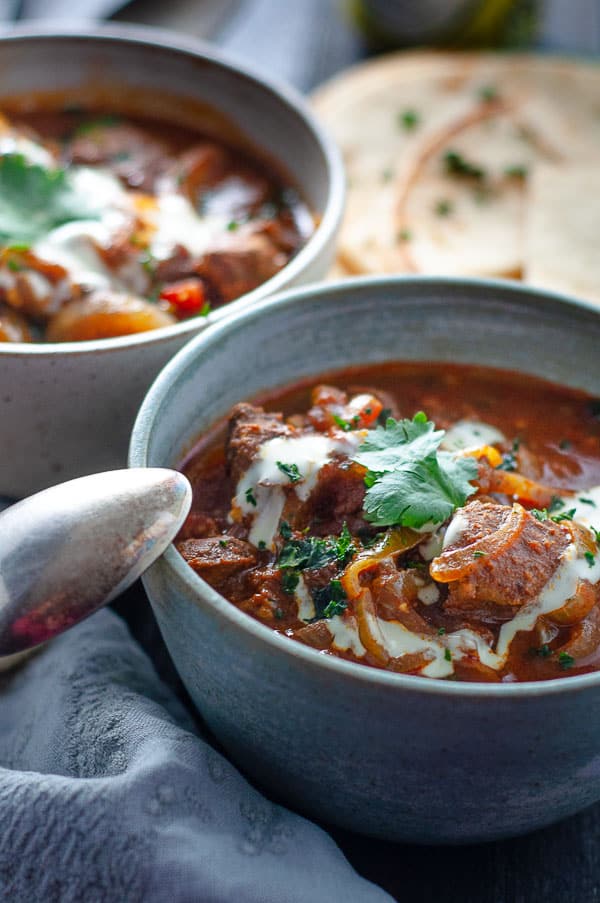 Multi Cooker Vs Traditional Slow Cooker
Ease - I can brown the meat in the inner bowl without getting out a separate pan – One pot, all in one dinner with barely any clean up afterwards.
Convenience – My traditional slow cooker had limited timing options. 4 hours on high slow cooking, or 8 hours on low slow cooking and there was no in between. My multicooker gives me more flexibility with cooking times and keeping it warm after it has finished cooking.
Better Outcome - The meat holds its shape better. Sometimes when I used the traditional slow cooker, it would go a little "mushy" and too soft. The Multi cooker cooks the meet so it is soft and melt in your mouth tender, but it still holds its shape perfectly.
In case you're wondering whether or not you still get that wonderful aromatic smell wafting through the house that you get with traditional low cookers – I give you a resounding yes. The aroma is just the same. Yum with a capital Y.
More Slow Cooker Recipes
PRO TIP: If you can get you hands on fresh ginger and garlic, I highly recommend it. I have made this recipe using the bottled versions of crushed garlic and ginger and it's never quite as good as using freshly grated garlic and ginger.
More Indian Recipes: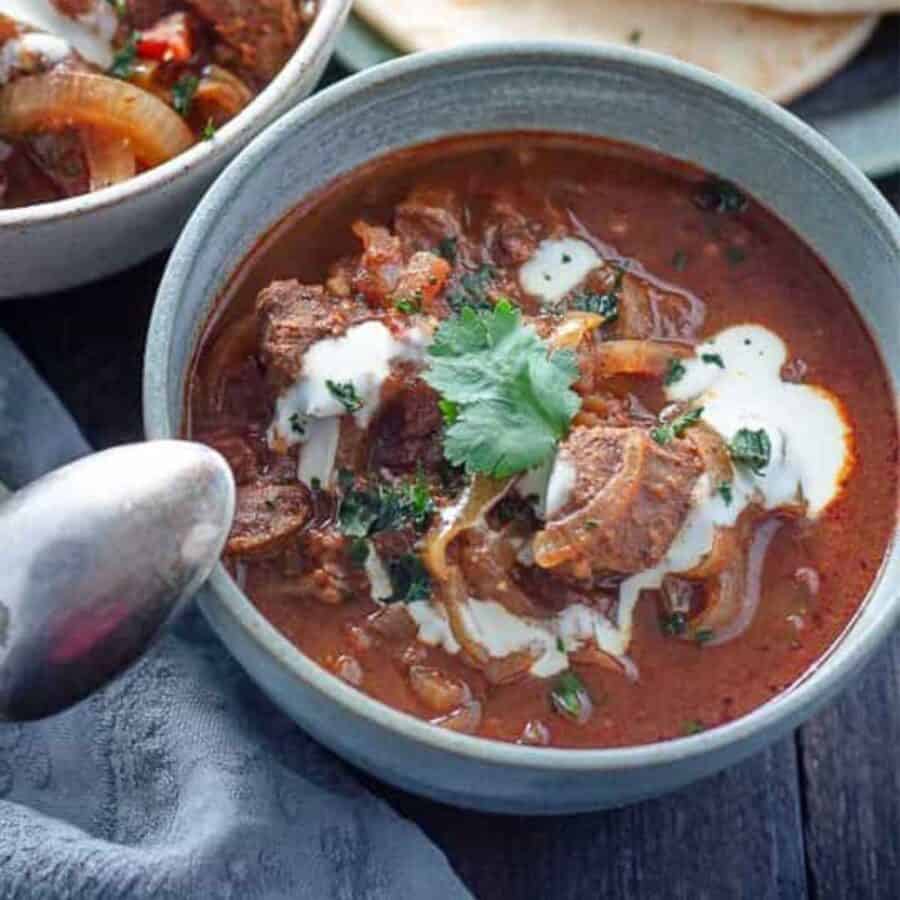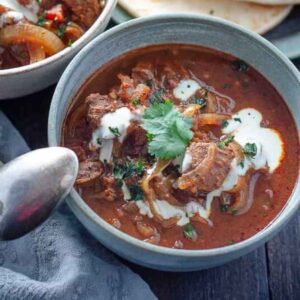 Beef Rogan Josh
Beef Rogan Josh is an easy to make rich, thick Indian beef curry, mildly spicy, with a flavourful sauce and thick chunks of beef so tender they will melt in your mouth.
Ingredients
1.25

kg

/2.75 pounds Gravy Beef

-

Chopped into chunks

2

large Brown onions

-

thinly sliced

2

tablespoon

Ginger

-

freshly grated

2

tablespoons

Garlic

-

crushed

½

cup

Rogan Josh paste

2

tablespoons

Tomato paste

400

g/14.5 ounce tin Canned diced tomatoes

½

cup

Beef stock/broth

¼

cup

Orange juice

-

freshly squeezed

1

Cinnamon stick

2

Cardamom Pods

-

bruised

2

bay leaves

Coriander/cilantro to serve

½

cup

Greek yoghurt
Optional
Nan Bread/Roti Bread

Jasmine Rice
Instructions
Brown the meat, either in your slow cooker if it has that function, or in a separate pan.

Place all ingredients into your slow cooker and cook on low for 8 hours.

Once cooked, remove bay leaves and season with salt/pepper to taste.

Drizzle a little greek yoghurt on, along with diced coriander/cilantro.

Serve with optional rice, nan bread or roti.
Notes
This dish freezes very well. Portion out into freezer friendly containers and freeze for upto 8 weeks.
I use a 4.5 litre/18 cup slow cooker.
Nutrition
Calories:
485
kcal
Carbohydrates:
21
g
Protein:
71
g
Fat:
12
g
Saturated Fat:
4
g
Fiber:
1
g
Sugar:
12
g
Note: Sugars contained in this recipe are from naturally occurring sugars in fruits, vegetables or other natural sweeteners.
Looking To Cut Out Sugar? Get the FREE Quick and Easy Food Swaps Checklist Pack!
Get your FREE Quick and Easy Food Swaps Checklists with over 65 Simple Real Food Alternatives to Help you Ditch The Sugar Without Feeling Deprived.
★ Did you make this recipe? Don't forget to give it a star rating below!