These sugar free chocolate chip muffins are an easy and guilt free alternative to store bought sugary snacks.  They are quick to make and  perfect as a snack on the go or for school and work lunchboxes.  Plus, you won't even know they are sugar free.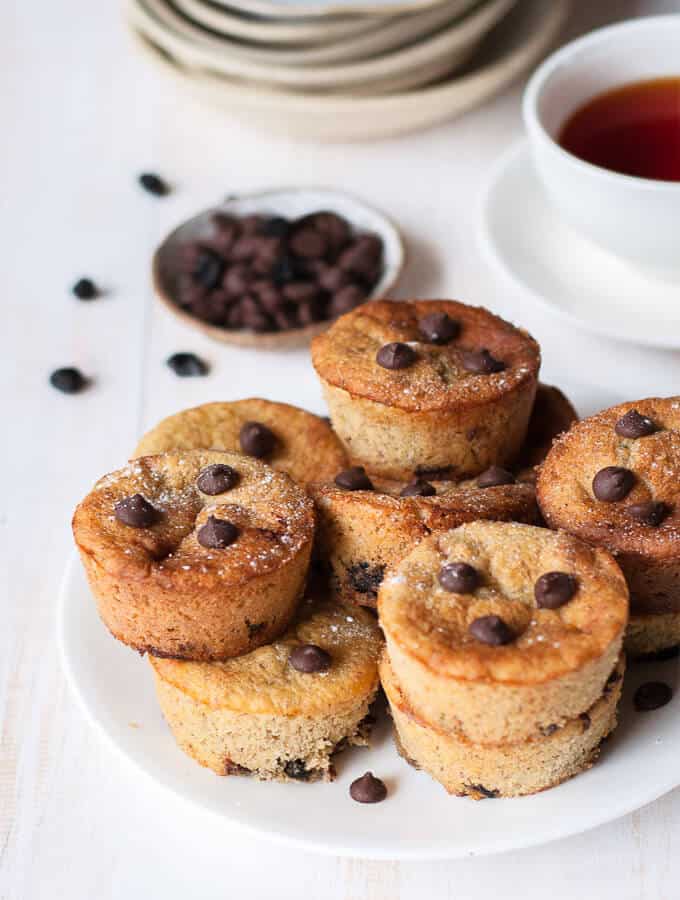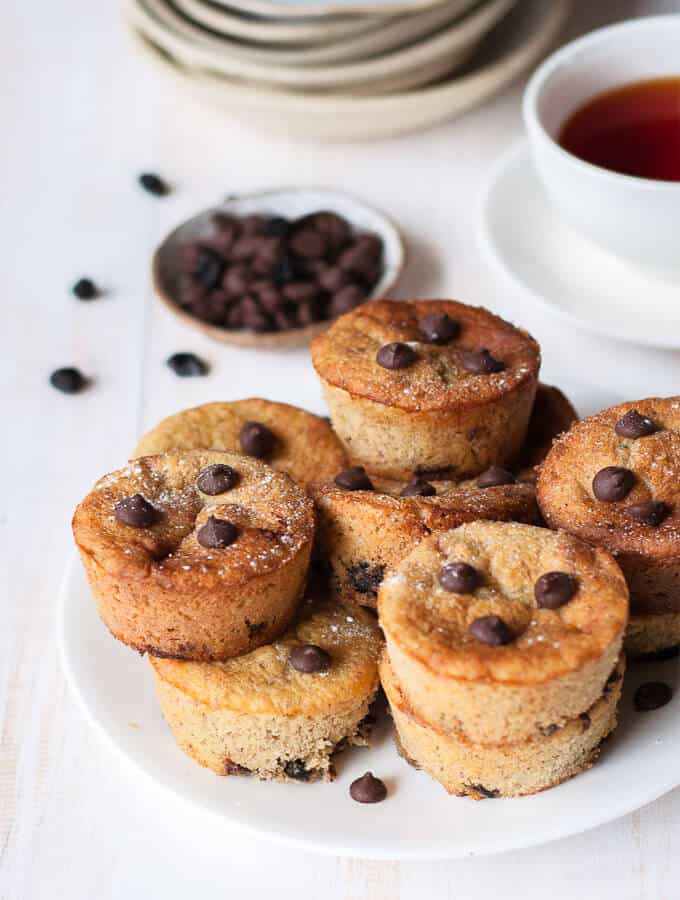 I make muffins all the time.  In fact, it's rare that I don't have some in the freezer sectioned out into mini ziplock bags so I can grab one as I head off to work in the morning, or when I'm at home on the weekend, enjoying a cup of coffee by the pool.
You Can Freeze Your Sugar Free Chocolate Chip Muffins
Not only do they freeze well, they can be ready to eat in under half and hour – if you like them a little warm that is.
These muffins use a combination of plain flour and almond meal which I think gives a bit more of a moist texture.  It's also good if you are little sensitive to wheat, which sometimes I am.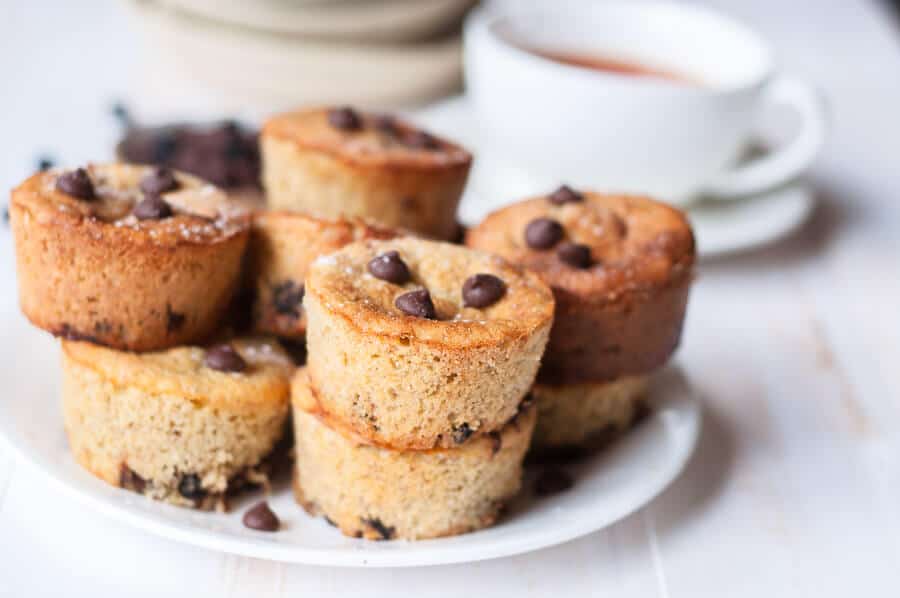 Now, the chocolate chips.  I prefer to use sugar free dark chocolate chips.  Lillys Sugar Free Chocolate Chips  are the ones I usually buy off amazon and I like them because they taste like real chocolate.
But if you don't have access to sugar free chocolate chips you could either use a sugar free bar that you break up into small pieces using a meat mallet or something similar.
Or failing that grab a bar/block of the highest percentage dark chocolate you can find 80% or 85% is good and smash it up into small pieces.  Obviously, your muffins will have a little extra sugar than if you'd used sugar free chips, but this is the next best thing.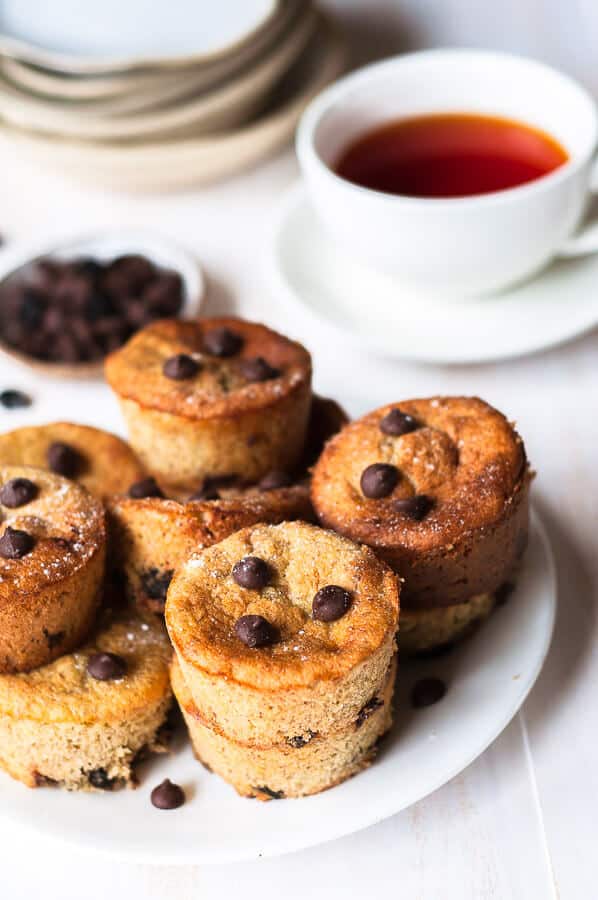 To bake these babies, I use my trusty 6 hole silicone baking trays.  You really can't go wrong with them.  Although they are non-stick, I am a bit paranoid and most times I still do tend to give them a light spray with coconut oil before spooning in the batter.
This recipe is an old one, and one that came about because the coffee shop across the road from where I worked had the best chocolate chip muffins ever and I found it increasingly difficult to ignore them each morning I went and got my coffee.
Eating them as frequently as I was, was not going me any favours, plus while I enjoyed it when I was eating it, I soon regretted it and the guilt made me feel like crap.  It was just more I had to work off at the gym!
But this little muffin, is a respectable 123 calories, with just 6 grams of sugar that come from the dried blueberries I added at the last minute.  Oh, and with 5% net carbs per serve, it makes these low carb and sugar free.  Win Win.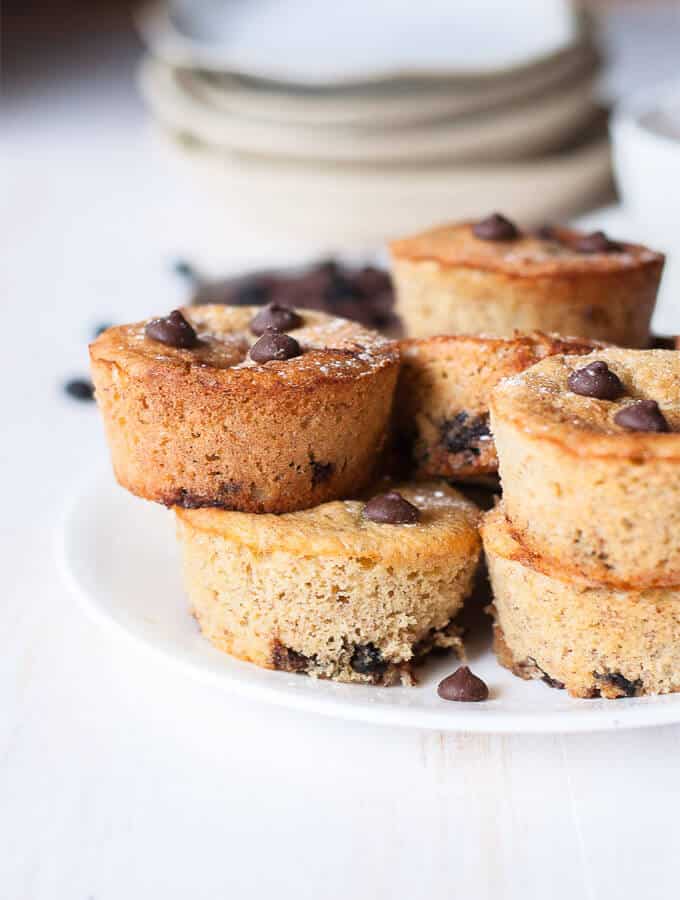 Other ways to jazz up this healthy chocolate chip muffin could be:
Add a handful of chopped almonds to the batter
Add some fresh chopped strawberries to the batter
Add in some spice. Think cinnamon or ginger spice.
And, to enjoy and savour your delicious creation, let it defrost at room temperature (or if you can't wait that long, microwave on medium for 10 seconds), then add some butter and a sprinkle of cinnamon, or skip that and add a dollop of Greek yoghurt instead.
Of course, if you've had it stuffed in your handbag whilst you're out shopping, with the intention of eating it with a coffee from your favourite café, take a moment, sit down, breath and enjoy the togetherness of coffee and muffin. Let it be the little bit of magic that brightens your day.
Other sugar free muffins you might like to try:
Or if you what to avoid wheat altogether, try my Sugar Free Wheat Free Banana Bread.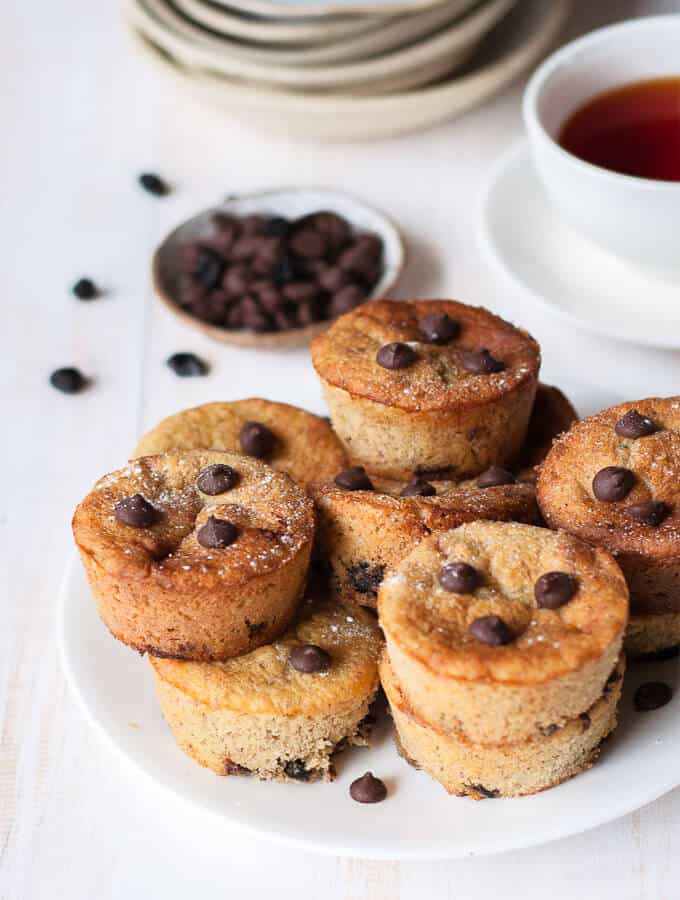 Print
Sugar Free Chocolate Chip Muffins
These sugar free chocolate chip muffins are an easy and guilt free alternative to store bought sugary snacks. They are quick to make and perfect as a snack on the go or for school and work lunchboxes.
Servings
12
regular muffins
Ingredients
¾

cup

Plain Flour

½

cup

Butter

½

cup

Granulated stevia

¼

cup

Almond Meal

2

medium Eggs

2

teaspoons

Cream of tartar

1

teaspoon

Bicarb soda

1

teaspoon

Vanilla bean paste

2

medium Over-ripe Bananas

¼

cup

Dried blueberries

¼

cup

Sugar Free chocolate chips
Instructions
Heat oven to 170 degrees C for fan forced, or 180 degrees C for regular oven.

In a

food processor

, blitz the butter and stevia until they come together.

Next, add the plain flour,

almond meal

, cream of tartar, bicarb, eggs, and vanilla bean paste. Blitz again in the

food processor

until combined.

Peel the bananas and break into pieces, adding to the

food processor

. Blitz again until the banana is all mixed in.

Remove the blade from the

food processor

and gently stir in the blueberries and chocolate chips with a spoon.

Lightly spray two, six hole silicone muffin trays with canola spray.

Using a dessert spoon, spoon the batter evenly into all 12 muffin holes, smoothing the tops as you go.

Bake in oven (170 degrees C for fan forced, or 180 degrees C for regular oven) for 20 minutes or until golden brown.

Cool on a wire rack before taking out of the muffin cases.

10. Store muffins in an

air tight container

at room temperature for 3 to 4 days. Otherwise freeze in

ziplock bags

for upto 6 weeks. Pop in the microwave for 30 seconds before eating.
Nutrition
Calories:
123
kcal
|
Carbohydrates:
15
g
|
Protein:
3
g
|
Fat:
4
g
|
Fiber:
1
g
|
Sugar:
6
g