These no added sugar Double Chocolate Chip muffins are light, fluffy and moist. 10 minutes of prep and 20 minutes in the oven, you have make these start to finish in under 30 minutes. 12 delicious rich chocolate muffins coming your way.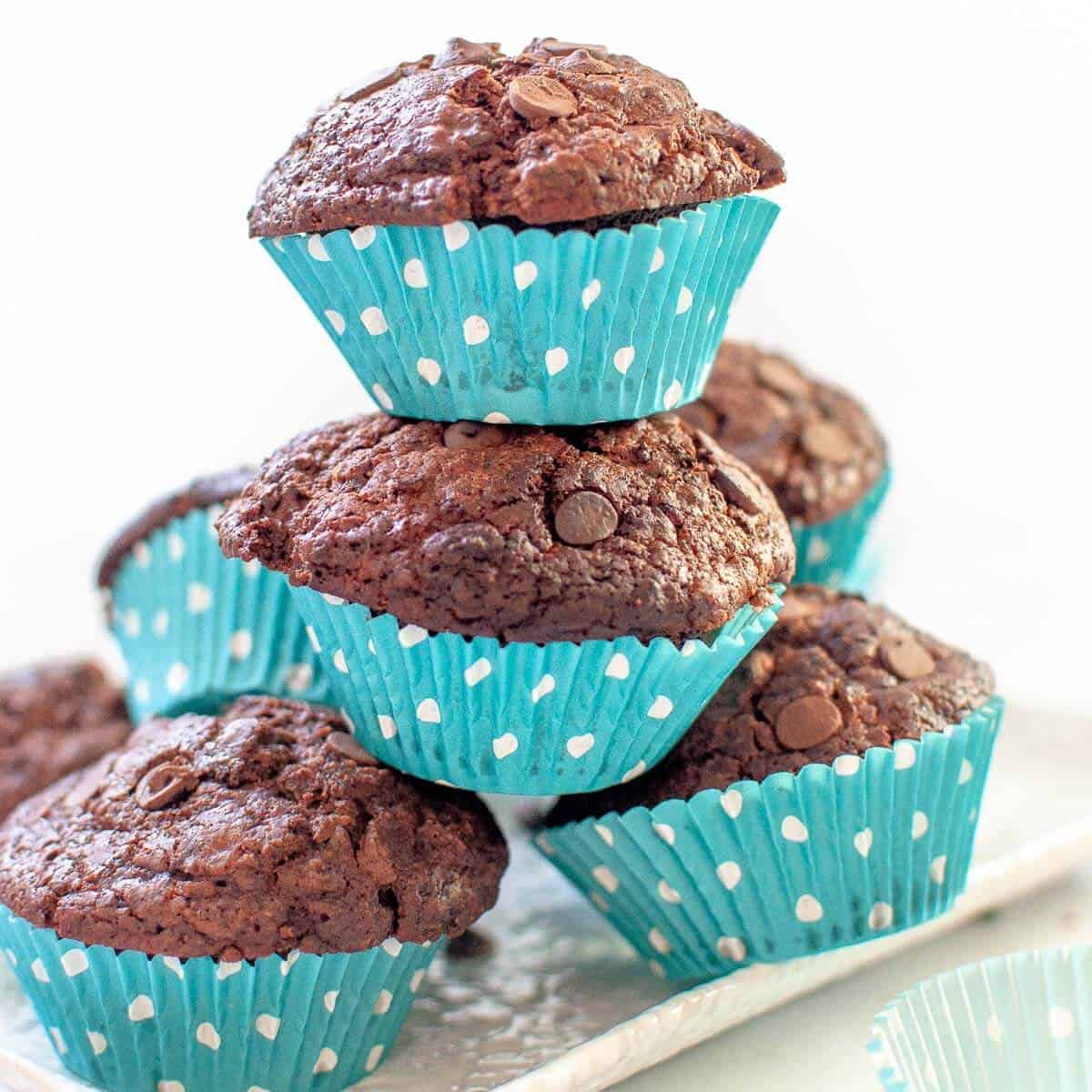 Why These Muffins Are The Best
Ingredients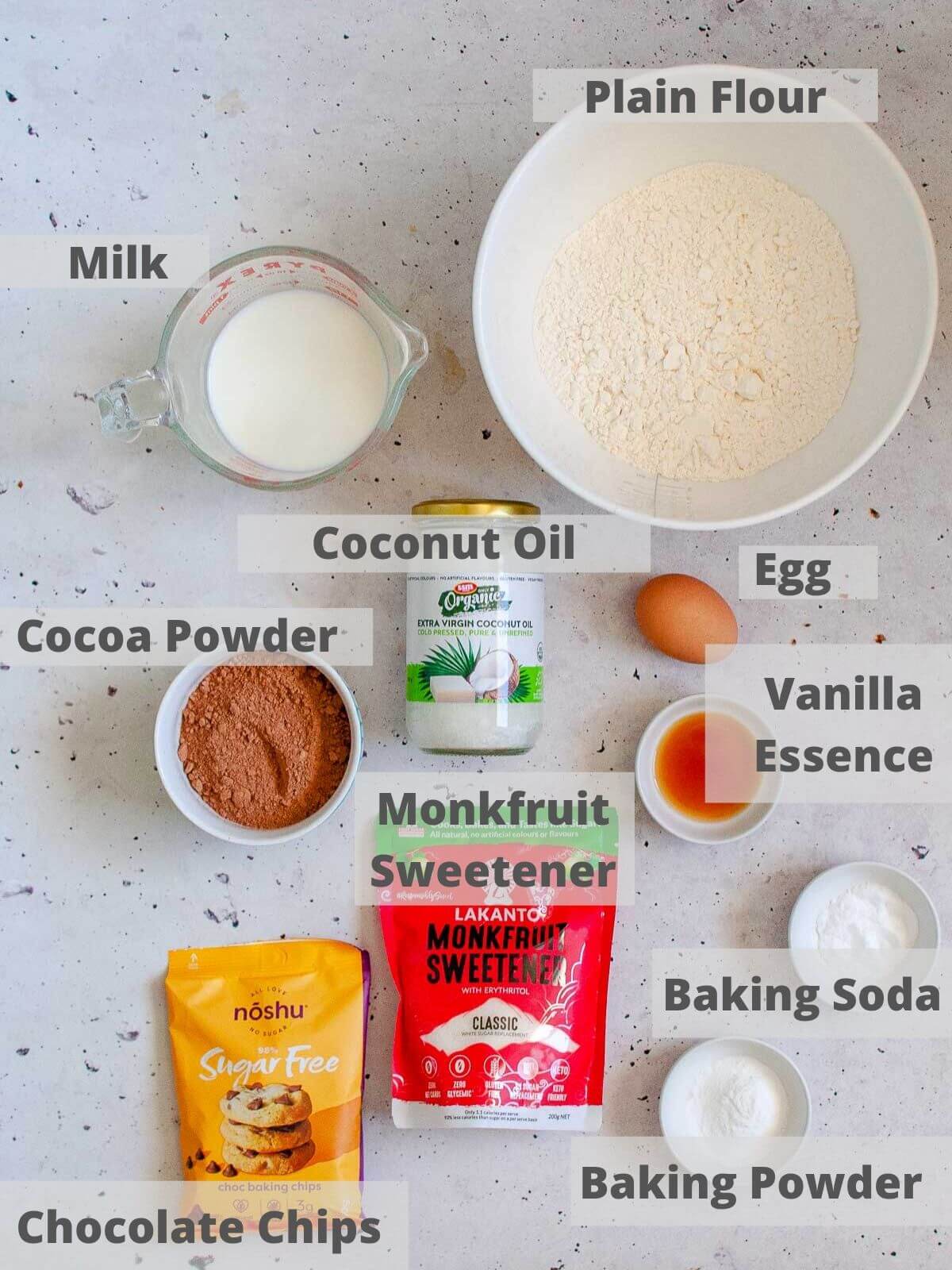 Ingredient Notes
How To Make
Step 1: Mix dry ingredients together
Add the flour, sweetener, baking powder, baking soda and cocoa powder to a large mixing bowl, and whisk together until all combined. Make sure to whisk out any lumps.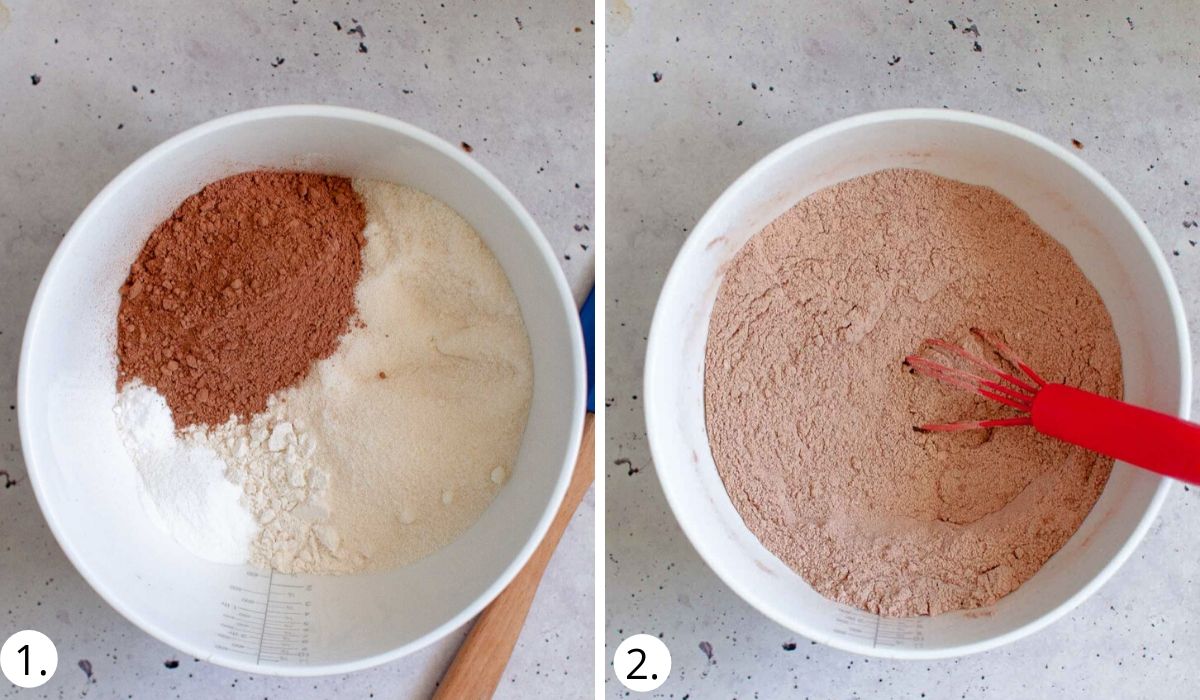 Step 2: Mix wet ingredients together
Add the egg to a separate bowl and whisk. Add the vanilla essence, milk and whisk again. Finally, add the melted (and cooled) coconut oil, and whisk again.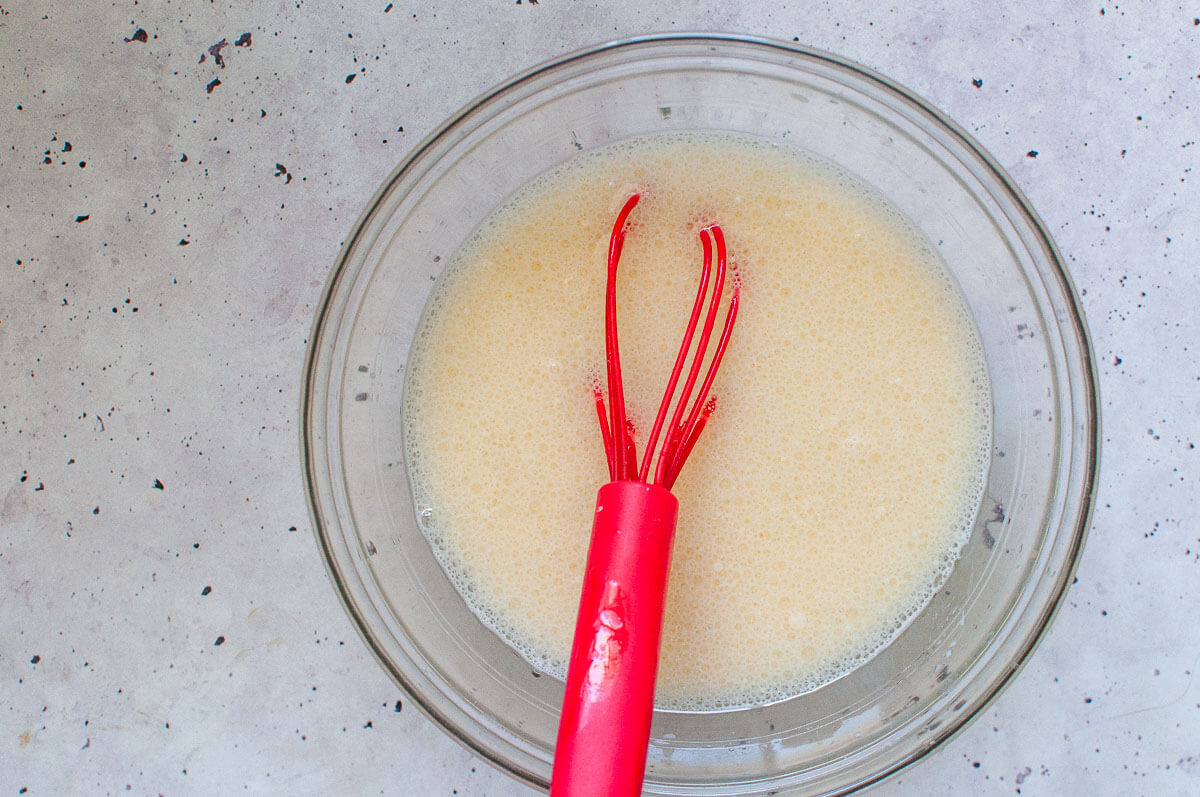 Step 3: Make a well
Use a spoon to make a well in the centre of the dry ingredients.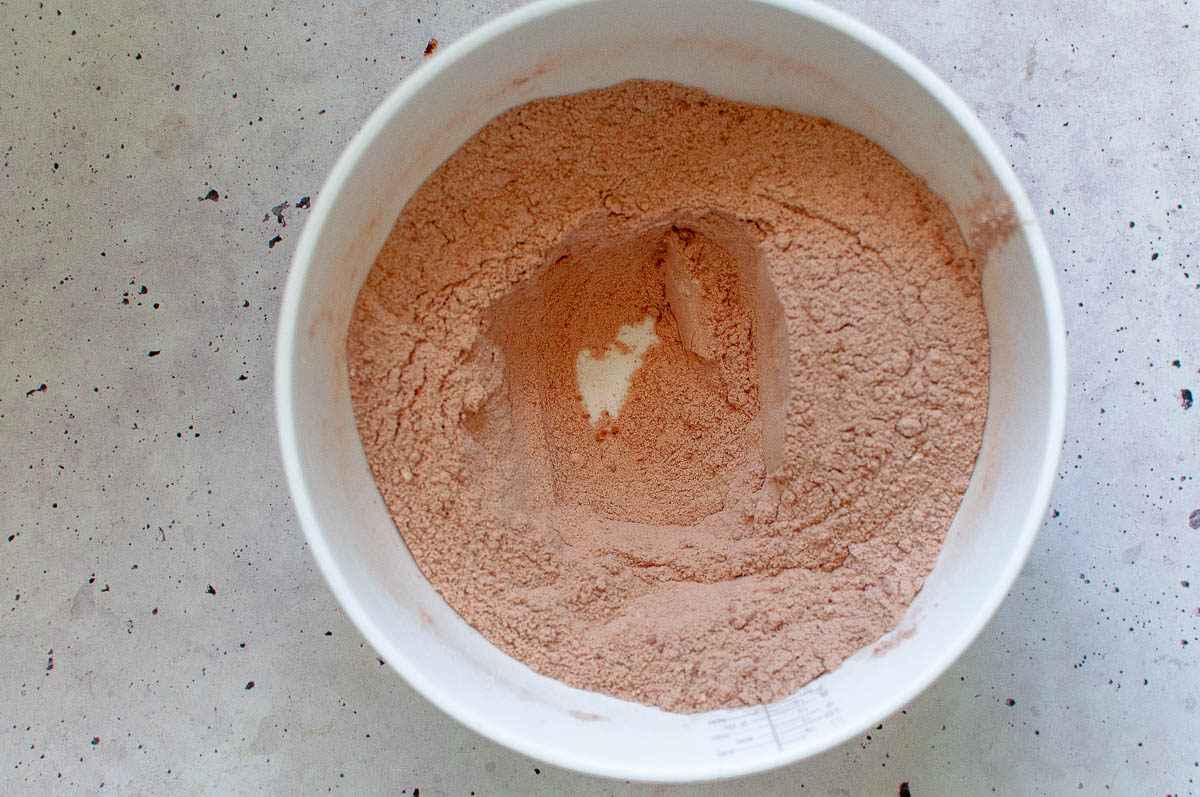 Step 4: Add wet ingredients to dry
Pour in the wet ingredients to the well made in the dry ingredients, and add the chocolate chips.
Step 5: Mix together
Use a spatula to mix the muffin batter together. Mix gently and avoid over-mixing as this will make the muffins tough. Mix until batter is just combined.
Step 6: Pour into muffin trays
Use two spoons to spoon the muffin batter into standard sized muffin trays. (I used silicone muffin trays). You can use paper liners if using metal trays, and or spray with a light coating of oil to avoid sticking.
Fill to the top of the muffin cases, and add a few extra chocolate chips on each muffin.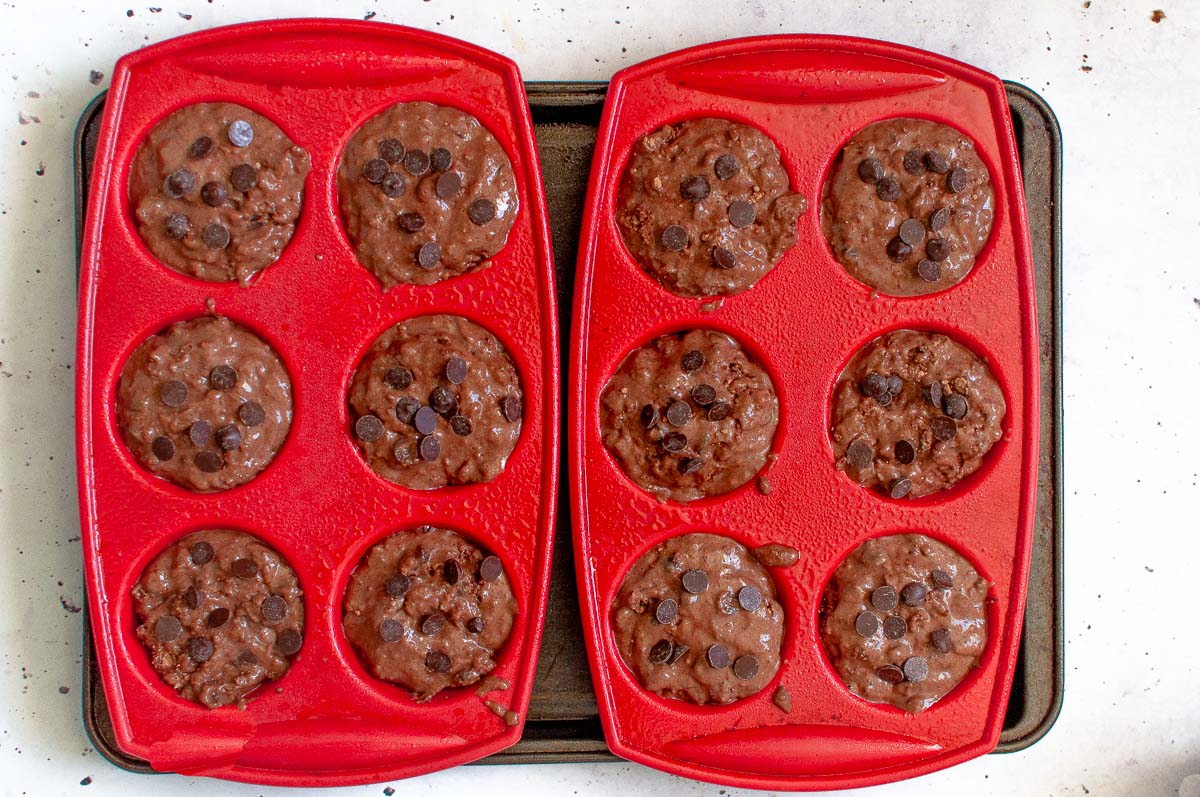 Step 7: Bake
Bake muffins for 20 minutes (cooking temperatures and full instructions are included in the recipe card below).
Let cool for 5 minutes, remove from muffin cases, and let come to room temperature on a wire rack.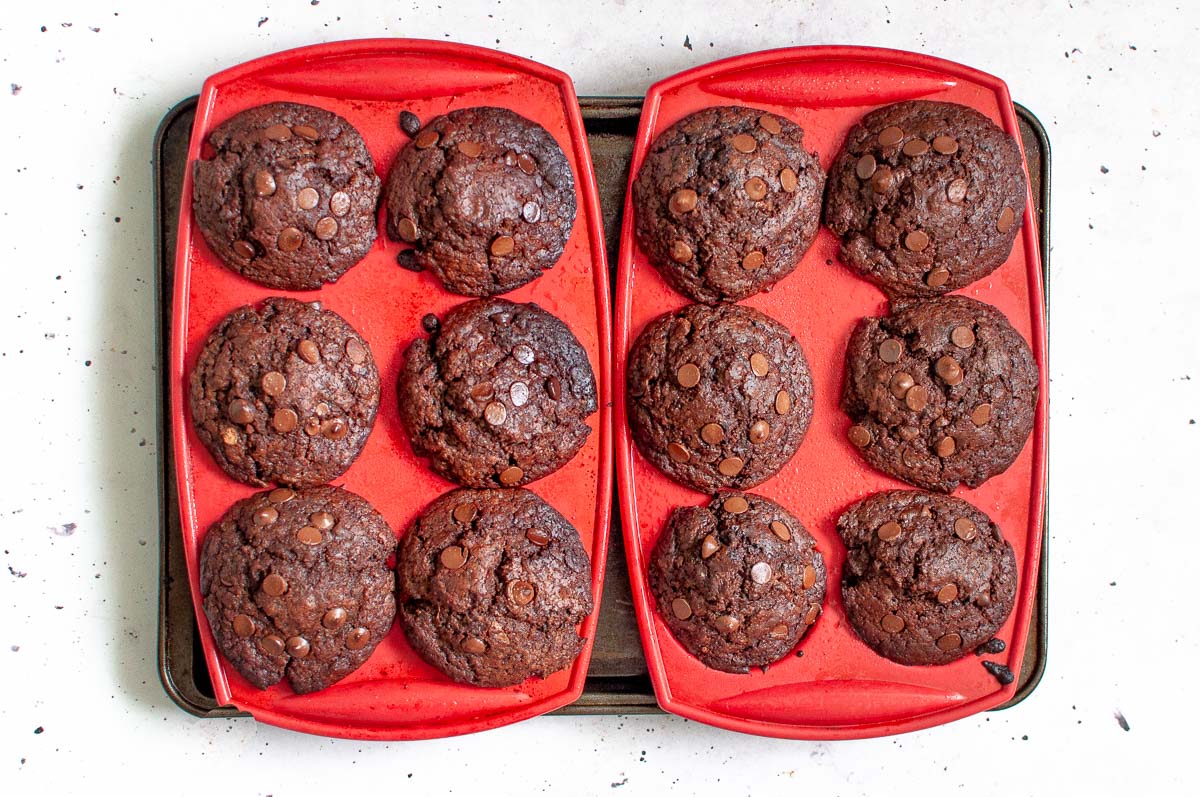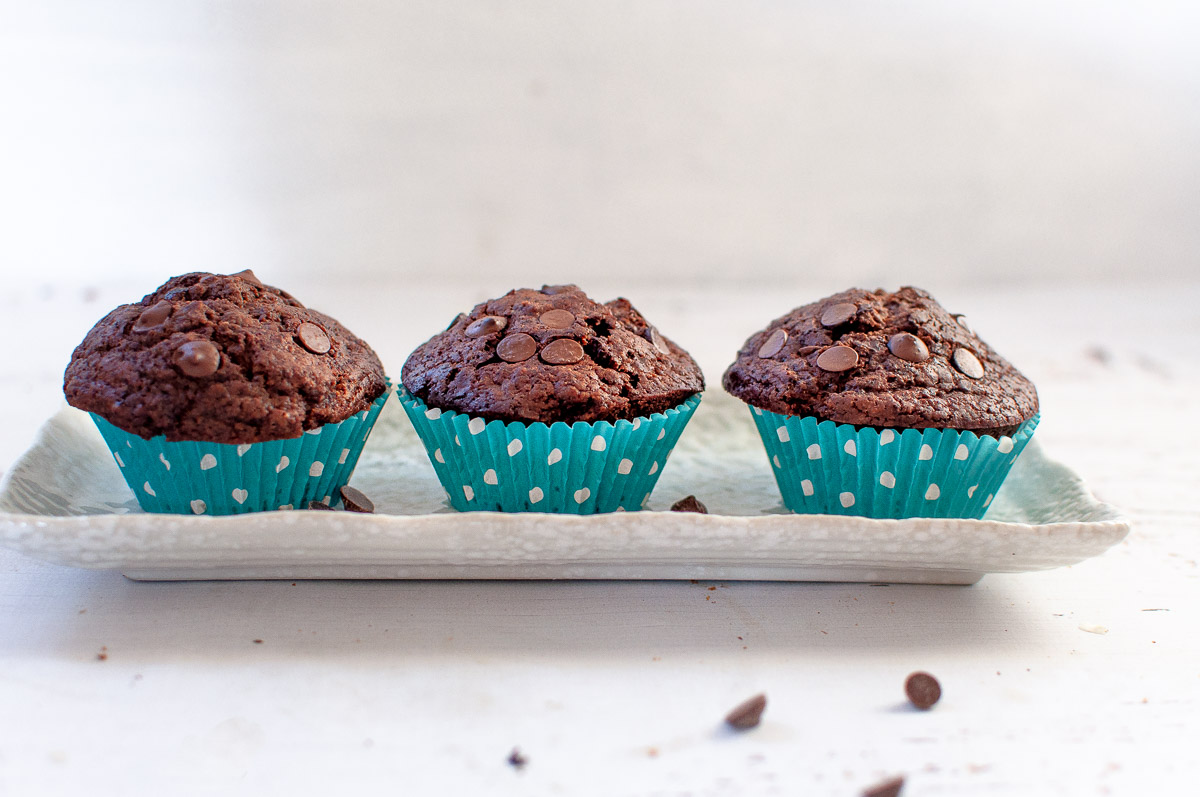 Recipe Notes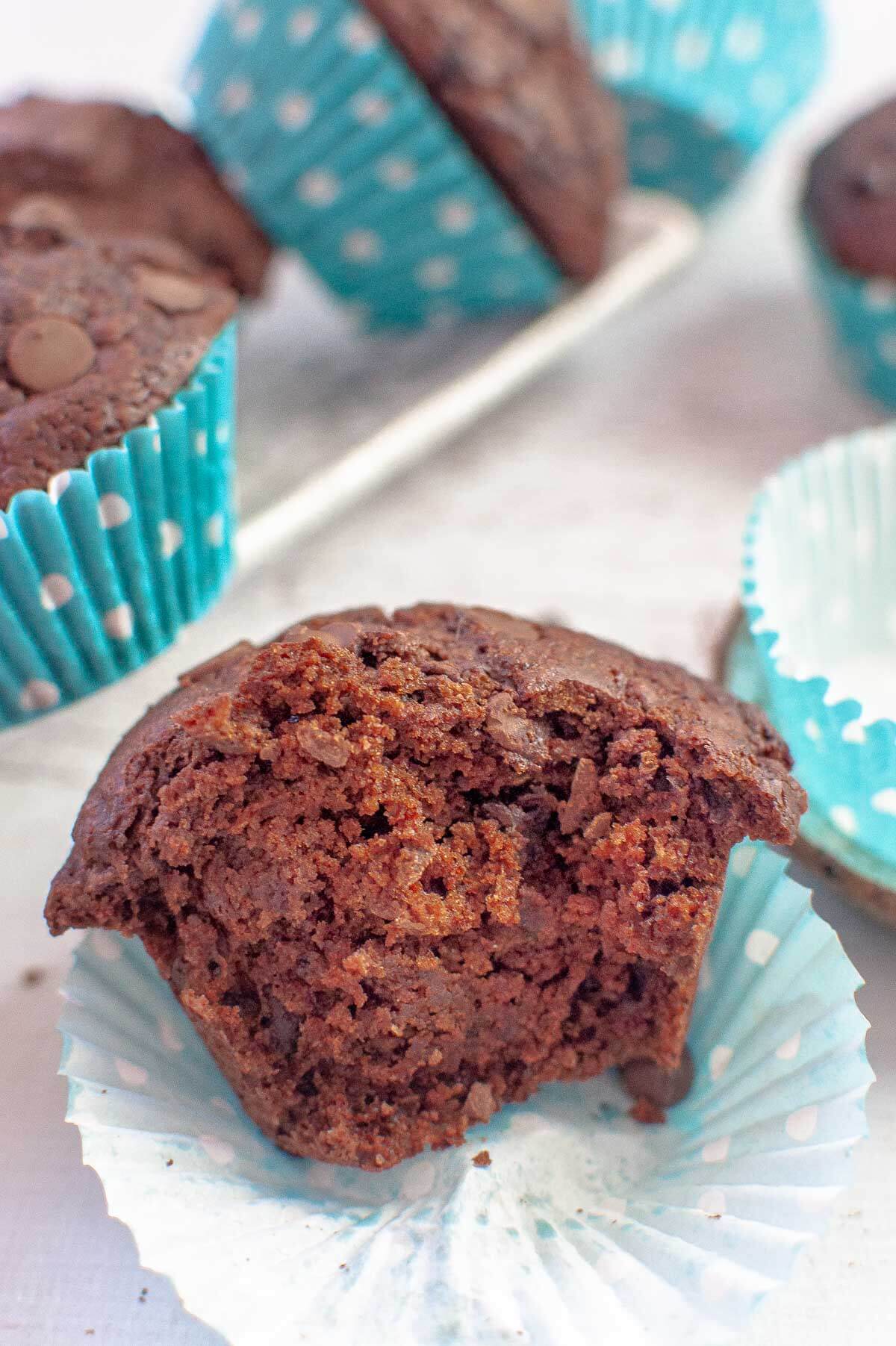 More Healthy Muffin Recipes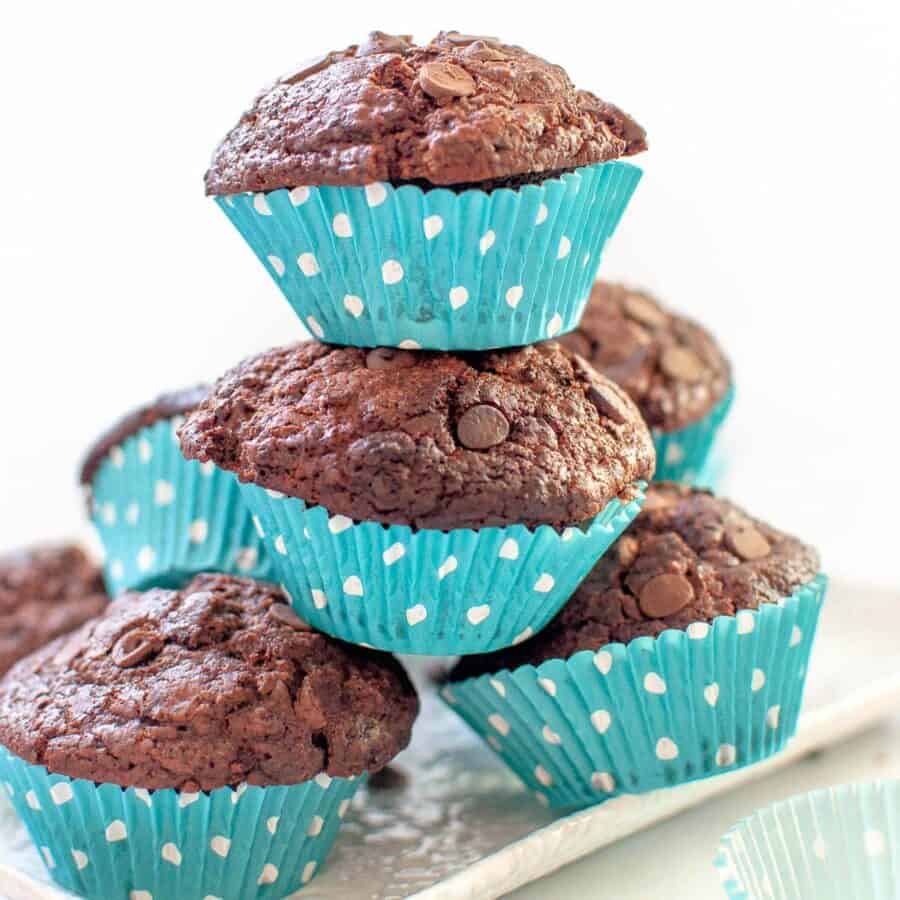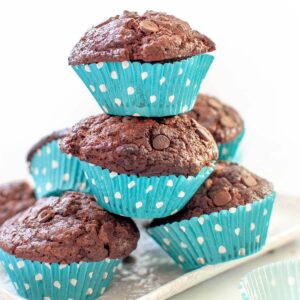 Double Chocolate Chip Muffins
Soft, fluffy, moist Double Chocolate Muffins with Chocolate Chips. No added sugar and naturally sweetened.
Ingredients
2

cups

Plain Flour

2

teaspoons

Baking Powder

1

teaspoon

Baking Soda

½

cup

Unsweetened Cocoa Powder

½

cup

Sugar free Chocolate Chips

½

cup

Coconut oil

melted at room temperature

1 ¼

cups

Milk

1

large Egg

2

teaspoons

Vanilla Extract
Instructions
Preheat oven to 180 degrees C, or 350 degrees F.

Add the flour, baking powder, baking soda, cocoa powder and monkfruit sweetener to a large bowl and stir with a whisk to combine, making sure any lumps are broken up and smoothed out.

In a separate bowl, whisk the egg. Add the vanilla and milk and whisk together again. Add the melted and cooled oil and whisk vigorously.

In the bowl with the dry ingredients, make a well in the centre. Pour in the wet ingredients to the dry ingredients, along with the chocolate chips. Use a spatula to gently mix together. Its important to not over stir the batter as it will make the muffins tough.

Using either a silicone muffin mold, or paper inserts into a metal muffin tin, spoon the muffin mixture evenly across 12 regular sized muffin cases, filling each one to the top .

Bake for 22 minutes in oven at 180 degrees C, or 350 degrees F. To test if they are cooked, insert a cake skewer or toothpick into the centre. If it comes out clean, they are cooked.

Let muffins cool for 5 to 10 minutes in the muffin tray, then gently remove them and set on a wire rack to cool to room temperature.

Once at room temperature, store in an air tight container for 2 days Alternatively you can freeze them for upto 2 months.
Notes
Monkfruit Sweetener: this is my preferred natural sweetener for this recipe, however you could also use Natvia Stevia which is another type of granulated sweetener. Just make sure the alternative sweetener you're using measures like sugar.
Chocolate Chips:  The brand of sugar free chocolate chips I used was 'Noshu'.  These are available from Coles and Woolworths in Australia.  If you can't find sugar free chocolate chips, buy a bar and chop it up into pieces.  This works just as well.
Vanilla: Vanilla extra or vanilla bean extract will work.
Coconut Oil: vegetable oil can be substituted for coconut oil
Milk: any milk can be used, but it is better to use a milk with a higher fat content as it helps to keep them moist
Mixing:  Overmixing the batter will result in tough muffins.  I recommend using a silicone spatula to fold through he wet ingredients into the dry.  Alternatively, use the biggest spoon you can find.
Storing:  How To Stop Muffins 'Sweating' when they're stored -

Make sure muffins are at room temperature before storing in an air tight container. To avoid moisture, place a paper towel/absorbent paper on the bottom of the container, and a sheet in between also, if container takes 2 layers.
Nutrition
Calories:
123
kcal
Carbohydrates:
15
g
Protein:
3
g
Fat:
4
g
Fiber:
1
g
Sugar:
6
g
Pin This Recipe for Later!