This Chicken in Greek Yogurt Marinade is light, healthy and simple to make. Paired with a brown herb and garlic rice it works perfectly as a weeknight meal, or make ahead lunches for the work week. Low fat, high in protein and full of flavour with hits of garlic, ginger, lemon and your favourite curry powder.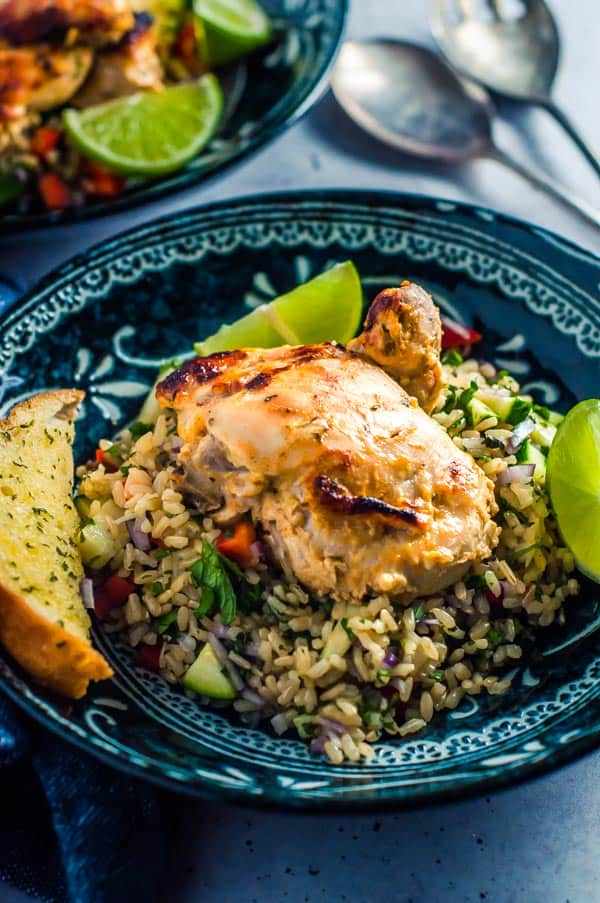 Five reasons you need to make Chicken in Greek Yogurt Marinade
You can prepare it ahead (like the day before, morning before work) so when you get home, all you have to do is get it into the oven
Its perfect for summer months (light and filling) and perfect for winter months as it's a nice change from the heavier stews and curries
It makes excellent leftovers. Love taking this one to work the next day.
It's a dish that pleases everyone. My husband and I like it ALOT, even though we are obsessed with generally "more punchier flavours", my mum likes it even though she "doesn't do curries", and my 10 year old nephew likes it even though he doesn't eat "real food".
No special skills/tools/appliances required. 1 bowl for the marinate + baking tray for the oven. That's it.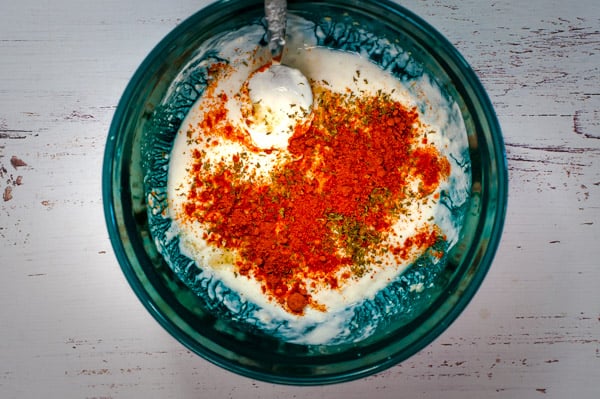 Other Chicken Recipes >>>>> Clean Eating Butter Chicken, Baked Paprika Parmesan Chicken, Clean Eating Chicken Salad, Healthy Salt & Chilli Chicken and Chicken & Mushroom Filos.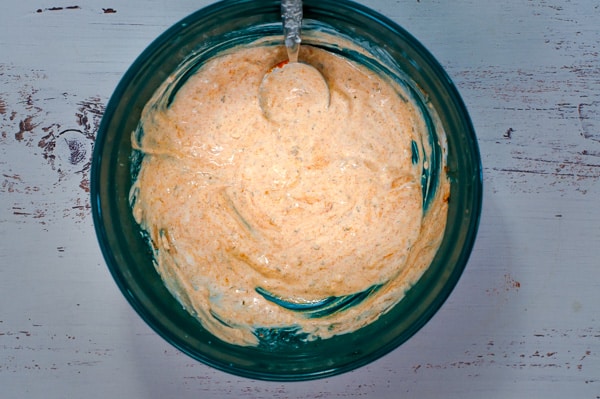 Chicken thigh works best for this recipe, either bone in our bone out, or a combination of the two. It's cheaper and more economical to buy that chicken breast, and chicken thigh results in a more moist tender dish as opposed to chicken breast which may tend to dry out a bit in the oven.
---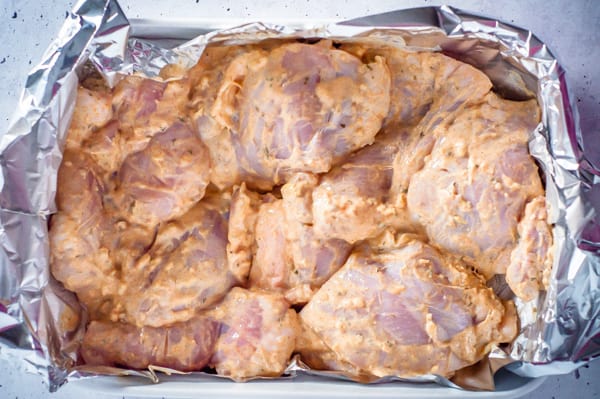 Variations to the Brown Herb and Garlic Rice
Instead of the brown herb and garlic rice try these variations instead:
Mashed sweet potato, with a side of green beans and broccoli
Stirfried garlic greans. Think bok choy, pak choi, spinach, beans, zucchini lightly sauted in garlic and a swish of vegetable broth.
Good old frozen veges. Maybe mixed with a bit of rice and soy sauce, or not.
I love the pre-cooked packs you can buy as it really saves time in the kitchen. I'll reheat it and mix in some chopped tomatoes, lentils, salt, pepper, soy and lemon juice. Yum.
Get a little crazy and boil up a pot of your favourite pasta and stir through some pesto sauce.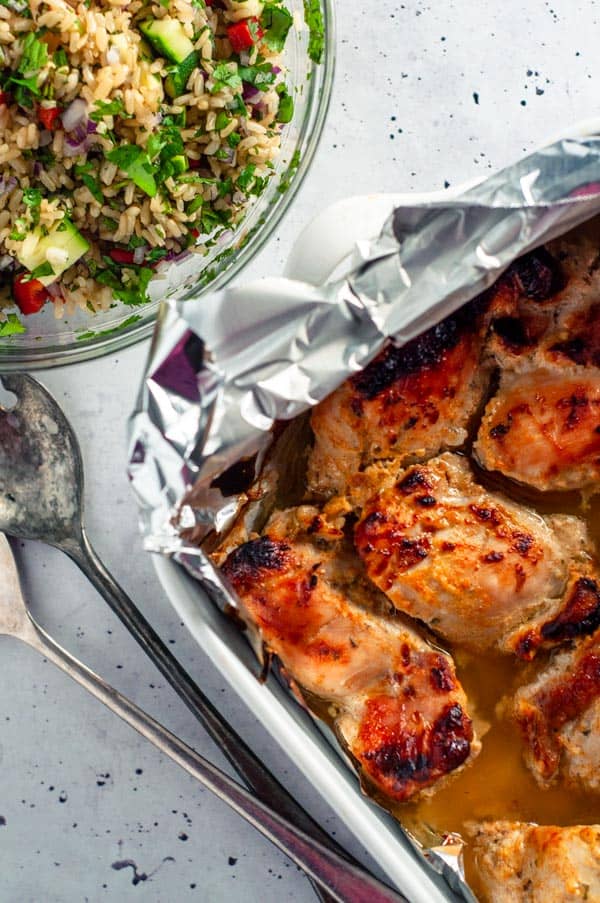 Substitutions and Shortcuts
I love to use Chobani Greek yoghurt for this yoghurt for this marinade, but if you can't find Greek yoghurt, plain unflavoured yoghurt would be fine.
If you're unable to get your hands on fresh garlic and ginger, take a shortcut and keep the bottled variety in your fridge to add flavour and depth to your weeknight dinners.
If you're super organised with your meal planning, you can marinate the chicken overnight in the yoghurt mixture, but if not, half an hour or even 15 minutes is fine. I'll admit that sometimes I'm in a rush and I just made the marinade, put it into the chicken and get cooking.
For the rice, really any type of rice will work.
Instead of Brown herb and garlic rice, you could substitute the rice for pearl cous cous which is one of my favourite side dishes.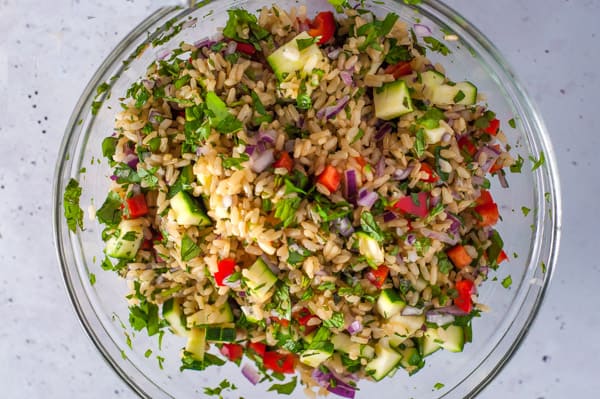 PRO TIP: Avoid using low fat yoghurt. Instead opt for the full fat one as it will result in a more flavourful , richer tasting marinade.
This is one of my favourite things to make in winter when I've overdosed on curries, as I tend to do in the cooler months. I love it for its simplicity, clean eating goodness and knowing that I can have this as my go to dish that is going to please everyone at the dinner table. Perfect for when family come over.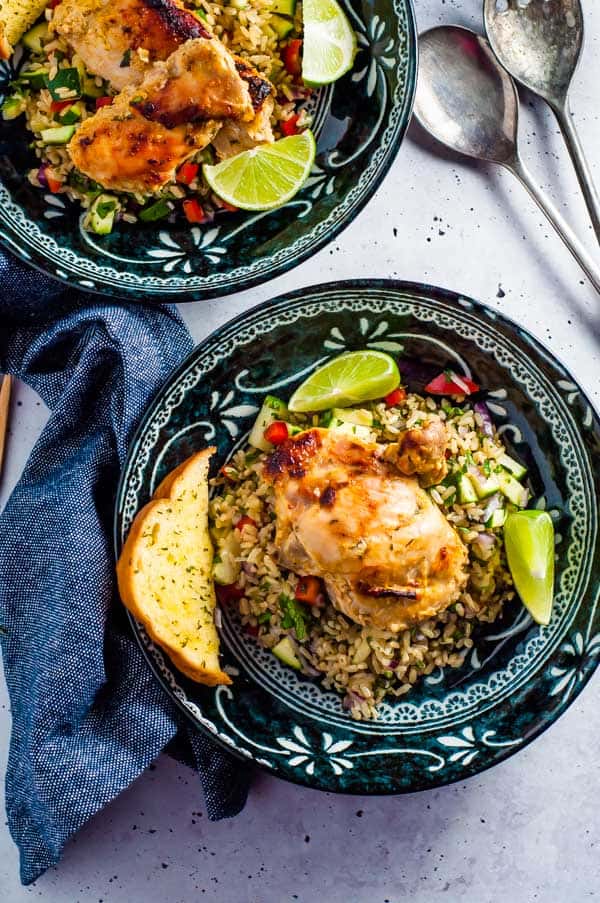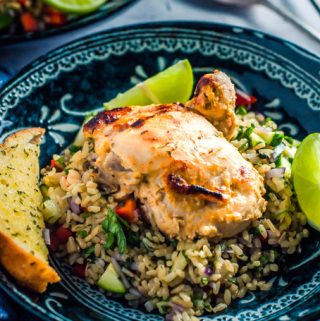 Chicken in Greek Yogurt Marinade
This Chicken in Greek Yogurt Marinade is light, healthy and simple to make. Paired with a brown herb and garlic rice it works perfectly as a weeknight meal, or make ahead lunches for the work week.
Ingredients
8

Chicken thigh pieces

-

bone in or out depending on your preference
Marinade
1

cup

Greek yoghurt

2

tablespoons

Garlic

-

crushed

2

tablespoons

Ginger

-

freshly grated

2

teaspoons

Curry powder

-

mild

1

teaspoon

Garlic salt

1

teaspoon

Dried Parsley
Brown Herb and Garlic rice
1

cup

Brown rice

1

small Red onion

-

finely diced

2

tablespoons

Garlic

-

crushed

2

cups

Chicken stock

½

cup

Cucumber

-

diced

2

tablespoons

Mint

-

finely diced

2

tablespoons

Coriander/Cilantro

-

finely diced
Instructions
Marinate the Chicken: In a large mixing bowl, mix all the ingredients for the marinade.

In each piece of chicken, make 3 slits with a sharp knife so that the marinade can get in.

Place chicken in marinade, and use hands to massage the yoghurt mixture through the chicken.

Cover and refrigerate for minimum of 3 hours, or overnight.

Cook the Chicken: Preheat the oven to the highest setting it will go to. Place foil into large oven tray, shake off excess yoghurt marinade, and arrange the chicken pieces into the tray on the foil

Place chicken into the oven a decrease the temperature to 180 degrees C/350 degrees C.

Cook chicken for 40 minutes, and then check. Test that chicken is cooked all the way through by inserting a skewer into the thickest part of the meat. If the juices run clear, it is cooked.

Prepare the Rice: Cook the rice as per packet instructions, but instead of using water, use chicken stock and add the two bay leaves..

Once rice has cooked, discard the bay leaves, then add garlic red onion, cucumber, mint and coriander/cilantro. Stir through until combined.

To serve: Serve the chicken with the rice and a garden salad.
Nutrition
Calories:
454
kcal
Carbohydrates:
28
g
Protein:
37
g
Fat:
22
g
Saturated Fat:
6
g
Fiber:
3
g
Sugar:
5
g
Note: Sugars contained in this recipe are from naturally occurring sugars in fruits, vegetables or other natural sweeteners.
Looking To Cut Out Sugar? Get the FREE Healthy Food Swaps Checklist Pack!
Get your FREE Healthy Food Swaps Checklists with over 65 Healthy Food Alternatives to Help you Ditch The Sugar Without Feeling Deprived.
★ Did you make this recipe? Don't forget to give it a star rating below!