Everyone needs a Clean Eating Chicken Salad in their meal repertoire. Its crisp, light and fresh and perfect for getting back on track after a weekend blowout. Marinated tangy chicken, together with a bright colourful crunchy rice and veg salad coupled with a zesty ginger, mustard and lemon dressing, this dish will fill you up and you won't even need dessert.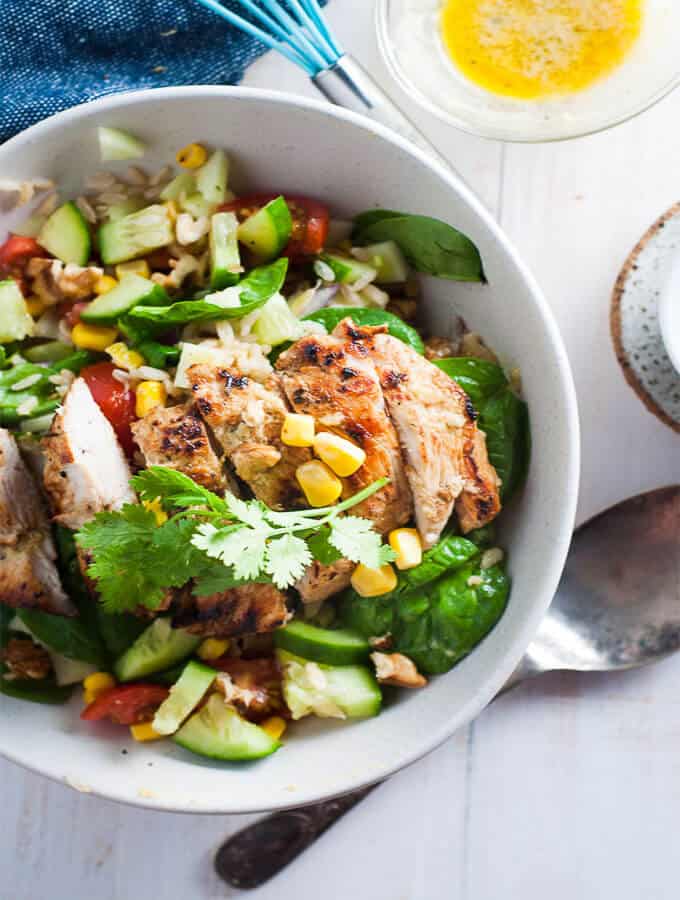 So, this chicken salad is quick to make, even with the marinated chicken.  I get all the marinade ingredients together in a bowl and put the chicken into the liquid and let it sit for 10 minutes.  That's all.
You might not think that this makes much of a difference to the overall flavour, but I can tell you it takes it from an average run of the mill chicken salad to deliciously moreish salad that I would eat more than once per week. Yep.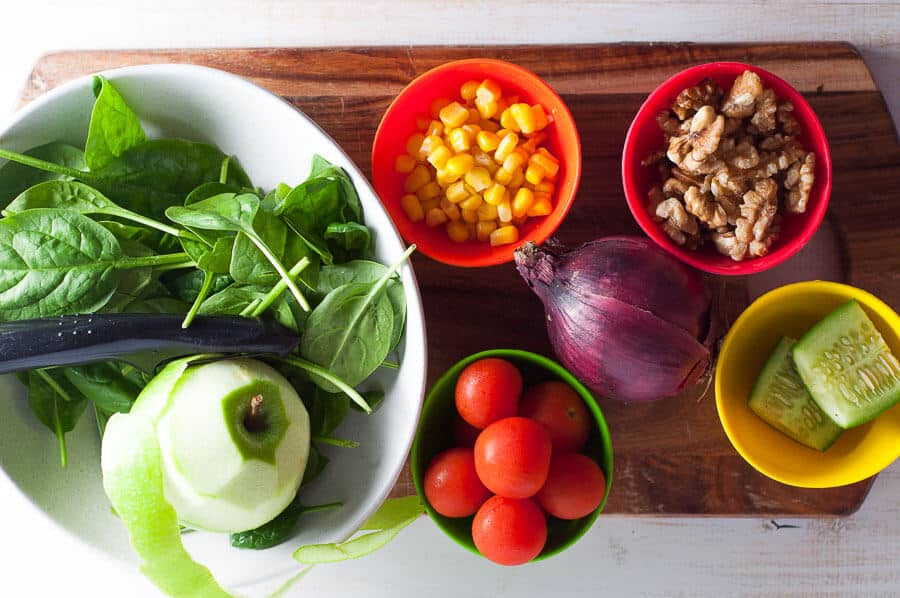 10 Minute Prep For A Clean Eating Salad
Whilst the chicken is marinating, spend that 10 minutes preparing the salad and making the dressing. If you use pre cooked rice (the kind you microwave for 60 or 90 seconds), you can absolutely get all the prep done in this time.
Heat up a pan, or skillet – I like my pan to be pretty hot so I can hear the sizzle when I put the chicken on. Be aware that because of the marinade, it might appear that the chicken is burning, but its just the marinade sealing in the flavours.
The Best Chicken For a Quick Chicken Salad
For this recipe, I like to use the chicken schnitzel pieces from Woolworths. It's basically a thin chicken breast about 1cm in thickness. Because it's thin, it does cook pretty quickly. Tick. It also makes it easier to cut it into strips.
TIP: When making the dressing, use a jar with a lid. Put all the ingredients in, tighten the lid and give it a shake and leave it. When you're ready to pour it onto the salad, give it another good shake just before.
This recipe serves 2, just like this Chicken Risoni Salad and this Popcorn Chicken Salad.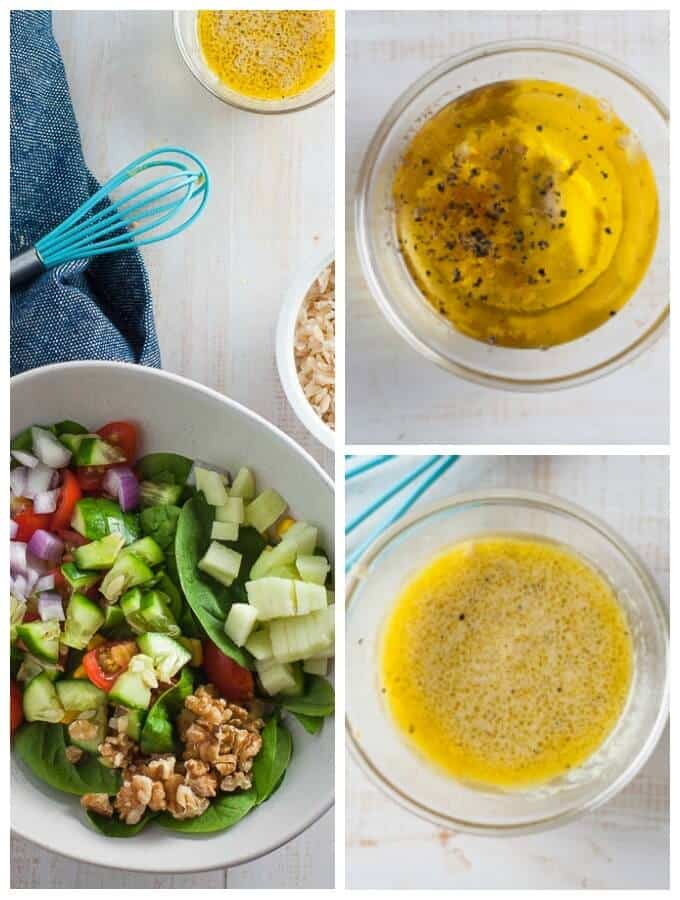 The Perfect Work Lunch as well…
Not only is this one of my favourite recovery dishes after a bout of overindulgence, it also makes a great lunch to take to work.
It's easy to make ahead. Chicken in one container, salad in another container. Dressing in one of those cute little containers made just for dressings and sauces.
Reheat the chicken at work, add it to the salad, pour over the dressing and boom, you'll be the envy of all your office co-workers who are eating boring ham and cheese sandwiches.
Other Clean Eating Salads You Might Like:  Chicken Popcorn Salad, Chicken Risoni Salad, Crunchy Thai Beef Salad and Salt and Pepper Squid Salad.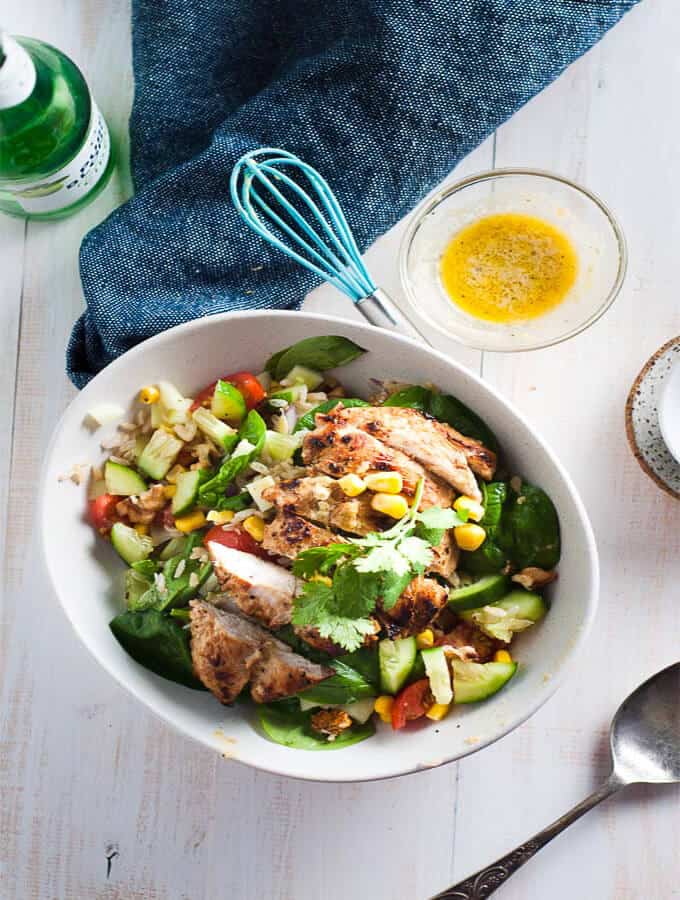 3 Ways to Change up this Eating Salad
Instead of chicken, marinate some strips of lean beef. Just as yum!
Switch the walnuts in the salad with hazelnuts or unsalted cashews (toasted if you like)
Instead of rice as the salad base, try quinoa, high fibre wholemeal pasta, or cous cous (isralei or pearl).
This is one of my favourite salads. Easy, tasty, Quick, and really versatile. Actually you could pretty much round up all the salad/vegetable type bits and bobs is in your fridge and pantry and create your own masterpiece. Perfect really.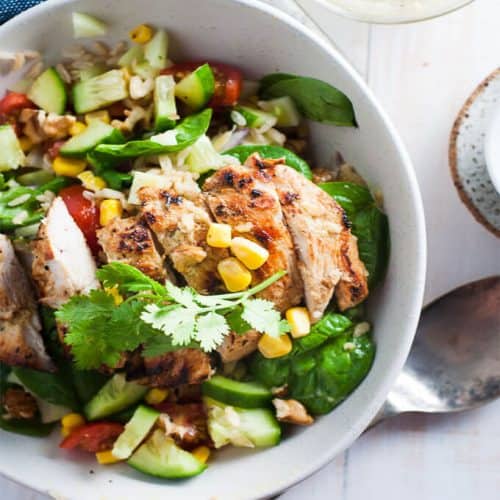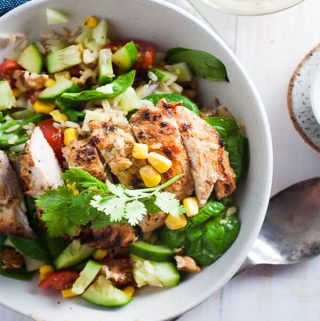 Clean Eating Chicken Salad
Not Your Average Chicken Salad. This 20 minute Clean Eating Chicken Salad consists of marinated tangy chicken, together with a bright colourful crunchy rice and veg salad + walnuts and apple, coupled with a zesty ginger, mustard and lemon dressing.
Ingredients
Chicken Marinade
2

medium chicken breast fillets

¼

cup

Light soy sauce

1

teaspoon

crushed garlic

1

teaspoon

ginger

-

freshly grated

1

tablespoon

Lemon juice

1

teaspoon

Dijon mustard

1

teaspoon

Fresh Rosemary

-

finely chopped (Note 1)

Pinch

of salt and pepper
Salad
1

cup

brown rice

1

cup

Spinach leaves

½

medium Red onion

-

finely diced

½

medium Lebanese Cucumber

-

finely diced

10

Cherry tomatoes

-

quartered

1

medium Green apple

-

finely diced

½

cup

Walnuts

-

crumbled
Dressing
2

tablespoons

Extra virgin olive oil

1

tablespoon

White wine vinegar

1

teaspoon

Dijon mustard

½

teaspoon

Ginger

-

freshly grated

Salt and pepper to taste
Instructions
Marinade: Add all of the ingredients for the marinade (except chicken) into a medium sized bowl and stir with a whisk to combine. Add the chicken, cover with plastic wrap and marinate in the fridge for 10 minutes.

Dressing: In a small bowl, add all the ingredients for the dressing and whisk to combine. Cover and set aside in the fridge for later.

Salad: in a medium salad bowl, gather all the salad ingredients and the cooked rice. Toss to combine. Cover and set aside.

Cook the Chicken: Lightly spray a hot pan or grill with olive/vegetable oil, and add the chicken. Cook for 3 to 4 minutes each side until it has browned and developed some colour and char marks.

Finalise the salad: Pour half the dressing over the salad and toss to coat. Divide the salad in half and put onto two plates.

Cut the chicken pieces and place half on each plate. Drizzle remaining dressing over chicken and serve immediately.
Nutrition
Calories:
594
kcal
Carbohydrates:
59
g
Protein:
47
g
Fat:
37
g
Saturated Fat:
5
g
Fiber:
9
g
Sugar:
15
g
Note: Sugars contained in this recipe are from naturally occurring sugars in fruits, vegetables or other natural sweeteners.
Looking To Cut Out Sugar? Get the FREE Healthy Food Swaps Checklist Pack!
Get your FREE Healthy Food Swaps Checklists with over 65 Healthy Food Alternatives to Help you Ditch The Sugar Without Feeling Deprived.