This weekend I made a healthy salt and pepper squid salad. The squid was so fresh, tender, light and it just melted in your mouth and with the right blend of salt and pepper spice with a drizzle of lemon, it is the simplicity of this dish that makes it.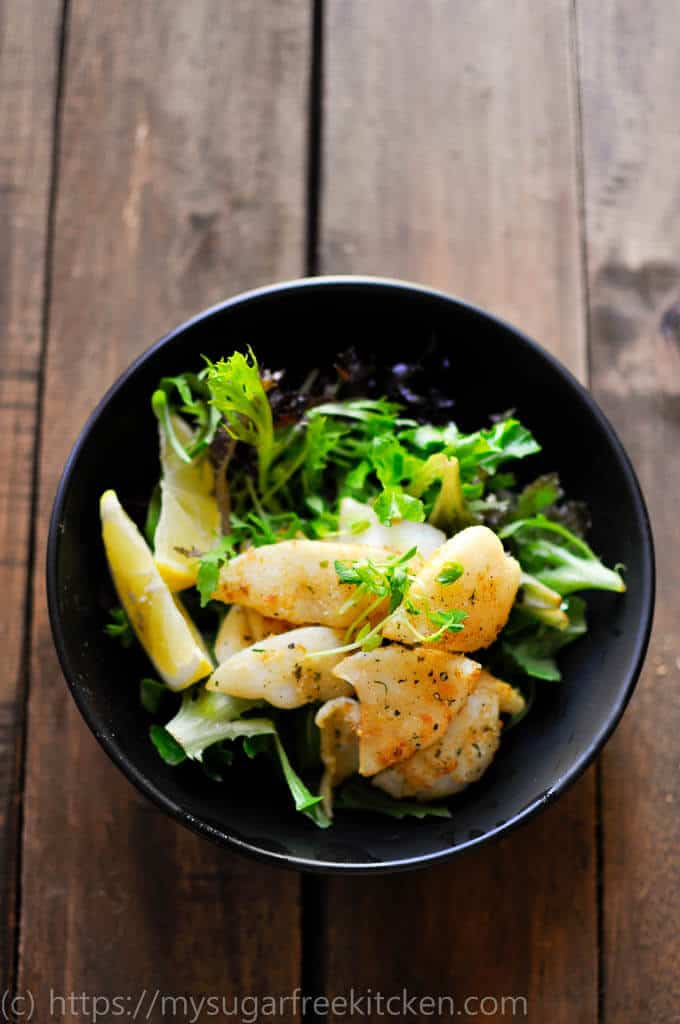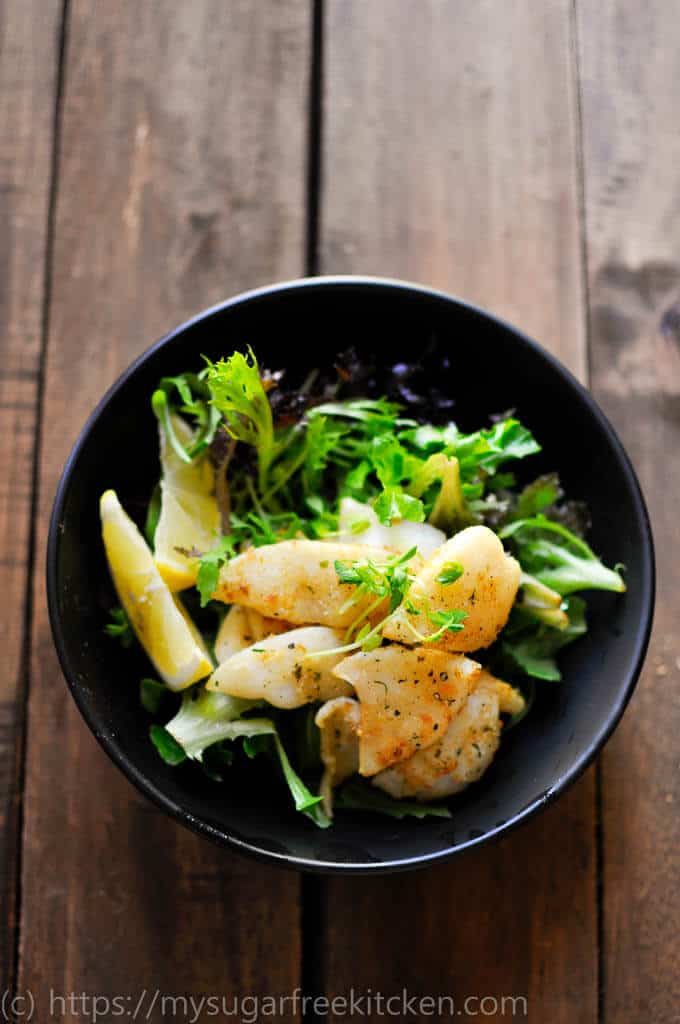 Salt and pepper squid salad is a dish that I love to eat, and have often ordered it at cafes and restaurants, but there is always such a huge variation on what you're actually going to get.
Sometimes its oily and greasy, sometimes the squid id dry and tough or the dish is soggy, or too salty, not salty enough or just kind of average.
The perfect Salt & Pepper Spice Mix
Part salt, part pepper, and a dash of smoked paprika, with a hint of dried parsley and a little sprinkling of Panko breadcrumbs. If you're not familiar with panko breadcrumbs they are an ingredient used extensively in Japanese cooking, generally available at most supermarkets in the Asian aisle.
The smoked paprika is a must with this dish as it adds a hint of quiet smokiness that you don;t usually find in salt and pepper squid dishes and I highly recommend it!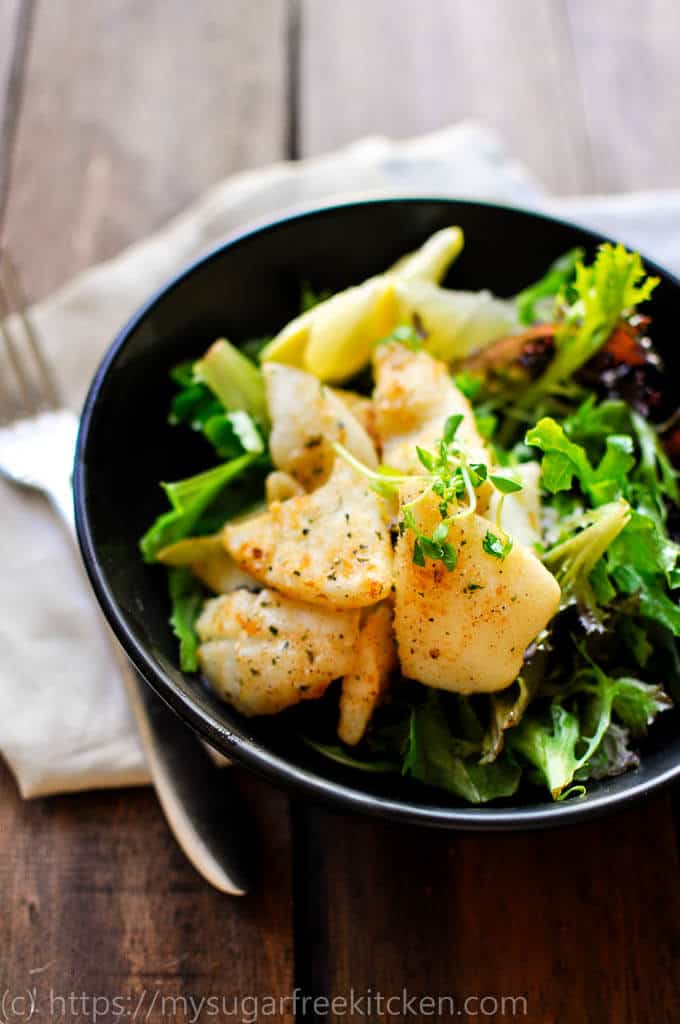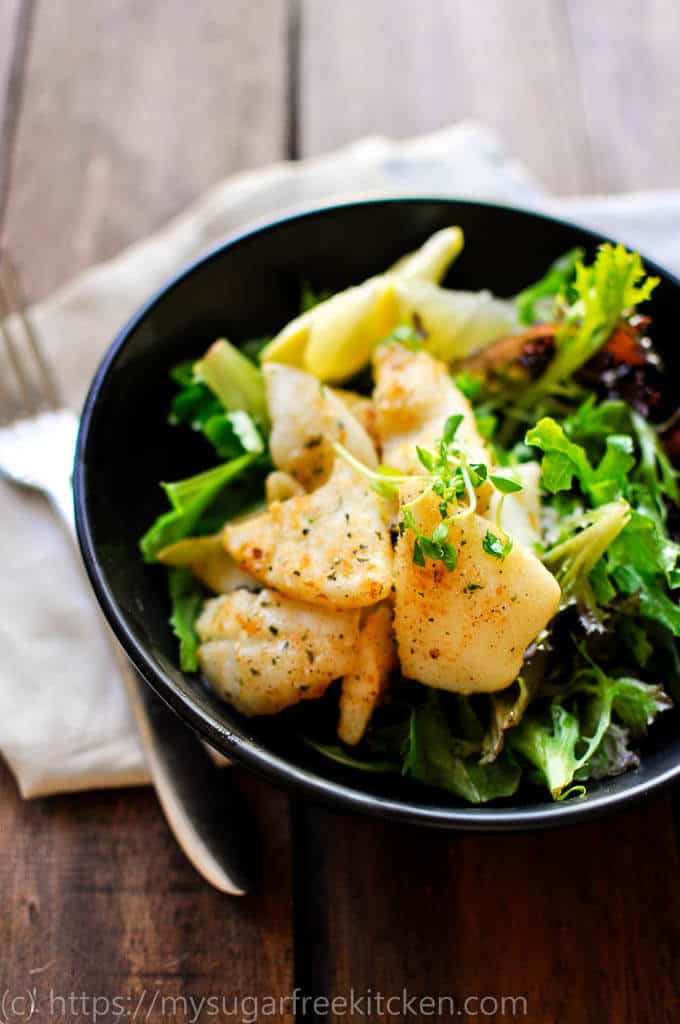 Salt and Pepper Squid Cooking Tips
Use the right oil. I tend to use peanut oil. You could also use canola oil, vegetable oil, sunflower oil, or rice bran oil which are all good choices for shallow frying as they have a high smoke point, which means you can heat the oil to high temperatures without it burning and spoiling your lovely seafood.
The oil needs to be really hot. Don't be tempted to put it in before hand, this will make it rubbery.
Test the oil for hotness. To test if the oil is hot enough, drop a tiny piece of bread into the oil. If it sizzles, its ready. If it doesn't sizzle, it's not ready.
Don't walk away from the pan. It only takes a few minutes to cook the delicate squid pieces. Too long in the oil and they will become rubbery
Work Quickly. The quicker the better. This is a dish best serves as soon as its cooked.
Cook it in batches. Do a few at a time so they don't stick together and so the temperature of the oil doesn't decrease too much too quickly with the cold squid.
Keep it warm until you're ready for serving. As you're cooking the squid pieces, put the cooked ones onto a baking tray into a very low oven
I love making this dish at home where I can have it exactly how I like it. Salt and pepper squid that is light and fresh and soft and tender – and its so simple to make. When I made this, I was flying solo, home by myself, so I wanted it to be quick, tasty, crisp but soft in the middle and full of flavour. This dish definitely delivers that. And I highly recommend once you have made it, taking it outside to eat it in the sunshine, maybe even with a glass of wine!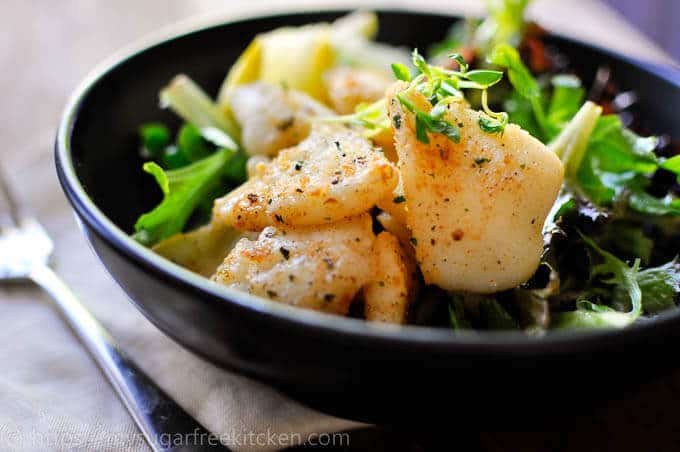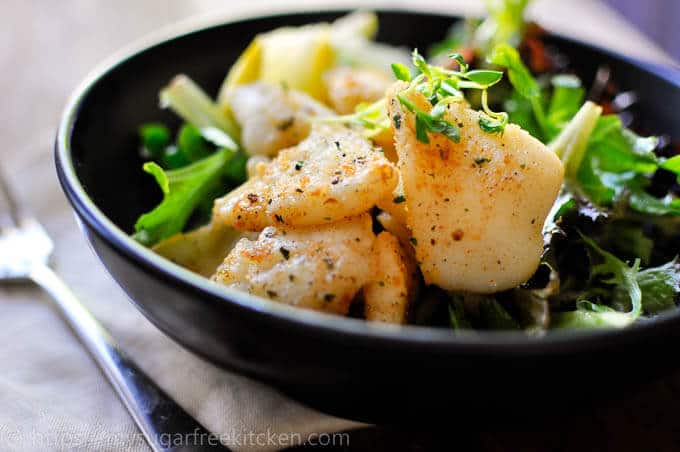 To me this dish is a social dish as I have enjoyed it many times with friends, but sometimes I make it because I just have a craving for something salty and soft and a little bit spicy, sweet and tangy all in one. It's the perfect combination of warm summer afternoon, lazing about outside, beverage in hand!
So, if you do make it, prepare to take a moment to sit back, relax and take in the scenery around you as those wonderful aromas of sweet salty lemon surround you! Maybe I should have a margarita now….
Other seafood dishes you might like: Healthy and Filling Salmon Burrito Bowls, Fish Panang Curry, Superquick Salmon Curry In A Hurry, Garlic Prawn and Tomato Risotto.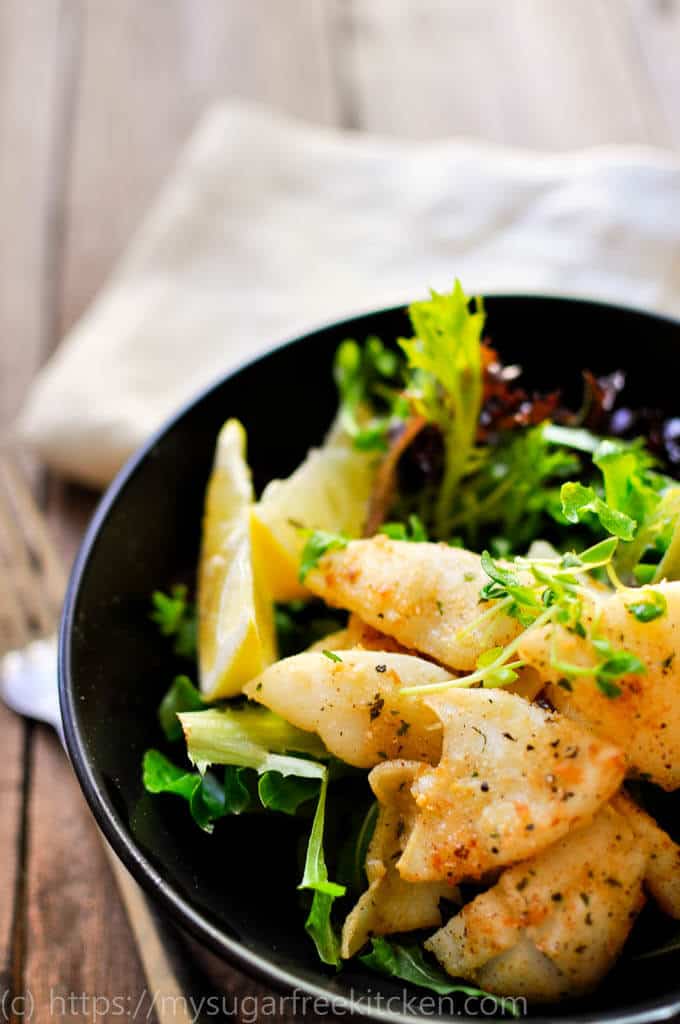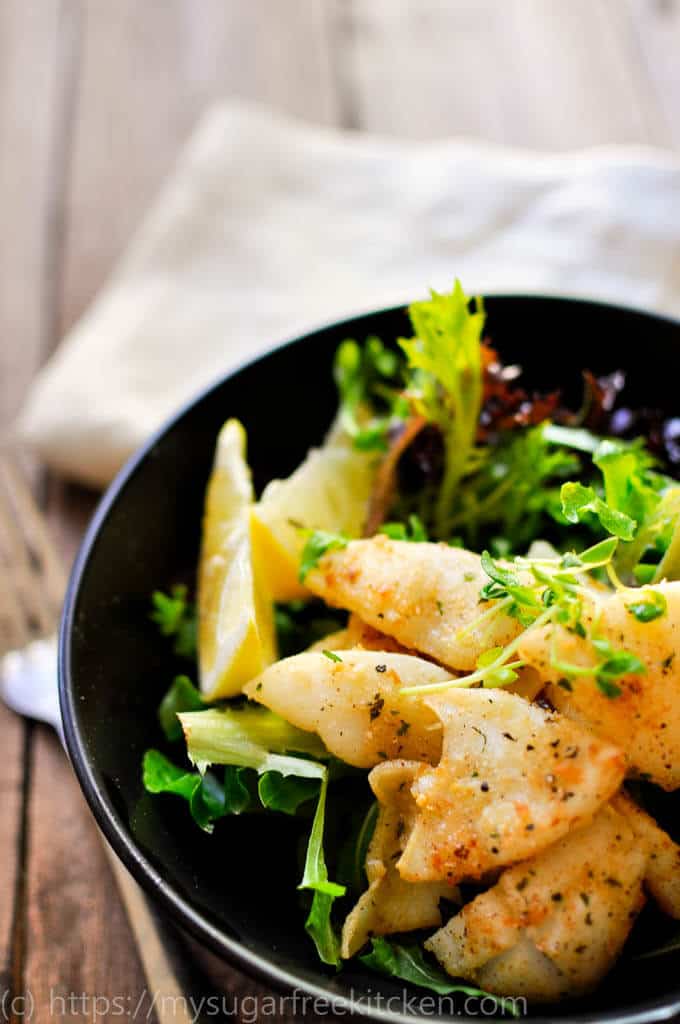 If you've tried this Salt and Pepper Squid Salad or any other recipe on the blog then don't forget to rate the recipe and let me know how you got on in the comments below, I love hearing from you!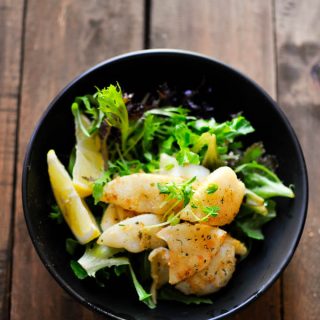 Salt and Pepper Squid SAlad
This healthy salt and pepper squid salad recipe is light, crispy and incredibly tender. This is the perfect lunch for sharing with friends over a glass of wine!

Ingredients
300

grams

/ 10 oz. Squid

1

teaspoon

Sea Salt

1

teaspoon

Ground Black Pepper

½

teaspoon

Smoked paprika

½

teaspoon

dried parsley

2

tablespoons

Panko breadcrumbs

2

teaspoons

Lemon Zest

4

tablespoons

Plain Flour

½

cup

Peanut Oil

½

Lemon
Instructions
Heat saucepan or wok with peanut oil on medium to high heat

On "dull" side of squid lightly score crossways and then crossways again, making sure not to cut right through

Pat squid dry to remove moisture

Prepare the coating: in a medium bowl combine flour, panko breadcrumbs, salt, pepper, paprika, lemon zest and dried parsley

Dip the squid into the coating and press to coat thoroughly

Coat all squid and place on plate ready for shallow frying

Fry off squid for a 1 and a half to 2 minutes depending on how thick it is, and place on paper towel to drain.

Serve with green salad and lemon wedges!
Notes
This delicious and healthy salt and pepper squid is best eaten as soon as its made, straight from the pan!  or you can put it on a plate if you have the patience....
Nutrition
Calories:
271
kcal
Carbohydrates:
6
g
Protein:
23
g
Fat:
15
g
Saturated Fat:
2
g
Fiber:
1
g
Sugar:
1
g
Note: Sugars contained in this recipe are from naturally occurring sugars in fruits, vegetables or other natural sweeteners.
Looking To Cut Out Sugar? Get the FREE Healthy Food Swaps Checklist Pack!
Get your FREE Healthy Food Swaps Checklists with over 65 Healthy Food Alternatives to Help you Ditch The Sugar Without Feeling Deprived.