These chicken and mushroom filos are packed with rich flavour, are easy to make and under 400 calories per serve. The flaky filo pastry combined with the rich chicken and mushroom gravy are the perfect healthy comfort food.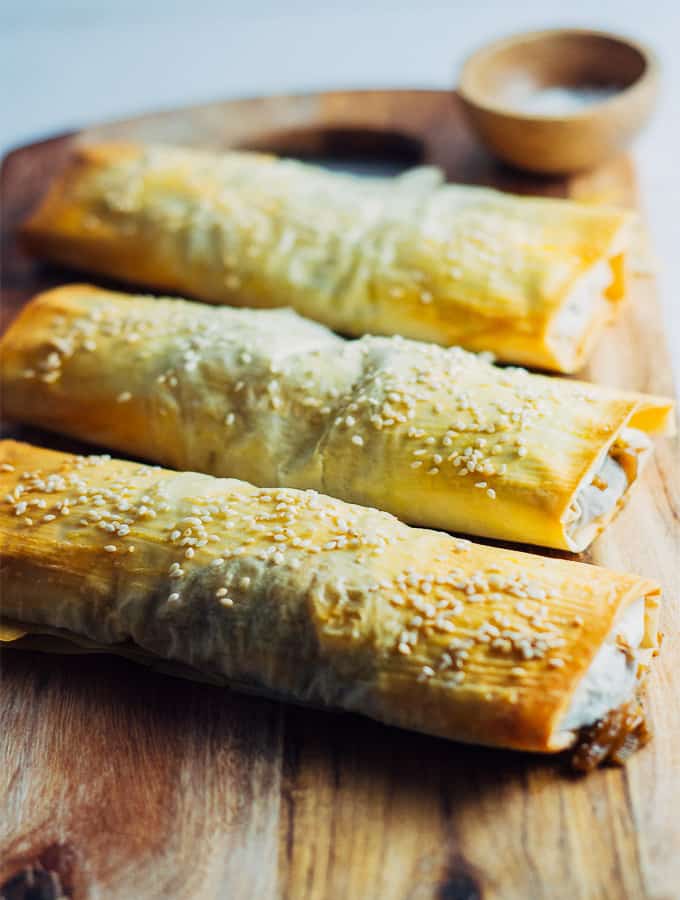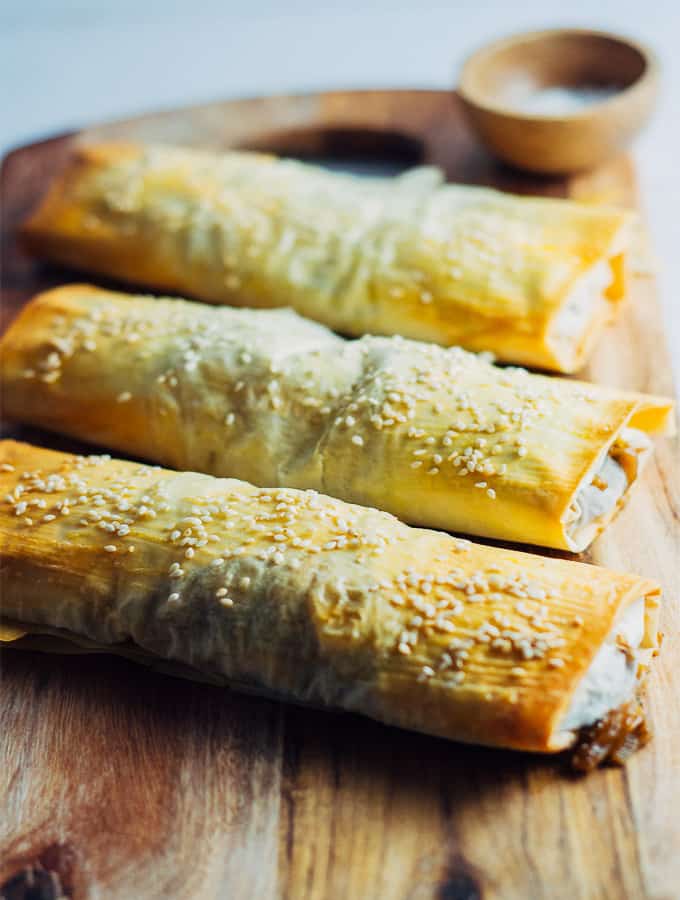 I used to buy chicken and mushroom filos from the deli near my house, but one day when I went to buy them, they said they no longer stocked them. I was so disappointed as they had become part of my regular meal planning because they were tasty, quick to get on the table and just so convenient. Although on the down side, they were pricy, and as I recently found out, not hard to make your own at all. Also I've just discovered that filo pastry is not as "bad" for you as you might think. Bonus!
After I got over the disappointment of the filos no longer being stocked, decided to let them go and see if I could find something else to fill the gap, but all the while I was thinking about those chicken and mushroom filos and how much I had enjoyed them.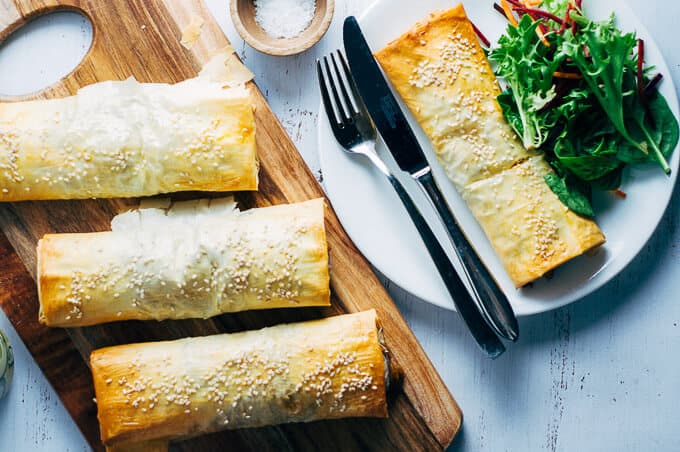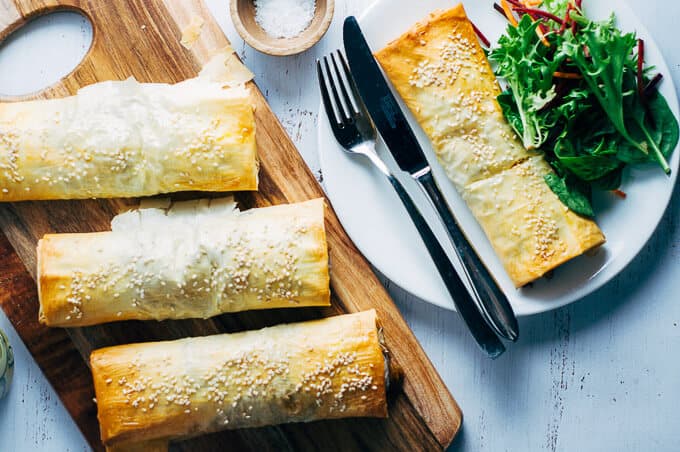 So I began experimenting with making my own, and definitely the trickiest part was getting the gravy mix just right. It needed to be not too runny, not too firm, with the right amount of flavour to make you sit up and take notice.
I made about half a dozen batches over a few weeks and come up with this recipe, and in my mind it comes in fairly close to those store bought chicken and mushroom filos I was pining after.
I realised as I was making my own filos, a big part of the reason I was fond of the store bought version was because you could freeze them as they were already lightly cooked. Then when I wanted to have them for dinner, I'd pull out the number I needed, defrost and heat them in the oven for 30 to 25 minutes.
You might also like: Chicken in Greek Yoghurt Marinade, and Creamy Garlic Mushroom Chicken.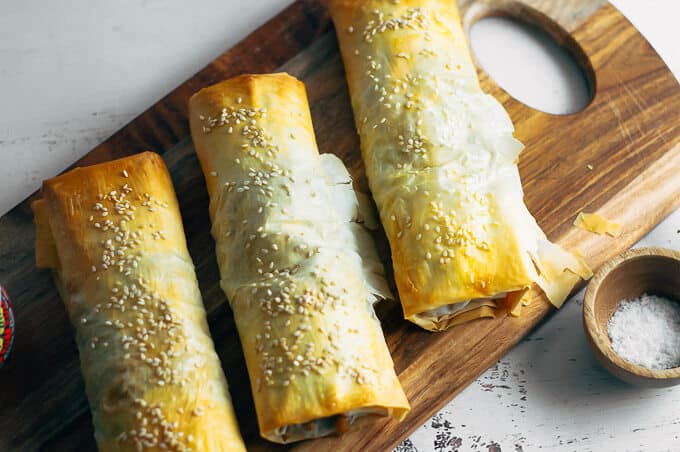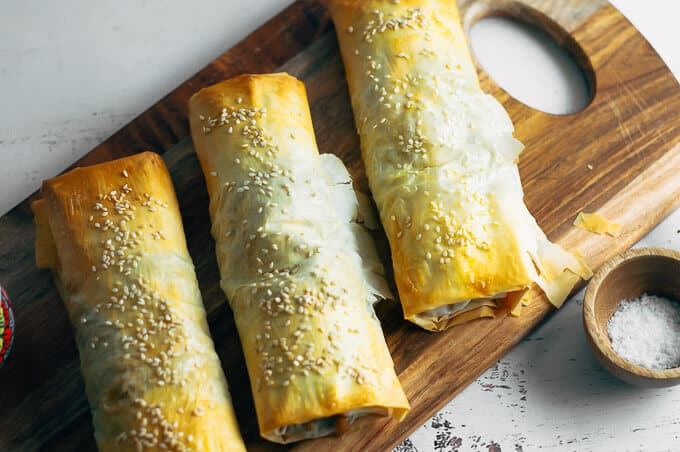 This is what I was aiming for with mine as well – after all I wanted the convenience of them, just as much as the taste and flavour, much like this Chilli Chicken Basil Stirfry which I recreated from one of my favourite takeaways.
These are really easy to make on a Sunday afternoon, if you have a spare 30 or 40 minutes. You don't need to cook them 100%, just so they are lightly golden. Then let them cool, bag them up into ziplock bags and freeze. And then you have filos on tap. During the week, serve them up with mashed sweet potato and green beans or a garden salad with a zesty dressing. Or if you're like me, eating it on its own is also just as satisfying!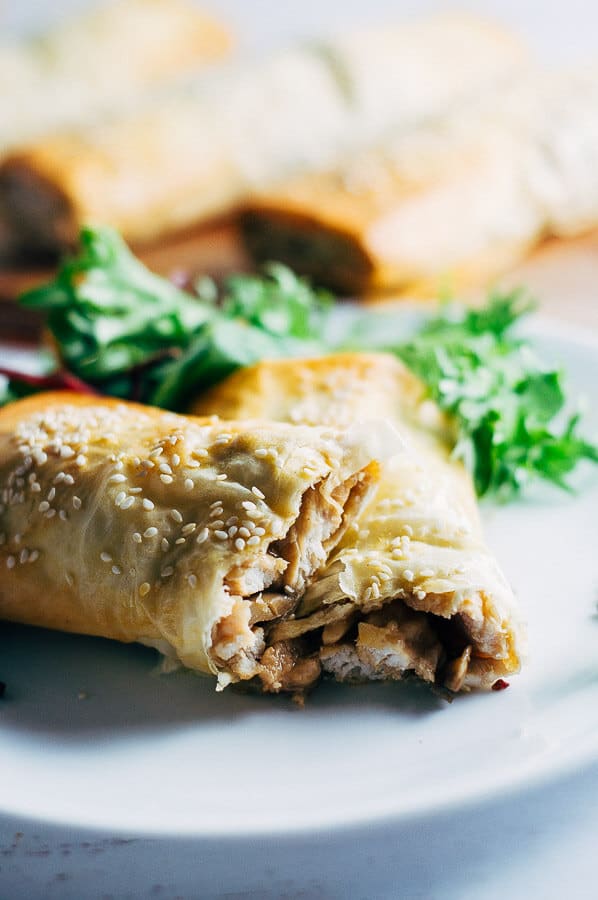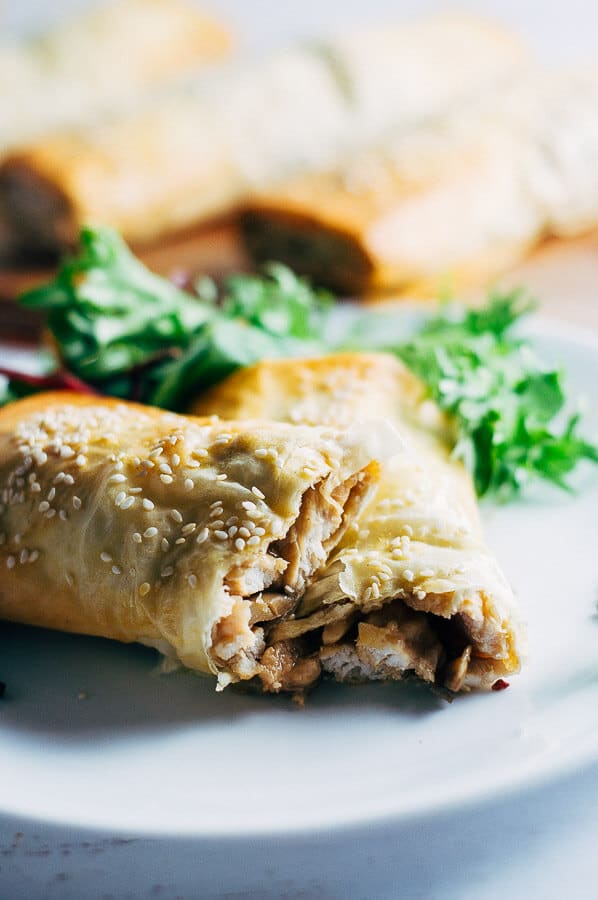 Having a batch of filos ready made in the freezer helps to avoid reaching for cardboard box processed food or phoning the nearest takeaway desperate for something to eat, which lets face it, you'll probably either not really enjoy, or it will leave you feeling regretful for the dollars you paid or the calories it contains. Either way, make Chicken and Mushroom Filos instead. It's a guaranteed no regrets dinner!
Other Chicken recipes you might like: Low Carb Chicken Schnitzel, Thai Chicken Meatball with Peanut Sauce, or this make ahead Apricot Chicken Curry Casserole.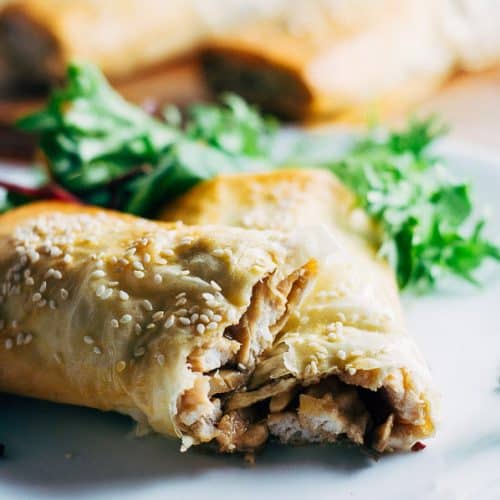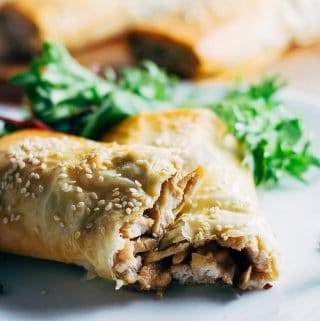 Chicken and Mushroom Filos
These Chicken and Mushroom Filos are packed with rich, full flavour and encased in flaky golden pastry. Perfect for making ahead and freezing so you have healthy dinners during the week sorted.
Ingredients
400

Grams/ 14 Oz.Chicken breast

-

chopped into bite sized pieces

1

medium Onion

-

Diced

1

teaspoon

Minced Garlic

½

cup

Chicken Stock/broth

1

Packet/3.5 Oz. Dried

-

Powdered Cream of Mushroom Soup (I use continental brand)

¾

cup

Boiling Water

1

tablespoon

Fresh Rosemary

-

diced finely

½

cup

Button mushrooms

-

diced

8

sheets Filo Pastry

1

tablespoon

sesame seeds

1

tablespoon

Butter

-

for pastry
Instructions
Make sure to remove the filo pastry from the freezer at least 2 hours before you need it. Keep it unopened at room temperature on the bench.

Heat a pan on medium to high heat on the stovetop

Add onion and garlic and cook for 1-2 minutes until onion is translucent

Add the diced chicken and cooked until lightly browned

Add the mushrooms and rosemary and cook for 2 minutes, stirring regularly

Add the chicken stock/broth, and let it reduce for 2 minutes

Add the powdered soup mix to the boiling water and add gradually (in 3 lots) to the chicken/mushroom mixture. The soup should thicken the stock/broth to a gravy consistency

Once it has thickened to a gravy like consistency, remove from the heat and let it cool to room temperature before putting onto the flio pastry.

Portion out the chicken: Once Chicken and Mushroom is cooled down, divide it into four equal portions, ready for putting into the filo.

Preheat oven to 180 degrees C/350 F.

Prepare the filo: flatten out 2 sheets of filo. Place chicken in a line lengthways, 1.5 inches from left, leaving an inch at top and bottom (for folding)

Once chicken is placed on the filo, start from the left and fold over once.

Next, fold the bottom to the middle, once, followed by the top. (Kind of like wrapping a Christmas present!)

Finally, roll the filo, making sure the side stay tucked in. Lay the filos onto a grease proof tray with the seam side down so it stays together

Brush over with melted butter so they brown and crisp up, sprinkle a few sesame seeds, and bake in the oven at 180 degrees C/350 F. for 30 minutes.
Notes
If you can't find cream of mushroom packet soup mix, you could use cream of chicken, or any type of powdered soup mix.
Nutrition
Calories:
391
kcal
Carbohydrates:
47
g
Protein:
32
g
Fat:
8
g
Saturated Fat:
1
g
Fiber:
1
g
Sugar:
3
g
Note: Sugars contained in this recipe are from naturally occurring sugars in fruits, vegetables or other natural sweeteners.
Looking To Cut Out Sugar? Get the FREE Quick and Easy Food Swaps Checklist Pack!
Get your FREE Quick and Easy Food Swaps Checklists with over 65 Simple Real Food Alternatives to Help you Ditch The Sugar Without Feeling Deprived.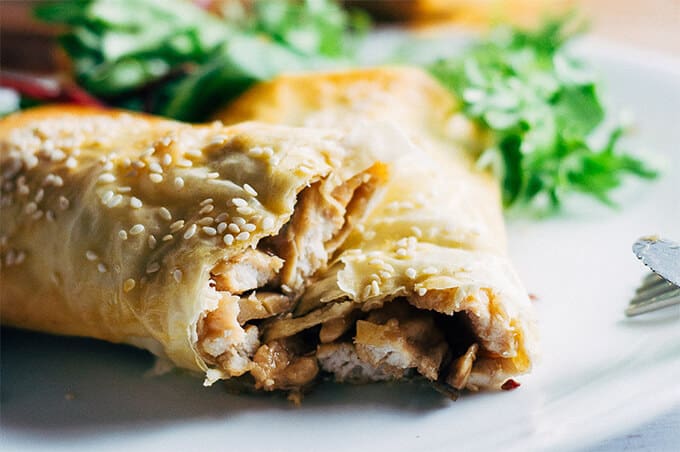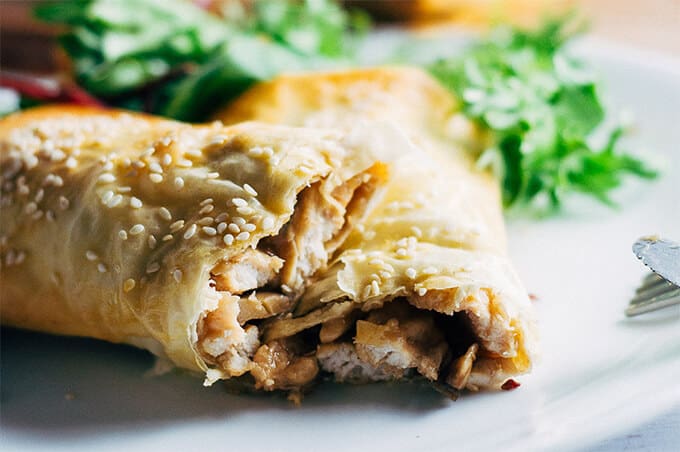 ★ Did you make this recipe? Don't forget to give it a star rating below!