A Healthy Bounty Bar that is naturally sweetened with Natvia Stevia Sweetener, has a creamy decadent coconut centre, covered in lush, rich dark sugar free chocolate.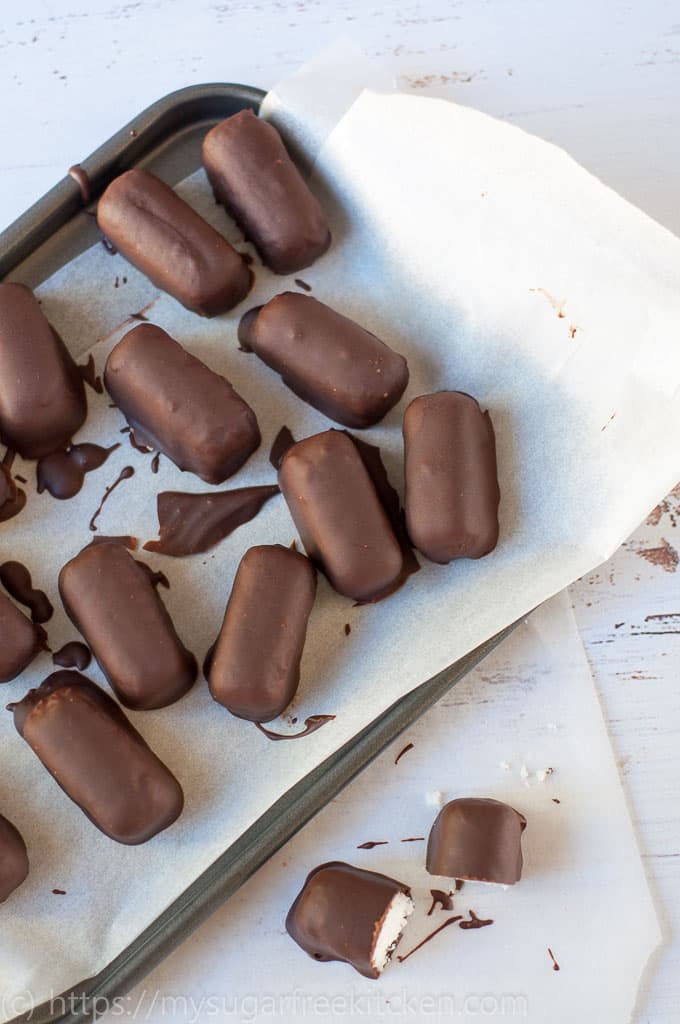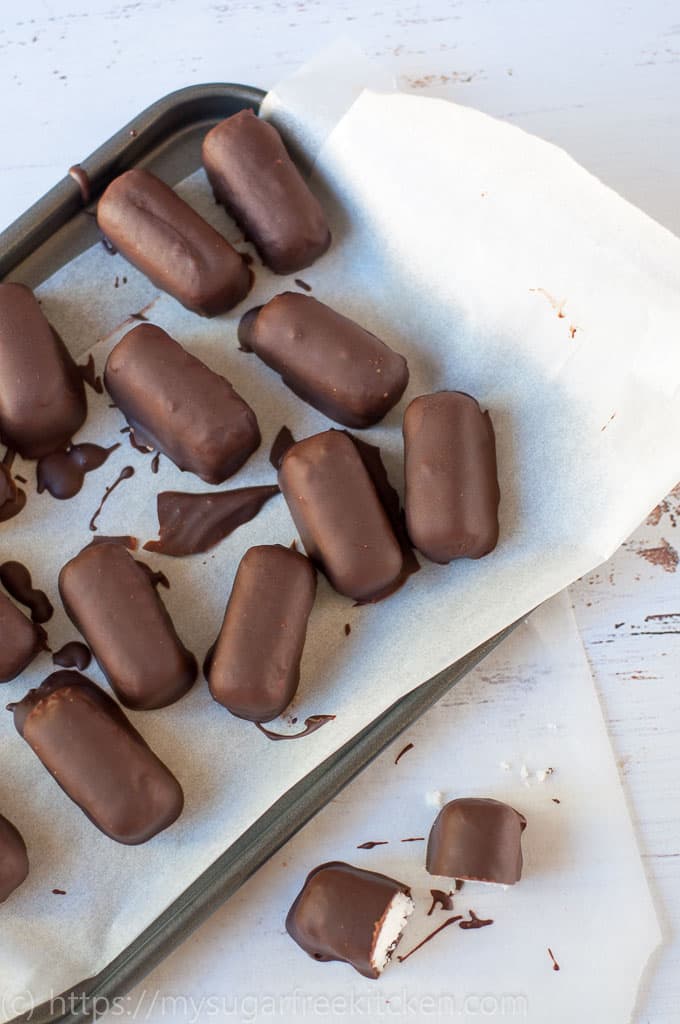 The Cadbury Bounty Bar has always been one of my favourite chocolate treats. However, over time I have begun to enjoy these sugar treats less and less. I think it is because my tolerance for real sugar was also becoming less.
Over 10 years ago, I deliberately set out to eat less sugar, and as a result, the things I used to eat regularly (full of sugar mind you), began to taste a bit sickly sweet. Namely all the different chocolates and sweets, I would eat several of each week, and sometimes, daily. YUK! Actually the thought of eating a regular bounty bar now, is something I could not even contemplate.
I'm not sure I could even get past the first bite! The sugar would taste wrong to me and it would not agree with me. It would leave a weird and unpleasant sensation in my mouth and create enormous feelings of guilt as I would think what I was putting into my body was not "good". No so though with my Chocolate Cashew Cups, or Sugar Free Chocolate Tart with fresh Raspberries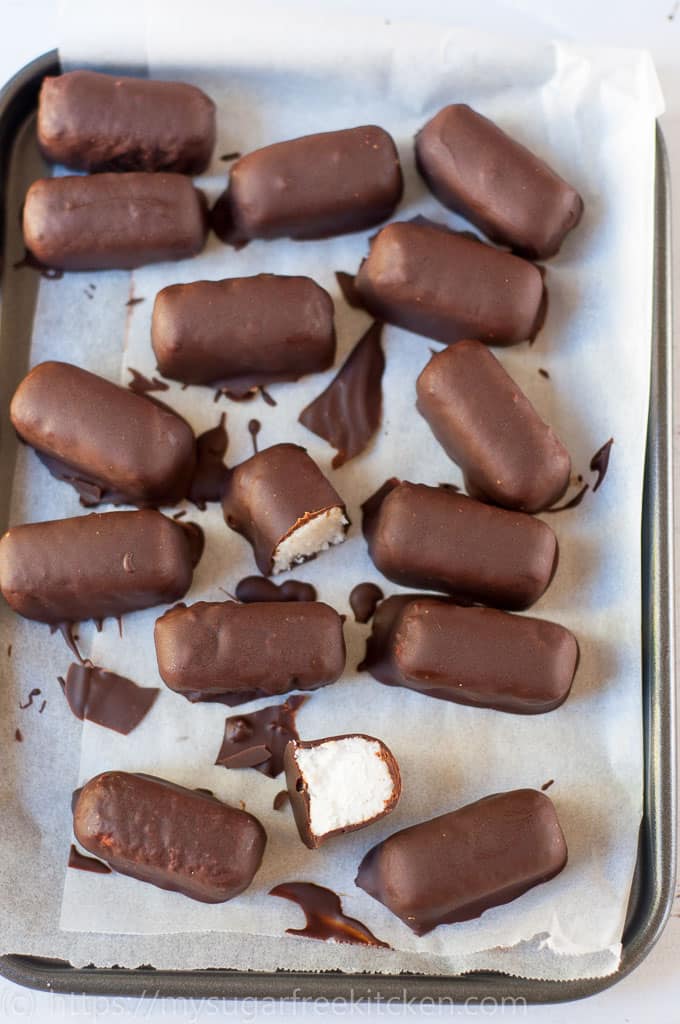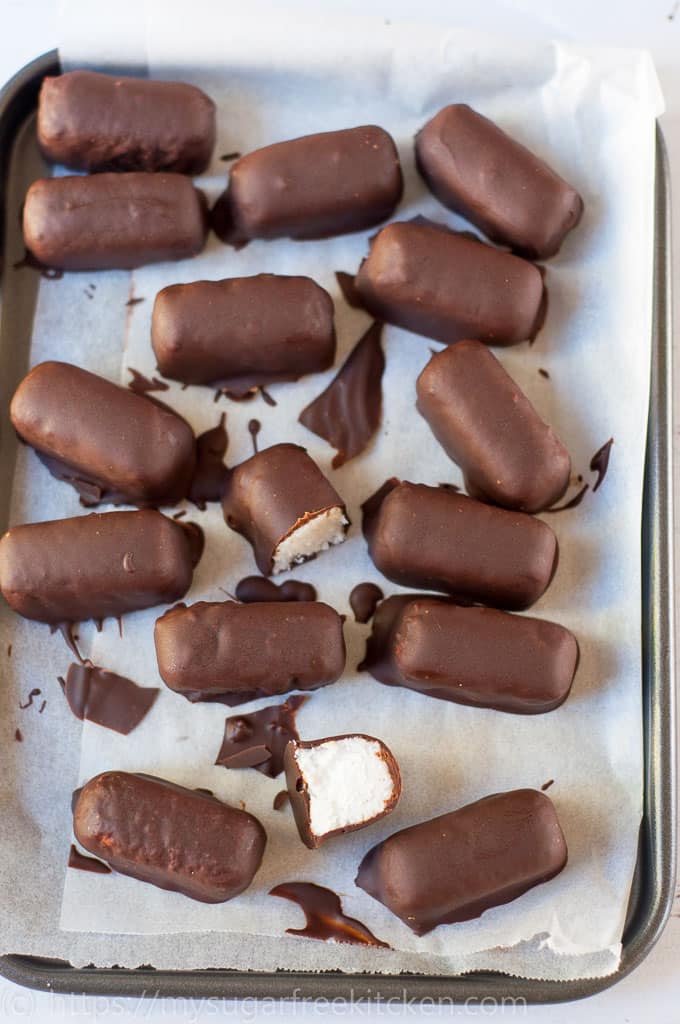 A Healthy Bounty Bar, Better Than Store Bought!
So here is my version of one of my all time favourite chocolate treats. It took me a long time to get it right. This is the 8th time I've made these. All the other attempts had flaws. They might of tasted OK, but looked awful, or they looked OK, and tasted awful, or somewhere in between.
These healthy bounty bars are my best yet. I tried using many different "vessels" to shape and mold my bars like a rectangle 1 inch metal pan, a 1cm metal square sheet pan, a rectangle pyrex dish, plastic ice cube tray, and on my final attempt, silicone ice cube trays. The silicone ice cube trays were definitely the best option for creating a nice molded shape that looked good, was the perfect bite size and was easy to coat in the rich dark sugar free chocolate.
So after carefully dressing these in chocolate and putting them in the fridge to set, I decided it was time to reward myself.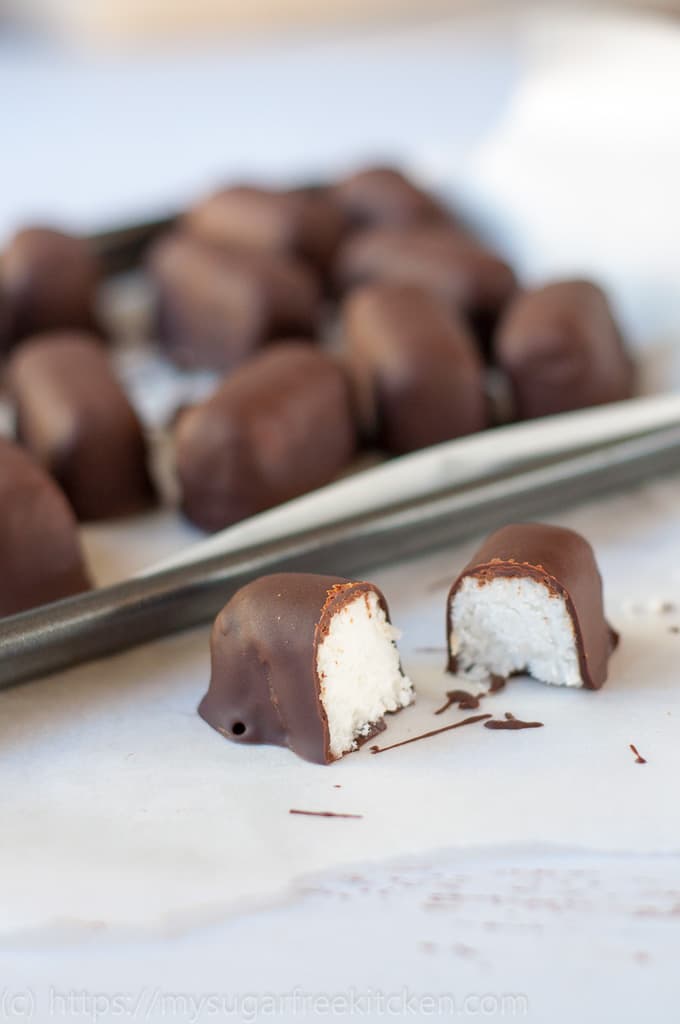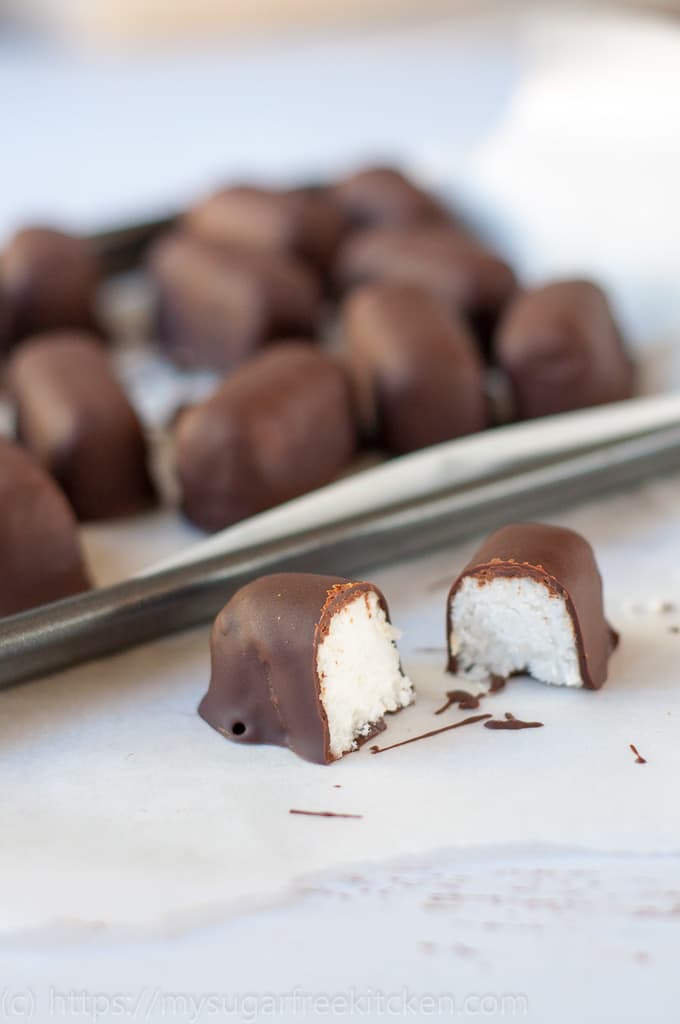 And one of the best things I like to do is go to the beach, with a cup of coffee in hand, and some banana bread.
With drink and snack in hand I sat on the beach for a good 30 to 40 minutes on a beautiful winters day where there was not a cloud in the sky, watching the water, the dogs, the kids, the parents, the sand crabs, the surfers, and the stand up paddleboarders.
The sunshine coast beaches are beautiful. Sometimes I forget what I beautiful part of Australia I live in. Life gets so busy and it is so easy to get caught up in "doing stuff" when what we really need is to just take a moment, STOP and just be still.
The 40 minutes sitting on the beach did wonders to refuel my energy, my mind and even my soul. It reminded me that getting out of the kitchen, or from behind my computer is as important as doing the actual work that consumes just about all my waking moments. It gave me a new perspective and appreciation for my surroundings and allowed me to feel grateful for this awesome place my husband and I live in.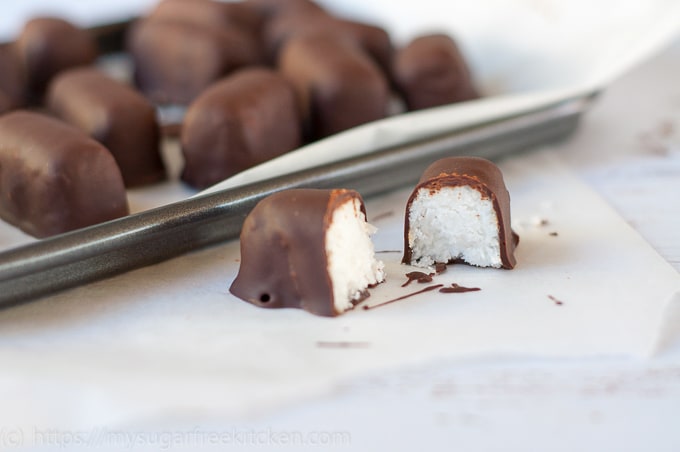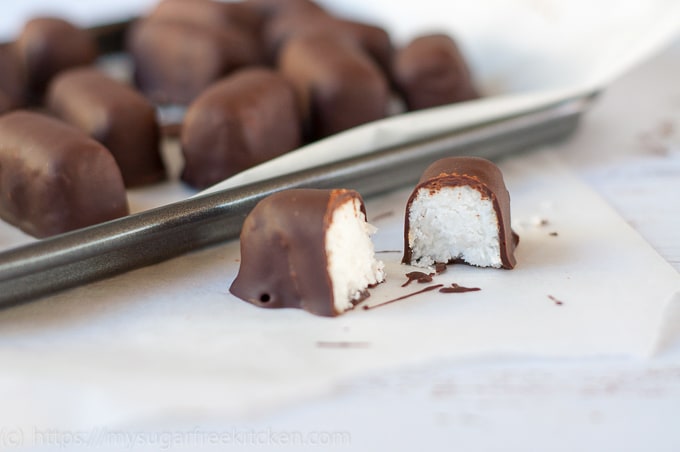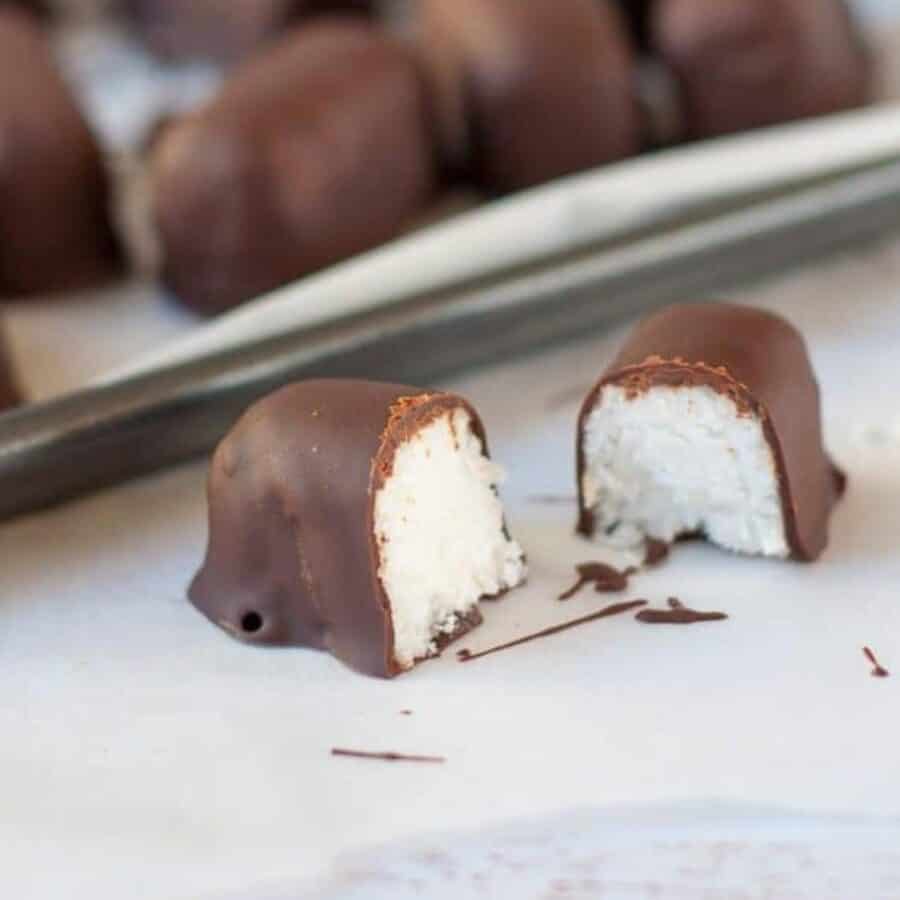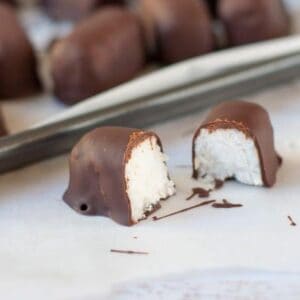 Healthy Bounty Bars
These sugar free healthy bounty bars are naturally sweetened with stevia and are the perfect after dinner treat. Better than store bought.
Ingredients
½

cup

Unsweetened shredded coconut

⅓

cup

Coconut Cream

4

tablespoons

coconut butter

¼

cup

plus 2 teaspoons Coconut Oil

1 ½

tablespoons

Granualted Stevia

Pinch

Salt

¾

cup

Sugar Free Dark Chocolate buttons
Instructions
In a food processor, put the shredded coconut, coconut cream, coconut butter, coconut oil stevia and salt.

Blitz until combined.

Press the coconut filling into silicone ice cube trays. I had to use 2 trays as they were 14 holes each.

Place in freezer for 20 mins, then in fridge for 2 hours.

Put ½ cup of water into a saucepan, and place a glass bowl on top of the saucepan. Heat on medium until water is hot.

Remove from heat and put in chocolate buttons, stirring them with a spoon until they melt.

Remove coconut bars from fridge and pop them out of the silicone ice cube trays.

Have a container on hand, lined with baking paper to put the chocolates into once they have been dipped. Don't skip the baking paper as this stops them sticking.

Once melted to a liquid, work quickly to coat the coconut bars, one at a time, using 2 forks to dip, coat and drain the chocolate, before placing in the container with the baking paper.

10. Once they are all coated, store in the fridge for upto a week.
Nutrition
Calories:
146
kcal
Carbohydrates:
6
g
Protein:
1
g
Fat:
13
g
Saturated Fat:
8
g
Fiber:
1
g
Note: Sugars contained in this recipe are from naturally occurring sugars in fruits, vegetables or other natural sweeteners.
Looking To Cut Out Sugar? Get the FREE Healthy Food Swaps Checklist Pack!
Get your FREE Healthy Food Swaps Checklists with over 65 Healthy Food Alternatives to Help you Ditch The Sugar Without Feeling Deprived.
★ Did you make this recipe? Don't forget to give it a star rating below!