Fudgey Chocolate Dairy Free Brownies that are simple to make, naturally sweetened, high in fibre and is the only recipe you'll ever need for healthy homemade brownies.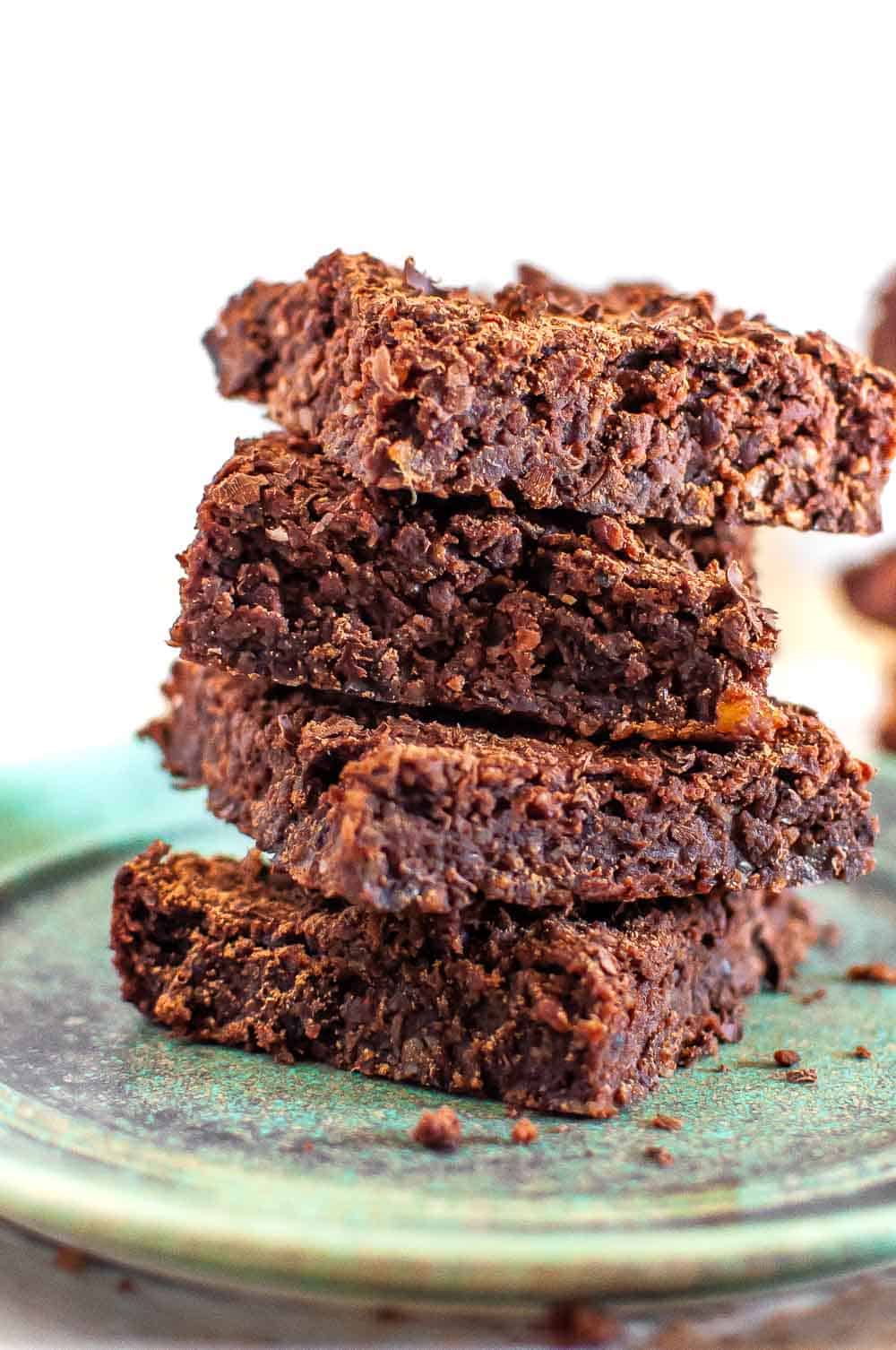 There is something you might not expect with this recipe.  These are flourless brownies, aka Black Bean brownies.  I absolutely love baking with blackbeans because they create a deliciously moist baked good, they much more filling than flour baked goods and a whole lot healthier.  Check out my Black Bean Chocolate Cake here.
No-one will even know that these healthy chocolate brownies are made using blackbeans instead of flour.  They're fudgy, rich, tender, moist, quick and easy, delicious and won't spike your sugar levels.  Instead you can pleasantly enjoy a dairy free brownie with your morning tea or coffee and be quite satisfied with stopping at one.  This chocolate cake is also flourless if that's what you love, but it doesn't use blackbeans.
So, Let's Talk dairy Free Brownies.
The Chocolate:  For this recipe, I used unsweetened cocoa powder.  This is different to the regular drinking cocoa powder in the tea and coffee aisle as this often contains sweetener of one variety or another.  Unsweetened cocoa powder provides a rich chocolate flavour and is available from the health food aisle of most supermarkets.
The Black Beans:  The easiest way is to use black beans in a can.  They are already precooked and all you have to do is drain all the liquid off and wash them in a strainer.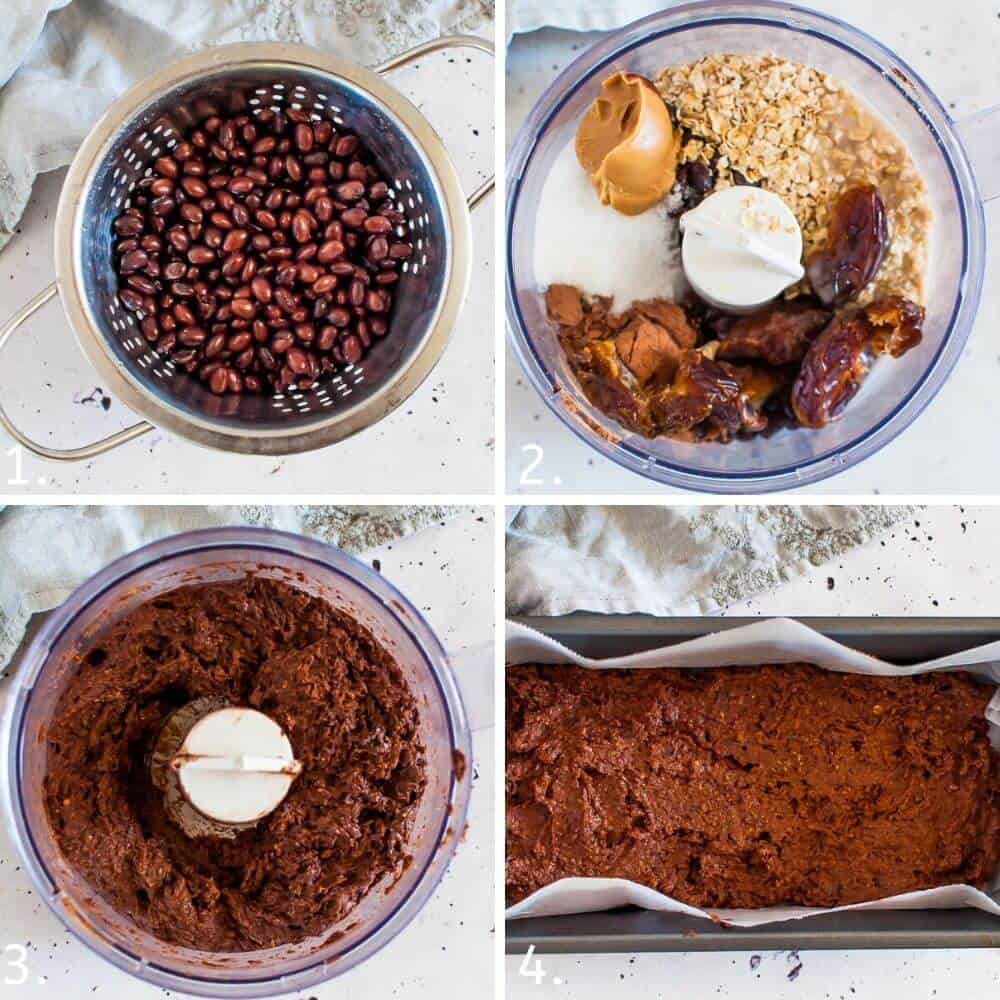 The Sweetener:  I used a combination of medjool dates and Lakanto Monkfruit Sweetener which measures like sugar.  The combination of both means I get the nice rich taste associated with the medjool dates, and keep the calories lower thanks to the Low GI Monkfruit sweetener
The Fat:  Instead of butter and to keep the recipe dairy free, I used coconut oil which provides a good level of moisture and helps to create the right consistency of the brownie, not to cakey, and not to gooey
The Flavour:  The flavour is everything.  Why make a blackbean brownie that's going to taste ordinary, you need to make one that is bursting with flavours and this is achieved with a combination of sugar free peanut butter, ground cinnamon, vanilla, and the dates
TIP:  To make this recipe, you'll need a food process to blitz up the black beans.  If you don't have this, you could use a mortar and pestle or hand held blender, it will just be a bit more of a workout.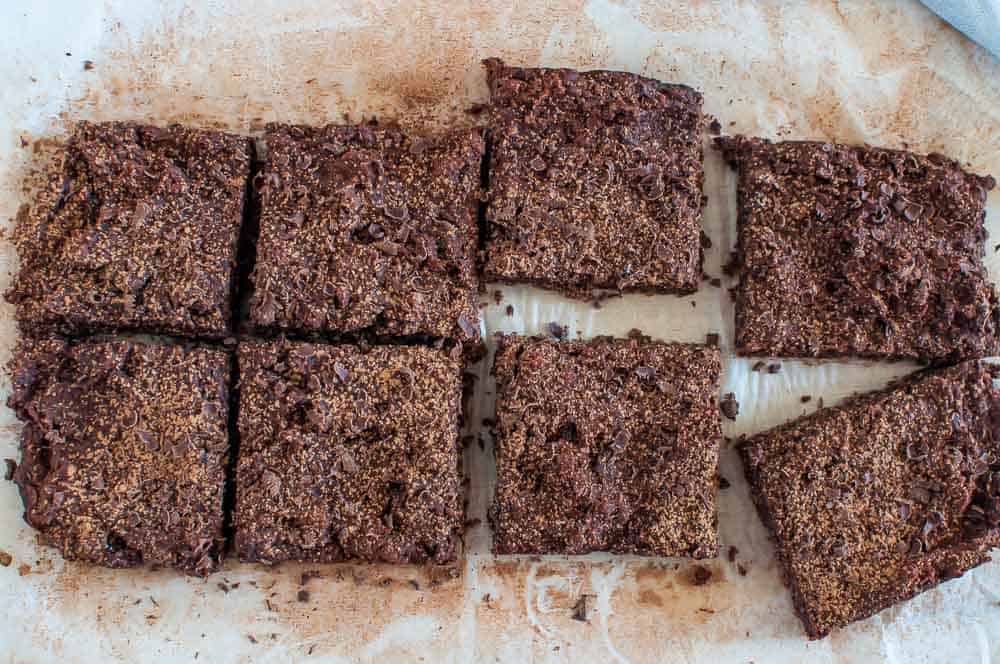 More Healthy Sugar Free Chocolate Desserts and Sweets:
How to Customise Blackbean Brownies
Nuts:  Add walnuts or pecans to the batter
Seeds:  Sprinkle pumpkin seeds on top before baking
Spices:  Swap out the cinnamon, for ground ginger, or nutmeg.
Nut Butters:  Instead of sugar free peanut butter, try cashew nut butter, or almond butter
Extra Rich: Why not add some finely chopped sugar free chocolate into the batter for an extra level of gooey goodness.  Or add tablespoon of espresso coffee to the batter.
Tropical:  Sprinkle a little unsweetened desiccated coconut over the top of the brownies before you put them into the oven to bake.
Make is Savoury:  Add a sprinkle of sea salt over the top before serving, or alternatively, if you like things a little spicy, add a tiny sprinkling (think ¼ teaspoon) of dried chilli powder – either stirred through  the batter before you put it into the baking tin, or after it has cooked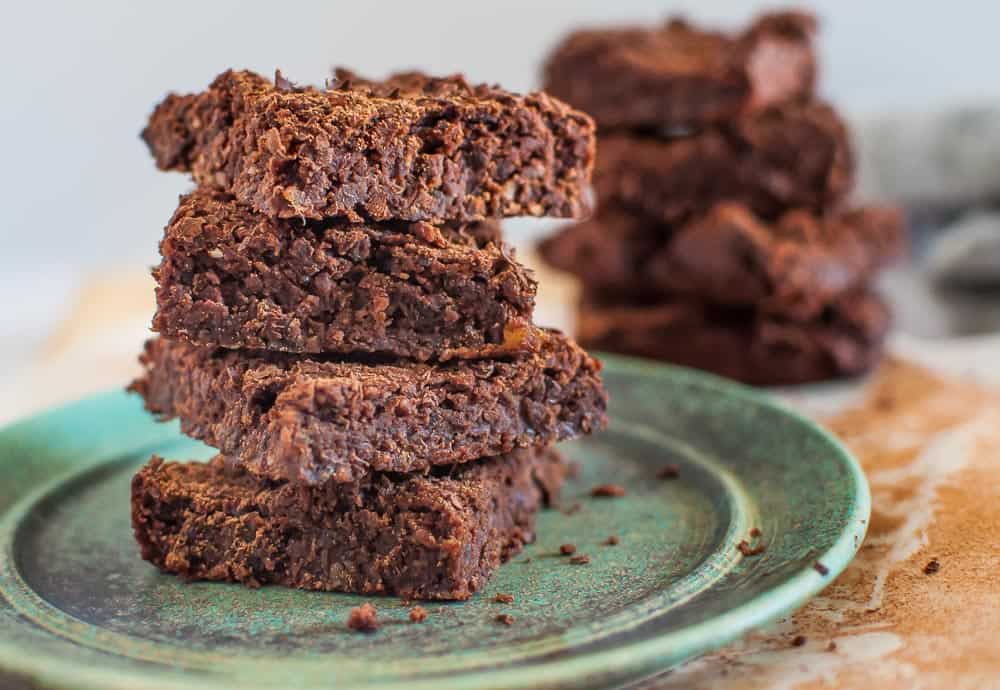 Tips for Making Healthy Dairy Free Brownies
Cooking Time: These healthy brownies take 20 to 25 minutes at 170 degrees C or 340 degrees F to cook perfectly.  I personally cooked this recipe for 23 minutes in a fan oven and it was spot on
Is it Done:   To test if your dairy free brownies are cooked to perfection, pop in a cake skewer or toothpick and if it comes out a little dirty, you're all good.  If it comes out a lot dirty, it needs more time.
Storage: Store these babies in the fridge in an air tight container for a week – if they last that long that is.
Freezing: Yep, they'll freeze up pretty well.  Slice them up, pop them into some Ziplock bags, name and date the bag and they keep for 4 weeks.  When you're ready, defrost at room temperature before eating.
Serving: with sugar free vanilla ice cream, or sugar free custard, raspberries, or double cream.
The funny thing is, I've tried brownies in the past and never really enjoyed them because they were way too sweet.  But I love chocolate, so I wanted to create a healthy blackbean brownie recipe that had just enough sweetness, was filling, free from refined sugars and was super easy to make.  This is it.
Not too sweet dairy free brownies, that you can make in under 30 minutes, that you can enjoy all week with your morning coffee.
Like what you see? Follow me on Facebook or Pinterest! Did you try a recipe? Tag me on Instagram: @mysugarfreekitchen, and leave a comment & star rating!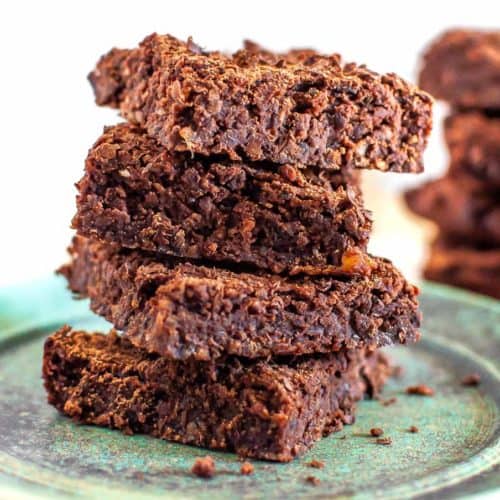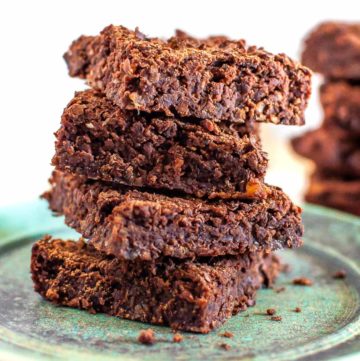 Dairy Free Fudgey Chocolate Brownies
They're fudgy, rich, tender, moist, quick and easy, delicious and won't spike your sugar levels.  Fudgey Chocolate Dairy Free Brownies that are simple to make, naturally sweetened, high in fibre and is the only recipe you'll ever need for healthy homemade brownies.
Instructions
Drain and rinse the black beans under tap water.

Add all ingredients to a food processor, and blitz for a couple minutes until all combined and smooth batter has formed.

Line a large loaf tin with baking paper

Spoon out brownie mixture and pat down with the back of a spoon

Bake for 23 minutes in a fan oven at 170 degrees C/340 degrees F

Remove from oven and let cool for 5 to 10 minutes

Using a sharp knife, slice into 8 equal portions (see notes)

Cover and let brownies come to room temperature

Dust with unsweetened cocoa powder, store in an air tight container in the fridge for upto 5 days.
Notes
Sweetener:  I used Lakanto Monkfruit Sweetener for this recipe.  It is available from the baking aisle of Woolworths in Australia and from amazon.  
Slicing: to get clean sharp square cuts on the brownie, you might like to wipe the knife in between cuts
Dish: I used a rectangle metal loaf tin 30 cm x 15 cm (12 inch x 6 inch)
Texture: Brownie should be soft and moist, but not gooey in the centre.
Storage: plastic or glass container with an air tight lid, in the fridge for upto 5 days.
To Serve: serve with double cream, sugar free custard, sugar free ice cream, or a selection of your favourite berries such as raspberries, strawberries and blueberries.
Nutrition
Calories:
199
kcal
Carbohydrates:
30
g
Protein:
5
g
Fat:
9
g
Saturated Fat:
6
g
Fiber:
7
g
Sugar:
7
g
Note: Sugars contained in this recipe are from naturally occurring sugars in fruits, vegetables or other natural sweeteners.
Looking To Cut Out Sugar? Get the FREE Healthy Food Swaps Checklist Pack!
Get your FREE Healthy Food Swaps Checklists with over 65 Healthy Food Alternatives to Help you Ditch The Sugar Without Feeling Deprived.
★ Did you make this recipe? Don't forget to give it a star rating below!