Moist, gooey, high protein Chocolate pudding in a mug with rich chocolate flavour, made in the microwave in under 5 minutes.
It's quick and simple to make like my Sugar Free Chocolate Panna Cotta and my Lemon Cheesecake Dessert Cups.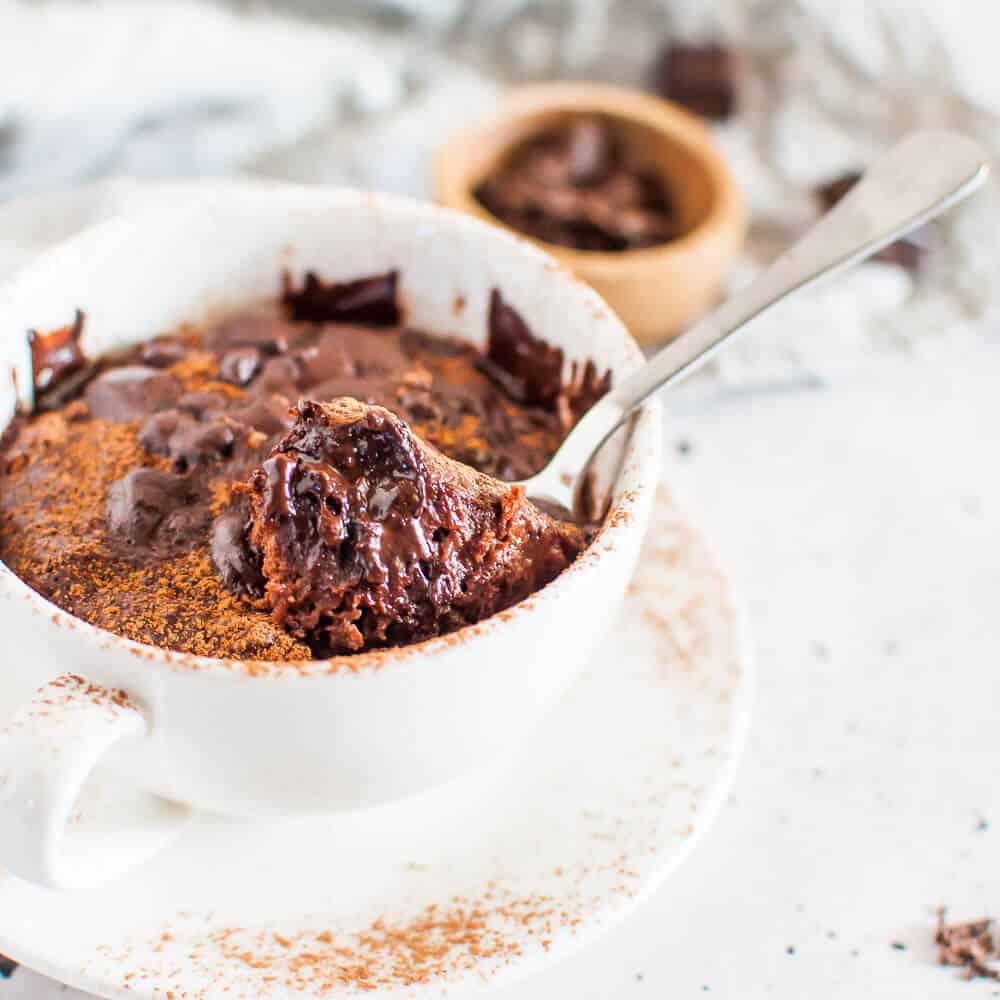 This sugar free mug cake is a generous serving for one or it can be made for two to share. However this Chocolate Peanut Butter mug cake is the perfect size for one.
If you have an after dinner or  late night sweet tooth, this healthy chocolate pudding could be just the ticket, or perhaps you might prefer a choc mint bliss ball, a secretly healthy chocolate brownie, or a slice of chilled no bake Chocolate Tart (highly recommended by the way!). Or maybe some rich and creamy Chocolate Avocado Pudding.
This cake is moist and fudgey and very filling thanks to its high level of protein, and it's cooked in a mug the microwave in less than 2 minutes.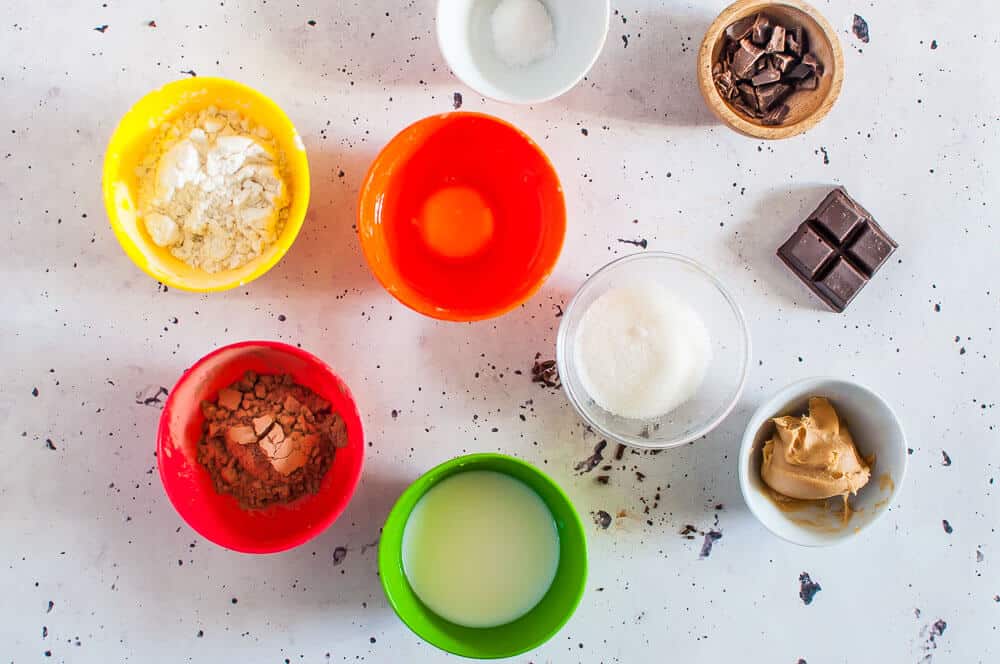 What you need to make this Chocolate pudding in a mug
Egg: 1 whole medium egg. Yolk plus white. The addition of the egg helps to create a nice dense chocolate pudding
Spelt flour: this is a wheat free flour that is less processed than white flour and great if you're intolerant to wheat products.
Milk: any milk will do, however I used regular full fat for this recipe
Baking Soda: this is what will help the pudding to rise a little
Unsweetened Cocoa Powder: this is essential for a good chocolate pudding or cake. I buy mine from the health food aisle of the supermarket as most of the ones in the baking aisle contain added sugars
Granulated Sweetener that measures like sugar: I am quickly becoming a fan of Lakanto Monkfruit Sweetener as it has no aftertaste. I buy mine from the baking aisle of Woolworths in Australia, and it is also available from Wholefoods in the US and Amazon
Sugar Free Chocolate: I buy bars of sugar free dark chocolate as sugar free chocolate chips are very hard to find in Australia. Chopping up a sugar free block into small chunks works just as well. Keep any leftovers in a ziplock bag in the fridge
Sugar Free Peanut Butter: any type of natural peanut butter will do. Just make sure to read the label to see if there are any additional sugars.
Salt: to balance out the sweetness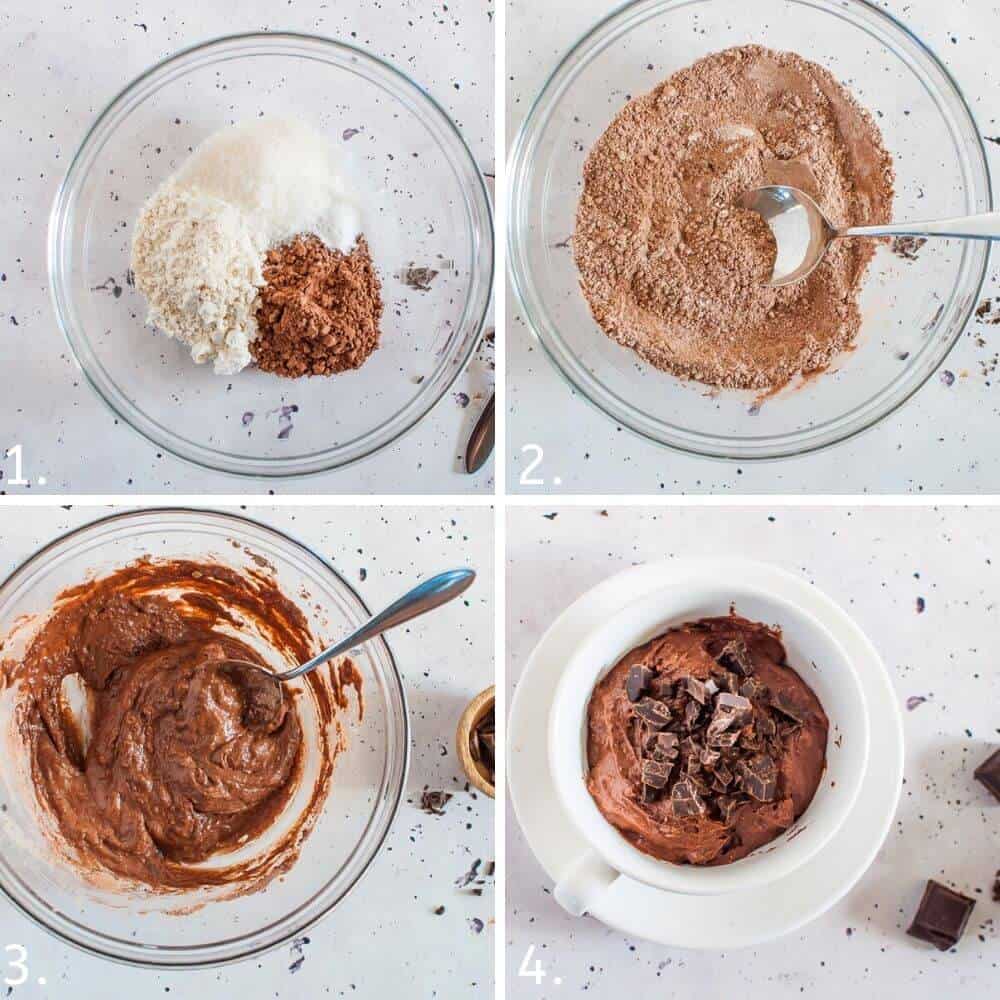 The amount of sweetener I have used in this chocolate pudding in a mug cake, resulted in a not too sweet treat. If you have a bit of a sweet tooth and prefer your treats more n the sweater side, you may like to add a little extra granulated sweetener. (see notes in recipe for additional extra recommended)
TIP: To make this chocolate pudding in a mug dairy free, swap regular milk for Almond milk.
Related Recipes:
Mug cakes are meant to be simple recipes and this is no different. Made using pantry staples, mixing wet ingredients into dry, you can have this dessert ready in no time, even if you'd planned not to have dessert.
Additional Add ins:
Spices: half a teaspoon of ground cinnamon, ground ginger, or mixed spice
Nuts: chopped walnuts, macadamias, or hazelnuts mixed through the batter, or on top
Fruits: fresh blueberries mixed through the batter, raspberries on top, or even a tablespoon of unsweetened desiccated coconut mixed through the batter to create a choc/coconut pudding.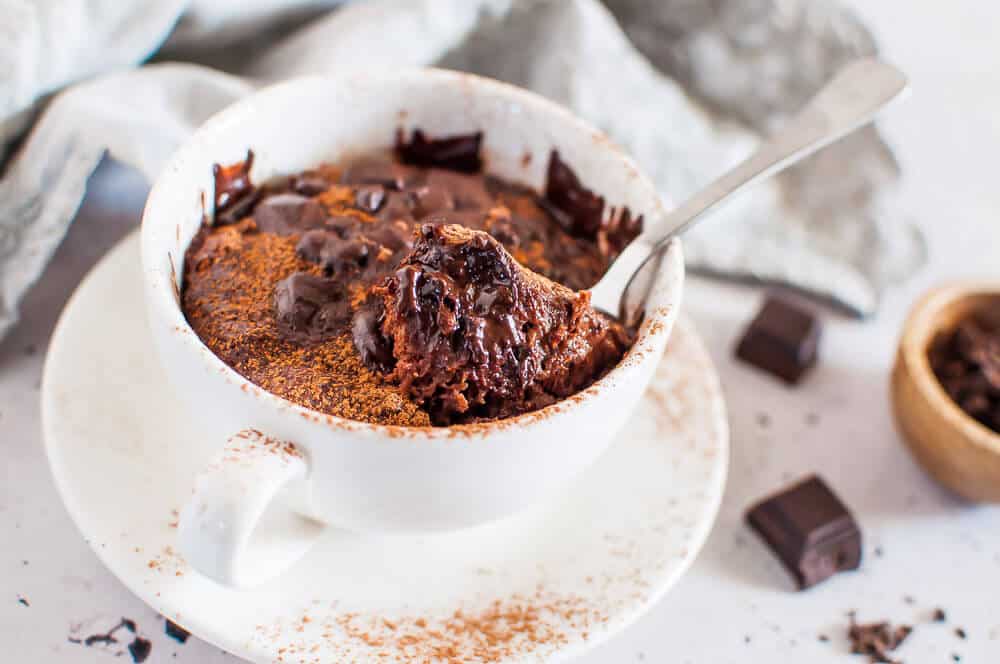 3 Ways to Serve
With Sugar Free Vanilla ice cream and raspberries (my favourite). Sugar free ice cream is available from Woolworths supermarkets in Australia.
With Sugar free custard and fresh blueberries
With a dollop of double cream and a few hazelnuts
Tips for Moist Microwave Chocolate Pudding Mud Cake
You may wish to substitute Spelt Flour for All Purpose Plain Flour
Don't overmix the batter. Mix it until its just nicely combined
Don't overcook your cake, undercooking is better than it being overcooked.
Check your microwave wattage (1200 watts is what my microwave is and 60 seconds was just the right amount of time). Different wattages need different cook times. Refer to recipe notes for guidance.
Don't let it sit for too long. One minute is fine, then enjoy it whilst its still warm
This is a simple, quick and easy dessert. It's not meant to be flashy and its not meant to be the perfect chocolate pudding or cake. It's a quick fix for a chocolate craving, either for one, or two if you want to share.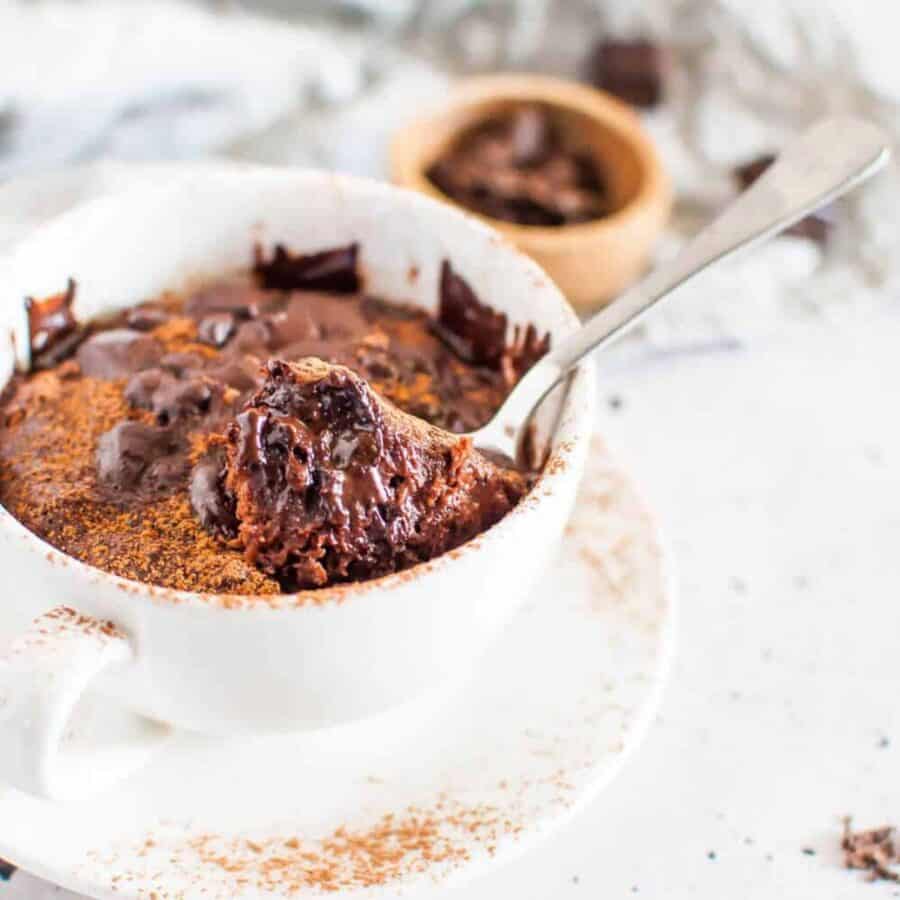 Chocolate Pudding In A Mug
Moist, gooey, high protein Chocolate pudding in a mug with rich chocolate flavour, made in the microwave in under 5 minutes.
Instructions
In a small mixing bowl, add the flour, cocoa powder, baking powder and salt. Mix with a spoon to combine

Add the egg, milk and nut butter and mix together until a better has formed

Stir through 1 tablespoon of the chocolate shards into the batter

Spoon batter into mug, smoothing out the top

Scatter remaining chocolate shards over the top of the mug cake

Microwave for 60 seconds. Let it stand for 1 minute before eating.
Notes
Granulated Sweetener: I used monkfruit, although you could also use stevia, just make sure whatever sweetener your use measures like sugar
Level of sweetness: 2 tablespoons will create a "not-too-sweet" pudding. If you have a sweet tooth and prefer sweets on the sweeter side, add an additional tablespoon of sweetener.
Peanut Butter: Its best to be at room temperature and slightly soft .
Sugar Free Chocolate: I buy blocks of sugar free dark chocolate and chop into shards.
To Serve: double cream and raspberries, or sugar free ice cream. Even custard would work!
Microwave: my microwave is 1200 watts and 60 seconds was the right amount of time to create a perfectly moist and gooey cake.
Microwave guidance
Microwave under 1200 watts:  If your microwave is a different wattage (less powerful 700 watts or 850 watts for example or more powerful like 1300 watts or 1500 watts for example, the cooking time may be different).  If your microwave is less than 1200 watts, try cooking for 70 seconds on high and check to see if it needs more.
Microwave more than 1200 watts:  If your microwave is more than 1200 watts, cook on high for 50 seconds and check to see if it needs additional time.
Nutrition
Calories:
417
kcal
Carbohydrates:
42
g
Protein:
21
g
Fat:
26
g
Saturated Fat:
6
g
Fiber:
10
g
Sugar:
4
g
Note: Sugars contained in this recipe are from naturally occurring sugars in fruits, vegetables or other natural sweeteners.
Looking To Cut Out Sugar? Get the FREE Quick and Easy Food Swaps Checklist Pack!
Get your FREE Quick and Easy Food Swaps Checklists with over 65 Simple Real Food Alternatives to Help you Ditch The Sugar Without Feeling Deprived.