I love me a good cheesecake!  And these cheesecake dessert cups are just the perfect size for dessert for two.  They are a triple layer treat with the textured coconuty base, the rich creamy and zingy cheesecake centre, and the colourful tropical fruits with tangy passionfruit.  This is a summer delight in a cup!
I wanted to make this cheesecake in a cup because it was a bit fancier that the cheesecakes I usually make with my silicone muffin tray – like these sugar free lemon lime mini cheesecakes.
It was our date night, my husband and I that is, and instead of going out, we were staying in.
It was a good decision because as it turned out it ended up storming and wet.  Not really pleasant conditions for venturing out, at anytime really, but especially on a date night, like after I've just done my hair all fancy and then it gets rained on.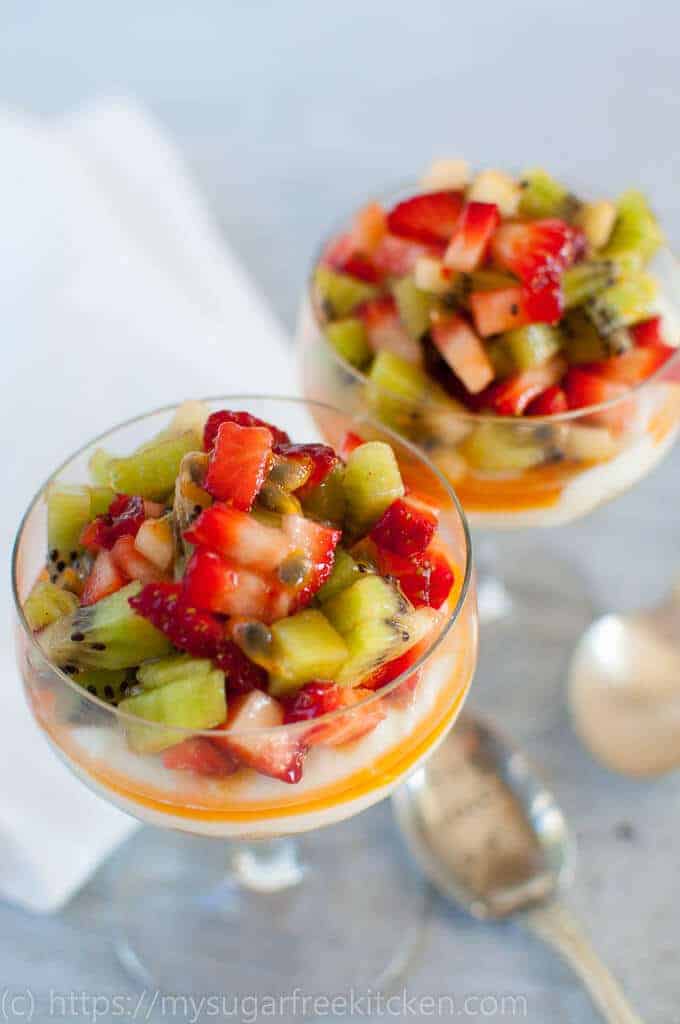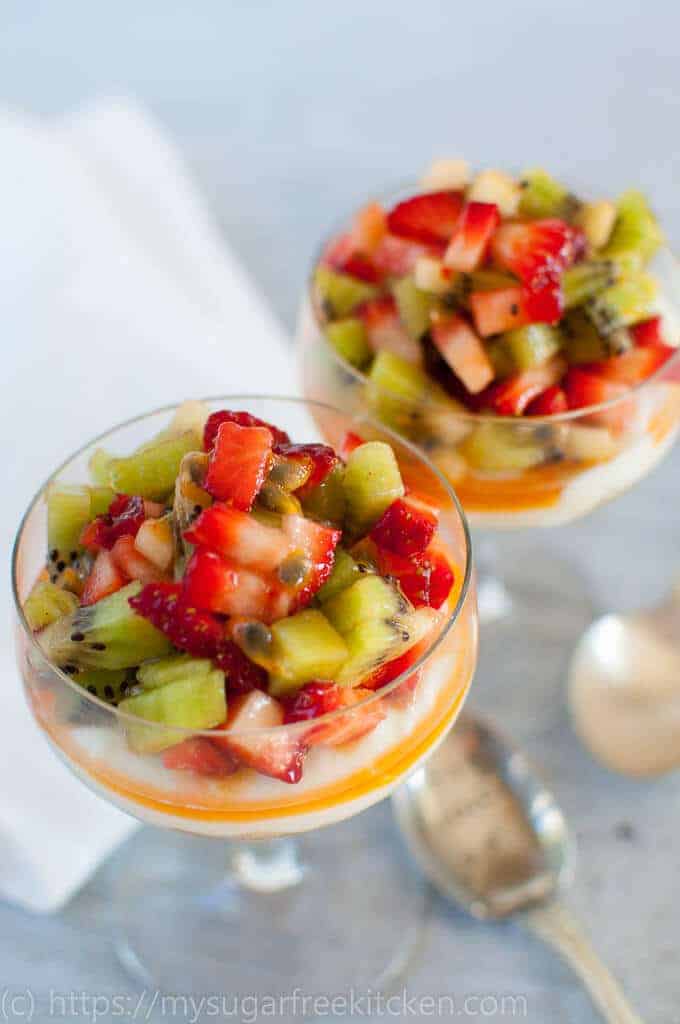 Anyway, I digress.
Cheesecake in a cup was something I had been wanting to make for a while and it is a really good option when you want cheesecake, but maybe you don't have the time to wait for it to "set", or "bake".
When you make a cheesecake dessert cup you can get away with the filling being a bit on the looser side, even though it is still cheesecake like in every other possible way.
Yes, these cheesecake cups are convenient when you want cheesecake, but don't have overnight to wait.  And they are guilt free, sweetened with natvia stevia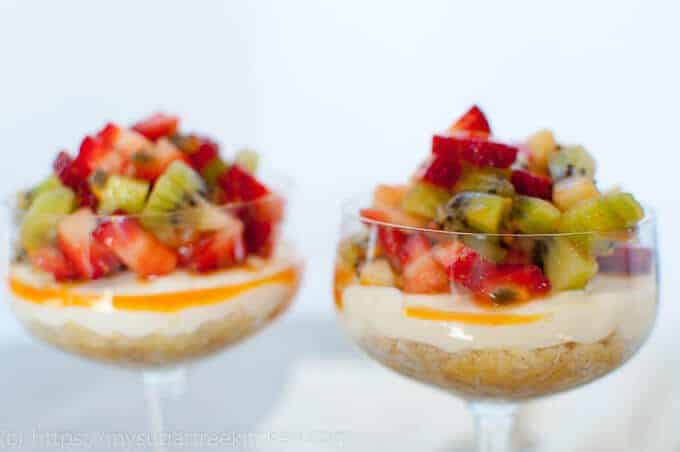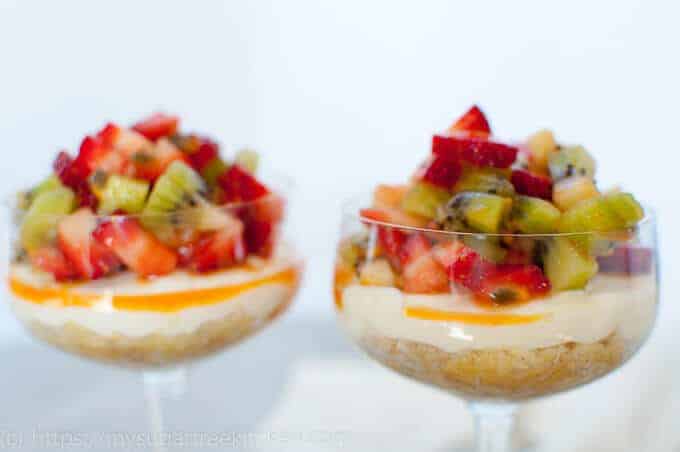 Yes, they are ideal if your feeling like you wan't something creamy, and something fruity, all in one!
They have you covered if you're looking for something healthy, light and low calorie.  Now you might notice that the nutrition label indicates 24 grams of sugar – that is natural sugar from the fruits which adds a natural sweetness to the creamy tang.
Cheesecake dessert cups are for you if you love portion controlled desserts.  I do.  Saves me eating 3 of them in one go.  Because believe me, I would.
Let's face it who wouldn't love eating dessert out of a wine glass with a spoon.  It surely has to be one of life's most yummiest indulgences.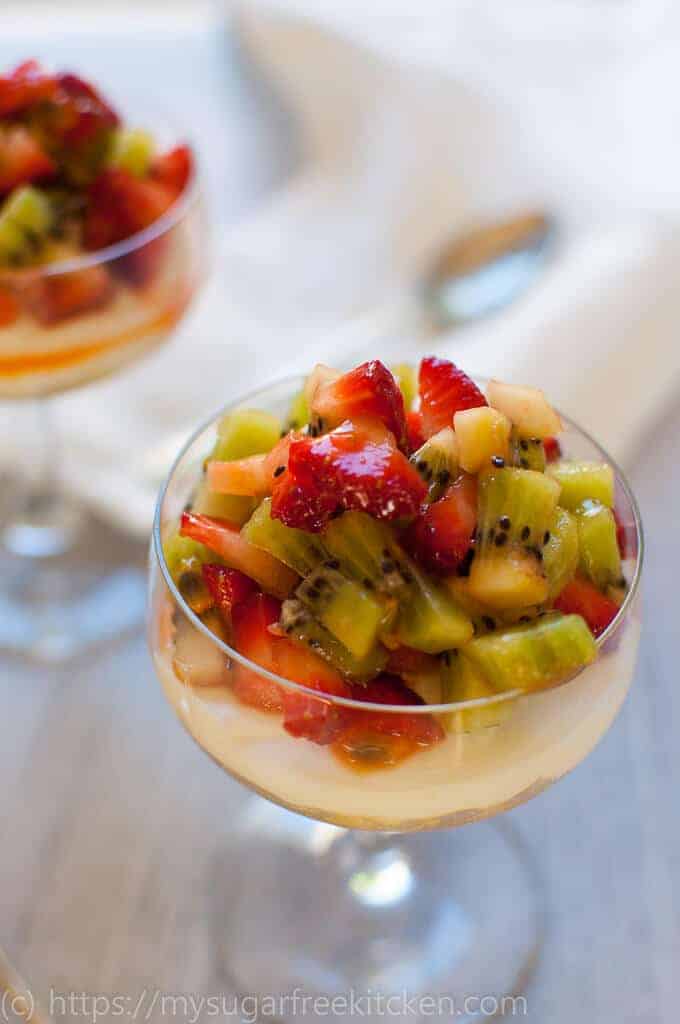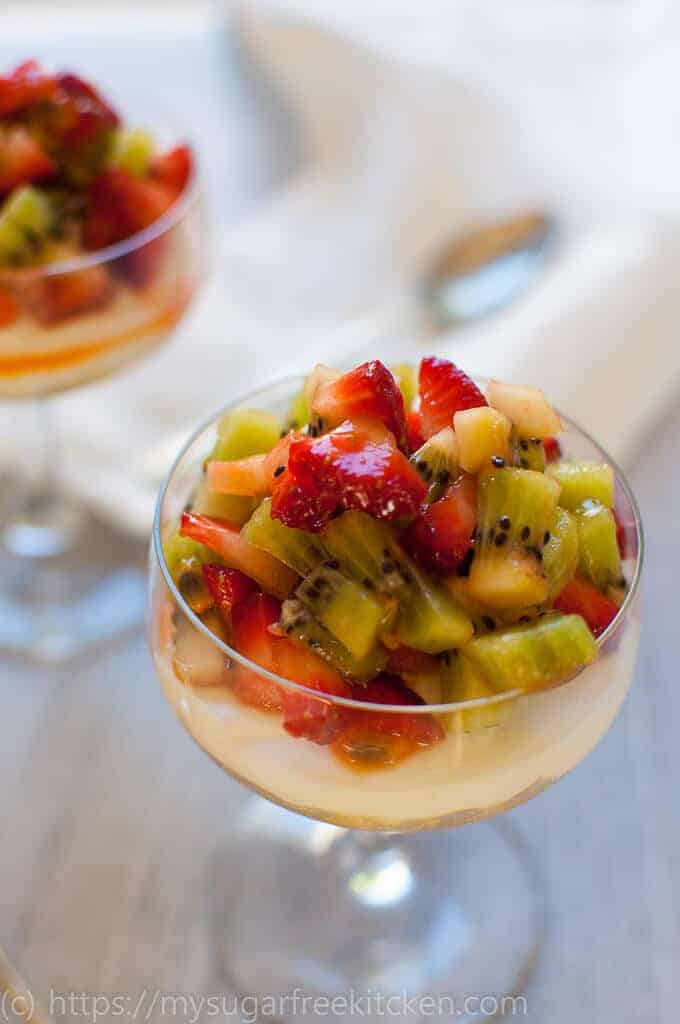 The best part is it is sweetened with stevia so you're not left with crappy sugar highs, empty calories, or feeling of guilt that you've just consumed 600 calories you now have to work off!
Stash these little cheesecake gems away in the memory bank, and when you have your next date night, and it's pouring cats and dogs, stay in and make a cheesecake dessert cup.  Make it in your favourite wine glass, and eat it with your best spoon, and your best husband on his best behaviour.
Like what you see? Follow me on Facebook or Pinterest! Did you try a recipe? Tag me on Instagram: @mysugarfreekitchen, and leave a comment & star rating!
Print
Cheesecake Dessert Cups
These cheesecakes are a triple layer treat with the textured coconuty base, the rich creamy and zingy cheesecake centre, and the colourful tropical fruits with tangy passionfruit. This is a summer delight in a cup!
Ingredients
Base:
2

tablespoons

Almond Meal

1

tablespoon

Butter

melted

1

teaspoon

Granualted Stevia

1

teaspoon

Vanilla Bean paste

4

walnuts

crumbled
Filling
1/2

cup

low fat cream cheese

1

tablespoon

Granualted Stevia

1

tablespoon

Lemon juice

freshly squeezed
Fruits
4

medium Strawberries

1

Kiwi Fruit

½

Passionfruit
Instructions
Instructions

In a small mixing bowl, add the almond meal, melted butter, granulated stevia and vanilla and mix to combine.

Divide the base mixture evenly into two dessert glasses

Sprinkle the crumbled walnuts on top of the base

In a separate clean mixing bowl, mix the filling ingredients. I use an electric beater, but a hand whisk will work as well.

Add the cheesecake filling to the dessert cups and refrigerate for about 2 hours.

Finely dice the strawberries and kiwi fruit and toss together in a small bowl, spoon over the passionfruit and stir again. Once fruit is mixed and muddled together, gently spoon over the cheesecake cups and store in fridge until ready to serve.
Notes
• If you don't have strawberries, kiwi or passionfruit, try mango or peaches, or both! Any tropical fruit would go with this tangy cheesecake filling.
Nutrition
Calories:
213
kcal
(11%)
|
Carbohydrates:
32
g
(11%)
|
Fat:
12
g
(18%)
|
Saturated Fat:
1
g
(6%)
|
Polyunsaturated Fat:
10
g
|
Fiber:
4
g
(17%)
|
Sugar:
24
g
(27%)
★ Did you make this recipe? Don't forget to give it a star rating below!