These lemon cheesecake dessert cups with fresh bluebrries are quick and easy to make in under 15 minutes. This is a simple cheesecake cup that's fresh and creamy, tangy and fruity. Its summer in a cup.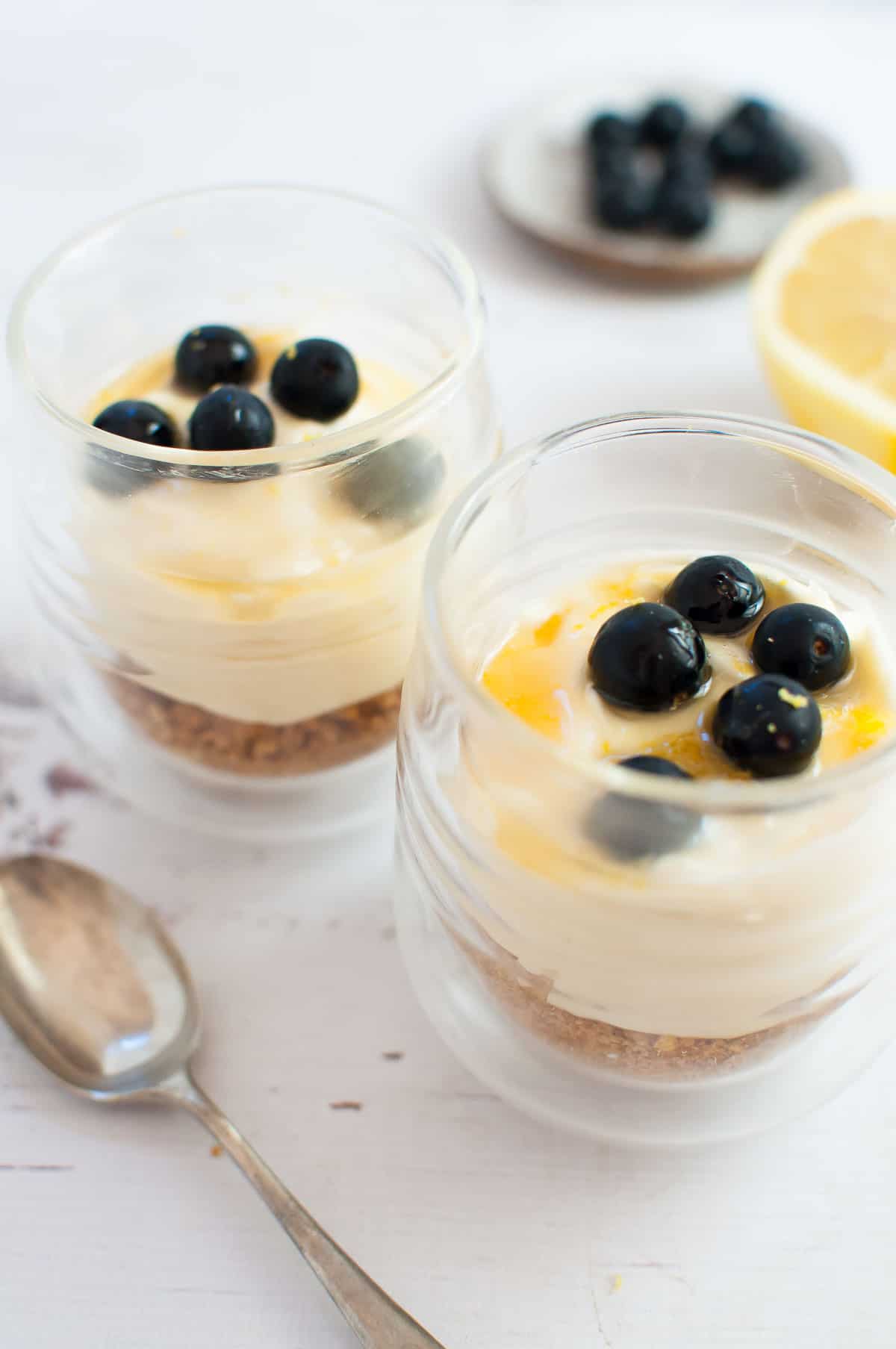 Why This Recipe Works
It's a cheesecake you can make in under 15 minutes
No oven required!
You don't need to wait hours for it to set in the fridge
Its perfect for date night and special occasions as it serves 2
Its only 5 ingredients
You can scale it up if you're having a dinner party and make 4, 6 or 8 individual dessert cups
No Food Processor Needed!
Check out this Chocolate Cheesecake in a Jar with Blueberries for something different.
Ingredients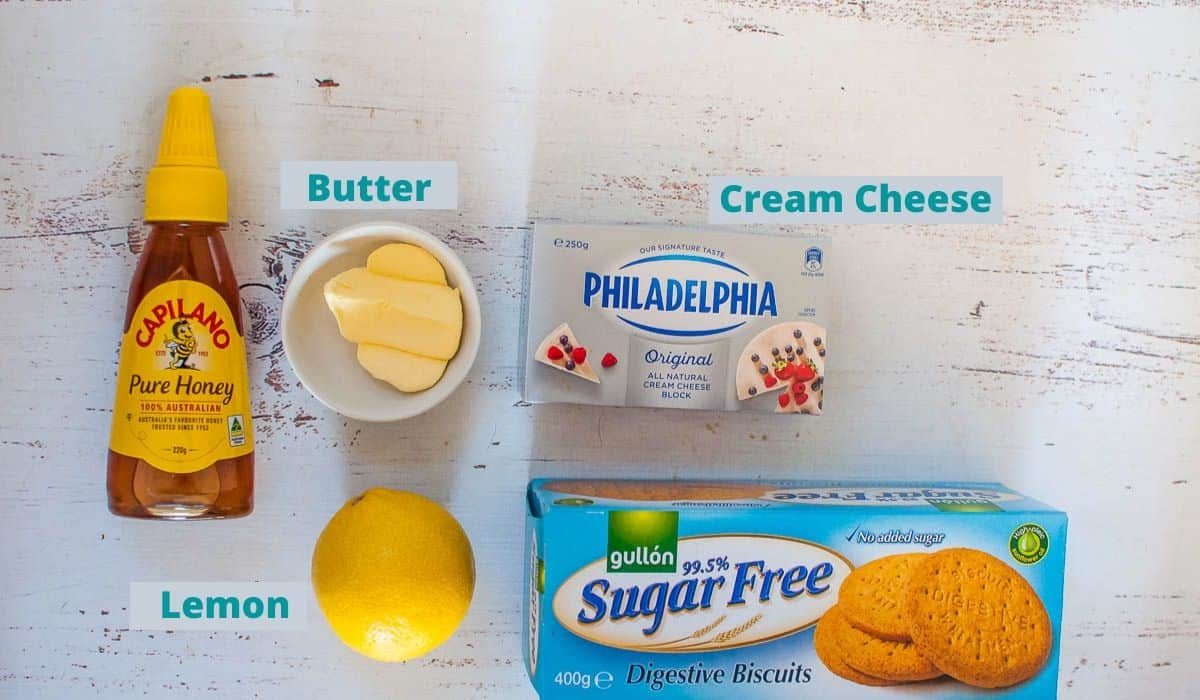 Looking for more mini desserts? Check out these Mini Lemon Cheesecake Bites and these No Bake Lime Cheesecake Balls.
Ingredient Notes
Cream Cheese: Its important the the cream cheese is quite soft before you start this recipe. I recommend leaving it out on the bench for at least an hour before you start so that it can soften. The softer it is, the easier it will be to work the lemon and honey in.
Raw Honey: This is available from Coles and Woolworths where the regular honey. Raw Honey is also called Pure Honey. It's a good idea to read the back of the label to check that the only ingredient is honey. If it has other things added, I would avoid buying it.
Lemon: You can't beat fresh lemon for this recipe. I wouldn't use bottled lemon, as you really need the freshness of real lemon. The lemon zest also is important in this recipe and adds to the freshness and flavour.
What You Need To Make It
Base
Crushing the biscuits for the biscuit base at the bottom of the glass is straight forward. All you need is a ziplock bag, a cloth towel and a can of something to roll over the biscuits – or a rolling pin if you have one.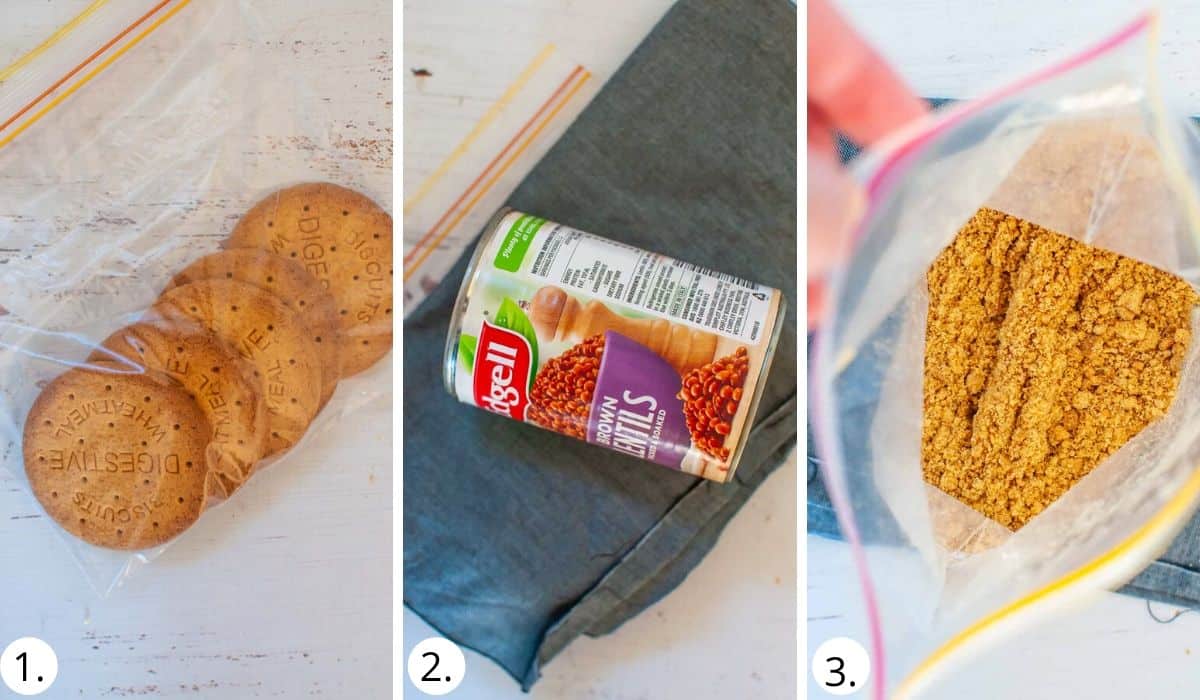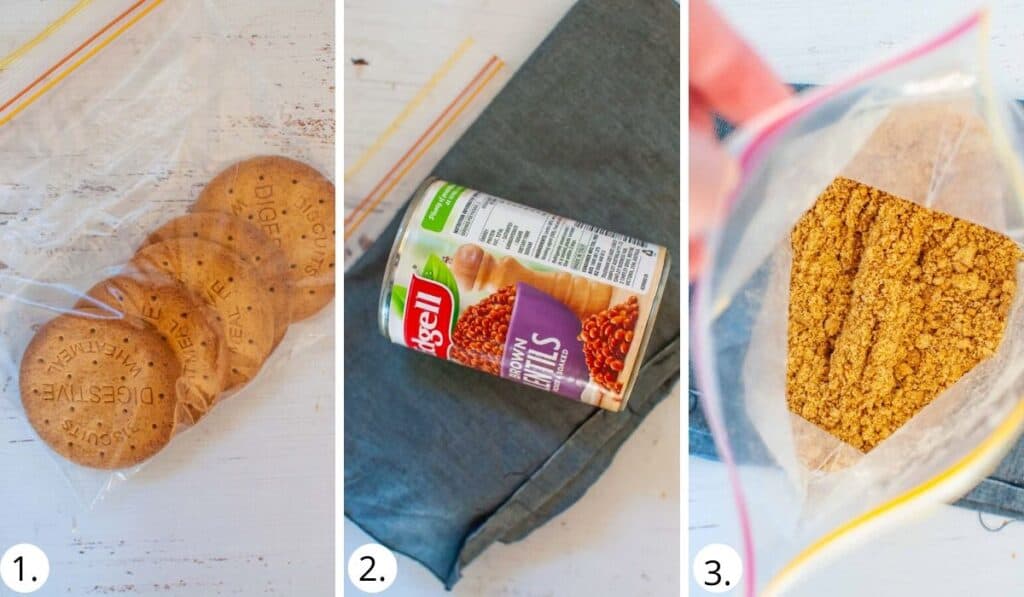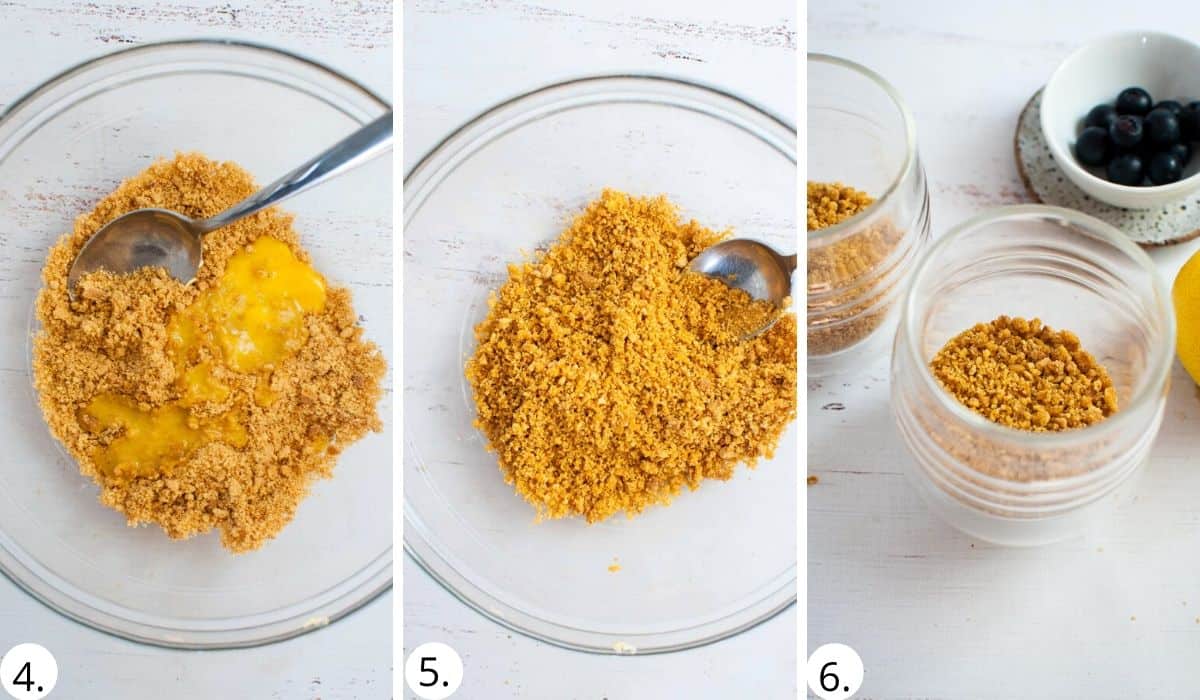 Filling
All you need is a bowl to mix the cheesecake filling, some electric beaters, and some cute glasses to serve your dessert in.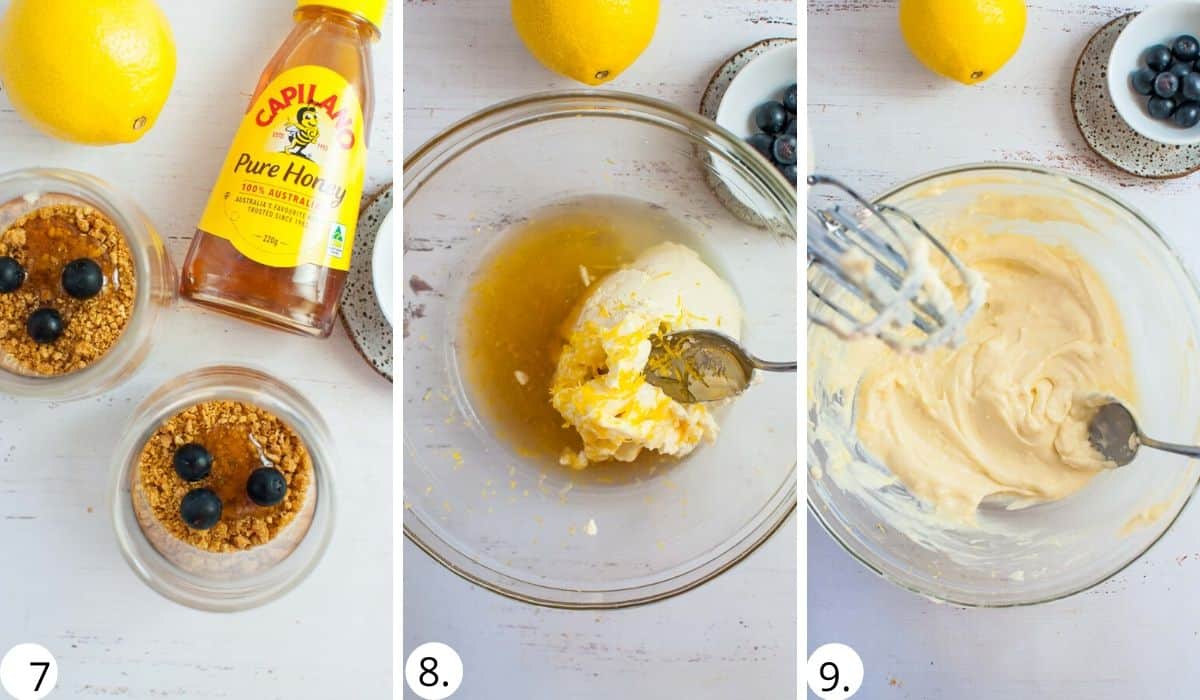 No electric beaters?
You can still make the cheesecake filling if you don't have electric beaters, it will just take a bit more hard work to manually whisk the cream cheese to a smooth consistency. Electric beaters achieve this in a fraction of the time.
Recipe Tips
When zesting the lemon, make sure to just zest the outer yellow skin of the lemon as the white part tends to be bitter.
When crushing the digestives, there may be some small pieces in the bag that are hard to crush with the can. If this is the case, press down on the ziplock bag with you hand to push out any lumps.
TASTE TEST: Before you assemble the cheesecake cup, taste the cream cheese filling to see if the balance is right for you as we all have different palates and tolerances for sweet and sour.
Too Sour: Add a little extra honey and blueberries
Too Sweet: Add a little extra lemon juice
How To Assemble
The Lemon Cheesecake Cup has several layers to it. I assemble it as follows:
Biscuit crumb on the base of the glass
A small drizzle of honey on top of the base
Sprinkle a few blueberries
Spoon in the cheesecake filling
Another small drizzle of honey on top of the cheesecake filling
Sprinkle a few more blueberries
Add a little lemon zest on top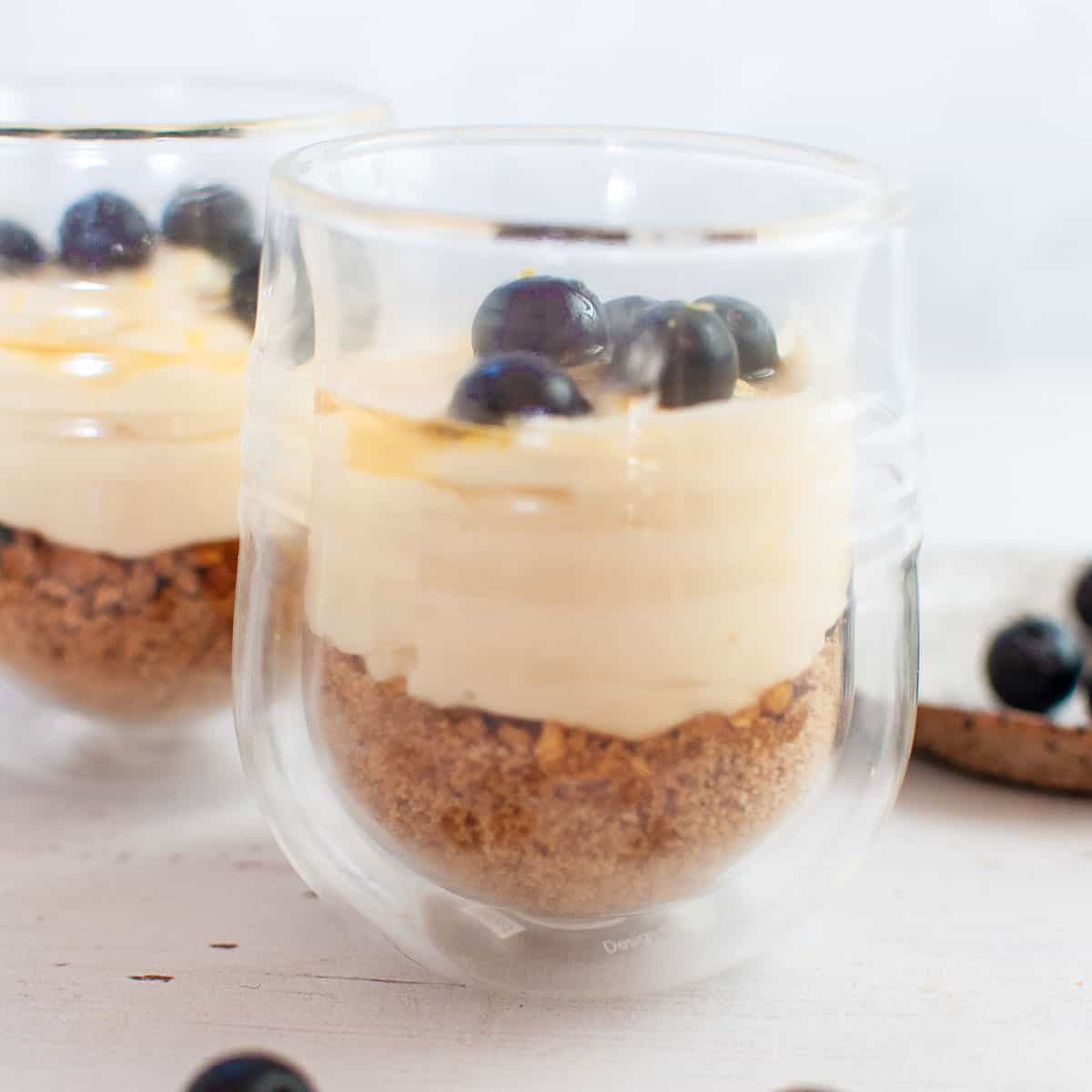 FAQ's
Can it be made ahead?
Yes, this dessert can be made several hours ahead of time.  Before serving, I recommend taking out of the fridge 15 to 20 minutes before hand to let it sit at room temperature and to let it loosen a little
How Long Does it Last?
This dessert is best eaten within 24 hours.
Does it work with Light Cream Cheese?
Yes it will work just fine with light cream cheese, however it won't be as rich.
What Can I Use Instead of Honey?
Maple Syrup is a good alternative to honey. You can also try Liquid stevia drops, if you're looking for a zero calorie sweetener. Avoid using a granulated sweetener as it may leave a grainy texture in the cream cheese filling.
Can I Microwave the Cream Cheese to Soften It?
I wouldn't recommend it as it may turn soft and gooey in some places and remain firm in others. The best option, is to set the cream cheese out on a bench and hour before you need it to let it soften naturally.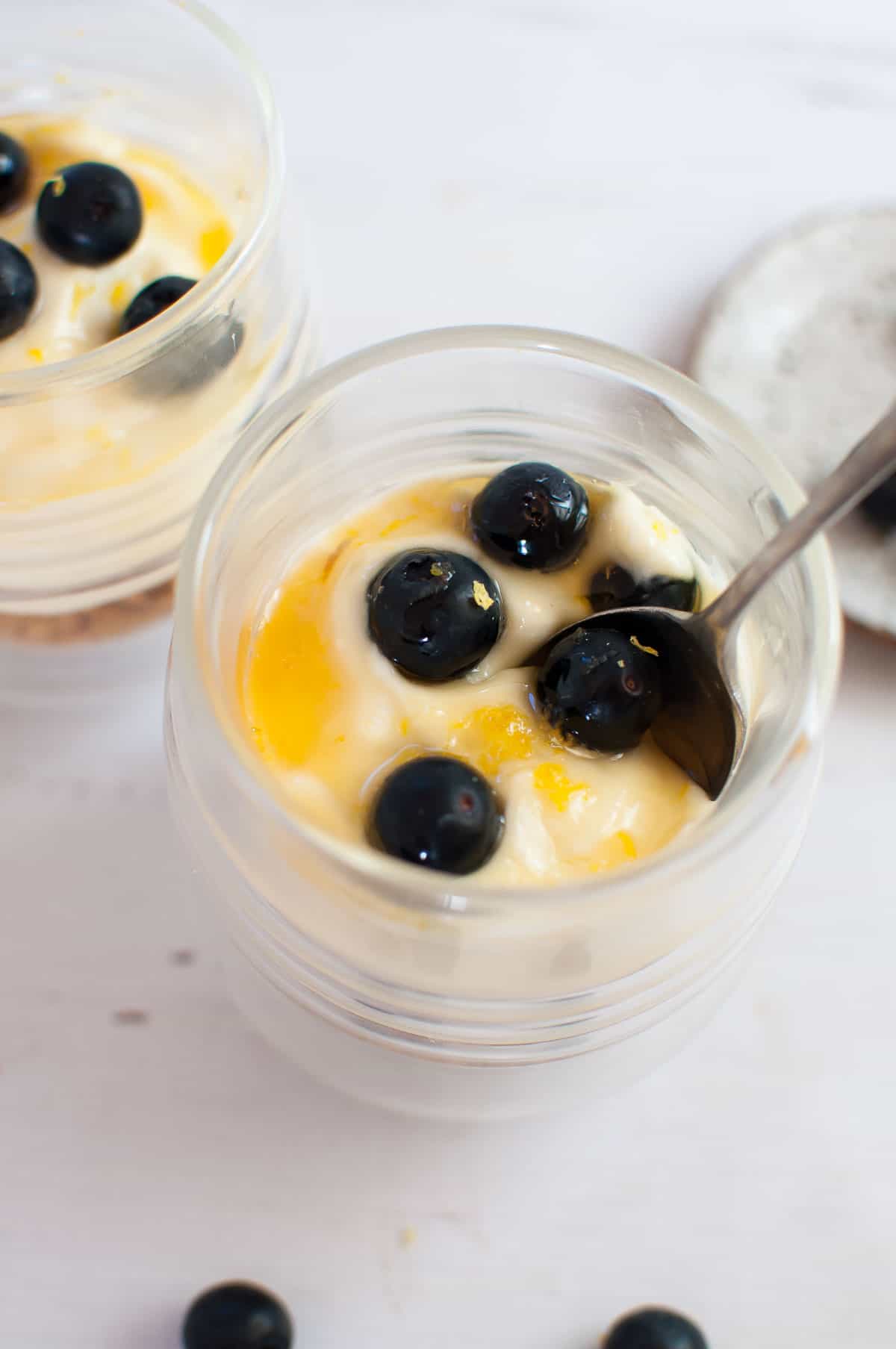 Dessert cups are a fun way to eat cheesecake. They don't take long to make, and you wont be left with a whole cheesecake on your hands when you only wanted a single serving which makes it great for portion control. Not to mention this is a perfect date night dessert.
More Cheesecake Recipes: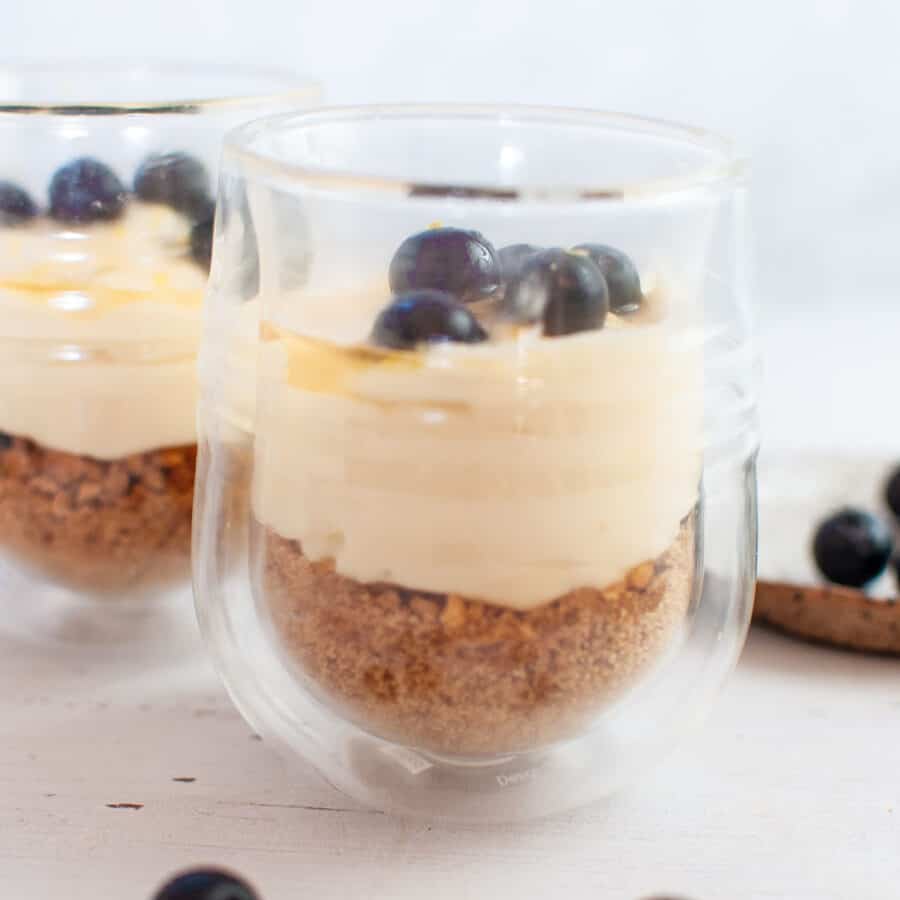 Cheesecake Dessert Cups
These cheesecakes are a triple layer treat with the textured coconuty base, the rich creamy and zingy cheesecake centre, and the colourful tropical fruits with tangy passionfruit. This is a summer delight in a cup!
Ingredients
Base:
4

No Added Sugar Digestives Biscuits

1

tablespoon

butter

-

melted
Instructions
Crush digestive biscuits to a crumb. Place them in a ziplock bag, cover with a towel, and gently roll a can over the top to crush them. Move and readjust bag to make sure to get all the lumps. Once the majority of lumps are gone, use your hands to down on the bad to remove the rest.

Place crumbs into a bowl with melted butter and a spoon to bring together to form a moist crumb. Spoon the crumbs evenly into two dessert glasses. Add a tiny drizzle of honey to each of the glasses, and 3 – 4 blueberries. Set Aside and make the filling.

Add the softened cream cheese, honey, lemon juice and zest to a bowl. Mix for a minute with a spoon, softening it out. Use electric beaters on high to whisk the cream cheese ingredients to a smooth velvet consistency.

Spoon cream cheese filling onto biscuit base, smoothing out the top. Add 5 to 8 blueberries on top, another drizzle of honey, and a little lemon zest.

Refrigerate for an hour or two, and enjoy.
Notes
Raw Honey: this is generally available from supermarkets. It may also be called "pure honey". Either way, check the nutrition label. The only ingredient should be honey.
Sweetness: Taste cheesecake mixture before putting into the glass. Adjust to your taste. Want it sweeter, add a little more money, for more sourness, add a little extra lemon juice.
Digestives:  The brand I use are Gullion and they are sugar free, available from Coles and Woolworths in Australia, from the health food aisle.  If you can;t find this particular brand, Aldi also have a range of sugar free digestives.
Nutrition
Calories:
350
kcal
Carbohydrates:
45
g
Fat:
18
g
Saturated Fat:
6
g
Polyunsaturated Fat:
10
g
Fiber:
4
g
Sugar:
24
g
Note: Sugars contained in this recipe are from naturally occurring sugars in fruits, vegetables or other natural sweeteners.
Looking To Cut Out Sugar? Get the FREE Healthy Food Swaps Checklist Pack!
Get your FREE Healthy Food Swaps Checklists with over 65 Healthy Food Alternatives to Help you Ditch The Sugar Without Feeling Deprived.