This sugar free chocolate cheesecake is a rich, velvety, creamy indulgence. It's no bake, has no gelatine and is perfectly portion sized and is amazing with ripe red tart raspberries!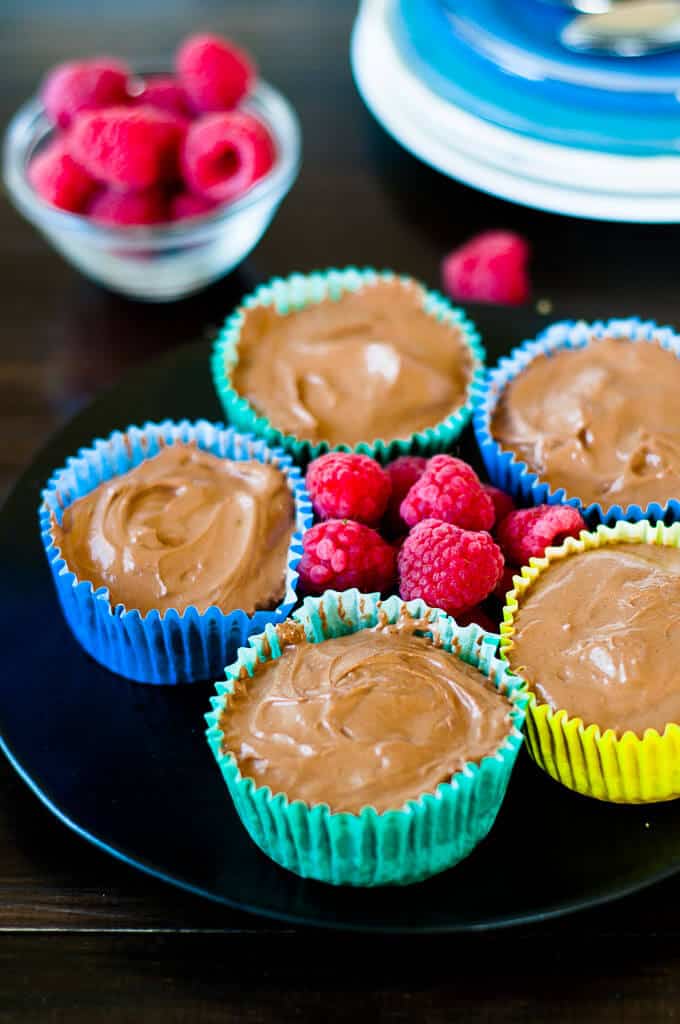 If you are searching for sugar free dessert recipes then I will say without any hesitation that you are in the right place. Because I love making sugar free desserts, especially chocolate ones like these healthy bounty bars, and these oh so delish sugar free caramel slice bites!
Three cheesecakes later, this recipe passed the test.
Attempt # 1 I tried my hand at a baked chocolate cheesecake. OK, but not good. Would not have made it again. I think in hindsight I overbaked it and it became pasty, plus for some weird reason I though putting vanilla into a chocolate cheesecake would make it tastier. Wrong. It just gave it a slightly weird aftertaste. Plain old fail!
Attempt # 2 I had a moment of inspiration where I thought of making a dairy free sugar free chocolate cheesecake because it would be good to share at family gatherings since my mum is lactose intolerant.
Winning thought! Planning excellent. Execution Fail. My main ingredient was avocados, with cacao powder. Well, they looked beautiful, but were inedible. Even my husband couldn't get a full one down, which means they must have been really bad. I couldn't even stomach a teaspoon full. Epic fail!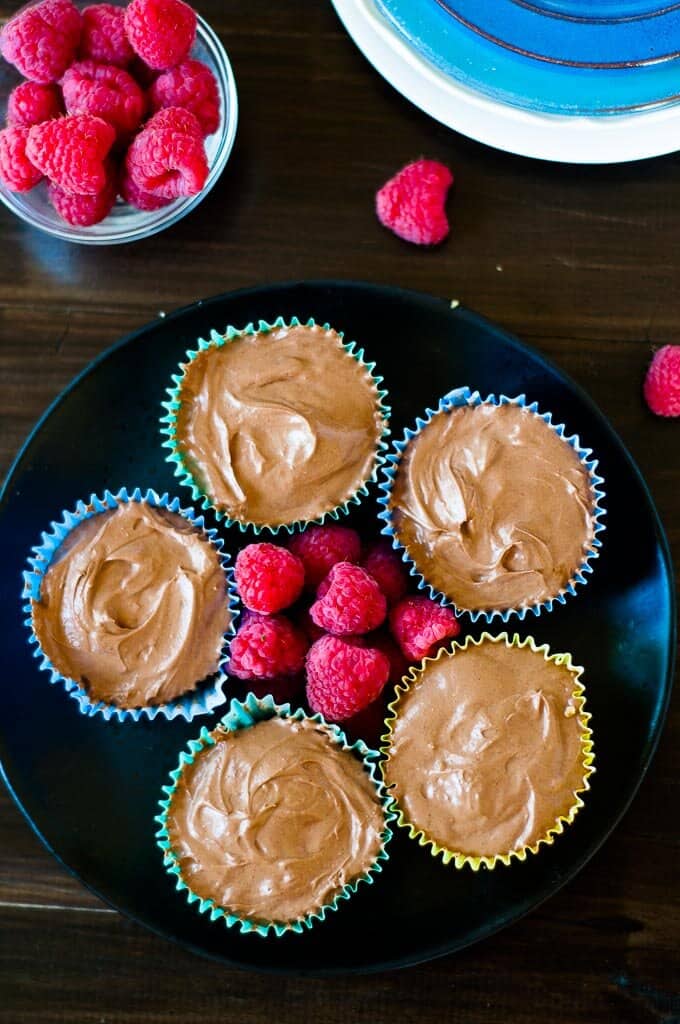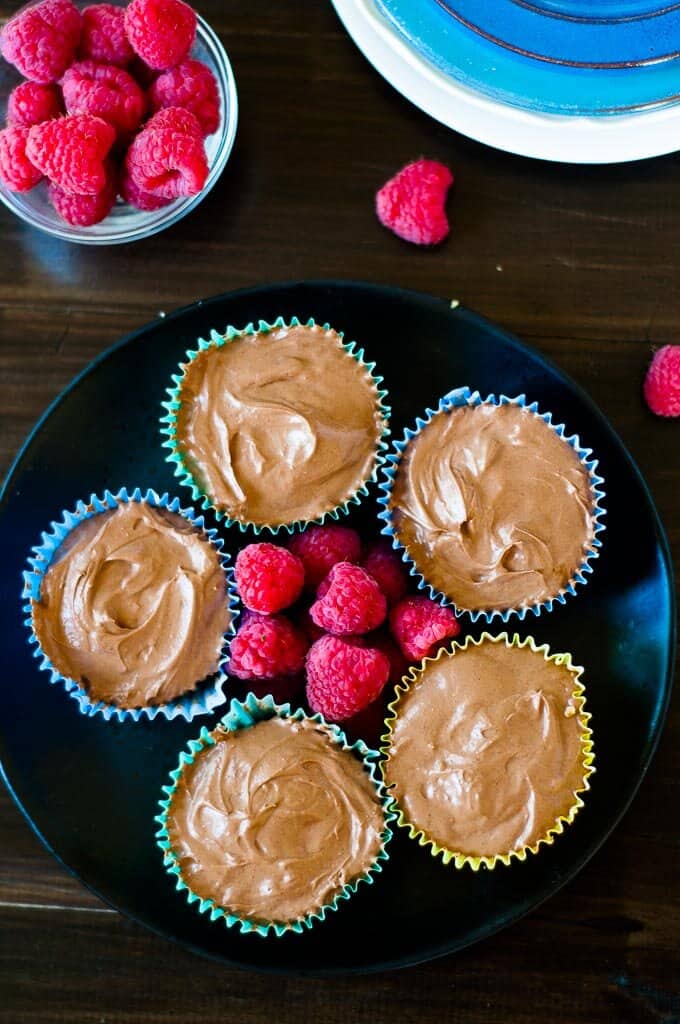 This all led me to…
Attempt # 3 So after trying a baked chocolate cheesecake and dairy free chocolate cheesecake, I thought why not try something else…. A no bake chocolate cheesecake, using more typical ingredients. Sweetened naturally of course with Natvia Stevia Sweetener.
A 2 ingredient base with cream cheese as the main filling (sorry mum, this one's definitely not dairy free). It was pretty straight forward, however tasting it after adding the cacao, it definitely needed something else to round out the flavour profile. It needed a little bit if boom boom to bring it to life!
Looking around for what I had on hand, I come up with peanut butter, and coffee. It was obvious really. I always have these things on hand. Usually in bulk. I'm not kidding. These are 2 of my favourite things, and I often have peanut butter sandwiches with my morning coffee when I've run our of my trusty homemade sugar free banana bread.
A taste test prior to dishing out the filling into the cases proved the flavours worked together. Nicely subtle coffee and peanut butter flavours, with the chocolate definitely shining through.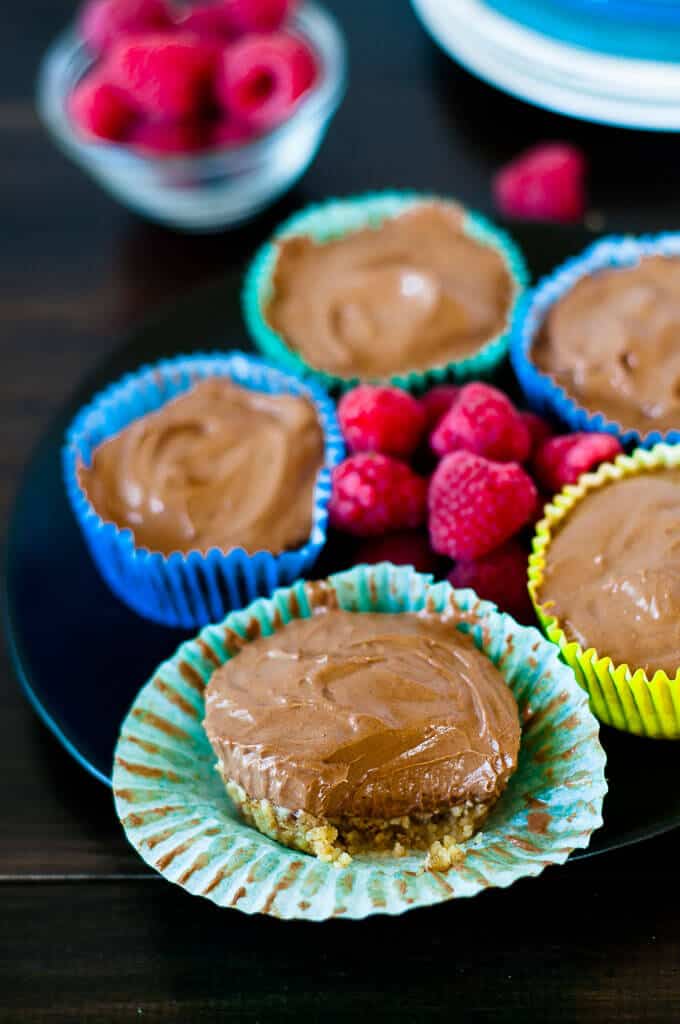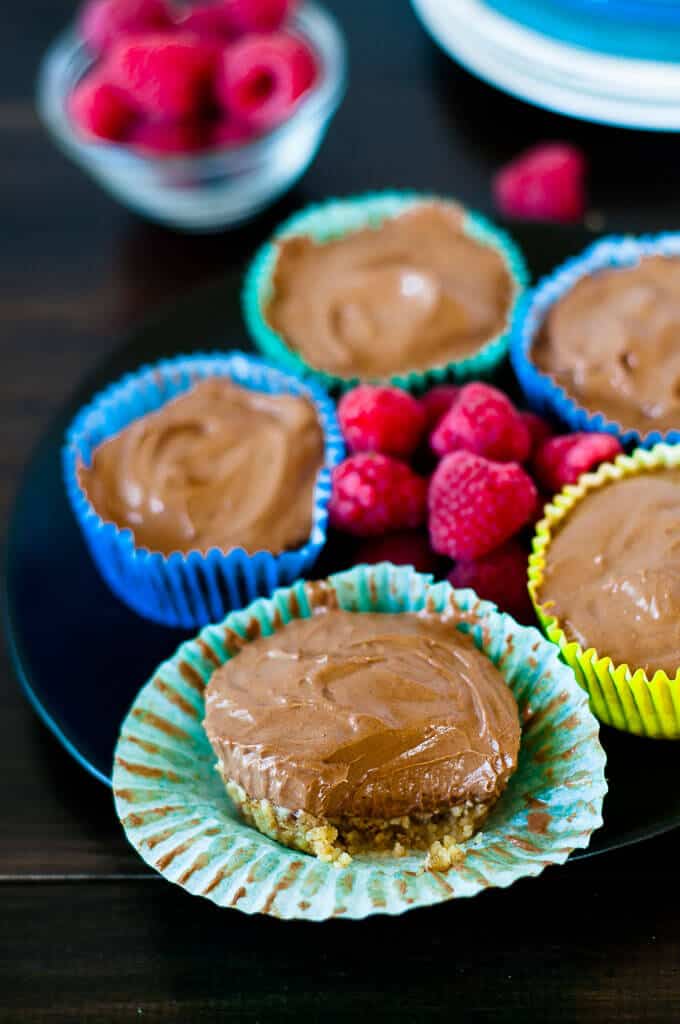 I also wanted to see what it would turn out like if I didn't use gelatine in a no bake cheesecake. Again, it worked. You just need to leave it in the fridge overnight before serving it up so that it can set properly.
Whilst this sugar free chocolate cheesecake is not "firm" like many you would see in shops, it is more along the lines of rich, creamy and velvety. Best eaten as soon as you get it out of the fridge, once it is set of course.
This is a great recipe if you are looking to lessen your sugar intake but still get your sweet fix as well. Each mini sized chocolate cheesecake is just 227 calories and if you're watching your weight or you're sick of sugar highs, this might be a good option.
Make them on the weekend. Keep them in the fridge Tucked away at the back, away from prying eyes.
During the week, after a long day's work, they will be there waiting for you when you need a sweet fix or to take the edge off.
More Cheesecake Recipes: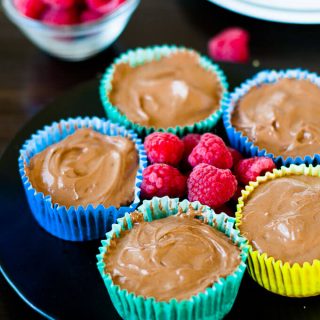 Sugar Free Chocolate Cheesecake
Rich and velvety mini Sugar Free Chocolate Cheesecakes. No Bake. Super Easy To Make and a respectable 227 calories. A must make dessert for chocolate lovers. Best enjoyed smothered with fresh ripe raspberries!
Ingredients
Base
80

grams

/5.5 tablespoons Walnuts (Crushed)

4

regular

Dates

(I use Trident brand)
Filling
1

cup

Light Cream Cheese

1/3

cup

Cacao Powder

1/3

Cup

Granualted Stevia

1

tablespoon

Peanut Butter

(I use Kraft Sugar Free)

1

teaspoon

Instant Coffee

1

teaspoon

Water
Instructions
Base
Soak the dates in tap water for 20 minutes

In a food processor or high speed blender, whizz up the walnuts and dates until it resembles a crumb and all there are no chunky bits

Using a regular 6 hole muffin case, line with muffin papers. Divide the crumb mixture evenly between the cases and press down firmly to create the base.

Put bases in the fridge for 30 minutes to further set. Wash up the food processor/blender ready for the filling.
Filling
Set cream cheese on the bench for 30 to 60 minutes before you need it to allow it to soften up.

Once cream cheese has softened, add it to the food processor/blender, along with the cacao powder and granulated stevia. Whizz until combined.

Add the peanut butter and coffee (mixed with a tiny bit of water) and whizz it together again.

Spoon filling into the cheesecake cases using a teaspoon.

Keep in the fridge for at least 6 hours before you serve them. In fact it is better to make the a day ahead and let them set overnight.
Notes
The 14 grams of sugar in this recipe comes from the dates used in the cheesecake base.
This is a no bake cheesecake that does not use gelatin, therefore it is not a "firm" or "hard" cheesecake.
The longer you can leave the cheesecake in the fridge before serving the better it will be. When you get it out of the fridge, eat it straight away.  Don't leave it sitting out on the table for too long as is will soften quickly.
15 minutes before serving, you may like to put the cheesecake in the freezer to become firm, just don't forget to take it out!
This cheesecake is rich and luscious and you really need some kind of fruit to cut through the richness. My preference is raspberries as the tartness goes perfectly with the rich chocolate.  If you can't get your hands on some raspberries, you could also use strawberries.
Nutrition
Calories:
227
kcal
Carbohydrates:
21
g
Protein:
9
g
Fat:
13
g
Saturated Fat:
2
g
Fiber:
4
g
Sugar:
14
g
Pin This Recipe for Later!