These Choc Mint Bliss Balls are a great cure for after dinner sweet cravings. They're naturally sweetened, grain free, dairy free, contain no added sugars and are made with easy to find ingredients you can buy at the supermarket.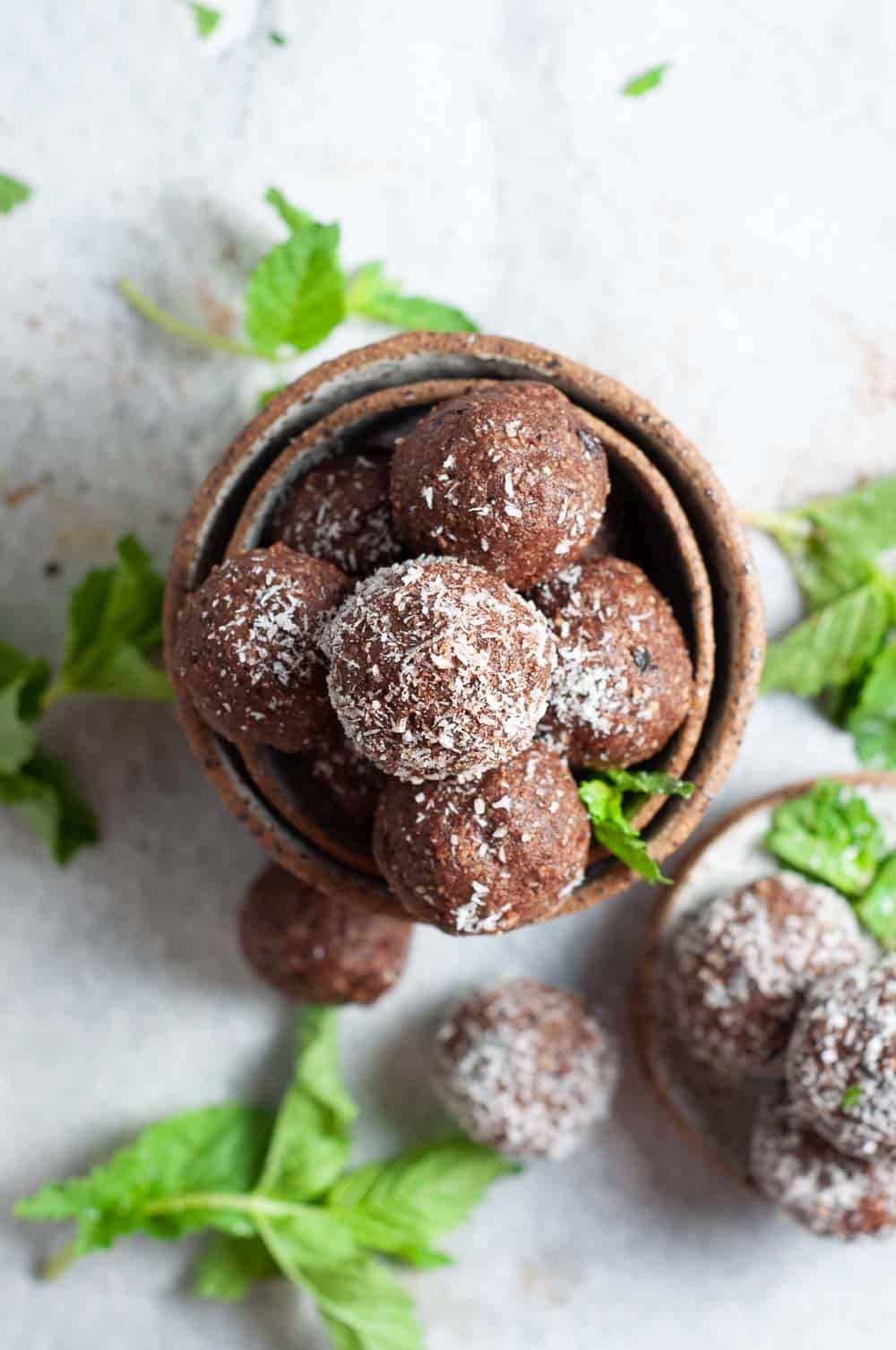 I've always been a fan of mint and peppermint in general and for many years had an obsession with those Arnotts Choc Mint Slice biscuits that are always on sale in Woolworths and Coles.
But….they are so packed with refined sugars and preservatives and other nasty stuff, that I no longer buy them. These peppermint Bliss Balls with just the right amount of chocolate and texture are my new go to and the perfect replacement when you're looking for an after dinner finisher, or if you need an extra hit of protein, check out these Chocolate Date Protein Balls.
What's in Choc Mint Bliss Balls?
These mint balls contain Medjool Dates, Walnuts, Unsweetened shredded coconut, Cocoa Powder, Tahini, Cocoa nibs and a little water, and natural peppermint extract.
I buy all these things from Woolworths supermarket with the coconut and peppermint extract being in the baking aisle, and the cocoa powder, tahini, and cocoa nibs in the health food aisle. Dates and walnuts I find in the fruit and vege section of the store.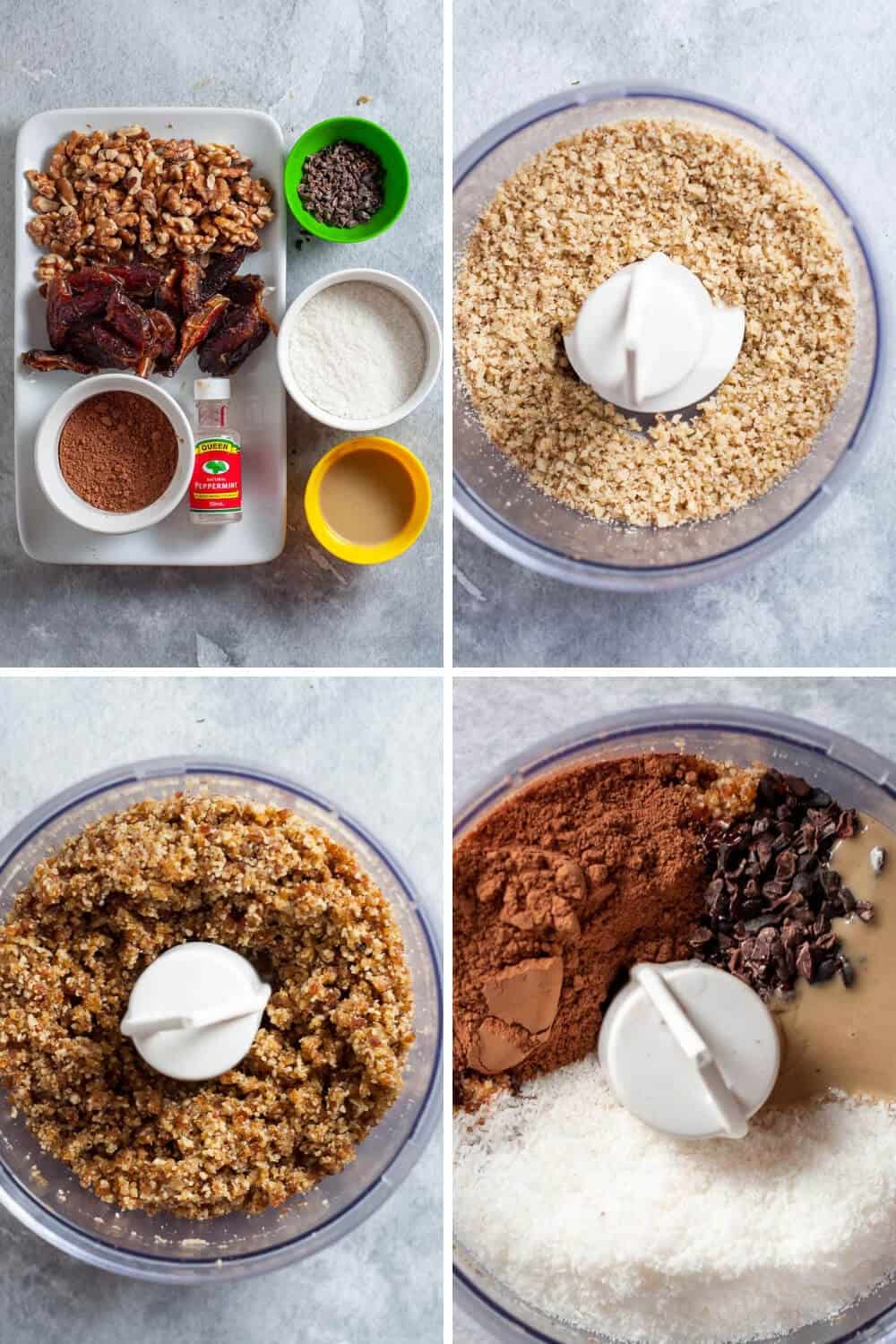 You might of noticed that I love making bliss balls. Mostly because they are so easy to make, healthy and totally portable. So much better for you than the packets of stuff you buy at the supermarket. Here are some of my other creations:
These chocolate mint balls are addictively delicious, and healthy too. They're actually great for lunchboxes, and are a great addition at Christmas. Oh, and they are great to take camping as well, but you'll need to keep them in an esky.
To make this recipe, you'll need a food processor or high speed blender to blitz the ingredients together. I like to get it to a pretty fine crumb so that the texture isn't too rough when you eat it. The longer you blitz it, the smaller and finer the crumb and the smoother the bliss ball will be when you eat it.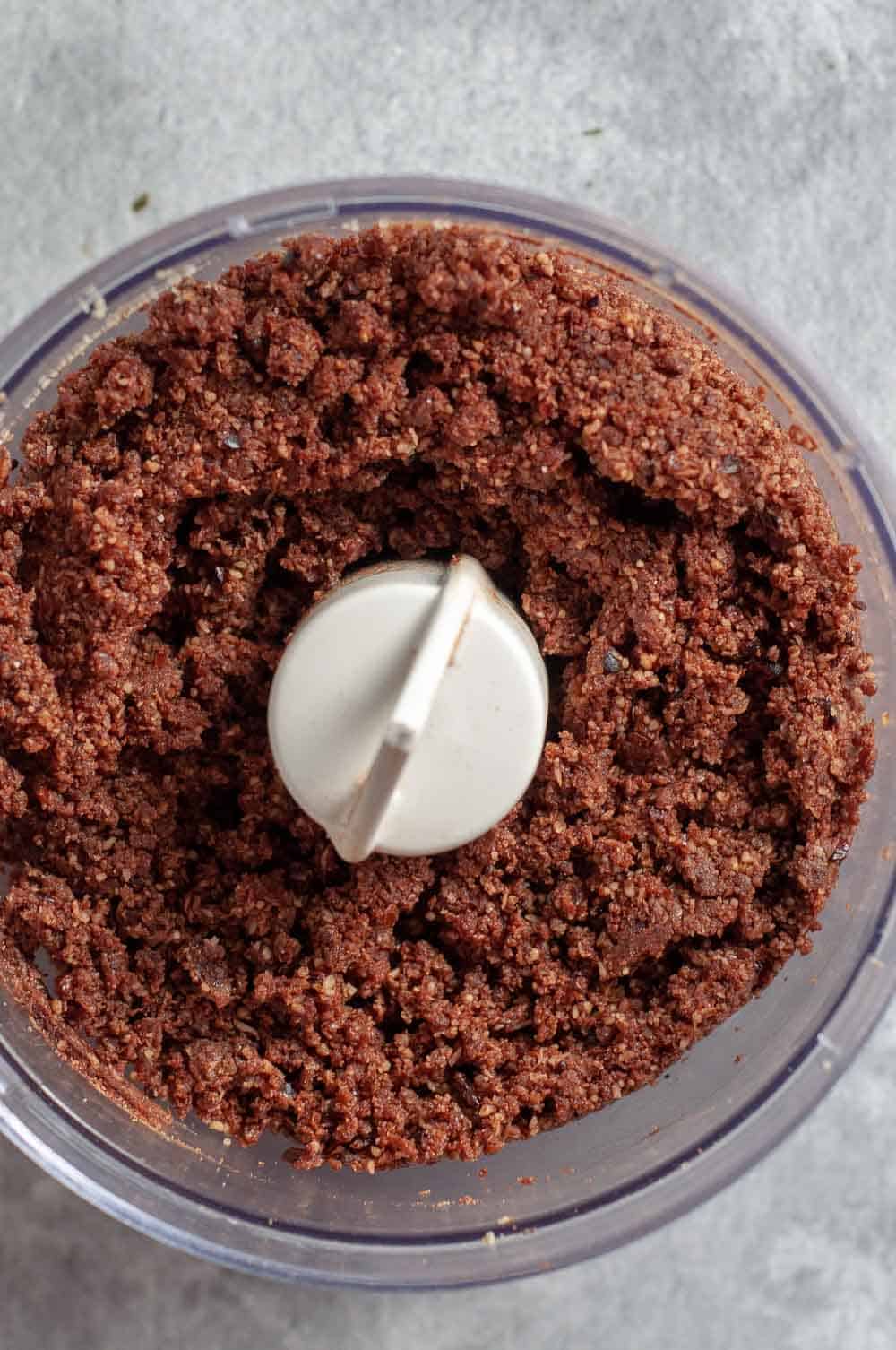 Different Additions and Substitutions for your Choc Mint Bliss Balls
Swap the Walnuts for Pecans
Swap the Tahini for Almond Butter
Instead of the water, add either raw honey or coconut oil (just one, not both)
Instead of rolling in shredded coconut, roll in Matcha powder
How long do the bliss balls keep?
These peppermint bliss balls will keep in the fridge covered in an air tighter container for upto 5 days
This recipe makes 22 choc mint bliss balls, and once you've finished rolling them, I'd recommend storing them in the fridge for 3 to 4 hours to firm up before you eat them.
Just a note on rolling them, I tend to shape and roll one ball, then roll it again in coconut, and then pop them into a large plastic container with some paper towel lining the bottom to avoid any sticking.
TIP: If the bliss balls are getting a little difficult to roll and the mix is not shaping properly, wash and dampen your hands so they are a little wet, but not to wet. This will stop the mixture sticking to your fingers and allow you to roll and shape the balls nicely.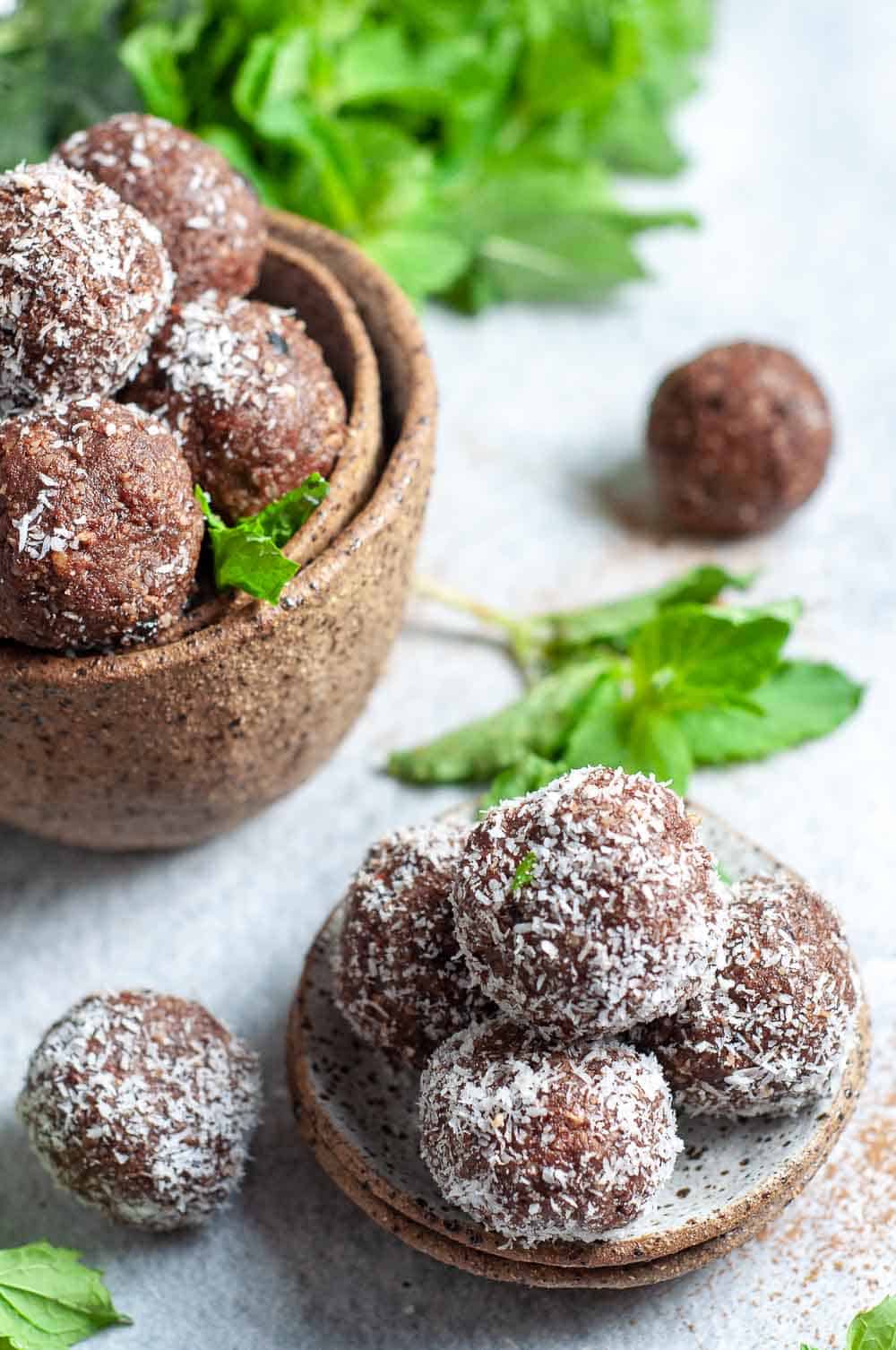 If you're looking for a simple snack or lunch box filler you can prep on a Sunday, this is a great one to try. Once you have all the ingredients, you can have the bliss balls made and in the fridge in 15 minutes, and you've got snacks for an entire week.
Like what you see? Follow me on Facebook or Pinterest! Did you try a recipe? Tag me on Instagram: @mysugarfreekitchen, and leave a comment & star rating!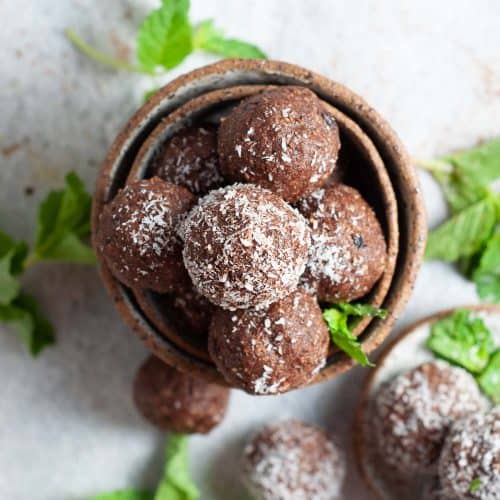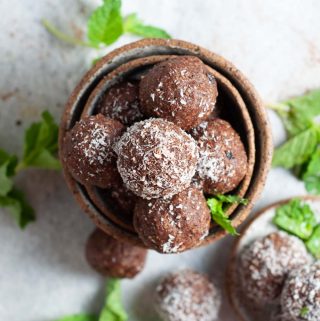 Choc Mint Bliss Balls
These Choc Mint Bliss Balls are a great cure for after dinner sweet cravings. They're naturally sweetened, grain free, dairy free, contain no added sugars and are made with easy to find ingredients you can buy at the supermarket.

Ingredients
1

cup

walnuts

-

or unsalted cashews

1

cup

medjool dates

-

seed removed

⅓

cup

cacao powder

⅔

cup

Unsweetened shredded coconut

2

tablespoon

water

2

Tablespoon

Tahini

-

unhulled

1

teaspoon

natural peppermint extract
Extra
¼

cup

unsweetened shredded coconut for rolling
Instructions
Add the walnuts to the food processor and blitz to combine

Add the dates to the food processor and blitz again until they and mixed in the with walnuts


Add the cocao powder, shredded coconut, water, tahini, cocoa nibs and peppermint extract

Blitz for 30 seconds to combine or until it is a consistency you like

Taste the mixture. If you want it with more mint flavour, add an additional ½ teaspoon of peppermint extract

Shape into 22 balls, and roll each in coconut. To avoid mixture sticking to your hands, dampen them a little bit before you start rolling, and as needed until you've finished.

Place bliss balls in a container that has a lid, and is lined with baking paper, or kitchen paper. Let them firm up in the fridge for at least 3 hours before eating. They will keep for upto 5 days in the fridge.
Nutrition
Calories:
114
kcal
Carbohydrates:
10
g
Protein:
2
g
Fat:
8
g
Saturated Fat:
3
g
Fiber:
2
g
Sugar:
6
g
Note: Sugars contained in this recipe are from naturally occurring sugars in fruits, vegetables or other natural sweeteners.
Looking To Cut Out Sugar? Get the FREE Quick and Easy Food Swaps Checklist Pack!
Get your FREE Quick and Easy Food Swaps Checklists with over 65 Simple Real Food Alternatives to Help you Ditch The Sugar Without Feeling Deprived.
★ Did you make this recipe? Don't forget to give it a star rating below!