These Apricot Bliss Balls are free from refined sugar, contain just 8 ingredients, are super easy to make and are bursting with tangy apricot flavour, nutty cashews and coconut.  Perfect for lunchboxes, mid morning snacks, after dinner munchies and post workout nibbles, these bliss balls are the perfect portable snack.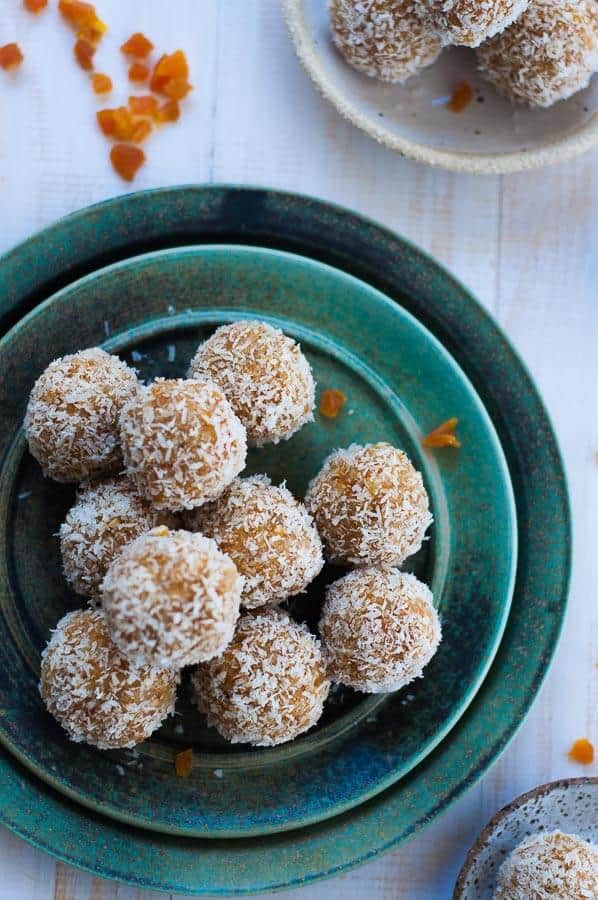 Why I Make Apricot Bliss Balls Every Month
Apart from the delicious combination of apricot, cashew and coconut, I make these easy take anywhere snacks because they are so versatile.  It's a snack that wouldn't be so weird to eat at any time of the day, for brunch, morning snack, with lunch, after lunch, before dinner, and after dinner.
They are a much healthier option to cure the munchies, and are perfect with a cup of coffee or herbal tea.  I love that they are naturally sweetened from the orange juice are low carb and each one is under 100 calories.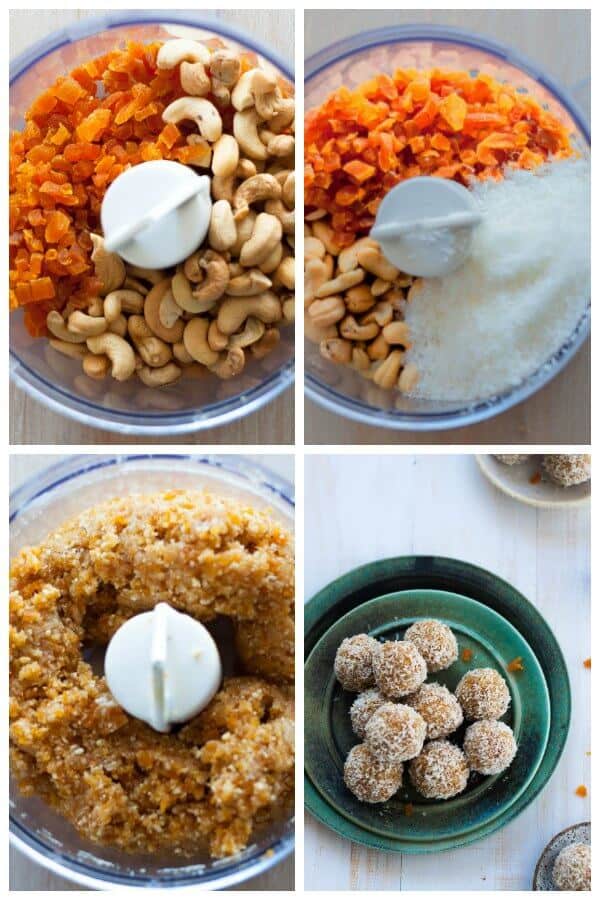 The biggest thing though is that they are really filling, not like a packet of cookies where you have to eat half the packet just to feel satisfied.  One apricot Bliss Ball will do the trick to put the hangries back in the box, and you'll know you've been kind to your body by not stuffing it with awful sugars and empty calories.
Health Benefits of Apricots
They have lots of vitamin A which is good for your eye health
They are rich in fibre which means they keep you fuller for longer
They are good for heart health. Because of the high fibre content, they help to reduce bad cholesterol in the body
Apricots are a rich source of anti-oxidents which helps to clean out the toxins from our body
Apricots contain iron, which is good for your blood. Good iron levels help to prevent anemia
Apricots contain vitamin C which is good for your skin, helping you to keep your healthy glow
The fibre in fruit helps your body's digestive system which in turn helps your metabolism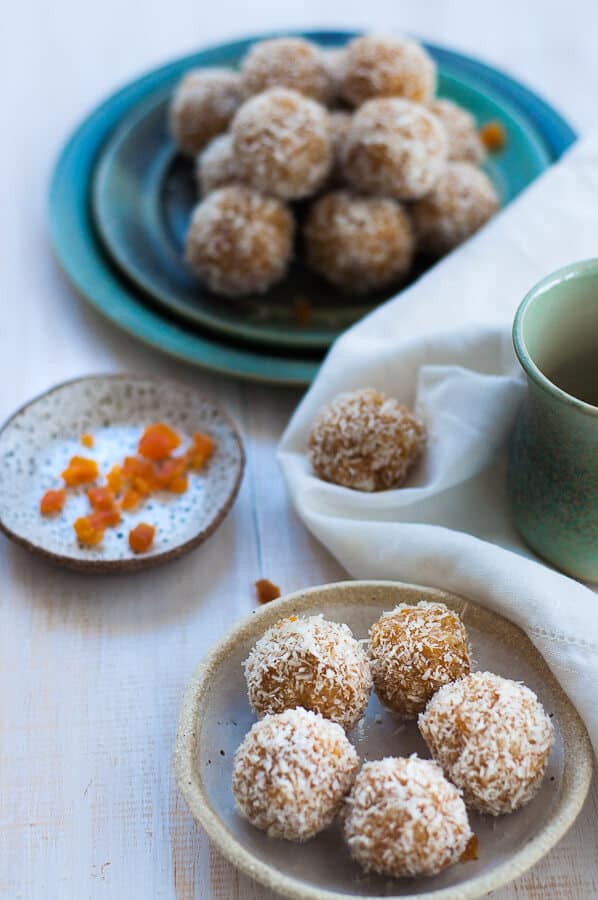 TIP:  Fresh apricots contain natural sugars as do dried apricots, however the natural sugars in dried apricots is much more concentrated.  As it's often easier to eat more dried apricots than fresh apricots, I don't usually eat more than 3 to 5 dried apricots per day in order to keep my sugar levels under control.
Other Bliss Ball Recipes you might like:  Date Free Bliss Balls, Sugar Free Bliss Balls, Mango Protein Balls
The Magic of Cashew Nuts
I love cashew nuts and although they don't have the fibre of apricots, they are packed with nutritional value and are high in protein and good fats.  They are easy to use in no bake snacks and your high speed food processor or blender will definitely be able to handle breaking them up so they are easy to make into bite sized snacks.  Unsalted Cashews are also perfect for keeping in an air tight jar in the cupboard to munch on when you're feeling a little hungry.  A handful also goes well with a nice glass of white on a Friday evening after work.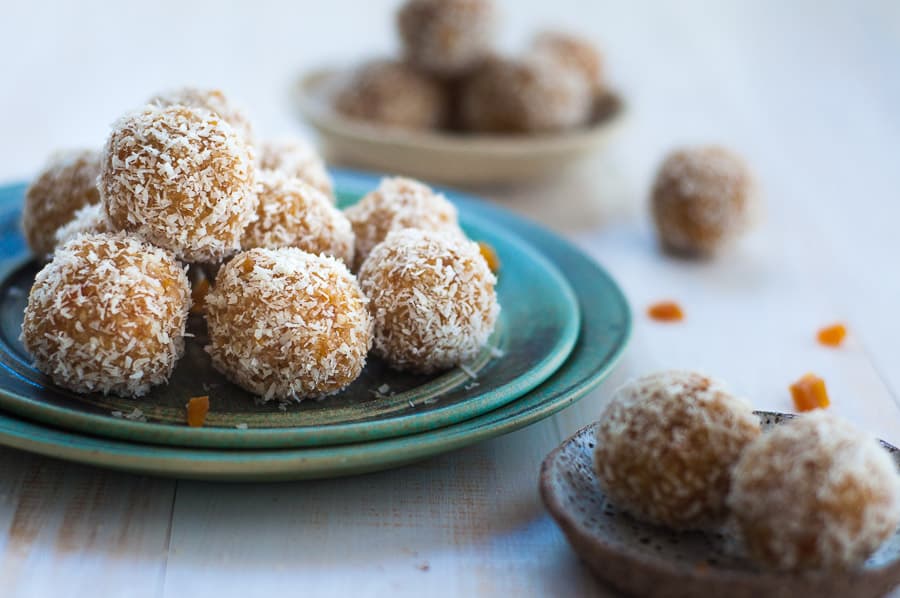 Tips for Making Apricot Bliss Balls
Use the best quality apricots you can, it really does make a big difference. I've tried using different types of apricots, ie: cheap ones, but they are never as good as the ones where I have paid a bit extra for the quality dried apricots which have a deeper richer flavour.
Buy chopped apricots if you can. Not an essential, but it just makes it a bot easier on your food processor/blender if the apricots are chopped
Use freshly squeezed orange juice, not juice from a bottle as that usually has additional added sugars.
Definitely chill the coconut cream before using it. I leave mine in the fridge overnight so that the cream is firm on top (don't shake the can when you remove it from the fridge as this will mix the coconut water with the cream which we don't want)
Use Full Fat Coconut Cream instead of the light versions. The full fat coconut cream adds to the richness and flavour.
Buy Unsalted Cashews otherwise you'll end up with a bliss ball that is not sweet enough.
Other easy portable snack recipes:  Sugar Free Banana Muffins, Sugar Free Chocolate Chip Muffins,  Sugar Free Caramel Slice Bites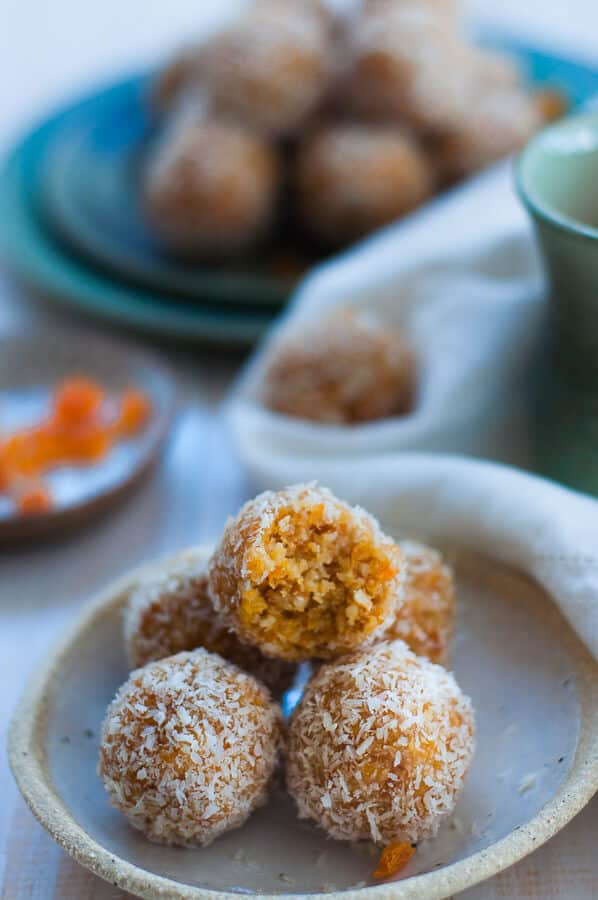 These Apricot Bliss Balls take less than half an hour to put together and provide so much goodness wrapped up in one little bite sized ball.  They are fruity, nutty, creamy, sweet and nutritious.  The only question is, who wouldn't want a batch of these hiding in the back of the fridge.
Like what you see? Follow me on Facebook or Pinterest! Did you try a recipe? Tag me on Instagram: @mysugarfreekitchen, and leave a comment & star rating!
Apricot Bliss Balls
These Apricot Bliss Balls are free from refined sugar, contain just 8 ingredients, are super easy to make and are bursting with tangy apricot flavour, nutty cashews and coconut. Perfect for lunchboxes, mid morning snacks, after dinner munchies and post workout nibbles, these bliss balls are the perfect portable snack.
Keyword:
apricot bliss balls, sugar free bliss balls
Ingredients
1

cup

dried Apricots

chopped

1

cup

desiccated/shredded coconut

½

cup

raw

unsalted cashews

Zest of one orange

finely grated

4

tablespoons

Cashew Nut Butter

2

tablespoons

fresh orange juice

3- 5

teaspoons

chilled coconut cream

Extra desiccated coconut for rolling
Optional:
If you want it a bit sweeter: 1 teaspoon Granulated stevia/sweetener that measures like sugar

or alternatively 1 teaspoon of raw honey
Instructions
Prep: Store the can of coconut cream in the fridge overnight so that the cream sits on top. When you remove it from the fridge, do not shake it as you will want to scrape the cream from the top quarter of the can.

In a food processor or high speed blender, add the chopped apricots, desiccated coconut and cashews.

Add the cashew nut butter, orange rind and fresh orange juice.

Blitz to combine.

Add 3 teaspoons of the chilled coconut cream and blitz again. Taste and check the consistency. If you want a bit more sweetness, add the optional granulated sweetener, or raw honey. Blitz again.

If mixture is still too dry add the other 2 teaspoons of coconut cream. (Note: mixture should be moist, but not dripping and should resemble a fine crumb.)

Roll mixture into 18 ball, slightly smaller than the size of a golf ball and roll in additional desiccated coconut.

Store in the fridge in an air tight container for 3 to 4 hours before eating. Balls will keep in the fridge in the air tight container for upto 5 days.
Nutrition Facts
Apricot Bliss Balls
Amount Per Serving
Calories 94
Calories from Fat 63
% Daily Value*
Total Fat 7g 11%
Total Carbohydrates 8g 3%
Protein 2g 4%
* Percent Daily Values are based on a 2000 calorie diet.
 ★ Did you make this recipe? Don't forget to give it a star rating below!