These 6 ingredient Coconut Bliss Balls are the perfect healthy snack to make at home. They're perfectly sweet without any added sugars, and they're a healthy and filling snack for any time of the day.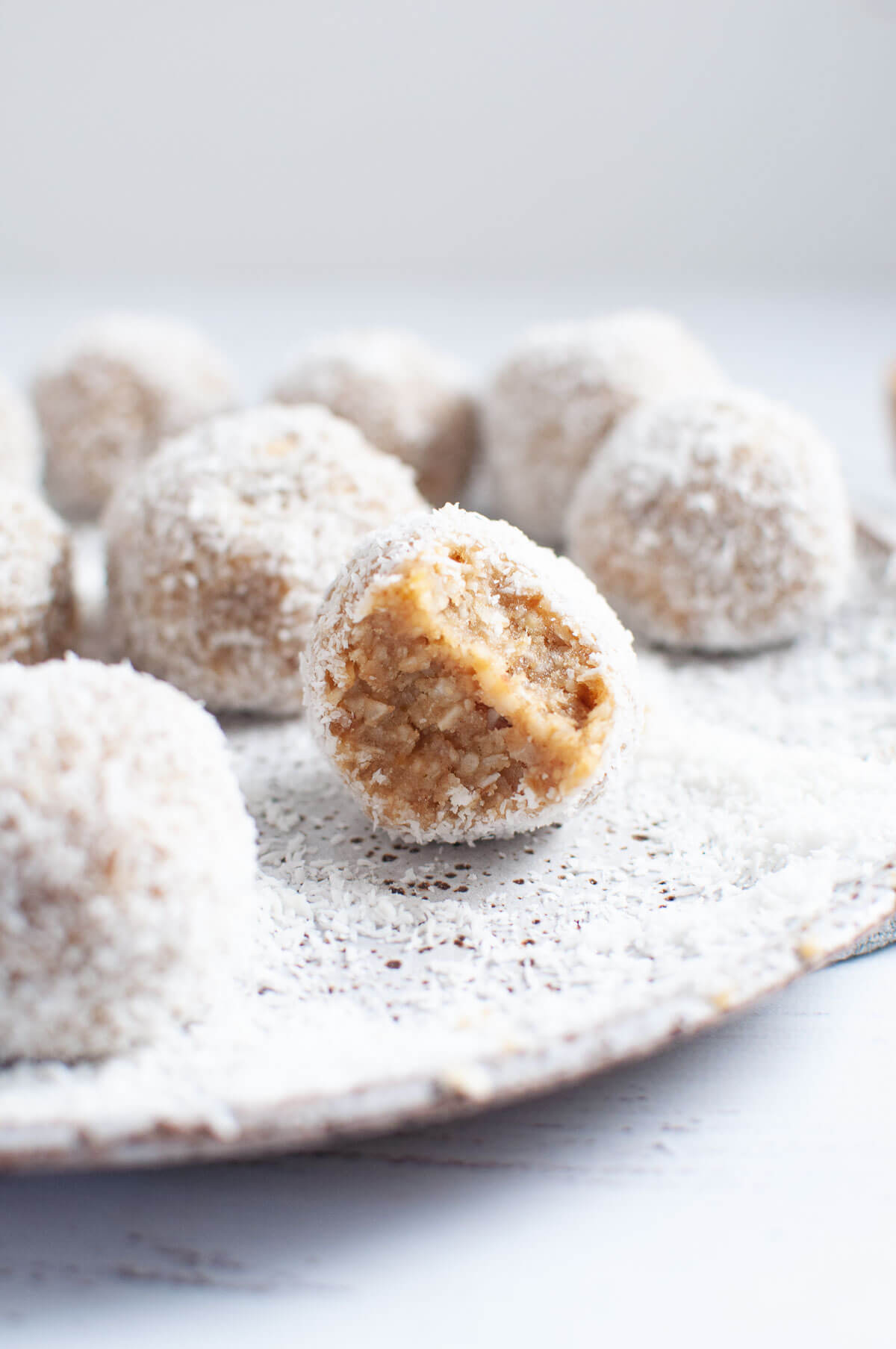 These healthy bliss balls are a great snack for the whole family. Here's why you should try making these:
They're moist and chewy and full of coconut flavour
They're healthier than store bought bliss balls and other processed snacks
They're quick, easy, and cost effective to make
You can make 11 large bliss balls, or 22 small bliss balls
They're only 6 ingredients + water
They keep in the fridge for up to 7 days
They're freezer friendly
Ingredients
Cashew Nuts, Medjool Dates, Unsweetened shredded coconut, Coconut Cream/Milk Powder, Cashew Nut Butter, Lemon Zest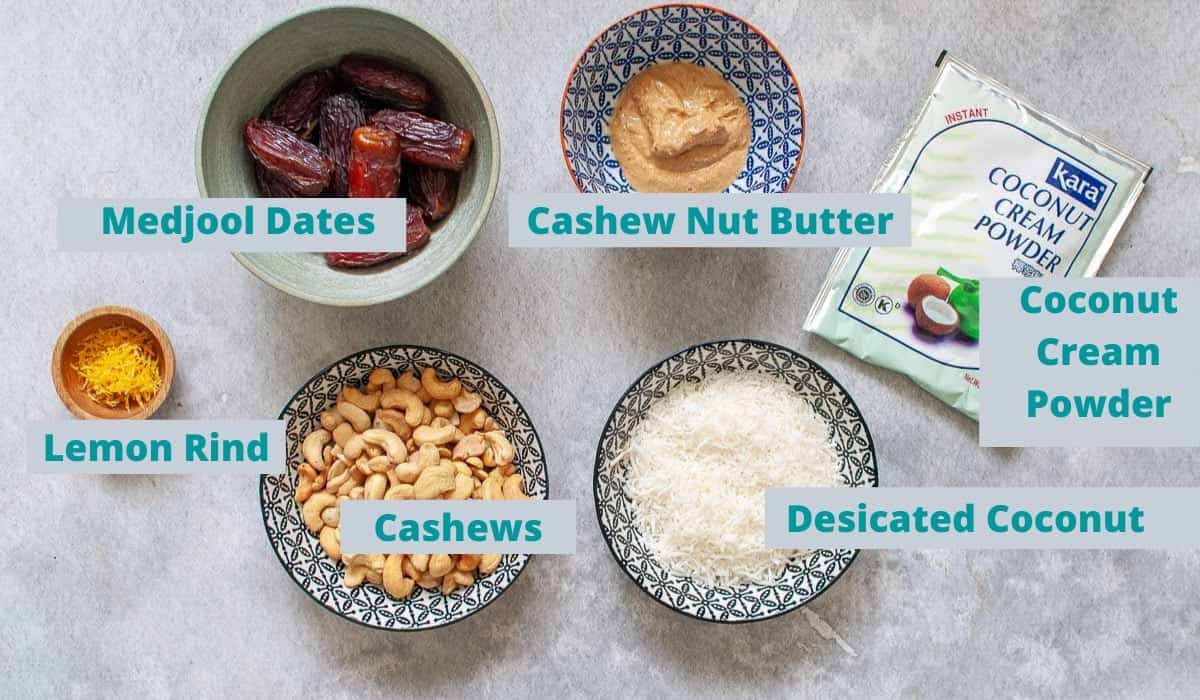 Ingredient Substitutions
Nuts: Instead of cashews, try walnuts, hazelnuts, pinenuts, even macadamia nuts if you're in Australia
Dates: Whilst medjool dates are definitely the best as they are sweet and juicy, other dates will work, although you will likely need to use a few more to get the same level of sweetness. Alternatively you could use dried apricots in the same quantity as the medjool dates.
Nut Butter: Whilst cashew nut butter tends to have the most neutral taste, you could use a natural peanut butter, or almond butter, even coconut butter if you have it in the cupboard.
Storage
Once you've made them, its best to let them fully firm up in the fridge for a few hours before eating. Store these Bliss Balls in an air tight container in the fridge for upto 7 days.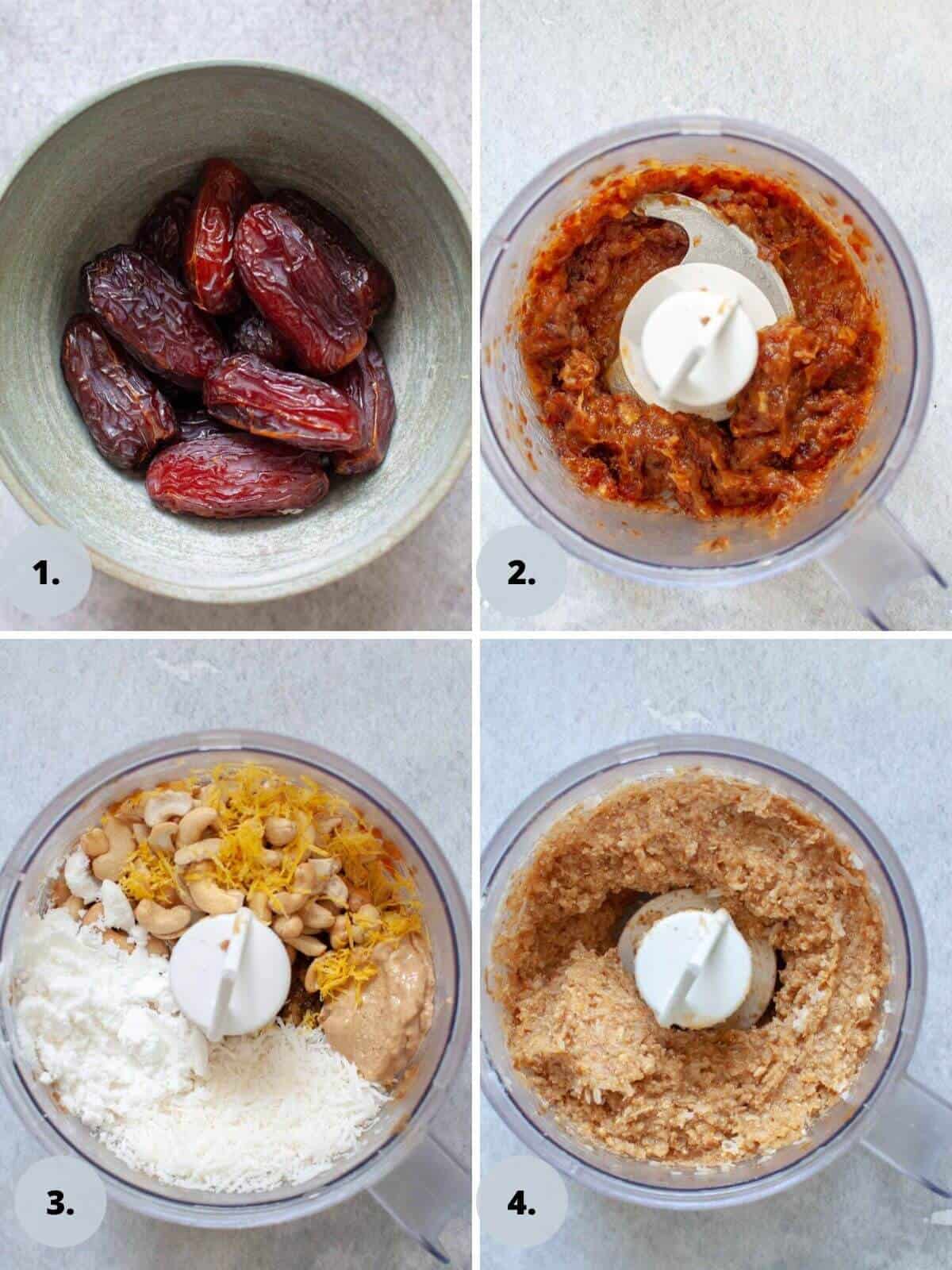 Other Bliss Ball Recipes
How To Freeze Them
Use either plastic or silicone ziplock bags, Chinese containers, or other plastic containers with lid to store your bliss balls. Just make sure they are sealed. I personally prefer to use glass or plastic containers are they are sturdy and wont get squashed down in the freezer if other things get put on top. Make sure to label the bliss balls with what they are, and their used by date – 6 weeks from when you made them.
To defrost, remove from freezer and let it defrost naturally, at room temperature (covered), or put them in the fridge overnight so they're good the next day. Avoid putting them into the microwave to thaw as this doesn't tend to turn out too great.
How To Make Without A Food Processor
Soften the dates: Remove seeds from dates, place into a bowl with hot tap water and let soften for 5- 10 minutes. Squeeze all the water out of the dates after 5 or so minutes and mash with a fork so it turns int a date paste.
Mix It Up: Add the date paste to a large mixing bowl, along with the nut butter, shredded coconut, coconut cream powder, and lemon zest. Stir Vigorously until it comes together.
Check consistency: If too wet, add more shredded coconut or coconut cream powder. If too dry, add a little water (a tablespoon at a time)
Roll away: roll into 11 generous sized bliss balls, or 22 smaller bliss balls
Optional: roll the balls in desiccated coconut for that extra hit coconut goodness.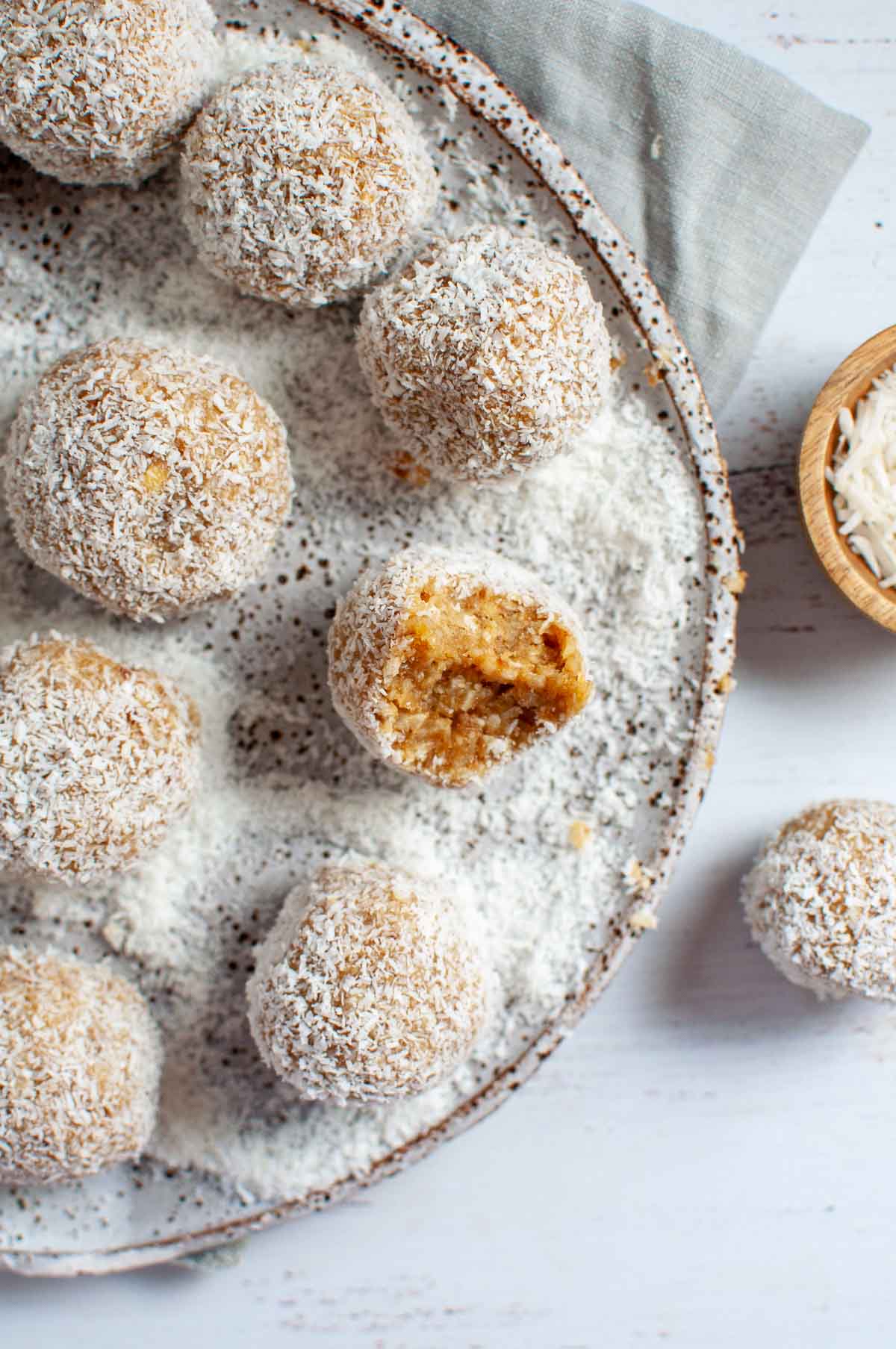 Variations
Chocolate Coconut Balls: swap half the coconut cream powder for unsweetened cocoa powder.
Fruit Mix: swap half the dates for dried apricots so you have a date and apricot paste to sweeten instead of pure dates. Alternatively you could try half dates/half sultanas, half dates/half cranberries
Nut Mix: mix up the nut combinations to what you have on hand. You don't have to use just one type of nut. Use ¾ cup of whatever nuts you have on hand.
Extra Zesty: Instead of lemon zest, use orange zest or lime zest, or a combination.
Spicy: add a little ground ginger, or ground cinnamon.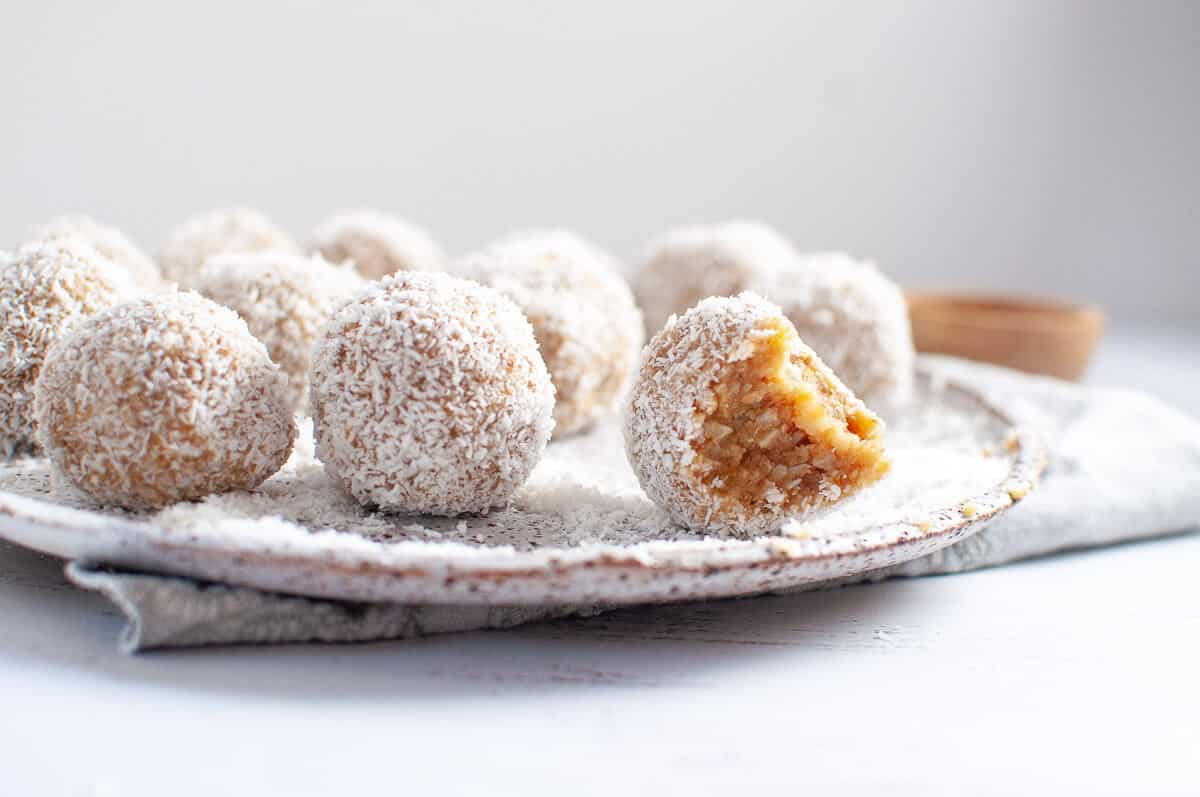 These Coconut Bliss Balls are so versatile and there are so many combinations you could create, even if you don't have a food processor. Making bliss balls with whatever ingredients you have in your pantry can be a creative way to use up ingredients that you want to use up but aren't sure how to do it.
If you love coconut treats, you might also like these quick and easy Coconut Jam Drops or this One Bowl Super Moist Coconut Yoghurt Cake.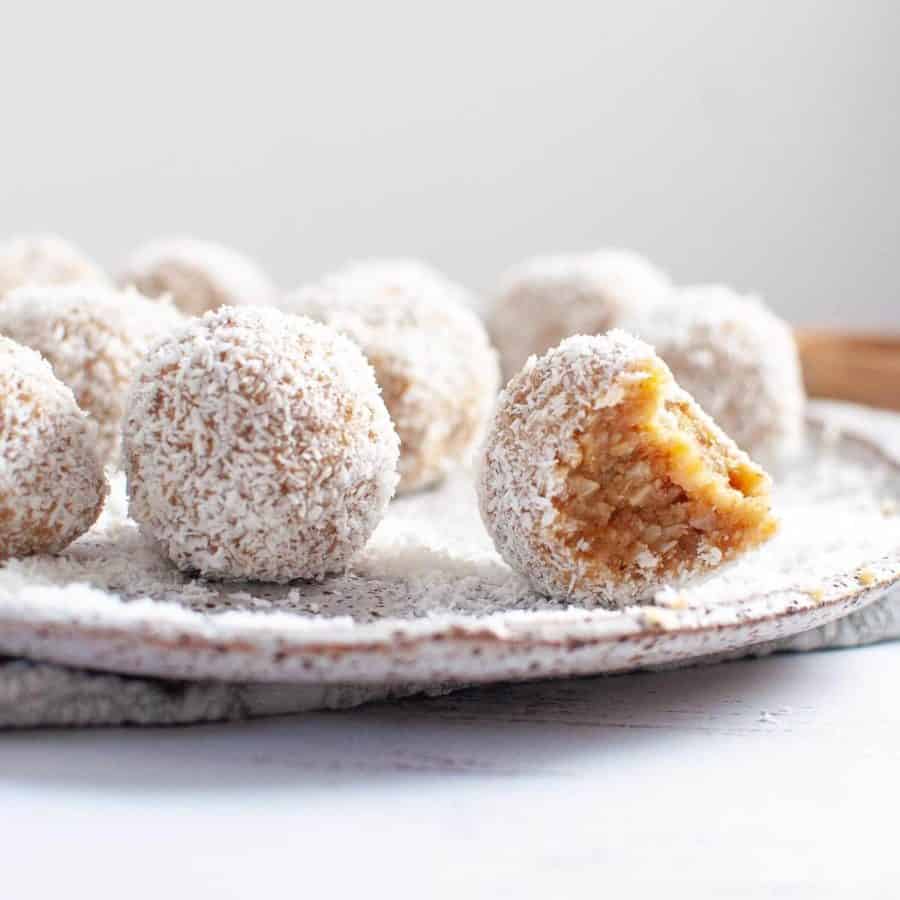 Coconut Bliss Balls
These 6 ingredient Coconut Bliss Balls are the perfect healthy snack to make at home.  They're perfectly sweet without any added sugars, and they're a healthy and filling snack for anytime of the day. 
Ingredients
¾

cup

Cashew Nuts

200

grams

Medjool dates – room temp

-

approx. 12 large

¼

cup

warm water

2

tablespoons

Cashew Nut Butter

¼

cup

Coconut Milk Powder

1 ½

cup

Unsweetened Shredded Coconut
Instructions
Ensure seeds are removed from dates and place into food processor with ¼ cup warm water. Blitz until a date paste is formed

Add the cashews, nut butter, coconut milk powder, lemon zest and blitz until all combined. (about 1 – 2 mins). If mixture is still too wet, add more coconut a couple of tablespoons at a time until mixture holds its shape

Put bliss ball mixture into the fridge for 30 minutes to firm up before rolling.

Roll mixture into 11 large or 22 small balls one at a time, rolling in the desiccated coconut as you go which will help them come together. If your hands are getting sticky, use a little desiccated coconut in your hands to stop the sticking.

Let them firm up in the fridge for at least 2 hours before eating.

Store in the fridge in an air tight container. They will stay fresh for 7 days.
Notes
Can you use regular dates? you could but you'll need to use more because medjool dates are sweeter than regular dates.   You'll also need to soak them for longer as they are firmer and have a tougher skin.  Extra soaking will ensure a smooth date paste.
Cashew Butter: I would avoid using any other nut butter as they might be a bit overpowering to the coconut. Cashew butter has a milder taste than peanut butter for example.
Coconut Milk/Coconut Cream Powder: This is available in the Asian food section of the supermarket when you normally find the coconut milk in a can. Avoid the canned stuff as it will make the bliss ball mixture to runny.
Can you freeze these? Yes these are freezer friendly. Pop them into a freezer friendly container and let them defrost naturally before eating. They will freeze well for 6 weeks – if they last that long!
Servings: This recipe will make 11 large bliss balls or you can make 22 small bliss balls. (I normally take 3 bites to eat a large one, whereas I eat the small ones all at once)
Nutrition
Calories:
170
kcal
Carbohydrates:
25
g
Protein:
3
g
Fat:
8
g
Saturated Fat:
6
g
Fiber:
7
g
Sugar:
9
g
Note: Sugars contained in this recipe are from naturally occurring sugars in fruits, vegetables or other natural sweeteners.
Looking To Cut Out Sugar? Get the FREE Quick and Easy Food Swaps Checklist Pack!
Get your FREE Quick and Easy Food Swaps Checklists with over 65 Simple Real Food Alternatives to Help you Ditch The Sugar Without Feeling Deprived.