Fragrant Coconut Jam Drops filled with rich raspberry jam, eaten two at a time, crumbs dropping to the floor as you knock back your favourite coffee, or glass of milk!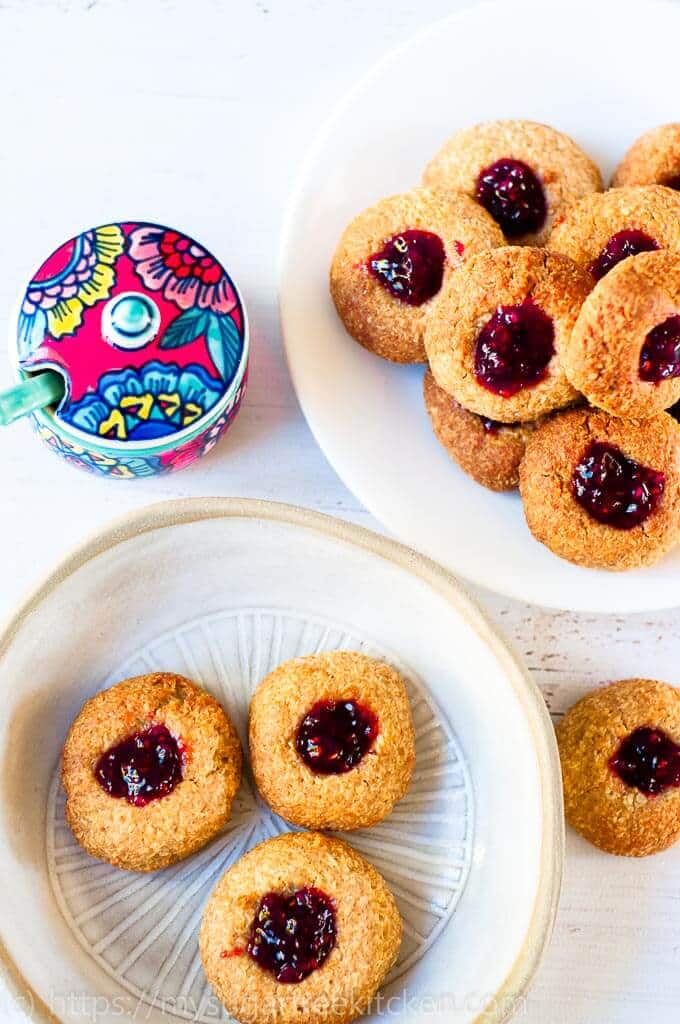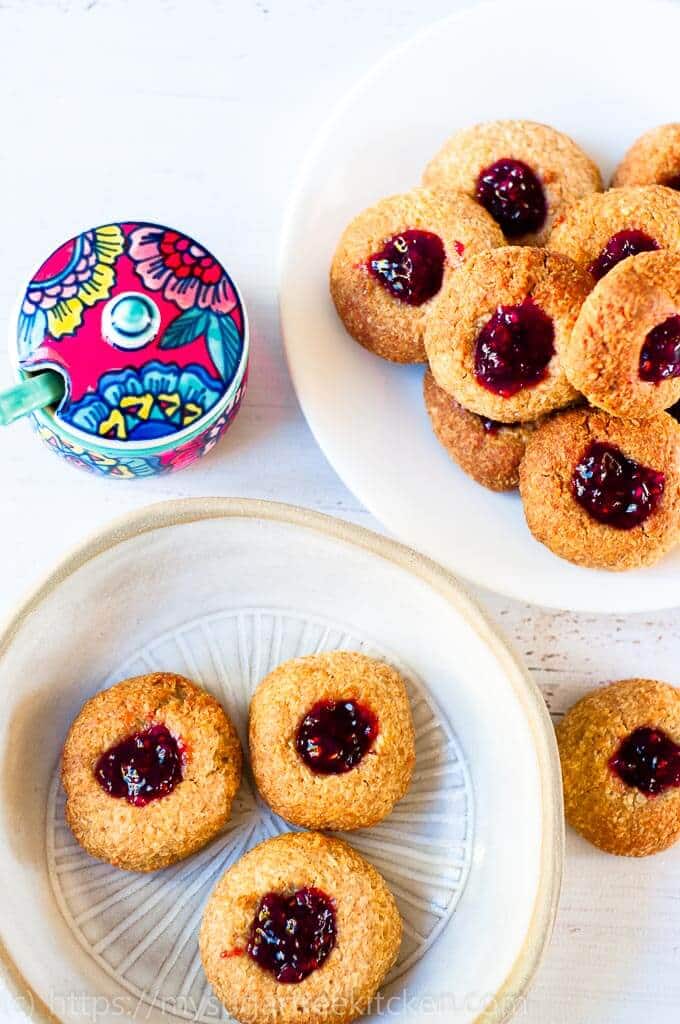 Are Jam Drops The Same As Thumbprint Cookies?
Yes, they are very similar.  In Australia we call them Jam Drops, and if you're in the U.S. you probably know them as Thumbprint Cookies.  Essentially they are a cookie with jam in the centre.
Basically you use your thumb or knuckle to press in the middle of the dough (without going al lteh way through) and then fill the with your favourite jam.  Don't overfill it though as it will spill over when it heats.  Generally, filling the hole with 2/3 is good.
Jams to try:
Strawberry Jam
Blackberry Jam
Blueberry Jam
Raspberry Jam
Apricot Jam
Fig Jam
TIP:  When selecting your jam, make sure to read the label to make sure you buy one that doesn't contains loads of additional added sugars.  Ideally, try and get one without added sugars, or one that is naturally sweetened.
What Makes These Coconut Jam Drops Healthy?
They're free from  refined sugars
They are made with spelt flour, a non wheat flour which is more nutritious than ordinary highly processed white flour.
They have fewer calories, more protein content and are easier to digest than store bought jam drops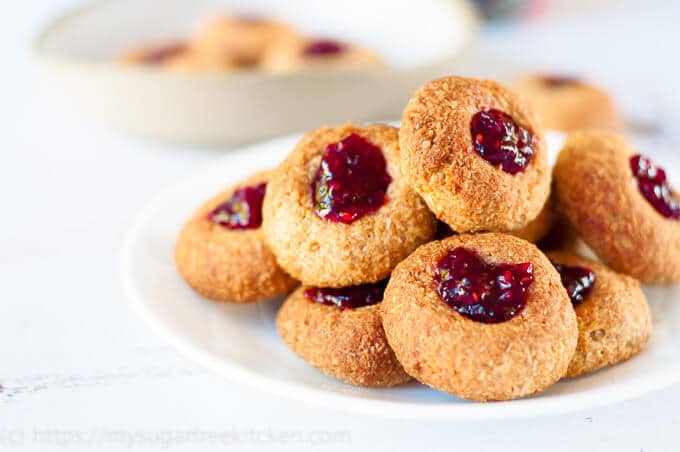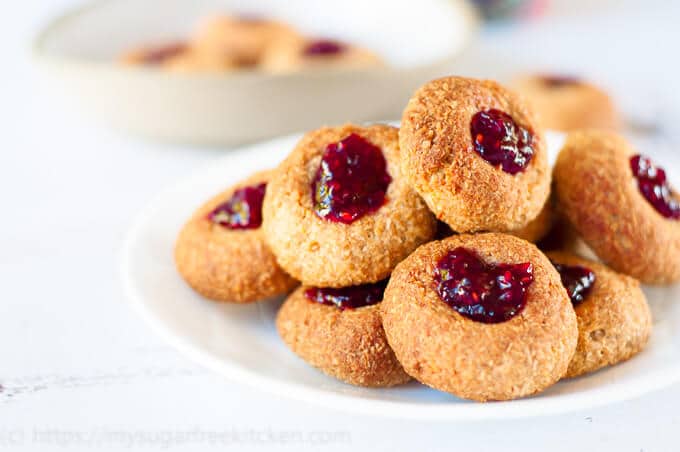 One of the things I think that really make these jam drops a winner is the addition of the coconut.  It adds texture, moistness and gives the most amazing aroma when you lift the lid off the container and coconut wafts out and hits you.
More Fruit Snacks: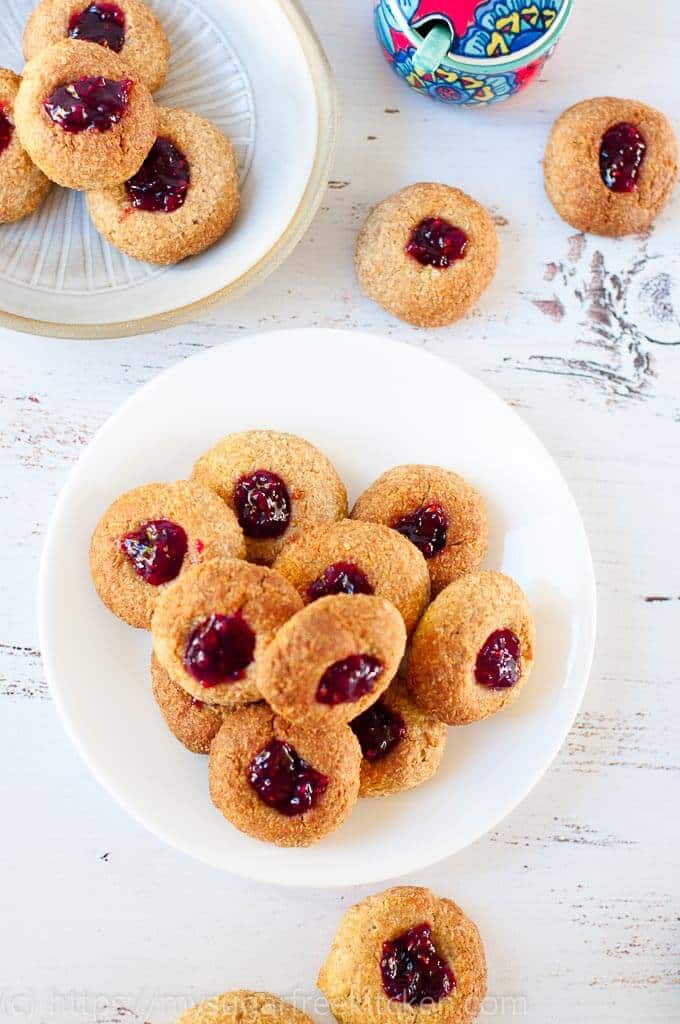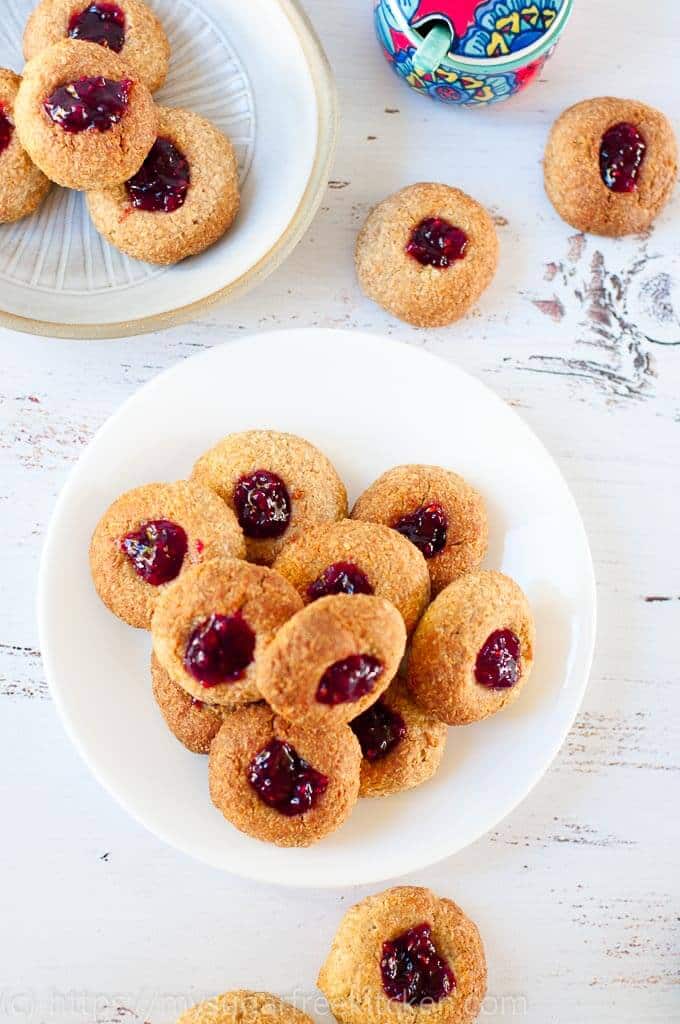 What's in Coconut jam Drops
This recipe makes a big batch of coconut jam drops - 25 to be exact.
Spelt Flour
Melted butter
Unsweetened desicated Coconut
Granulated sweetener that measures like sugar (like Lakanto Monkfruit or Natvia Stevia)
Egg
Vanilla bean paste, or vanilla essence
Ground Cinnamon and Ground Ginger
Sugar Free Raspberry Jam
They take about 10 minutes to prep, and 18 to 20 minutes in the oven to cook.  So you can totally have these made in half an hour.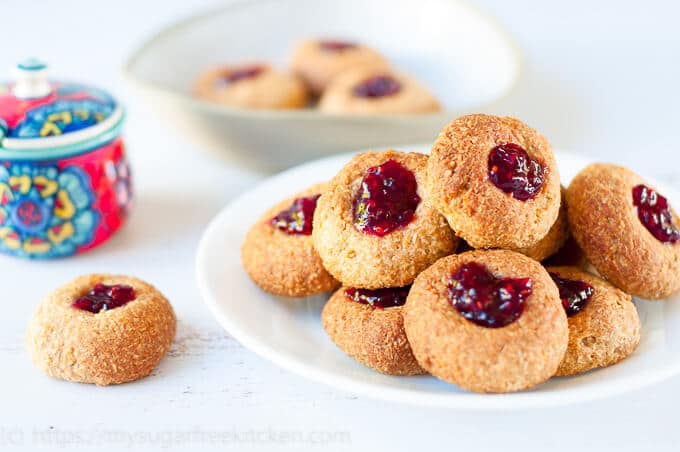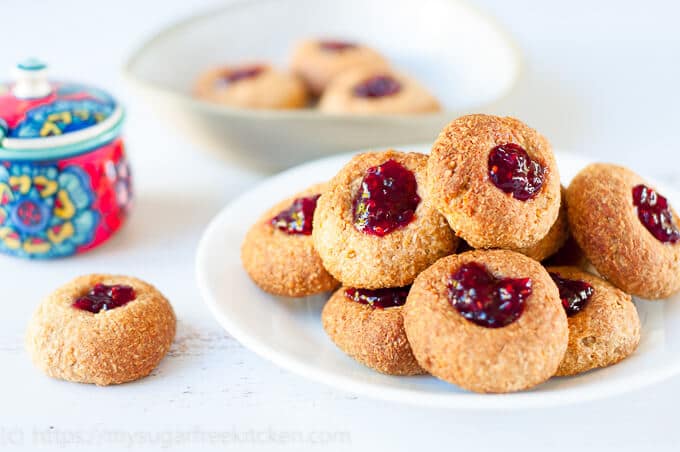 Serving, Storing and Freezing Coconut Jam Drops
Here's what to do once you've made your healthy Jam Drops.  Make sure to let them cool on a wire rack covered with a tea towel before storing them away.
To Store. They will keep  in an air tight container at room temperature for 2 to 3 days.  If you aren't going to eat them all in that time, freezing is an option.
Serving Ideas. I find simple is best and all you really need is a cup of tea or coffee.
To Freeze.  Divide the jam drops up and put the into ziplock bags.  Lay flat in the freezer.  To defrost, remove from freezer and let them thaw naturally at room temperature.  Once thawed, eat within 24 hours.
Like what you see? Follow me on Facebook or Pinterest! Did you try a recipe? Tag me on Instagram: @mysugarfreekitchen, and leave a comment & star rating!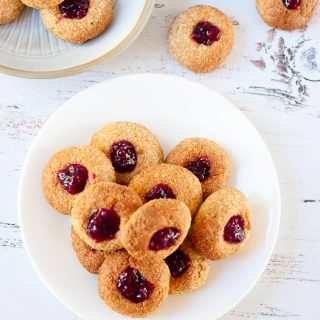 Coconut Jam Drops
Easy and fun to make, sugar free coconut jam drops made with spelt flour and delicious rich sugar free ripe raspberry jam. Less than 100 calories per serve!
Ingredients
3/4

cup

butter

melted

1/4

cup

Granualted Stevia

1

medium Egg

1

teaspoon

Vanilla bean paste

3/4

cup

Spelt flour (or Wholemeal Plain Flour)

1

teaspoon

Ground ginger

1

teaspoon

Ground Cinnamon

1/3

cup

Desicated coconut

3/4

cup

Sugar Free Raspberry Jam
Instructions
Preheat oven to 180 degrees C

Bake in fan forced oven at 180 degrees C/350 degrees F for 25 minutes

Grease 2 large baking trays with spray or additional butter

Divide the dough in half (one for each tray)

Roll the dough into balls and flatten slightly with the heel of your palm. Create a thumbprint with your thumb, or using a small spoon.

Bake in oven for 25 minutes.

Spoon jam into jam drops after they come out of the oven and they are still hot.

Let the jam drops cool to room temperature (I usually leave mine on a wire rack covered with a tea towel)

Store in an air tight container at room temperature for 3 to 4 days.
Notes
You could also try freezing these in ziplock bags for snacks on the go.
I use St Dalfour Sugar Free Jams.  IXL also have a sugar free jam range that is sweetened using stevia.
Nutrition
Serving:
1
Jam Drop
Calories:
96
kcal
Carbohydrates:
7
g
Protein:
1
g
Fat:
7
g
Saturated Fat:
5
g
Fiber:
2
g
Pin This Recipe for Later!
★ Did you make this recipe? Don't forget to give it a star rating below!