A Healthy Sugar Free Orange and Almond Cake!  Using no refined sugars in this recipe, and at 113 calories per serve and 5 grams of protein, you'll never eat ordinary orange and almond cake again!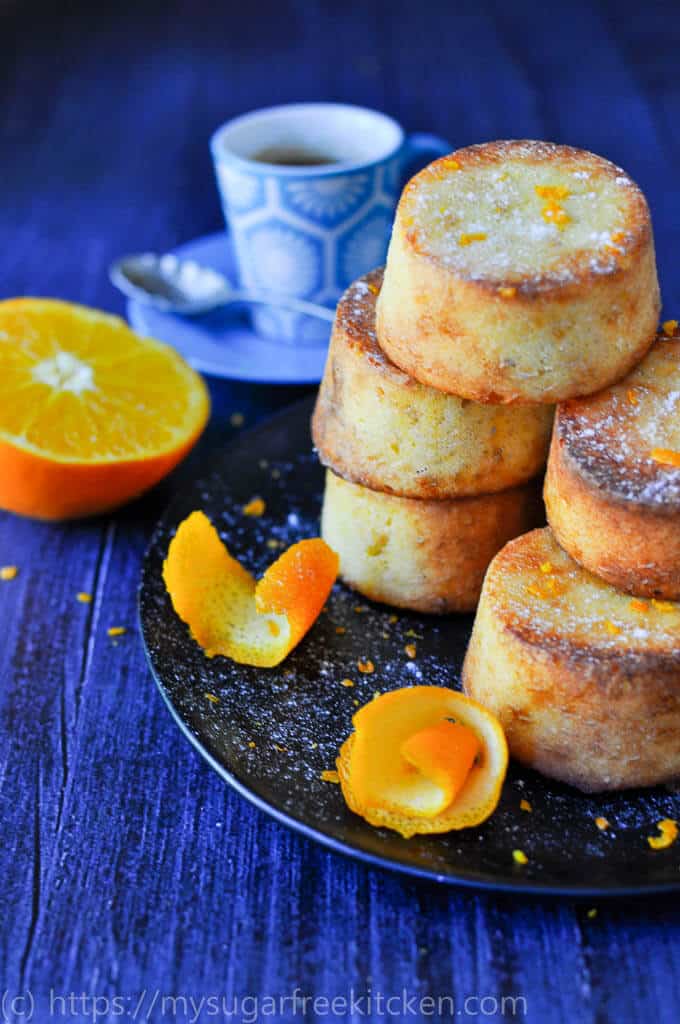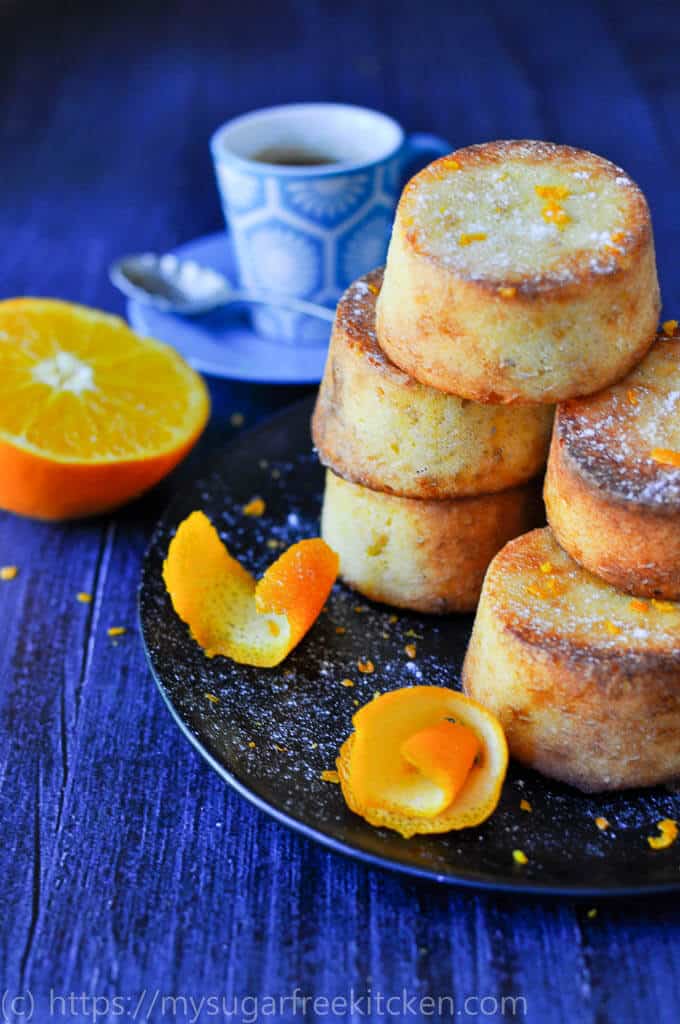 This cake is really moist, and surprisingly light and I like to make a batch of these and freeze them in Ziplock bags so I have healthy snacks on tap whenever I need them!  The little orange and almond cakes are a favourite of mine and when I make them I am always reminded of my sister.
We live about 6 hours apart and we only get to see each other a few times a year and when we do, we love to catch up over coffee and cake.  Which cake I hear you ask?  Orange and almond cake my friend.  Yep, it is the sisters cake of choice for coffee catch ups while we get all the latest happenings from each other lives and share what's new in our worlds.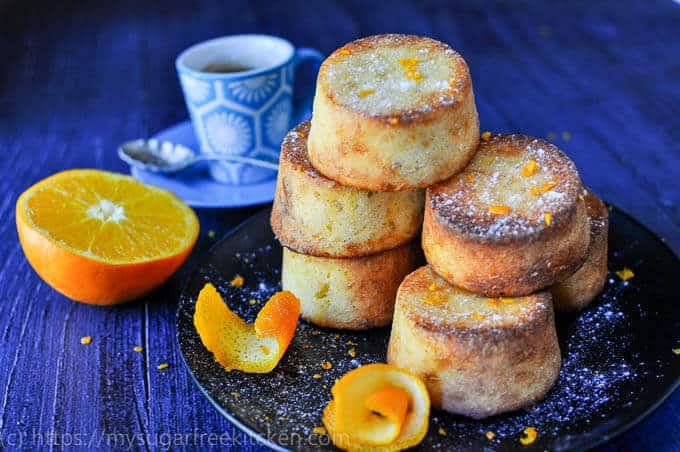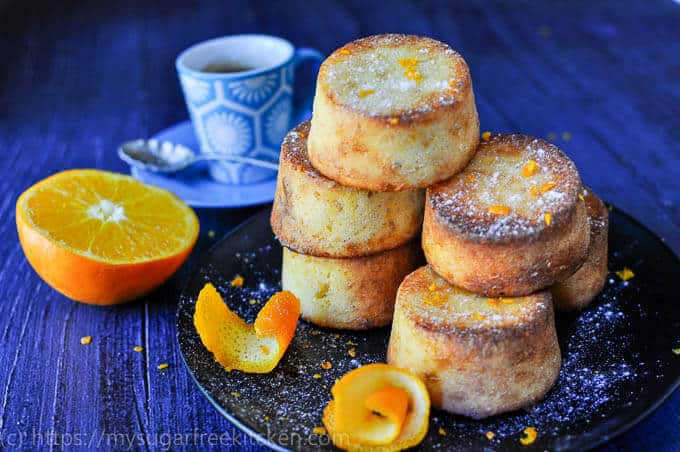 I'm not sure how we both come to have a "thing" for orange and almond cake.  But for me, when I think about it, it's the freshness and zestiness, the moist dense mouth feel you get when eating this classic favourite.  Not to mention its staying power.  I mean it just gets better with age – a day or two stored in an air tight container and everything is amplified, flavour, texture and aroma!
By the way, this is definitely NOT a hard cake to make.  I always thought it would be a lot of effort, so much so that I had never made one up until about 2 years ago.  Before that, chocolate cakes were always my thing.  Not so much anymore though.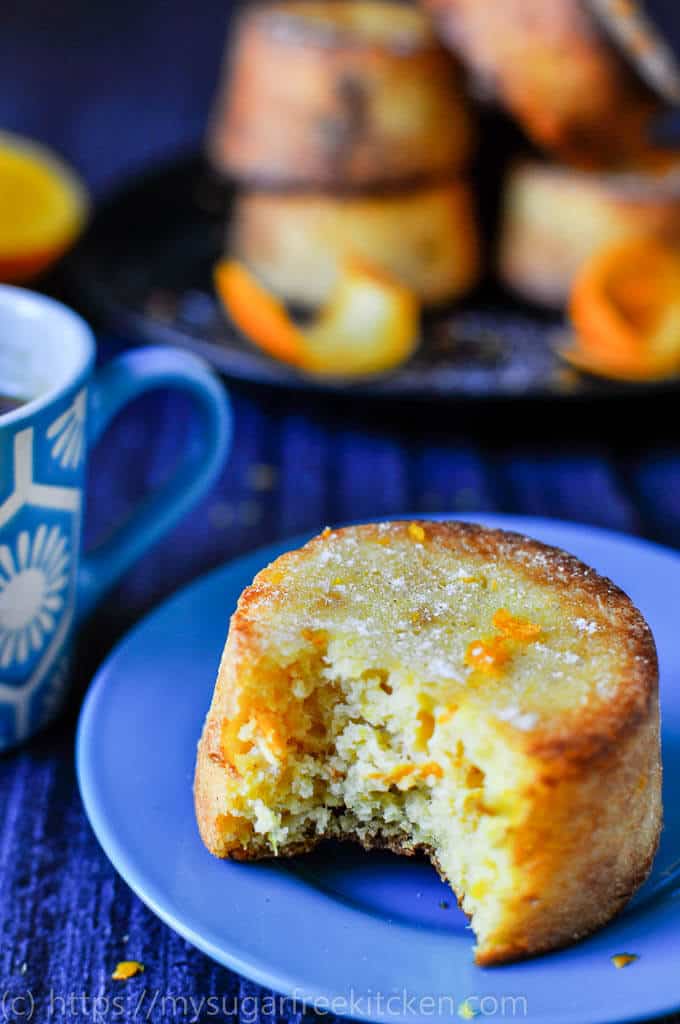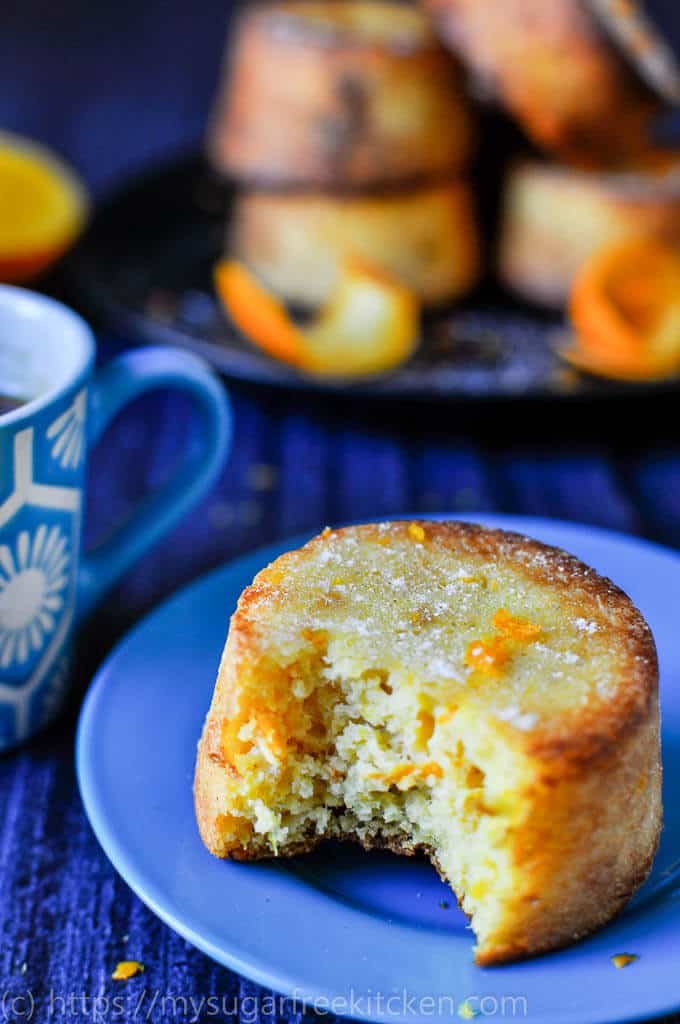 Sugar free orange and almond cake, for me is the perfect cake to have with coffee, preferably by the beach, overlooking the water, cool tunes playing in the background, hanging out with my 'lil sis, just being girls and talking about nothing in particular, just enjoying each other's company, and eating cake, did I mention the cake!?!?
Seriously, you should try making this at least once.  If you don't like it, you have my permission to go back to making chocolate cakes or to whip yourself up a sugar free banana muffin.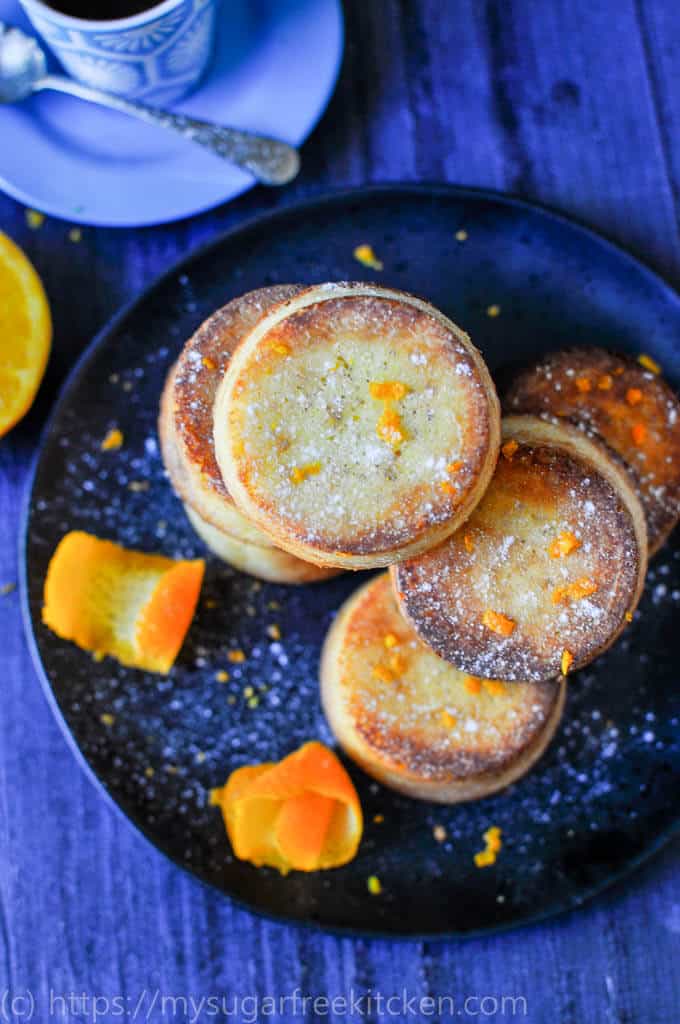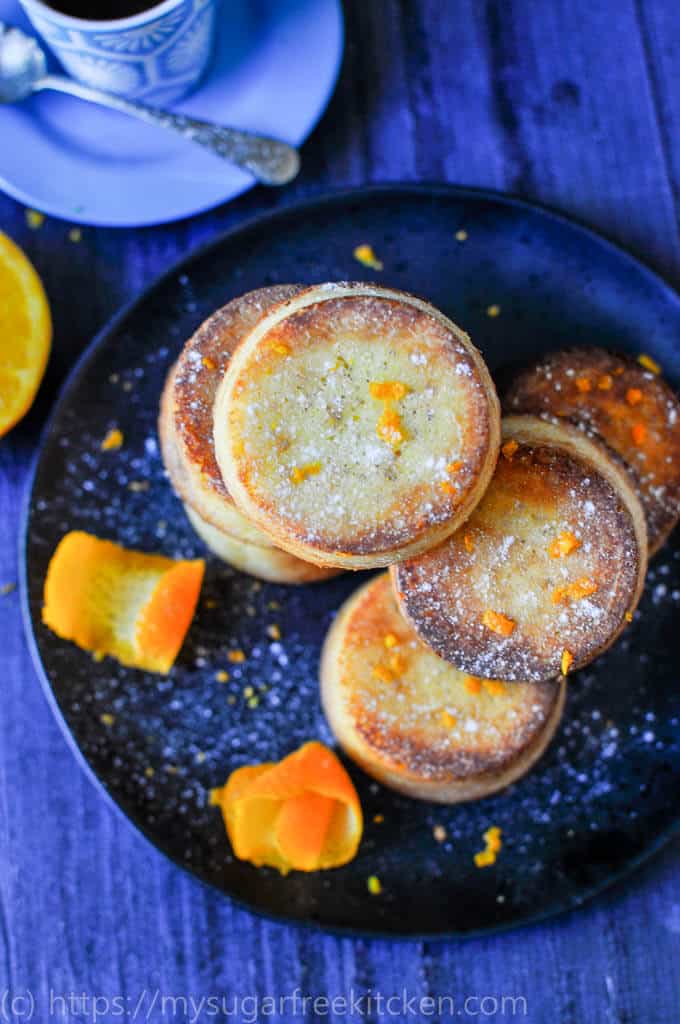 By the way, I used protein powder in this recipe to boost the fuller for longer factor.  If you're not into baking with protein powder, or you don't have any on hand, just substitute with additional oat or plain flour.
Like what you see? Follow me on Facebook or Pinterest! Did you try a recipe? Tag me on Instagram: @mysugarfreekitchen, and leave a comment & star rating!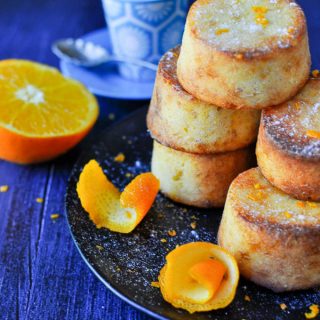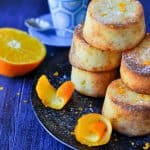 Print
Sugar Free Orange and Almond Cake
This is my version of a healthy, lightened up Orange and Almond cake. They are perfectly snack sized, sugar free, low carb, low fat, are sugar free and contain 5 grams of protein per serve keeping you fuller for longer.
Total Time
1
hour
9
minutes
Ingredients
1/4

cup

Almond meal

1/4

cup

Granualted Stevia

2

tablespoons

Oat Flour

(or plain wholemeal flour)

2

tablespoons

Whey Protein Powder

(or plain wholemeal flour)

1

teaspoon

cream of tartar

½

teaspoon

Bicarb

1/4

cup

Butter

1

medium Eggs

2

medium Orange
Instructions
Preheat oven to 170 degrees C

Preparing the oranges: Place one whole and unpeeled orange into a saucepan with cold water. Bring to the boil, then simmer for 45 to 50 minutes.

After 50 minutes, orange will be nice and soft. Remove it from the water and pat dry with paper towel, then cut it in half. You will only need one half which you'll need to cut into chunks.

Blitz the orange chunks in a blender until it becomes a pulp (I use a stick blender and it works fine)

In a medium bowl place all the dry ingredients and stir to combine. Then add the wet ingredients including the orange pulp.

Using a zester, zester the second orange into the bowl, ensuring not to get any of the white bits into the mix as they are bitter

Stir everything together until its all combined

Spoon the mixture evenly across into a 12 hole muffin silicon muffin tray (using 7 of the muffin spaces) and bake in the oven at 170 degrees C for 22 minutes.

Let cakes cool slightly before removing and placing on a wire rack to completely cool down.

10. Its best to store these cakes in an airtight container and they will last for about 5 days getting more moist as the days go on.
Notes
Additional Oat flour can be used in place of protein powder. Alternatively if you don't have either oat flour or protein powder, you can use plain flour to replace both.
Cream of tartar is a leavening agent that when used with bicarb soda allows the cake to rise, giving it that soft fluffy texture. Cream of tartar is available in the baking aisle of supermarkets, normally where the flours are.
Store these cakes in ziplock bags in the freezer for upto 1 month
Nutrition
Calories:
113
kcal
(6%)
|
Carbohydrates:
8
g
(3%)
|
Protein:
5
g
(10%)
|
Fat:
7
g
(11%)
|
Saturated Fat:
3
g
(19%)
|
Fiber:
2
g
(8%)
|
Sugar:
4
g
(4%)
★ Did you make this recipe? Don't forget to give it a star rating below!
If you're looking for other handy snack time ideas that are healthy, free from refined sugar and generally taste delicious, then check these out:  Vanilla, Almond and Date Protein Cookies, and Banana and Chia Pikelets.
If you need something with a decidedly chocolate hit, try this one:  Cashew Coconut Chocolate Cups