Who doesn't love a Gluten Free Mud Cake that is deliciously moist, wickedly rich, covered in soft luscious cream cheese chocolate frosting covered with fresh plump juicy raspberries. I do! And that is exactly why I made this cake for my birthday last week. It's free from wheat, refined sugars and is low carb, like these super simple 5 ingredient Chewy Amaretti Biscuits.
This is one of those luxurious cakes that you never get sick of. Mostly because of its simplicity, but also because it's a chocolate cake and most people I know love a good chocolate cake pretty any time of the year, not just special occasions.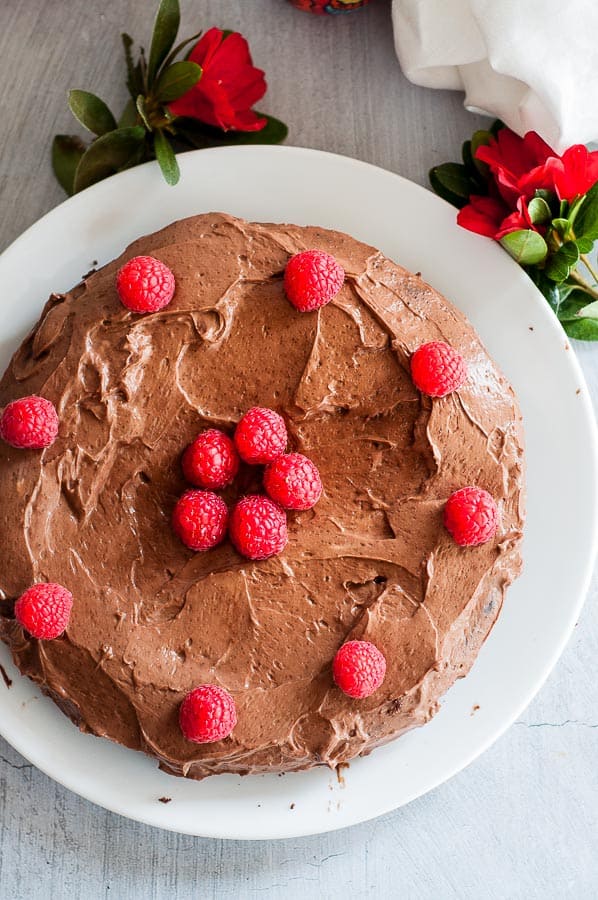 How Is A Gluten Free Mud Cake Different?
One of the key differences with a gluten free cake is the absence of flour, with almond meal often taking its place. Another difference between traditional cakes that use flour and this gluten free cake is that there is no rising agent added. That is, no bicarb soda, baking powder or cream of tartar.
As a result, this cake is dense and richly chocolate, but it is still very light and thanks to the almond meal, it is much higher in protein than a regular cake is. All this means is that you need to eat less of it and you'll be full, but definitely satisfied. Sounds like a winner to me.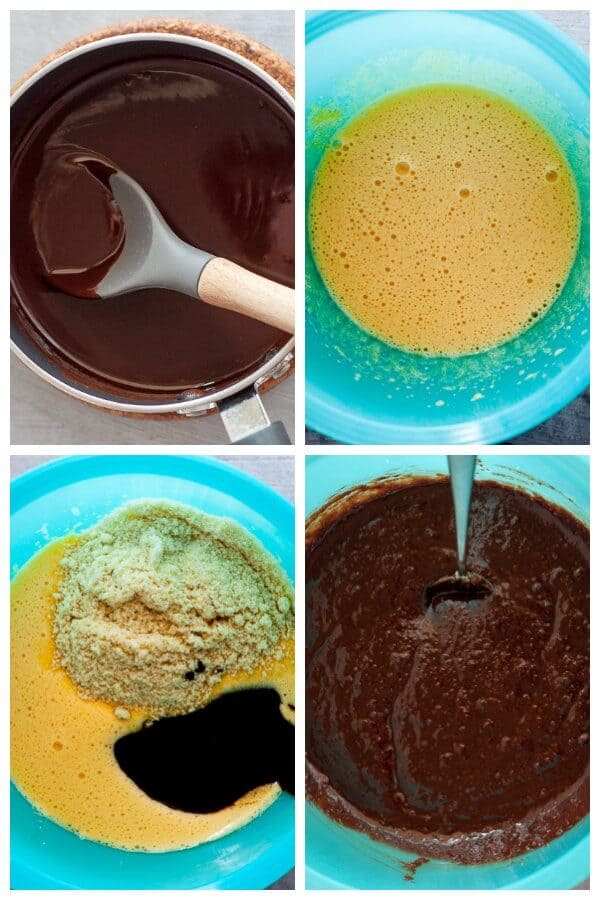 The Best Chocolate for a Sugar Free Mud Cake...
Use the best quality dark chocolate you can find. My preference is to use a 70% Dark Chocolate or I'll sometimes use a Sugar Free Dark Chocolate, however that often requires a trip to the Health Food Store, whereas I can buy the 70% Dark Chocolate one from the supermarket when I do my regular shop. Using a really good quality chocolate makes a big difference to the end product.
Love Chocolate Sweet Stuff? Check these out >>>> Healthy Bounty Bars, Flourless Chocolate Cake with Strawberry Frosting, Chilli Chocolate Cheesecake (I make this for Christmas every year), and this Jaffa Cheesecake (I made this for my sister's birthday this year)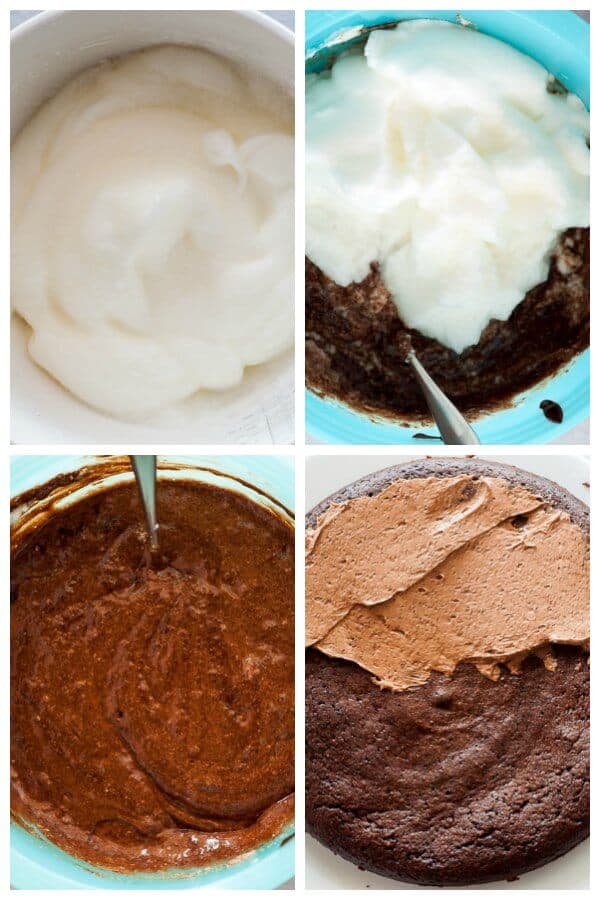 Can you Substitute the Chocolate for Cocoa Powder?
No, I would not substitute the chocolate for cocoa powder in this Gluten Free Chocolate Cake. You would not get the same level of richness, and you'd end up with a light brown cake instead of a deep dark chocolate one. And, importantly, the amount of cocoa powder that you would need to substitute would dry out the cake too much and make it not very pleasant to eat.
TIP: One of the best ways to enjoy this cake is with fresh raspberries as the berry tartness cuts through the rich chocolate to balance it out. And because I just like to add fruits to my baking wherever I can.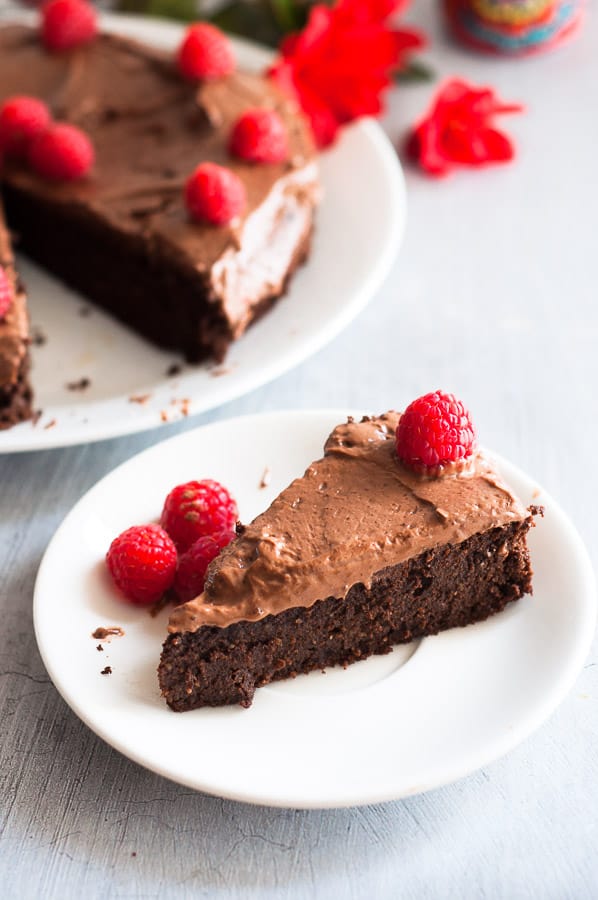 This Gluten Free Chocolate Mud Cake Recipe Needs 5 Eggs
When you make this sugar free mud cake recipe, it really is a must to separate the eggs into whites and yolks. The yolks helps to bind and add creaminess.
The whites are beaten with an electric mixer to form little peaks which creates lots of air through the whites and when this is added to the cake batter it adds air and lightness which is important because there are no raising agents and also helps to loosen up the cake.
Some of my other Chocolate Cakes: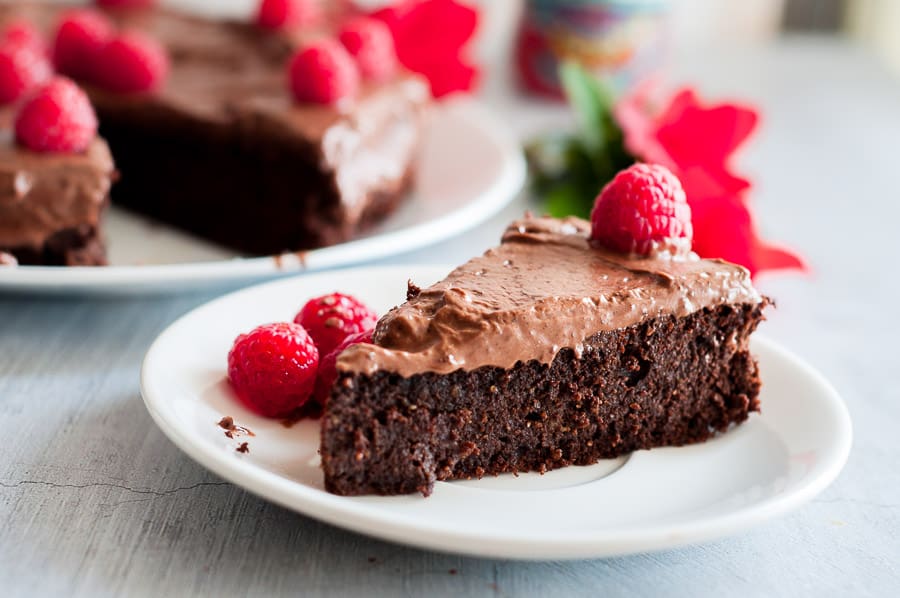 One of the great things about this sugar free mud cake is that it is low carb (because almond meal is used instead of flour), and it is higher in protein than regular store bought cakes. The high protein content comes from not only the almond meal, but also the 5 eggs that go into this recipe. You really will only need one slice to fill you up with this cake!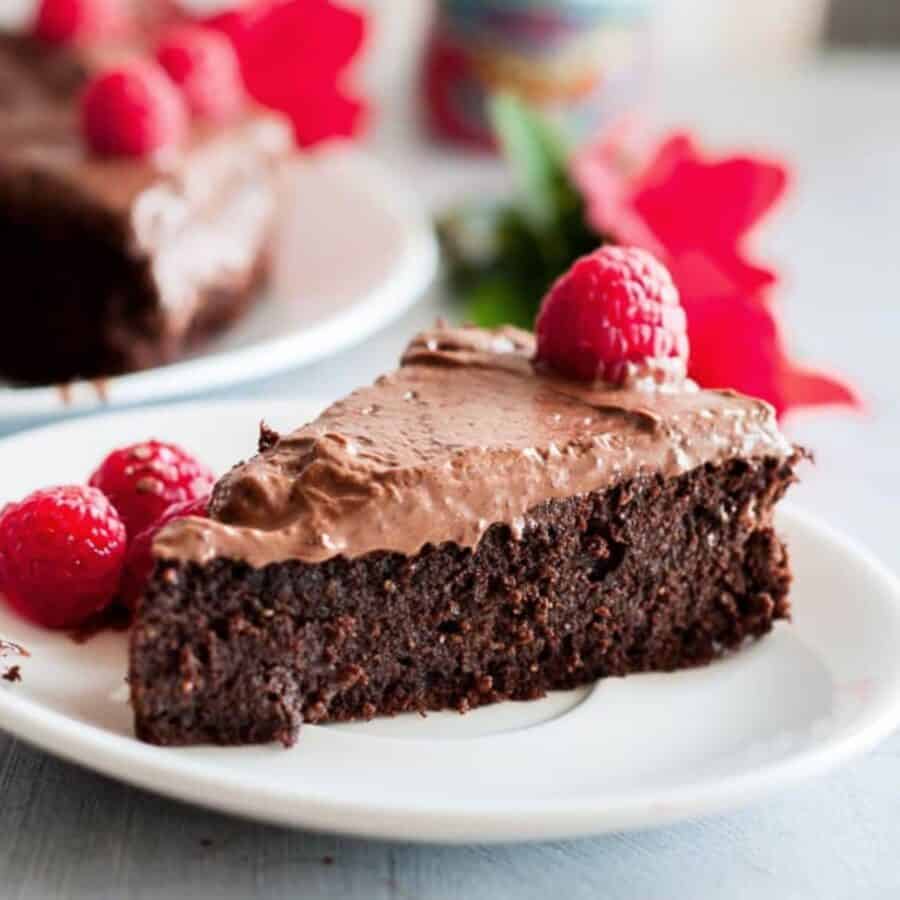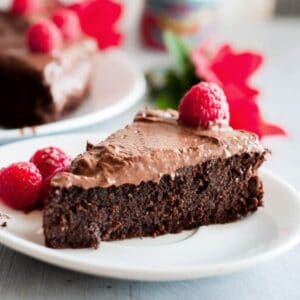 Gluten Free Mud Cake
Delicious Gluten Free Mud Cake with real chocolate that is low carb and free from refined sugars. This is a light, filling, rich and decadent dessert perfect for special occasions.
Ingredients
Mud Cake
200

grams/7 ounces sugar free chocolate or 70% Dark Chocolate

⅔

cup

Unsalted Butter at room temperature

1

teaspoon

finely grated Orange zest

1

tablespoon

instant coffee

-

mixed with boiling water, or Espresso

½

teaspoon

Vanilla Bean Paste

5

large eggs

-

separated (yolks in one bowl, whites in another)

⅓

cup

Granulated stevia/sweetener

⅔

cup

Almond Meal
Optional – Chocolate Frosting
¼

cup

Unsweetened Cocoa Powder

1

cup

Light Cream Cheese

1

teaspoon

Granulated stevia/sweetener
Optional – Decoration
2

tablespoons

granulated peanuts

2

tablespoons

orange zest
Instructions
Chocolate Cake
Preheat oven to 160 degrees C fan forced (180 non fan forced)/320 degrees F fan forced (360 degrees F non fan forced)

Use a 20 cm springform tin, and lightly spray with oil, then line the base and sides with baking paper.

Melt the chocolate, butter, and orange zest in a saucepan over a low heat, until the chocolate is melted and silky, then remove from stove and set aside to cool. Stir in the coffee and vanilla.

With an electric beater, beat the egg yolks and granulated stevia/sweetener until it gets thick and creamy like.

Delicately fold in the chocolate mixture from the saucepan using a big spoon

Delicately fold in the almond meal to the chocolate mixture.

Clean and dry electric beaters, then beat the egg whites until they are white and foamy. Delicately fold in half the egg whites at a time to the chocolate mixture.

Pour in the chocolate batter into the spring foam tin and bake in preheated oven for 50 minutes. Once timer has gone off, let cake cool in the pan for 15 to 20 minutes before removing.
Chocolate Frosting
Using electric beaters, mix all ingredients together in a bowl until thoroughly combined.

Use a spoon to spread over the cake once it is removed from tin.

Decorate with granulated peanuts/finely grated orange zest.
Notes
Store cake in an air tight container in the fridge for upto 4 days.
Nutrition
Calories:
290
kcal
Carbohydrates:
12
g
Protein:
7
g
Fat:
23
g
Saturated Fat:
13
g
Fiber:
1
g
Sugar:
9
g
Note: Sugars contained in this recipe are from naturally occurring sugars in fruits, vegetables or other natural sweeteners.
Looking To Cut Out Sugar? Get the FREE Healthy Food Swaps Checklist Pack!
Get your FREE Healthy Food Swaps Checklists with over 65 Healthy Food Alternatives to Help you Ditch The Sugar Without Feeling Deprived.