This sugar free Jaffa Cheesecake is smooth, rich and creamy with subtle chocolate and orange flavours combine together for a simple, easy and crowd pleasing dessert that looks like you've spent ages in the kitchen making it, but really haven't.  It's naturally sweetened with stevia and fresh orange juice, and decadent cocoa powder for the ultimate cheesecake experience without the calories.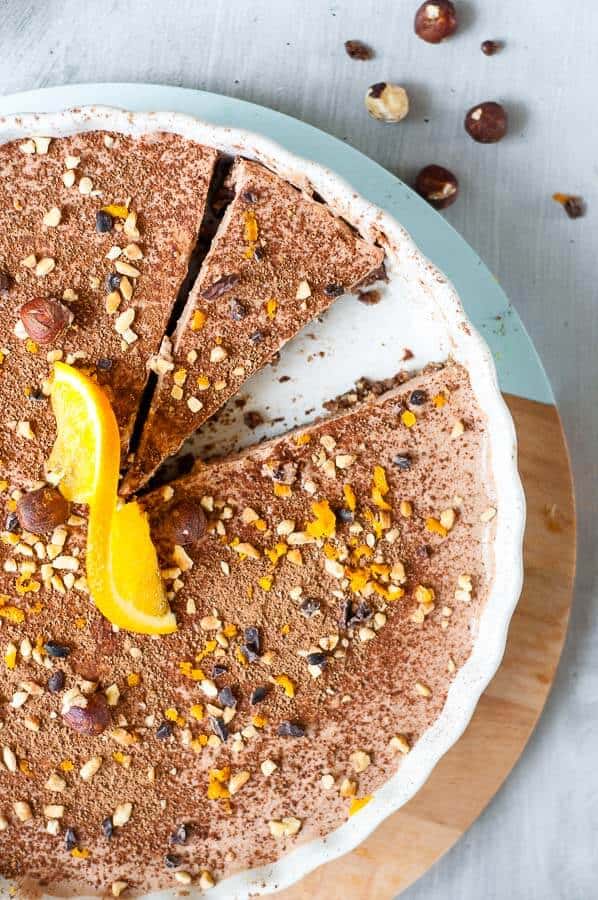 What is a Jaffa Cheesecake?
A Jaffa Cheesecake is predominantly a chocolate cheesecake with a mild orange flavour, and a chocolate base.  If you're an Aussie of a certain vintage, you'd remember eating the packets of Allens Jaffa Chocolates with the red shell coating.
Or perhaps you've indulged in a Terry's Chocolate Orange.  You know, the ones with the wild orange flavour?  Jaffa Cheesecake has some similarities.  It's one part nutty chocolate textured base, one part thick, rich and creamy chocolate filling and one part zingy orange.
All of this comes together into a slice that is firm, yet lush, flavourful and decidedly moreish.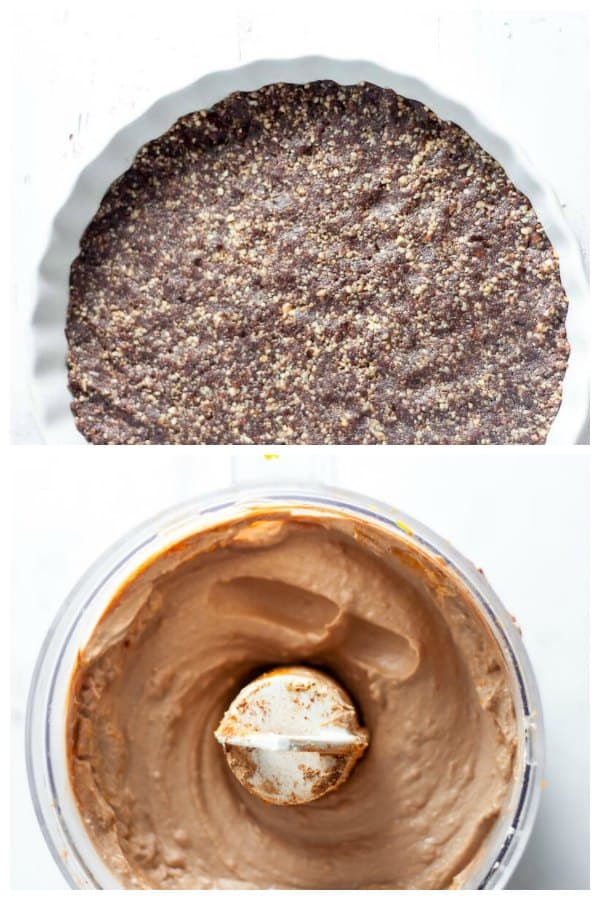 Are you a cheesecake fan?  Then check these out  —>  Chilli Chocolate Cheesecake, Mini Lime Cheesecakes, Mini Lemon Cheesecakes and this recipe based on my mum's classic Fruit Salad Tart, which is almost a cheesecake!
How Long Should a Cheesecake be Refrigerated Before Eating?
Ideally you should make the cheesecake the day before if you can.  But if this is not possible, I'd say a minimum of 5 to 6 hours chill time before eating for a no bake cheesecake.  If it's a baked cheesecake, then I'd suggest a couple of hours longer at minimum.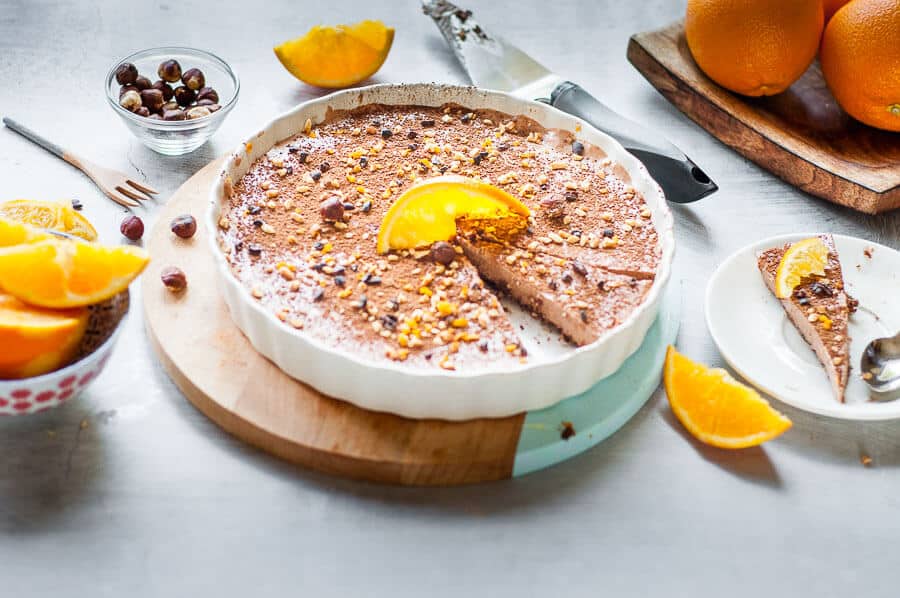 How To Set A No Bake Cheesecake?
The secret ingredient I use is powered gelatine.  However there are other alternative if you are opposed to using gelatine, such as agar agar (available from health food shops).  Powdered gelatine is easy to work with and is readily available in most supermarkets.  It's also important to get the ratio of water to gelatine power correct for the amount of cheesecake filling you have.
It's better to follow the instructions when making recipes with gelatine rather than "winging it" so that you end up with a consistency and texture that you were expecting.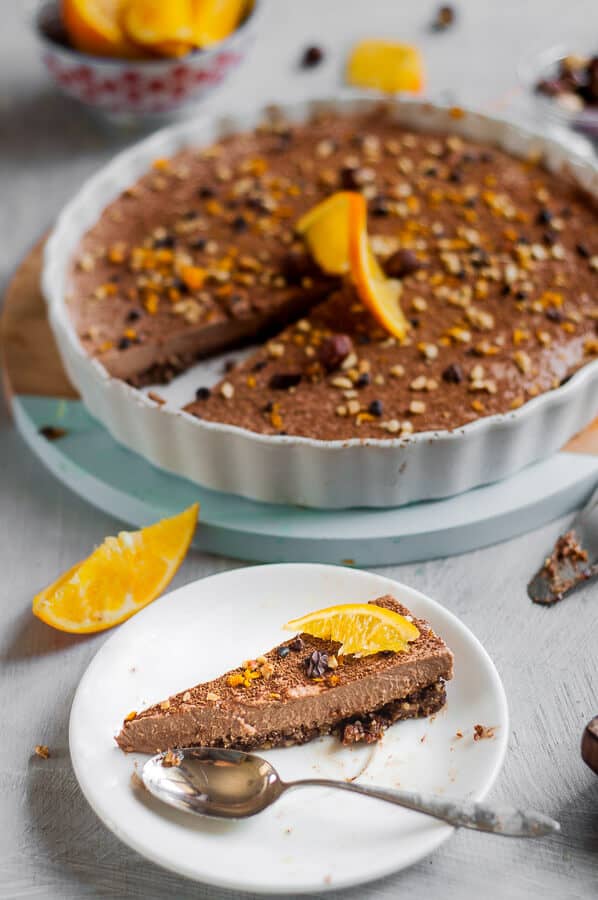 Tips For Making A Jaffa Cheesecake That Will Impress
A food processor/high speed blender will make it much easier to make a cheesecake as you can get the consistency of the base nice and even, and the filling will come together better and more easily.
Greasing the bottom of the tart dish with butter so that when you cut a slice, the base comes off all in one piece
Taste the cheesecake filling before spooning it into the tart dish. If it needs more sweetness, add more stevia.  If it needs more orange, and more fresh OJ.  Always blitz again if adding more flavours.  Once you have it just right, make sure you've scraped all the filling from the sides of the food processor and mixed that in before spooning it out into the dish.
When refrigerating, cover with foil or plastic wrap to protect the top. An even better idea is to use a container with a lid to refrigerate.
Use fresh orange juice, not one from a bottle that has who knows what other additives. Fresh really is better.  Make sure you use juicer that filters out the pips and seeds as you don't want these in your cheesecake.  One of those little hand juicers you can pick up for a few dollars at the supermarket is ideal.

My Inspiration For This Cheesecake
My inspiration to make this cheesecake was my sister's 40th birthday.  She came for a visit a couple of days after the big 4.0. and I wanted to make a special dinner and dessert to enjoy with a few glasses of our favourite wine.
Also my sister and I used to share a packet of Jaffa lollies when we went to the movies, so I had a sneaking suspicions she might like it.  Only hitch though, including actual Jaffa's in my cheesecake was off the table.  It had to be a sugar free creation, with a taste combination that brought back those childhood memories.
And I think it might have been a winner.  After all, it did disappear within three days.
Like what you see? Follow me on Facebook or Pinterest! Did you try a recipe? Tag me on Instagram: @mysugarfreekitchen, and leave a comment & star rating!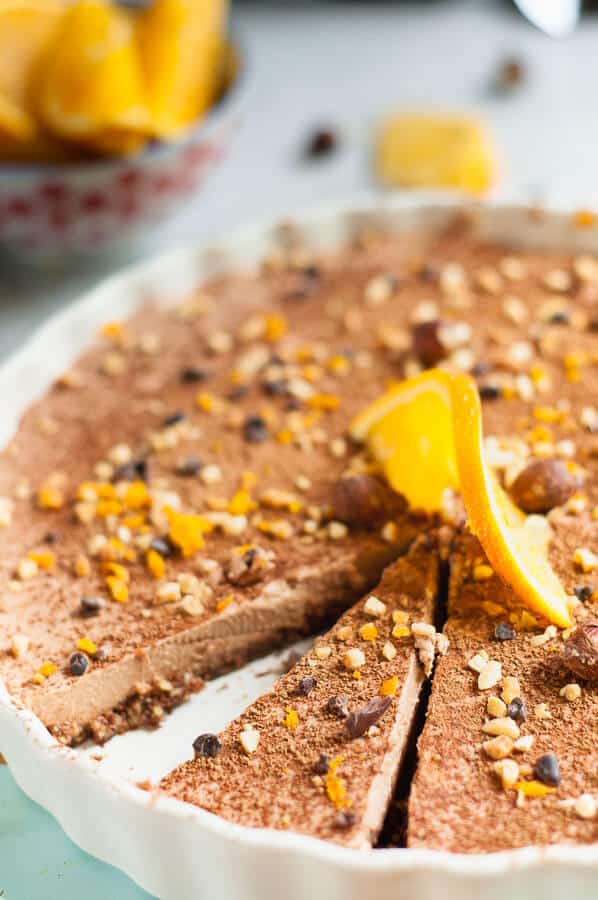 Print
Sugar Free Jaffa Cheesecake
This cheesecake is smooth, rich and creamy, naturally sweetened with stevia and fresh orange juice, and decadent cocoa powder for the ultimate cheesecake experience without the calories.
Refrigeration Time
6
hours
Ingredients
Base
½

cup

/ 5.5 ounces dates

blanched on hot water

1

cup

walnuts

packed in

2

tablespoons

Cocoa Powder

unsweetened
Filling
250

grams

/ 8.8 ounces Extra Light Cream Cheese

softened at room temp

250

grams

/ 8.8 ounces Smooth Ricotta

¼

cup

Granulated stevia

2

tablespoons

Cocoa Powder

unsweetened

½

cup

Orange juice

Freshly squeezed

Zest of 1 medium Orange

2

teaspoons

Powdered Gelatine

¼

cup

Boiling water
Optional
2

teaspoons

Sugar free/Low Sugar orange Jelly Crystals
Instructions
Prep: Get cream cheese out of fridge and soften for around 10 mins at room temperature

Place dates into a bowl of boiled water for 5 minutes to soften them up

Base:

Add all base ingredients into a

food processor

and blitz to combine

Remove from

food processor

and press into a round tart dish (I used a dish 25cm in diameter). Set aside, either on the bench covered or in the fridge for a couple of minutes while you make the filling.

Filling:

To a clean

food processor

add the cream cheese, ricotta, stevia, cocoa powder, orange juice and zest. (plus optional jelly crystals if your're using them) Blitz to combine

Make the gelatine mix in a jug. Add the boiling water first, then the powder, stir quickly in with a fork to combine. Add the gelatine mixture to the cheesecake filling in the

food processor

and blitz again for another couple of minutes, making sure to scrape down the sides to make sure its all mixed in.

Assembly: pour the filling into the tart base, smoothing out with the back of a large spoon.

Cover with foil and refrigerate overnight or for at least 8 hours.

Serving Idea: add some granulated peanuts scattered over the top, a dusting of cocoa powder, and some more orange zest. Maybe add some whipped cream or double cream as well.
Notes
Store cheesecake in the fridge in an air tight container for upto 4 days.
Nutrition information does not include optional nuts on top, or cream
Sugar content in this recipe is from the naturally occurring sugars in the dates, used in the base, and the fresh orange juice in the filling
Nutrition
Calories:
190
kcal
|
Carbohydrates:
19
g
|
Protein:
7
g
|
Fat:
10
g
|
Saturated Fat:
3
g
|
Fiber:
3
g
|
Sugar:
14
g
★ Did you make this recipe? Don't forget to give it a star rating below!