I love the taste of rich juicy lemon garlic prawns with a little bit of saltiness and tang together with good quality wholemeal pasta. A wholesome dish that is light, filling and perfect for a quick weeknight dinner in less than 30 minutes.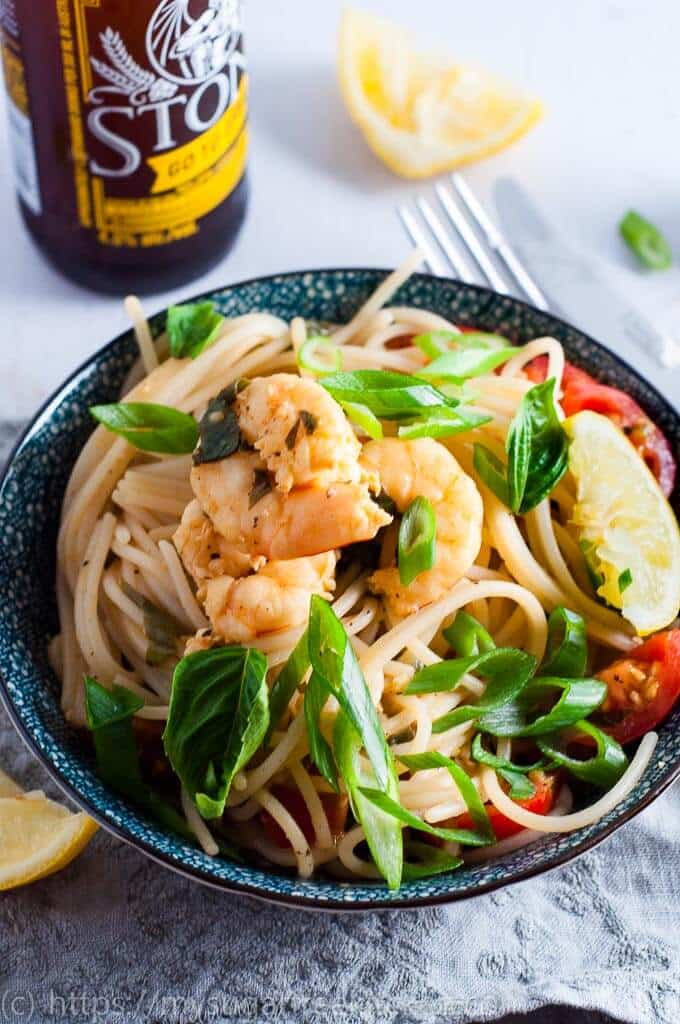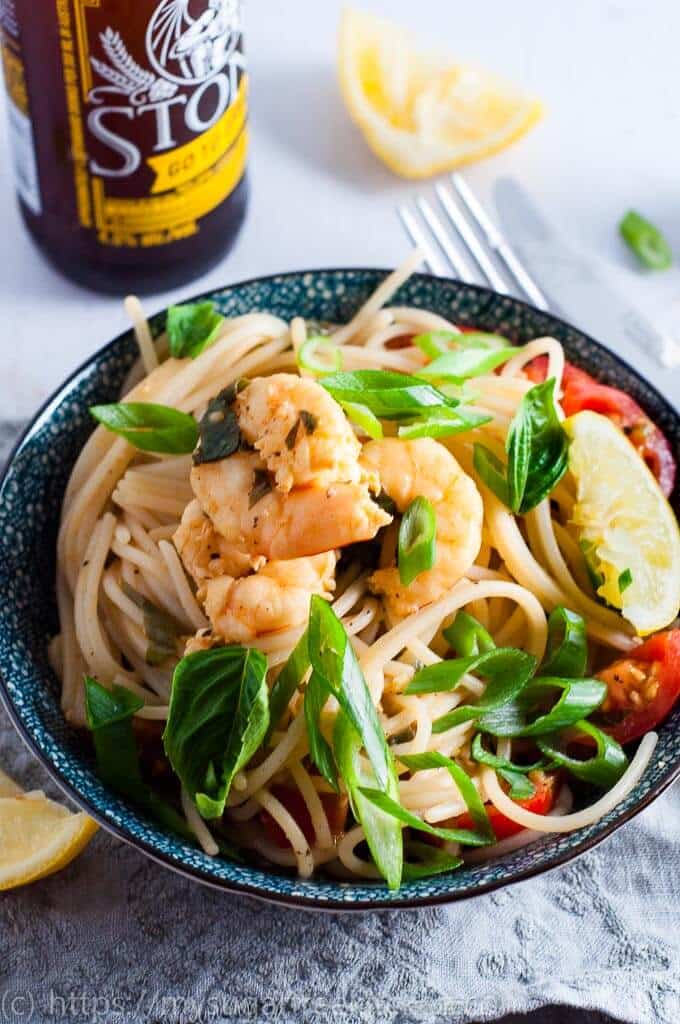 Whilst I used fresh green prawns for this recipe, it absolutely works equally well with frozen green prawns. You should be able to get these from most big supermarkets. They come with the heads off, and tails on.
All you need to do is defrost them first to get the moisture out and the you can cook them with the tails on.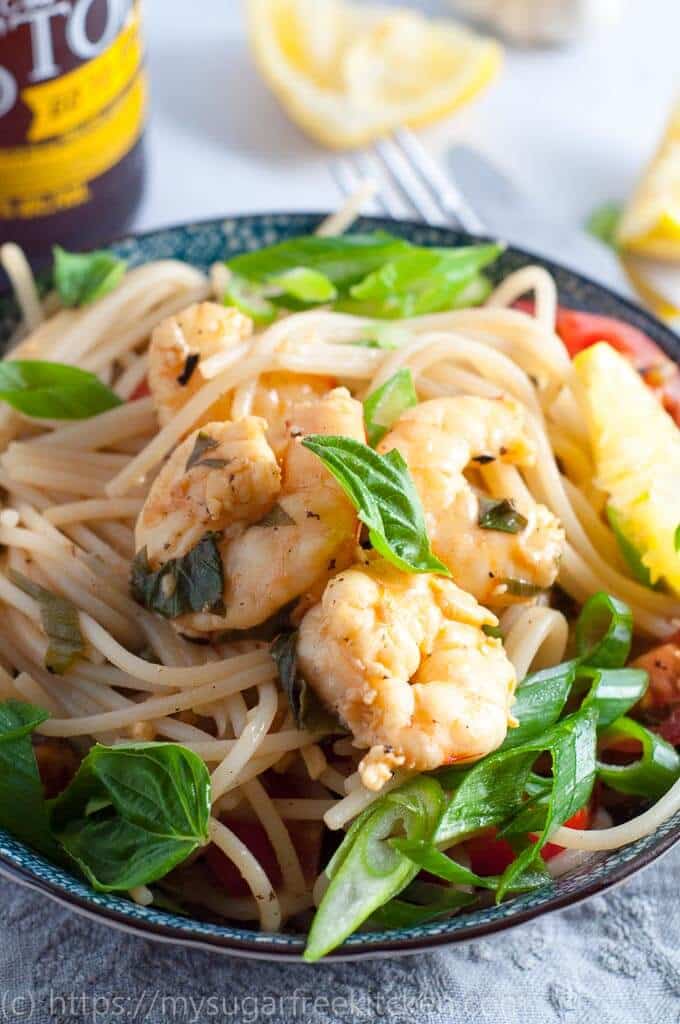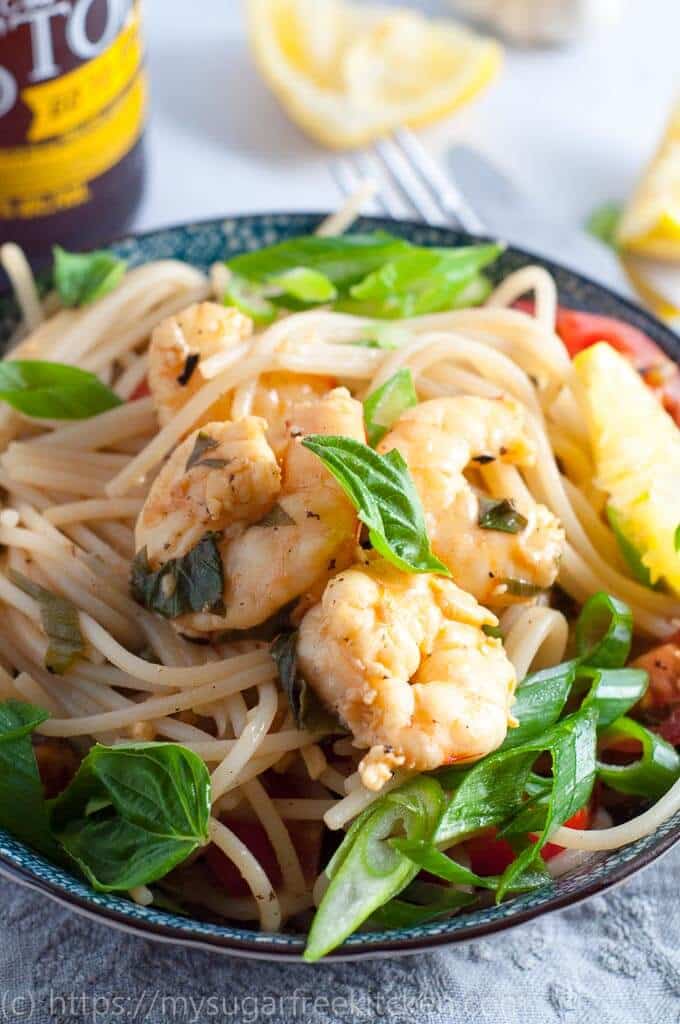 The difference between fresh and frozen prawns isn't even noticeable to me. And lets face it, the convenience of having something you can pull from the freezer that you might of bought a few weeks ago, is well, convenient.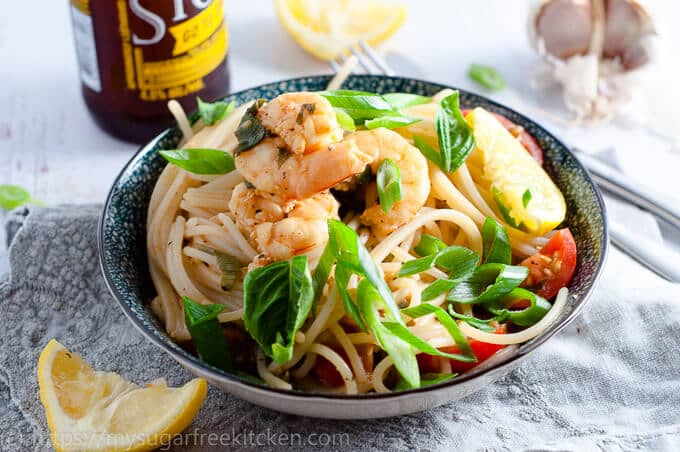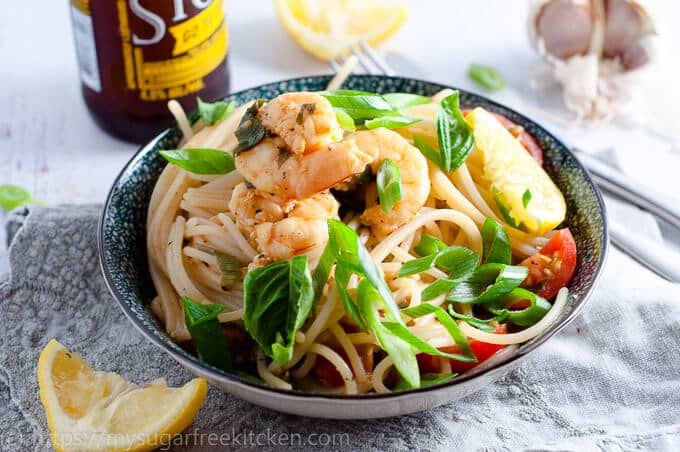 This is one of those light dishes, like my Salt and Pepper Squid Salad and incredibly moreish like my Garlic Prawn and Pesto Pizza that won't weigh you down. Its satisfying, full of flavour and you're not going to have to spend heaps of time in the kitchen, or have 15 different things to wash up!
These are the recipes I like.
Minimal. Without a lot of fuss, but with lots of flavour. A dish you can look forward to after putting in a full days work. Its like your reward.
Given that I am a serious fan of seafood, especially living right by the beach, I try to include a prawn dish in my diet each week. They are so easy and quick to cook with and healthy. 100 grams of prawns contains about 25 grams of protein. This is similar to the same amount of chicken or beef.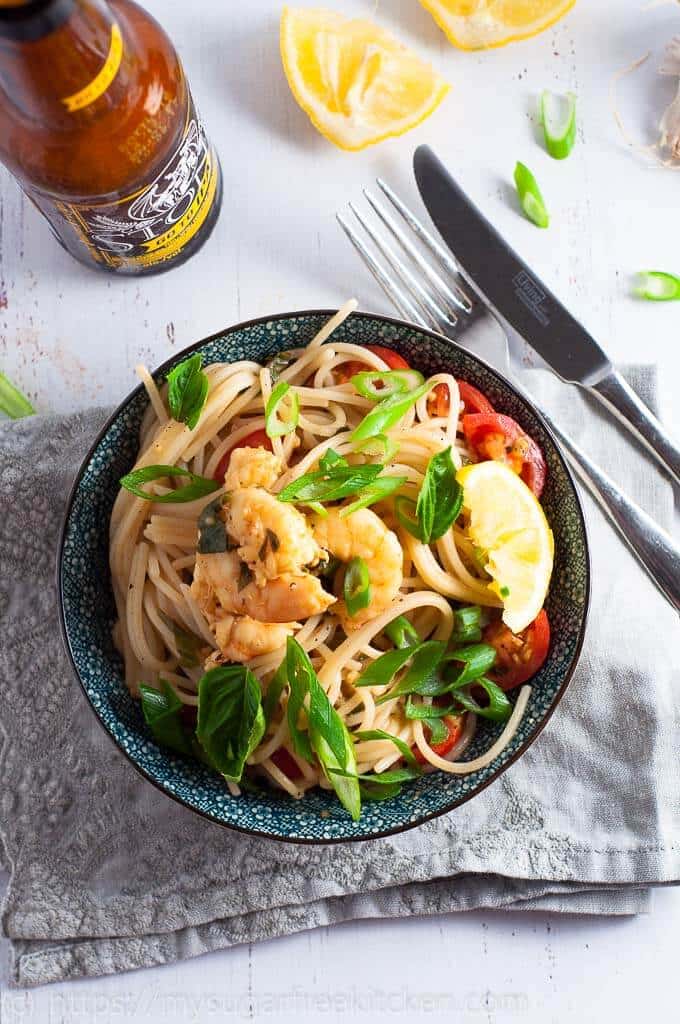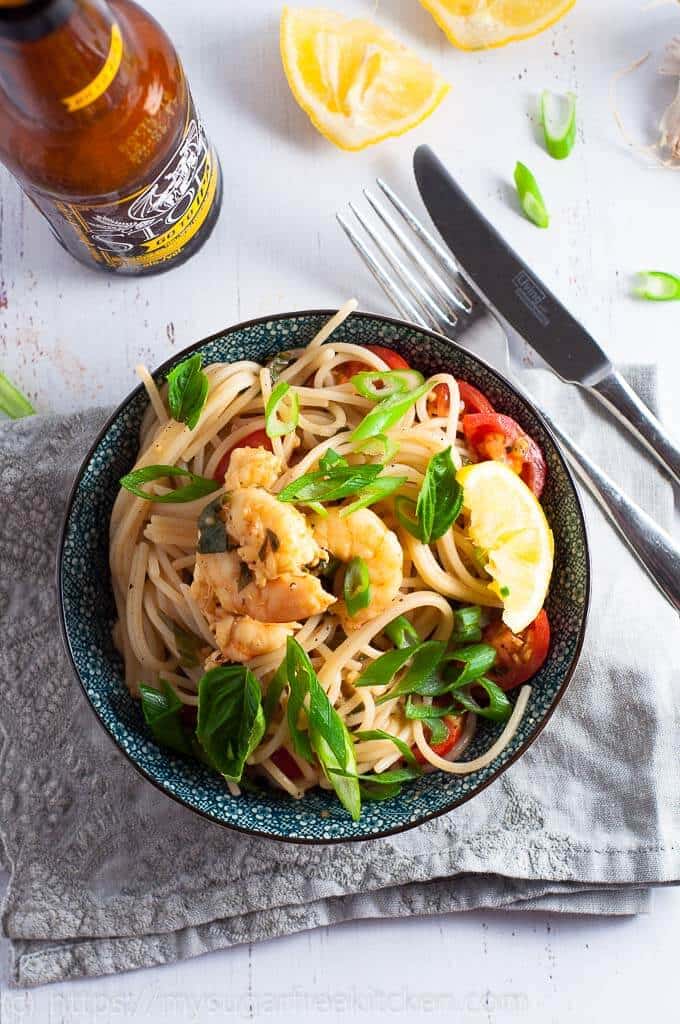 TIP: Instead of putting prawn scraps in the kitchen bin and having everything in the house then smell of prawn, wrap it up in newspaper and tie tightly in a plastic bag and put into the freezer until bin day. This way, you'll avoid any unpleasant, shall we say…aromas!
Other quick midweek seafood dinner recipes you might have missed are this bold One Pot Spicy Moroccan Fish Stew – so easy to make, and no weird ingredients. I make it often and it never disappoints.
You might also like this Tuna Mornay Pasta Bake – for when all you have in the cupboard is a tin of tuna and bag of pasta, and that little packet of cream of mushroom packet soup that you bought six months ago. This is the dish to make. Super easy comfort food!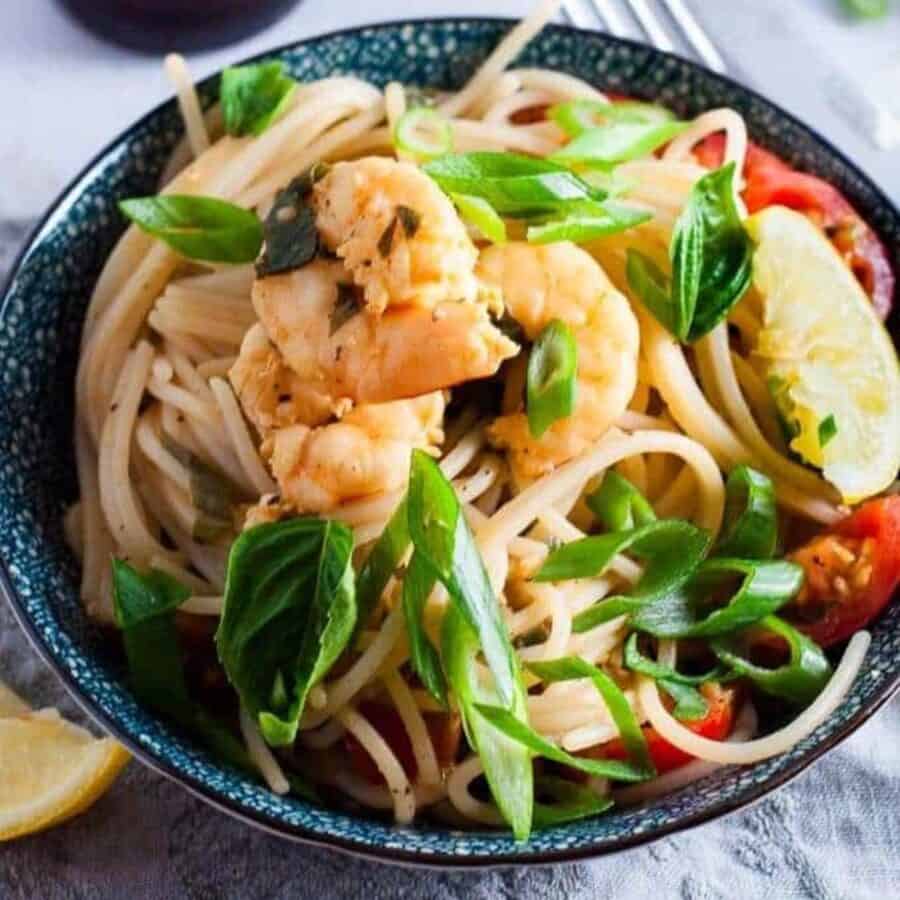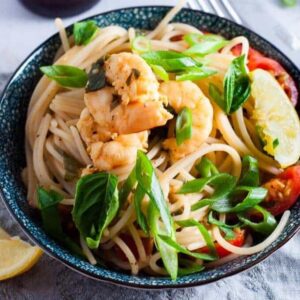 Lemon Garlic Prawns and Spaghetti Pasta
Rich juicy lemon and garlic prawns with a little bit of saltiness and tang together with good quality wholemeal pasta. A wholesome dish that is light, filling and perfect for a quick weeknight dinner in less than 30 minutes
Ingredients
400

grams

/b. 0.9 lUncooked Prawns

-

Fresh or Frozen

4

tablespoons

Crushed garlic

2

tablespoons

Lemon juice

2

tablespoons

Butter

2

tablespoons

Water

2

tablespoons

Dijon Mustard

1

tablespoon

soy sauce

2

tablespoons

Chopped Basil

8

Cherry tomatoes

-

quartered

200

grams

/ 7 oz. Spaghetti pasta
Instructions
Heat a bowl of water to boiling. Add the spaghetti pasta and cook to you your liking, usually about 10 minutes is what works for me.

Remove shells and devein prawns

In a bowl, place the garlic, lemon juice, melted butter, water, Dijon mustard, soy sauce, salt and pepper and mix with a whisk to combine

Pat dry prawns with a paper towel to remove moisture and add to a hot wok. Toss to cook, until the start to turn orange.

Once they are just cooked, add the garlic and lemon mix. Toss to combine.

Add the chopped basil at the last minute.

Add pasta to the wok and stir in along with the cherry tomatoes and fresh shallots

Plate up and serve with a slice of lemon.
Notes
When cooking the spaghetti, I like to break it in half before putting it into the water so that it cooks evenly and it makes it easier to eat.
You could also use frozen green prawns and thaw them in the microwave on low/med for a few minutes. Just make sure to drain the moisture before putting them in the wok.
You could either remove the tails or leave them on during the cooking process and remove them once the dish is plated up and you are eating it. It is really a matter of personal preference which way you go.
Nutrition
Serving:
1
serving
Calories:
580
kcal
Carbohydrates:
64
g
Protein:
50
g
Fat:
14
g
Saturated Fat:
3
g
Fiber:
12
g
Sugar:
4
g
Note: Sugars contained in this recipe are from naturally occurring sugars in fruits, vegetables or other natural sweeteners.
Looking To Cut Out Sugar? Get the FREE Healthy Food Swaps Checklist Pack!
Get your FREE Healthy Food Swaps Checklists with over 65 Healthy Food Alternatives to Help you Ditch The Sugar Without Feeling Deprived.