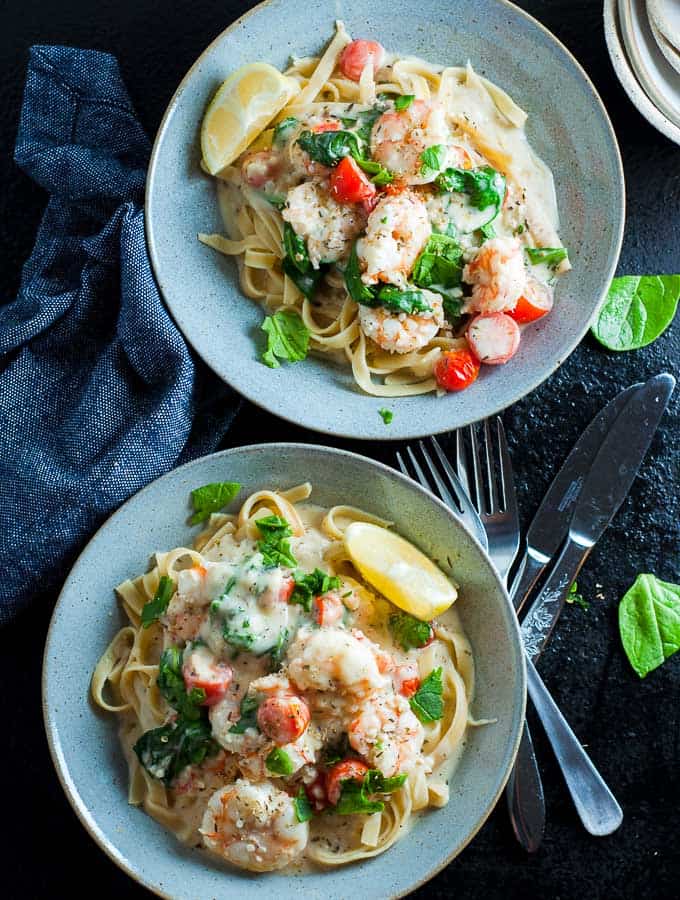 For me this Creamy Garlic Prawn Fettucine pasta dish is ultimate comfort food and must make Date Night deliciousness. Rich in garlic, aromatic spices, zingy lemon, and fresh, plump and juicy prawns, this is a dish you need to dig into whether its summer, winter or in between. It's light, packed with omega threes and so filling you won't need dessert, unless you really want to.
When I served this dish up to my husband, I was feeling pretty good about it. It was Saturday night - our date night - and this was a special meal I had prepared for the both of us. We were enjoying a glass of our favourite wine, had some music playing, the dog was at our feet (waiting for something to drop no doubt). It was the beginnings of a really good date night. Then I took my first mouthful. Oh my. It was the prawns, I bought them green.
What Are Green Prawns?
Green prawns are uncooked or raw prawns. Sometimes they "look" a bit green, indicating their uncookedness. Other times, they are a little on the orange side, yet they are still uncooked and raw.
When these green prawns are cooked their flesh changes colour from pale or translucent to become more vibrant and bright. You can typically buy green prawns from either the supermarket or seafood shop, just make sure if you're buying from the supermarket they haven't been frozen then thawed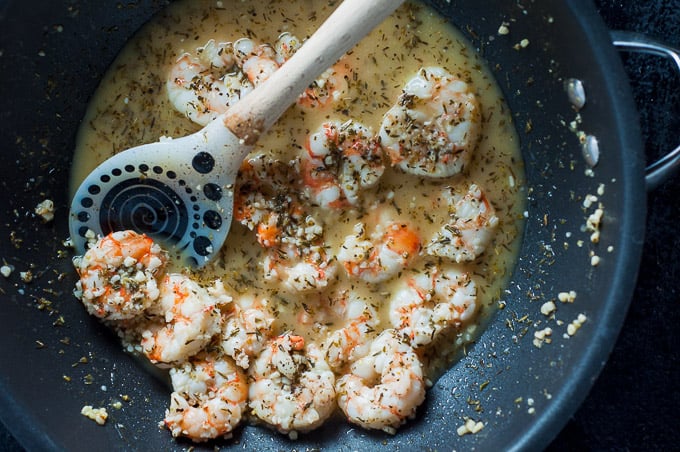 I'd made this dish before, and it had always been good. This time though, I had taken special care since it was our date night. Well, what turned out, was something that took my breath away.
My husband said if he's been served that dish in a restaurant he'd be pretty happy. Wow.
I don't think it was all down to my (sometimes flukey) skill though. What made this dish a real standout was the freshness of the prawns. I had been to the seafood shop hours earlier and yeah they cost a little more than getting them from my regular supermarket, but you really can't beat fresh prawns straight off the trawler down at the wharf.
The second thing about this dish is with the peeling and deveining of the prawns. Sure it can be tricky, dirty and kind of gross, but taking the time to prepare the hero ingredient will make a big difference.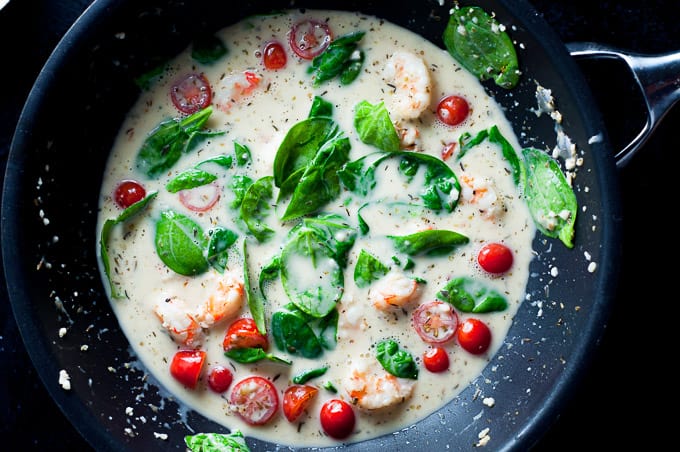 How To Devein Prawns
Put on a pair of disposable plastic gloves
Grab three bowls (one for the prawns with heads and tails), one for the heads/pooshoot when you remove them and the other bowl for the cleaned prawns (with tail left on)
Remove the head - Pick up a prawn, gently squeeze the head, tilt up, and pull.
Remove the Pooshoot – you could use a special tool (yes they do make special tools for this – I have one), or use a fork, or go freehand. Remove the outer shell, exposing the pooshoot and lift it up in one piece and put into bowl number 2, along with the head
Place prawn with tail into bowl number three.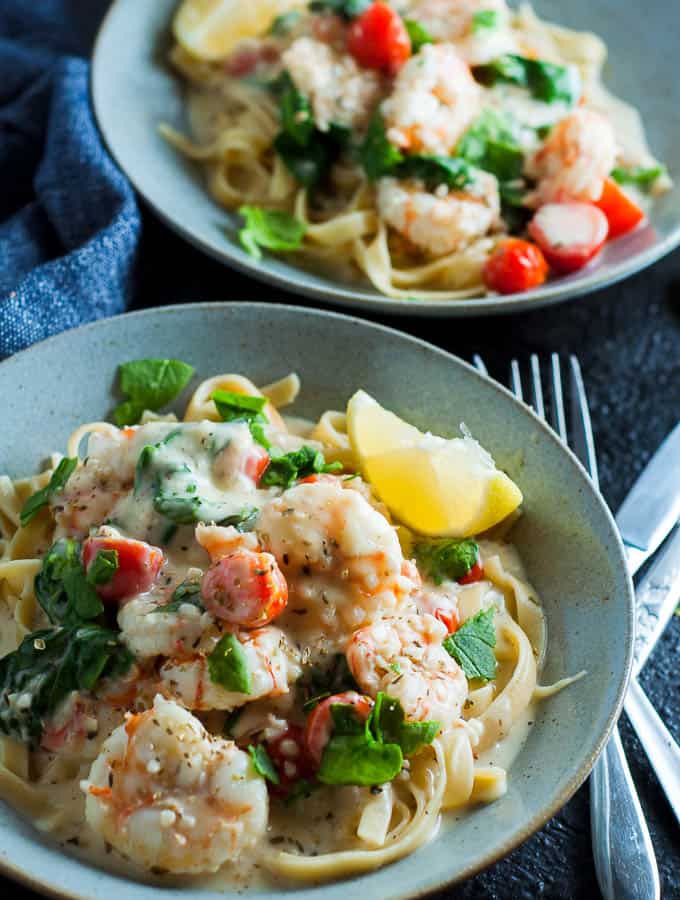 But, what if you don't have access to fresh prawns? Even in Australia on the Sunshine Coast there are people who still eat frozen seafood, some because they actually prefer it, and others because of cost. I get it. I would love to eat more seafood in our household, but it can be pricey.
I tend to justify it by eating it less, but only buying the premium stuff. If only I could come up with a way for my husband to catch me some prawns in the boat he is restoring. Somehow I don't think that is going to happen.
Love Prawns? I do they are one of my favourite seafoods to cook with. Have you seen this Lemon and Garlic Prawn Spaghetti, or my I don't want to share this with anyone Garlic Prawn Pizza, or this Ultimate Creamy Seafood Chowder.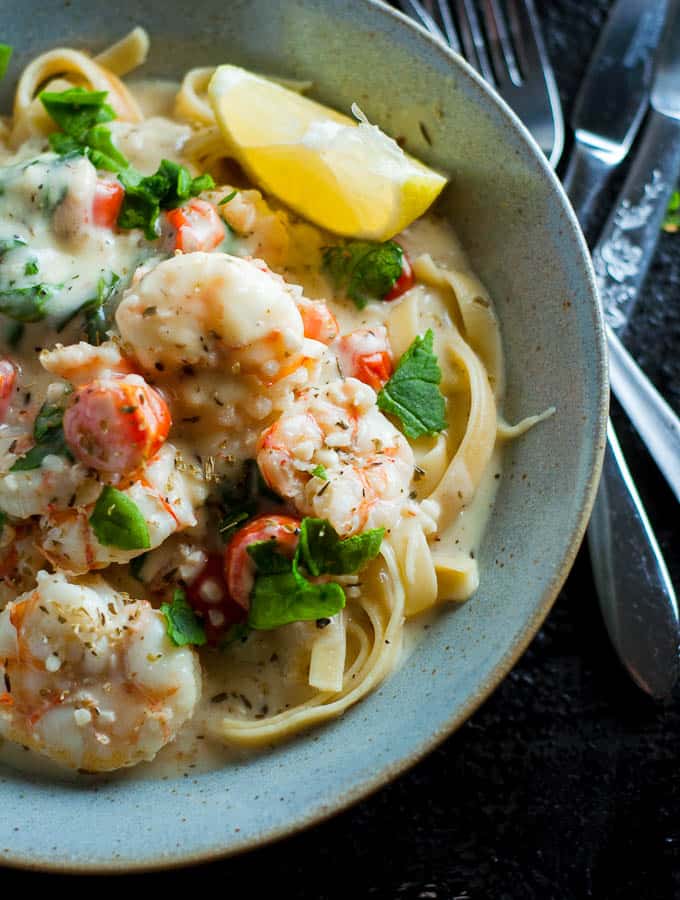 Oh and there is this Garlic Prawn and Tomato Risotto, a must make date nigh dish also.
Creamy Garlic Prawn Fettucine is definitely a date night at home dish. There's something about pasta that I find oddly romantic. Might be the comfort food factor, might be that I rarely eat it that makes it so enjoyable.
If you're into having date nights with your significant other, put this dish on your list for your next one, you won't disappointed. It will leave you feeling light, satisfied and rosy all over. Promise.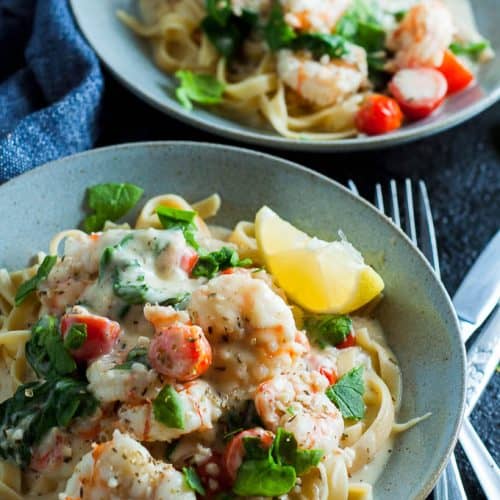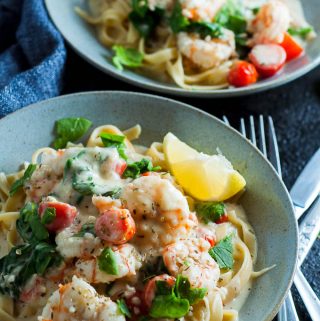 Creamy Garlic Prawn Fettucine
For me this Creamy Garlic Prawn Fettucine pasta dish is ultimate comfort food and must make Date Night deliciousness. Rich in garlic, aromatic spices, zingy lemon, and fresh, plump and juicy prawns, this is a dish you need to dig into whether its summer, winter or in between.
Ingredients
16

Medium green/raw Prawns or Shrimp

-

heads off, tails on

½

cup

Cooking Cream

½

cup

Chicken stock/broth

2

tablespoons

Crushed garlic

1

teaspoon

Dried Oregano

1

teaspoon

Dried Thyme

½

teaspoon

Garlic salt

½

teaspoon

Onion salt

2

tablespoons

butter

1

tablespoon

Lemon juice

250

grams

Fettucine pasta

2

tablespoons

Cornstarch/cornflour

¼

cup

tap water

1

cup

Cherry Tomatoes

-

Halved

1

cup

packed Spinach Leaves

Pepper to taste
Instructions
Prepare the spices in a little dish: dried oregano, dried thyme, garlic salt and onion salt

Bring a saucepan/pot of water to the boil, add a pinch of salt and add the pasta. Cook as per packet instructions

Heat a wok on high and add the butter and garlic, followed by the prawns (tails still intact/heads off). Use tongs to toss around and cook through for 3 to 4 minutes. Prawns are cooked when they are no longer pale or translucent.

Once prawns are cooked through turn heat down to medium, add the chicken stock/broth, cream dried herbs, and lemon juice. Add a pinch of salt and pepper and stir through.

Thicken the sauce by making a cornflour/cornstarch slurry. Add 2 tablespoons cornflour/cornstarch to ¼ cup water. Tip in gradually and stir through. Remove from heat

Drain the pasta and portion pasta out into plates or bowls

Add the chopped tomatoes and spinach leaves to the prawn mixture and stir through.

Spoon the creamy garlic prawns over the pasta, add a squeeze of lemon, optional basil if you like and enjoy.
Nutrition
Calories:
687
kcal
Carbohydrates:
69
g
Protein:
57
g
Fat:
21
g
Saturated Fat:
10
g
Fiber:
11
g
Sugar:
7
g
Note: Sugars contained in this recipe are from naturally occurring sugars in fruits, vegetables or other natural sweeteners.
Looking To Cut Out Sugar? Get the FREE Healthy Food Swaps Checklist Pack!
Get your FREE Healthy Food Swaps Checklists with over 65 Healthy Food Alternatives to Help you Ditch The Sugar Without Feeling Deprived.