These Chocolate weetbix balls are rich and sweet, moist and full of flavour.  These are not your average weetbix balls or bliss balls.  They are super healthy, made with all natural ingredients with no added sugar.  They're fun to make and are great to have on hand for healthy snacks.  They are so healthy, you could even eat them for breakfast, just like these Chocolate Date Protein Balls.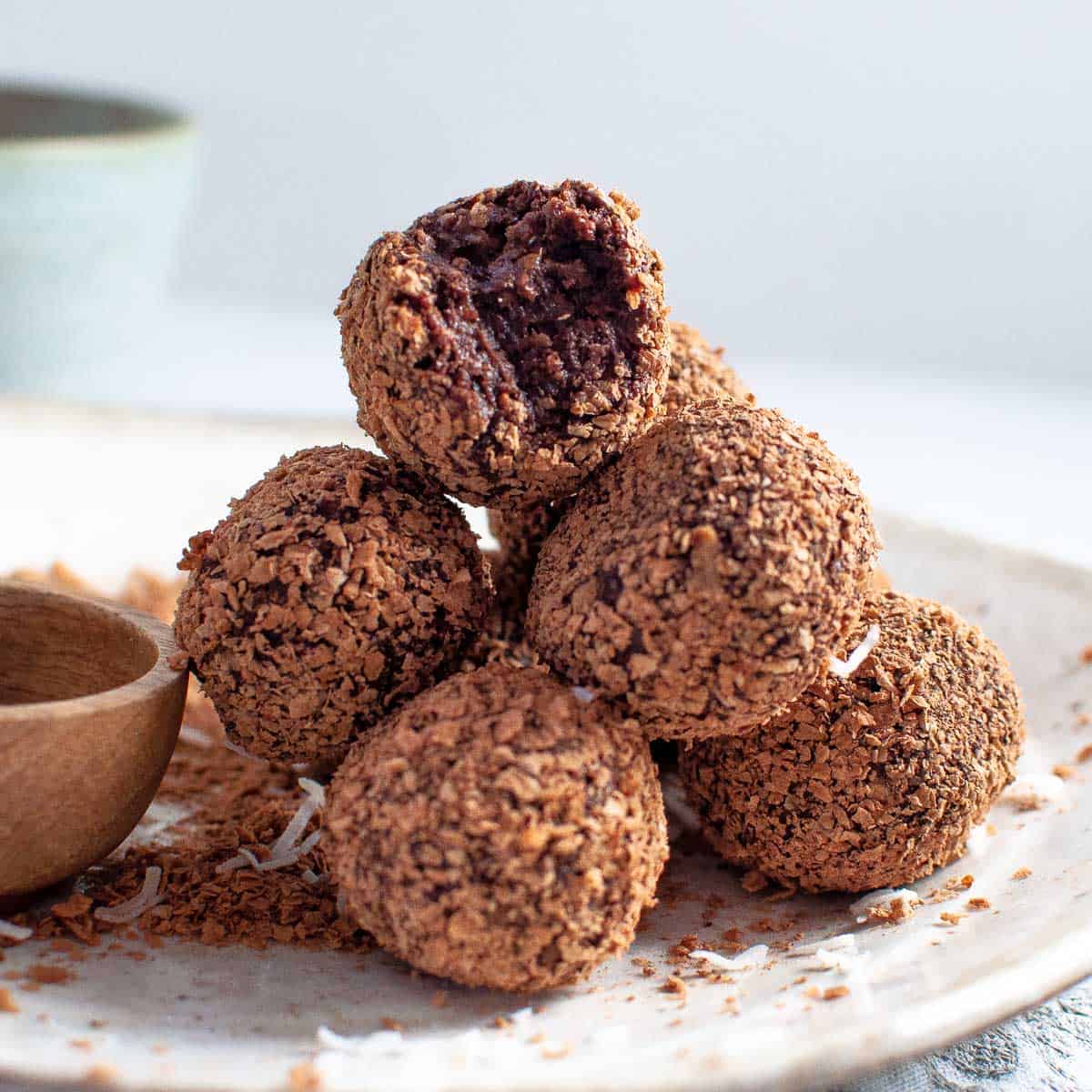 These Chocolate weetbix balls are super easy to make if you have a food processor. You can have the mixture made in under 5 minutes, and get them rolled into balls in another 5 minutes.
Why make Weetbix Balls?
They're free from refined sugars. They're sweetened with big fat juicy dates instead!
They're full of fibre and protein from the weetbix so they keep you fuller for longer
Just one is the perfect snack size
They're rich and chocolatey
They're quick to make, fun too!
You can make them ahead and they last in the fridge for upto 10 days
You can freeze them
Can You Taste The Weetbix?
Not really. Although it does add a bit of texture. Lets face it, weetbix is dry and flaky and doesn't taste that great on its own. The point being, you need to eat it with something. Usually you'd be eating with milk for breakfast, but these is a simple and easy creative way to create a healthy snack (or breakfast) using something that's packed with fibre and protein.
After I've rolled the mixture into balls, I like to coast them in "weetbix dust". It's a name I come up with for basically finely ground weetbix, cocoa powder and ground cinnamon. It takes the balls to next level. Well worth the little bit of extra effort.
More Balls!
Weetbix Dust Alternatives and Tips
So you might want to mix things up a bit, or even add some other things to your weetbix dust. Here's some options.
Create 3 different spice combinations: Instead of adding ground cinnamon to all the weetbix dust, separate it into 3 and stir through ground cinnamon for the first, ground ginger for the second, and ground chilli for the third. This will give you 3 slightly different flavoured weetbix balls.
Extra Chocolate: Get your hands on a no added sugar chocolate bar and finely grate it into the weetbix dust
Tumeric: Skip the ground cinnamon, and instead swap it for ground turmeric powder
Granulated Peanuts: For added texture you might want to add some granulated peanuts to a few of the weetbix balls.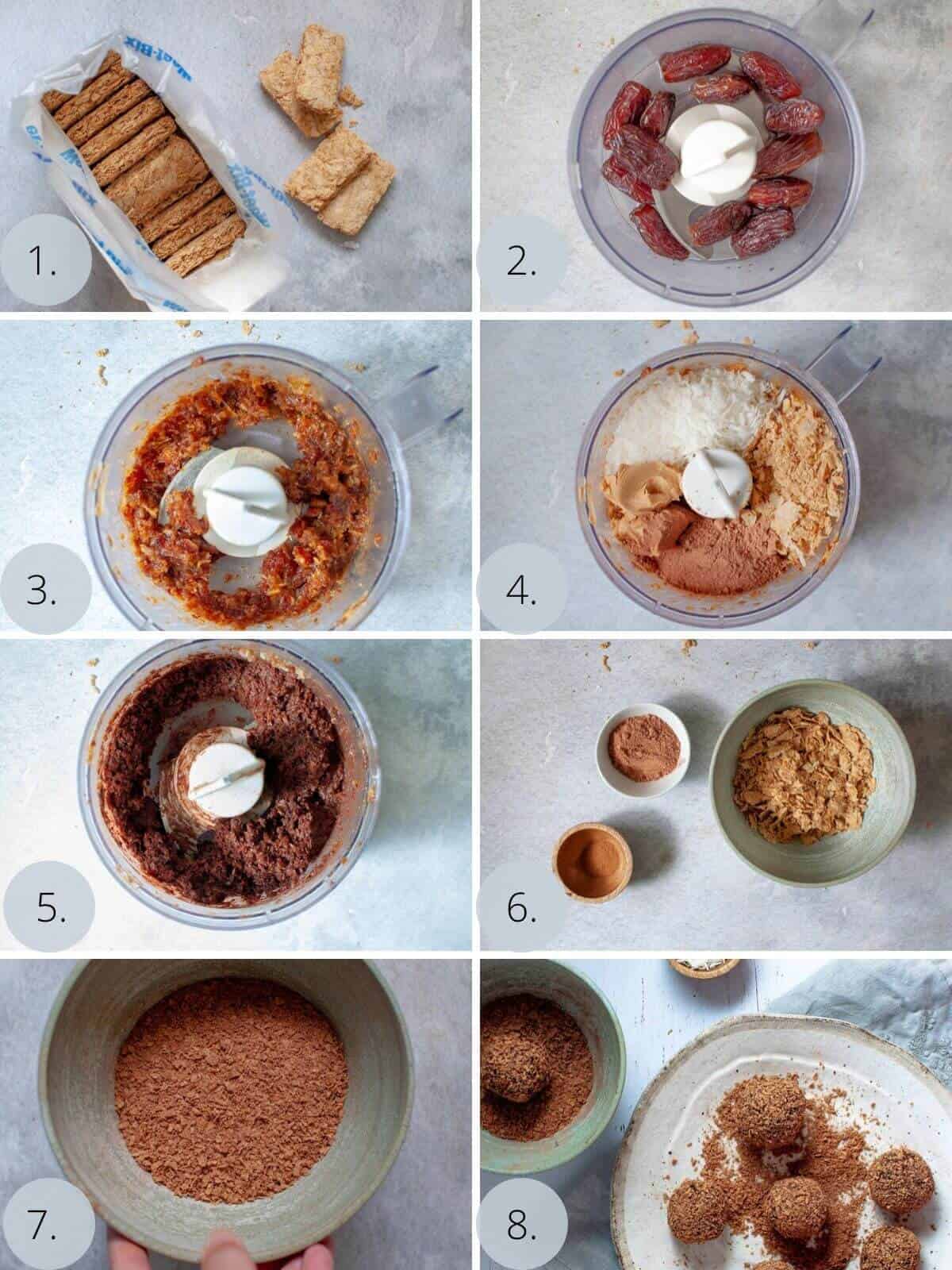 Weetbix Ball Ingredients
There's 5 ingredients, well 6 if you include the water.
Weetbix, about 2.
Medjool Dates
Sugar Free or Natural Peanut butter
Unsweetened Cocoa Powder
Unsweetened Shredded Coconut
Water
TIP: Instead of cocoa powder, you might like to use the Chocolate Protein Powder to increase the protein factor even more!
Click Here For All My Bliss Ball Recipes!
Are Regular Dates OK?
Regular dates aren't as sweet as Medjool Dates, and are also tougher. If you make them using regular dates, you might need to add a few extra ones and soak them beforehand to soften. If you can get medjool dates, I recommend those. I get mine from Woolworths and Coles and Australia
How To Make Weetbix Balls
You must make sure the seeds are removed from the dates (very important!) . Dates are also best at room temperature. IF you've had them in the fridge, microwave them for 30 seconds to soften.
Add the soften dates and water to the food processor and blitz for 30 seconds to make a date paste. (The softer the dates are to begin with the better the date paste will turn out)
Add the peanut butter, weetbix, cocoa powder and coconut and blitz until all mixed together.
If the mix is too wet, add more coconut. If the mix is too dry, add a little water. (one tablespoon at a time)
Remove mixture from food processor and roll into balls, then rolling each one in the weetbix dust.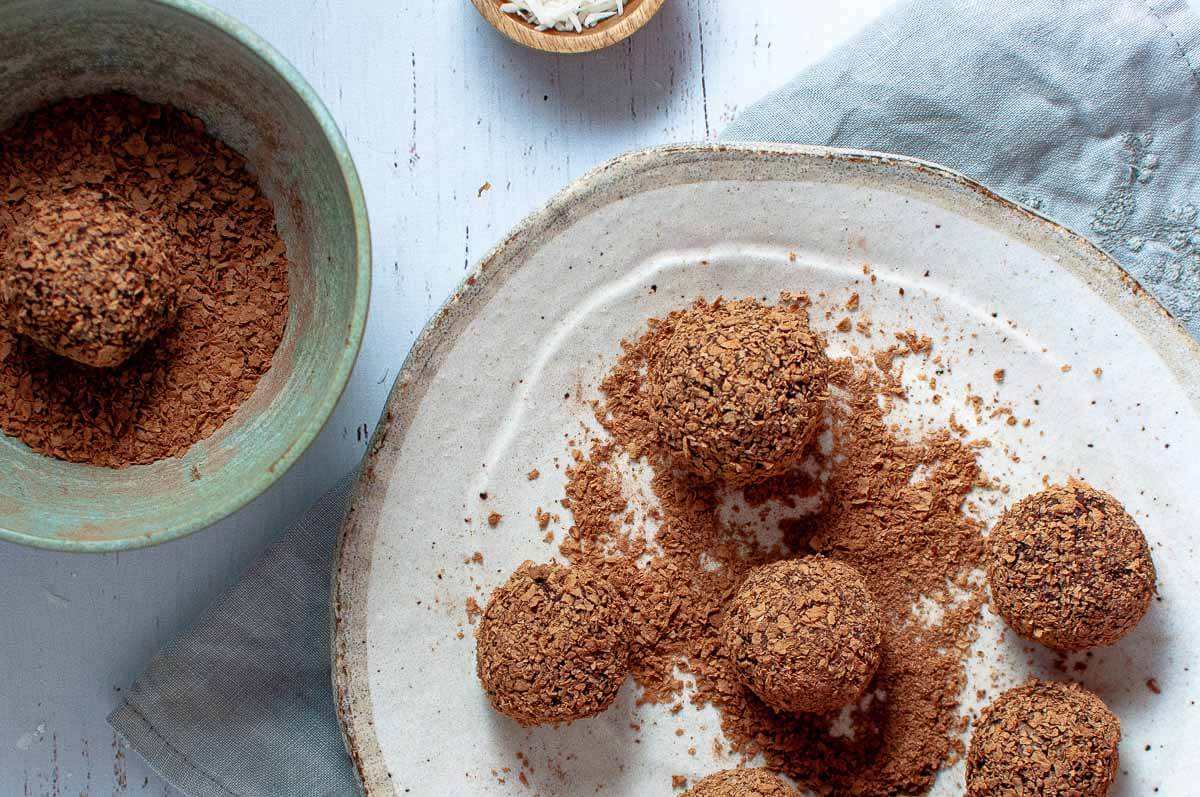 Sizing and Quantities
This recipe makes 9 generously sized balls which for me is the perfect snack size. You could make 18 small weetbix balls that would be more bite sized.
To make a double batch, it depends on how big your food processor is. You could double the quantities of ingredients and make it all in one go, or make the mixture once, then repeat. Either way ending up with mixture for 18 large balls, rolling them all at once.
With 18 large balls the benefit is you can make them once, and clean up once. Freeze half the balls in a couple Chinese containers and eat the rest over the next week.
When you want to eat the frozen ones, put them in the fridge and let the defrost naturally over the course of a day or two.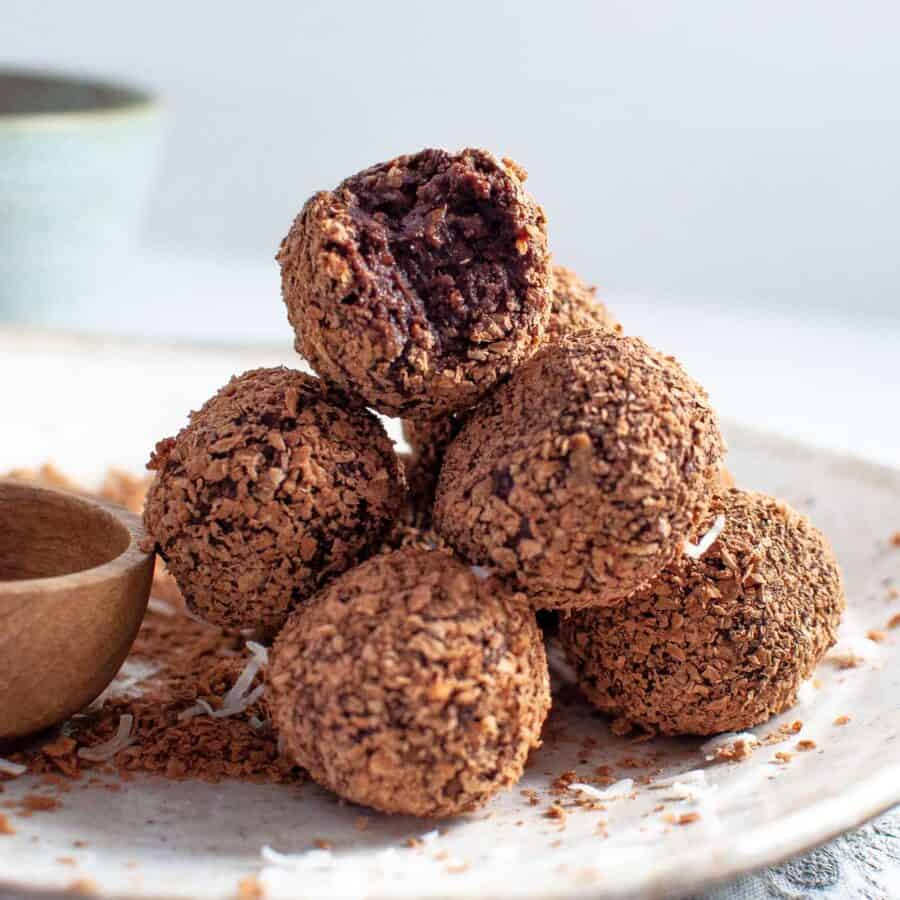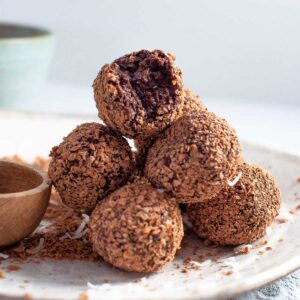 Chocolate Weetbix Balls
Healthy no added sugar, 5 ingredient Chocolate Weetbix Balls that are rich, sweet, moist and full of flavour.
Ingredients
¾

cup

crushed weetbix

-

2 weetbix

¼

cup

water + 2 tablespoons

200

grams

Medjool dates

-

at room temp (approx. 12 large)

2

tablespoons

Sugar Free or Natural Peanut butter

3

tablespoons

Unsweetened Cocoa Powder

½

cup

Unsweetened Shredded Coconut
Instructions
Ensure seeds are removed from dates and place into food processor with ¼ cup warm water. Blitz until a date paste is formed

Add the weetbix, peanut butter, cocoa powder and coconut. (about 1 – 2 mins). If mixture is still too wet, add more coconut, a tablespoon at a time until mixture holds its shape

Put bliss ball mixture into the fridge for 30 minutes to firm up before rolling. Meanwhile, clean and dry the food processor for the weetbix flakes.

Weetbix Flakes: Add wetbix, cocoa and cinnamon to food process ad blitz for 5 seconds.

Roll chocolate weetbix mixture into 8 large or 16 small balls, one at a time, rolling in the weetbix flakes as you go which will help them come together.

Let them set in the fridge for 2 hours before eating.

Store in the fridge in an air tight container. They will stay fresh for 10 days.
Notes
Can you use regular dates? I wouldn't recommend it as the medjool dates are sweeter than regular dates and you really need the sweetness from the dates in this recipe since it is the only sweetener.
Peanut Butter Substitute: Swap out peanut butter for your favourite nut butter.
Can you freeze these? Yes these are freezer friendly. Pop them into a freezer friendly container and let them defrost naturally before eating. They will freeze well for 6 weeks – if they last that long!
Nutrition
Calories:
170
kcal
Carbohydrates:
25
g
Protein:
5
g
Fat:
8
g
Saturated Fat:
6
g
Fiber:
8
g
Sugar:
7
g
Note: Sugars contained in this recipe are from naturally occurring sugars in fruits, vegetables or other natural sweeteners.
Looking To Cut Out Sugar? Get the FREE Healthy Food Swaps Checklist Pack!
Get your FREE Healthy Food Swaps Checklists with over 65 Healthy Food Alternatives to Help you Ditch The Sugar Without Feeling Deprived.