These 5 Ingredient Low Carb Corn Fritters are so easy to make. The secret is in the flour to corn ratio and these fritters get it just right. Too much flour and they will be doughy and tough and you won't even taste the corn, and unfortunately I have had way too many corn fritters done this way!!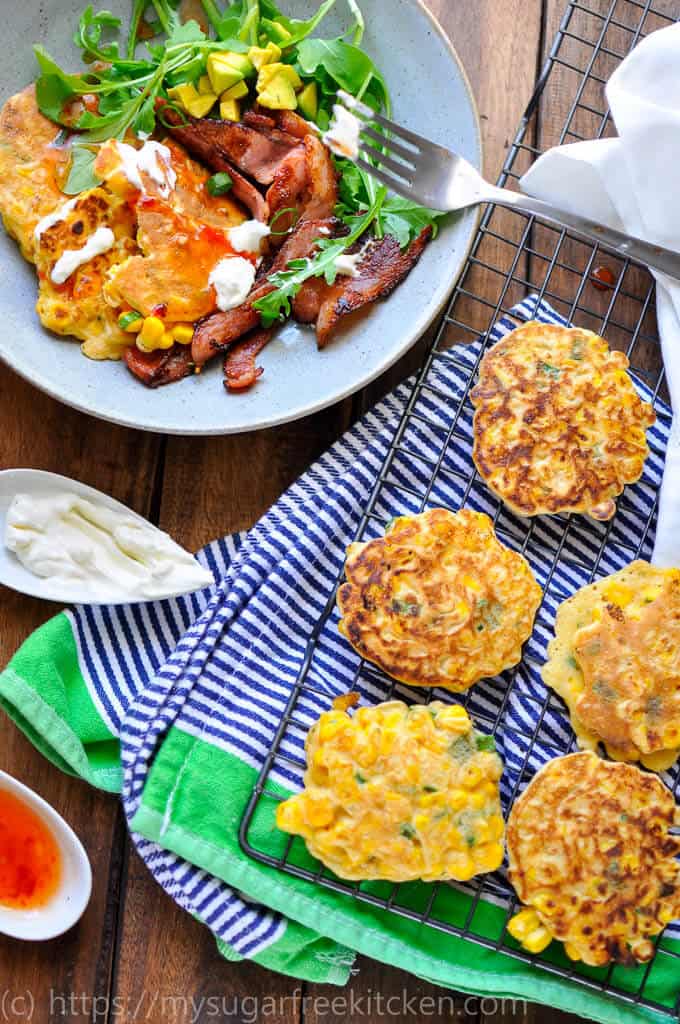 What is more enjoyable is a sweetcorn fritter where you can see the corn practically jumping out and when you bite into it, the sweet juicy corn hits you and there is no question what so ever that you are indeed eating a corn fritter and not some nondescript pancake thing with something in it that might be corn but you can't really be sure.
Other Low Carb Recipes:
What are Low Carb Corn Fritters Made From?
This recipe contains just 5 simple ingredients and I tend to think that many things that taste great don't have alot of ingredients.
What you'll need to create these yummy low calorie corn fritters:
¼ cup Almond Flour
a large (400 gram) can of Sweet corn (this is about 1 ½ cups)
1 medium Egg
2 tablespoons chopped Shallots
2 tablespoons Milk
*NOTE* I don't recommend using creamed sweet corn as it tends to disappear in the batter and you loose the taste of the corn. Plain sweet corn (drained of the juices) is best.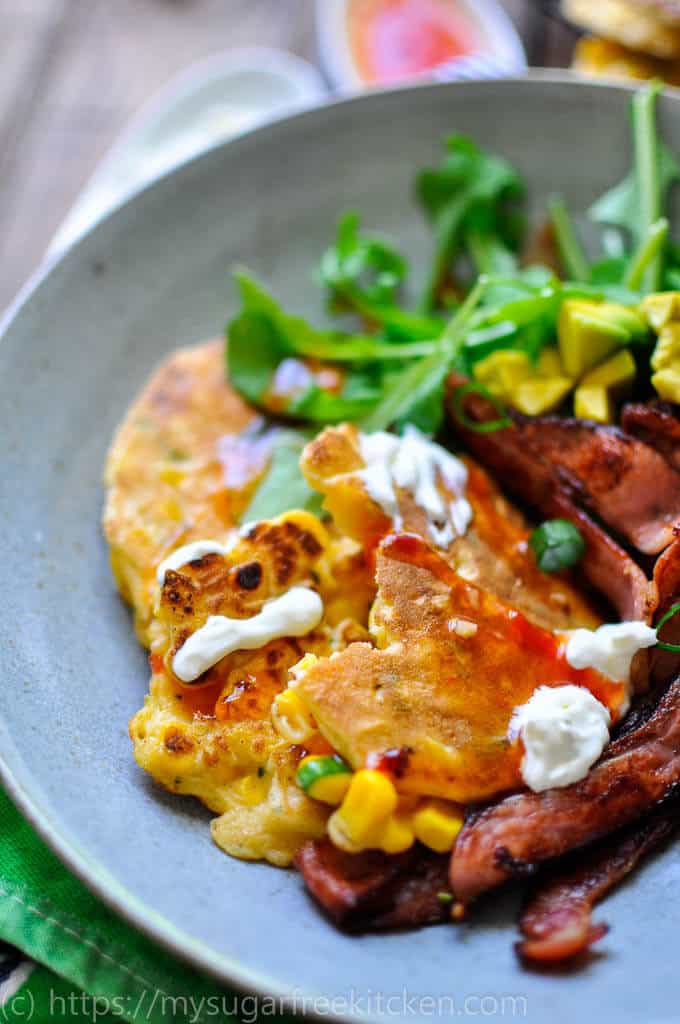 What to eat with your Low Carb Corn Fritters
It's got to be cripsy bacon of course, with a little side of rocket, diced avocado, sour cream and tomato salsa or tomato relish.
Did you know that these low calorie corn fritters are also keto friendly? They are also delicious served hot straight out of the pan, or cold.
Can you reheat corn fritters?
Absolutely, you can zap them in the microwave for 20 seconds, or pop them under the grill for a minute, or in the toaster oven. With the last 2 you'll get a little crispiness on the edges with is super nice.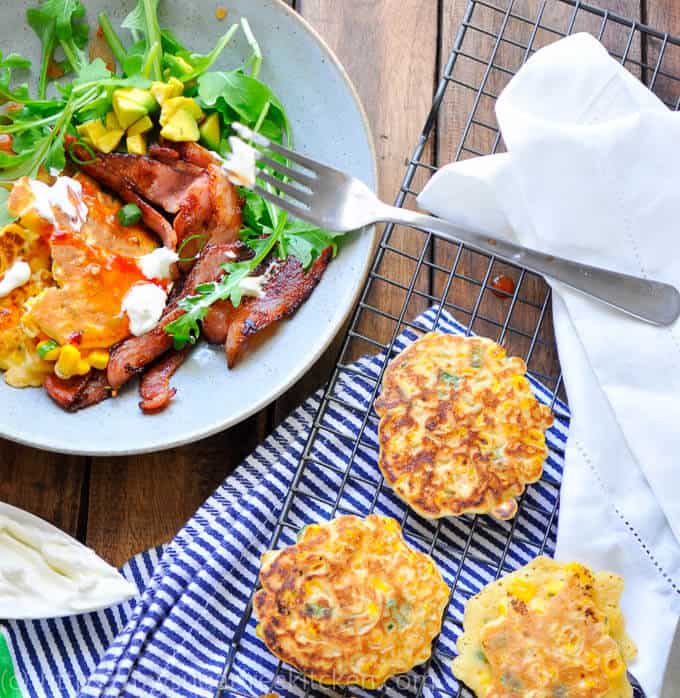 Can you freeze corn fritters?
Yes. Let them cool completely first. Put some baking paper in between each one, and place them in an air tight container in the freezer for upto 1 month. To defrost, let them come to room temperature first, and then head in a toaster oven or under the grill
Not only are these healthy low carb corn fritters quick and easy to make, they are also low calorie (59 calories per fritter), low fat, they are also keto corn fritters! Are these the ultimate fritter or what?
Serving wise, 3 corn fritters is usually what I go by with 2 pieces of middle bacon with the rind taken off.  Coupled with some rocket, sour cream avoacdo and relish and you have yourself a very hearty clean eating breakfast or even lazy Sunday brunch.
More Healthy Breakfast Options: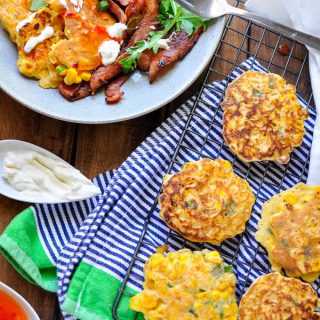 5 Ingredient Sweetcorn Fritters
This recipe for 5 ingredient sweetcorn fritters has the ideal ratio of flour to corn where you can see the corn bursting through and yes! you can actually taste the corn as well. No floury aftertaste here just sweet juicy corn!
Ingredients
¼

cup

Almond Flour

440

grams

/[1 ¾ cup] Sweet corn

-

(1 use canned)

1

medium Egg

2

tablespoons

Chopped Shallot

2

tablespoons

Milk

6

rashers

Middle Bacon (rindless)
Optional (and highly recommended!):
Avocado

Rocket

Sweet Chilli Sauce

Sour Cream
Instructions
In a medium sized saucepan, mix flour, corn, egg, shallot and milk until well combine. Add a pinch of salt and pepper

Heat a non stick frypan on medium heat and spoon out batter, placing 3 at a time in the pan. Each one will take a minute or two, then flip to the other side.

Heat another frypan and add the bacon and cook until crisp. Meanwhile make the rest of the fritters.

Plate up the fritters 3 to a plate with 2 pieces of bacon, rocket, sweet chilli sauce and sour cream.
Notes
The nutrition information is for 1 corn fritter.
Bacon, and condiments are not factored into the nutrition numbers.
Nutrition
Serving:
1
Fritter
Calories:
59
kcal
Carbohydrates:
10
g
Protein:
3
g
Fat:
2
g
Fiber:
1
g
Sugar:
4
g
Note: Sugars contained in this recipe are from naturally occurring sugars in fruits, vegetables or other natural sweeteners.
Looking To Cut Out Sugar? Get the FREE Healthy Food Swaps Checklist Pack!
Get your FREE Healthy Food Swaps Checklists with over 65 Healthy Food Alternatives to Help you Ditch The Sugar Without Feeling Deprived.