The simple and easy Banana Pikelets are an Australian favourite.  Made with just 7 ingredients, all of which are pantry staples, these make for healthy lunchbox snacks.  These sugar free pikelets take around 20 minutes to make an entire batch of 20 or so and are best enjoyed with a slather of butter and fresh banana on top.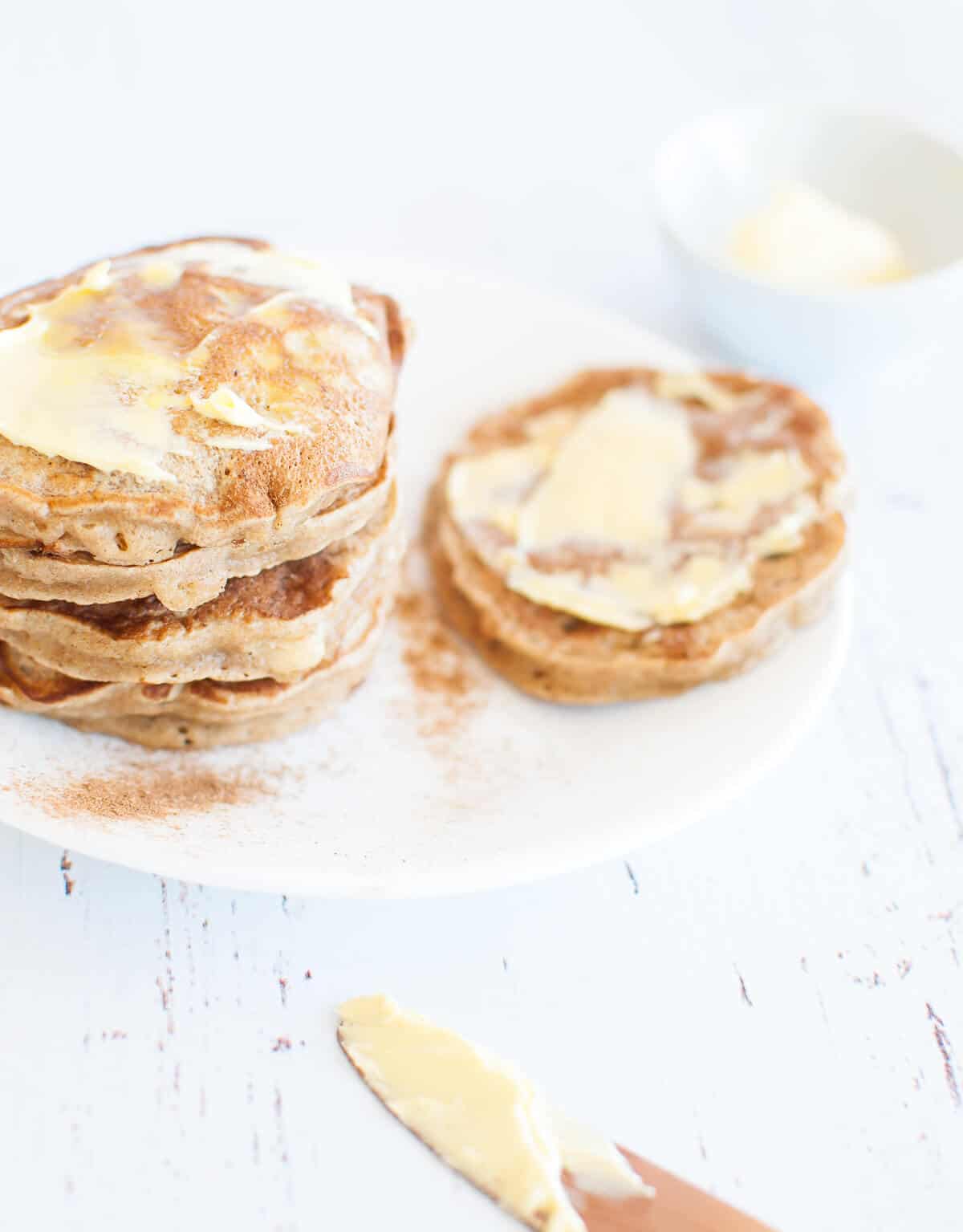 Are Banana Pikelets The Same As Pancakes?
Pikelets are similar to a pancake but much smaller - but still round in size, and thinner
Pikelets are the Aussie version of pancakes
In Australia, pikelets are typically not a breakfast food, they are more a morning or afternoon treat
Pikelets are usually eaten fairly plainly, either with just a thin layer of butter, or very occassionally some jam and cream, and sometimes, butter + jam
The traditional version of a pikelet usually has ALOT of sugar in it and is quite sweet. This recipe is my twist on healthy banana pikelets
Aussie kids of my generation grew up eating pikelets
Another Aussie Classic Recipe: No Added Sugar Chocolate Weetbix Balls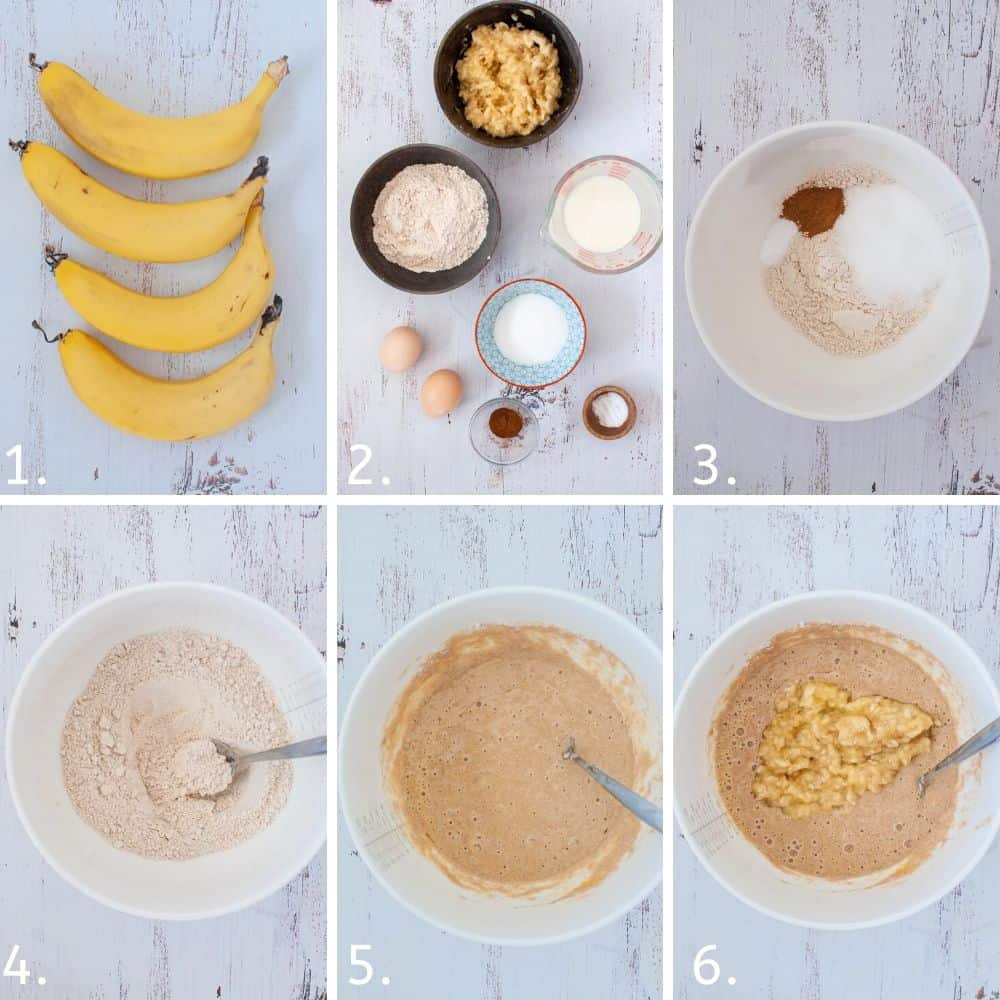 Banana pikelets have kind of been a staple in our household, probably because I grew up eating them (alongside the never-ending packets of biscuits!). Banana is a great way to add sweetness to foods I use it alot in my recipes. Bananas also are very filling with lots of fibre so are a great natural energy source. Here are a few others that use banana:
Is A Pikelet Similar To A Crumpet?
No. A crumpet and pikelet are completely different.
Crumpets are thicker and have holes in them for the topping to drip through.
Crumpets are also firmer, and a little more rubbery.
Pikelets have a smooth top and texture.
Pikelets are soft, small, round and thinner.
Crumpets are toasted, whereas pikelets are eaten fresh.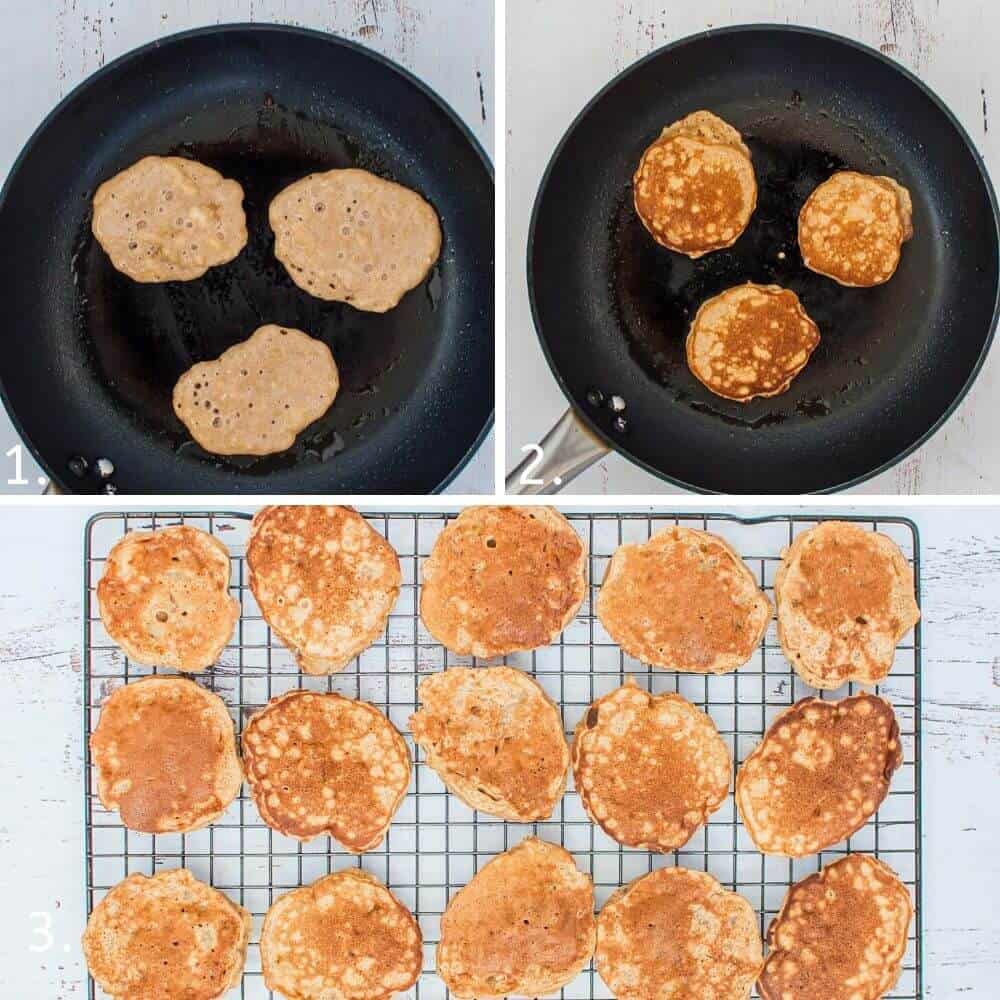 Over the last couple of years I've modified the original pikelet recipe I grew up with to be a healthier sugar version - less sugar, more fibre, lower fat, and higher protein.
How To Make Healthy Banana Pikelets: What I Did
I replaced white sugar for Natvia Stevia Baking Blend (a natural sweetener alternative I talk about here)
Swapped the unbleached white flour for spelt flour (Almond flour would also work)
Increased the protein factor with eggs, instead of oil or butter
Gave it a burst of flavour with cinnamon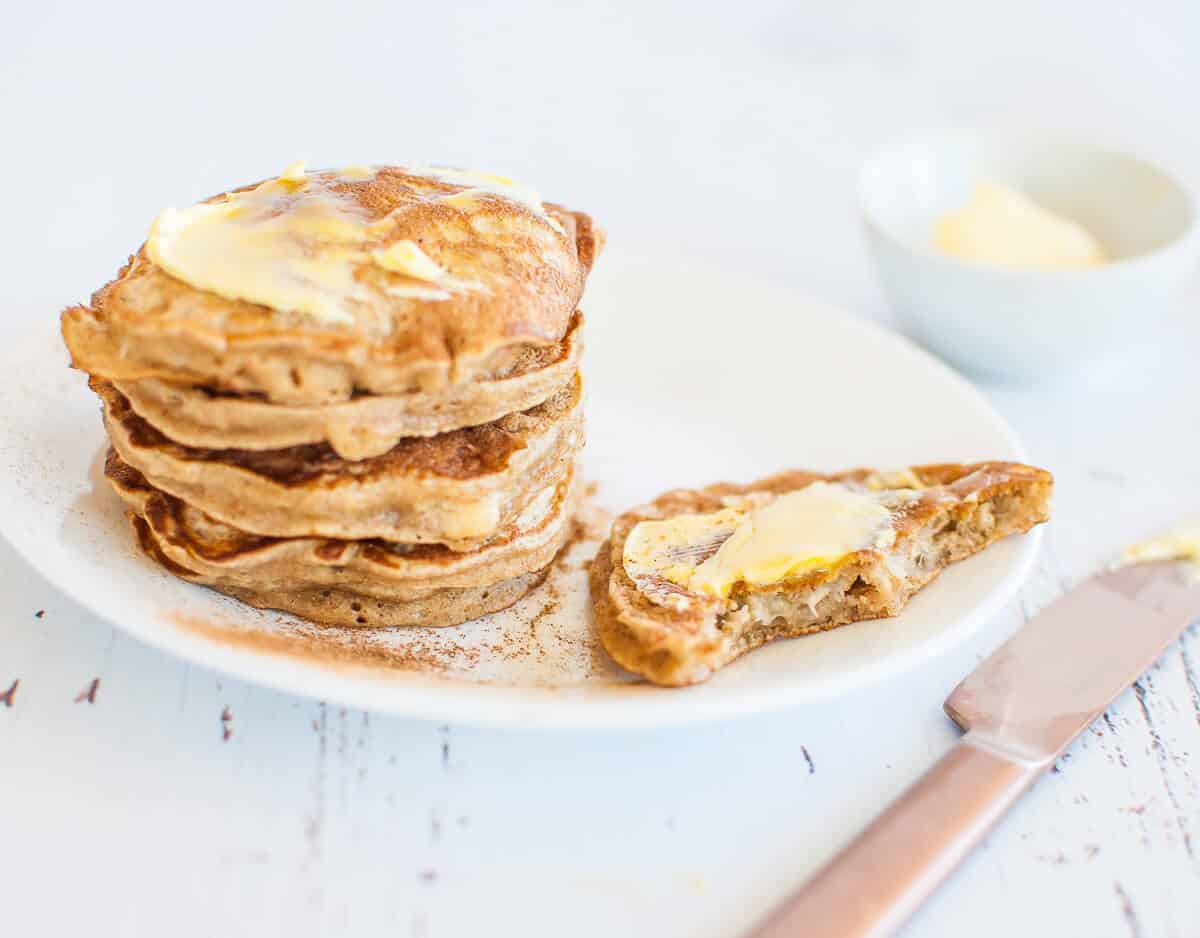 Healthy banana pikelets are are great option for work or school lunchboxes. They're filling, nutritious and an ideal portable snack option.
TIP: You do need to have a bit of patience whilst making these sugar free banana pikelets as you need to be ready at the stove top for dropping the batter into the pan and flipping.
If you're looking for a banana pikelets recipe that would give you awful sugar highs and is loaded with calories, this is for you. They are easy to make, and a fun way to spend a lazy Sunday afternoon in the kitchen.
What about you? Have you ever tried pikelets without sugar? Or pikelets at all for that matter? These sugar free banana pikelets are simple to make and I find it's hard to stop eating them as I make them, they are that good.
My Favourite Way To Eat Pikelets?
I like to keep it simple: butter and fresh banana, with a sprinkle of ground cinnamon.
More Sugar Free Sweet Recipes: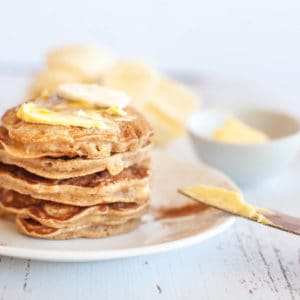 Banana Pikelets
These Banana Pikelets are easy to make, light and fluffy. They're made with juicy ripe bananas, are low calorie, and packed with protein and fibre. 
Instructions
Pikelets
In a large mixing bowl, add the dry ingredients – flour, sweetener, bicarb soda, and ground cinnamon

In a separate bowl, mash the banana until you have 1 cup

In another separate bowl, beat eggs, sweetener and milk together until combined (using electric beaters is best)

Add the mashed banana and wet egg mixture to the dry ingredient and gently fold in with a spatula until all is combined and a batter is formed

Heat frypan on medium heat and coat with coconut oil or melted butter. Drop spoonfuls of batter onto pan and when bubbles start to form, flip pikelet over to other side. (see note 4)

Repeat until you have made about 20.
Notes
Sweetener:  I used Natvia Stevia Sweetener, but alternatively you coudl also use Lakanto Monkfruit Sweetener which is another one of my favourites.  Alternatively you could omit the sweetener if that's not your thing - just make sure your bananas are very ripe - almost over ripe.
Flour:  I used Wholemeal spelt flour, however you could use white spelt flour, or almond flour.  Avoid using almond meal as it is not the same as flour.
Bananas:  The riper your bananas the sweeter they will be.  Its preferable to use bananas that are more on the ripe side.  To ripen, put them in a paper bag in a cupboard for 24 hrs.
Cooking:  test the heat of the pan with 1 pikelet initially until you get the temperature right, then cook several at one time (dependent on the size of your pan)
Storage:  Store pikelets in an air tight container at room temperature for 24 hours.  They are best eaten within a couple of days.  Let them cool to room temperature before storing.
Nutrition
Calories:
53
kcal
Carbohydrates:
9
g
Protein:
3
g
Fat:
1
g
Fiber:
2
g
Sugar:
2
g
Note: Sugars contained in this recipe are from naturally occurring sugars in fruits, vegetables or other natural sweeteners.
Looking To Cut Out Sugar? Get the FREE Healthy Food Swaps Checklist Pack!
Get your FREE Healthy Food Swaps Checklists with over 65 Healthy Food Alternatives to Help you Ditch The Sugar Without Feeling Deprived.