These Hazelnut meal cookies are date sweetened with cocoa nibs, chia seeds and vanilla are perfect with your morning cup of coffee.  Soft and chewy, they're easy to make by blitzing all the ingredients in the food processor.  They're also dairy free and have 6g of protein per serve.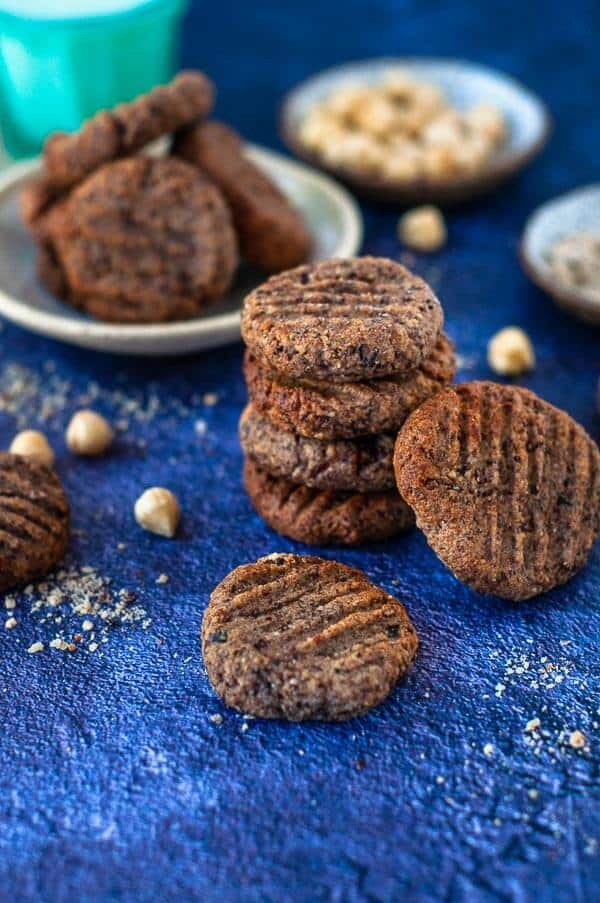 How Is A Hazelnut Meal Cookie Different?
Hazelnut Meal Cookies are different as the major ingredient is nuts, which is what the Hazelnut meal is made from.  Hazlenut meal is hazelnuts ground to a fine crumb using a high speed blender or food processor.  You can make it yourself if you have a high speed food processor or blender, of you can buy it already made which is what I do.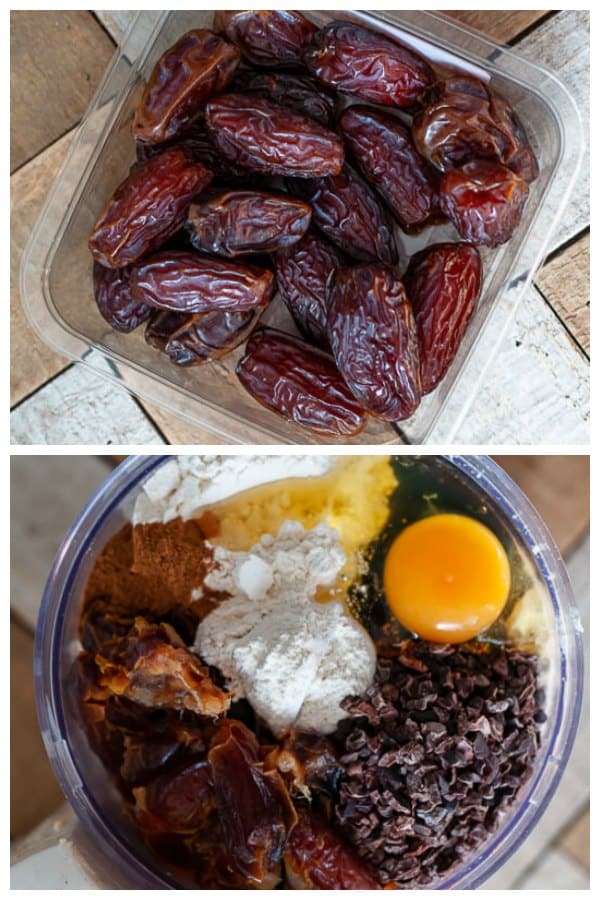 So, this recipe includes a combination of hazelnut Meal and Spelt flour as the base.  The two work together to create a textured cookie dough that is higher in protein than you would normally find with cookies made from regular flour.  This combination is also much less refined than the standard white flours so it will keep you fuller for longer and work harder to keep cravings at bay.
(note:  Spelt flour is usually available at most supermarkets in the baking aisle)
Can I Substitute Almond Meal for hazelnut Meal?
Yes, you could as they are quite similar.  The almond meal would result in a smoother, less textured cookie.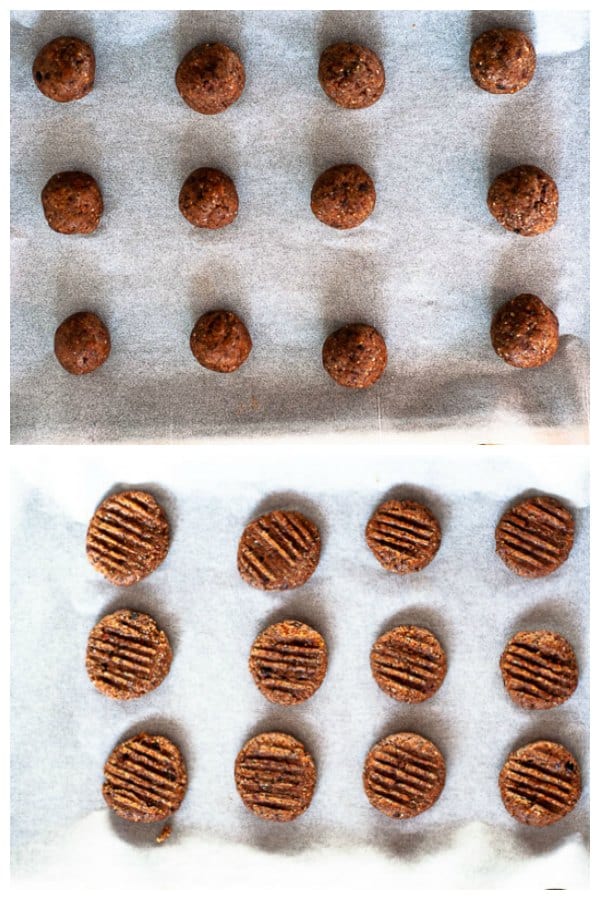 How to Make Hazelnut Meal Cookies without a Food Processor.
To make the date paste without a food processor or high speed blender, you could mush up the dates in a mortar and pestle, a bowl and a fork, or by putting them into a ziplock bag and smashing them with a rolling pin/rolling unopened cans over the top.
Put all the dry ingredients into a large mixing bowl and mix until they are combined.
Add all the wet ingredients and mix together with a large spoon.
Once it gets too hard to mix with a spoon, use clean hands to bring the cookie dough together into a solid piece.
NEXT: you're ready to roll it into balls (check out the instructions in the recipe for how to do this)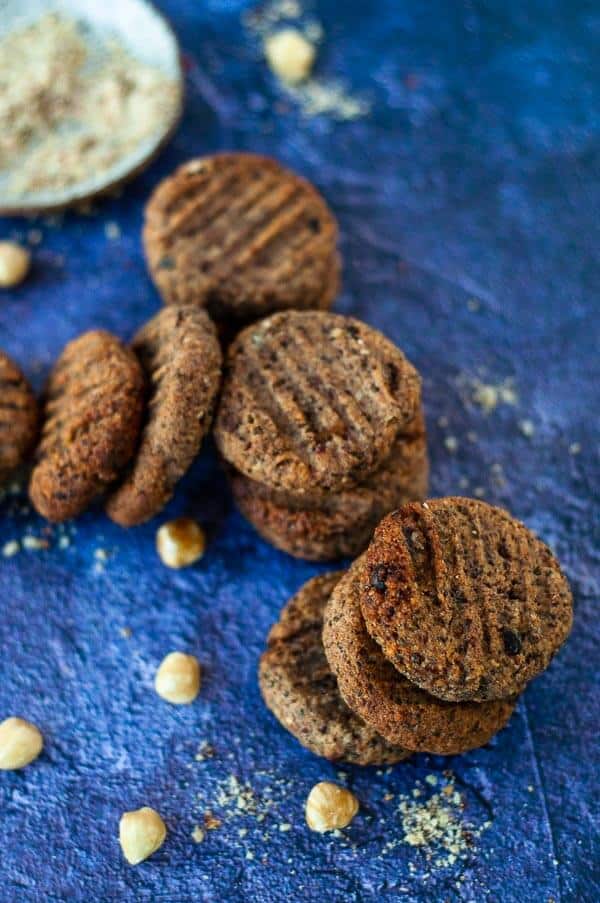 PRO TIP:  If you keep your dates in the fridge, you'll need to soften them up as part of the preparation.  The easiest way – remove the seeds, and sit them in a bowl of boiling water for 10 minutes, then drain thoroughly.  Nice and soft.
What Is the Best Way For Storing Cookies?
Cookies should be stored in an air tight container for upto 3 days.
Can you Freeze Homemade Cookies?
Instead of freezing the cooked cookies, freeze the cookie dough instead.  Wrap it in plastic and put it into a ziplock bag with the name and date on the front.  To defrost, let it come to room temperature before using it.

How To Make Soft Cookies Crunchier?
Whilst it is often the dreaded refined sugar that contributes to those snappy crunchy cookies, here are a few ideas for getting a firmer cookie without added refined sugar.
To make soft cookies a little crunchier, you could increase the cooking time by a few extra minutes, but you'd need to keep a strict eye on this to ensure they don't burn.
Instead of taking the cookies out when the timer pings, turn the oven off and leave the cookies rest in the oven for another 20 mins with the oven off
Replace the oil with butter
MORE COOKIE RECIPES --->>  Healthy Anzac Biscuits, Sugar Free Ginger Biscuits, Almond Flour Peanut Butter Cookies, Coconut Jam Drops.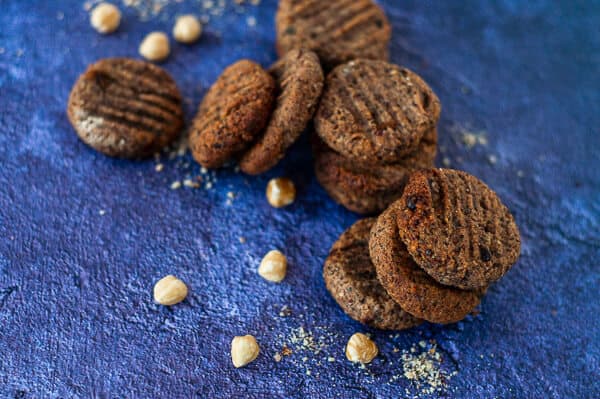 PRO TIP: Make sure to line your baking tray with either a silicone baking mat or baking/parchment paper.  I love my silicone baking mat as it is the same size as my cooking tray and it's reusable.
Like what you see? Follow me on Facebook or Pinterest! Did you try a recipe? Tag me on Instagram: @mysugarfreekitchen, and leave a comment & star rating!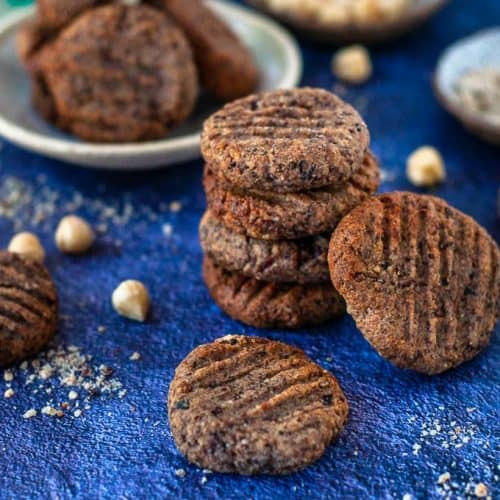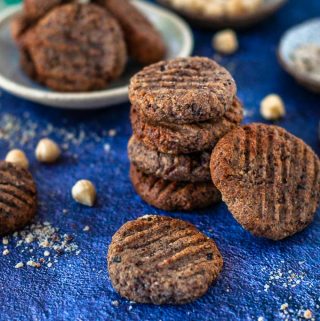 Hazelnut Meal Cookies
These Hazelnut Meal Cookies with chia and cocao nibs are refined sugar free, dairy free and each one is 6 grams of protein.
Instructions
Soak the dates in boiling water for 10 minutes. Drain the excess water.

Make a date paste: Blitz dates in your food processor to make a paste. (If you don't have a food processor, see note 2)

Add the dry ingredients, followed by the wet ingredients to the food processor. Blitz for a couple minutes until all combined. You might need to stop and start it a few times and get a spoon into the mixture to loosen it up so that it mixes everything together evenly.

Once mixture has come together into a cookie dough, remove from food processor into a new clean bowl.

Prepare cookie trays/sheets by lining with baking paper or silicone baking mats.

Spoon out the cookie dough with a dessert spoon and roll between your hands to form a golf ball sized ball. (Note if your hands get sticky, wash and dry thoroughly, then star rolling again)

Once all the dough has been rolled, you should have about 20 balls.

Use the back of a fork to gently press down to flatten slightly. If, after a couple, the fork begins to stick to the dough, wash it under water to remove excess dough and dry the fork and begin pressing down the balls again.

Once all balls have been pressed, bake in a fan oven at 160 degrees C /325 degrees F for 18 minutes

Let cookies cool in the baking tray once you remove them from the oven. Once cooled, place on a wire rack to come to room temperature.

Store cookies in an air tight container at room temperature for 3 to 4 days.
Notes
Date paste without a food processor. Use a mortar and pestle if you have one, or soak the dates for extra time in the hot water, drain, and mash with a fork.
The cookie dough can be made in a large mixing bowl with spoon if you don't have a food processor. It will just take a little longer to mix all the ingredients together and of course it will be more work.
Using 1 tablespoon of granulated sweetener that measures like sugar creates a good level of sweetness for my palette ie: not too sweet. If you generally like your cookies a little on the sweeter side, add an extra tablespoon of granulated sweetener.
Nutrition
Calories:
248
kcal
Carbohydrates:
18
g
Protein:
6
g
Fat:
18
g
Saturated Fat:
3
g
Fiber:
5
g
Sugar:
7
g
Note: Sugars contained in this recipe are from naturally occurring sugars in fruits, vegetables or other natural sweeteners.
Looking To Cut Out Sugar? Get the FREE Healthy Food Swaps Checklist Pack!
Get your FREE Healthy Food Swaps Checklists with over 65 Healthy Food Alternatives to Help you Ditch The Sugar Without Feeling Deprived.
★ Did you make this recipe? Don't forget to give it a star rating below!