Delicious and healthy, clean eating Porcupine Casserole with rich, spicy homemade tomato sauce packed with zesty fresh flavours. If you love saucy meatballs, this is a recipe you need to get your hands on. All made from scratch, there are no cans of tomato soup here!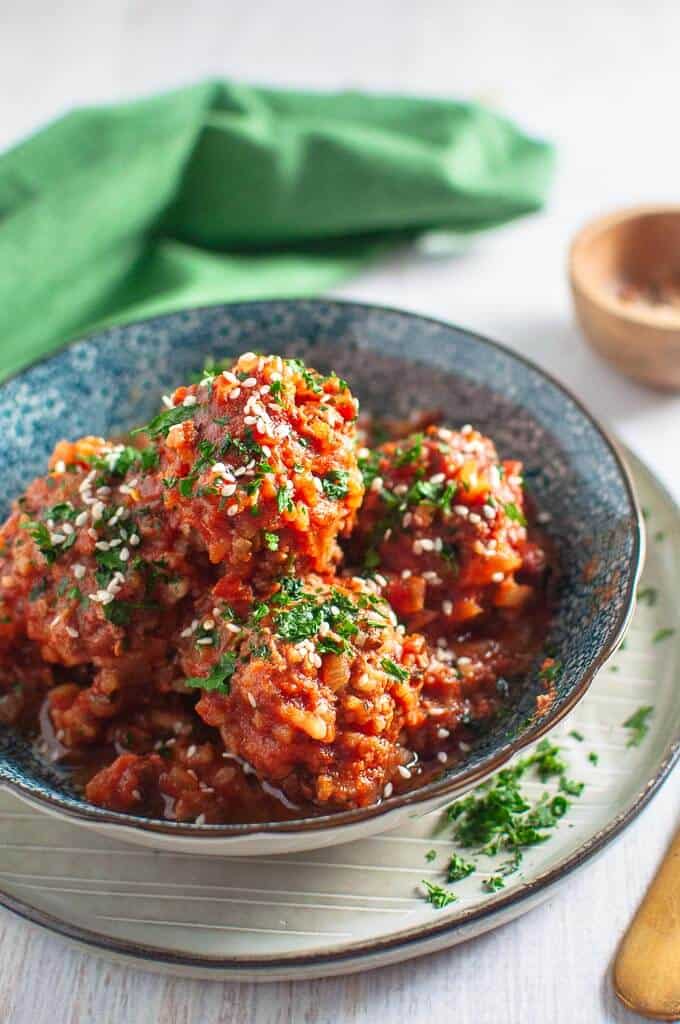 What exactly is a Porcupine Casserole?
A porcupine casserole is small meatballs made with ground meat, rice and spices, cooked in a tomato based sauce.
I like to make baked porcupine meatballs, but you can also make them in the slow cooker.
The other great thing is that this is my version of Healthy Porcupine Meatballs, without using any packet, canned or condensed soups that are generally loaded with sugar and salt.
>>>>You Might Also Like: 8 Hour Slow Cooker Moroccan Meatballs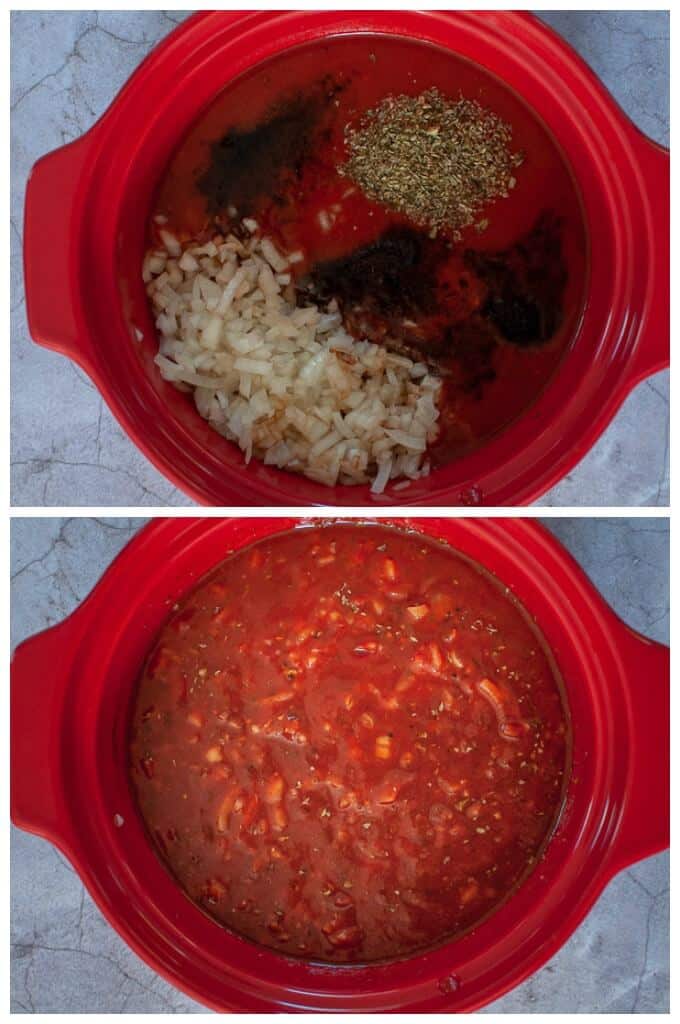 How do you make Porcupine Meatballs without Tomato Soup
Make the sauce first.
There are 8 ingredients that make up the Sauce for the Porcupine meatballs, and aside from the water, they are all pantry staples.
Here's what you'll need
1 ½ cup Tomato Passata/Puree
1 ½ cup water
½ cup Sundried Tomato Pesto
1 x 400 gram/14 oz can of crushed tomatoes
½ cup Brown onion (finely diced)
2 teaspoon beef stock powder/1 beef stock cube
1 tablespoon Crushed garlic
1 teaspoon Dried Oregano
Place all of the sauce ingredients into a large casserole that has a lid and stir it around until everything is combined.
TIP: Make the sauce before you put the meatballs in, then it's easy to gently place the meatballs in as you make them, making this no pre cooking required Porcupine Casserole!
For years, I use to make this recipe with canned tomato soup and now I can't stand it because all I can taste is the sugar. Now that I have this recipe for Porcupine meatballs without tomato soup, this is the only recipe I'll ever be making in future. It's not too sweet. It's savoury, a little spicy, fresh, and has lots of flavour from the herbs and sun dried tomato pesto.
If you didn't have all 8 ingredients, you can get away with making porcupine meatballs in passata by just adding in a can of tomatoes, water, brown onion and salt and pepper. The sun dried pesto, stock, garlic and oregano are all flavour enhancers. Great to have but you can get away with not having them. Actually you could sub in a tablespoon of soy sauce for the stock powder/cube, and any other dried herbs (or fresh) you have on hand.
>>>>>Highly Recommended: Thai Chicken Meatballs with Peanut Sauce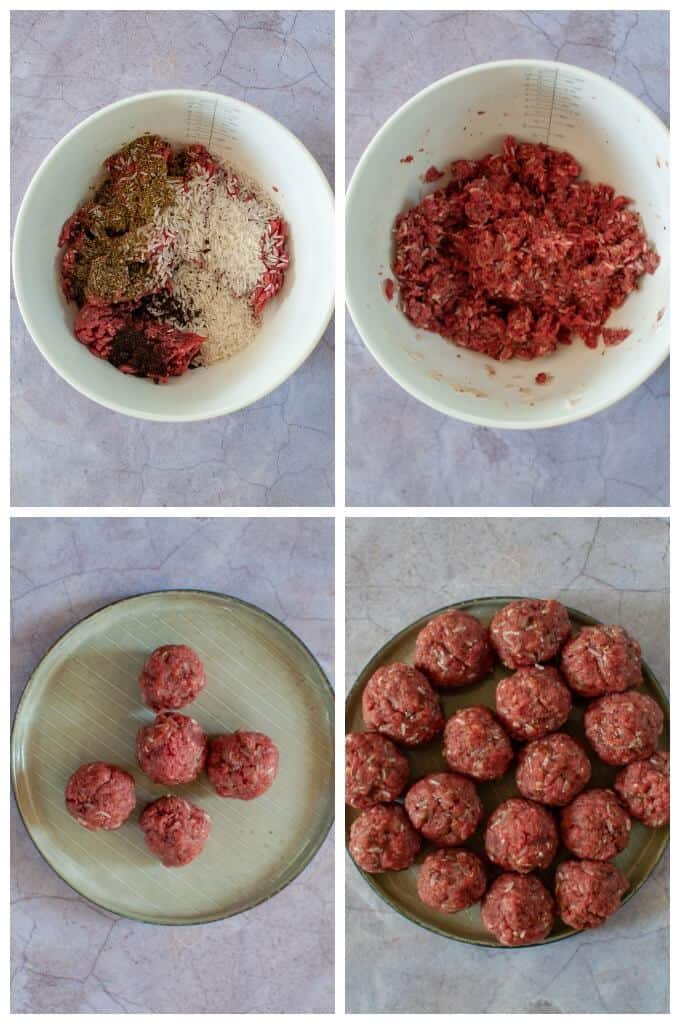 How to Make the Actual Meatballs
You'll need 6 ingredients:
500 grams/1 pound Lean beef mince/ground beef
⅓ cup raw long grain rice
1 teaspoon beef stock powder
1 medium egg
1 teaspoon dried Basil
1 teaspoon dried Oregano
Mix all the meatball ingredients in a bowl and shape into 15 or 16 small balls. As you make them, place them into the casserole dish with the tomato sauce.
TIP: I find long grain rice works best to keep the shape of the meatballs as it holds less water than some of the other rices.
If you're not a fan of red meat, you could also try making these meatballs with ground chicken or turkey.
Perhaps this might tempt you:>>> Easy Apricot Chicken Curry Casserole with Fluffy Rice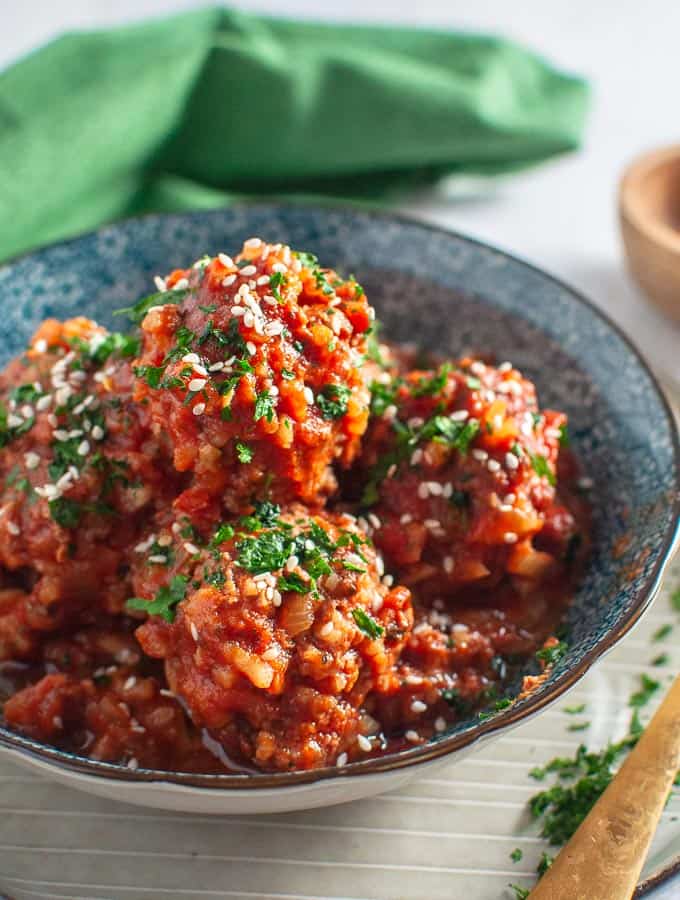 What to serve with porcupine meatballs
There are a few options, and depending on how you feel, there healthy comfort food options or low carb options.
Comfort Food Options: Mashed sweet potato, wholemeal pasta, Pearl Cous Cous
Low Carb Options: lightly cooked Zuchini Noodles, or steamed greens with a little sea salt. Greens might sound boring, but with the tangy tomato sauce it makes them come alive.
Can You Freeze Porcupine Meatballs?
Healthy porcupine meatballs are a great meal for the freezer. I would recommend against freezing the sides with the meatballs. I find that it's better to portion out the meatballs and sauce on their own into containers for one or two servings depending on who'll be eating it. Don't forget to label and date the containers so you know what's in them.
When you come to eat it, you can decide which side you feel like having with it.
TIP: for the ultimate shortcut, keep some instant rice packets in the cupboard that you can zap in the microwave. It's a perfect little backpocket shortcut for busy weeknights.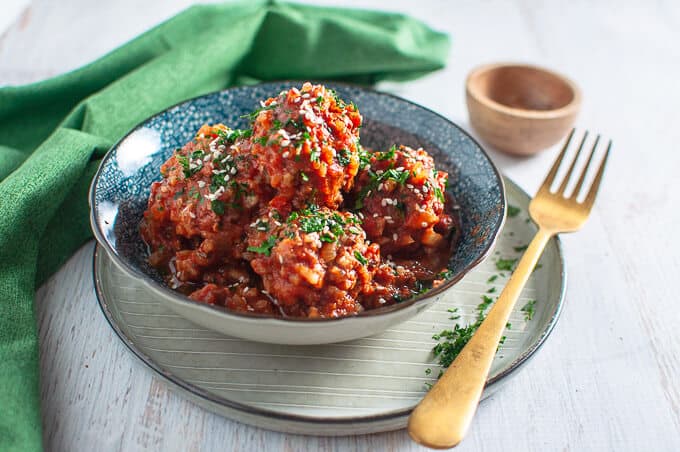 These porcupine meatballs without tomato soup are a great healthier alternative to a well known favourite. They're sugar free, clean eating, made from scratch and easy to make ahead so you have healthy dinners on hand during the week when you're busy and don't feel like cooking.
Freezer Friendly Recipes Recommended For You:
Like what you see? Follow me on Facebook or Pinterest! Did you try a recipe? Tag me on Instagram: @mysugarfreekitchen, and leave a comment & star rating!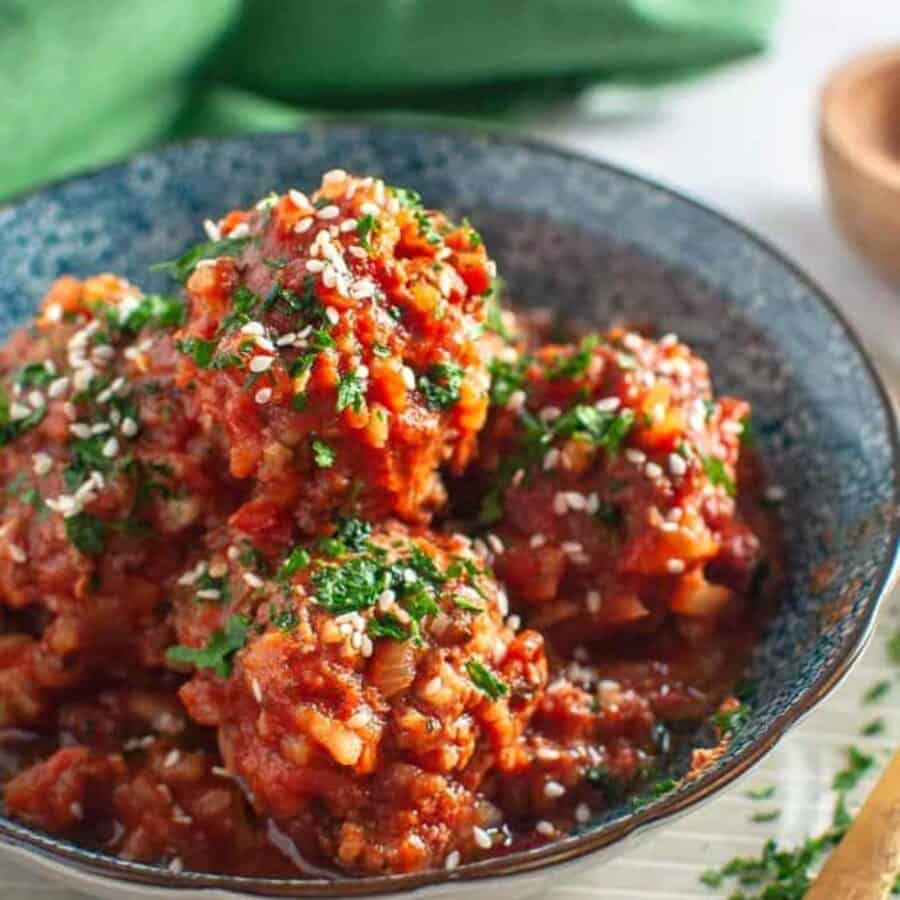 Porcupine Casserole Without Tomato Sauce
Delicious and healthy, clean eating Porcupine Casserole with rich, spicy homemade tomato sauce packed with zesty fresh flavours. If you love saucy meatballs, this is a recipe you need to get your hands on.
Ingredients
Meatballs
500

grams/1 pound Lean beef mince/ground beef

⅓

cup

raw long grain rice

1

teaspoon

beef stock powder

1

medium egg

1

teaspoon

dried Basil

1

teaspoon

dried Oregano
Sauce
1 ½

cup

Tomato Passata/Puree

1 ½

cup

water

½

cup

Sundried Tomato Pesto

1 400

gram/14 oz can of crushed tomatoes

½

cup

Brown onion

-

finely diced

2

teaspoon

beef stock powder

1

tablespoon

Crushed garlic

1

teaspoon

Dried Oregano
Instructions
Preheat oven to 180 degrees C/350 degrees F (fan oven)

In a large casserole dish with a lid, make the sauce, adding all the ingredients and stirring to combine. (See note 1)

In a medium mixing bowl, add all the meatball ingredients and use your hands to mix together. Shape the meatballs until you have about 15 or 16 and place each one into the sauce mixture as you go.

Cook in the oven for 50 minutes with the lid on.

Remove from oven, sprinkle with parsley and served with mashed potato and greens.
Notes
1. Its best to use a casserole dish where the meatballs will be covered with the sauce so they don't dry out during the cooking process
Nutrition
Calories:
392
kcal
Carbohydrates:
29
g
Protein:
29
g
Fat:
15
g
Saturated Fat:
5
g
Fiber:
4
g
Sugar:
3
g
Note: Sugars contained in this recipe are from naturally occurring sugars in fruits, vegetables or other natural sweeteners.
Looking To Cut Out Sugar? Get the FREE Quick and Easy Food Swaps Checklist Pack!
Get your FREE Quick and Easy Food Swaps Checklists with over 65 Simple Real Food Alternatives to Help you Ditch The Sugar Without Feeling Deprived.
★ Did you make this recipe? Don't forget to give it a star rating below!