These Thai Chicken Meatballs with Spicy Peanut Sauce are a quick and tasty midweek meal, on the table in around 30 minutes, especially if you're using pre-cut storebought salads to go with it.
The meatballs are mixed with garlic, ginger, finely chopped mint and coriander, all brought together with fish sauce, soy sauce and a shot of lime juice and raw honey to balance it all out. Lightly coated in Panko Breadcrumbs, and pan fried, these meatballs are fresh and zesty and full of flavour, texture and all things thai.
You could also make these in the air fryer, similar to these Air Fryer Turkey Meatballs.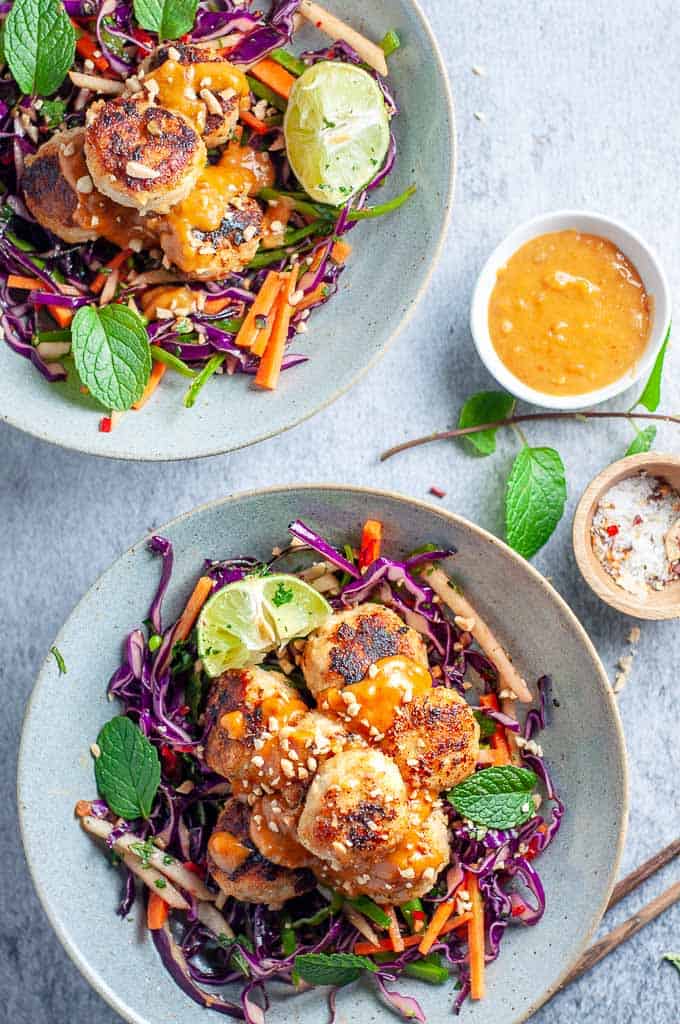 Let me just say that the spicy peanut sauce I use in this recipe is super quick and simple. The main ingredient is natural peanut butter with some soy sauce, lime juice, garlic, singer, raw honey and sirracha for that spicy hit, followed by a few tablespoons of your favourite milk for that rich creamy smoothness.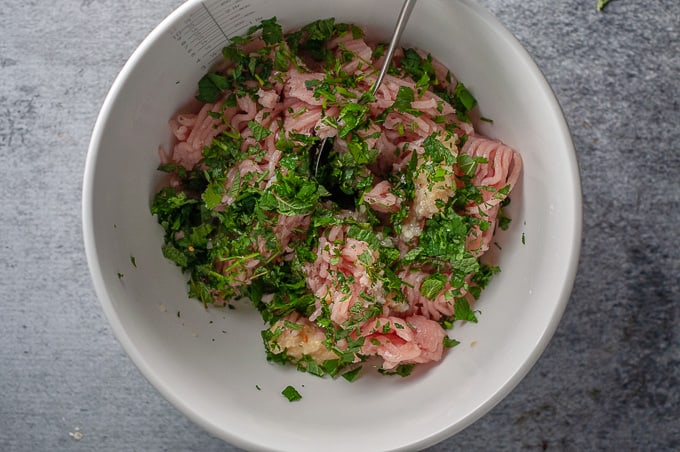 How to Cook Meatballs On the Stovetop
It can be really easy to burn the delicate outside of the meatballs when pan frying, so I tend to have the heat on medium to high, with a little oil in a non stick pan. I like to use a spatula to move the meatballs around during the cooking process as I find it's less harsh than tongs. I also never leave the stove when cooking meatballs – I'm constantly monitoring them, making sure they are cooking evenly on all sides.
TIP: Instead of ground chicken mince, this recipe would work equally well using ground beef, pork or turkey mince.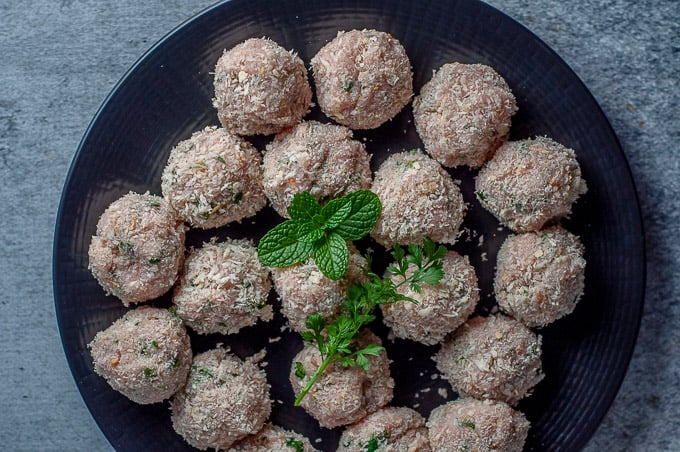 How To Oven bake Meatballs
If you prefer to oven bake your meatballs to avoid the oil, that would work as well, although I would tend to skip the panko breadcrumbs as they won't cook/crisp up very well without oil.
Line a baking tray with baking paper and space out your meatballs. Make sure you've preheated the oven to 180 degrees C (320 degrees F) before you put them in. Cook the meatballs for around 15 minutes and then break one apart to check to see if they are cooked in the middle.
[irp posts="2815" name="Clean Eating Butter Chicken"]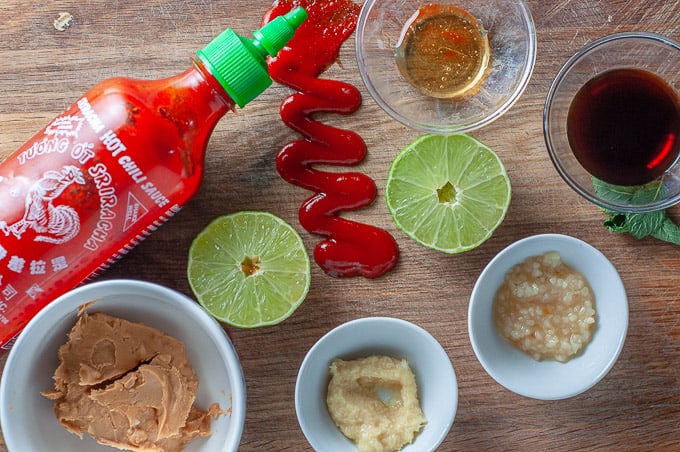 Freezing Thai Chicken Meatballs
I'm a bit of a meatball fanatic. For some reason I love meat in little balls and I eat lots of meatball dishes, like these Slow Cooked Moroccan meatballs on a regular basis. To freeze these meatballs I recommend you follow these steps:
Make the meatballs
Cook them on the stove or oven bake them
Wait for them to cool down
Put them into portion sized freezer containers
Label and date the containers, and include the used by date
Store for upto 8 weeks in the freezer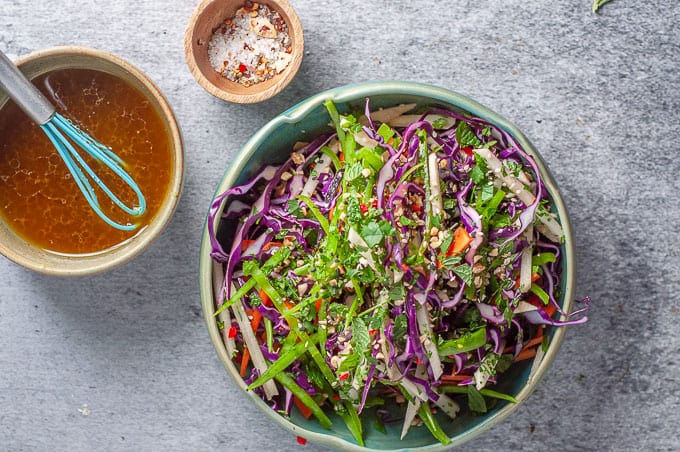 TIP: These meatballs are great to make in a double batch and freeze (without the sauce). If you freeze them in portion sizes, they'll be easy to heat and eat with your favourite side. Think noodles, veg, salad, even pasta.
More Healthy Thai Recipes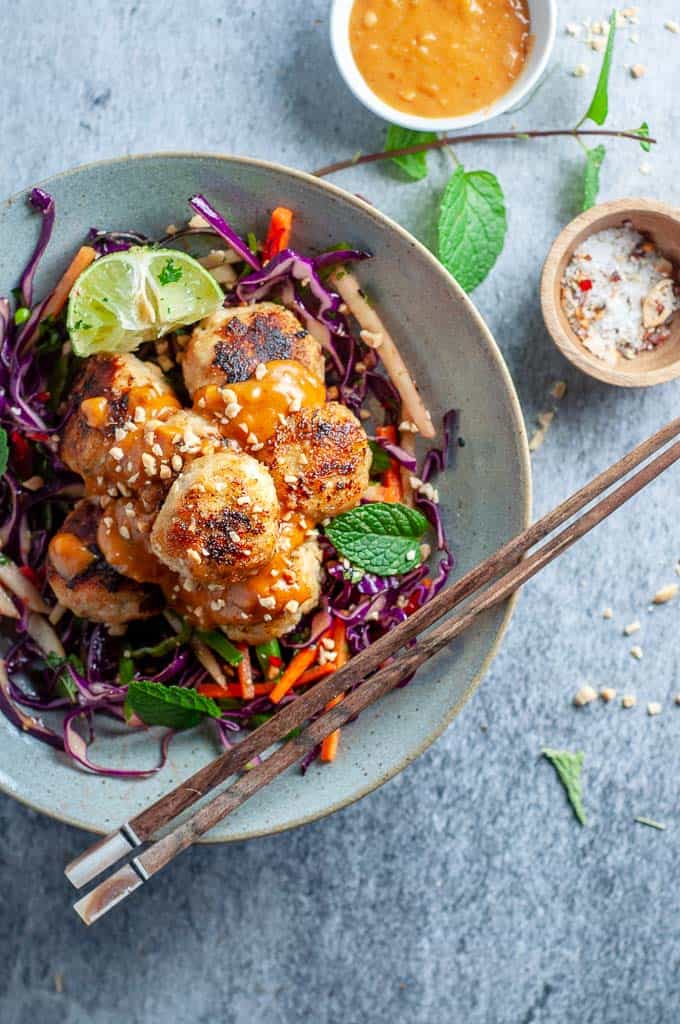 Reheating Frozen Meatballs
There are three options:
Zap for a couple of minutes so in the microwave
Remove from freezer the night before you need them lightly fry them off in pan on the stove on medium heat with a little oil.
Defrost the night before or microwave for 30 seconds, and heat them in the oven.
I opted to have these thai chicken meatballs with an Asian slaw to keep it lower in carbs, plus it's really easy and convenient to pull together if you buy the premade bags of slaw already chopped up. I usually have a couple of bags in the fridge for busy weeknights to speed up the dinner process, making one less thing to do! Then it's just whipping up a quick dressing of soy sauce, olive oil, Sesame oil, white vinegar and raw honey for the final touch to one very tasty, low carb thai dinner.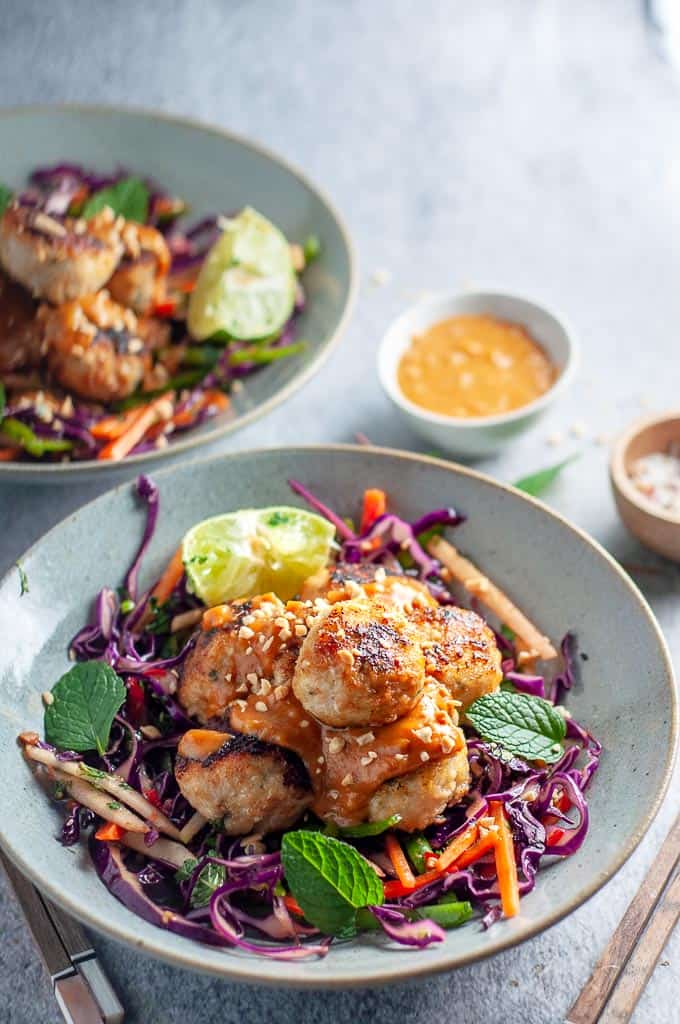 TIP: These meatballs are also great for parties, BBQ's game night or other social get togethers as you can stick a toothpick in them to create a tray of "finger food" and the Spicy Peanut Dipping Sauce is the perfect accompaniment.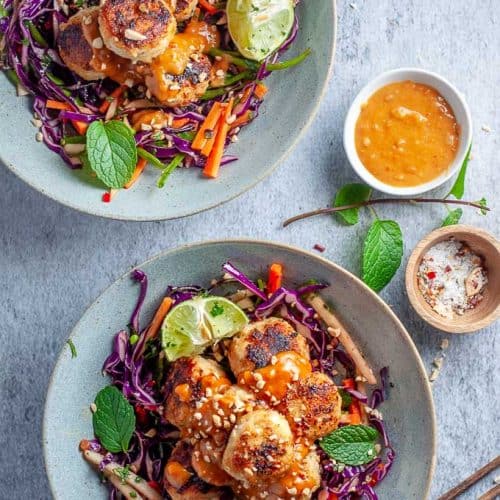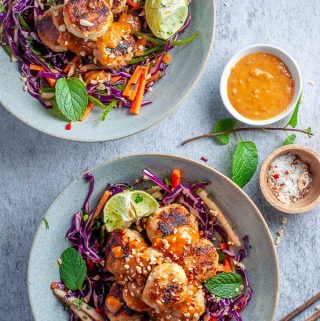 Thai Chicken Meatballs with Spicy Peanut Sauce
These Thai Chicken Meatballs with Spicy Peanut Sauce are a quick and tasty midweek meal, on the table in 30 minutes. The meatballs are mixed with garlic, ginger, finely chopped mint and coriander, all brought together with fish sauce, soy sauce and a shot of lime juice and raw honey to balance it all out.
Ingredients
Meatballs
500

grams/1 pound Minced or ground chicken

1

tsp

grated ginger

3

cloves

garlic

-

minced

1

tablespoon

fish sauce

1

teaspoon

Raw honey

2

tablespoons

Coriander/Cilantro

-

finely diced

2

tablespoons

Mint

-

finely diced

1

teaspoon

Lime juice

½

cup

Panko Breadcrumbs
Quick Spicy Peanut Sauce
¼

cup

Peanut butter

2

tablespoons

Soy Sauce

1

tablespoon

Lime Juice

1

teaspoons

Garlic

-

crushed

I teaspoon Ginger

-

fine grated

1

teaspoon

Raw Honey

1

tablespoon

Sirracha

-

for a medium level peanut sauce, otherwise use 1 teaspoon for mild

5

tablespoons

Milk

-

any type
Slaw
2

cups

purple or green cabbage

½

green apple

-

sliced into matchsticks

1

small carrot

-

sliced into matchsticks

2

tablespoons

roasted peanuts

1

tablespoon

Sesame seeds

2

tablespoons

mint

-

finely chopped

2

tablespoons

coriander/cilantro

-

finely chopped

1

red chilli

-

finely chopped
Instructions
Meatball Preparation: Add all the ingredients for the meatballs (except panko breadcrumbs) to a mixing bowl. Use a spoon to mix everything together until combined.

Put the panko breadcrumbs onto a large dinner plate and use a dessert spoon to scoop out 1 spoonful of meat mixture and drop into the crumbs. (Make sure to do one at a time as the mixture will be quite moist, however the breadcrumbs will make it more manageable).

Roll the spoonful of meat in the breadcrumbs until a ball (approx. golf ball size) is formed. Set meatballs aside on a clean plate and repeat until all the meat is rolled into balls. (you should end up with about 16 or so)

Cover and refrigerate the meatballs whilst the other parts of the recipe are prepared.

Slaw: Add all of the slaw ingredients to a medium sized bowl (without the dressing), cover and refrigerate until just before serving.

Dressing: Add all the dressing ingredients into a small mixing bowl or jar and whisk to combine. Cover and refrigerate until just before serving.

Cooking the Meatballs: Heat a large pan/skillet on medium to high heat with the oil. Gently add all the meatballs, and cook, gently turning with a spatula or tongs – about 10 minutes or so. While they are cooking, make the peanut sauce.

Peanut Sauce: Heat a small saucepan on medium and melt the peanut butter. Add the garlic, ginger, soy sauce, honey, lime juice and siracha, stir with a spoon to combine and heat through until sauce is thickened. Gradually add the milk 1 tablespoon at a time and stir through to thin out to your liking. Remove from heat once desired consistency is achieved.

To serve: Give the dressing a shake or another whisk and add to the bowl of slaw and toss through with a couple of forks. Arrange the slaw on two plates, place the meatballs, and drizzle over the spicy peanut sauce. Optional garnishes could include sesame seeds, chopped peanuts and spring onion.
Nutrition
Calories:
423
kcal
Carbohydrates:
27
g
Protein:
31
g
Fat:
20
g
Saturated Fat:
2
g
Fiber:
4
g
Sugar:
12
g
Note: Sugars contained in this recipe are from naturally occurring sugars in fruits, vegetables or other natural sweeteners.
Looking To Cut Out Sugar? Get the FREE Healthy Food Swaps Checklist Pack!
Get your FREE Healthy Food Swaps Checklists with over 65 Healthy Food Alternatives to Help you Ditch The Sugar Without Feeling Deprived.