This shepherds pie lasagne is a warm, hearty make ahead comfort food, with layers of savoury beef mince with a hint of curry, sheets of soft lasagne noodles and sweet potato, cheese and crumb combination on top.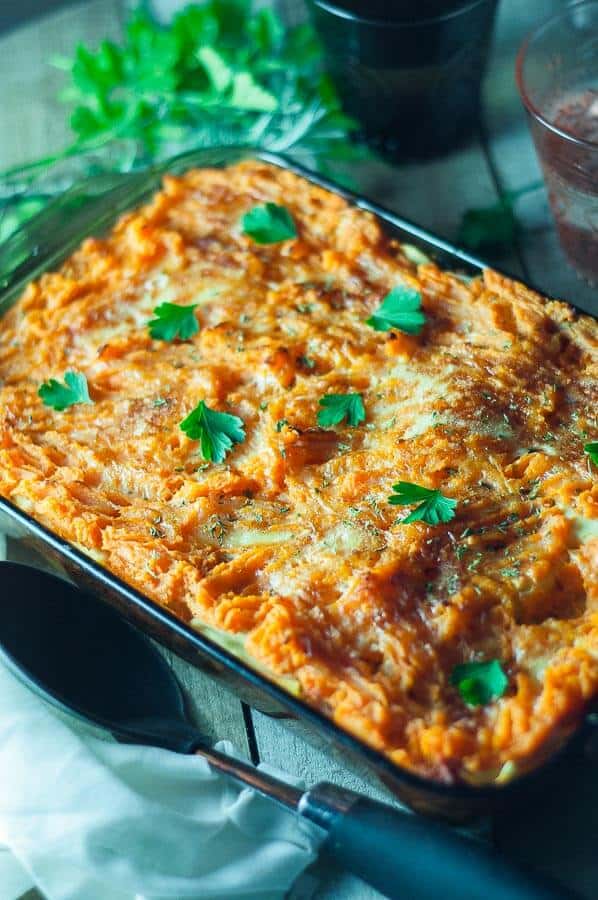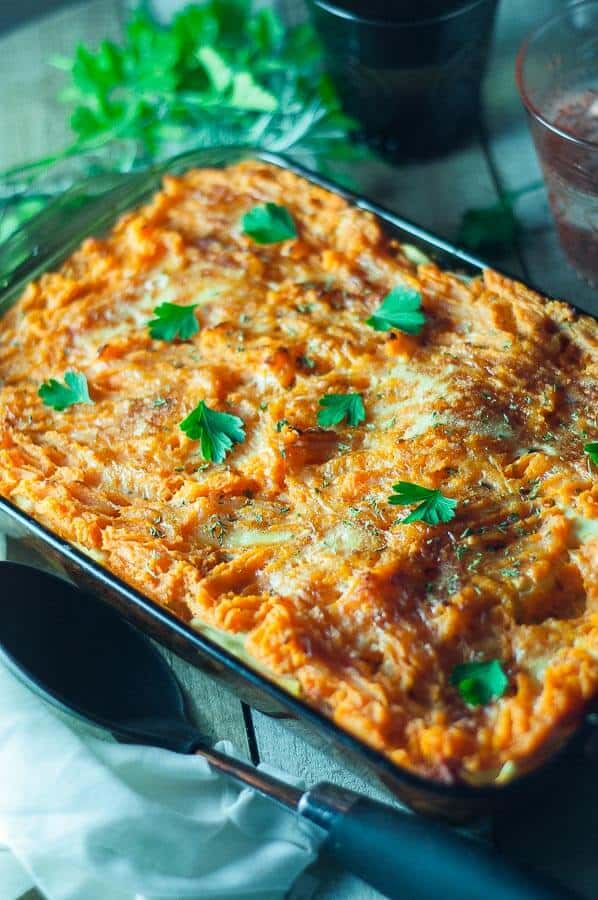 When you make this dish your house will be filled with the aroma of curry, shepherds pie and lasagne and I guarantee it will be enough to make your belly rumble and look forward to dinner with eager anticipation.
What is Shepherds Pie Lasagne?
Shepherds pie lasagne consists of a savoury mince with tomatoes, and an assortment of diced veges such as carrots, corn, zucchini, and peas, plus a generous helping of your favourite dry curry powder and some old el paso taco sauce.
It's similar to bolognase mince, but with more veges and more spiciness from the curry flavour. It also has a layer of lasagne sheet noodles in between two layers mince, with sweet potato, grated cheese and crumbs flaked on top to give it some texture.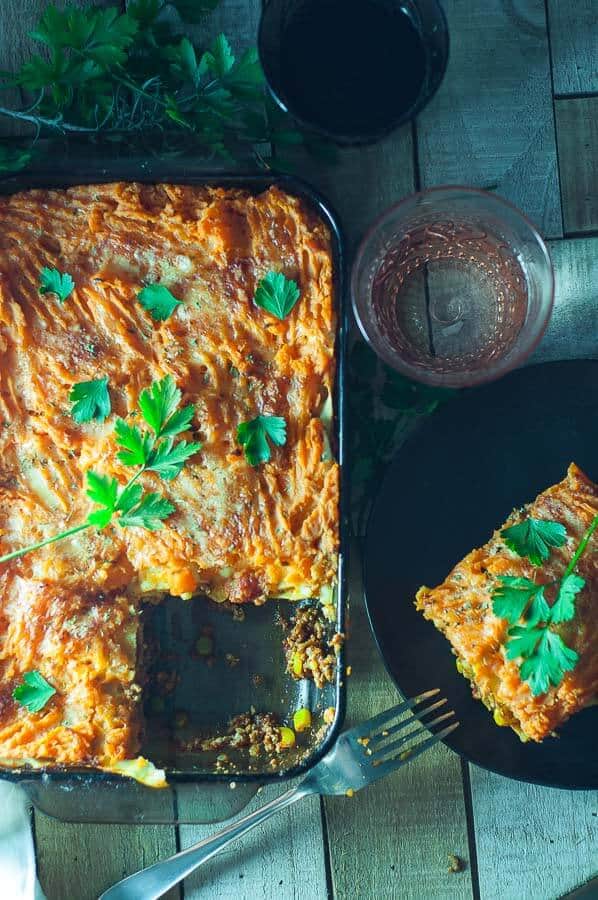 This dish came about because of my two loves: Shepherds pie and Lasagne, oh and curry!.  It was one night where I had planned on making a shepherds pie, and then I saw we had some leftover lasagne sheets in the fridge and a half opened bottle of taco sauce. After rummaging through the pantry I'd also spotted some curry powder.
Since I love poking around in my kitchen to see what I can make from ingredients I already have, I knew I was making something with ground beef mince, lasagne noodles, taco sauce and curry powder. Next thing I knew there were awesome smells coming from my oven and I was dishing up half shepherds pie, half lasagne. From that first time I made it years ago, we have eaten it many times since and it is always a winner.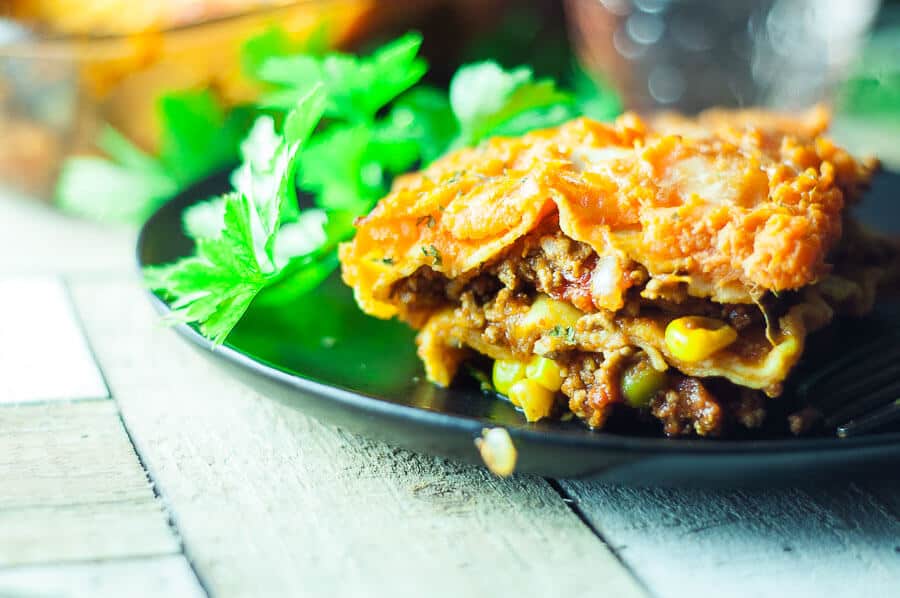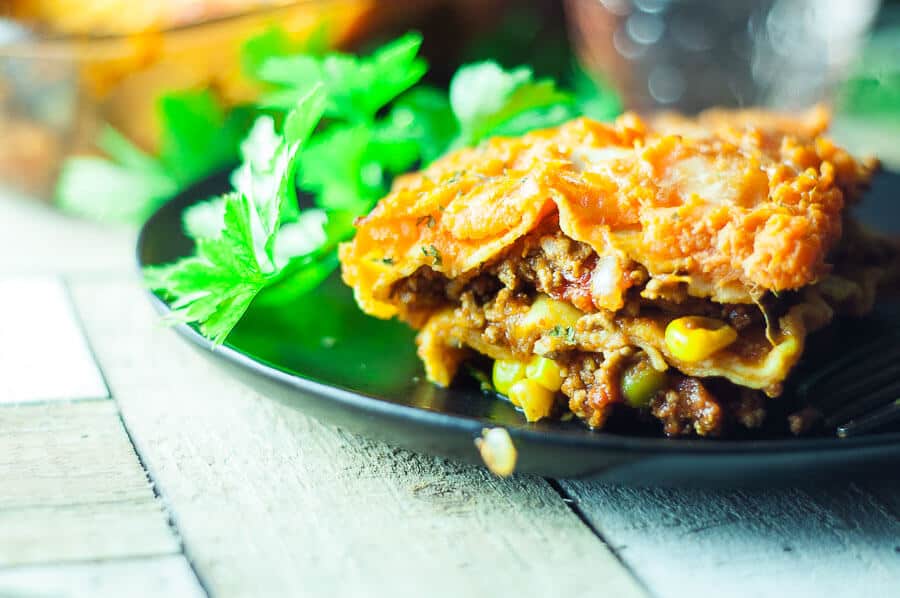 Recipe Tips
Use a square or rectangle dish (A round dish is too difficult with the lasagne sheets)
Don't use curry paste such as a Thai or Malaysian – I have experimented with these and the dry curry powder definitely works best.
If you don't want to be bothered with cutting up the veges for the savoury mince, use diced frozen veges instead. It's a great timesaver
If you like extra spicy, use a medium or hot taco sauce, otherwise, go for the mild one
Try it with turkey or pork mince for a bit of variety
This combination of shepherds pie and lasagne is a great dish to make ahead on a Sunday so you have it for easy and convenient meals during the week. It also freezes well too, like my Moroccan Beef Slow Cooked Stew, and this delicious Apricot Curry Chicken Casserole.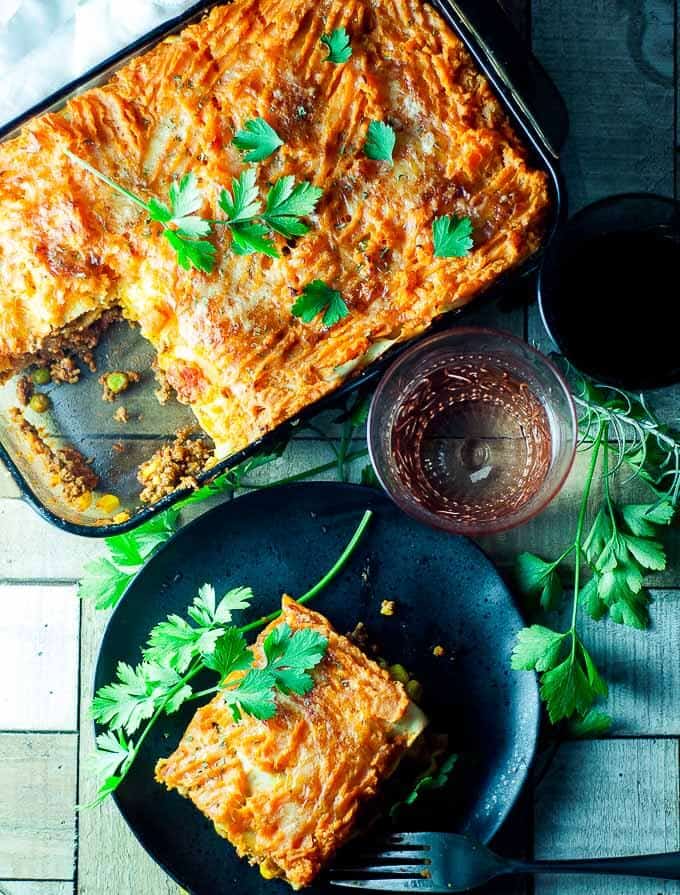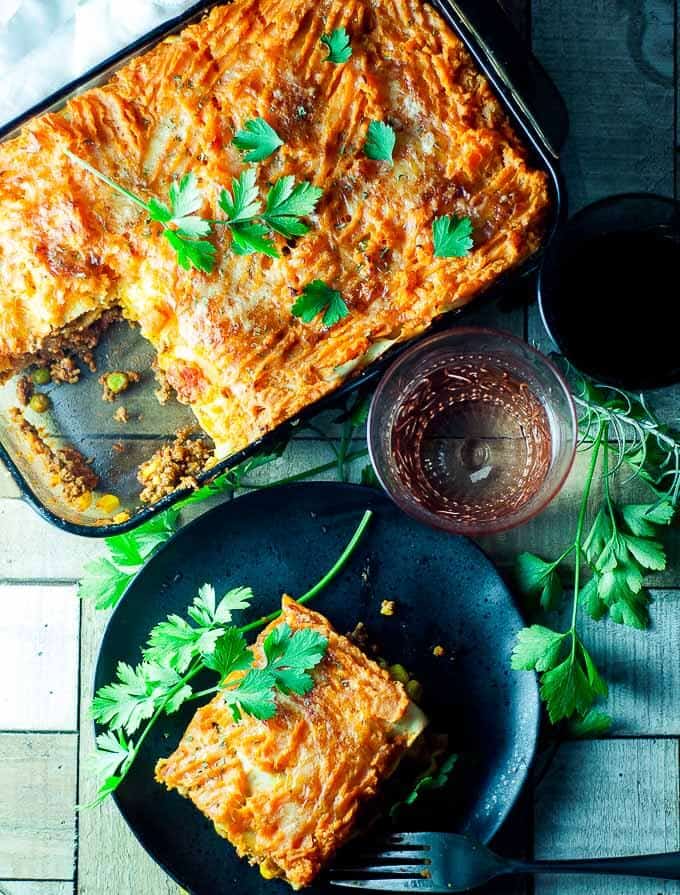 This is hearty, healthy, filling comfort food that is great to eat when it's a bit cool out, but also when you're craving a wholesome meal in those in between months of Autumn and Spring. It's what I call an all-rounder, go to anytime never fail recipe! Yum.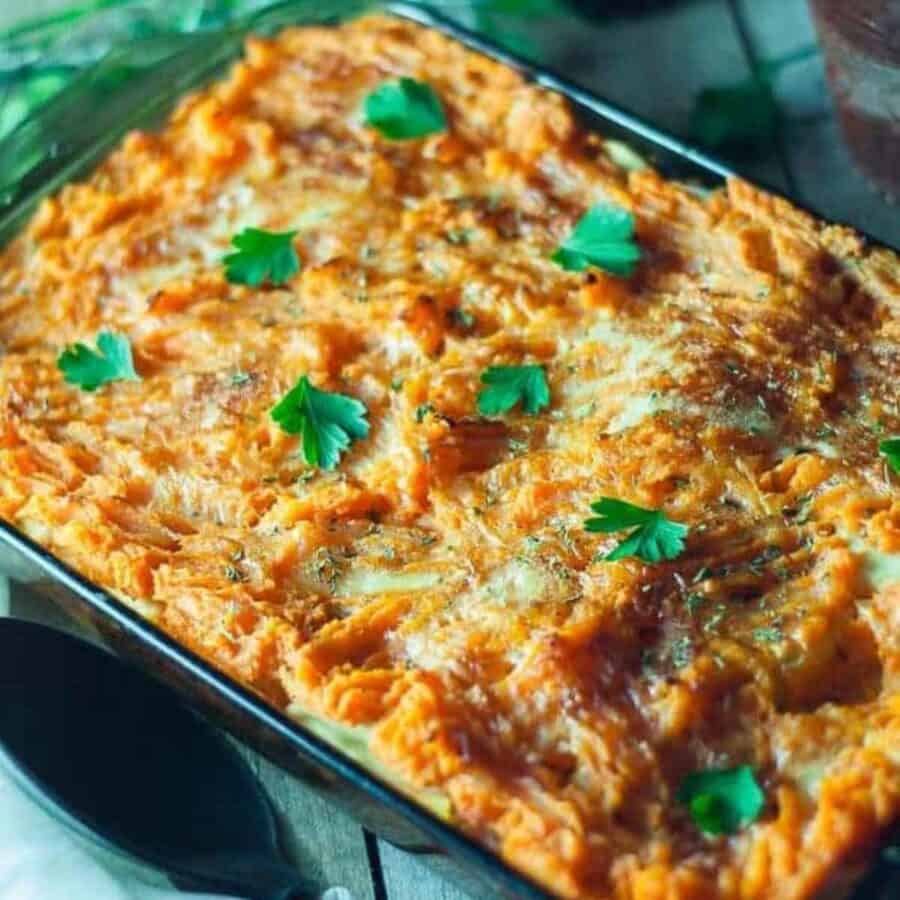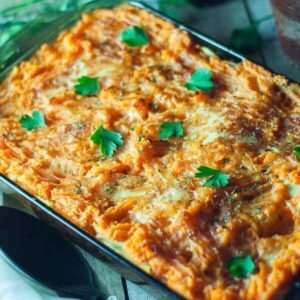 Shepherds Pie Lasagne
This shepherds pie lasagne is a warm, hearty make ahead comfort food, with layers of savoury beef mince with a hint of curry, sheets of soft lasagne noodles and sweet potato, cheese and crumb combination on top.
Ingredients
500

grams/ 1 pound Beef Mince/Ground Beef

1

medium Red onion

-

diced

2

cloves

Garlic

-

minced

3

tablespoons

Curry Powder

-

(see Note 1)

½

teaspoon

salt

2

tablespoons

Tomato paste

1

Beef stock cube,

-

crumbled

200

gram/7 ounces Mild Old El Paso Taco Sauce

-

in a Jar

410

gram/14 ounces Chopped Tomatoes

-

in a tin

1

tablespoon

Tamari or Light Soy sauce

700

grams/25 ounces Sweet Potato

1

cup

Mixed frozen veges

3

or 4 Lasagne sheets

¼

cup

Grated Cheese
Instructions
Potatoes: Heat a saucepan of water on the stove and add sweet potato. Bring to the boil. When potatoes are soft, remove from heat and mash with a fork and set aside.

Preheat oven to 180 degrees C/350 F.

Beef: Heat a pan on high heat on the stove, and lightly cook the onion and garlic for 1 minute.

Add the beef mince to the pan, breaking it into pieces so it cooks evenly. Use a spatula to break up the mince further and brown the meat.

Once meat is cooked reduce heat to low to medium, add the curry powder, salt, tomato paste and beef stock cube crumbled up. Stir to combine – about another minute.

Add the Taco Sauce, tomatoes and soy sauce and stir in.

Add the frozen veges and stir in for another minute until combined.

Reduce heat to low and simmer for 10 minutes.

Assembly: In a rectangle oven proof dish, add half of the mince, next add the lasagne sheets (3 or 4 depending on how big your dish is), then add the second half of the mince and pat down with a spatula.

Finally add the mashed sweet potato, using a fork to spread it out across the mince. Sprinkle the grated cheese on and bake for 30 minutes.

Allow to cool for 2 minutes on a pot stand before serving.

Serving Suggestion: Steamed green beans, or steamed broccoli
Notes
1. I use Keens Curry Powder, but any type of dry curry powder would work.
This Shepherds Pie Lasagne freezes really well. Any leftovers can be portioned out into freezer containers for midweek meals.
If not freezing leftovers, store covered in the fridge and eat within 2 to 3 days.
Nutrition
Calories:
366
kcal
Carbohydrates:
47
g
Protein:
19
g
Fat:
11
g
Saturated Fat:
5
g
Fiber:
9
g
Sugar:
5
g
Note: Sugars contained in this recipe are from naturally occurring sugars in fruits, vegetables or other natural sweeteners.
Looking To Cut Out Sugar? Get the FREE Healthy Food Swaps Checklist Pack!
Get your FREE Healthy Food Swaps Checklists with over 65 Healthy Food Alternatives to Help you Ditch The Sugar Without Feeling Deprived.