This Salmon Quinoa Salad is a light, healthy and filling summer dish with a zesty creamy dressing, perfect for and easy dinner, or lunch.  Its crispy pan fried salmon, together with a quinoa salad of cucumber, mint, coriander, Spanish red onion, baked sweet potato, capsicum and optional chickpeas and lightly toasted walnuts.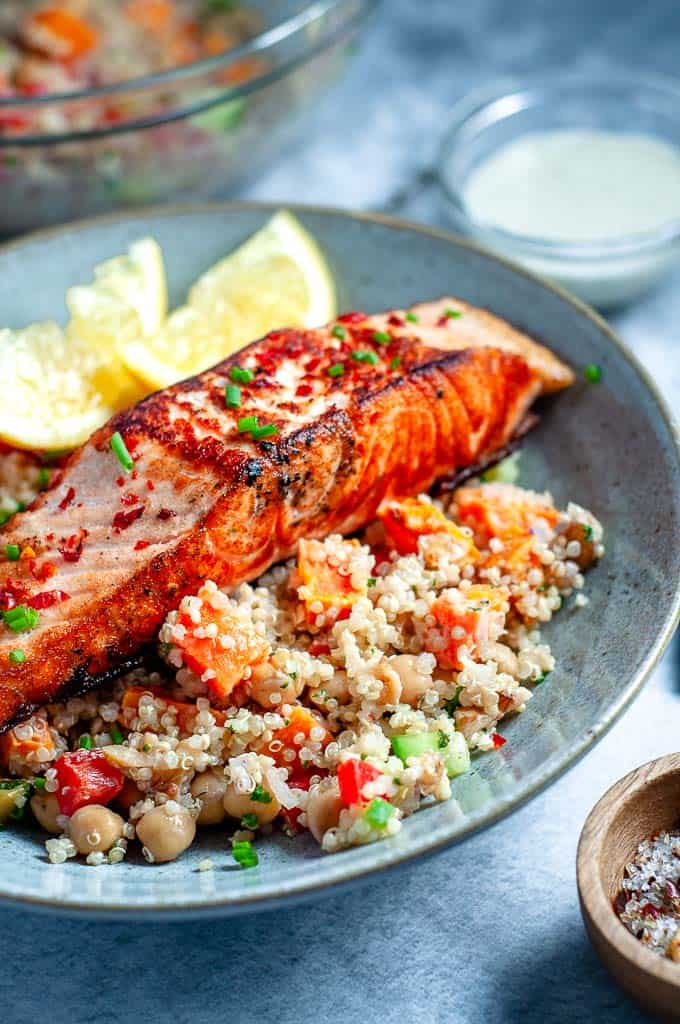 If you're anything like me, as the weather warms up, you start craving light dinners and healthy bowl foods with plenty of flavour, crunch and texture.  Pan frying salmon is one of my favourite ways to eat Salmon as it creates a crispy and crunchy outer texture with delicious soft fish on the inside.
In our household, we eat salmon a couple of times a week, but I rarely buy it and cook it on the same day.  Whilst I buy fresh salmon portions, I tend to potion them into either one or two serves and freeze them.
To defrost, its just a matter of making sure to take them out of the freezer the night before and put them onto a plate in the fridge to thaw.  This is definitely where a little meal planning comes in handy, and knowing what you're making in advance (even if its just 3 nights a week) is bound to be a big help in getting dinner on the table quickly and with less stress.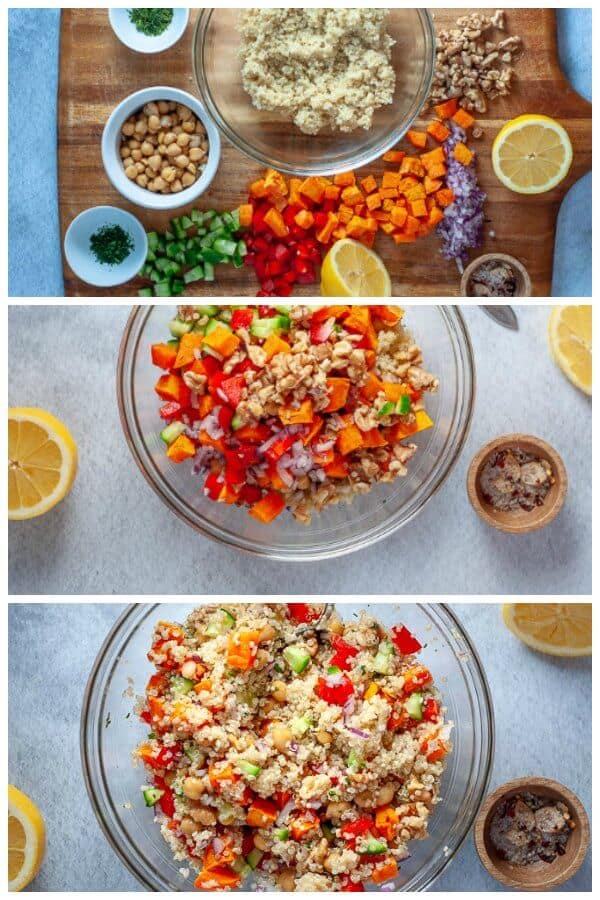 How To Make Crispy Skin Salmon with Skin Off Salmon 
Heat a skillet on high heat
No oil is needed. I never use oil as salmon is a very oily fish and the natural oils from the fish are released during the cooking process.
Pat the salmon dry to remove excess moisture
Place salmon flat side down and cover with a lid to trap the steam so it cooks quicker. Let cook for 3 to 5 minutes,
Remove lid and flip over to the other side, replacing lid, and cooking for a further 2 to 3 minutes.
Optional: turn salmon on its side and 30 to 40 seconds and cook each side for a crispier finish
Salmon is cooked when golden and crispy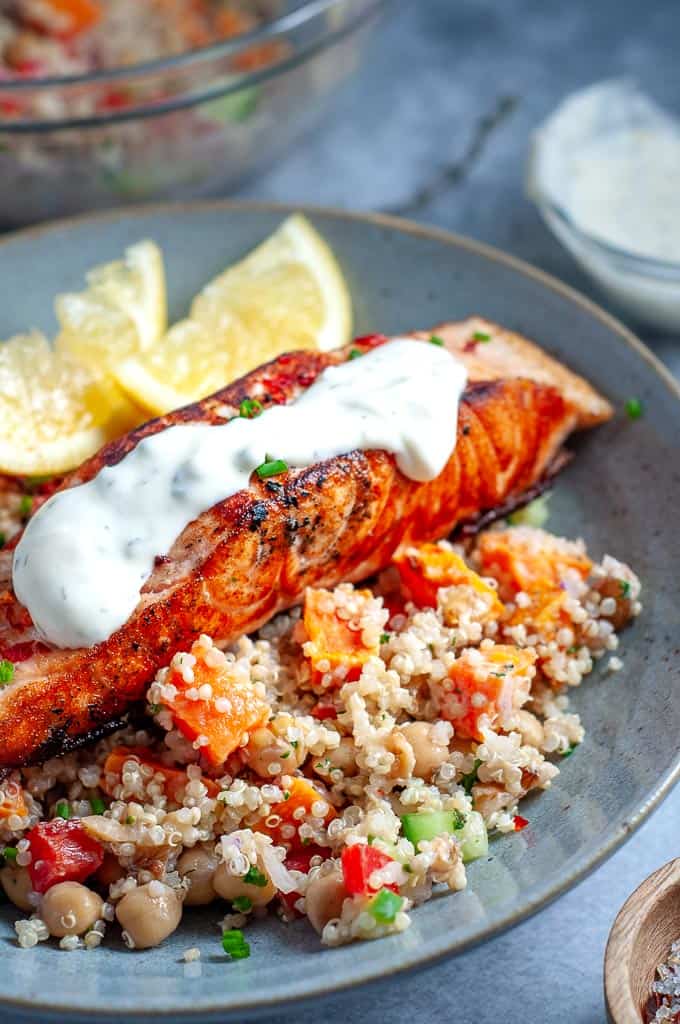 TIP:  Quinoa is very high in fibre (much higher than other grains) and has a low GI which means the energy gained from eating quinoa will be released throughout your body at a much slow rate keeping you fuller for longer.  It might mean, you also find yourself eating less of it as it is so filling.
Other Salmon Recipes You Should Check Out ---->>>  Lemon Garlic Butter Salmon, Salmon with Leeks and Lentils, Easy Salmon Fritters, Spicy Salmon Burrito Bowl, and my Salmon Curry in a Hurry.
How To Cook Quinoa
I use white quinoa which is available from most supermarkets in the healthfood aisle.
Take 1 cup of quinoa plus 2 cups of water and place in a large microwave safe jug or bowl
Microwave 5 minutes on high.
Stir with a spoon and cook on high for another 2 minutes.
Remove from microwave, cover with a tea towel folded half so the heat cant escape. (quinoa will continue cooking and absorb the remaining water)
Let sit for 7 to 10 minutes or when all the water has gone into the quinoa
Fluff with a fork and add in the flavourings, seasonings, herbs and other bits and pieces.
Another Quinoa Recipe:  Quinoa Crusted Chicken (an easy high protein dinner)
TIP:  If you have leftover Quinoa Salad, it makes perfect leftovers to take to work the next day, or even to use as a side for the next nights meal with say some Baked Paprika Parmesan Chicken Tenders, or Tasty Chicken Rissoles.  If you do have some leftover salad, just make sure to store it in the fridge in an air tight container until you need it.  It will be good for 2 days.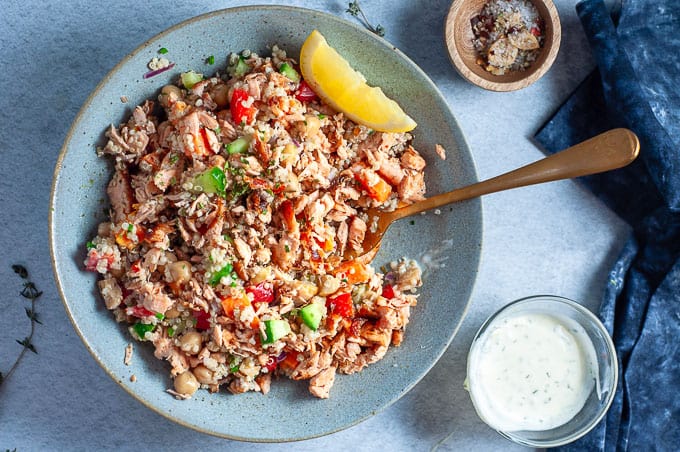 Salmon and Quinoa is a protein bomb and with a simple dressing that's a little bit tangy, a little bit zesty and all creamy and delicious it is a superfood dish that should be on your menu if your looking to get back on the clean eating wagon.
More Delicious Salad recipes:  Summer Sausage Salad, Chicken Popcorn Salad, Thai Beef Salad, Easy Thai Prawn (Shrimp) Salad with zoodles and homemade dressing, and Salt and Pepper Squid Salad.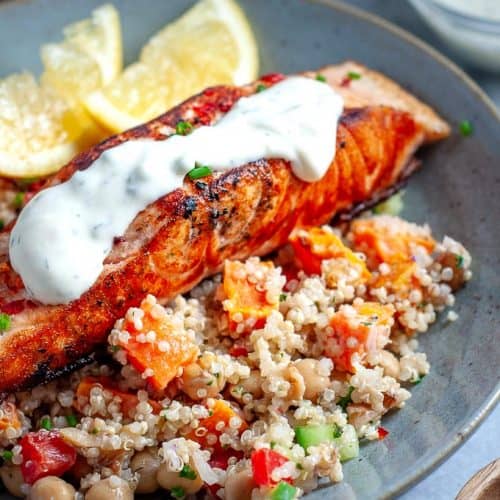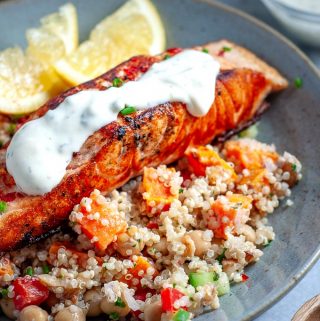 Salmon Quinoa Salad
Easy pan fried crispy and crunchy Salmon Quinoa Salad with a light creamy dressing, perfect for an easy dinner, or lunch. On the table in 30 minutes, its healthy and filling and makes for great leftovers.
Ingredients
Salmon
2

pieces

of skin off salmon

½

teaspoon

sea salt

Juice from half a lemon
Salad
1

cup

Quinoa

Red/Spanish onion

Fresh Mint

Fresh Corriander/Cilantro

1

medium red Capsicum/Pepper

1

cup

Cucumber

-

chopped small

1

cup

chopped Sweet Potato

-

1.5cm x 1.5 cm

½

teaspoon

sea salt

½

teaspoon

pepper
Creamy Dressing
⅓

cup

plain greek yoghurt

1

tablespoon

Sour Cream

1

teaspoon

crushed garlic

1

teaspoon

Dill

-

finely chopped

1

teaspoon

Chives

-

finely chopped

1

teaspoon

Dijon Mustard

1

teaspoon

White wine vinegar

2

tablespoons

Mild extra virgin olive oil

Juice from half a lemon

½

teaspoon

sea salt

½

teaspoon

pepper
Optional
½

cup

Chickpeas

-

from a tin, drained

½

cup

chopped walnuts
Instructions
Salmon
Heat a pan on medium to high heat

Place salmon flat side down. Add a pinch of salt to each piece and a squeeze of lemon

Cook for 3 to 4 minutes, depending how well done you like your salmon. I like mine to be a crisp golden brown on the outside. Then flip over and cook the other side for 2 to 3 minutes. (Don't turn the salmon in between)

Once Cooked remove from heat and set aside and cover.
Salad
Cook the quinoa to packet instructions. (see note 2)

Preheat oven to 180 degrees C/320 degrees F.

On one baking tray add the chopped sweet potato, lightly sprayed with olive oil and a pinch of salt. Bake for 10 to 12 minutes.

On a second baking tray place the walnuts and toast for 3 to 4 minutes.

In a medium bowl, add the cooked quinoa, onion, fresh herbs, capsicum/pepper, chickpeas, cucumber with a pinch of salt and the zest of a ½ a lemon. Mix to combine.

Add in the roasted sweet potato pieces, toasted walnuts, salt, pepper and lemon juice. Mix to combine
Creamy Dressing
Place all the ingredients into a jug or bowl and whisk vigorously until combined. Store any unused dressing in an air tight container in the fridge for upto 3 days.
Assembly
Divide the salad evenly between two plates. Place a piece of salmon on each. Serve sauce on the side or drizzled over the top.
Notes
Almonds or pecans could be used in place of the walnuts
I cook 1 cup of quinoa with 2 cups of water in a microwave safe bowl for 5 minutes on high. I then stir it and cook on high for another 2 minutes. Then, remove from microwave, cover with a tea towel folded half so the heat cant escape and quinoa will continue cooking to absorb the water. After 5 to 10 minutes, or when all the water has gone into the quinoa, fluff with a fork.
Nutritional information excludes chickpeas and walnuts and is for 2 people.
Nutrition
Serving:
1
serve
Calories:
556
kcal
Carbohydrates:
63
g
Protein:
43
g
Fat:
20
g
Saturated Fat:
5
g
Fiber:
15
g
Sugar:
6
g
Note: Sugars contained in this recipe are from naturally occurring sugars in fruits, vegetables or other natural sweeteners.
Looking To Cut Out Sugar? Get the FREE Healthy Food Swaps Checklist Pack!
Get your FREE Healthy Food Swaps Checklists with over 65 Healthy Food Alternatives to Help you Ditch The Sugar Without Feeling Deprived.
★ Did you make this recipe? Don't forget to give it a star rating below!