This Quinoa Crusted Chicken has a nice golden crispy coating covering a thin schnitzel like chicken breast.  The quinoa flakes, walnuts, dried basil, oregano and chives come together to create a crust that is a little higher in protein than traditional breadcrumb varieties.  This is a different twist on a fried chicken favourite.

What are Quinoa Flakes
Quinoa flakes are quinoa that has been rolled into a very small and thin round flake, similar to oats, but smaller and lighter.  Quinoa flakes are often used as a breakfast cereal, but as I recently discovered, are a cool and different way to change up the usual crumb suspects for something out of the box.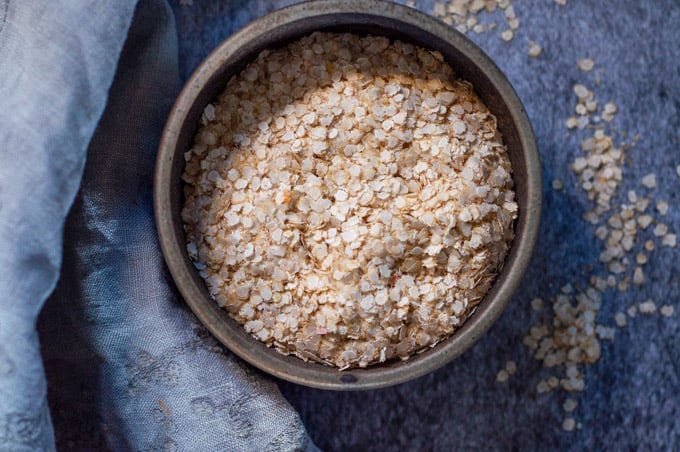 [irp posts="2778" name="Baked Paprika Parmesan Chicken"]
Quinoa flakes have a slightly nutty and earthy flavour which works pairs perfectly as a savoury crumb.  Plus you'll be getting that extra hit or protein as Quinoa is higher in protein than most other things you'd use to crumb meat, like breadcrumbs, or even oats.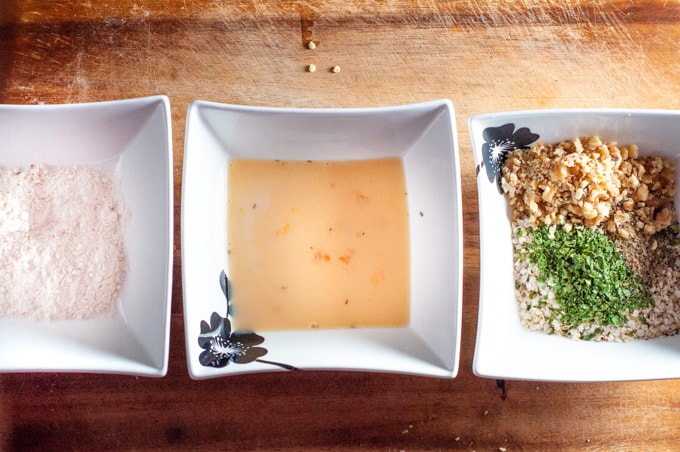 Three Ways I like to Eat my Quinoa Crusted Chicken
With creamy mash and green veg: nice and simple.  A healthy mash using just a little milk and butter – enough to get a consistent smoothness, and then usually its steamed green beans and zucchini.
Garlic greens and lemon pepper Cabbage: Beans, snow peas, and sugar snap peas, stir fried in a little vegetable stock/broth and garlic, with steamed cabbage stirred through a little butter and lemon pepper seasoning. Truly delicious.
Garden salad and sweet potato fries: The easiest of all, grab a bag of premade salad, drizzle some Italian dressing or other low sugar dressing, and serve up with oven baked sweet potato fries seasoned with sea salt and rosemary.
[irp posts="1626" name="Low Carb Chicken Schnitzel"]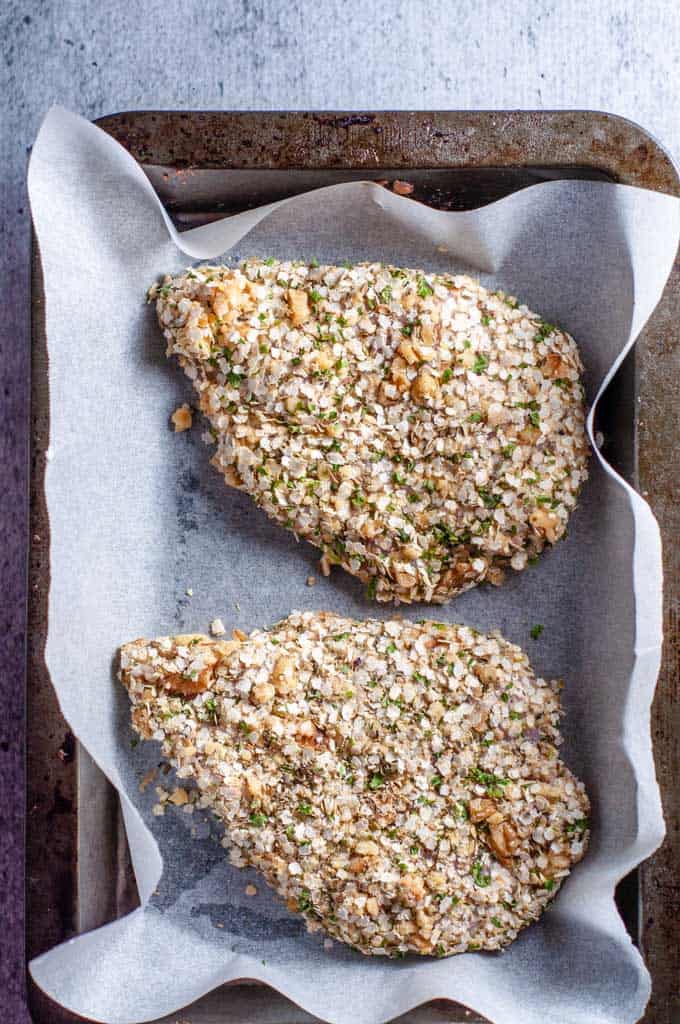 TIP:  Toasting the crushed walnuts ads an extra level of flavour.  Spread them out on a roasting tray and place in a preheated moderate oven for 3 to 5 minutes, or under a grill for a minute or two.
My Top Rules For Crumbing Chicken
Set up the production line in the right order: that's, plain flour, followed by egg wash, followed by crumb mix.
Salt the egg wash (just a little): my secret tip to getting the level of seasoning so it lands on the plate just right.
Coat thoroughly: nobody likes a patch job.  To get the perfect coating, make sure you dip the meat in the flour, shake off the excess, dip in the egg wash, and shake it off, and then press firmly down into the crumb, both sides, turning a couple of times.
TIP:  Double Coat the meat if you dare.  This is something I do every so often.  It's literally repeating the 3 step process (flour, egg wash, crumb) twice, for a thick crumb that will be extra crunchy.

How To Get that Perfect Golden Crusted Chicken
You need the right amount of oil so that it covers the base of the pan you are using, but not too much that it covers the entire chicken (just enough so the oil coats one side of the chicken at a time)
The oil must be hot, that is, heated up before putting the chicken in. Once the oil is hot, reduce heat to medium/high upon placing the chicken in the pan
Don't turn too frequently as the crumb needs to set through the cooking process.
Use a spatula to turn. Tongs are too rough and might damage the delegate crumb.
[irp posts="3348" name="Spanish Chicken Tray Bake"]

Substitutions and Variations To Mix Up your Quinoa Crusted Chicken
If you don't have walnuts, try peacans, or even almonds instead.
You can use any combination of dried herbs, even pre made mixes. I especially love rosemary and thyme, or basil and coriander.
You could try blitzing the quinoa flakes in a food processor if you'd prefer a finer consistency. I usually don't bother though as I like the texture of the flakes.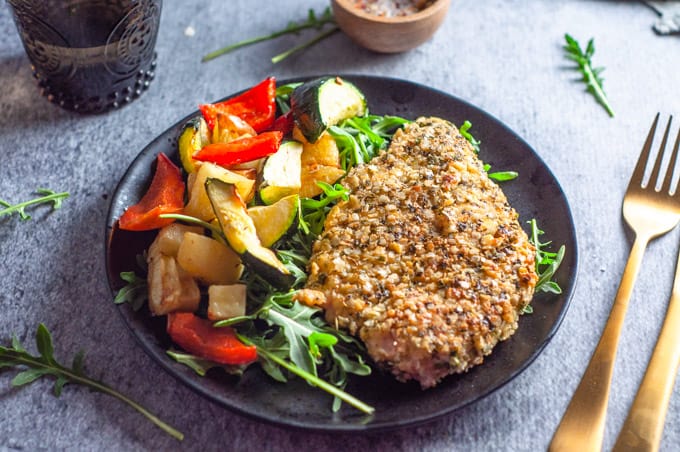 My Quinoa Crusted Chicken  is a twist on a traditional crumbed or breaded chicken.  It's an earthy, nutty textured mouthful with savoury herbs and spices that make it so versatile.  Really you could whip this thicken up for dinner, and have leftovers the next day in a salad, or in a wrap.  It's the perfect nifty little number when you're looking for an interesting alternative to your mums crumbed chicken.
Like what you see? Follow me on Facebook or Pinterest! Did you try a recipe? Tag me on Instagram: @mysugarfreekitchen, and leave a comment & star rating!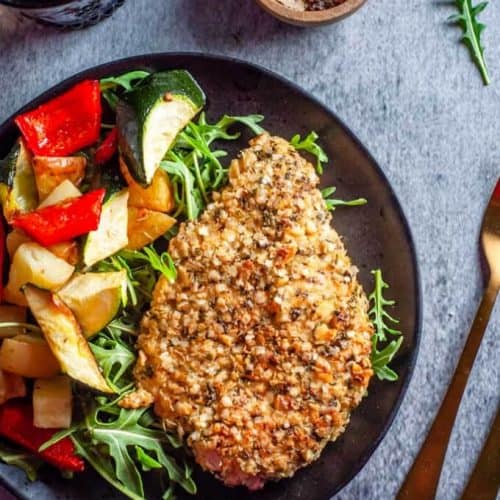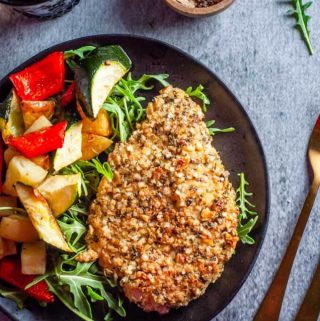 Quinoa Crusted Chicken
This Quinoa Crusted Chicken has a nice golden crispy coating covering a thin schnitzel like chicken breast. The quinoa flakes, walnuts, dried basil, oregano and chives come together to create a crust that is a little higher in protein than traditional breadcrumb varieties.
Ingredients
1

skinless Chicken breast

-

250 grams or half a pound (See note 1)

½

cup

Quinoa flakes

2

tablespoons

Walnuts

-

crushed

2

tablespoons

Dried chives

1

tablespoon

Dried basil

1

tablespoon

Dried oregano

1

medium Egg

¼

cup

Milk

2

tablespoons

plain flour

Spray Oil

2

tablespoons

Olive oil

2

small potatoes

1

medium zucchini

1

small red capsicum/pepper

1

teaspoon

Crushed garlic

Salt and pepper to taste
Optional
Handful of rocket or spinach leaves

2

tablespoons

tzatziki
Instructions
Preheat oven to 180 degrees C/350 degrees F.

Vegetables: Roughly chop the zucchnin and capsicum/red peppers. Chop the potato into small cubes. Arrange on a baking tray, sprinkle with salt and a quick spray of oil. Bake for 15-20 mins.

In order to get two thin pieces of chicken breast from the one piece, pat it down and flatten it out with your hand, then make an incision on the side and cut it in half. To further thin them out, place a sheet of baking/kitchen paper over and press down several times with the palm of your hand, or use a meat mallet. You are aiming for chicken pieces approx. 1 cm to 1.5 cm thick.

Quinoa Crumb: Set out three bowls on a bench. In bowl 1, place the flour, in bowl 2, place the egg and milk (whisk together). In the 3rd bowl, place the quinoa flakes, crushed walnuts, dried herbs and salt and pepper.

Coat the chicken: Coat one piece of chicken in flour. Shake of the excess. Dip it into the egg wash, then press it into the quinoa crumb, both sides. Flip over a few times, each time pressing down into the crumb mixture so that it is completed coated. Repeat for the second one.

Cook the chicken: Heat a pan/skillet on medium to high heat with 2 tablespoons olive oil. Add the chicken and cook for 5 to 7 minutes each side, until cooked through and golden brown.

Plating up: Arrange spinach or rocket leaves on a plate, place the chicken on one side, the roast vegetables on another. Serve with a tzatziki on the side.
Notes
You may be able to buy (raw) uncrumbed Chicken Schnitzel pieces from the supermarket (Woolworths) if you're in Australia. This is what I often do when they are on sale and it saves me time having to prep the chicken before doing the quinoa crusting.
Nutrition
Calories:
612
kcal
Carbohydrates:
60
g
Protein:
42
g
Fat:
21
g
Saturated Fat:
4
g
Fiber:
8
g
Sugar:
5
g
Note: Sugars contained in this recipe are from naturally occurring sugars in fruits, vegetables or other natural sweeteners.
Looking To Cut Out Sugar? Get the FREE Healthy Food Swaps Checklist Pack!
Get your FREE Healthy Food Swaps Checklists with over 65 Healthy Food Alternatives to Help you Ditch The Sugar Without Feeling Deprived.
★ Did you make this recipe? Don't forget to give it a star rating below!