These lightly spiced Chicken Rissoles are super easy to make in under 30 minutes. with a little ginger, garlic, onion, dried or fresh herbs and panko breadcrumbs to a to create a delicious golden crispy crunch on the outside.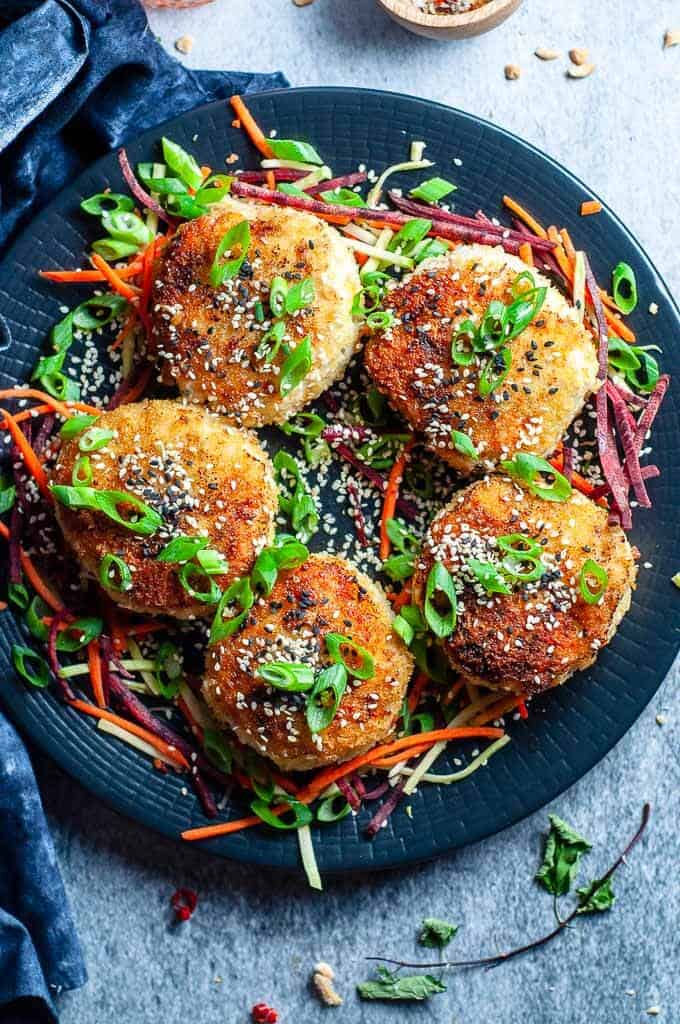 Why Make These Chicken Rissoles?
Made with Ground Chicken, they take around 10 minutes to mix and assemble and another 10 to 15 minutes to cook, so they are great for an easy weeknight dinner that can be on the table in under 30 minutes.
You can lightly fry them or oven bake them, using a little oil or a little more oil. Either way, they will be deliciously packed with flavour and a crisp and crunchy coating on the outside.
They're Low Carb and packed with protein with lots of herbs and veges, garlic and seasonings come together to make a tasty and filling meal.
They're a fabulous base ingredient to build your dinner around. Add a potato bake, noodle salad, garden salad, rice, cauliflouwer rice, pasta, cous cous, and even steamed vegetables.
They make for great leftovers, and they go with plenty of different sides. Great for making a big batch and then mixing and matching different sides during the week to change things up.
How To Make Chicken Rissoles
Meat: Add the ground chicken/chicken mince to a large bowl and break up with a spoon so there are no lumps.
Arromats: Add the spices: fresh garlic, fresh ginger, rosemary, coriander, lemon pepper and salt.
Mix: Use hands to mix it all together (wear a pair of disposable rubber gloves if preferred)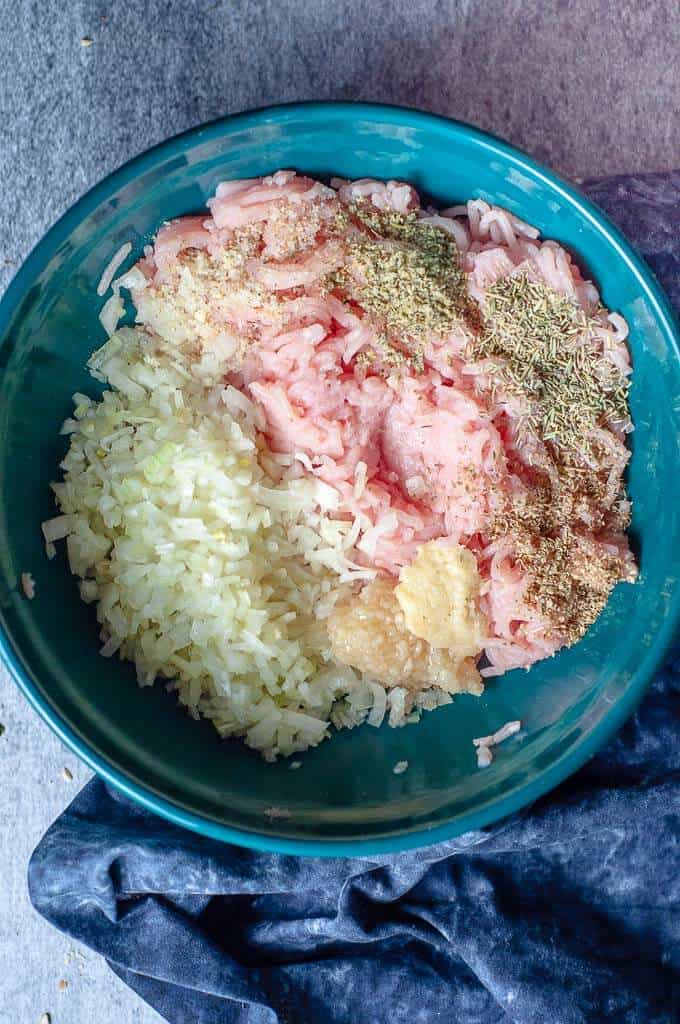 Shape: Shape mixture into 6 large balls and gently flatten each one with palm of hand into a round disc shape about 1 inch thick.
Cook: Add 2 tablespoons of oil to pan on medium high heat, and cook each side for 3 to 4 minutes or until golden brown.
Finish: Drain on kitchen paper if need, and serve.
[irp posts="2778" name="Baked Paprika Parmesan Chicken"]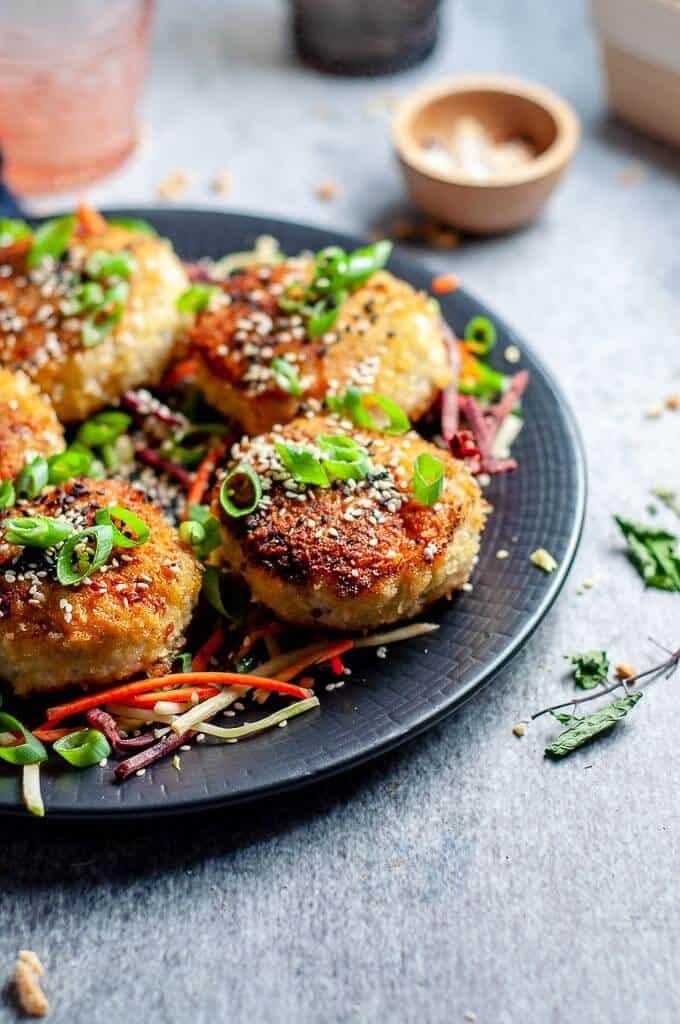 FAQ's
Can You Make Chicken Rissoles In the Oven?
Yes you can cook rissoles in the oven which is great if you're looking to reduce the amount of oil.  Preheat an oven to 180 degrees C/350 degrees C, add the rissoles to a greased baking tray or line with baking paper, and apply a gently spray of oil so the brown on top.  Bake for 30 minutes.
Can You Cook Rissoles on the BBQ?
Absolutely.  Just make sure to cook them on the flat hotplate, not the grill hotplate, and to thoroughly oil the plate before cooking to ensure they don't stick.  This will result in a delicious smokey rissole with a little bit of char and crisp.  Yum.
What's the difference between meatballs and rissoles?
Whilst many meatballs and rissoles are made from similar ingredients, Meatballs tend smaller and round, whereas rissoles are a bigger version of a meatball, patted on top to slightly flatten it. So, Rissoles are bigger than a meatball, but smaller than a burger patty.
Expert Tips
Make Ahead: make these chicken rissoles ahead of time and keep them covered in an air tight container in the fridge for 2 days.
Storing: Once cooked, store leftover rissoles in an air tight container in the fridge and eat within 2 days
Freezing: Store cooked and cooled rissoles in an air tight freezer container for upto 2 months. Make sure to label and date the container so you know what is in there and when it was made. I also like to include a used by date of about 4 weeks later as it helps to organise what freezer meals need eating when.
Make them into mini meatballs: this recipe has many uses and instead of making rissoles, instead shape the meat into mini meatballs.
What To Serve With Chicken Rissoles?
Chicken Rissoles are so versatile and there are so many things you can do with them.
Salad Option - Noodle Salad, Rice Salad or Garden Salad, potato bake and side salad
Low Carb Option - Zucchini Noodles, Stirfry Asian greens
Aussie Option - Coleslaw and Chips
I generally find no sauce is needed with these rissoles as they are so tasty and full of flavour from the garlic, ginger and all the herbs and spices.
However if you tend to enjoy a little sauce try this quick homemade sugar free sweet chilli sauce, quick homemade ketchup, or this rich smoky homemade BBQ sauce.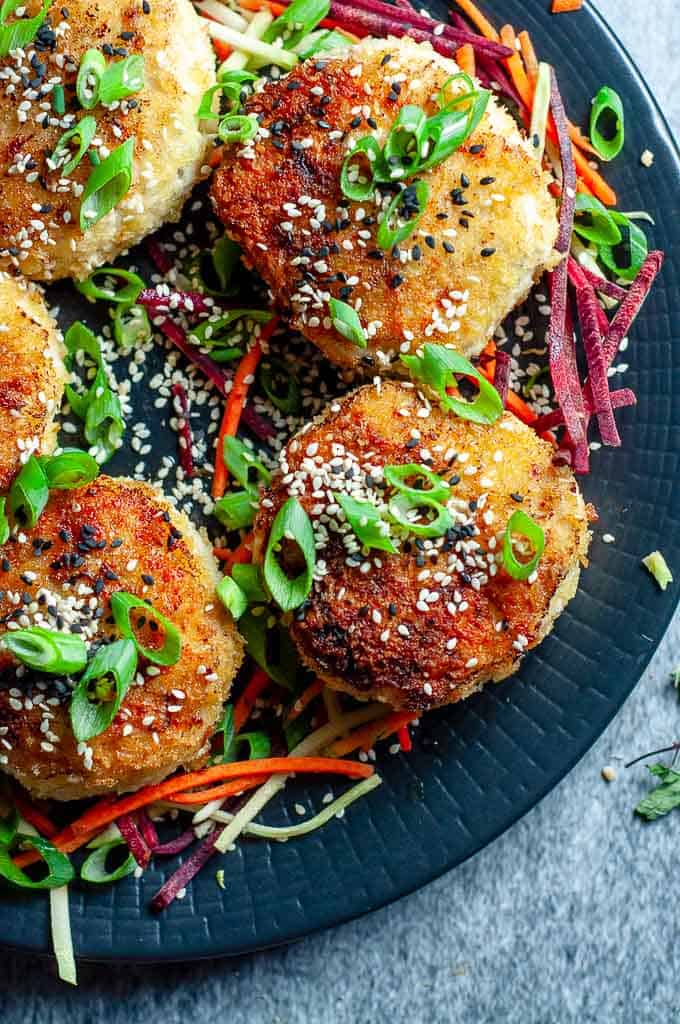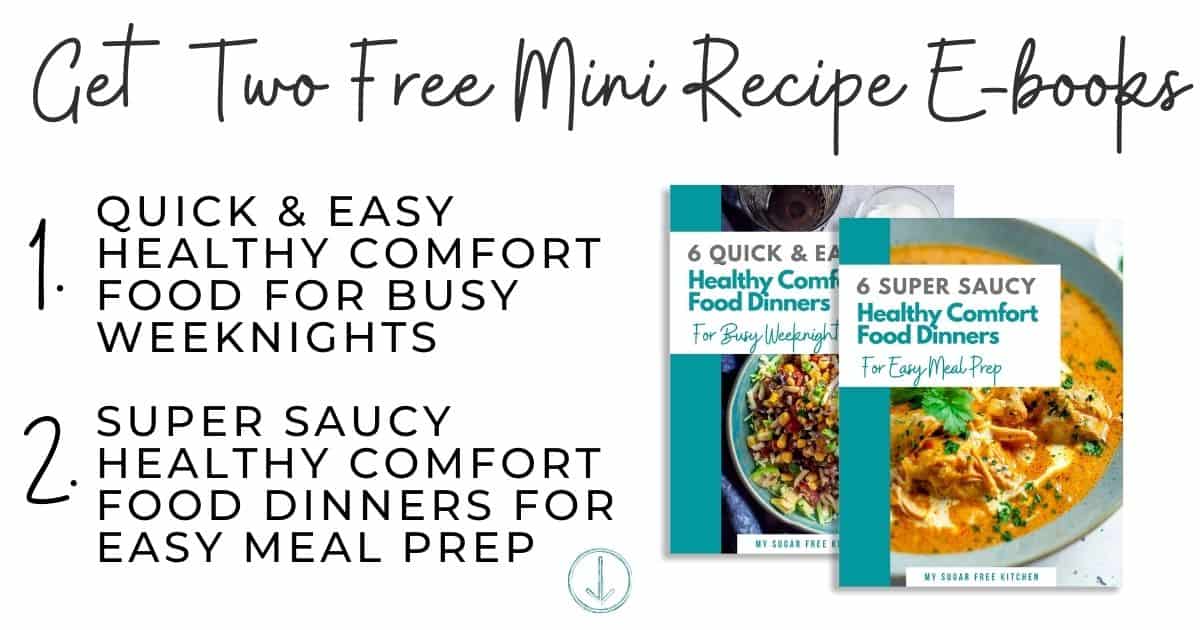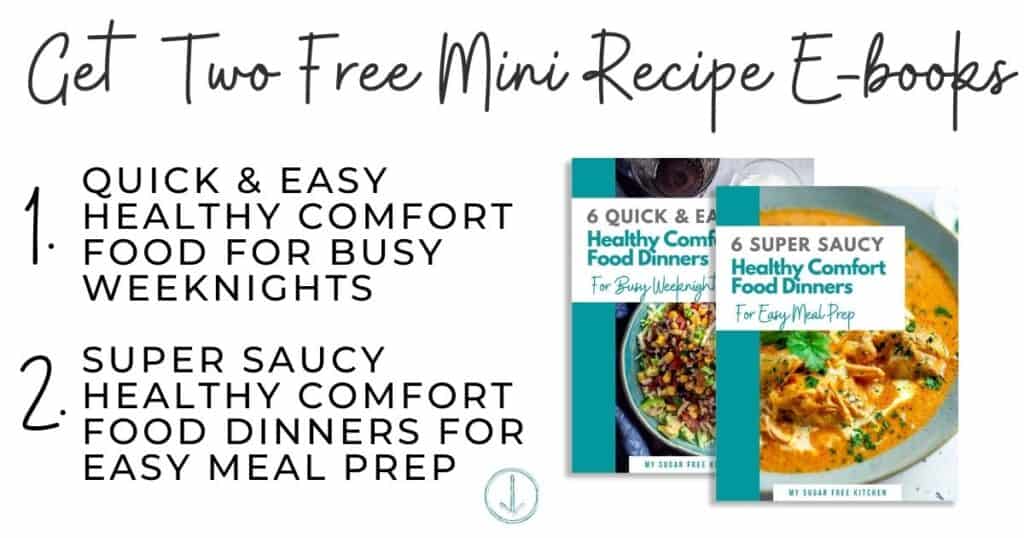 These chicken mince rissoles are super easy to make, are healthy and taste great. The versatility of these is that you can use any type of ground meat, and use whatever dried or fresh herbs you have on hand to create the perfect customised rissole that has your name on it.
Eat them, freeze them, have leftovers for lunch, put them into a pasta, a curry, or have with salad. Lightly fry them, BBQ them, or bake them. So easy you'll be making them on a regular basis.
More Meatballs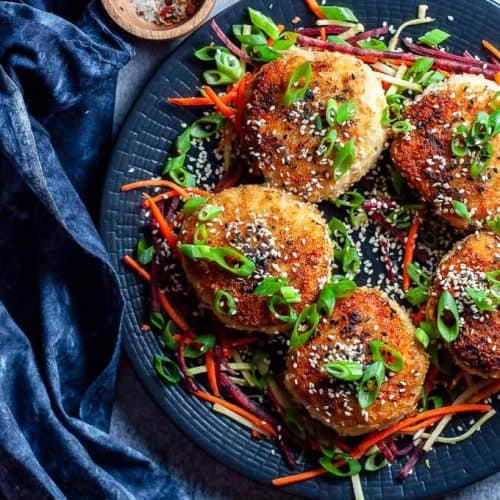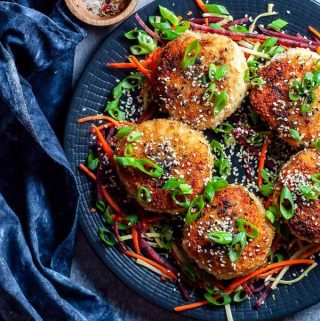 Easy Chicken Rissoles
These lightly spiced Chicken Rissoles are super easy to make with a little ginger, garlic, dried or fresh herbs and panko breadcrumbs to a to create a delicious golden crispiness on the outside. Makes 6 Generous rissoles which serves 3 as a main, or 6 as an entree.
Ingredients
500

grams

/1 pound Chicken mince/ground chicken

1

medium brown onion

-

finely diced

1

tablespoon

Crushed garlic

1

teaspoon

Minced ginger

-

(or ginger paste)

1

teaspoon

garlic salt

-

(or regular salt)

1

tablespoon

Dried rosemary

1

tablespoon

Dried Oregano

1

teaspoon

Lemon Pepper

½

cup

Panko Bread crumbs

4

tablespoons

Olive Oil
Instructions
In a large mixing bowl, add all of the ingredients (except panko breadcrumbs) and mix together with 2 spoons or your hands, making sure everything it thoroughly combined.

On a large dinner plate, spread the panko crumbs

Take 2 to 3 dessert spoonfuls of meat mixture and form into a round. To even out some of the moisture in the meatballs, roll rissole thoroughly in crumbs and turn over and around until the rissole is all coated. Set aside on a clean plate.

Repeat the process and make 5 more.

Heat a pan/skillet on the stove on medium to high heat with the oil. Once it is heated, add the rissoles, making sure not to overcrowd the pan - you want to make sure you have enough room to flip them with a spatula and move them around.

Cook each rissole for a few minutes each side until they are golden brown, turning with a spatula.
Notes
This recipe makes 6 rissoles and Nutrition is per Rissole. 2 rissoles with your choice of side would make for a light dinner.
These rissoles make great leftovers the next day, just reheat in the microwave for a couple of minutes.
You can also freeze cooked rissoles in an air tight container for upto 8 weeks.
Nutrition
Calories:
224
kcal
Carbohydrates:
7
g
Protein:
20
g
Fat:
12
g
Saturated Fat:
1
g
Fiber:
1
g
Sugar:
1
g
Note: Sugars contained in this recipe are from naturally occurring sugars in fruits, vegetables or other natural sweeteners.
Looking To Cut Out Sugar? Get the FREE Healthy Food Swaps Checklist Pack!
Get your FREE Healthy Food Swaps Checklists with over 65 Healthy Food Alternatives to Help you Ditch The Sugar Without Feeling Deprived.