Coconut lime salmon, pan fried to crisp perfection on the outside, soft and tender on the inside, atop a thai inspired coconut lime curry sauce bursting with freshness, hints of ginger, garlic and spice, with notes of raw honey and soy. The zesty lime, coconut milk and bags of basil will make you feel like you've just ordered in thai from your favourite up market restaurant.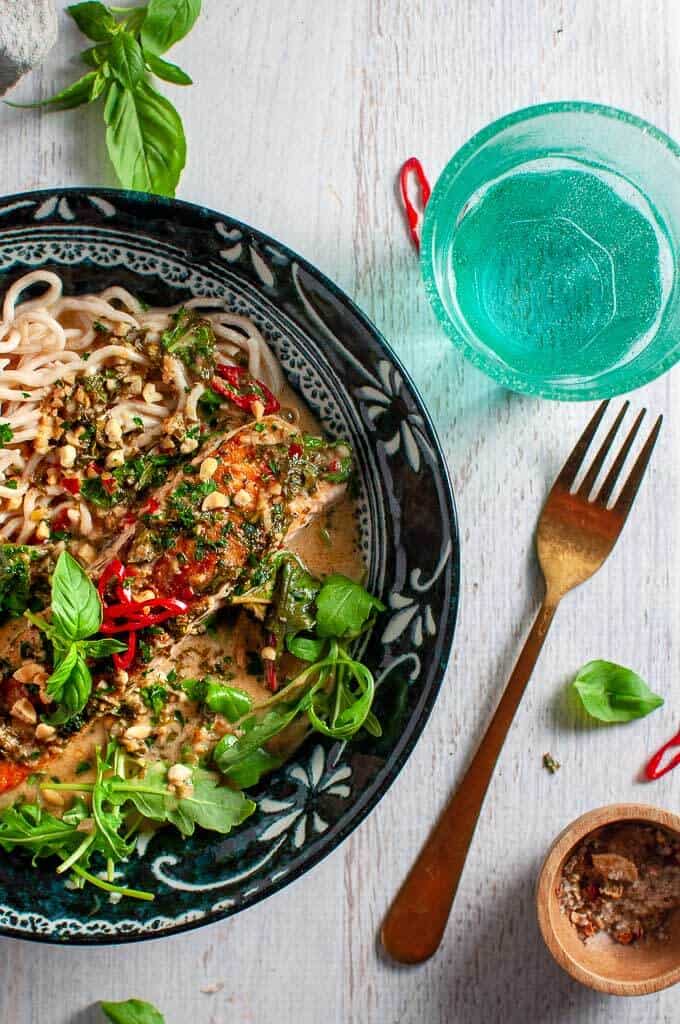 Salmon is one of my favourite proteins to cook with because its quick and easy, it gets that crispy crust on the outside and its super filling, like this Asian Salmon with Mango Salsa.
The Best Thing about Coconut Lime Salmon
One of my favourite things about this Coconut Lime Salmon is its simplicity. All fresh ingredients, there are no bottled pastes in this recipe. It's almost like half soup, half curry, and the addition of the noodles make it a filling and hearty clean eating dinner.
Its also surprisingly quick to cook, like these 15 minute Garlic Prawn Noodles.
How to Make Coconut Lime Sauce for Fish
The main ingredients are the coconut milk and lime, and a decent amount of fresh basil leaves. To make this dish for one person, you'll need the following:
1 teaspoon Crushed Garlic
1 teaspoon Crushed Ginger
½ teaspoon Chilli paste
1 teaspoon Raw honey
½ teaspoon Soy sauce
½ tablespoon Peanut Oil
2 tablespoons Fresh Basil (finely Chopped)
¾ cup Coconut Milk
Juice + zest of 1 lime
Salt and Pepper
Cook the sauce on a medium heat and don't let it bubble up or boil. You just want it to heat up without boiling it otherwise it will become overly thin and will begin to loose some of those beautiful flavours.
TIP: You can use the same pan to make he sauce as you cooked the salmon in. Just make sure there are no black bits, or excessive oily residue before you start with the sauce.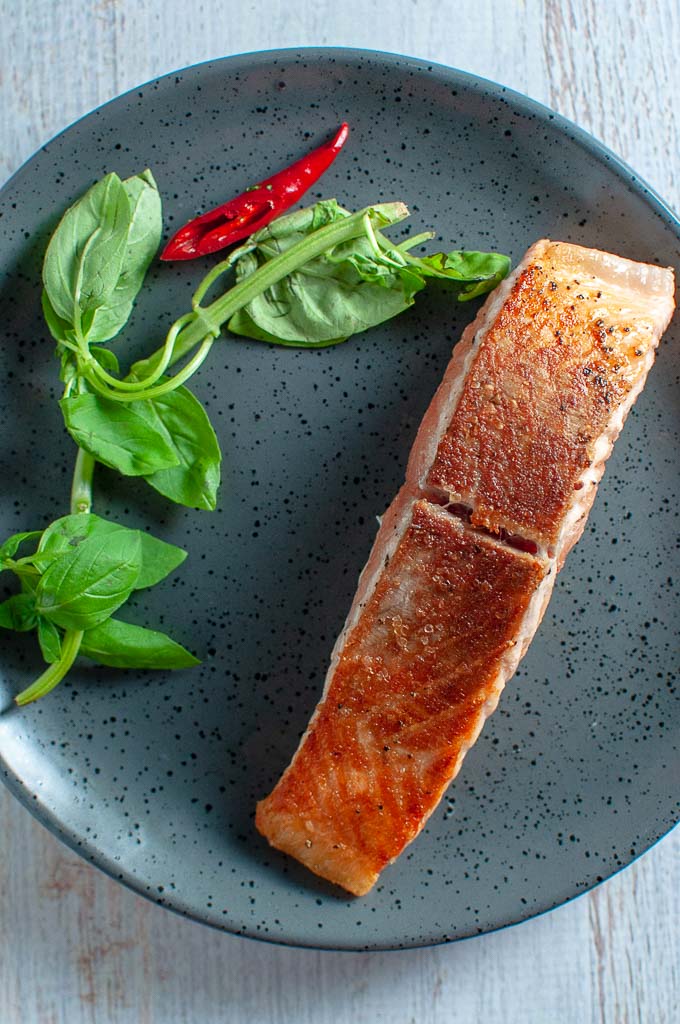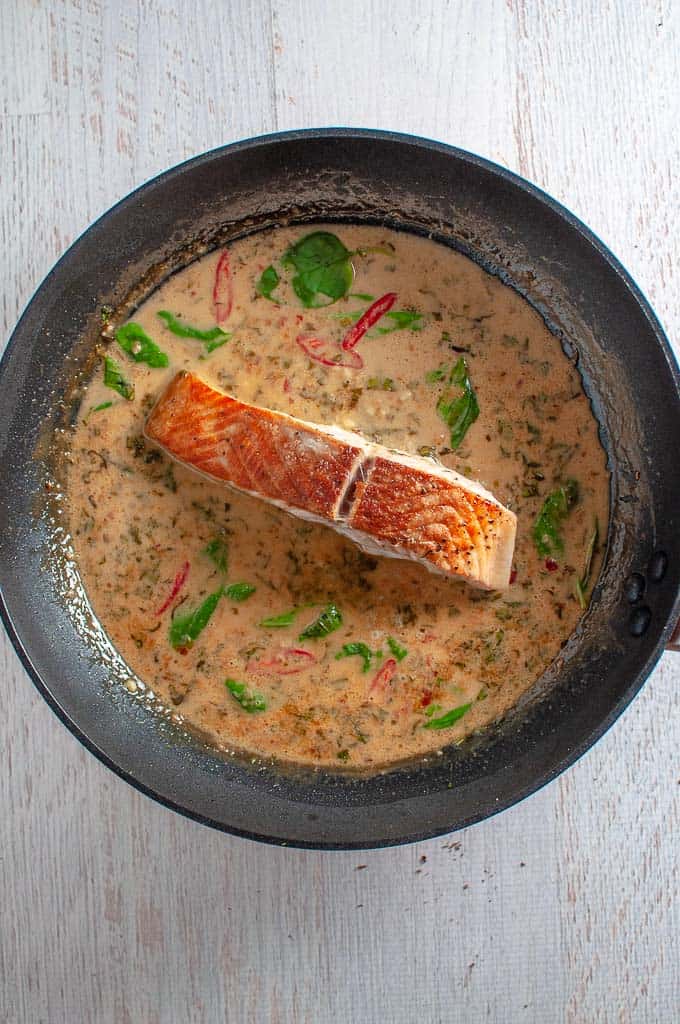 The way the Salmon is cooked in this recipe with the crispy outside, is the same way I cook the salmon in my Teriyaki Salmon Bowls. Its very easy to achieve with a non stick skillet.
If you're making this Coconut Lime Fish for two people (I highly recommend it as a Date Night Dinner Idea), just double up the ingredients above to make a double batch, and of course, you'll need two portions of salmon and extra noodles. Here are some more Asian favourites too!
TIP: This coconut sauce for salmon is not only delicious on salmon, it could actually be used over white fish, chicken or even turkey.
How to Cook the Perfect Pan Fried Salmon in Coconut Lime Sauce
Use a non stick pan
Set pan to high heat
Pat salmon dry of excess moisture
Place flat side down
Put lid on pan to trap the heat in and to speed up the cooking process. Cook one side for 3 or so minutes
Turn salmon onto side and cover with lid, and repeat other side. (I min each side)
Turn salmon onto final side and cover for 1 minute
Let salmon rest for 1 – 2 minutes.
Next, make the sauce as per above. Once the sauce is made, place it into your serving bowl, place the salmon on top, add your noodles, additional basil, some granulated peanuts and lime wedges.
Other Salmon recipes you might like: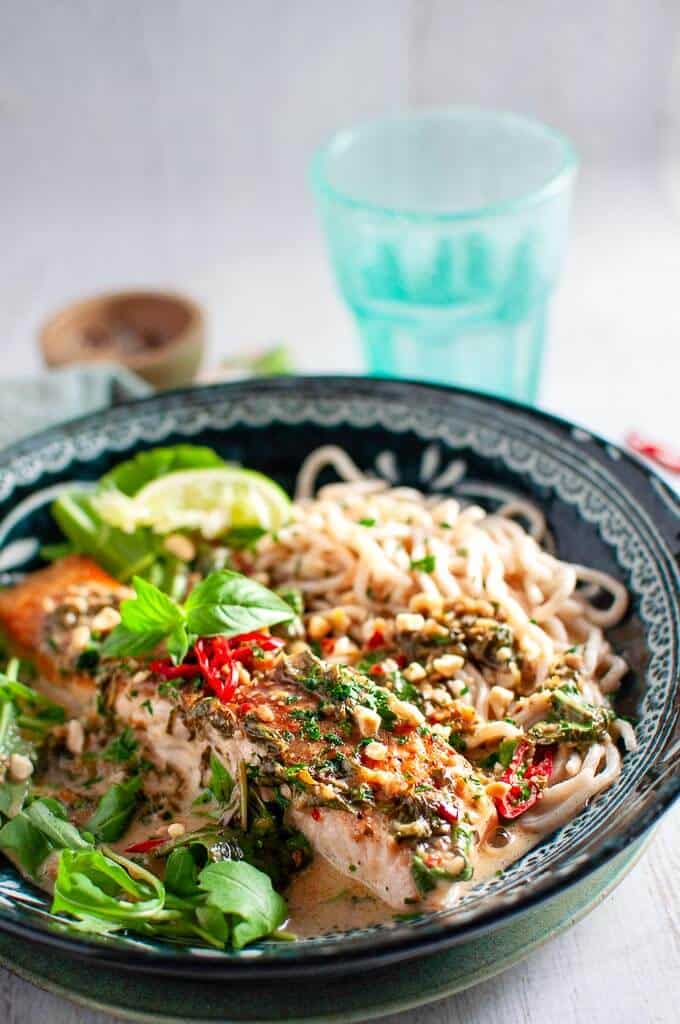 There are just so many health benefits to eating salmon on a regular basis. We eat salmon a couple of times a week in our house. Sometimes though cooking fish can be a bit overwhelming and it can be hard to know what to do with it to make it interesting without getting all complicated.
Coconut Lime Salmon looks like a fancy dish, but it's very simple and easy to make. In fact you could have it on the table in 15 minutes.
3 Different Ways to Eat Coconut Lime Fish
With Vermicelli rice noodles
With Zucchini noodles
With steamed jasmine rice
However you choose to eat your salmon, you won't regret giving this clean eating dinner recipe a go. Packed with good omega 3 fatty acids, it's high in protein, and low in saturated fats which means it'll keep you feeling fuller for longer.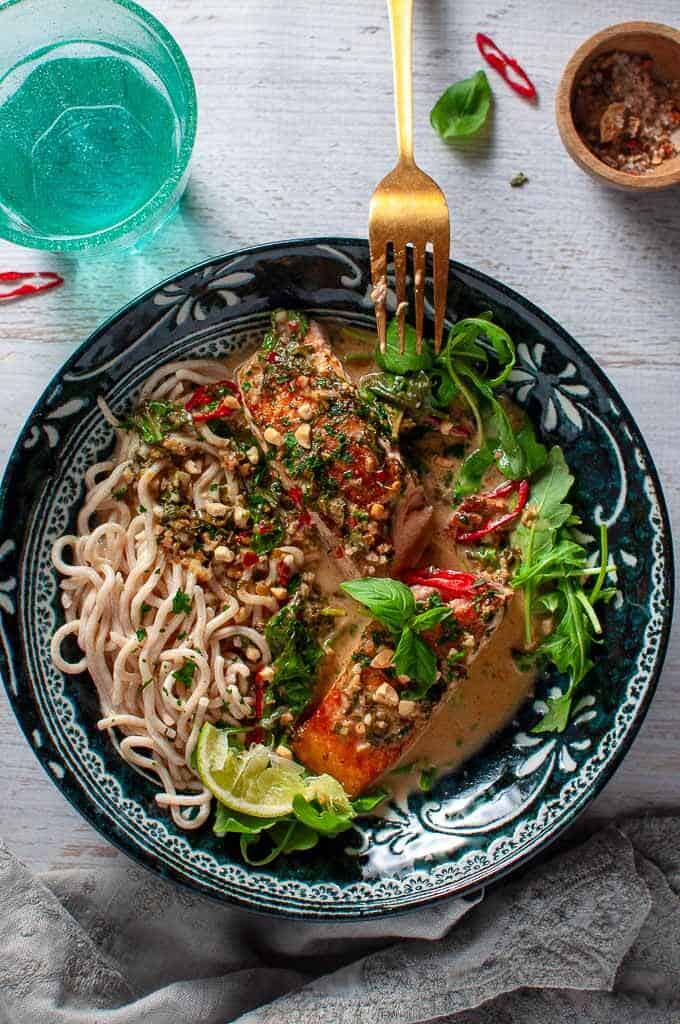 P.S. This coconut sauce for salmon is so good you could make it into a full blown winter fish soup for one buy making a double batch of the sauce (which becomes the soup) and flaking in the salmon pieces. Perfect for cool weather nights.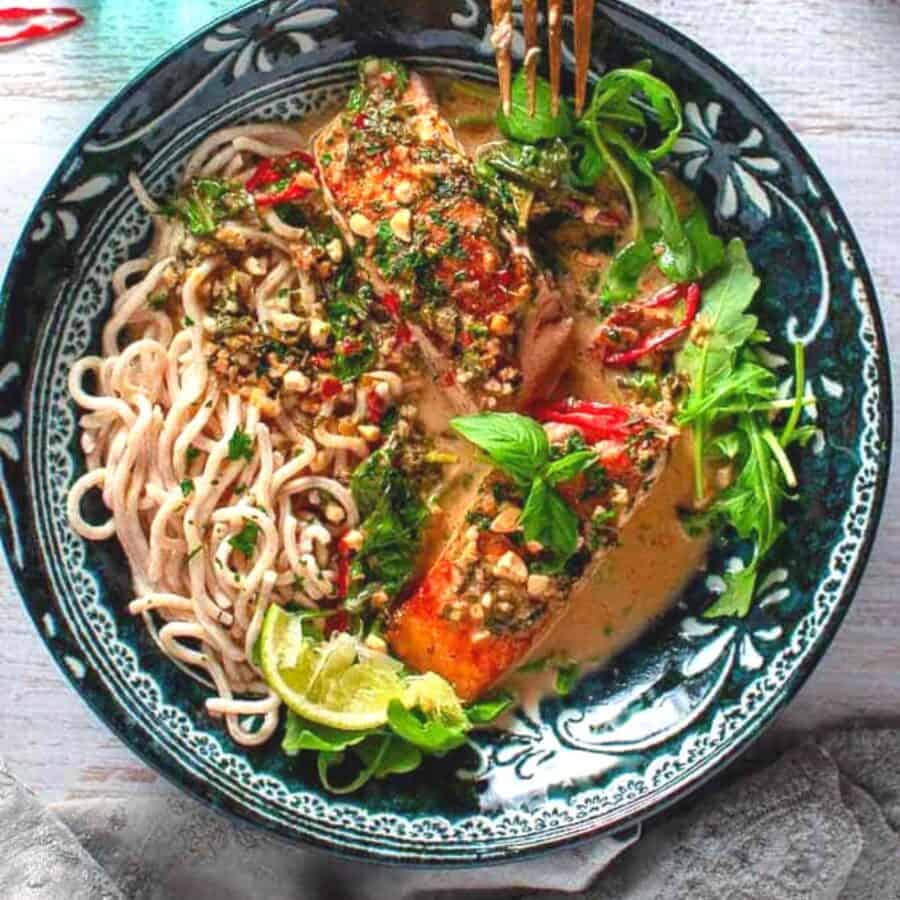 Coconut Lime Salmon with Noodles
Coconut lime salmon, pan fried to crisp perfection on the outside, soft and tender on the inside, atop a thai inspired coconut lime curry sauce bursting with freshness, hints of ginger, garlic and spice, with notes of raw honey and soy.
Ingredients
1

regular Skinless salmon fillet

1

teaspoon

Crushed Garlic

1

teaspoon

Crushed Ginger

½

teaspoon

Chilli Paste or Sambal Olek

1

teaspoon

Raw honey

½

teaspoon

Soy sauce

½

tablespoon

Peanut Oil

2

tablespoons

Fresh Basil

-

finely Chopped

¾

cup

Coconut Milk

Salt and Pepper

¾

cup

Vermicelli noodles

-

see note 1
Instructions
Lightly sprinkle both sides of salmon with salt and pepper.

Heat a skillet on medium high heat and sear the salmon, flat side down until golden (about 1 to 2 minutes)

Repeat on the other side. Remove salmon from pan and set aside. (It should not be cooked all the way through and should still be a little raw in the middle)

Make sure there are no black bits or burnt bits in the pan (scrape off/wipe off if there are)

Turn pan down to a low to medium heat and add the garlic, and ginger and stir for 30 seconds. Add the honey and stir for another 30 seconds. Add the Chilli paste and stir through for 10 seconds.

Add the coconut milk and stir through for 10 seconds. Increase heat to medium and add the soy sauce, peanut oil, lime juice and lime zest and simmer for 2 minutes.

Turn the sauce back to low heat and add in the basil. Stir through for 10 seconds.

Add the salmon back in (flat side down). Cook for 4 minutes or until cooked through.

Remove the salmon from the pan and taste the sauce. Add more salt if needed.

10. Serve on top of zucchini noodles, vermicelli noodles, brown rice, or wholegrain pasta or wholegrain noodles. Drizzle the sauce over the top. Garnish with extra basil, and chilli flakes and chopped peanuts.
Notes
1. Vermicelli noodles are available from the Asian food aisle at most big supermarkets.
Nutrition
Calories:
416
kcal
Carbohydrates:
27
g
Protein:
31
g
Fat:
26
g
Saturated Fat:
6
g
Fiber:
3
g
Sugar:
4
g
Note: Sugars contained in this recipe are from naturally occurring sugars in fruits, vegetables or other natural sweeteners.
Looking To Cut Out Sugar? Get the FREE Healthy Food Swaps Checklist Pack!
Get your FREE Healthy Food Swaps Checklists with over 65 Healthy Food Alternatives to Help you Ditch The Sugar Without Feeling Deprived.