This  Crumbed Salmon with Walnuts and Panko with Butter Bean Salad  is a simple and tasty dish that takes less than 20 minutes to make.  The nut crusted salmon is crispy, crunchy and the good omega fats will be sure to keep you fuller for longer.    The butter bean salad is super simple and goes perfectly with the all the textured components of the salmon and walnut crust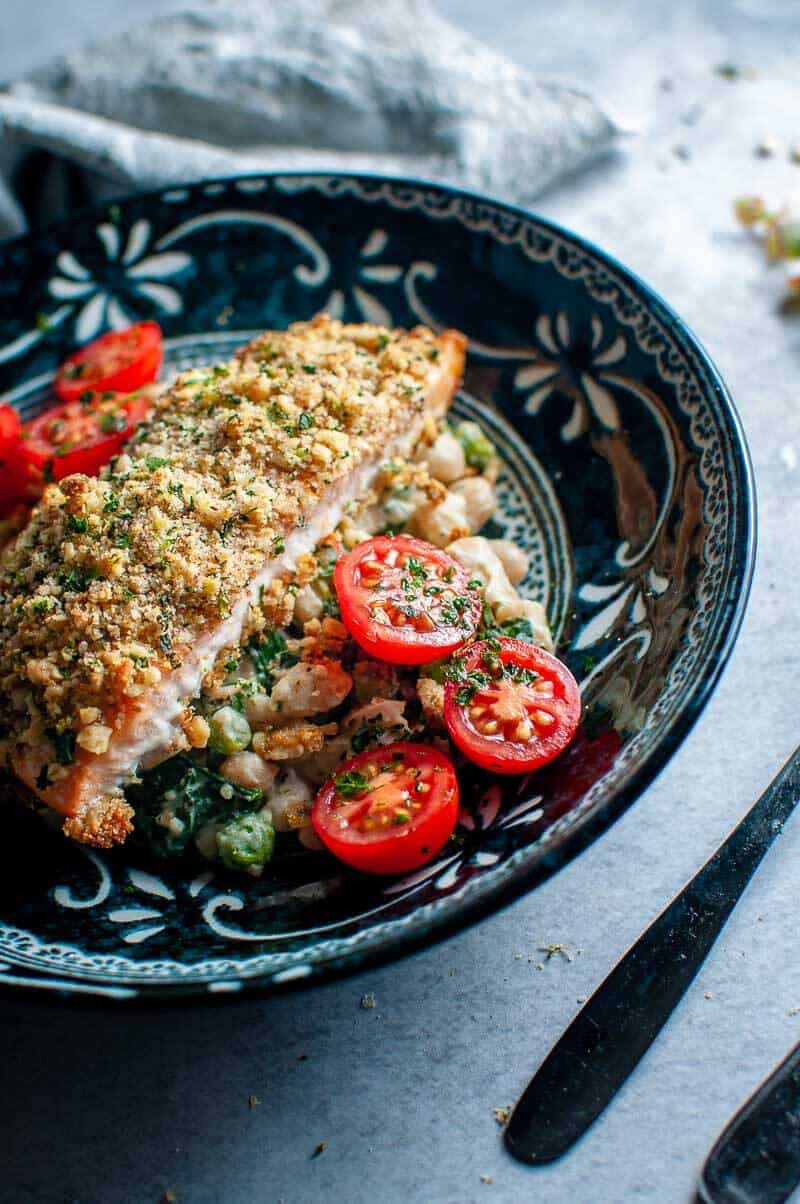 What's in a Walnut Crust?
The walnut crust consists of 6 ingredients and can be made in a matter of minutes, especially if you have crushed walnuts that you bought that way.  I personally buy the whole walnuts in 1 kg packets because I use them so much, but for convenience sakes, most supermarkets have small packets of crushed walnuts usually in the baking aisle with the flours and dried fruits.
You'll need the following to create a basic walnut crust:
1 teaspoon garlic powder
½ cup crushed walnuts
¼ cup panko breadcrumbs
1 teaspoon Fresh basil (finely diced)
Zest of 1 lemon
1 tablespoon lemon juice
Mix all six ingredients in a bowl and then press gently onto the salmon (flat side down), so the crumb goes on top of the salmon (fleshy side up).
Panko breadcrumbs are a Japanese breadcrumb that is more coarse than traditional breadcrumbs.  You'll find them in the Asian food aisle of your supermarket.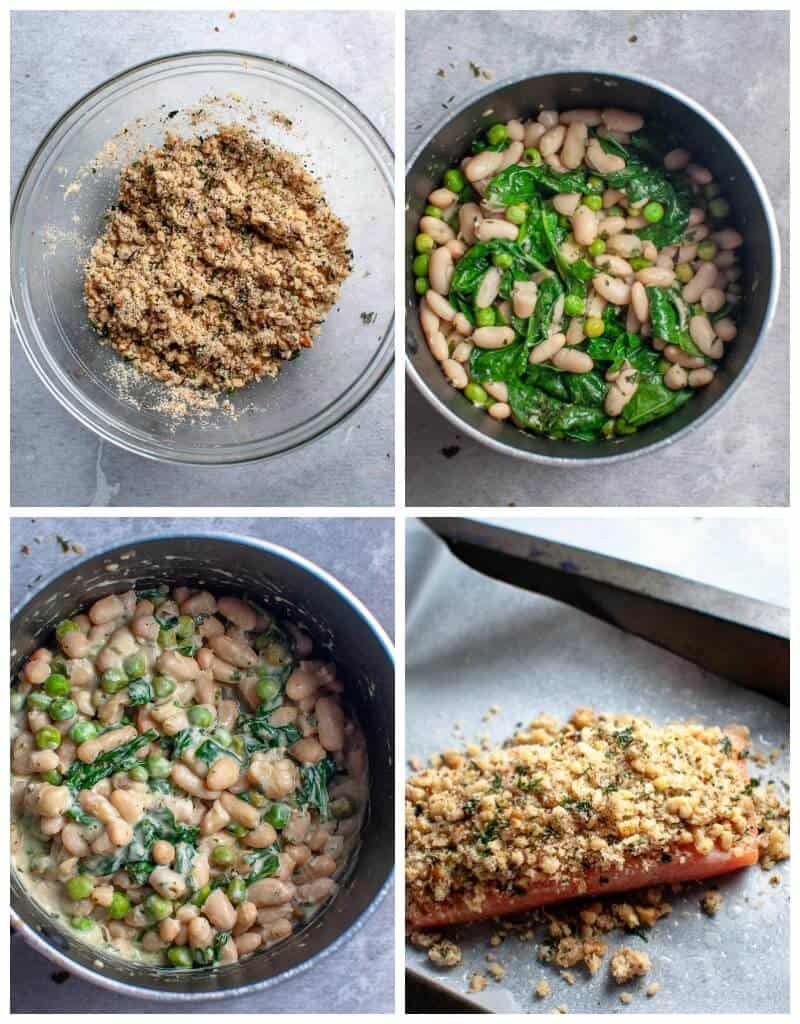 Tips For Making Crumbed Salmon with Walnuts and Panko Crumbs
Onion powder or regular salt can be swapped for garlic powder
Wholemeal breadcrumbs could be used instead of Panko but this may result in a nuttier crust that has slightly less texture
Dried basil could be used in lieu of fresh, as could parsley
Instead of lemon, you could also try this with lime zest and juice
Before cooking the salmon, lightly salt and pepper it for some extra flavour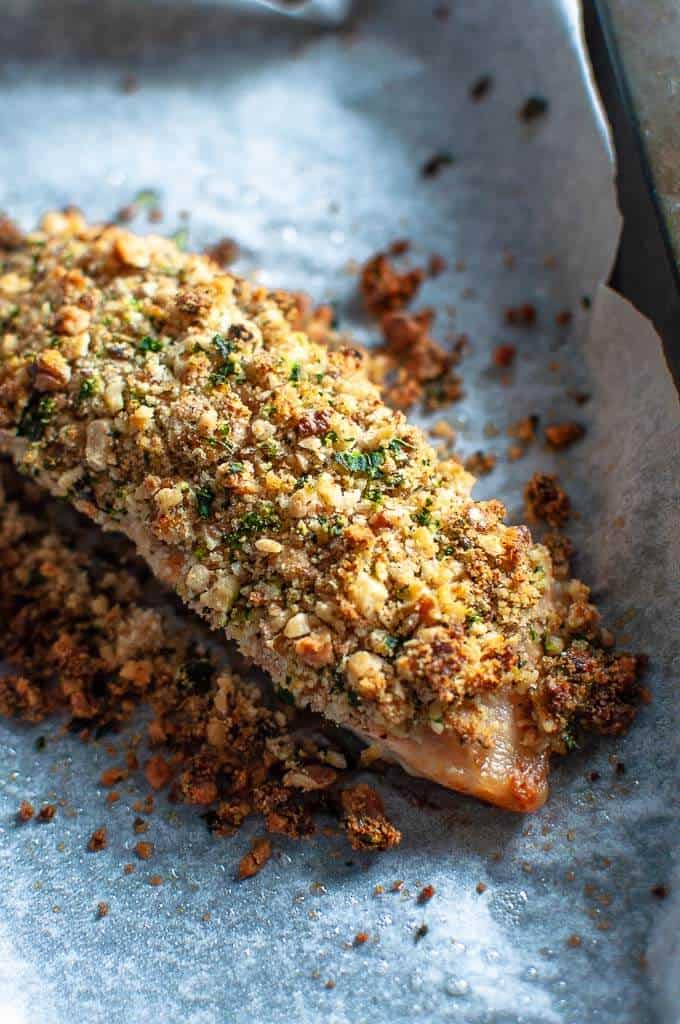 What Is The Best Way To Cook Walnut Salmon?
Nut crusted salmon in the oven is quick and easy.  You need a baking tray, the salmon with walnut crust on top, and then a light spray of oil to keep it in place and to create that crisp golden walnut crust.
Bake Walnut Salmon in a hot oven 180 degrees C/350 degrees F for 15 minutes.  This should give you deliciously moist and tender salmon with a golden crunchy top.
More Easy Salmon Dinners:  Salmon Curry In A Hurry, Salmon Quinoa Salad,Salmon Burrito Bowl, Asian Salmon Salad, Salmon with Lentils Leeks and Tomato and Lemon Garlic Salmon with Creamy Mash.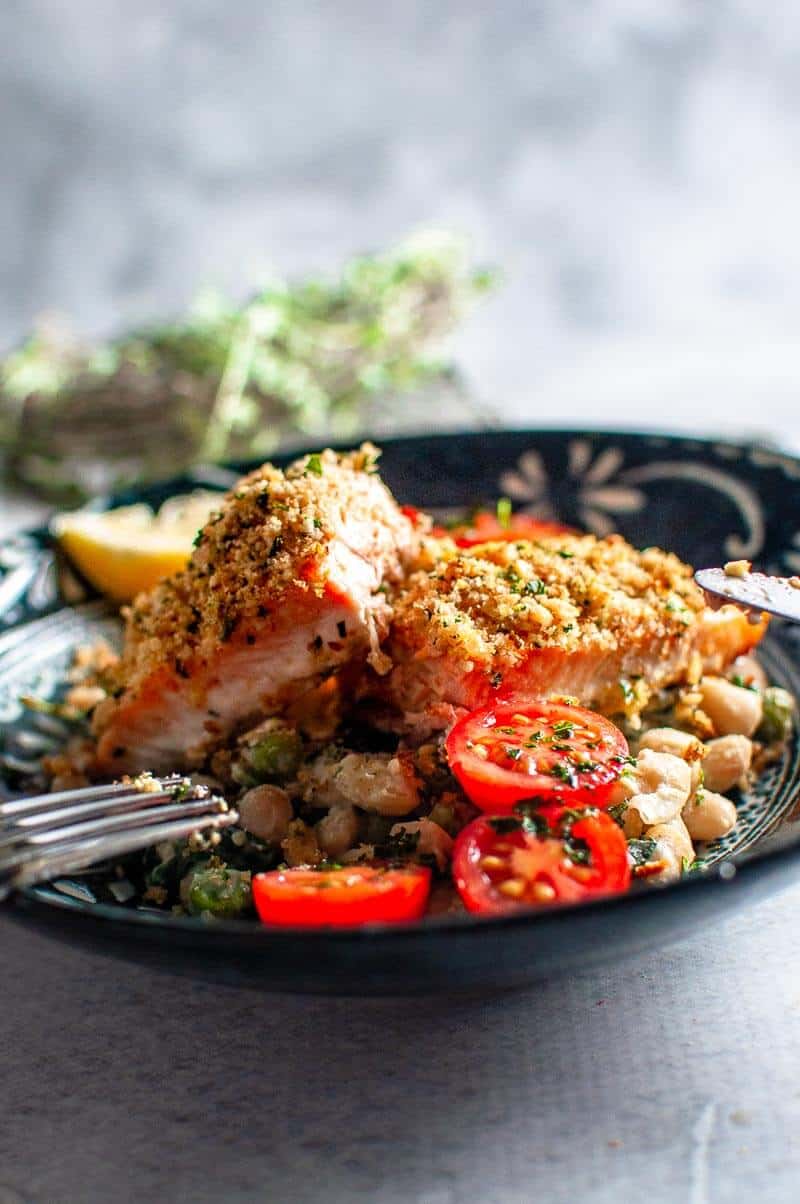 What to Eat With Crumbed Salmon
My first recommendation is the Butter Bean Salad as it has the right soft texture to complement the crisp and crunch of the walnut salmon.
My second pick would be a creamy mash, either regular potato, or sweet potato mash, or a combination of both. The soft potato would lend itself nicely to the walnut crusted salmon
If you're looking for low carb, cauliflower rice might be a good option or even lightly cooked zucchini noodles.
TIP:  I love this dish with the walnut salmon pulled apart/flaked apart with a fork, and then scattered over the butter bean salad.  This is how I typically eat it as I find it easier and enjoy it more when the salmon and salad is all mixed together.
I love my salmon dinners.  Salmon is quick to cook, and keeps you full for a long time after eating it.  This really helps to manage my after dinner cravings and stay on tray with my Clean Eating regime.
If you keep salmon in the freezer and lentils in the pantry, you're halfway there with this dish.  This is a dish that is very forgiving and you can swap a lot of things around and still end up with a great tasting dinner.  It's one you can throw together after a long day at work and even if you don't have the exact ingredients, its so easy to substitute with the things you have on hand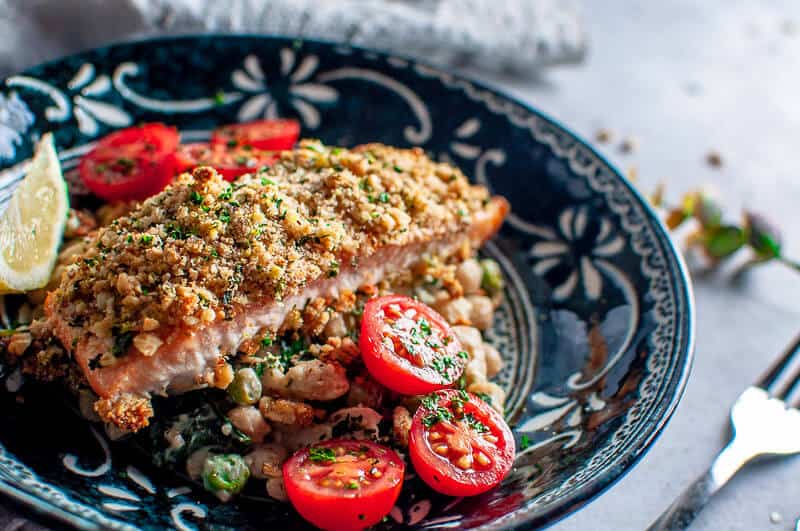 Like what you see? Follow me on Facebook or Pinterest! Did you try a recipe? Tag me on Instagram: @mysugarfreekitchen, and leave a comment & star rating!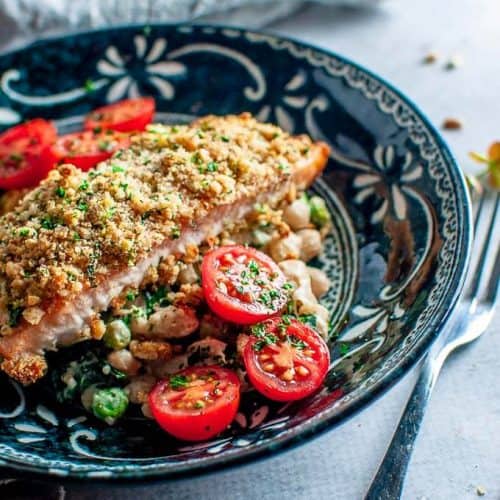 Crumbed Salmon with Walnut Crust
This Crumbed Salmon with Walnuts and Panko with Butter Bean Salad is a simple and tasty dish that takes less than 20 minutes to make. The nut crusted salmon is crispy, crunchy and the good omega fats will be sure to keep you fuller for longer.
Ingredients
2

pieces

of Skinless Salmon portions
Walnut Crust
1

teaspoon

garlic powder

½

cup

crushed walnuts

¼

cup

panko breadcrumbs

1

teaspoon

Fresh basil

-

finely diced

1

tablespoon

lemon juice
Butter Bean Salad
2

cups

baby spinach

1

teaspoon

crushed garlic

1

x 400 gram can butter beans/cannellini beans

-

rinsed and drained

¼

cup

frozen peas

Juice of half a lemon

1

tablespoon

plain Greek yoghurt

1

tablespoon

horseradish cream

8

small Cherry Tomatoes

-

halved
Other
Spray Oil

-

I use coconut oil
Instructions
Preheat oven to 180 degrees C / 320 degrees F (fan forced). Line a baking tray with baking paper.

Preparing the Crumb: In a medium sized bowl, add all the ingredients for the walnut crust. Mix until combined.

Push the crumb on top of the salmon and lightly spray with cooking oil.

Bake for 15 minutes or until salmon is just cooked through.

Preparing the Butter Bean Salad: heat a pot on medium heat and add a little oil, add the garlic, butter beans, spinach and frozen peas. Stir until spinach starts to wilt. Remove from heat and stir through the Greek yoghurt, horseradish, a pinch of salt and pepper, and a little squeeze of lemon juice if desired.

Divide Butter Bean Salad between two plates: Add the salmon on top, scatter the tomatoes and add a little more grated lemon zest and extra basil.
Nutrition
Calories:
456
kcal
Carbohydrates:
40
g
Protein:
33
g
Fat:
27
g
Saturated Fat:
3
g
Fiber:
11
g
Sugar:
15
g
Note: Sugars contained in this recipe are from naturally occurring sugars in fruits, vegetables or other natural sweeteners.
Looking To Cut Out Sugar? Get the FREE Healthy Food Swaps Checklist Pack!
Get your FREE Healthy Food Swaps Checklists with over 65 Healthy Food Alternatives to Help you Ditch The Sugar Without Feeling Deprived.
★ Did you make this recipe? Don't forget to give it a star rating below!