These Crispy Prawn Tacos are made with fresh juicy plump prawns (or shrimp), covered in breadcrumbs and lightly fried till golden and crunchy. They're tasty, super easy to make, and are the perfect combination of soft, crunchy and crispy all rolled into one. With a little bit of spicy mayo, a drizzle of zesty lime and fresh herbs to boot.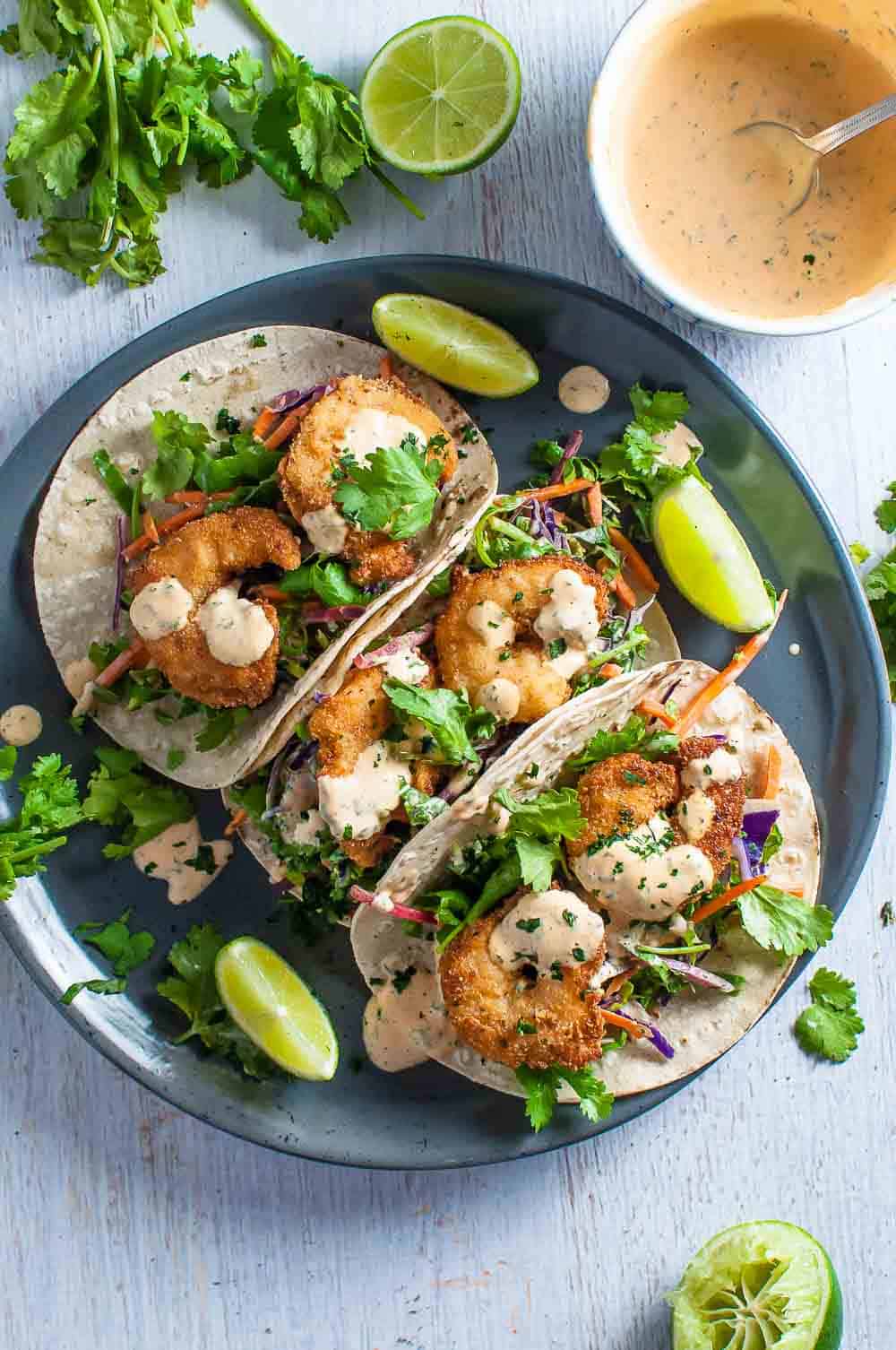 I love making tacos, and my husband and I eat a lot of them in all the different variations. Apart from these crispy prawn tacos, my second favourite type of taco, definitely has to be these Fish tacos with Pineapple Salsa.
Followed closely by these Calamari Tacos with Tangy Slaw. Seriously the coating on these babies it super crisp.
How to Make Crispy Prawn Tacos
First you need to start with preparing to crumb the prawns. To do this you'll need three separate bowls.
In the first bowl you'll need ½ cup of plain flour
In the second bowl, add 1 medium egg, ¼ cup milk and a pinch of salt and whisk to combine
In the third bowl, add the breadcrumbs. I prefer to use wholemeal breadcrumbs for this recipe, but you could certainly use Panko Breadcrumbs as well to achieve that golden crunchy effect.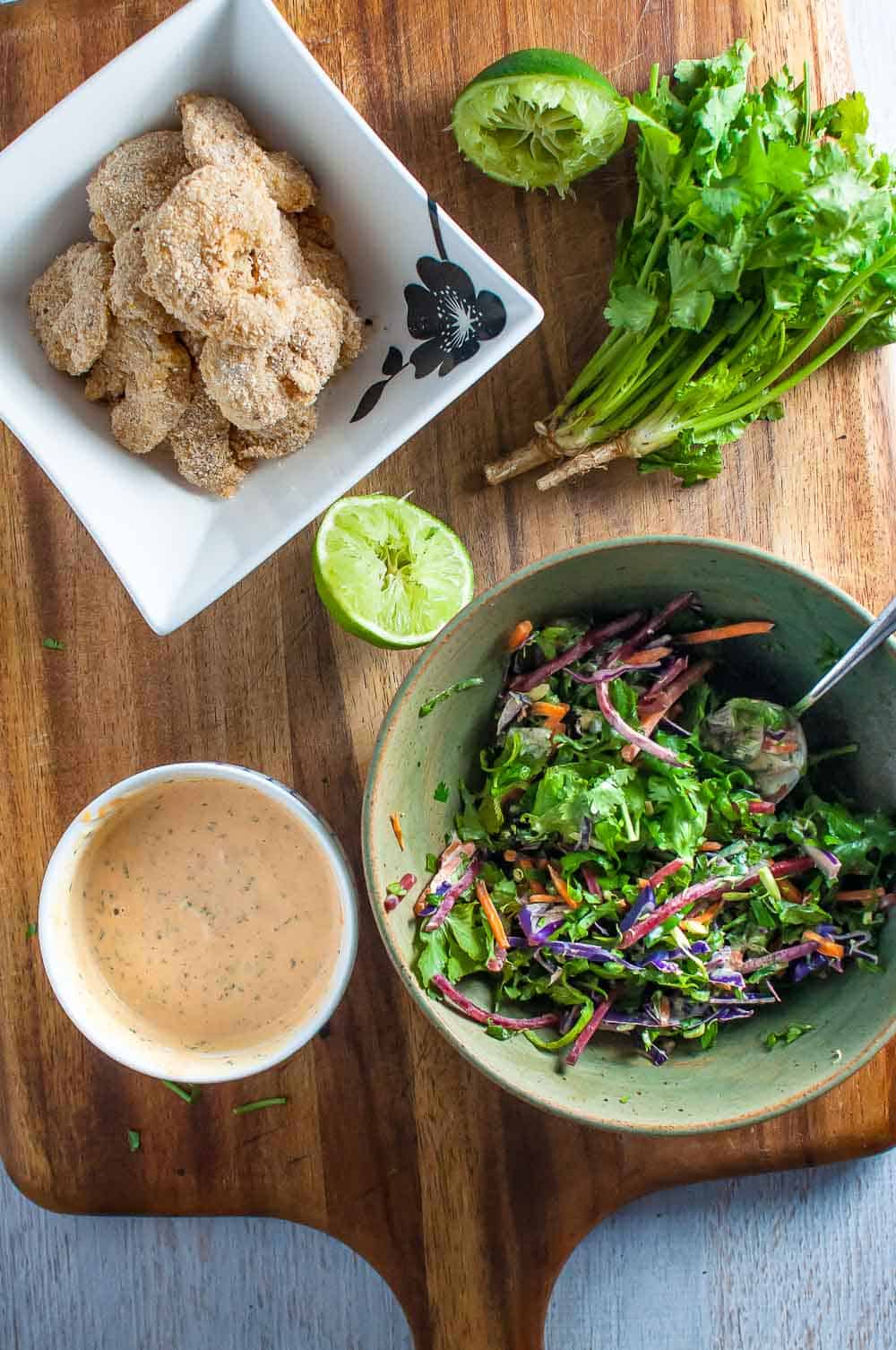 Make sure to use Green Uncooked Prawns with the head, tail and shell removed. One at a time, dip the prawns into the plain flour (shake off the excess), then dip into the egg wash, and finally, press into the crumbs on both side.
Set aside the prawns a you do them onto a separate plate.
Once all the prawns are done, heat your oil. I used olive oil, which I don't normally use for light frying, but it worked a treat with these crispy prawns.
Add two prawns to the oil at a time and then drain on paper towel to remove excess oil. Repeat until done. The prawns will cook very quickly, so make sure to stay close and not get distracted.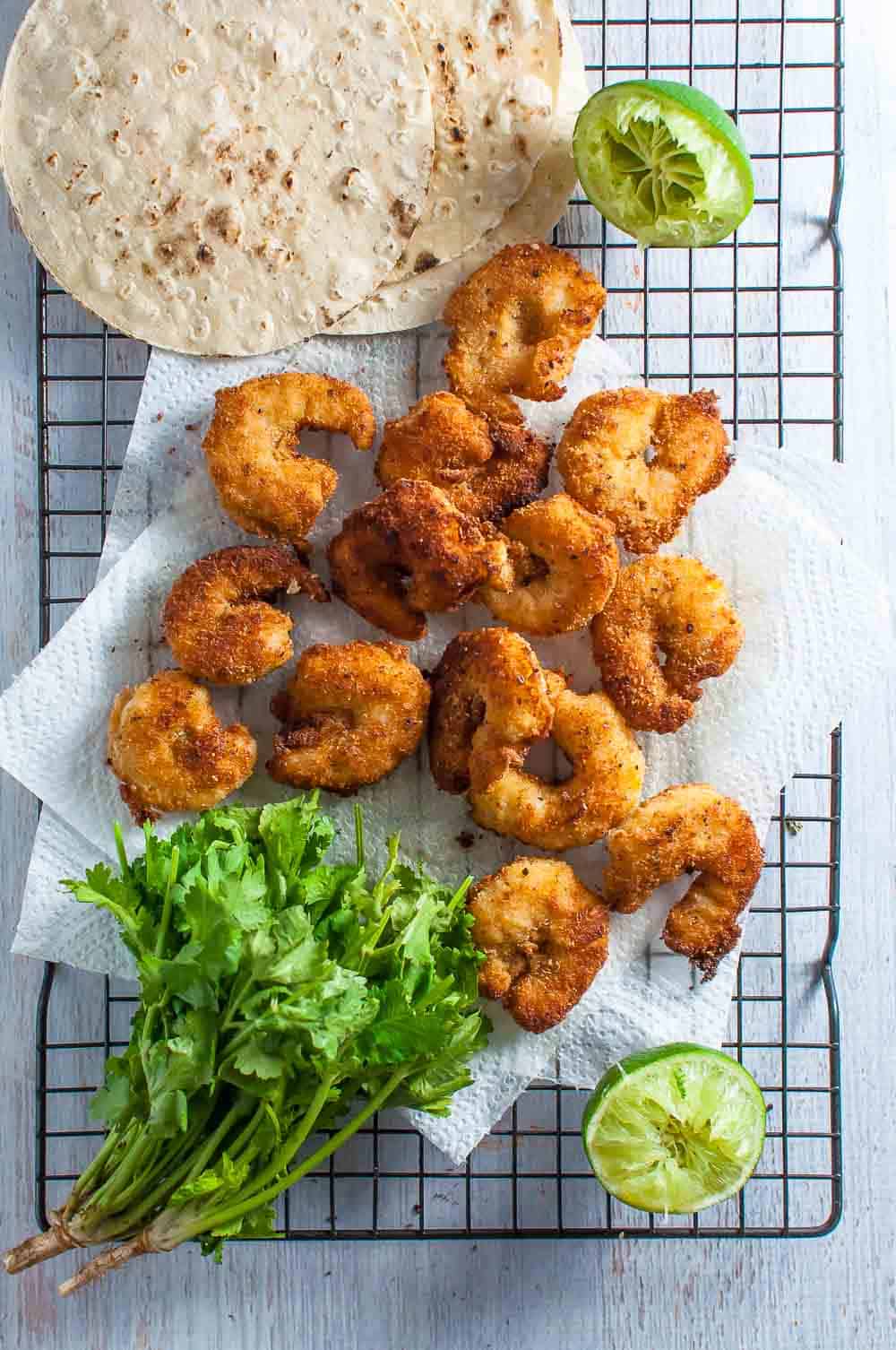 Two prawns cooking in hot oil will take about 10 to 20 seconds each side, depending on the size of your prawns. Remember to flip them to ensure they cook evenly on both sides.
TIP: I tend to buy green uncooked prawns ready to go as it saves on prep time.
Related:
How to Grill Tortillas
I use a heavy cast iron griddle pan on high heat, no oil. Place one tortilla onto the grill for 30 to 50 seconds, and turn and repeat. The aim is to get those nice dark char lines on the tortilla. Do this for all the tortillas and wrap them in a tea towel to keep warm.
If you don't have a grill pan, you can heat a non stick pan on high heat and "warm" tortilla for 10 to 20 seconds each side. The only downside is you won't get the char marks.
Using soft tortillas is what makes these tacos extra special and I like to think of these as both a soft prawn taco, and a crispy prawn taco. The best of both tacos in one!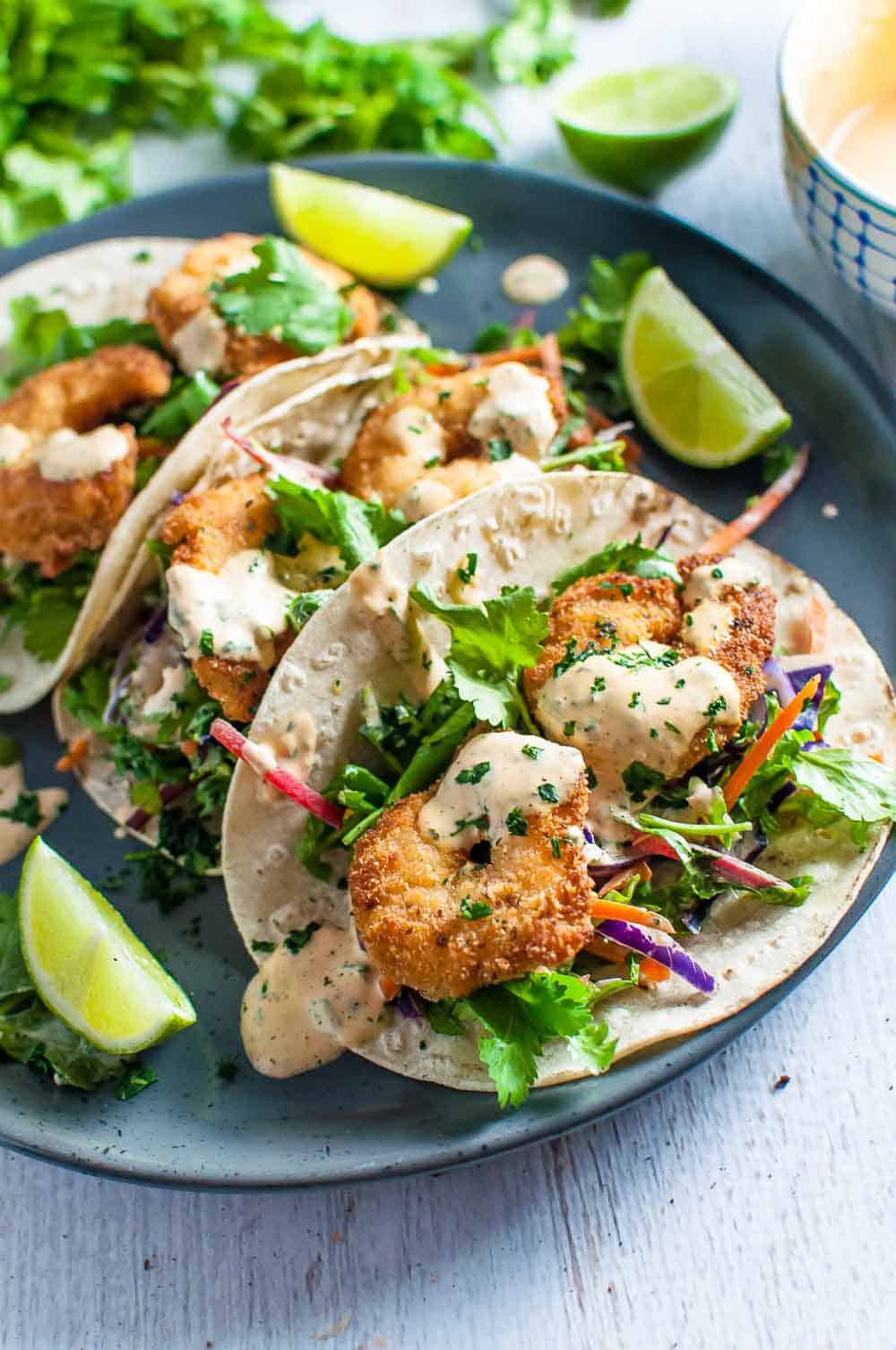 Other seafood recipes you might like:
What Goes With Mexican Prawn Tacos
An easy slaw is an absolute must for any type of tacos, but especially tacos. My most basic version of prawn and slaw tacos, has a slaw with just four ingredients:
Red cabbage
Baby spinach leaves
Grated Carrot
Rough chopped coriander/cilantro
If you're feeling fancy, you could also add a little red onion and capsicums/red peppers.
Or for a more unusual twist, add some finely sliced (matchstick like) green apple into your slaw. It's complete winner with subtle heat of the sriracha mayo.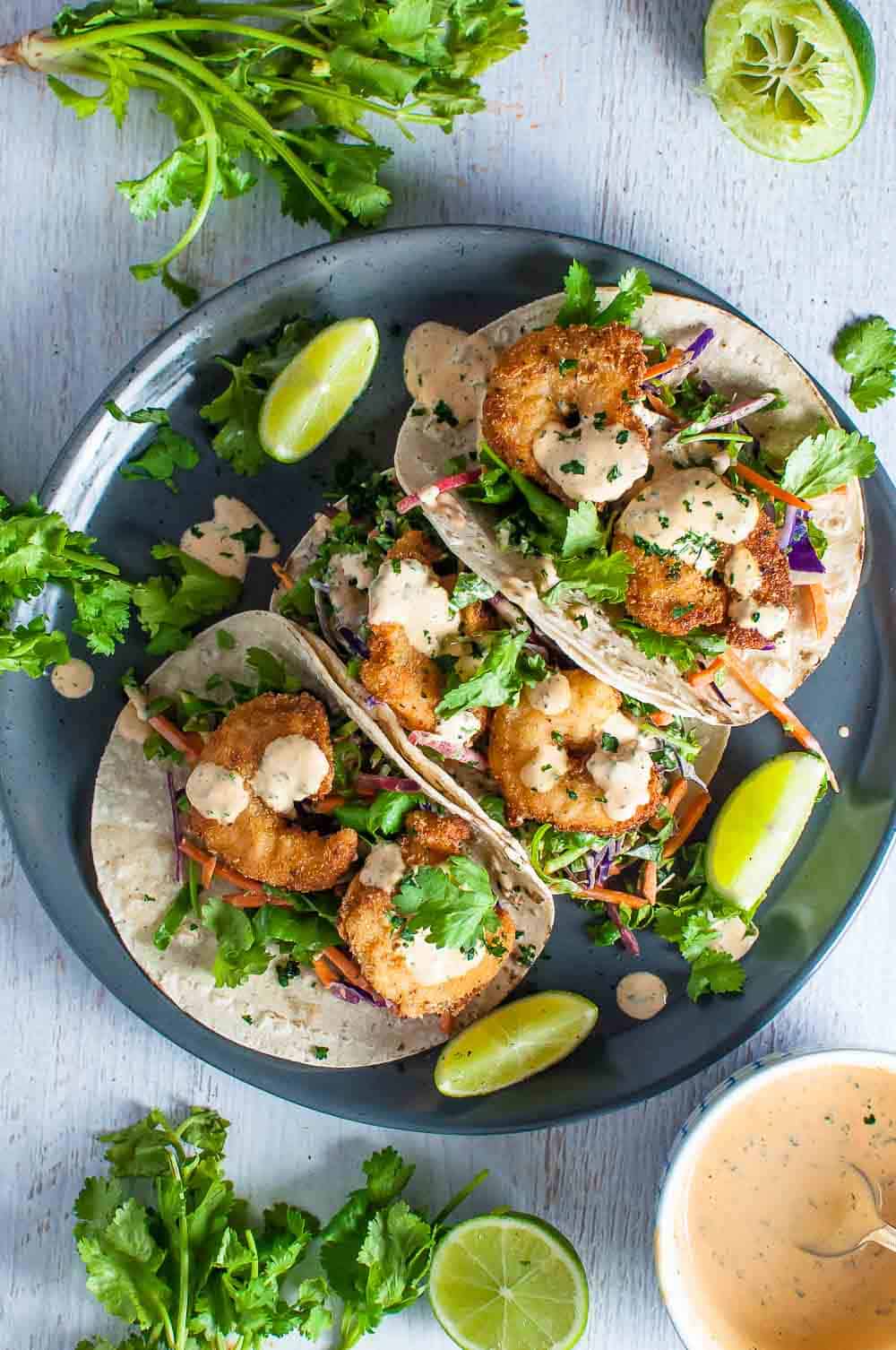 Easy Prawn Taco Sauce
This easy sauce is a combination of 4 key ingredients and you want it to be rich and creamy to add to the overall texture of this Mexican dinner. So, this means no low fat mayo or sour creams.
To make it: Equal parts sour cream, mayonnaise, coriander/cilantro (finely chopped) and sriracha. I use 2 tablespoons of each.
To bump up the flavour, ½ a teaspoon of garlic salt and the same of lime juice. Whisk it all together, add half to the slaw and keep the other half to drizzle over the tacos just before serving.
Not only do these look delicious, they are a flavour explosion an let's face it, who could resist quick and easy prawn mini tacos.
These mexican prawn tacos serve 3 people as a light dinner, or 2 very hungry people. You've got crispy, you've got crunchy, you've got creamy, spicy, and soft. All the Mexican goodness you love with less then 10 minutes of prep, and just 10 minutes of cooking.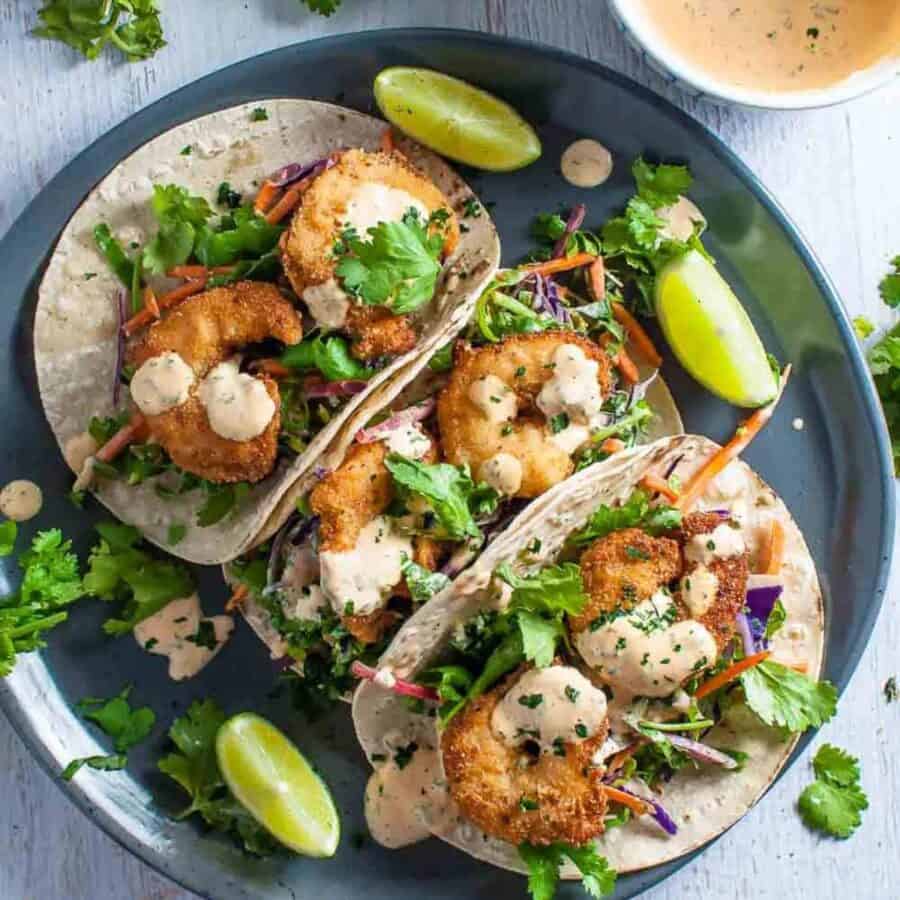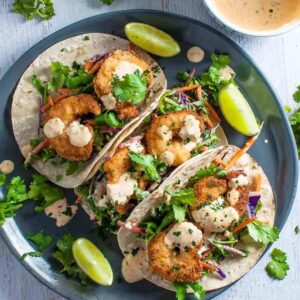 Crispy Prawn Tacos
These Crispy Prawn Tacos are made with fresh juicy plump prawns (or shrimp), covered in breadcrumbs and lightly fried till golden and crunchy.
Ingredients
Prawns
200

grams

Uncooked

-

Green Prawns (heads and tails removed)

½

cup

Wholemeal crumbs/or Panko breadcrumbs

1

medium Egg

1

tablespoon

Soy Sauce

¼

cup

Milk

½

cup

Plain Flour

½

teaspoon

Salt
FOR THE SLAW
1

cup

shredded red cabbage

½

cup

Spinach leaved

-

chopped

½

cup

Carrot

-

Chopped into matchsticks

¼

cup

Coriander/Cilantro
FOR THE SAUCE
2

tablespoons

sour cream

2

tablespoons

mayonnaise

2

tablespoons

chopped fresh coriander/cilantro leaves

½

teaspoon

garlic salt

Juice of ½ lime

2

tablespoons

Sriracha or other Hot Sauce
Other
6

Wholemeal Tortillas

⅓

cup

Olive Oil

Lime wedges
Instructions
Put all the ingredients for the sauce into a small bowl and stir with a spoon. Make the slaw and use 1 tablespoon of he sauce to mix through. Cover both and refrigerate while the prawns are prepared.

Heat a wok with olive oil on high heat

The Bowls: Lay out 4 bowls. In the first bowl, add the plain flour. In the second bowl whisk the egg and milk together, and in the third bowl, add the breadcrumbs and salt.

Prepare the Prawns: Dip the prawns one at a time, into the plain flour, egg wash, and press into the crumbs, and then into a clean bowl. repeat until all prawns are done.

Cook Prawns: use a stainless steel wire mesh spoon to add prawns into the oil gently, two at a time. Cook for 10 seconds on each die, then flip over with the wire spoon. Remove when golden brown and place onto absorbent paper towel. Repeat until all prawns are cooked, doing 2 or 3 at t time. (Prawns will cook very quickly; don't walk away and leave them or they will burn)

Warm the Tortillas: Heat a skillet/grill pan on high and lightly toast the tortillas one at a time

Assembly: place a couple of spoons of sauce onto a tortilla, and holding it in your hand, add some slaw, followed by 2 or 3 prawns, then some more sauce and a few fresh coriander leaves and a drizzle of lime.
Notes
I generally find 2 tacos is enough for a light dinner, and 3 tacos is good for a substantial (or regular) dinner
Try and use up all the prawns – I would avoid storing them as with any fried food, they tend to go soggy and are not that great when reheated.
Nutrition
Calories:
527
kcal
Carbohydrates:
60
g
Protein:
22
g
Fat:
23
g
Saturated Fat:
7
g
Fiber:
4
g
Sugar:
11
g
Note: Sugars contained in this recipe are from naturally occurring sugars in fruits, vegetables or other natural sweeteners.
Looking To Cut Out Sugar? Get the FREE Quick and Easy Food Swaps Checklist Pack!
Get your FREE Quick and Easy Food Swaps Checklists with over 65 Simple Real Food Alternatives to Help you Ditch The Sugar Without Feeling Deprived.
★ Did you make this recipe? Don't forget to give it a star rating below!