A clean eating shopping list doesn't have to be complicated.  Even if you're a beginner all you need to do is stick to a few basic clean eating rules  and your clean eating grocery list will become your new best friend.
I get that making a transition to clean eating can be dauting and it can be difficult to even know where to start, but the good news is that a healthy grocery list is simpler than it sounds and I'm here to help guide you with a free printable clean eating grocery list that will help you to shop smarter knowing that you're buying foods that are clean, fresh, low to no sugar, preservative free and have little to no processing.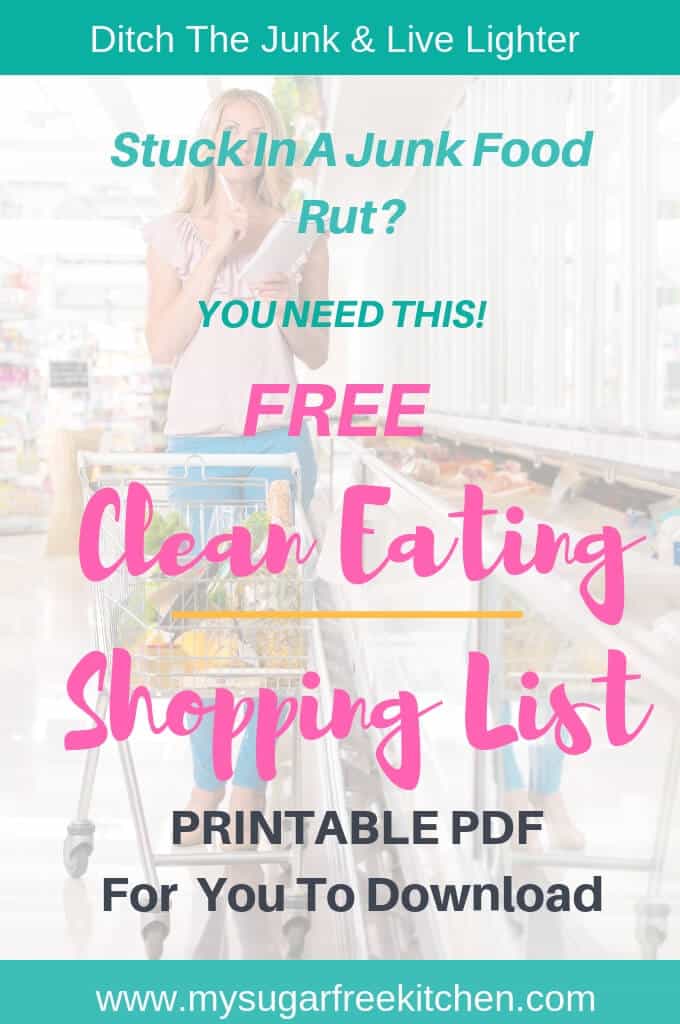 Related Posts on Clean Eating For Beginners:
Clean Eating Shopping List For Beginners
Breads
Supermarkets (Coles & Woolworths)

Try to choose wholemeal breads that are high in fibre. Fibre helps us to feel fuller and less inclined to eat more than we should and it keeps us fuller for longer.
Also opt for wholemeal and or low carb tortillas/wraps and flatbreads.
Burgen Wholemeal & Seeds: Full of seeds with a dark crust and nutty aroma.  This is a very filling bread.  (Available online and at woolworths)

Online and Deli's
Aldi

ALDI Bakers Life Low Carb Bread: Low carb, high protein, sugar-free (can only buy this one in store)

Bakery
Breads (Premixes) – Available online
The Protein Bread Co Low Carb Bread Mix: High in protein, Super low carb, No added sugar, No soy, Gluten free (no wheat)
Banting breadmix: Low Carb, All natural, Super seedy, Sugar-free
Anna's Low Carb Sunflower and Linseed Mix: Low carb, 10g protein per serve, Dairy free (no whey protein), Soy free, Gluten free (no wheat), No added sugar, All natural ingredients with no nasty numbers or fillers
The Protein Bread Co Protein Pizza Base: High Protein, Low Carb, Gluten Free,  All Natural,  Keto Friendly
[mo-optin-form id="dqvLKxWHAt"]
Dairy & Eggs
Eggs: Buy free range organic and avoid buying the egg whites in the carton.
Milk: Go for full fat cows milk as it's generally less processed, Go for unsweetened almond or soy milk if you're non dairy.  Unsweetened coconut milk is a good option and great pantry staple.
Yoghurt: Always go for plain or greek yoghurt (like Chobani) and add flavourings to it in the form or berries, fruits and nuts, or even a little raw honey.
Cheese: Blocks of hard cheese and parmesan cheese are the way to go.  Avoid buying grated or shredded cheese as these have been more processed than the hard cheese blocks.  Fetta cheese and Goats cheese are also good.
Creams: Go for coconut cream in a can (can be used in curries), or a natural organic full fat cream from the cold section
Meat
Chicken and Turkey: Skinless breast and thigh, and ground turkey/turkey mince, and ground turkey/chicken mince are very good staples.
Beef: Opt for very lean beef with fat trimmed if buying steaks, go for premium ground beef/mince with the lowest amount of fat
Pork: Lean pork steaks (without the bone) are good, lean (rind off) bacon in moderation
Duck and Kangaroo: very lean meat and for some an acquired taste
Fish, Prawns and Salmon: I like to buy my fresh from the seafood shop even though it's a little more expensive.
Produce
Vegetables: Sweet potato, cabbage, carrots, beans, zucchini, pumpkin, asparagus, onion, broccoli, spinach, cucumbers, celery, cauliflour, eggplant, peas
Fruits: apples, oranges, grapes, plums, peaches, bananas, avocados, lemons, limes, raspberries, dates, blueberries, mangoes and pineapple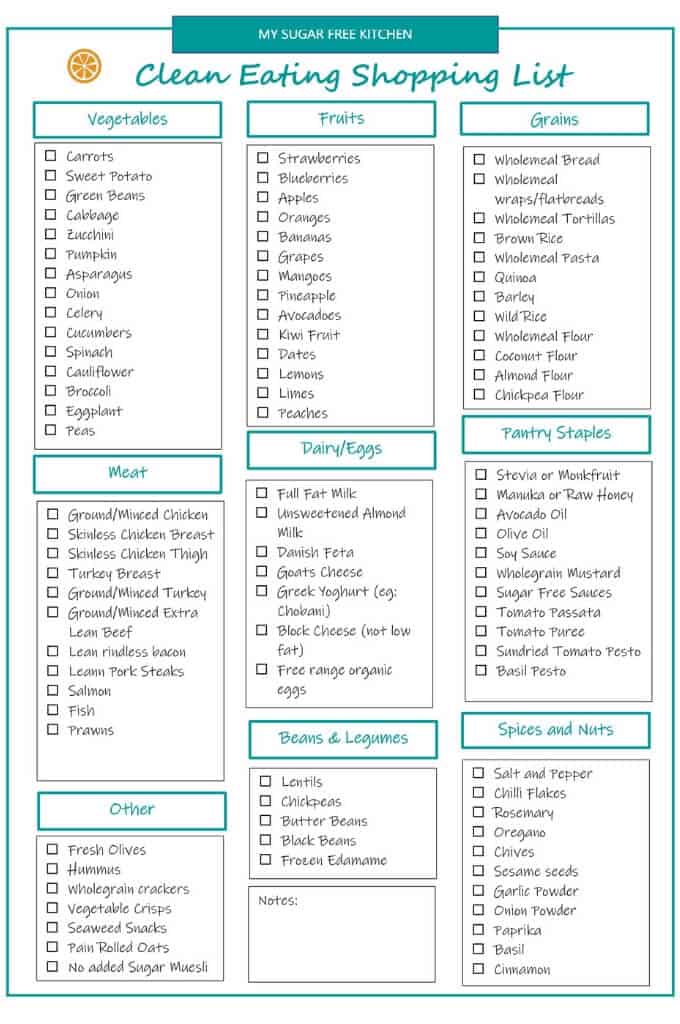 The Aisles
Condiments/Spices
Traditionally condiments are quite high in sugars, even though it may not appear so when you read the label as sugar can be called lots of different things.   (TIP:  Check out the post I wrote on how to read food labels).
Try and avoid premade sauces where you just add the meat and veges – these are full of sugars.
Sauce: Woolworths has a Sugar Free Fountain Tomato Sauce sweetened with Stevia as well as a no added sugar BBQ sauce and 50% less sugar Ketchup
Pasta Sauce: Opt for a tomato passata sauce as they tend to not have sugars added.  If it's a little bland, stir in some Sun Dried Tomato Pesto or even Basil Pesto for a flavor hit.
Wholegrain Mustard is a good option (many of the yellow mustards contain high amounts of sugars)
Soy Sauce – I use Tamari soy sauce because its low in sodium
Spices: spices that come in a bottle like the masterfoods range are just the spice without any nasties.  Avoid those prepackage spice mixes as they have a bunch of other things in them besides spices.  Think Garlic powder, onion powder, chilli powder, oregano, basil, rosemary, thyme, cinnamon, nutmeg, cloves, cumin, cayenne pepper and sesame seeds.
Honey: I use raw honey occasionally.  Pure raw honey or Manuka honey is good, just beware of the many different versions of honey that is very processed as many of them look the same and it can be hard to tell the difference.
Molassas: Blackstrap molasses is a byproduct of sugar cane's refining process and has a host of good vitamins and minerals.
Salt and pepper
Hummas
Natural sweeteners like Stevia or Monkfruit
Breakfast
Snacks
Look for snacks in the health food aisle and remember just because a product says it's "Low Sugar" or a "Healthier Alternative" it doesn't necessarily mean it is.  A lot of the time it comes down to reading the labels.  Two I often buy as special treats are:
Kez's Kitchen Free & Naked Gluten Free Lamington Bars: No added sugar and available at woolworths
Gullon Sugar Free Chocolate Digestives: No added sugar and available at woolworths.  This brand has several types of sugar free biscuits that are good.
Try looking for wholegrain crackers, rice crackers or seaweed snacks as these are often lower in sugar and higher in fibre.
Vegetable chips – a new trend in healthy snacking, you can find green bean, kale, beet and carrot chips, the best ones will have two ingredients, the vegetable and oil.
Nuts: walnuts, almonds, unsalted cashews, hazelnuts, brazil nuts, pistachos
Whole Grains
Opt for 100% whole wheat pasta such as these Buckwheat spirals, Spelt pasta, or this Herman Brot Low Carb Pasta
This Vetta Pasta High Protein Low Carb Pasta is also another good option
When buying flours, steer clear of white flour and unbleached flours. Healthier alternatives are wholemeal flour, oat flour, chickpea flour and almond flour
Skip the white rice and go for Barley, Brown rice, Wild rice, and Quinoa
Fats
Grass fed butter: Like normal butter, but the milk used in the making of it is from grass-fed cows. The result is a yellower colour and a glossy texture
Olive oil, Avocado Oil, Grapeseed oil
Beans & Legumes
Beans: Adzuki beans, Black beans, Kidney beans, White beans
Chickpeas
Lentils
Frozen Edamame
Olives fresh from the Deli
[mo-optin-form id="dqvLKxWHAt"]
Healthy Grocery List Shopping Tips
Finally, here are some tips for managing a clean eating grocery list the grocery store and avoiding all those processed goodies at the same time.
TIP 1:  Always Take A List With You
There is absolutely no avoiding this – you need a list, preferably a printed clean eating grocery list so you can cross things off as you go. Your clean eating shopping list should be as detailed as possible, listing all ingredients for the meals you have planned this week.
TIP 2:  Start in the Produce Section
Since a good portion of your list is probably fruits and vegetables, you should start shopping in the produce section.
TIP 3:  Shop the Perimeter
Once you are done in the produce section, which should be at one end of your supermarket, it is time to shop the perimeter. This means most of your food is around the outer edges of the grocery store. You should only need to go to the middle aisles for certain ingredients like grains and oils.
The majority of middle aisles have packaged and processed foods that you are trying to avoid while clean eating, so it is best to avoid the temptation. The perimeter of the store is where you will find your produce, dairy (if you eat it), eggs, meat, and seafood.
TIP 4:  Only Going to Middle Aisles for Necessities
Lastly, head to those scary middle aisles, but only go to the ones you absolutely need. Get out of the habit of walking down every aisle out of curiosity. This is often where you get into trouble. If you aren't getting oatmeal, avoid the cereal aisle. If you don't need any snacks, don't even bother with the aisle that has chips and crackers.
The Wrap Up
Grab my free printable clean eating shopping list to help you navigate the grocery store so that you buy clean foods that fill you up and give you the most energy possible.  Start small, and try to plan your dinners ahead of time so you can be prepared with a healthy grocery list, instead of randomly buying whatever takes your fancy.