A mindful meal might not be something you're overly familiar with if you always eat in front of the TV, scoffing down your food without really thinking about it. This might even be something you've been doing for years. Or, maybe it's not TV for you, maybe you love chowing down on your dinner whilst scrolling through facebook on your phone. Whatever it is, it might be doing your more harm than good.
What you might be missing is this: a meal where you can taste all the flavours, sensations and textures. Where your attention is focused purely on the food and where you are free from distractions, busyness and multi-tasking. This is a Mindful Meal. And you don't just enjoy it. You savour it. It's one of those rare pleasures and one of the most simple forms of self care you can do.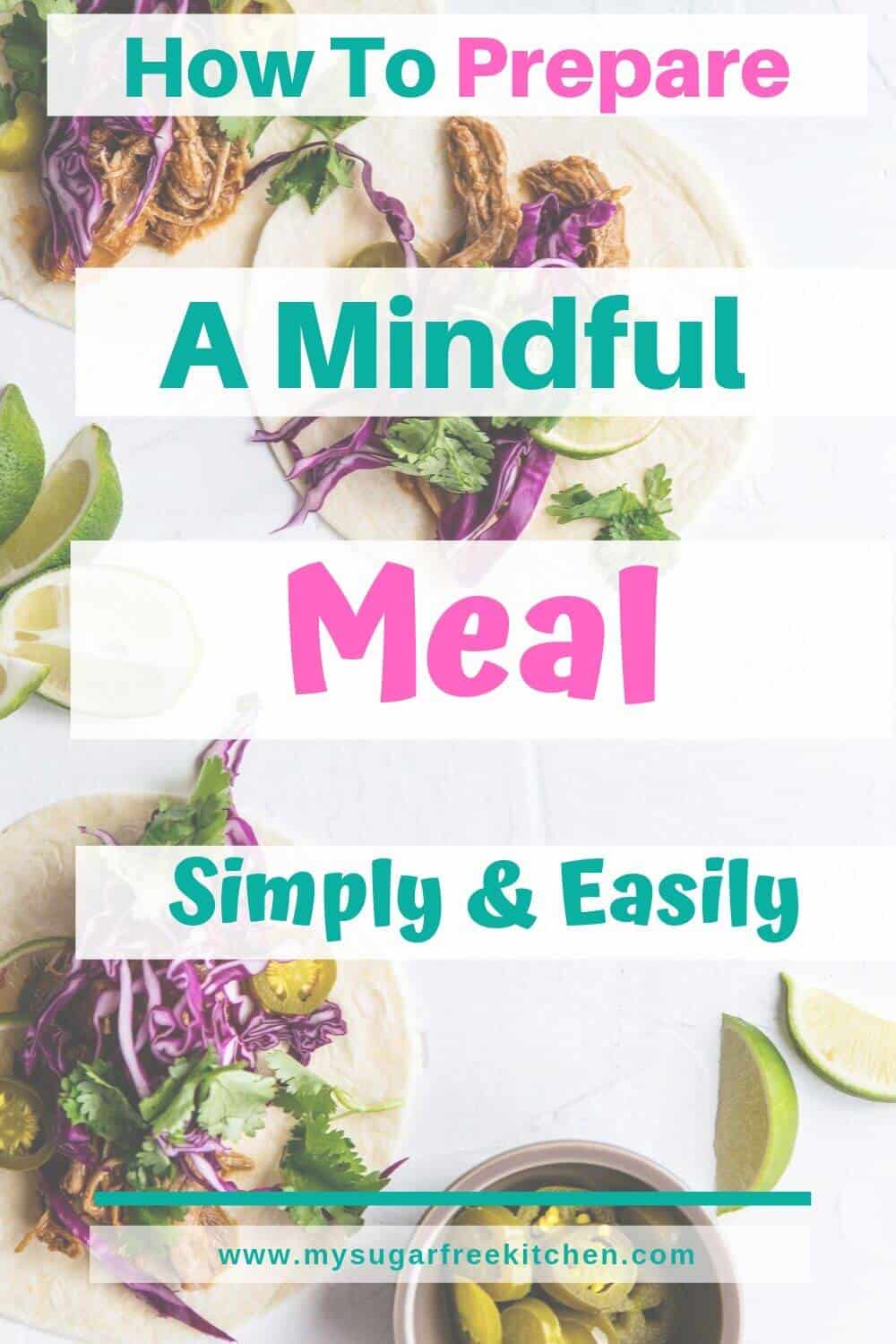 It's easy to get caught up in going about our day, doing what needs to get done without really focusing too much on what our body needs to keep it working at its best. Instead we fuel it with just enough to keep it chugging along. Our health suffers because we aren't getting the nutrition we need and our spirit suffers because we aren't connecting to our food anymore because eating has become a chore. Do you:
skip breakfast
over-eat at lunch
snack without thinking about it
eat dinner while you're doing other things
eat more than you should at dinner
eat quickly, without really tasting your food
*need* to eat sweet things after dinner
Related Post: 8 Valuable Benefits of Mindful Eating That Will Surprise You
6 Steps to Preparing a Mindful Meal and Actually Enjoying It
Step 1: Mindfully Plan Your Meal
This step is best done in advance and not done in a rush on the way home from work when you haven't had time to work out what you meal really is. Take a few moments on the weekend or the day before to work out what meal or meals you want to make. Unless you're used to whipping up things on the fly, keep these tips in mind:
Use a recipe. Make little tweaks here and there to make it your own
Check for ingredients you already have before you go shopping
There's no need to get fancy unless you want to. I find it best to keep it simple during the week when time is limited. Look for recipes you can make in under 30 minutes. Pick 2 or 3, make a shopping list and go and go shopping.
TIP: Don't forget to write you meal plan on a piece of paper with what you having on which days. Put it somewhere visible where you'll easily see it.
Related: How To Overcome Chocolate Addiction
Step 2: Mindfully Prepare your Ingredients
As you prepare to make you meal, get all the ingredients out onto the kitchen bench. Grab your cutting board knife, pans and whatever else you need. Take a deep breath and try to relax.
Pick up the vegetables and feel them in your hand, move them around and notice how their colour, size, shape and texture.
As you begin chopping or peeling vegetables, notice how they transform and new sizes and textures are created.
Notice your hands moving as you prepare the vegetables.
Mindfully preparing your ingredients is about noticing what you're doing to get the meal together. Cooking something from scratch can be very rewarding when you're in the moment experiencing it with all your senses.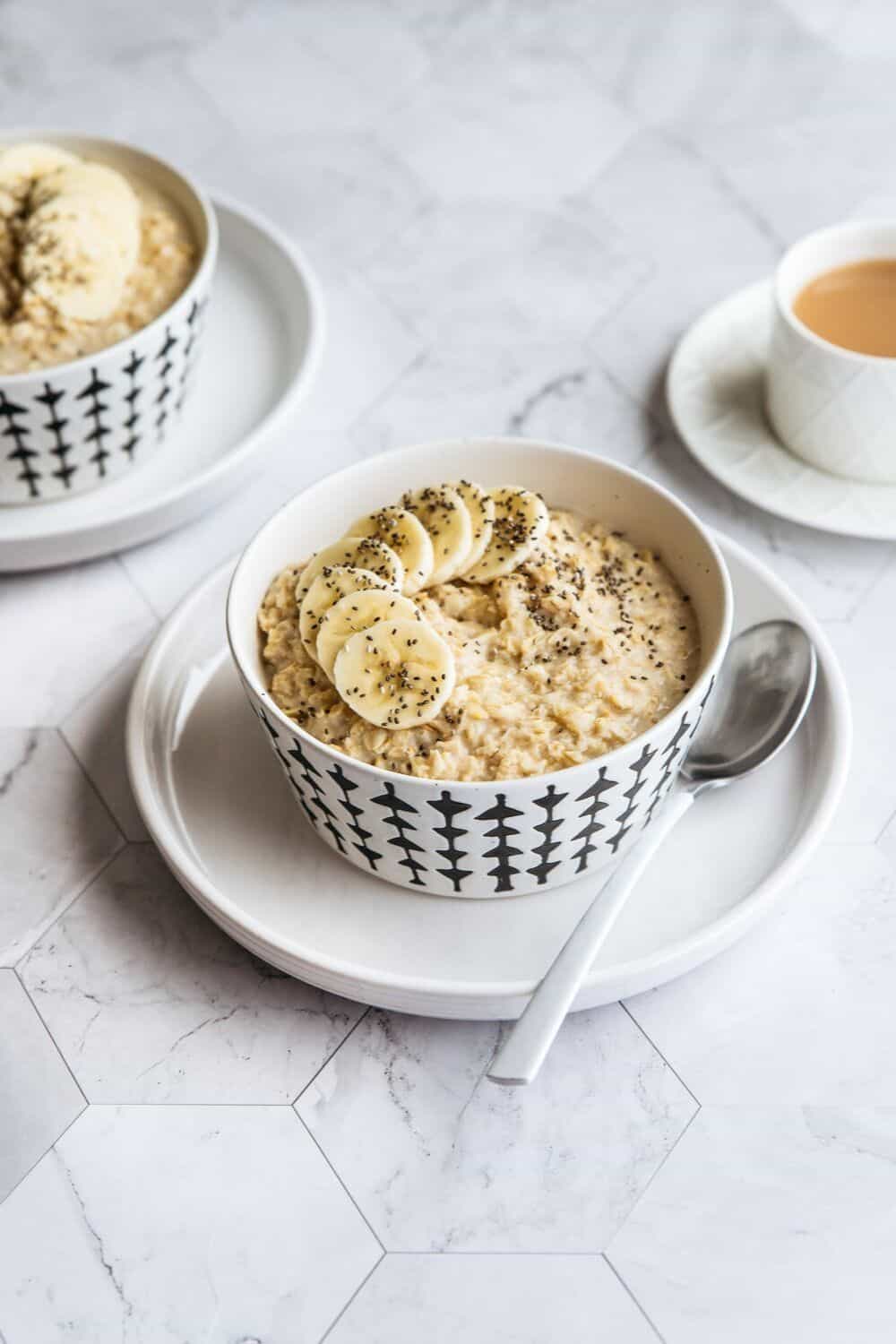 Step 3: Mindfully Cook Your Meal
Focus on one step of the cooking process at a time and try to avoid multi tasking. Instead, slow down and pace yourself. Enjoy this process without rushing. You might like to turn off the TV, and put on some music to get you more in the mood.
Take in the aromas of the cooking process. Inhale those onions when they hit the pan.
Taste as you go. Even if you're following a recipe I like to do this to see what else I can add. Maybe some salt, maybe some garlic, maybe some soy sauce.
Notice how the food is being transformed into something delicious. When you're cooking, just cook.
TIP: Slow Cookers are great for mindful eating because as they cook away they awaken the senses as the aroma wafts through the house and builds anticipation for the meal ahead.
Simple Dinner Recipes: Thai Chicken Meatballs with Peanut Sauce, Mango Chicken Bake, Thai Pineapple Chicken Curry, or these Crispy Calamari Tacos.
Step 4: Create The Right Environment To Eat Mindfully
A mindful eating environment is a place that is free from distractions. I also like to create a nice ambiance and mood with pretty plates and placemats, and nice glass for my water, good quality knife and fork and sometimes, music and maybe a candle. A mindful eating environment is:
A place where you are not distracted by TV, the radio, your phone, ipads, and laptops.
It's a comfortable place where you can sit at a table, whether that's an actual dinner table or something different.
It's a table that's free of clutter.
Creating the right environment also means making sure it's free from things that will tempt you eat mindlessly, like sugary snacks and sweets while you're waiting for your dinner.
TIP: Don't underestimate the importance of where you eat your Dinner. An environment with distraction, mess and chaos doesn't set you up for mindful eating. More likely it sets you up for mindless eating.
Related Post: A Perfect Start To The Day: 5 Steps To A More Mindful Day
Step 5: Mindfully Eat Your Meal and Enjoy It
Mindful eating is about becoming aware of your food, before, during and after you've eaten it. Once you've served up your meal and you're ready to eat, pause and look at your food on the plate.
Notice how it looks. What colours are on the plate, what shapes and sizes. How many can you count of each. Does the food look crispy, crunchy, soft, mushy, hard, sticky, moist, juicy, creamy, or flakey.
Notice how it tastes. What temperature is the food – hot, cold, warm, cool, or room temperature. Is it spicy, sweet, sour, bitter or salty? Does you meal taste rich?
Notice how it feels. Does the food make you excited, happy, joyful, grateful, appreciative? What emotions do you experience when eating. Notice them without judging and let them be.
If you find the process of mindful eating challenging, focus on your first three bites and try and be very aware of what your tasting. Notice how the food looks on your fork. Notice how it tastes. Notice it makes you feel. Thee mindful bites is a good start.
TIP: Make an intention to leave one bite on the plate and see if you can do it. This helps you to be more present as you give the cue to your mind that you're finished your meal, instead of waiting for the empty plate to tell you you're finished your meal.
Step 6: Mindfully Tidy Up
I don't know about you, but cleaning up is something I never look forward to, but having a clean kitchen is something I love. So mindful tidying up it is. I've created a little mindful ritual for doing the dishes that makes it seem not quite so boring and it makes the tidy up process more pleasant. Here are my steps:
I clear the table and have everything ready to wash.
I fill the sink with water, add the soap and notice it start to bubble
As I put my hands in, I notice how the water shifts.
As I move things in and out of the water I notice the bubbles come and go; and the water shifts again
I feel the water on my hands, even when I'm wearing gloves, feel it through the rubber.
I appreciate that water can appear at the flick of a switch
I am grateful that I have a kitchen to wash up in
I take satisfaction in the fact that I am making the dinner mess disappear
I am happy that I'll wake in the morning to a clean kitchen
I am thankful for the dinner that was.
TIP: When you're washing up, just focus on washing up. It will be done quicker than you think if you avoid multi tasking.
Related Post: 7 Ways To Stop Mindless Eating Habits Taking Over Your Life.
Planning, preparing and eating food is an experience that engages not just all our senses, but our whole body. It engages us with colour, texture, aroma and even sound. But there's a sixth sense that mindful eating taps into too. And that is our sense of curiosity. Mindful eating gives us permission to be playful, and to engage with our food in ways that we might never have experienced before.
We get to see our reactions, responses and delights to things that usually we're too busy to notice. Taking the time to plan, cook and eat a mindful meal at least once a week really is a form of self care. You get to slow down and appreciate things, take time for yourself and experience what it's like to actually enjoy a meal. And who doesn't love a bit of self care the includes good food.
Further Reading:
5 Powerful Ways To Make Mindfulness a Part of Your Day