Mindless eating habits can happen to all of us, even when we think we're eating relatively healthy. We get busy. We get stressed. We're multi tasking. We're doing everything at once, going on full speed, and sometimes we forget that what eat matters, and how we eat it matters even more.
We get caught up in mindless eating habits where we reach for food without thinking about whether or not we're even hungry, we eat it without really tasting it, and eat becomes another thing on the to do list, when it should be something we enjoy and savour.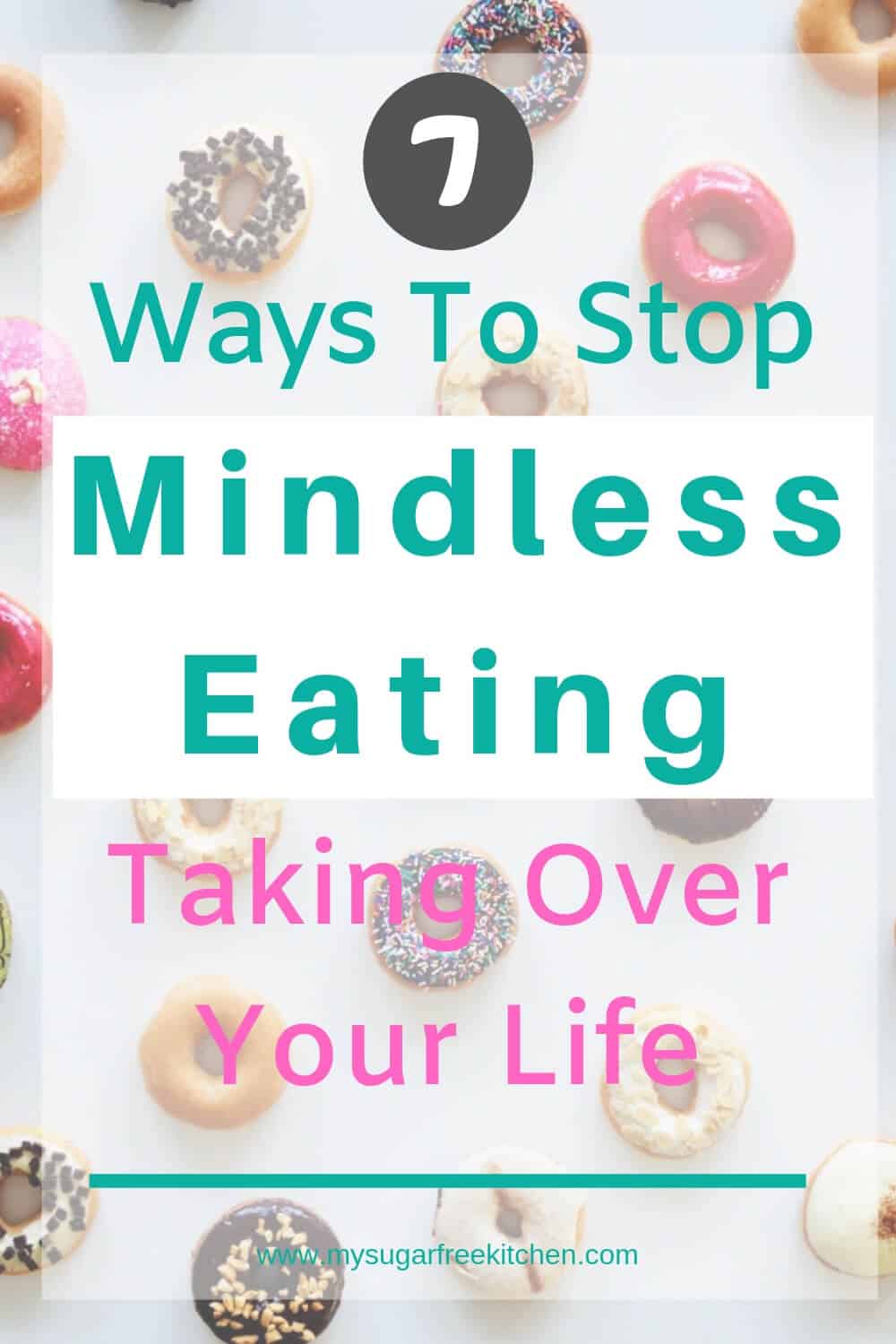 This is a problem because we're loosing our connection with food. It's loosing it's meaning and becoming another thing that we put on our to do lists. We're caught up in the cycle of busyness that is trapping us in a constant state of mindless eating.
We eat breakfast in one minute flat
We scull coffee before heading out the door for work
We skip morning break to re-fuel because you're too busy
We eat lunch at work desk before rushing off to next meeting
Oops its 3 o'çlock and water bottle is still full
Then its dinner and we're eating processed food out of a box because we're too exhausted for anything else
We zone out in front of the Tv for an hour before bed with a block of chocolate
Wake up the next day feeling just as exhausted
Mindless eating has taken over our lives.
We're loosing that time where we use to sit down at the dinner table to a home cooked meal and really enjoyed, tasted and savoured our meal. As a result, our relationship with food has changed and not in a good way. We have more health issues than ever. More stress than ever. And we're all lacking energy.
Over the years, I've had countless times where I've engaged in mindless eating. I've dieted, I've over eaten, I've under eaten. I've used food as a source of comfort. And I still struggle with slowing down and stopping the multi tasking to just eat and enjoy the moment.
Some other mindless eating habits members of my family have struggled with are:
Eating when feeling emotional, whether the emotions are positive or negative. Mindless eating could happen because they have felt happy, sad, excited, or anxious.
Over eating at restuarants until they can barley get up and walk out
Eating everything on the plate, because they feel guilty about wasting food. They eat it even if they're already full.
The eat food just because it's there, not necessarily because they're hungry
No-one can be perfect 100% of the time. But we can all do with a little more mindfulness in how we eat to nourish our body.
So, how do we stop these mindless eating habits and put them in their place?
We put strategies in place to help remind us to be more aware of how we're eating so that we get the nutrition we need, and have the energy to live vibrantly and to do the things that make us happy.
Here are my top 7 strategies that I've used in the past to help be to be a more mindful eater and to develop more healthier food habits.
7 Ways to Transform Mindless Eating Habits Into Mindful Eating Habits
1. Identify daily behaviours or routines that contribute to mindless eating
Work on becoming more aware of why you eat mindlessly. When you find yourself in autopilot eating mode, acknowledge the habit, become aware of it, and notice what you're doing when you are engaging in mindless eating.
Are you watching TV, munching on a block of chocolate?
Are you working on your laptop after work, with a bag of pretzels beside you?
Are you driving in the car, munching on a bag of sweets on you commute home from work?
Instead of using food in these instances, think what else you could replace it with.
Can you replace the block of chocolate with knitting in front of the TV, or colouring or drawing?
Can you replace the pretzels with a cup of herbal tea while you work?
Can you distract yourself whilst driving with some motivational music or an inspiring podcast?
2. Create a mindful eating contract
A mindful eating contract is about making a commitment to what is important to you, and writing it down, further helps to strengthen your awareness around what mindless eating habits you're trying to break.
This doesn't have to be a formal typed up document. It can easily be a hand written document stating what your commitments to doing differently. For example you might include things like:
When I eat, I commit to giving my full attention to at least one meal of the day
When I eat, I will not be distracted by other things such as my phone, ipad, laptop or TV
When I eat, I will stop everything else I am doing
I commit to dropping one processed food that I regularly eat, and swapping it with a healthier alternative
Include your signature and date and list 3 specific mindless eating behaviours that you'd like to change.
3. Create a weekly meal plan
Each Sunday I create a meal plan for the week. I work out what I'm going to make, write out a shopping list, and go shopping for the ingredients. I've been doing this for years, and I've found it really helps me to feel more organised with healthy meals and food in the house. It means that I have home made meals for dinner and healthy snacks on hand.
In the past I would have kept packets of biscuits, chips, chocolate and other sweets and because they were there I would eat them. Now I don't keep them in the house. If you're looking for some inspiration on how to create a weekly meal plan, here are some of my other posts:
4. Set Mindful Eating Goals
Once you've made your commitment to improving your mindless eating habits, try setting yourself some mindful eating goals. Star with 1 or 2, and write them out and stick them where you can see them everyday. Maybe, on your fridge, or as a screensaver on your phone.
Some basic mindful eating goals could include things like:
To take a full 10 minutes to eat your dinner so that you can slow down, taste and enjoy your meal. Put on a timer and see how you go for a week
To eat dinner for 1 week sat at the kitchen table without the TV on in the background
To get up earlier and have an extra 15 minutes for a mindful breakfast
To clean out your kitchen and get rid of sugary and processed foods to remove some of the temptation for mindless eating
To not eat whilst driving
To drink 2 litres of water each day
5. Move Each Day
It's so important to incorporate exercise into your day, especially if you sit at a computer for a large chunk of time, like I do. When you move your body it makes you feel better, and you're not eating! Even just a little bit of exercise can make a big difference.
For example, I do 15 minutes of yoga every morning via the Down Dog app. I rarely miss a day and that 15 minutes it all I need to stretch out my back to relieve the tension, improve my flexibility and strength.
Squeezing in exercise is even something I do in my lunch times at work. I sneak off into one of the meeting rooms, fire up one of my exercise apps and get in another 10 or 15 minute workout. Sometimes its another yoga set, or pilates, or gentle stretching.
Some of my favourite ways to incorporate movement into my day include:
A walk outside at lunchtime
Doing chair yoga – yes it's a thing. Check out the Down Dog app.
15 minutes of yoga at 6am each morning
Gentle stretching in the evening after dinner and before bed
A 30 minute hitt class on the way home from work
A 7 minute workout from the "7"App
6. Create Mindful eating affirmations
I have been using affirmations for several years now and I have a few on my list about clean eating and being mindful of what I eat and how I eat it. I find affirmations useful for 2 reasons. The first reason is because they are a constant reminder of what's important to you and secondly because they work to rewire your brain so that after a while the affirmation becomes ingrained and almost second nature.
If mindful eating affirmations is something you'd be interested in, check out this article for some inspiration and examples of what you could include on your list.
7. Engage in Mindful Self Reflection
I like to take a moment at the end of each day to reflect on how things went, the decisions and choices I made and whether I would have done anything differently. This practice of mindful self reflection helps me to connect with values and what's important to me.
For example, if I made a decision that maybe wasn't the best, I can acknowledge that and know that I'll be better prepared for next time.
We all have mindless eating habits, even though we might like to think we don't. The truth is, we can never be perfect 100% of the time. Mindless eating happens. The point is to tune into your awareness about when and why its happening and to put some strategies in place to help you develop habits that support you and allow you to thrive and have the energy you need.