Wasting food can be an easy thing to do and we've probably all been guilty of doing it at some point or another in the past.  Perhaps you've even wondered how you could reduce food waste at home but aren't sure where to start. Or maybe you've made attempts to do it in the past and it didn't really last.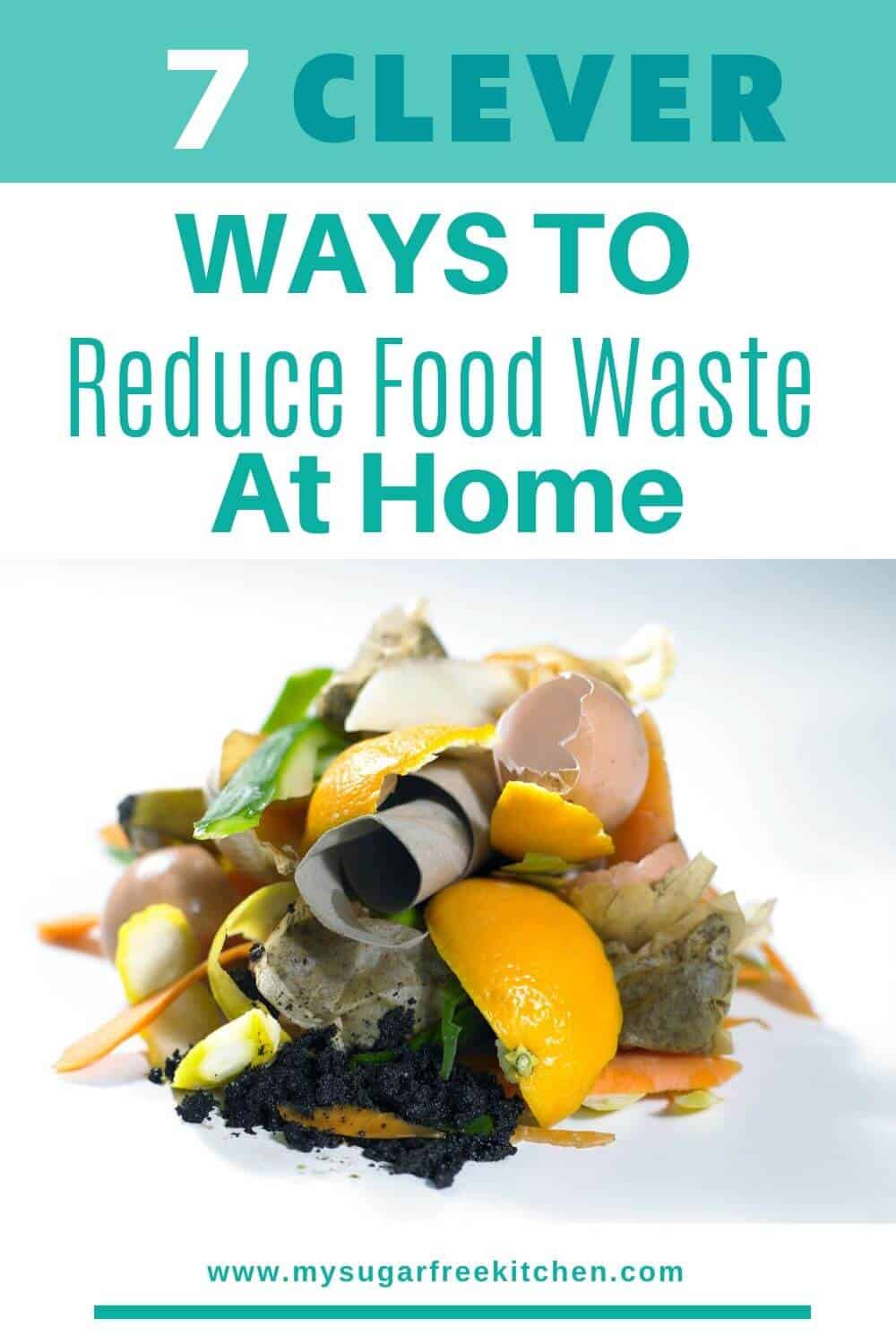 Personally, I've been guilty of to throwing away lots of food that really should have been eaten if I'd been more on the ball.  I'd buy stuff I already had..... but forgotten about. 
I had no system for making sure I used fresh produce up before I bought more and it cost me money I didn't need to be spending. 
Whether it be a half eaten lettuce, leftover curry you forgot to freeze, or yoghurt you forgot to eat before its expiry, whatever it might be,  food waste can be a real problem for many of us.  Not only are there people who don't have enough food in this world, food waste ends up in landfill and creates methane gas which is terrible for the environment.
Not too mention when we waste food, we waste money that could be spent on other things.  However, a few simple changes to how we buy and consume food could make all the difference to reducing food waste at home, help the environment and make better use of your financial resources.
Here are 7 practical tips to help you reduce your food waste at home.
1. Check What You Have On Hand Before Buying More Food
Buy only what you need and use what you already have on hand.  Before you buy more pantry items, things for the fridge, more fresh fruit and veggies, even more spices, check what you already have on hand.  Take a quick inventory of what's in your fridge and pantry.  Then plan out what you're going to cook that week, including snacks and breakfast and lunches.  Sometimes meal planning can feel like a burden or a chore, but as with most things, a little planning goes a long way.
Related: Meal Planning For Couples
Know how much freezer space you have available if freezing meals in part of your plan. Don't make more meals to freeze if you have no room as they'll end up in the fridge and you may not eat them in time.
TIP: If you don't keep track of what you already have on hand you'll end up buying more than you need and it could end up going to waste.
Related: The Clean Eating Shopping List (With Free Printable)
2. Rearrange Your Veggies
Stop things from getting lost in your fridge by making sure you know what is in there and what is freshest. Make sure to rotate your veggies so that the oldest ones are at the front to be used first with fresher ones at the back since they a little longer life left in them.
It's also helpful to clean and organize you fridge every few weeks to keep it clean and tidy, and this can also help to keep you in the habit of making sure to check expiry dates on things in the fridge, and to ensure things that need to be used first are at the front of the fridge and can be easily seen.
3. Record What You're Throwing Out
Try keeping a notepad (aka a Waste Journal) beside the fridge and every time you throw something out, write down what it was and the date you threw it out. You'll end up creating a list of all your food wastage so you can begin to see patterns. This is helpful because it then allows you to use this information to change some of your habits around how you buy, prepare and eat food.
For example if you notice you're always throwing out beans or cucumbers you could look at how you're storing them to keep them fresher for longer. If you find you're often throwing out yoghurt because it slips to the back of the fridge, make sure its on a higher shelf and in more prominent view.
Greater knowledge of your food waste habits can allow you to plan your meals more effectively using what you already have, invest in better storage containers or buy less than you do.
4. Liven Up Your Leftovers
Become lest wasteful, throw away less food and explore your creativity in the kitchen by livening up your leftovers. Instead of throwing out boring leftovers, jazz them up with other things you have on hand like spices, veggies, fruits, nuts, rice or pasta.
If you've made too much, invest in good quality storage containers that freeze and reheat all in one. Make sure to label any leftovers and put the date on when it should be used by.
Eat refrigerated leftovers within 2-3 days. If you know you wont eat them within this time frame, freeze them straight away.
TIP: as a general rule, I like to use up frozen leftover meals within 4 weeks of when they were made, so on the label I write the name of the recipe, and "use by: [4 weeks from date made]"
5. Turn Scraps into Stock
Using vegetable peelings to create a nutritious and flavourful stock that can be used now or later is a great way to use up what would otherwise be scraps.
When you're peeling potatoes, or chopping carrots, keep all the scraps from the skins and ends. Put them into a ziplock bag, pop into the freezer and save. Keep adding to the bag until full, then use it to make stock for soups and stews.
TIP: Vegetable peelings from onions, carrots, potatoes, and ends of celery, ginger and garlic are great for flavouring a homemade stock.
6. Think Differently
Employing some smart thinking about the fruit you're buying can be the difference between consuming it all, and having some go to waste. For example, old bananas don't need to be thrown away, instead they can be chopped up and frozen for smoothies, or made into a banana bread.
Or you could also think about buy fresh veggies that don't spoil and last longer (like carrots, sweet potatoes, corn on the cob), cabbage instead of spinach, carrots instead of tomatoes, oranges and apples instead of peaches.
Alternatively, you could also think about buying frozen veggies if you find yourself constantly throwing out ones that are past their used by. The same goes for fruit, especially berries. Frozen berries area great on porridge, smoothies, protein shakes and breakfast bowls!
Related: How To Shop Mindfully For Groceries and Avoid Overspending
7. Grow Your Own Food From Food Scraps
Instead of throwing out things like old brown onions, shriveled chilies, wilted lettuce, soft celery, wrinkled garlic, and leathery capsicums and peppers, did you know you can grow your own food from scraps you'd normally throw out?
Its easier than you think. Easier than going to the shop and buying seedlings and easy easier than trying to grow food from seeds. The best part is, you'll be using scraps you already have to create food for your family and it will save you money in the long run.
Related: What Is Clean Eating and How Healthy Is It
Gamify Your Food Waste
Why not try and make it a game to see how much money you can save per month by working out how much food you throw out.
Maybe it's $50, maybe its $100, or maybe its even $250. Whatever it might be, its worth investigating and getting that money back so you can put it to better use.
Reducing the amount of food waste at home is definitely possible.
Keeping a Waste Journal will help you to identify what foods you're throwing out on a regular basis so you can do something about it. It can help you to save money, save the planet and be more resourceful and creative as you discover ways to use what you've got on hand to create delicious food.