Leftovers can be a great timesaver during the week when you are pressed for time, as a dinner you don't have to cook, or as a lunch you don't have to buy. If you're like me, you hate see food going to waste and you want to make the most of your leftovers.
The problem is though after eating the same thing 2 days in a row, you're sick of the sight of it and are over it.
If you're cooking on the weekend, or a weeknight and end up with too much, there are some quick and easy tricks that will instantly liven up leftovers so that they are almost unrecognizable. With a few simple tricks you can get your leftovers:
Tasting completely different
Tasting better than before
Tasting fresh and "just cooked"
Looking like you need to devour it immediately
Don't struggle through the same meal day after day feeling miserable because you don't want to see good food go to waste, instead, get creative, liven up leftovers and get ready to makeover your dish so that you're excited to eat it again.
Related: 7 Clever Tips To Reduce Food Waste At Home
5 Ways to Liven Up Leftovers that Make You Actually Excited to Eat Them
Add avocado, Tomatoes, Salt and Pepper and a squeeze of lemon
Whether you've got a stew, casserole, meat and veg, adding some colour and tang is always a good thing. Whilst your at it you might want to add a little sriracha for a spicy hit and facelift on your leftovers.
Add crunchiness to liven up leftovers
I love nuts in everything, but crunchiness also includes seeds. Salads, curries, stews, stirfries. Nuts and seeds just make things more interesting. They add texture and crunch, colour and extra protein. Try adding it to your leftovers directly stirred through if it's a saucy thing, or you might stir them through some rice to have with you reinvigorated dinner. My pick of nuts to add include walnuts (absolute number 1 favourite), sunflower seeds, pumpkin seeds, almond slivers or anything else that might add a crunch along with a nice dose of healthy fats that are good for you, too. Something Else I always keep in the fridge are crispy fried shallots which are great in leftover salads and rice dishes.
>Related Post: Batch Cooking For Beginners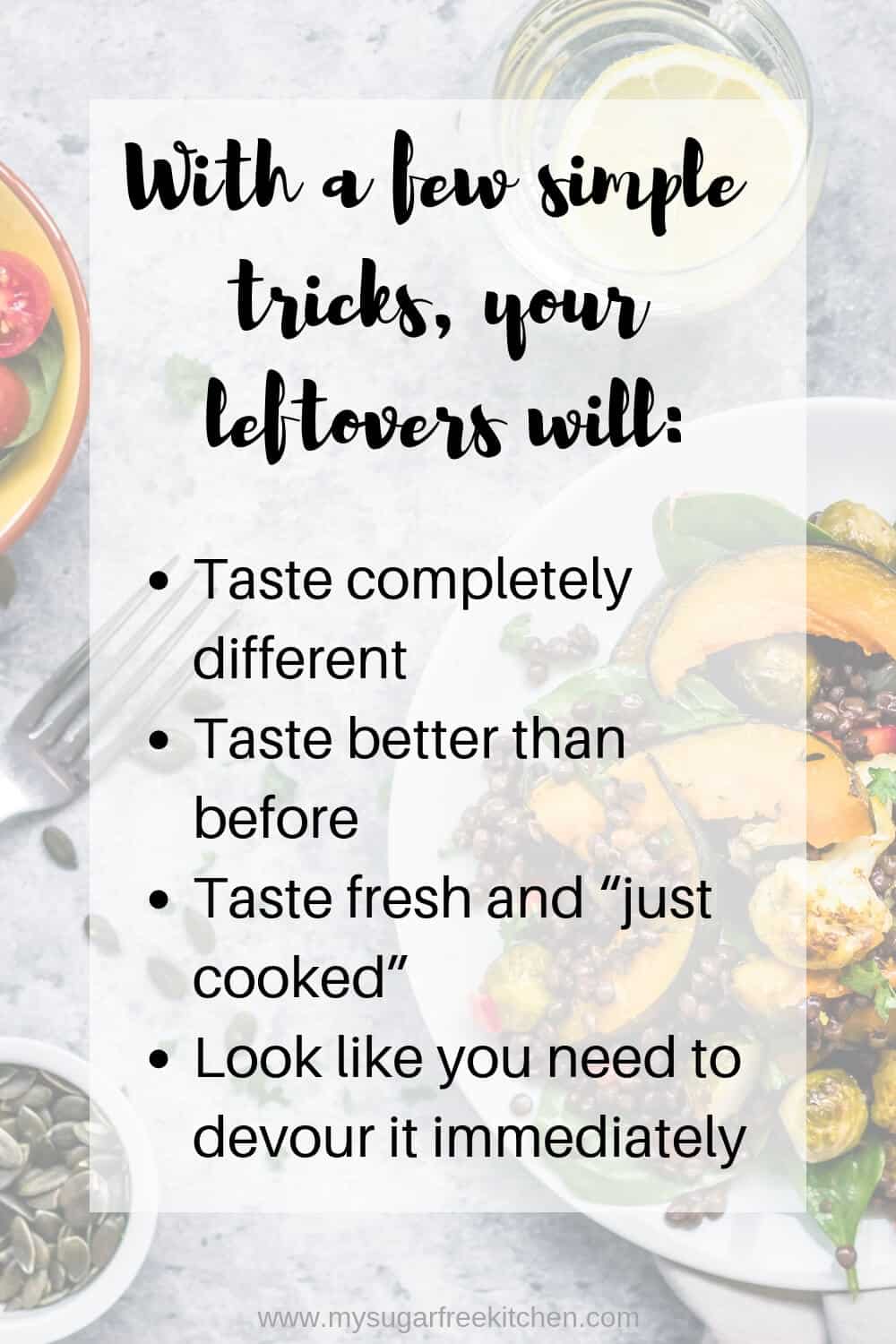 Green Makes a Sad Dish Seem Fresh Again
Think steamed garlic greens, or fresh diced green beans or spinach added to leftovers. Sometimes that leftover chicken casserole tastes like another dish altogether reheated on bed of fresh greens, wilted spinach or lightly steamed cabbage. Or my other favourite – Zucchini noodles, lightly boiled. This is great with leftover bolognase mince especially if your looking for a low carb option.
Skip the Microwave and Reheat on the Stove
Breathing life back into your leftovers requires seriously little work when you know the tricks of the trade and the stove is a major trick. I find the microwave just zaps any last bit of freshness right out of the food, so as a general rule, I always reheat it in a pot on the stove. Add a bit of oil, grab a wooden spoon, add some fresh herbs and spices and you'll have to remind yourself you're eating leftovers. I just love keeping those packets of diced fresh herbs in the fridge to use with my leftovers. They last for upto 4 weeks and they are so convenient and taste way better than dried herbs.
>Related Post: Meal Planning For Couples - My Personal Tips and how I Do It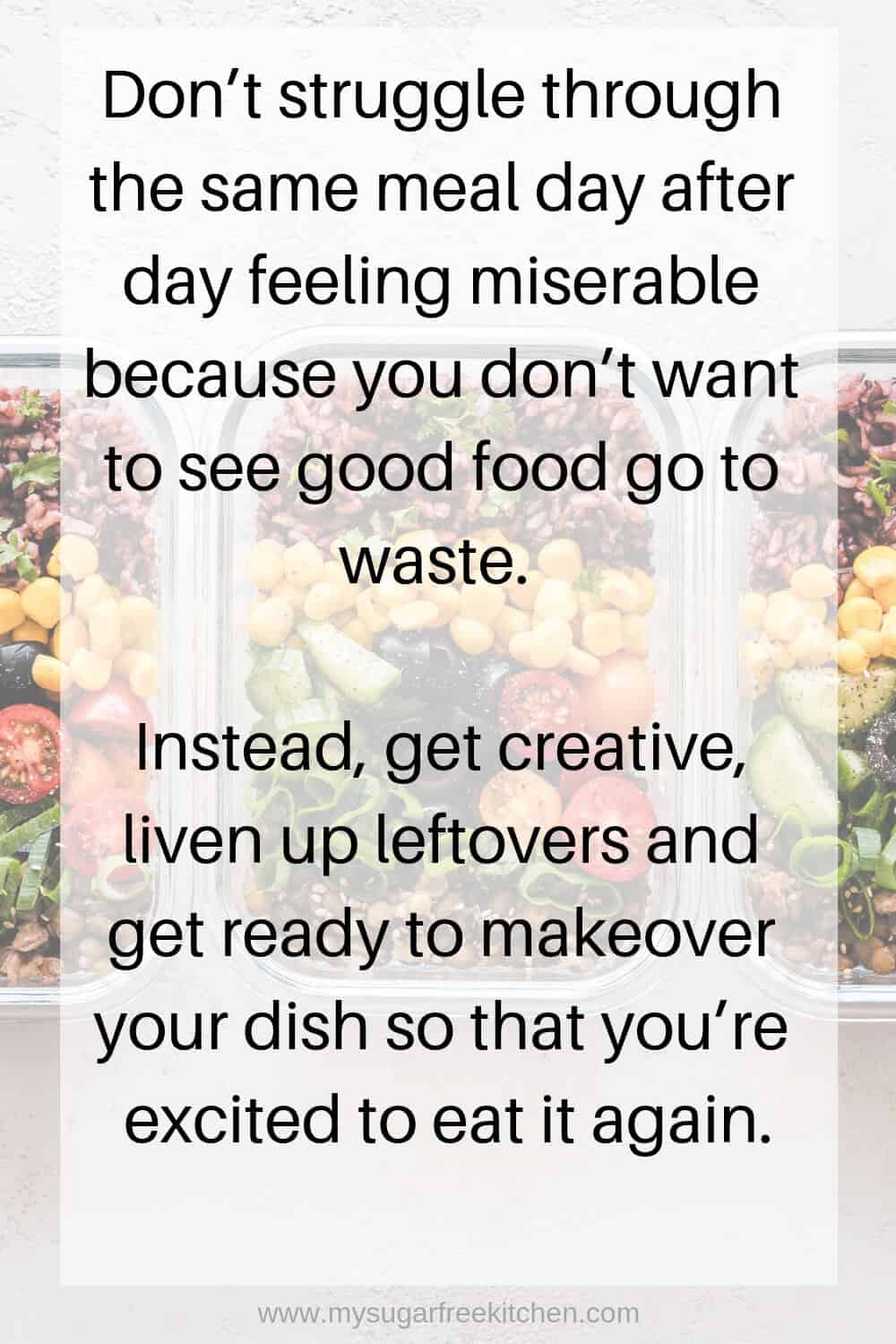 Add a Splash of Something
You don't need a lot of condiments to jazz up your leftovers and I try not to keep too many in my fridge. The ones I do always have though are salsa and sriracha as they can instantly transform leftovers. Even adding a few drops of soy sauce or wholegrain mustard stirred throughcan make all the difference and completely change the taste of your meal.
Next time your stuck thinking "What's For Dinner" and you grimace at the thought of leftovers again for the the 3rd night in a row, give some of these ideas these a try to see if you can jazz up your leftovers so that you're excited about eating them again.
It can actually be lots of fun, experimenting with the base meal you have because the work to transform it is so minimal it can feel like you've created an awesome dinner with about 5 minutes effort.
♥ Recipes that Freeze Well and Make Great Leftovers:
If you're freezing Meals, remember to pull them out the night before or morning before so you don't have to microwave them. Letting them defrost naturally in the fridge will be easier and more manageable for when you come home and put it into a pot on the stove.
If you've struggled with leftovers in the past, pick one meal you think you could make ahead that you'd have leftovers for and plan out how you could liven it up as a weeknight meal that you would be excited to eat.