Why does meal planning for couples seem like one the those challenging dilemmas that is just so hard to crack? If you find yourself in a situation where it's just the two of you in your household, the kids are gone, or you're like my husband and I and you have a furkid instead of an actual kid, and meal planning has been a struggle, let me share with you my tips for meal planning for couples.
In a hurry? Pin this post to Pinterest for later ⇓
Practical Meal Planning For Couples
I've had successes and flops with meal planning over the years. I've tried things that left me frustrated, and experimented with things that helped me manage my dinner routine and successfully land old comfort food favourites and new and exciting dishes on our table with less stress.
All this in a household where sometimes it feels like I'm a responsible married working wife (which I am) and sometimes where I feel like I'm a single gal with no one to look after but the dog (which I also am). This is because half the time it really is just me home on my own (where I'm meal planning for one as hubby is away working on remote sites), and the other half of the time I'm meal planning for two, when he is back home on days off.
Since there is only myself and my husband in our household, meal planning for two people is a topic that we use to discuss fairly regularly, usually when we thought it was the other persons turn to cook dinner that night at which time we realise we actually don't have anything even remotely interesting in the fridge, freezer of pantry that could be cobbled together to resemble a half decent dinner. Ooops.
Overcoming Meal Planning Overwhelm
I know that in the past I've felt so overwhelmed with what to even put on the meal plan for week that I just end up not making a meal plan at all. And then when I did end up making a meal plan, I had to constantly remind myself to stick to my meal plan, especially after a long day at work followed by a one hour high intensity workout that left me exhausted and barely able to string a set of thoughts together as I walk in the door.
How Is Meal Planning For A Couple Different?
As a couple my husband and I like punchy, spicy dishes with lots of flavour. We also like variety. Sometimes we like things that need particular ingredients. We both enjoy cooking, and sometimes we're OK with spending 45 minutes getting dinner ready, and sometimes we want it done in 15 minutes.
We have less dietary restrictions, time restrictions and we can probably be a bit more generous with our grocery budget as well.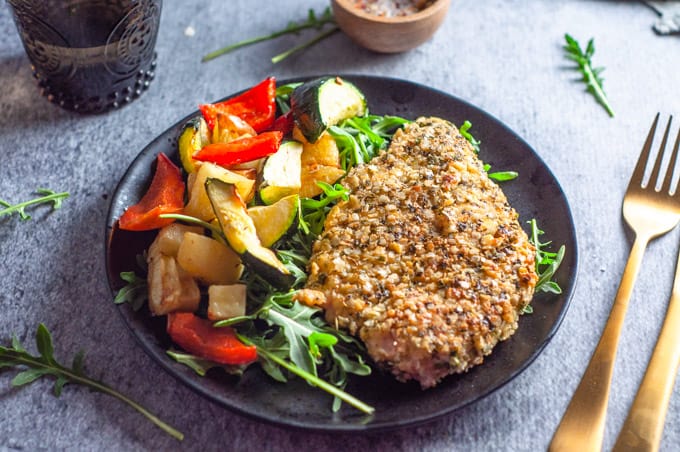 Sometimes though this can mean less of a routine (or harder to find one and stick to it), and often more mess to clean up and since we don't have the responsibility of cooking for kids, we can occasionally get off track with our good intentions for meal planning.
So, to keep things cool in the kitchen, and to get a good well balanced and nutritious meal on the table, this is how we make it stress free and easy, yet interesting, exciting and delicious, such that we enjoy each others company when we sit down to eat it, instead of feeling stressed, annoyed or anxious.
Simplify Your Meal Planning with these Action Tips
TIP # 1: Give yourself a time limit to make a decision on what to put on the meal plan for the week. I know that I can sometimes be overcome by analysis paralysis when looking through cookbooks and magazines for recipe inspiration. I find that giving myself a 10 minute timeframe to pick two new recipes to make for the week is a good technique to force me into decision making mode so that I just decide.
TIP # 2: Choose several tried and true dishes you know to add into your weekly meal plan. It's a recipe for disaster (not to mention stress) if you choose 5 or 6 new things to make in a week. In conjunction with your 1 or 2 new recipes, select several things that you find that are easy to make and that you know you can get on the table without a lot of effort. This will keep stress levels down and because you make the dishes regularly, you'll probably already have some of the ingredients.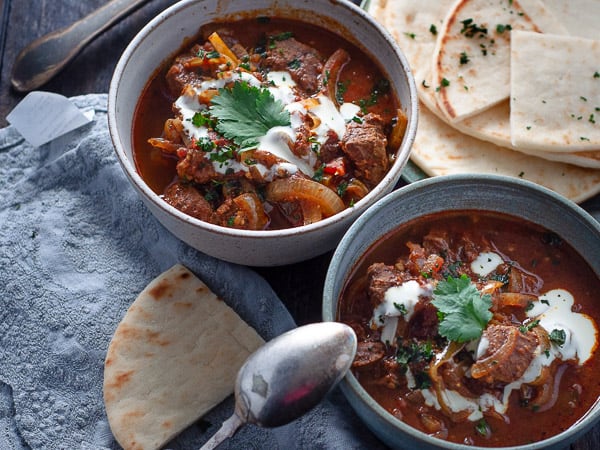 TIP # 3: Write up your Meal Plan of what you're having on which day and stick it somewhere visible. I love to be able to come home, look at my meal plan stuck to the front of the fridge and just know that is what's for dinner, and that I have all the stuff needed to make it. No more 4pm dinner dilemma or last minute ducking out to the supermarket for a grocery shop.
Related: 7 Clever Tips To Reduce Food Waste At Home
TIP # 4: Do your grocery shop before the week officially begins. Whether your preference be to do your grocery shop online, or to physically go to the store, make sure you've taken inventory of what you already have and created a list of what you need for this week's dinners. Once you have this magic list, complete your shop all in one go, before the week begins. My meal plan begins on Mondays, so I shop on Sundays. It's about getting into a routine and a rhythm of planning for the week ahead.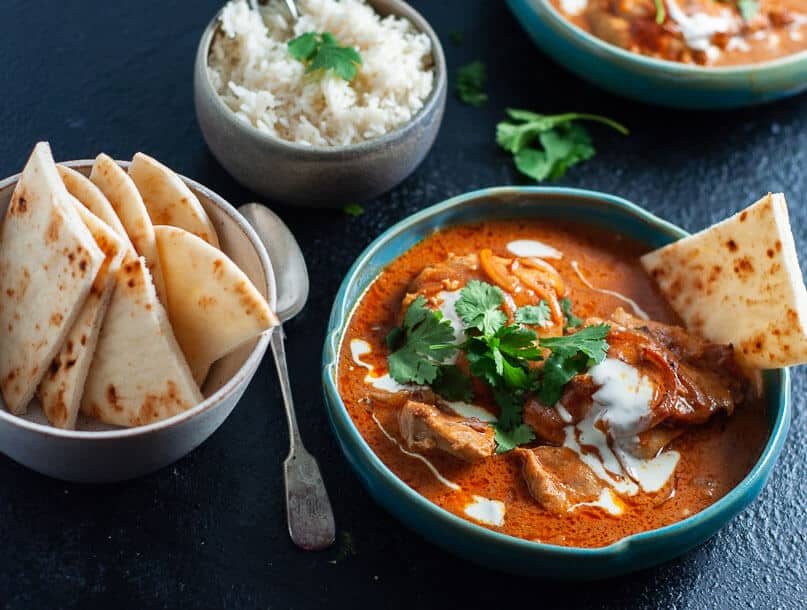 Tip# 5: Store your freshly bought fruit and veges properly. Grab some see through glass containers and give your veges some love and help them to last longer. Storing them properly might even mean you have some left over for next weeks meal planning.
TIP # 6: Regularly clean out your fridge. If you're anything like me, things tend to build up over time until you realise you have no more room in your fridge for things you've just bought. This was exactly my situation before I started regularly cleaning out my fridge. Now I do it once every two weeks. I check labels for things expired, things that smell bad, things that look bad and generally anything else that is past its best.
TIP # 7: Ask for help/Allocate who is cooking what when. When it's just the two of you, what is the other one doing while one of you is cooking? Maybe working on the laptop in front of the TV, finishing up a workout, tidying up, playing games on their phone or maybe nothing at all. If you feel overwhelmed, ask for help to peel the veges, wipe the bench, or set the table. Sometimes it just the smallest of things that can make dinnertime seem less stressful and more enjoyable. Better yet, decide together, who will cook each night, and which nights you'll make it a team effort so you each get to have "time off" from the kitchen.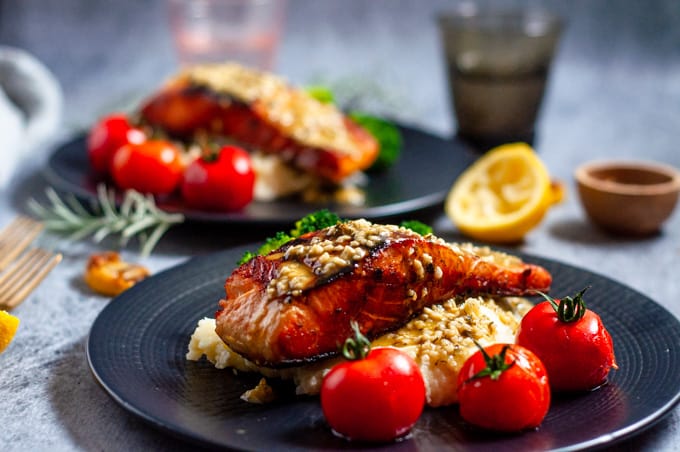 TIP # 8 Share the Clean Up or if only one of you is into cooking, the other one cleans. Sounds fair to me. Don't make it a regular occurrence that one person does both the cooking and cleaning up. A one off here and this is OK, but you're a team and dinner should be a team effort.
Did you like this post? Pin It to Pinterest , and leave me a comment below.
TIP # 9: Build in a Date Night. My husband have been having a date night on Thursday nights when he is home for the past few years and I can honestly say it is something I always look forward to. Occasionally we will go out, but more often we make a special dinner at home where this would be one of the new recipes that we haven't had before.
Because our date night involves a dish we haven't had before, it makes it exciting. We also take this opportunity to open a bottle of wine and maybe even splurge with a dessert. Date nights don't have to mean you leave the house or that you spend money you don't have. Instead, build date nights into your regular routine.
TIP # 10 Say thank you. This one is just so simple and can make all the difference to acknowledging that you appreciate the efforts your partner has gone to in cooking dinner for the both of you. Even if you have helped, appreciation goes a long way and it actually makes it feel like it wasn't even that much effort.
TIP # 11 Love your leftovers. Freeze 'em, refrigerate 'em, or eat 'em later that night. Either way, get out those microwavable containers, arrange your leftovers and decide what's happening with them. If they are going into the freezer, do it in portion controlled sizes, label and date them so you know what it is and how long its been in there. If's going into the fridge, don't worry about labelling, it will be gone soon enough. Likewise if it's going to be eaten later on if one of us (usually my husband) gets the midnight munchies.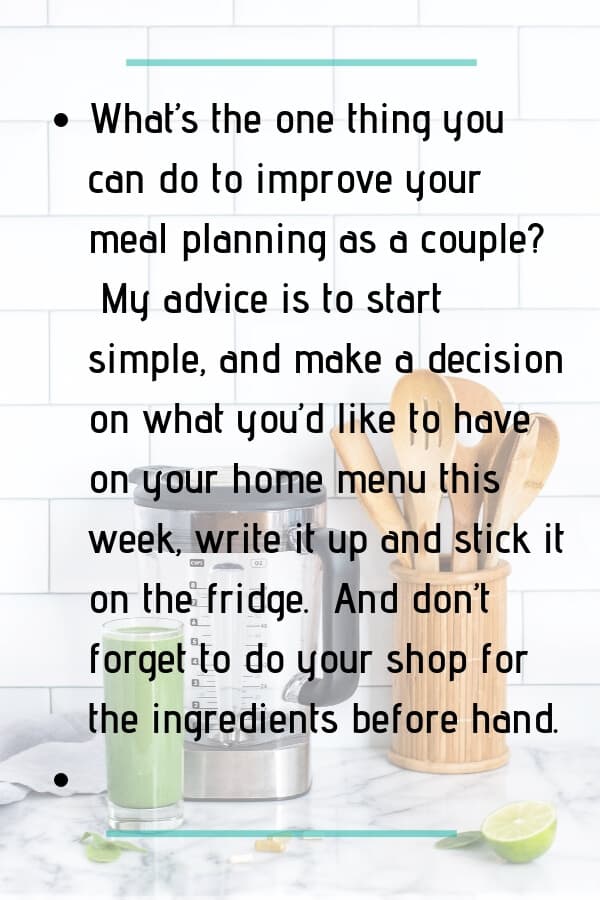 You don't have to do everything at once, especially if you're not a natural planner. Start small, and move forward from there. Build up your meal planning muscles and it will eventually turn into a habit that you can't live without.
There you have it. Some of my top tips for meal planning for couples that will help you to prepare, eat and enjoy your meals together with less stress and more joy.
What's the one thing you can do to improve your meal planning as a couple? My advice is to start simple, and make a decision on what you'd like to have on your home menu this week, write it up and stick it on the fridge. And don't forget to do your shop for the ingredients before hand.
You don't have to do everything at once, especially if you're not a natural planner. Start small, and move forward from there. Build up your meal planning muscles and it will eventually turn into a habit that you can't live without.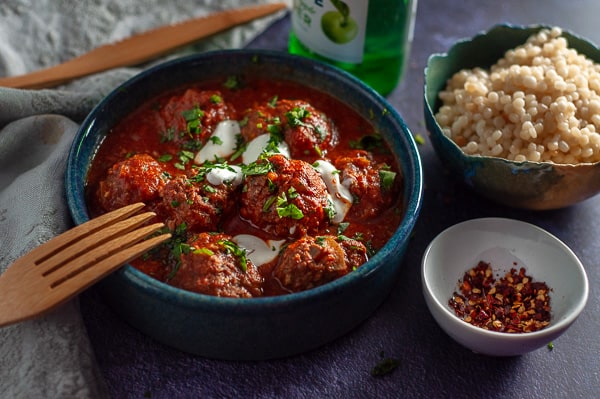 On a side note if you're still feeling a little overwhelmed, Meal prepping can also be a big lifesaver. I often do a batch cook of basic stew or curry, portion it out, and then use that as my base for meals during the week. This method is a slightly different approach to meal planning and can be good to mix things up occasionally or when you know you're going to have little time on the weeknights. This is totally me when I have 3 sessions of 90 minute yoga in one week to try and sort out my back from too much sitting at work!
When it's just the two of you, meal planning can and should be straight forward. The trick is to communicate with each other and to help each other out. No-one likes to feel like they're putting in 100% while someone else isn't pulling their weight.
So, pour a glass of wine, turn off that TV and put on some tunes instead. Get cosy in the kitchen and enjoy a homecooked meal together, made because you planned it and you worked together as a team to get it on the table.