If you're the person in your household who does the grocery shopping, you have more power than you think! Simply because you control a significant portion of what you and your family will be eating for the week. That's quite the responsibility.
There is so much advertising and marketing out there that it can be easy to get caught up mindlessly buying things you don''t need. The truth is, a lot of us probably buy stuff we don't really need, particularly in the food department. There have been many times where I've bought something on special and come home to find I already had three of them in the cupboard.
All these things are normal and we buy things we don't need all the time. But when we buy foods on impulse or without thinking about it, especially those that are highly processed and laden with sugars, it's easy to fall into the trap of mindless eating.
To get out of autopilot mode when we're grocery shopping, we must become more mindful shoppers. Mindful shopping means turning your awareness up to 100% when you go to the supermarket. It means being conscious of your thoughts, acknowledging any cravings without judgement and being alert for flashy advertising designed to suck you in.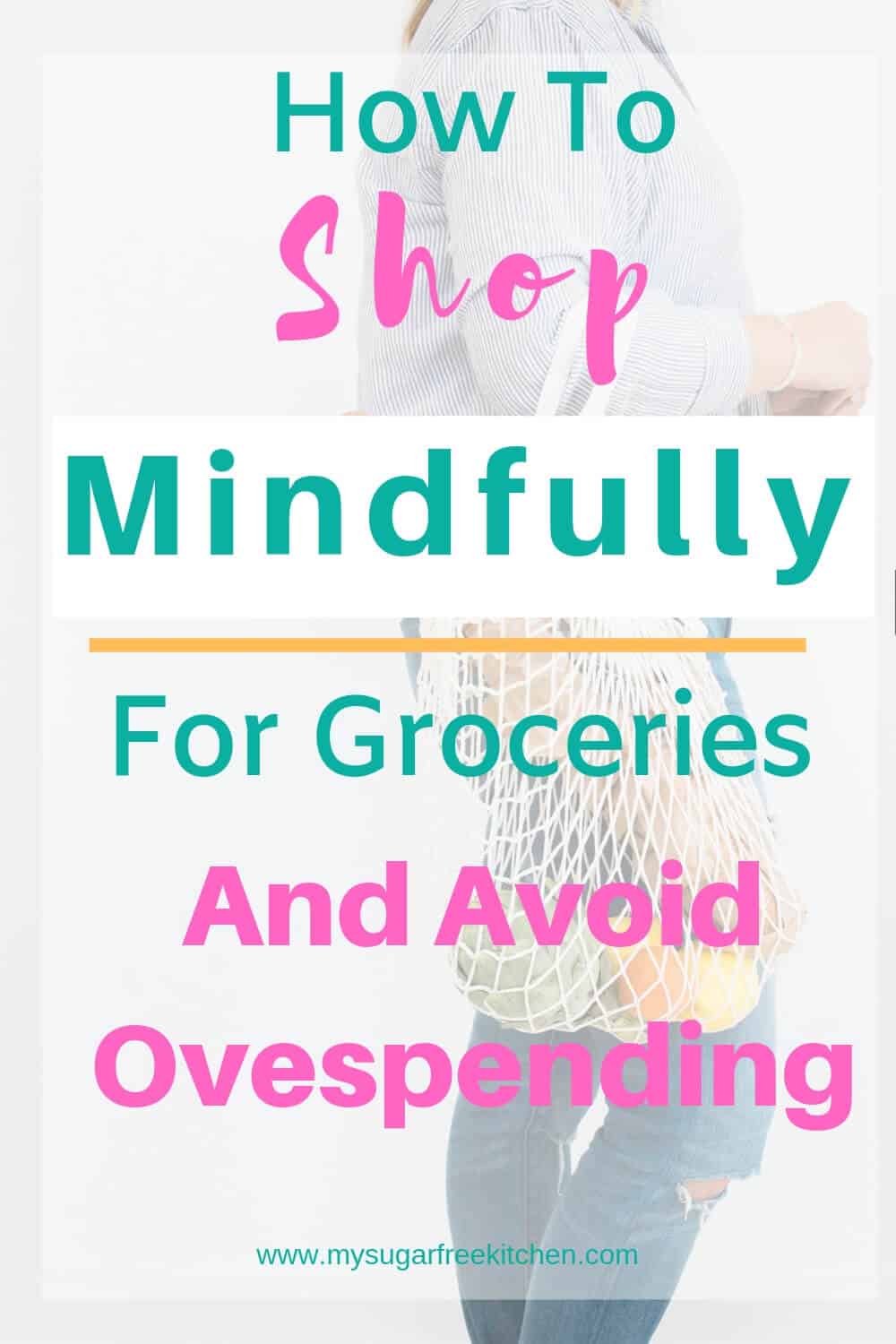 10 Mindful Grocery Shopping Tips
Before You Go Shopping
Take Inventory: Check your fridge and pantry for foods you already have. Keep a pantry list stuck inside your pantry door to note things you've run out of that week, or that you're low on
Read the Stores Catalogue: Most of us are inundated with store catalogues on a weekly basis. Instead of throwing them out, flip through and review the major specials, especially for meat, fruit and veg any half price items or 2 for 1 deals. Determine if you can incorporate these into your budget or meal planning for the week.
Make a grocery list: To make a grocery list, I always do up a meal plan for the week for the Dinners we'll be having so I know the quantity of meat to buy, which veges to purchase and other miscellaneous things I don't already have. Don't forget to refer to the pantry list for things you've run out of or are low on and include them on your grocery list. Your shopping list is your plan of attack to shop efficiently and smartly on your terms, not the supermarkets terms. Whether it's a digital plan or on paper, don't leave home without it.
Leave everyone at home: Get in and get out with as little fuss as possible. The less people you have with you the quicker you'll get it done, and you'll probably be more likely to stick to your plan and avoid impulse purchases.
Eat a snack: Don't go grocery shopping on an empty stomach, as your stomach will rule for brain. You'll be more likely to reach for sugary snacks and processed foods to put in your trolley, or you'll be racing through your shop because you're famished and in the process you'll forget to get half the things on your list.
Related:
While You're At the Grocery Shop
Put on your earphones: cut out all distractions and get into the zone by listening to your favourite upbeat music. We've all heard the stories about stores playing certain types of music to try and make us buy more. Take the power back, and listen to your own music.
Grab a smaller trolley: Reduce the temptation to buy more than you really need. Don't use a big trolley if a small trolley is available. Every little bit helps to minimise the risk of buying more than you really need.
Read the labels: If you're rally trying to cut down on your sugar intake, you need to increase your awareness of what's a high sugar product versus what is a better alternative. Learning how to read labels can help with this. Take for example BBQ Sauce. On your regular trip to Woolworths, you could buy the same sugar laden BBQ sauce you've always bought, or you could buy a healthier alternative like the Fountain Sugar Free BBQ Sauce (sweetened with Stevia) right next to the regular BBQ on the shelf.
Buy Items in their original form: Instead of buying veges pre chopped, buy them whole as you'll be paying extra for having them pre-prepared.
Think "inexpensive", not Inferior Quality. Save Money, Read the Tags and look for the best value option. Look for what's on special with the things you buy regularly. Just because you've always bought a certain brand, why not try a different one, if is 25 % off or 2 for 1. The only way to discover if you'll like it is to try it and you'll save some money in the process. If you don't like it you can always go back to the other brand.
HOT TIP: Looking to mindfully cut the cost of your groceries?
10 Items I Always Buy Generic
It can sometimes be hard to choose between a generic no name and a big name brand, even for things you use on a regular basis. For many it can be a decision between with price or taste. But a brand name product doesn't always mean it tastes better, and likewise a generic product doesn't always mean it is inferior.
At the end of the day, experimentation is the key. Try buying generic brands to see if you like them . One thing's for sure, buying generic will almost certainly save you money and help you stick to a cheap grocery list when things are tight.
Here's my top 10 items to buy generic: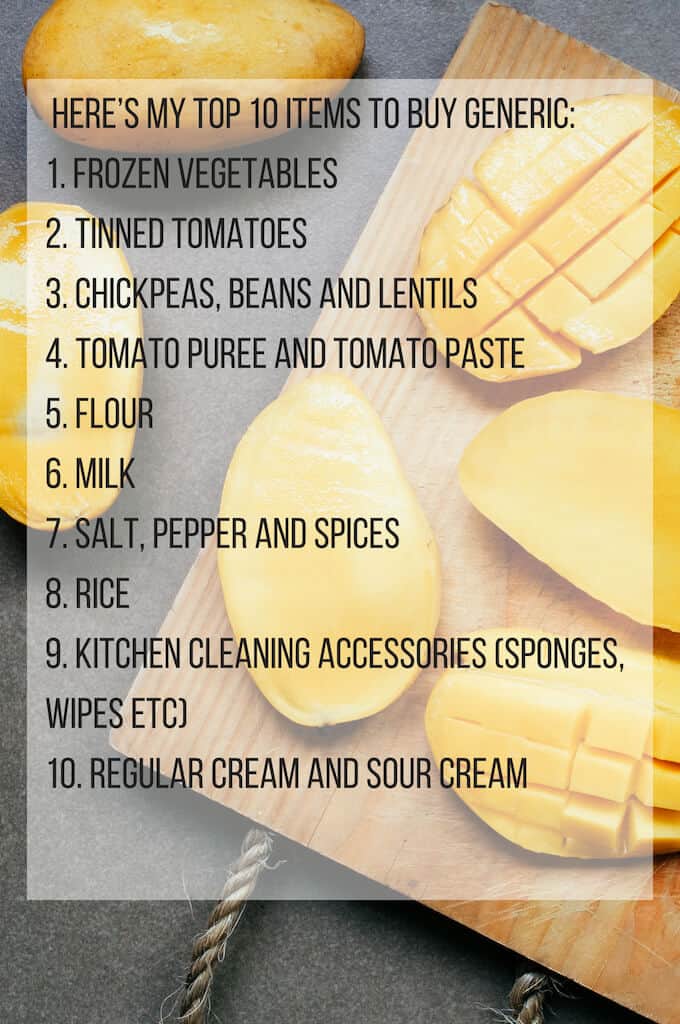 When You Get Home
When you get home for your shop, its just as important to take a few minutes to store your meat, fruit and veges. A little effort up front will pay off down the track and make you shop go further by reducing wastage.
If you're freezing meat, remove the store bought packaging and separate the meat out into portion sizes. For example I'll generally buy a half dozen chicken breasts and freeze them in individual ziplock bags so it's convenient if I'm cooking for one or cooking for two. Make sure to name and date your freezer bags so you can easily tell what it is and when you packed it.
Instead of jamming fruits and veges into the crisper, or shoving them into the fridge in the packet they came in, remove all the packaging and store fruit and veg in sealable container to keep them fresher for longer
How do you think your grocery shopping habits contribute to mindless eating?
During your next shopping trip, how could you you make it more mindful?
Sugar is Calling...
If you feel the lure of sugary and processed foods when you go shopping, pause and take a moment to check in with yourself about why you want it. Is it the advertising, the packaging, that you saw someone else pick it up, or that you've been buying for years and it's part of your routine?
Instead of letting urges control what you put into your shopping trolley, make sure you go armed with a list of exactly what you need and want. I've found that this really does cut down on impulse buys, and helps me to buy the foods I need to make the things I have on my meal plan for the week.
Further Reading: