Trying to stick to a healthy eating regime can be hard when you have sugar cravings that rear their ugly head at the most inconvenient of times:  in a meeting at work, in the middle of a gym class, whilst walking your dog, and especially after dinner.  It can sometimes feel like cravings rule our lives, are hard to control and just won't go away.  But there is a secret – a better way to get the energy you need without the nasty side affects of sugar highs and lows.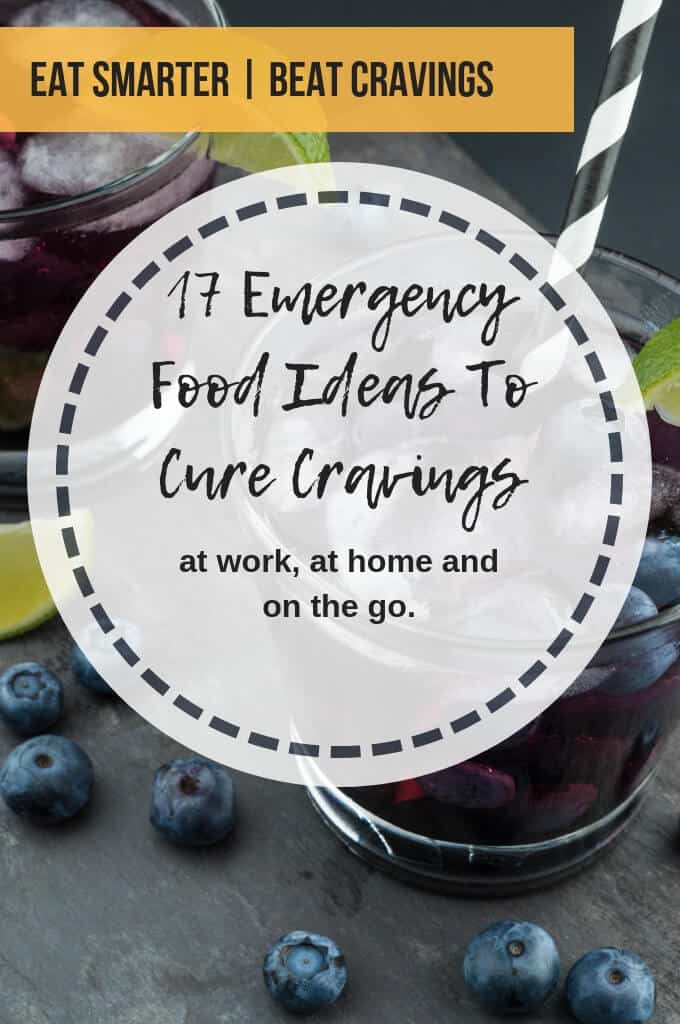 How To Stop Cravings For Junkfood
I once associated sugary foods with making me feel better, but it didn't really and the high was never worth the guilt and regret I felt after eating it. I believe the secret to eliminating sugar cravings really lies in finding healthier alternatives that taste great and leave you feeling just as satisfied as if you'd just scoffed a huge block of chocolate or a cheeseburger and fries.
[irp posts="3446" name="7 Life Changing Tips To Stop Sweet Cravings After Dinner"]
Sounds good right?  But is it possible?  I say YES.
Keep reading to discover a treasure trove of emergency food ideas to cure cravings for good, whether you're at work, at home, or on the go.
My top 17 emergency food ideas to cure cravings
These are snacks that take minutes to prepare and almost no effort.  These snacks are higher in protein and in some cases higher in saturated fats and definitely have more fibre, vitamins and minerals than sugar laden processed snack foods.
No need to over-do it on these snacks though as a little goes a long way and these will certainly keep you fuller for longer.  Commit to swapping sugary processed snacks and feel the difference it makes.  Here they are in a nutshell:
A bowl of steamed edamame with sea salt
Carrot sticks with hummus
Slices of shaved turkey
Slices of lean ham
Roast chicken breast (without the skin)
Sliced green apple with sugar free peanut butter
Greek yoghurt with blueberries
Rice cake topped with your favourite nut butter
Small packets of Cheese and Crackers
A Small tub of full fat yoghurt
Hard boiled egg
A small can of tuna
A few celery sticks dipped in sugar free peanut butter
A handful of almonds
A handful of cashews
Dried Chickpeas/Fava Beans
Beef sticks/Beef Jerky
[irp posts="1787" name="The Beginners Guide To Cutting Out Refined Sugars"]
Smart and Crafty Ways To Manage Your Emergency Snacks
At Home
The ultimate quick high protein snack at home has to be a few slices of shaved ham or turkey breast. Make sure you store them in an air tight container and a little goes a long way.
Edamame comes in frozen bags from the supermarket, so its easy to keep a bag in te freezer at all times. To whip a quick high protein snack, boil a pot of water, add the edamame and boil for 5 to 7 minutes, drain and sprinkle with sea salt
When it's wine o'clock, instead of crackers and dip, munch on some carrot sticks dipped in hummus
After dinner, knock back a small cup of full fat Greek yoghurt with your favourite berries.
If you're sick of yoghurt and berries for your after dinner snack, it's time for a twist of thinly sliced green apple with a layer of all natural peanut butter.
At Work
If morning tea is calling, it's time for rice crackers and peanut butter (all natural of course)
Stock up on some small tins of tuna and keep them in your draw for emergency lunches
If you're hard core, and a little organised, go the hardboiled egg when you get a snack attack. Make it ahead, wrap it in alfoil or get one of those nifty little portable containers so it's there on hand when you need a hit.
Keep a small container of your favourite nuts in your office draw so you can nibble on when the 3pm munchies hit
IF you're at work later than you should be and the munchies hit, its cheese and water crackers time. You can buy these in single serve portions from the supermarket, which makes them perfect for keeping them in the fridge at work (with your name on, so nobody knocks them off)
Make you co workers jealous with some celery sticks dipped in peanut butter
[irp posts="3516" name="8 Signs You're Eating Too Much Sugar"]
On The Go
You'll find dried chickpeas and fava beans in the health food aisles of most supermarkets, and they usually come in convenient snack sized packets. Handy to keep in your handbag, gymbag, or in the car.
Beef jerky or beef sticks – the long skinny kind you buy from the supermarket that you most see old cowboys in western movies chewing.
Bananas baby! This is my ultimate go anywhere snack.  I always have a banana in my bag.
So, that's my list of emergency food ideas to keep cravings at bay.  I do love my food, and I love snacks, and having a bevvy of healthy little numbers to choose from helps me to stay on track with eating well and avoiding the temptation of things I know are not good for my waistline or my health.
The Wrap Up
To take action on creating your own emergency food kit to manage cravings, I would suggest choosing 2 or 3 snacks from the list and make sure you keep them in the places you are the most.  For me its nuts at work, yoghurt at home, banana in bag!  That way I always have my emergency snack stash on hand and cravings are well, almost gone.
Further Reading: