This sugar free gingerbread loaf is cakey, full of ginger and other warming comforting spices that make this a thoroughly enjoyable snack to accompany a skinny chai latte, sitting on the veranda, relaxing and thinking about what you're going to do this weekend.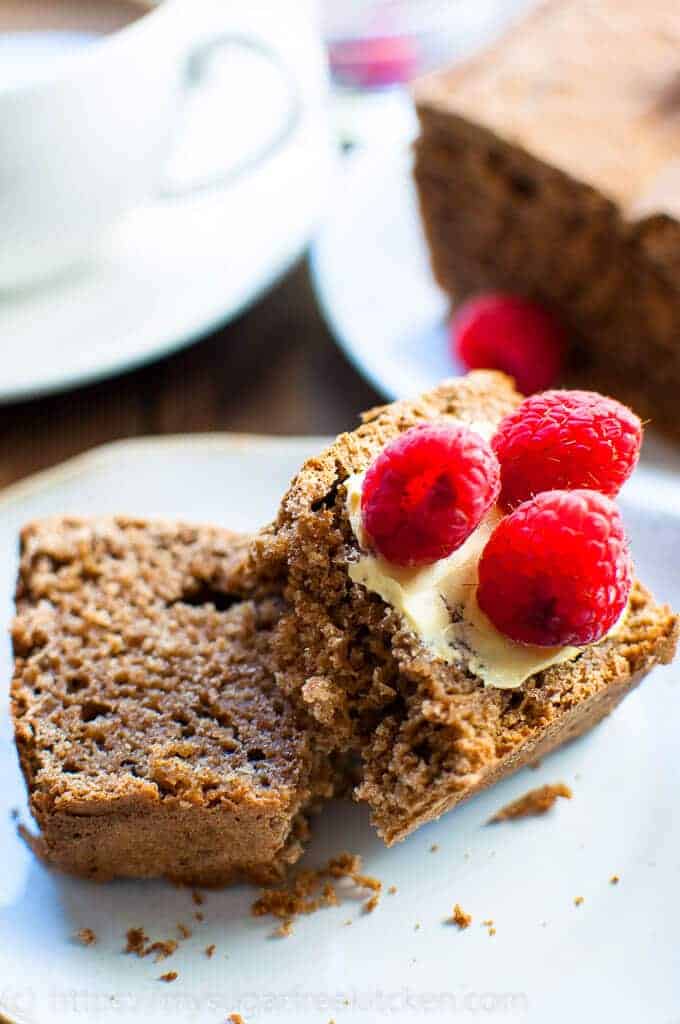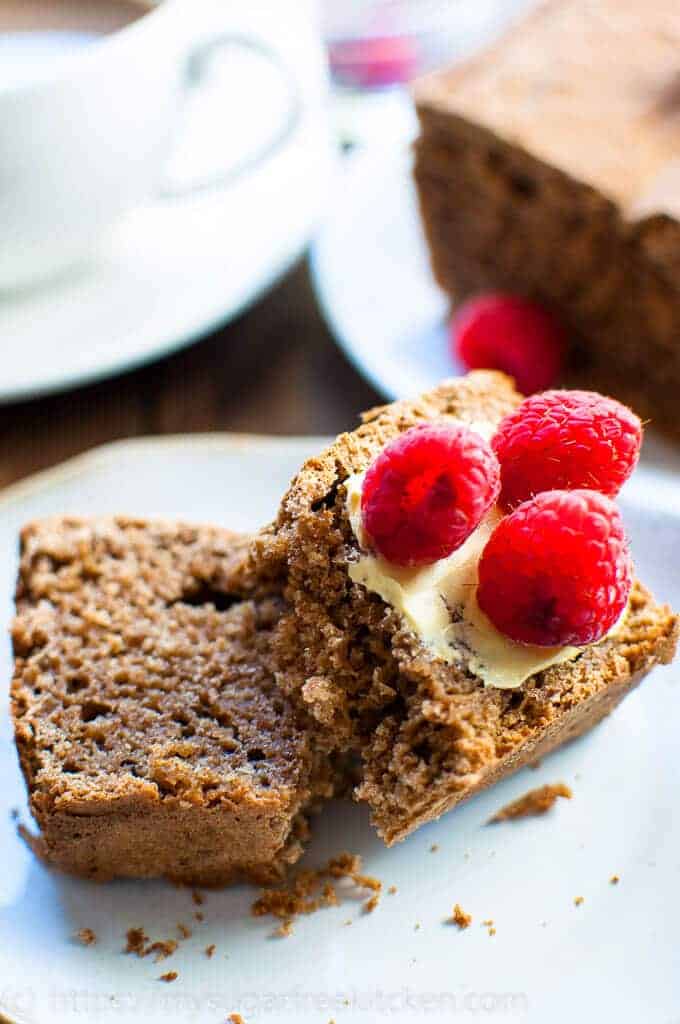 How I Get My Sugar Free Gingerbread Loaf Light and Fluffy
There is no rocket science here.  It really is quite simple.  There are two things.
The first thing is the kitchen appliance I can't live without.  My food processor.  Blitzing everything really is the lazy girls method of creating light, fluffy whipped like batter.
My other little secret is cream of tartar.  This ingredient is one of those little wonders from the times when our grandmothers baked, and I discovered it a couple of years back whilst reading some very, very old cookbooks I'd salvaged from the junk heap at the local op shop.
Cream of tartar is a fine white powder, similar to baking powder or bicarb soda and is a leavening agent that helps your baked good rise.  It's easy to come by and I buy it from the local grocery store in the baking aisle.  Now that I have discovered cream of tartar, I use it in all my baking recipes!  It really does make such a difference.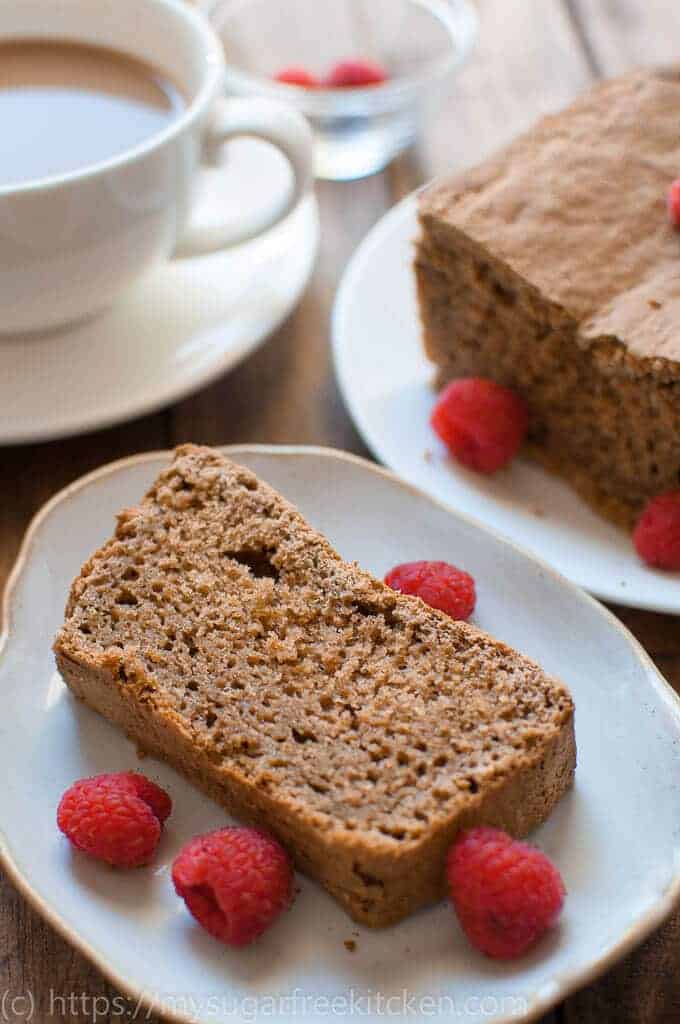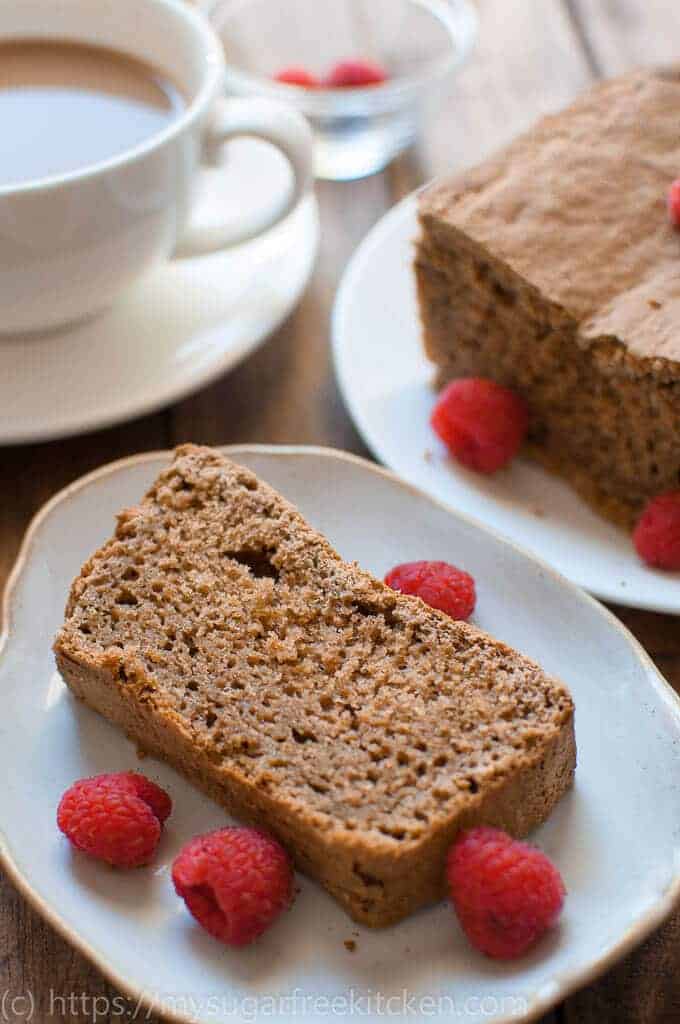 This gingerbread loaf is not made from traditional white flour.  Or wholemeal flour.  I just don't like the taste of these, or for that matter their sheer lack of any nutritional content.
When I'm baking, I typically use only a few different types of flours
What is Spelt flour
So, I find spelt flour has a bit of a nutty and almost sweet flavour compared to other flours.  I also want to point out that spelt flour while definitely a healthier option, is not a gluten free flour, but it is wheat free.
This makes it perfect for those of us who over the years have developed some intolerances to wheat based products and need a little help in the digestion department (ahem.. I'm talking about me here.  Anyone else want to put their hand up?)
From a nutrition perspective, spelt flour far outweighs traditional white flour as it has fewer calories that wheat flour and it is higher in protein, although not as high as Oat flour.  But, then again, spelt flour is easier to come by as it is available in most supermarkets, whereas I have to go to my local health food shop to score some of Bob's Red Mill Oat Flour.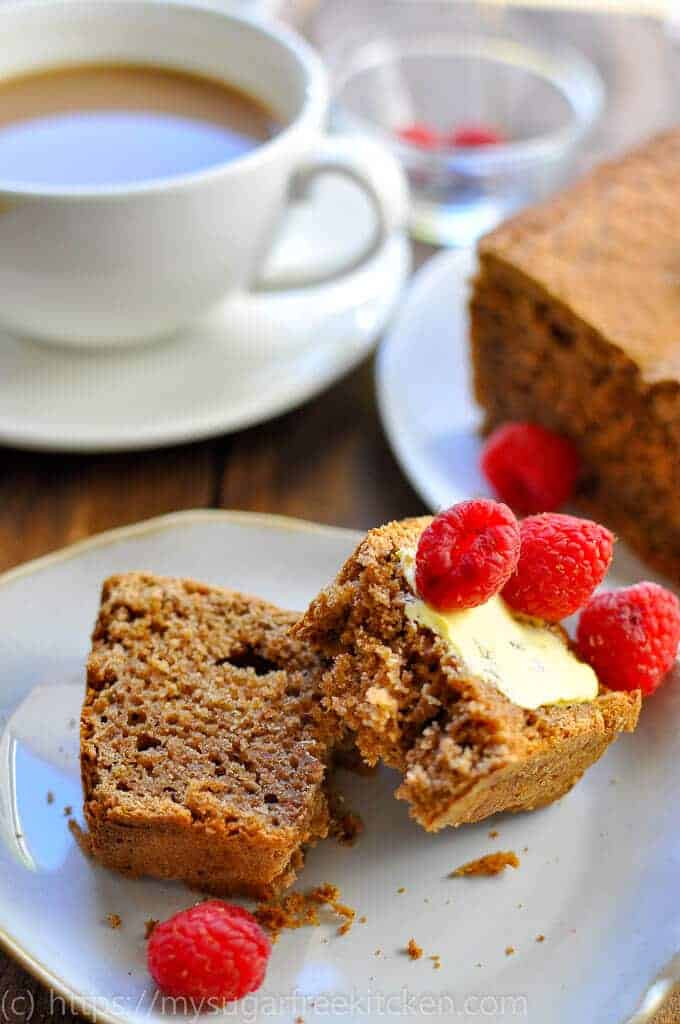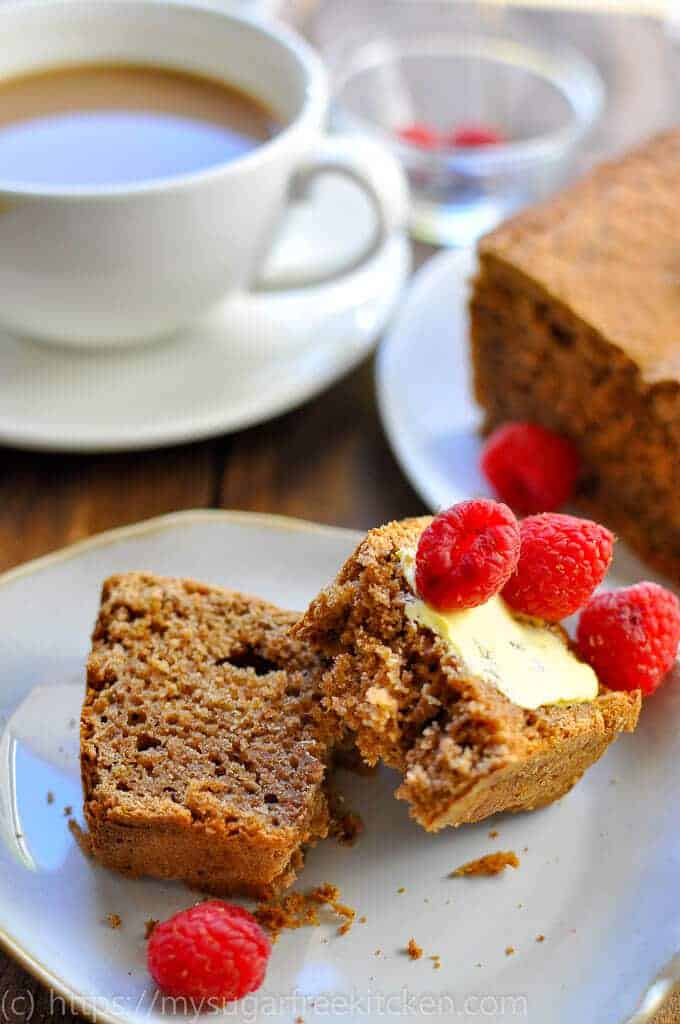 I love ginger, always have, always will.  Perhaps it is because I ate a lot of it growing up, often things my grandmother made, and it always me feel a little nostalgic.  Ginger is a frequent participant in many of my recipes, from baking to desserts, to Asian dishes.
Sugar Free Gingerbread is always one I come back to time and again.  My recipe is naturally sweetened with natvia granulated stevia sweetener, and none of the usual dark sweetening things you would typically find like golden syrup, honey or molasses.  Nope, none of that here.
So, how did I create that lovely, warming, spiced loaf in the photos, because it looks like "normal" gingerbread loaf.  That little secret is in the recipe and I stumbled up on it quite by accident when I was crafting the recipe, determined to avoid any liquid sweeteners.  It's this little trick that I will be using in many more of my baked goods to come!
Like what you see? Follow me on Facebook or Pinterest! Did you try a recipe? Tag me on Instagram: @mysugarfreekitchen, and leave a comment & star rating!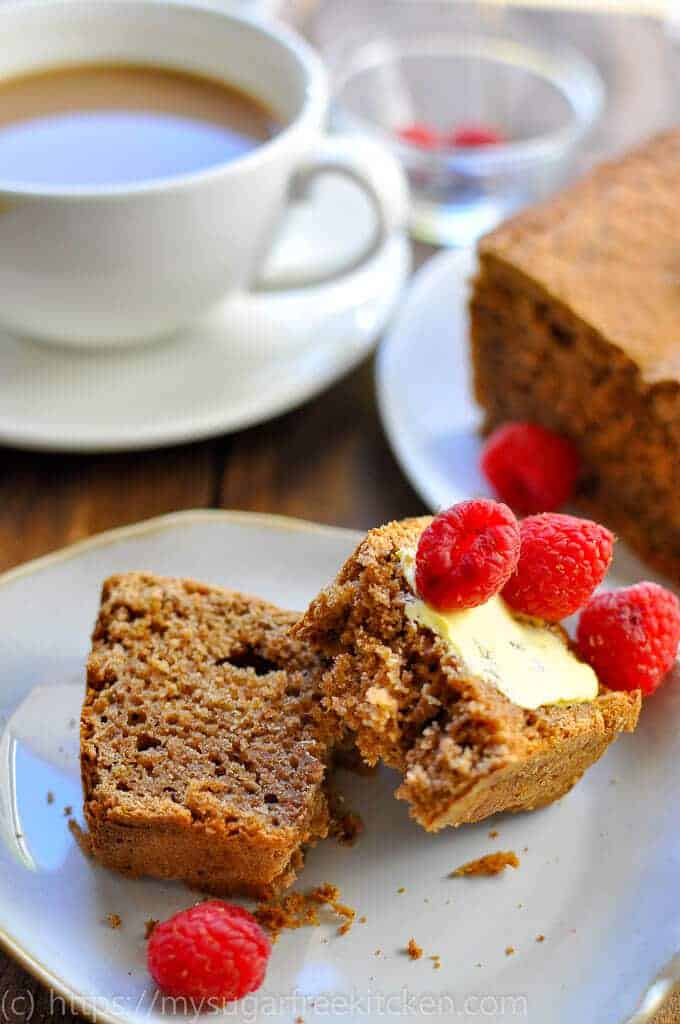 Sugar Free Gingerbread Loaf
Spicy ginger, light and fluffy, melt in your mouth goodness is what this sugar free gingerbread is. Weighing in at a cheeky little 117 calories per slice, this is a morning tea slice you can eat everyday!
Keyword:
gingerbread loaf, sugar free gingerbread
Ingredients
1/2

cup

Spelt flour (or Wholemeal Plain Flour)

1/3

cup

plus 1 tablespoon granulated sweetener

(I use baking nativia stevia)

2

teaspoons

Cream of Tartar

1

teaspoon

Bicarb

6

teaspoons

Ground ginger

1

teaspoon

Ground Cinnamon

½

teaspoon

Mixed spice

¼

teaspoon

Ground cloves

1

medium Egg

2

tablespoons

Date Paste

½

cup

low fat Milk

1/3

cup

Low fat butter

melted
Instructions
Preheat oven to 180 degrees C/350 degrees F

Add the flour, sweetener, cream of tartar bicarb, and spices into a medium mixing bowl.

In a separate bowl, add the egg, date paste, milk and butter and whisk to combine

Add the wet ingredients into the bowl of dry ingredients.

Mix together with an electric beater. Or if you don't have one a hand whisk is fine. An electric beater just allows more air to get into the mixture for a slightly more light and fluffy texture.

Grease a medium sized loaf tin with oil spray and line with baking paper.

Add mixture to loaf tin and bake in oven (fan forced) at 180 degrees C/350 degrees F for 30 minutes.

Let cool to room temperature before slicing.
Recipe Notes
The sweetener I use is Natvia Stevia Sweetener 
Cream of tartar is a leavener, similar to baking powder and when used in conjunction with bicarb creates a wonderful light and fluffy texture, much more so that baking powder I find. 
I buy my date paste from a health food shop. It is pure dates, mashed up to create a paste. You can also create you own by whizzing up dates at room temperature in a high speed blender. Store in an air tight jar in the fridge and use leftovers within a couple of weeks. 
I use the small ziplock bags to store my gingerbread slices in the freezer – 1 to a bag so I can grab and go in the morning.
The 3 grams of sugar comes from the dates I used in the recipe to give it that nice rich warm colour!
Nutrition Facts
Sugar Free Gingerbread Loaf
Amount Per Serving (1 slice)
Calories 117
Calories from Fat 9
% Daily Value*
Total Fat 1g 2%
Total Carbohydrates 19g 6%
Protein 5g 10%
* Percent Daily Values are based on a 2000 calorie diet.
★ Did you make this recipe? Don't forget to give it a star rating below!