This is the best Sugar Free Red Velvet Cake I have ever eaten! Big call I know, but trust me, I have made and eaten quite a few. The infusion of the beetroot is undeniable and punchy, along with the soft moist centre, subtle sweetness and finger licking stickiness of delicious sugar free frosting. This is the only recipe for red velvet cake you will ever need.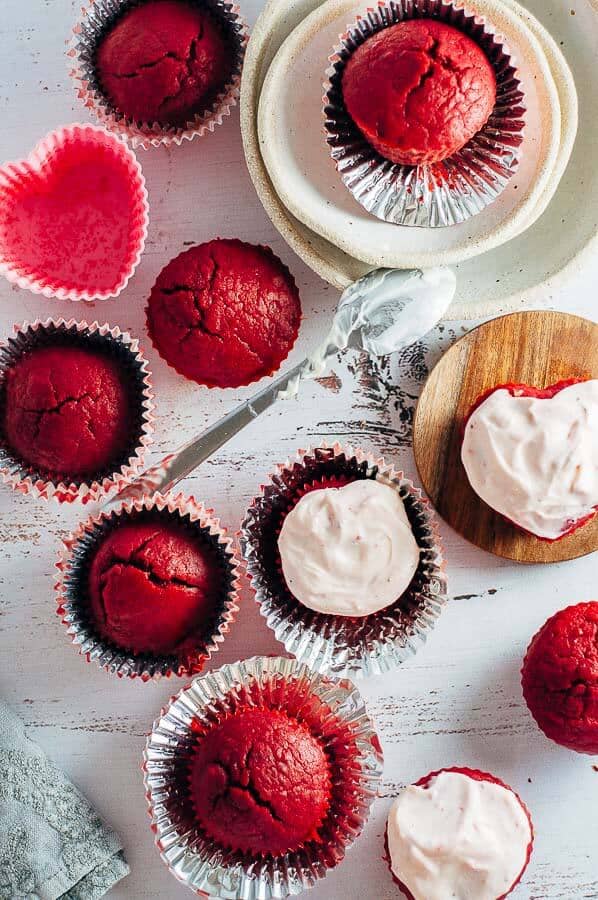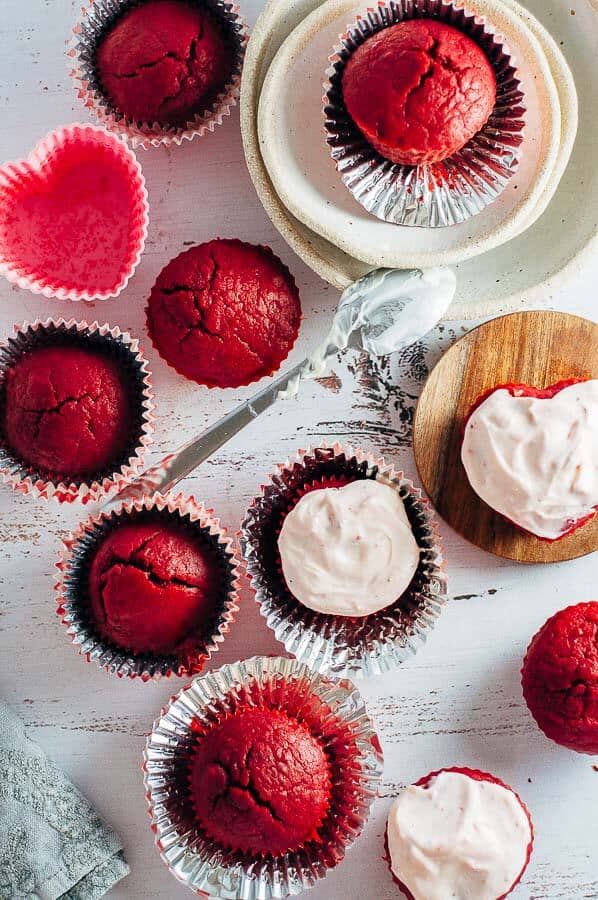 Over the years I have made many versions of red velvet cakes, often times experimenting with lots of different ingredients, but still keeping the staples like flour, eggs and beetroot. But this is the first time I have thoroughly enjoyed eating this cake, this version which is utterly moreish and it was be difficult to stop at just one.
This is my husband's birthday cake, and he requests it every year, which is why I have made so many of them. The thing is, he never gets the same one. Every year, the recipe is different, mostly because I was yet to find "the one". I need not search any more. This is the one.
Adapted and modified based on Susanna Booths recipe, this is the perfect celebration cake without the sugar, the calories or the regret.
This is also a sugar free red velvet cake for diabetics as it uses Natvia Stevia Sweetener, instead of refined white sugars. Natvia Stevia Sweetener is recommended for diabetics and is the natural sweetener I use most often in my baking recipes because it has no nasty aftertaste and it helps me avoid sugar highs and lows.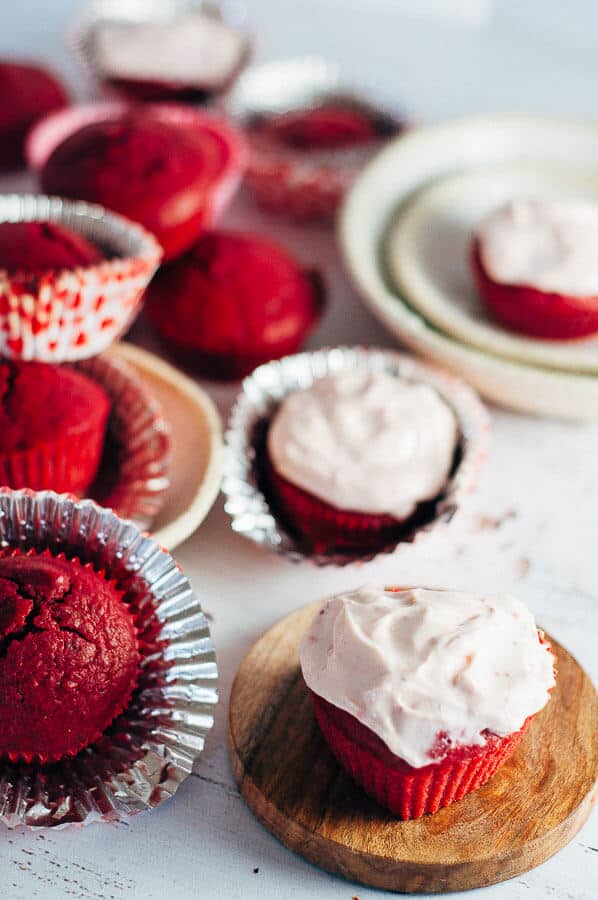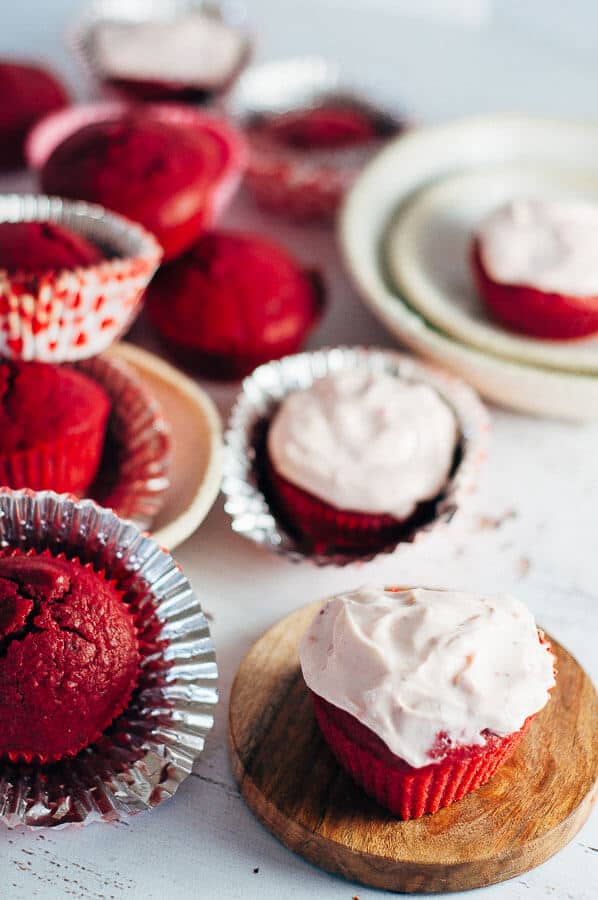 What Is Red Velvet Cake and Where Did It Come From?
If you've never heard of Red Velvet Cake before, where have you been? It's one of those cakes that sounds like you should be buying it from a shop because its too complicated to make at home, but that just isn't the case.
Red Velvet Cake is not just a red cake, it is a cross between a vanilla and chocolate cake, which happens to have beetroot added and typically with some kind of rich white creamy frosting. But where did it come from?
After some digging around, I was actually surprised to discover that the red velvet cake is originally an American invention (not sure why that surprised me), and was the "signature cake" of New York City's Waldorf Astoria in the 1920s. Beetroots were also used by bakers in the second World War to add colour to their cakes to make them look more appealing. Wow. A Cake with a lot of history. I'm glad it made it's way to Australia!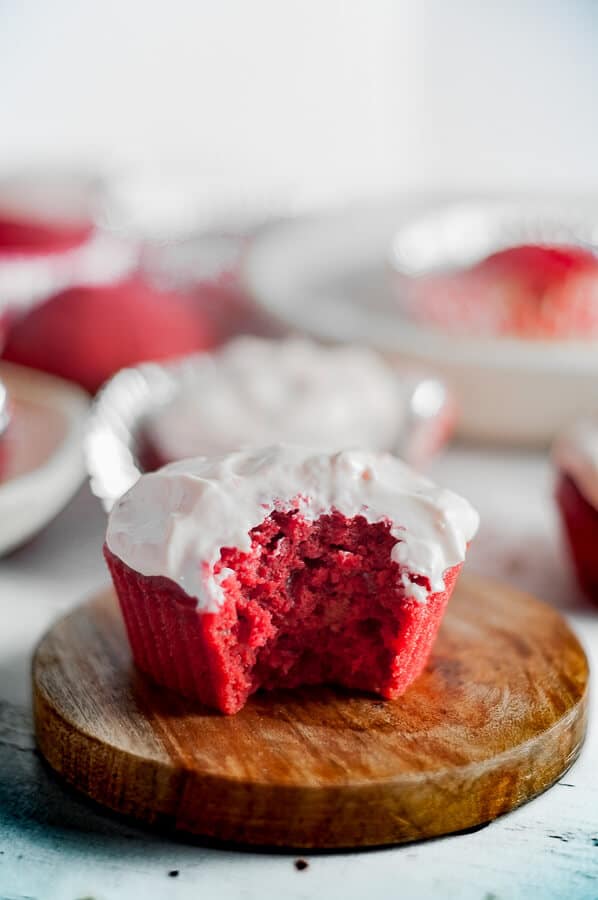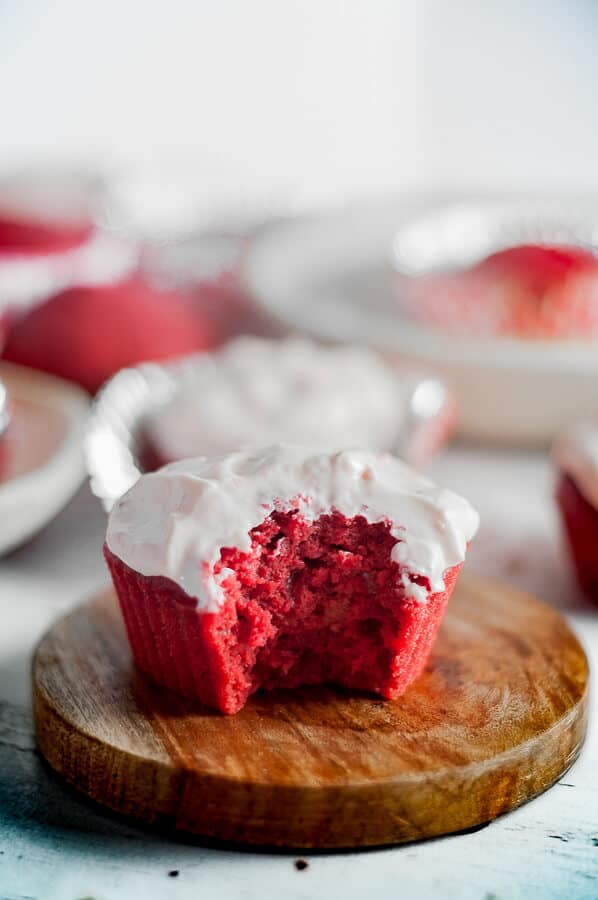 Which sweetener is best to use
I use granulated stevia sweetener that measures like sugar. I find that it is easy and there isn't any awful aftertaste. You can read more about the exact one I use here.
Tips To Make This Recipe Perfectly Every Time
Including oil in your recipe is a must. Coconut oil or Grapeseed oil I have found work best. 1 cup might seem like a lot, but it is the perfect amount for the recipe and it what keeps them so moist. Oh, and it makes 24 cupcakes. That's a lot of cupcake.
Add more or less beetroot, depending on how much you want the flavour to come through. I like to be able to taste it, so I tend to add a little more than what most people might
Preheat the oven before putting the cakes into the oven. This immediately activates the baking powder and starts the cooking and rising process.
Let the cakes come to room temperature before icing – basic baking 101. Frosting a warm or hot cake will result in it sliding off and will make you sad.
If you can, use silicone moulds – it makes it so much easier as they tend to just pop themselves out!
This is not you're typical "sweet" Red Velvet Cake – I don't really like my cakes to be too sweet. If you like your cakes on the sweeter side, add another couple of tablespoons of granulated stevia
Use coffee at room temperature – hot coffee will make the eggs go weird and might start to make them look like they are a bit cooked. You don't want a red velvet cake with cooked egg bits throughout it. Love coffee?. Check out my Chocolate Coffee Cake!
Use a quality Balsamic Vinegar - if you can that is. If you've only got a cheap one, use that, but if you've got one of those premo deli $15 a bottle versions, use that. It will add even more richness.
Don't go wild overmixing the batter – just stir it all together gently with a spatula until it's "just combined". That's is. Then pop it into the moulds.
What type of beetroot to use
You could certainly use fresh beetroot, but I prefer to use canned. I use a hand blender to mash it up and it works a treat. It provides a deep and delicious beetroot flavour, without any annoying pips, which I have sometimes had in the past when I've used fresh beetroot.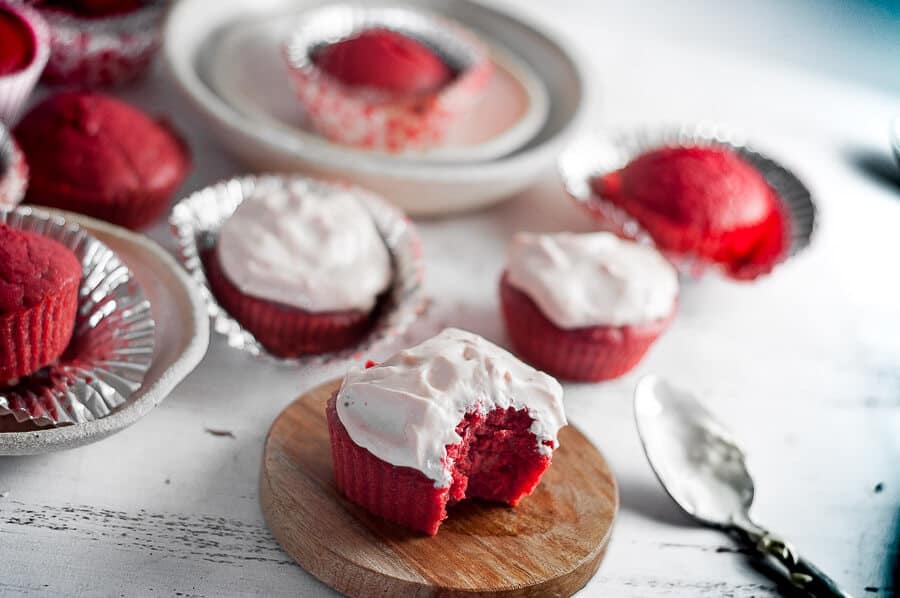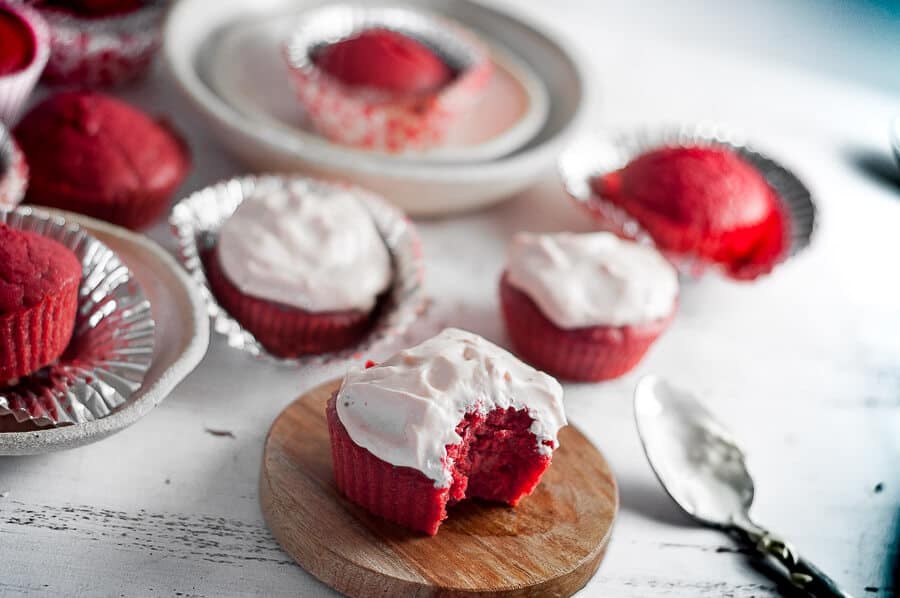 How To Store Cupcakes
The best way to store the cakes is in an air tight container in the fridge if you plan on eating them all in 3 days.
TIP: I made this batch of low carb red velvet cakes a few of days before we were going away, so I froze about two thirds of them in a couple of Tupperware containers and then a few weeks later got them out. I let them defrost to room temperature and you wouldn't have known that they were made weeks ago.
Red Velvet Sugar Free Cake is the perfect cake to make on Valentine's day for your sweetheart!
Or, if you're like me, on your husbands birthday, each year, forever!
Do you love mini cakes? I do and I make a lot of them. I like them because they help me with portion control. Check out these other sugar free winners: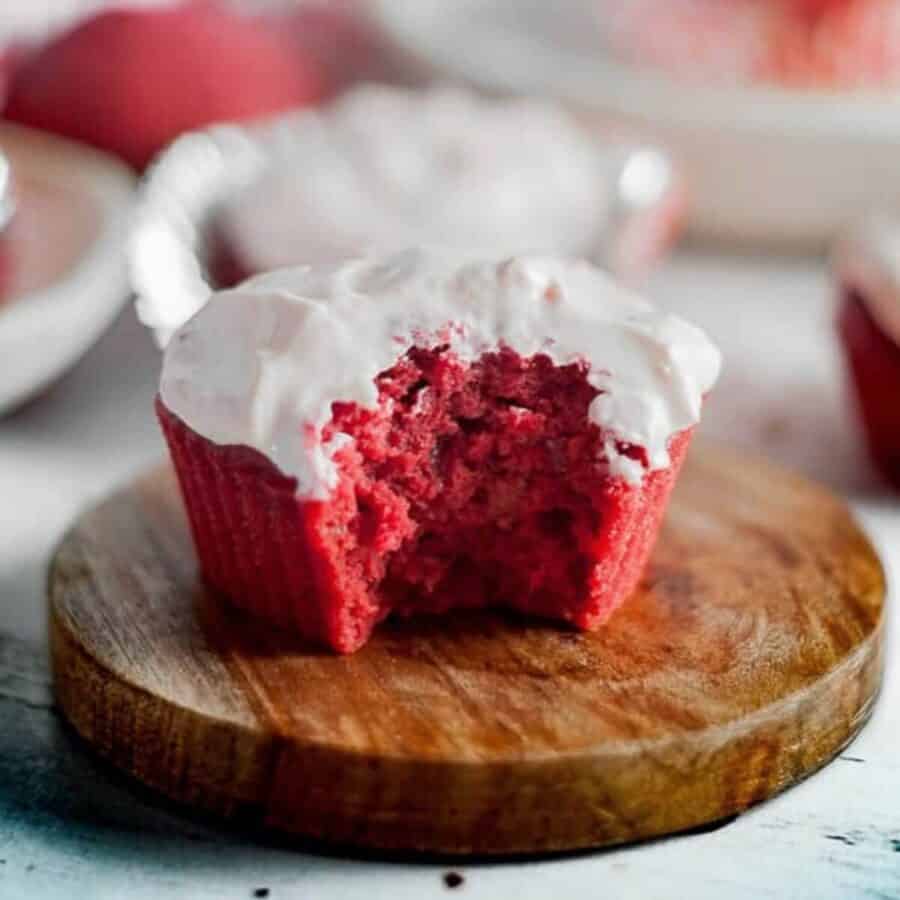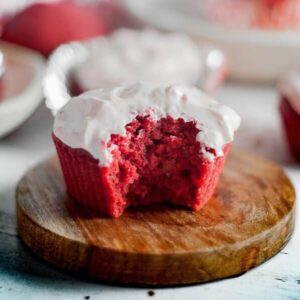 Sugar Free Red Velvet Cake
Subtly sweet, deliciously beetroot flavoured, low carb, refined sugar free and utterly mooreish. These sugar free red velvet cupcakes will be you go to cake for special occasions.
Ingredients
1

cup/250 ml tinned beetroot

-

pureed

4

teaspoons

Baking powder

1

tablespoon

Cocoa Powder

-

Unsweetened

⅔

cup

Milk

⅓

cup

Natural Yoghurt

¼

cup

Strong Coffee

-

at room temp

2

medium eggs

¼

cup

+ 1 tablespoon Granulated stevia

2

teaspoons

Vanilla bean paste

1

teaspoon

Balsamic Vinegar

2

teaspoons

Red Food Colouring

-

Optional
Frosting
250

grams

Extra Light cream cheese

-

room temp

1

cup

whipping cream

1

teaspoon

Vanilla bean paste

2

tablespoons

crumbled freeze dried strawberries

1

tablespoon

Granulated stevia
Extras
24

Foil liners for muffin tray
Instructions
Preheat oven to 180 degrees/350 F.

Make the coffee and put it into the freezer to cool it down. Probably needs about 10 to 15 mins to cool.

Puree the tinned beetroot with a stick blender.

Cake Batter: In a large bowl, add the flour, baking powder, cocoa powder and beetroot. Stir to mix together.

In another large bowl, add the milk, yoghurt, cooled coffee, eggs, granulated stevia, vanilla bean paste, balsamic vinegar, and oil. Stir to combine.

Add the wet ingredients to the dry ingredients and mix together well until everything is all mixed in.

Add the red food colouring if you want a slightly richer colour. Stir in thoroughly until you have a bright pinky red batter.

You'll need muffin trays that can hold upto 22 cakes. In each muffin hole, place a foil liner, or if you're using silicone muffin trays you may want to skip the liners. I just find using he liners makes it easier as there is no possibility of anything sticking.

Once you have the muffin trays ready, use a dessert spoon to spoon the batter evenly, about ¾ of the way up each one. The cakes will rise a centimetre or two, but won't get a dome on top.

Bake in the oven for 18 minutes in a fan forced oven at 180 degrees C or 350 F.

Once cooked, let them cool to room temperature before putting the frosting on. Or if you have put them directly into silicone muffin cases, let them cool before attempting to take them out, and then let them sit covered with a tea towel on a wire rack to come to room temperature

Frosting: Mix all the frosting ingredients in a food processor/blender or mix using an electric hand beater. TIP: I like to put the frosting into the fridge to 15 minutes to firm up before putting on, but this isn't essential, just makes it a bit easier.

Apply the frosting with a teaspoon to each cake one at a time, smoothing over as you go.

Store the cupcakes in an airtight container in the fridge for upto 3 days. They are suitable to be frozen for upto 4 weeks. If freezing, let them come to room temperature before eating.
Nutrition
Calories:
215
kcal
Carbohydrates:
16
g
Protein:
5
g
Fat:
16
g
Saturated Fat:
12
g
Fiber:
1
g
Sugar:
5
g
Note: Sugars contained in this recipe are from naturally occurring sugars in fruits, vegetables or other natural sweeteners.
Looking To Cut Out Sugar? Get the FREE Healthy Food Swaps Checklist Pack!
Get your FREE Healthy Food Swaps Checklists with over 65 Healthy Food Alternatives to Help you Ditch The Sugar Without Feeling Deprived.