This easy to make Healthy Date Loaf contains no refined sugars and is naturally sweetened with lots of juicy ripe dates and ground cinnamon spice.  It's only 8 ingredients and contains no stevia/xylitol and is a moist, tender date loaf that can be eaten straight away or cut into slices and frozen in ziplock bags.  They'll stay fresh and they are easy to grab and go and are perfect lunchbox fillers for both kids and adults.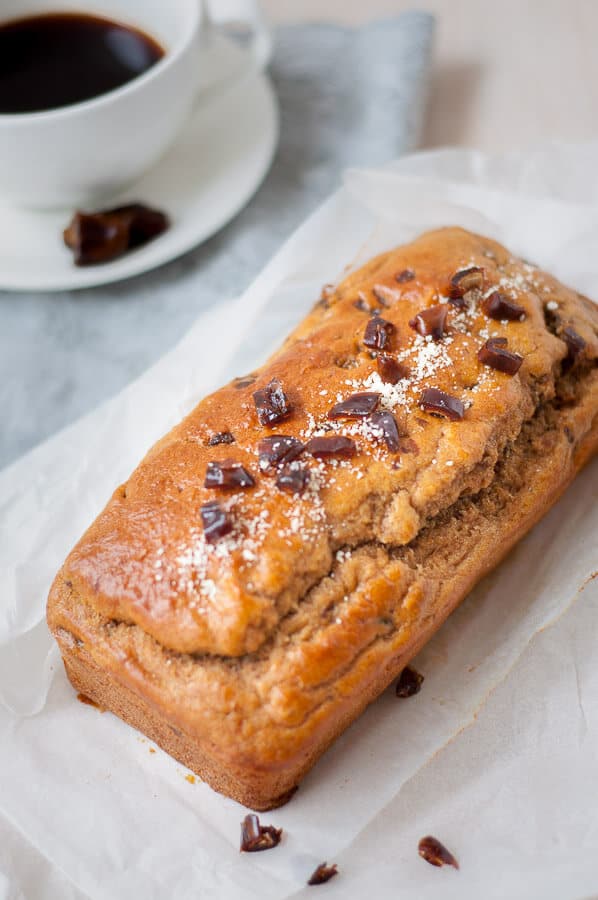 Dates are a great way to add natural sweetness to baked goods if you're wanting to avoid or even just eat less refined sugars.  Also, if you don't like the taste of stevia or other natural sweeteners, this is a baked good you need to make as the only sweetener is the dates themselves.  Nothing else, except a little ground cinnamon, if you count that as sweetener, but I count is more as a flavour enhancer!
Are Dates Healthy?
Have you ever heard of Low GI Foods? Maybe you naturally lean towards these types of foods and don't even realise it.  In conjunction with minimising my sugar intake, I have been conscious of eating Low GI as much as possible for a while now and dates are one of those Low GI foods that are very versatile and that I use a lot in my cooking and recipes.
Dates have a GI of 36 and , foods with a GI of less than 55 are considered to have a low glycemic index, which means they will have smaller impact on blood sugar levels.  This is great news as Low GI foods helps us to stay fuller for longer and avoid sugar highs and lows that end up making us feel pretty ordinary.
The Sugar In Dates….
Dates are free from added sugar and refined sugar, but they do contain naturally occurring sugars.
Since dates are Low GI, and don't cause a spike in blood sugar, combined with the fibre and vitamin B of dates, it makes them a healthy choice to eat either as they are or to use them as a sweetener substitute in baking.
One thing to point out though is that if you're used to eating sugar and regularly eat sugary baked goods, this Healthy Date Loaf won't be as sweet as you might like.  This is because the white refined sugar is considerably more sweeter than dates.
If you're a fan of dates, you might like these other recipes where I've used dates as a sweetener:
Sugar Free Ginger Biscuits, Sugar Free Gingerbread Loaf, Sugar Free Caramel Slice Bites, and Sugar Free Bliss Balls.

Tips for Making A Healthy Date Loaf
Use a silicone loaf tin
Grease the tin with butter and line with baking/parchment paper
Take the dates out of the fridge half an hour before you need them to let them come to room temperature
Use boiling water to soften dates for 10 minutes, then chop finely
Don't overwork the batter, mix gently to combine and then spoon into the tin
Taste the batter before pouring it into the tin. If it needs more sweetness, add more dates, following the same process of letting them soften and chopping them, or you could add some natural honey.  Note:  Adding more dates or honey will obviously increase the sugar content overall
Set the timer on your oven if you have one
5 minutes before it's due to come out of the oven, check to see if it is cooked by testing it with a skewer. If skewer comes out clean, remove from oven.  Also it should be a light golden colour on top
Don't overbake it or it will end up being tough and dry

6 Ways to Pimp Your Date Loaf
Add some sugar free chocolate chips
Add ½ a teaspoon each of ground nutmeg and ground cloves
Add ¼ cup dried cranberries, diced
Add ¼ cup small dried organic blueberries
Add a tablespoon of Chia seeds for extra protein
Add ½ a cup of chopped walnuts for texture and crunch
A the time of publishing this recipe, my husband and I are holidaying in South Australia's Barossa Valley, walking amongst the vineyards and stuffing ourselves silly with as many degustation and wine pairing menus that we can find.
Like what you see? Follow me on Facebook or Pinterest! Did you try a recipe? Tag me on Instagram: @mysugarfreekitchen, and leave a comment & star rating!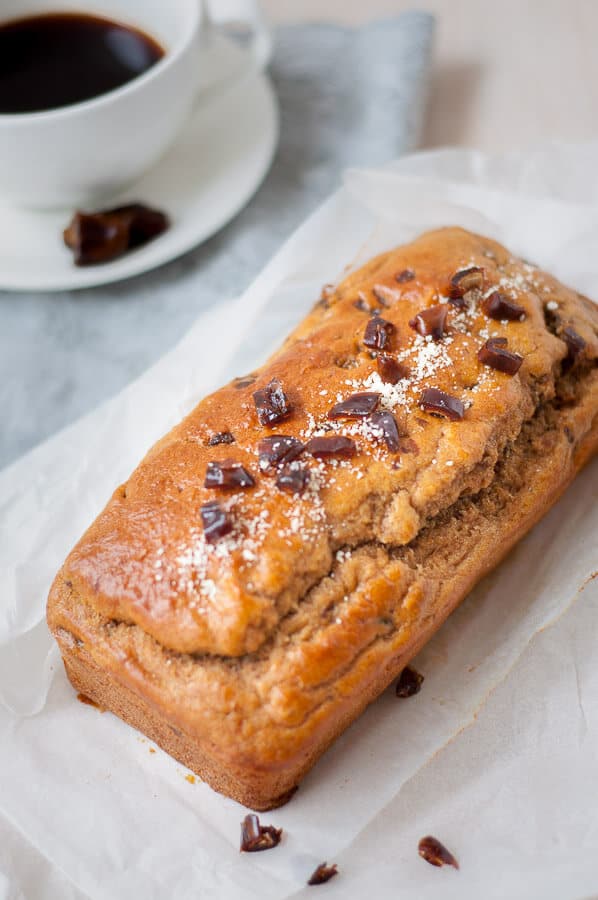 Print
Healthy Date Loaf
This easy to make Healthy Date Loaf is naturally sweetened with lots of juicy ripe dates and ground cinnamon spice. It's only 8 ingredients and contains no stevia/xylitol and is a moist, tender date loaf that can be eaten straight away or cut into slices and frozen in
ziplock bags
.
Ingredients
1½

cups

Plain flour

Wholemeal, Spelt or Oat

1

teaspoon

Cream of tartar

(See note 1)

½

teaspoon

Bicarb

1

teaspoon

Ground Cinnamon

1

cup

Chopped dates

½

cup

Milk

2

medium eggs

¼

cup

Vegetable Oil + 2 tablespoons
Instructions
Preheat oven to 180 degrees C/350 degrees F

Soak dates in a bowl of boiled water for 10 minutes.

Drain dates thoroughly and chop into small pieces. Set aside.

In a medium sized mixing bowl, add the flour, cream of tartar, bicarb and ground cinnamon. Mix with a spoon to combine.

Add the milk, eggs, and vegetable oil, and stir to combine. Add the dates and stir to combine again.

Grease a silicone loaf tin with butter or oil and line with greaseproof paper.

Pour in the cake batter and smooth over the top

Bake in oven at180 degrees C/350 degrees F for 30 minutes.

Let cake cool in the silicone loaf tin until it comes to room temperature.

Remove from silicone loaf tin and discard baking paper.

Option 2:

Cut into 8 slices and place into

ziplock bags

/airtight container and freeze for upto 3 weeks. To serve, let it defrost naturally or warm in microwave for 10-20 seconds and eat with a light spread of butter.
Notes
Cream of Tartar is a leavening agent, readily available in the baking aisle of supermarkets
The sugars in this recipe come from the naturally occurring sugars in the dates.  No other sweeteners have been used in this recipe and as such it may not be as sweet as you are used to.
If you have a sweet tooth, but want to try this recipe, you could try adding more dates, or add  a couple tablespoons of natural honey.
Nutrition
Calories:
236
kcal
|
Carbohydrates:
37
g
|
Protein:
6
g
|
Fat:
9
g
|
Saturated Fat:
2
g
|
Fiber:
2
g
|
Sugar:
18
g
★ Did you make this recipe? Don't forget to give it a star rating below!